Cobalt is a crucial material in producing batteries for use in electronic devices and electric cars. The high-tech sector consumes a lot of cobalt-infused batteries. 50% of all cobalt made is used in the production of battery chemicals.
In this How to Invest in Cobalt UK Beginner's Guide, we take you through the details needed to gain exposure to this future-focused metal.
How to Invest in Cobalt UK Tutorial
Before we go too deep, here are steps on how to select a brokerage account and invest in cobalt UK in a few minutes.
1. Select a cobalt brokerage: The first step you need to invest in cobalt UK is to get a regulated broker account. eToro is a popular way to invest in cobalt due to its low costs and community-centered trading tools.
2. Create an account: Create an account on eToro's official website within minutes. All you need to do is supply few personal details to get started on investing in cobalt.
3. Fund your account: The minimum deposit to fund your eToro account is $200 (about 142 pounds). You can make deposits through bank transfers, debit/credit cards, or e-wallets.
4. Invest in Cobalt: You can invest in cobalt. Choose the most popular cobalt investment for you and start trading on the go.
Step 1: Choose a Cobalt Investment Platform
There are two main ways you can invest in cobalt; cobalt futures and cobalt stocks. Cobalt futures are found on the London Metal Exchange (LME) for any interested investor.
These futures became available in early 2010 and are generally listed in US dollars per tonne. Futures contracts have a period of 15 months and are generally used by miners, battery suppliers, automakers, and merchant traders to hedge against price volatility.
Retail investors can also use futures contracts to gain exposure to cobalt market opportunities, but these are more ideal for companies and high-value investors. The most popular means of investing in cobalt UK is through cobalt stocks of cobalt-mining companies. It is recommended that you look out for copper and nickel producing companies mining or exploring cobalt if you are interested in investing in cobalt.
But choosing an investment platform for cobalt stocks is key as you need to consider the platform's ease, safety, and security. To help you get started on this journey, we list some of the most popular FCA brokers and investment apps that can let you invest in cobalt with ease.
1. eToro- Overall Most Popular Way to Invest in Cobalt UK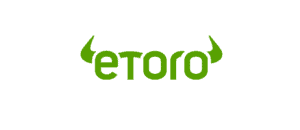 eToro is an investment platform with excellent social trading tools to help new investors find their feet in the world of investing. Its CopyTrade capabilities make it a popular UK brokerage firm for cobalt investments. It is widely used by an array of investors, numbering up to 20 million around the world.
Regulated by the FCA, CySEC, FinCEN, and ASIC, eToro offers exposure to over 3000 shares from 17 different stock exchanges tradable by investors.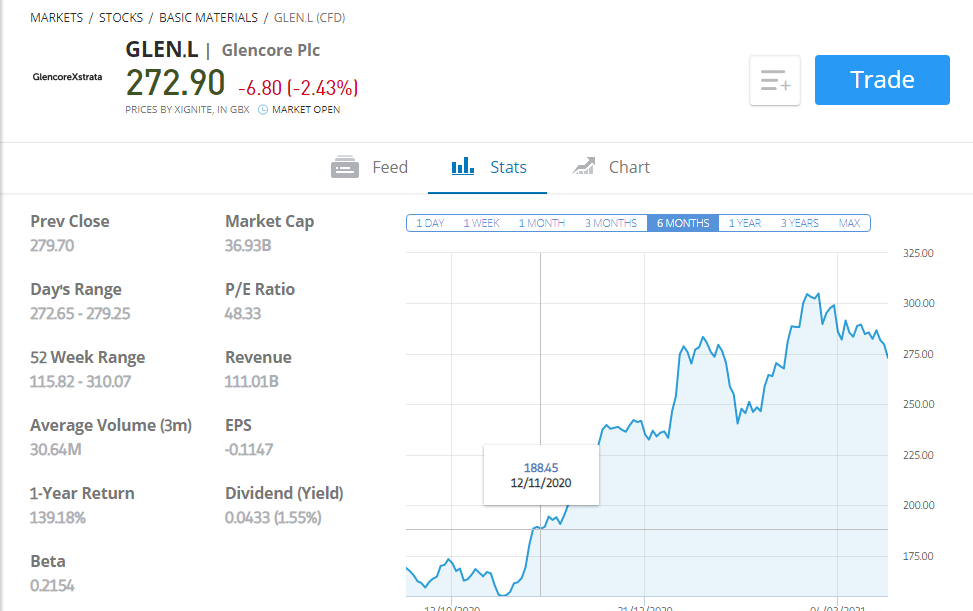 Your capital is at risk.
You also get to speculate on the prices of financial instruments like cobalt, and it is 100% commission-free. You can also use leverage to increase your staking ability on eToro.
eToro's intuitive and easy-to-use dashboard makes it very easy for you to gain access to shares, ETFs, stocks, FX currency pairs, commodities, and stock indices.
Although trading on eToro is completely free, there are other fee structures you need to be aware of. eToro generates its revenue from spreads which is a marked difference between the buying price and selling price. If you also invest in a cobalt stock through contracts for difference (CFD) trading, you will also be charged a small overnight fee.
But if you invest in cobalt stocks directly, you don't need to worry about overnight fees as it is 100% commission-free. The spread fee is also pretty low, making you have enough to place a stake on your favorite stocks.
eToro also offers CopyPortfolios allowing you to invest in a basket of investments of different assets based in a particular sector or market. You can invest in sectors like precious metals and energy, cloud tech stocks, drone technology, and a host of others.
Your capital is at risk.
2. Libertex – Trade CFDs with Tight Spreads
Libertex is an online trading platform that serves clients in over 120 countries. The brokerage firm launched in 1997 and presently offers exposure to over 250 financial instruments. Libertex is a Contracts for Difference (CFD) trading platform that allows traders to buy contracts that show the changes in an underlying asset's price.
The broker charges flat commissions making it easy for you to know how much you will be billed for each trade. Traders can invest in stocks, indices, cryptocurrencies, ETFs, commodities, currency pairs with a fast, reliable, cutting-edge technology platform.
The Libertex platform is an icon in the trading world, raking up over 40+ international awards for the most popular trading platform and most innovative trading company. The broker is regulated by the CySEC in Europe but does not have a presence in the US markets.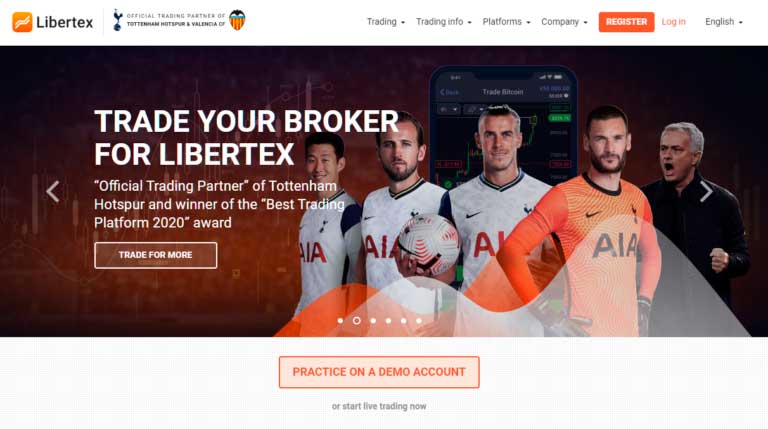 Libertex also offers a practice or demo account where new traders can familiarize themselves with how the financial markets work. You can start trading with just 100 euros ($119) with Libertex.
75.3% of retail investor accounts lose money when trading CFDs with this provider.
Step 2: Research Cobalt Investment
After you must have chosen the most popular cobalt investment platform you are willing to work with, the next step is to research the most popular way to invest in cobalt. Going into the cobalt market is not something that will give you instant gratification. You need to clearly map out your investment strategy, which can only be done when you have concluded in-depth research on cobalt.
Cobalt use case in electric devices and vehicles shows its value will only increase with time, just like other commodities like gold or gold funds, silver, coal, natural gas, and oil. In the following sections, we will highlight the most popular ways to invest in cobalt for the long or short term.
Ways to Invest in Cobalt
There are two major ways you can invest in cobalt. One is by investing in cobalt futures contracts on offer on the London Metal Exchange's trading floor (LME), and the second is by purchasing shares of cobalt-producing companies.
Cobalt Futures
You can gain exposure to cobalt through a futures contract. But cobalt futures are not tradable on regular stockbroking platforms like eToro and Libertex. The London Metal Exchange is the sole custodian of cobalt futures.
The exchange regulated by the Financial Conduct Authority (FCA) of the UK allows high-value investors and mining companies to hedge or speculate on metals like cobalt without losing their capital. Businesses like battery suppliers, mining firms, EV companies, and large merchant traders are found here.
LME contracts in cash and duration- you can buy a futures contract for a 3-month holding period, and it rises to 15 months. Even though LME offers cobalt exposure, it is ideal for large-volume traders who have deep pockets and not for small-scale investors.
Cobalt Stocks
You can also gain exposure to the metal element by owning shares of copper and nickel companies actively exploring cobalt.
Cobalt prices have been volatile at the most. In the first half of 2018, cobalt value rallied to hit a peak of $44 per pound before slumping to $25 in the second half of 2018. In 2019, it continued its fall ending the year at $14.50. But despite what many may describe as a dismal investment, industry experts expect the metal elements to pick up.
According to metal analyst firm CRUGroup, there will be a small surplus in cobalt over the next few years, before it drops. Thereafter, increase demand from electric vehicle manufacturers would lead to an increase in the value of cobalt.
The predictions are already coming to fruition as 2020 has seen the upsurge of EV companies launching competitive and low-cost electric vehicles, it's the same with lithium stocks UK. Presently cobalt stands at $24.675 per pound, showing growing value.
So, what are the most popular cobalt stocks you can invest in? Here are some:
Glencore
China Molybdenum
Vale
Umicore
Sherritt International
Cobalt 27 Capital
Wheaton Precious Metals
African Battery Metals
Red Rock Resources
Horizonte Minerals
Cobalt Exchange-Traded Funds (ETFs)
Another option available for investing in cobalt is through ETFs. ETFs are portfolios of securities that are traded publicly, and the value of the portfolio or asset is relative to the value of the traded ETF. ETFs are a fun way for investors to gain exposure to investment vehicles as they are not limited to traditional common stocks by the time they can be traded.
Cobalt ETFs are a way to gain indirect exposure to the asset class without unnecessary exposure to too much risk, especially if the ETF is part of a larger diversified investment.
Let's examine some of the biggest cobalt ETFs available:
Amplify Advanced Battery Metals and Materials ETF (NYSE: BATT)
BATT is managed by professional traders looking to provide investors with exposure to the entire battery processing materials, including nickel, graphite, lithium, manganese, and cobalt.
BATT ETF invests in publicly-listed companies interfacing with these metals and investing in companies that research the materials.
Some of its investments are tied to Lithium Americas Corp, Sumitomo Metal MNG, Umicore China, Glencore, and a host of others. The ETF has a majority of its stake in lithium at 30%, nickel with 30%, cobalt totaling 26%, and other metals making up the summation.
Benefits of Investing in Cobalt ETF
Fees charged by the ETF manager are considerably low as you pay 0.5% annually for a subscription.
ETFs are generally found on the stock exchange markets like the London Stock Exchange and the New York Stock Exchange. This convenience makes it easy for you to simultaneously track the underlying asset price relative to the ETF during market hours.
Cobalt ETFs are generally held and managed by deep-pocket financial institutions like JP Morgan Chase.
ETFs are a  basket of securities that allow investors to hedge their risk.
You also get to invest in cobalt-facing ETF through UK brokerage houses like eToro, where you can buy and sell without paying a dime in commission.
Is Cobalt a Popular Investment?
After all the data we have posted, you may have one nagging question. Is cobalt a popular investment? Following the pandemic's economic impact, many sectors have been affected negatively, including the metal sector.
Even though cobalt has since its value slump over the past five years, experts are optimistic that its increased technological application will see the silver bluish metal take its place among the world's popular metals. In 2019, despite a subsequent fall to $14.50, the cobalt market performed 30% better than it did in 2017.
Aside from this and many other reasons, experts say the cobalt market is getting set for a bullish run as the demand for EVs grows by the day. We list some of the reasons they feel that cobalt is a popular investment:
Demand for cobalt in lithium-ion batteries is rising.
Even though cobalt has a dark stain in its mining process, the demand for the metal is rising. In 2018, Tesla Inc. CEO Elon Musk said he was considering alternatives to cobalt in lithium-ion batteries due to miners' inhuman treatment in the Democratic Republic of Congo (DRC). DR Congo supplies 50% of the world's cobalt needs and looks into incorporating them into a strategic investment policy.
But since then, Tesla has signed a multi-year deal with the world's largest cobalt producer Glencore to supply its battery needs. Glencore has a major stake in the mining efforts in Congo.
Benchmark Minerals Intelligence, a London-based price reporting agency, has projected that the demand for cobalt will increase by 15 to 20% year-over-year, with most of this demand coming from the battery sector. With EVs fast gaining public affection, these numbers may triple for all we know.
The tech sector consumes more than half of all cobalt produced.
Industrial demand from tech-facing companies is rising by the day. Before the advent of EVs, demand from the tech sector was quite minimal.
Lithium-ion batteries, of which cobalt is a key component, were used for phone batteries, laptops, smart devices, and so other battery-enabled devices.
But this market is like a drop in the ocean. With EVs gaining mainstream acceptance today, lithium-ion batteries demand is expected to shoot up astronomically. Cobalt is a major element in the production of these batteries will also see its value rise alongside.
Cobalt is majorly sourced in the politically unstable DR Congo. Many experts are soliciting other means to source the mineral, with the country monopolizing over 50% of the world's cobalt reserves.
Even though some other countries like Australia and Russia contribute their own quota, Congo alone rolled out 100,000 metric tonnes of cobalt in 2019 alone.
With the African nation prone to internal strife and civil unrest, stoppage of cobalt coming from the nation can see the metal element's price go through the roof.
How to Make Money from Investing in Cobalt
There are many ways you can make money from investing in cobalt in the UK. But it all depends on your risk appetite.
If you are looking to profit, then a strategy would be to buy cobalt at a low price and sell when the price goes up. The difference between the two is where your profit and will be called your capital gains.
This strategy is basically a short-term approach to investing in cobalt.
If you're in for the long haul, then a cobalt stock or ETF is the way to go. Some of the most popular cobalt stocks you can invest in are those by British Multinational mining company Glencore, American Wheaton Precious Metals, Vale, and the rest who pay sizeable dividends when you invest with them.
With a value investment mindset, you can multiply your investment by re-investing your capital and your gains through compound investing. This way, you will be able to gain a larger stake in the cobalt-facing company in no time.
An easy way to get started investing in cobalt is to use eToro's in-house asset-managed funds called the CopyPortfolio option. This offers you a basket of securities focusing on a particular investment class or sector. It will also help you in familiarizing yourself with investing in cobalt. CopyPortfolio is also easy to access and provided much-needed diversification, especially if you are looking to hold your shares for a long time.
Step 3: How to Invest in Cobalt UK with a Regulated Broker
From our extensive research, we found that eToro is a popular broker firm for cobalt stocks and ETFs. So if you are ready, let's dive deep into how you can get started in a few short steps:
Create a new account: The first step is to visit the official website of eToro to get started. Click on the "Join Now" button to get started creating your own account.
You will be asked to choose a username, supply your email address, and choose a password. Ensure the password is not a string of letters or code that is easy to guess.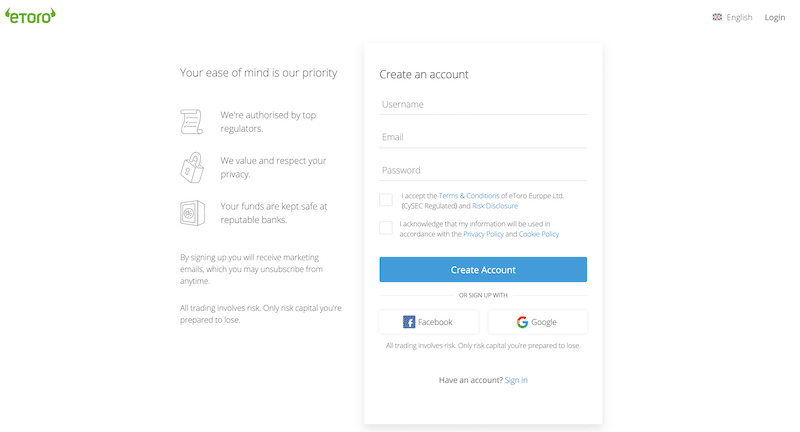 Your capital is at risk.
Verify your account: After creating your account, you will need to verify your account. You will need to supply personal information like your driver's license and proof of residence.
This is necessary to verify your identity so you can buy stocks on the platform. And with eToro regulated by the Financial Conduct Authority (FCA), the online trading platform will comply with the agency's know your customer (KYC) protocol.
Deposit funds into your account: The next step you need to take is to fund your trading account. It doesn't cost much to get started. eToro requires a minimum deposit of $50 to activate your account.
No matter what payment option you are working with, eToro has you covered. You can deposit your credit and debit cards, bank wire transfer, and e-Wallet payments like Skrill, Neteller, and Paypal.
To fund your account, all you need to do is click on the "Deposit Funds" on the trading dashboard. Select your preferred payment option and enter the amount you want to fund your account with.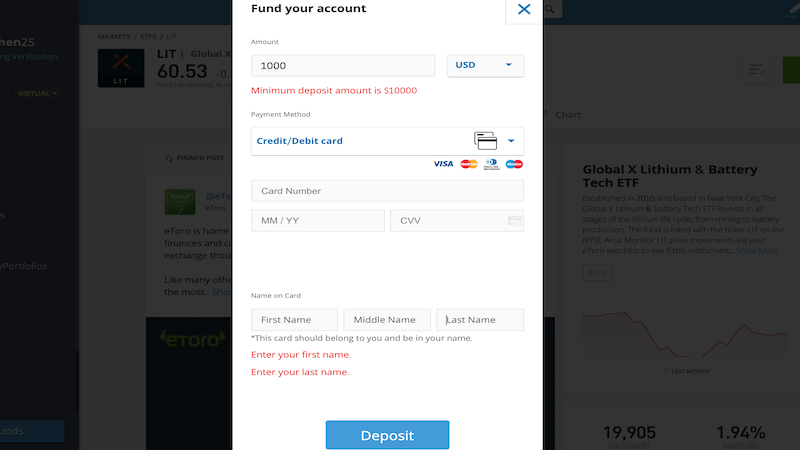 Invest in cobalt: After funding your account, you can place an order on the cobalt stock or ETF you want to work with. You even get to create a watchlist for easy monitoring of your favorite investment vehicles.
We will be working with placing an order on the largest cobalt producer's stock Glencore Plc (GLEN), for this guide's purpose.
To locate your stock, search on the search bar for "Glen," a series of results will automatically pop up. Select "Glencore Plc (GLEN)" to start trading.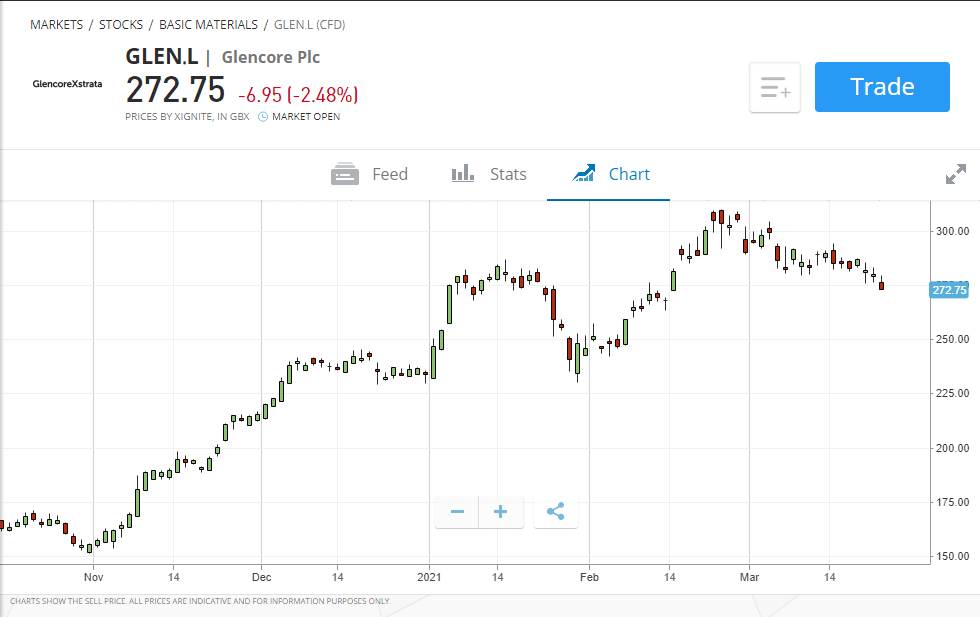 When you are ready to make a trade, click on the "Trade" button to get started, and you will be shown an order form. Choose how much you want to spend on the individual transaction and the order type.
When you are satisfied with your selection, click on the buy button. Be aware that eToro uses a 5:1 leverage in all shares and ETFs on the platform. So make sure always to put a stop loss on each trade to reduce potential losses.
67% of retail investor accounts lose money when trading CFDs with this provider.
How to Invest in Cobalt UK – Conclusion
A summary of what we have been able to cover in this guide. We have shown you actionable steps to invest in cobalt UK and what the future holds for the asset class.
We have also shown you the most popular online trading platform that will give you peace of mind and let you execute trades commission-free. So if you are ready to get started, head down to the social trading platform eToro to take your own share of tomorrow's investment.
eToro – Invest in Cobalt UK with 0% Commission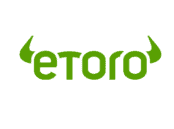 67% of retail investor accounts lose money when trading CFDs with this provider.
FAQs
What is the most popular way I can invest in cobalt?
Can I invest in cobalt like a commodity?
What is the most popular index in the cobalt sector to follow?
How do I short sell cobalt?
If you are using an online trading platform like eToro, you can short sell cobalt. That is, you can make gains from it. If you predict the prices to fall and it does, you should make some profits from it.[/A5]