XTB Trading Review 2023
Fact Checked
Everything you read on our site is provided by expert writers who have many years of experience in the financial markets and have written for other top financial publications. Every piece of information here is fact-checked.
Disclosure
Please note that we are not authorised to provide any investment advice. The information on this page should be construed for information purposes only. We may earn commissions from the products mentioned on this site.
If you've been looking for a way to trade forex, stocks, and commodities in the UK, you've probably heard of XTB Online Trading. XTB consistently offers traders competitive spreads and high leverage for trading forex and CFDs. It also has its own advanced trading platform and a wide variety of tools.
So is XTB trading in the UK right for you? In our XTB online trading review, we'll take a deep dive into this broker to understand what assets it offers, how much it charges to trade, and what features it has to differentiate itself from the competition.
What is XTB Trading?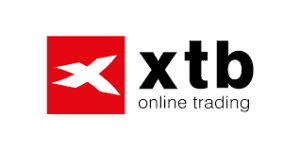 XTB Online Trading was founded in Warsaw, Poland, in 2002. At the time, it was the first forex broker in Poland that offered leveraged trading. The company quickly gained a following and went public on the Warsaw Stock Exchange in 2016.
XTB is now a global presence in forex trading. UK traders can open accounts with XTB, as can traders from dozens of additional countries. Today, XTB Online Trading has offices in 13 countries, including the UK, and boasts more than 140,000 clients worldwide.
79% of retail investor accounts lose money when trading CFDs with this provider.
XTB Trading Assets
Although XTB started out as a forex broker, it has expanded into a very wide range of markets. In fact, the broker is now recognized as widely for its CFD trading capabilities as it is for its forex trading capabilities. So, let's take a closer look at what assets you can trade with XTB in the UK.
Forex
XTB offers 48 different currency pairs, including all of the major and minor pairs. This is fewer pairs than some of XTB's peers, but most traders won't miss the exotic currency pairs that XTB doesn't offer. XTB trading in the UK comes with leverage up to 30:1, which is the maximum that government regulations allow. Traders outside the UK can access leverage of up to 500:1 for major forex pairs.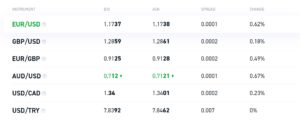 Stock, ETF, and Index CFDs
XTB offers a wide range of CFDs for trading in the stock market. The broker has more than 1,500 CFDs for stock trading, covering markets in the UK, US, and Europe. In fact, XTB allows you to access shares from 17 different countries – a range that is matched by very few other UK brokers. Stock CFDs can be traded with leverage of up to 5:1.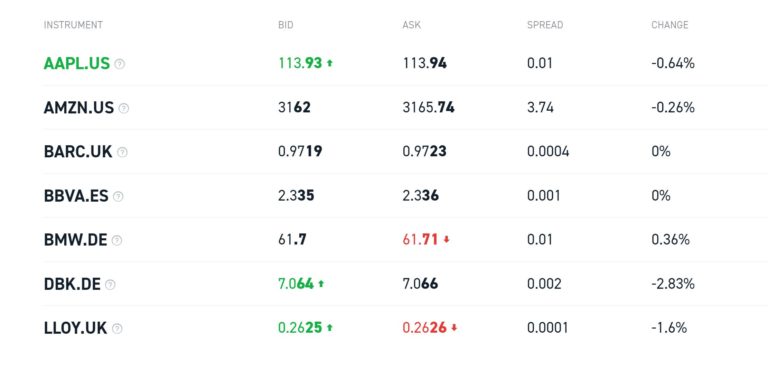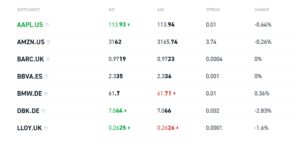 XTB's CFD selection for ETF trading and index trading is not quite as impressive, but still good. The broker has around 60 ETF CFDs, most of which cover different sectors of the US stock market. There are 42 index CFDs, which cover the stock markets in a much wider range of countries. ETFs can be leveraged at 10:1, while index CFDs can be leveraged at up to 20:1.
Commodities CFDs
You can access CFDs for commodity trading for any of 22 popular products through XTB in the UK. The platform supports gold trading and oil trading through CFDs, as well as trading for a wide variety of agricultural products. Leverage varies by product but is up to 30:1 for gold trading.
Cryptocurrency CFDs
XTB takes a unique approach to cryptocurrency CFDs. The broker has nine different digital coins that can be traded against the US dollar, which is what most competing brokers offer. In addition, XTB has 16 different trading pairs that pit one cryptocurrency against another. While many of these pairs are with Bitcoin, some are pairs based around Ethereum or Litecoin.
XTB Trading Account Types
XTB Online Trading offers two account types in the UK: Standard and Pro. Which type of account you choose will have a significant impact on how you pay for trading with this broker.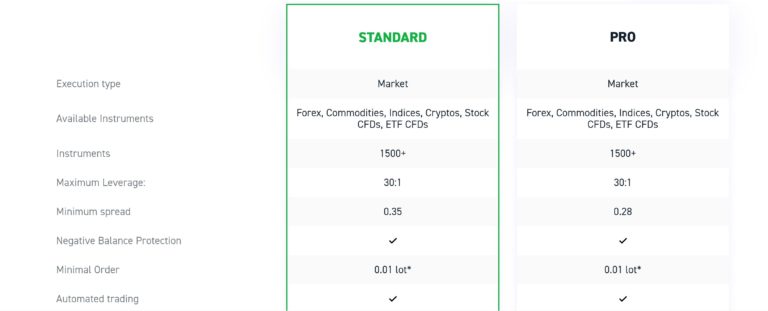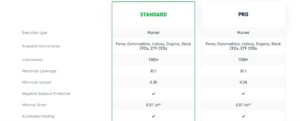 With a Standard account, forex, index, commodities, and cryptocurrency trading are commission-free. However, you'll pay slightly higher spreads for trading these assets than you would with a Pro account.
With a Pro account, your spreads are reduced, but you pay a per-lot commission for trading. The commission is £3 per lot for forex, index and commodities trades or £3.5 for cryptocurrency trades.
Importantly, both Standard and Pro accounts are free. In addition, there are no differences in commission or spreads for stock and ETF trades.
XTB Trading Spreads
The EUR/USD currency pair typically has the lowest spread of any forex pair. At XTB, the spread for a EUR/USD trade is just 0.1 pip, whereas many low-cost brokers charge around 0.6 to 0.8 pips. Notably, the EUR/GBP pair, which is a minor currency pair and generally has a spread over 1 pip, comes with a spread of just 0.2 pips at XTB.
XTB also has low spreads for index trades. You can buy and sell CFDs for the popular S&P 500 index at a spread of just 0.4 pips, compared to 0.7 pips at many other low-cost UK brokers.
However, XTB charges spreads that can be surprisingly high for stock CFDs. For example, Amazon shares traded on the platform with a spread of more than 200 pips. UK shares were generally less expensive – Barclays, for instance, traded with a spread of 0.07 pips.
XTB Trading Fees
XTB is commission-free for forex, index, commodities, and cryptocurrency trading with a Standard account. But regardless of what type of account you choose, you will pay fixed commissions for stock and ETF trading with this broker.
The broker charges a flat commission of 0.08% for every stock and ETF trade, regardless of what type of account you have. The minimum commission is £10 for most trades, so you cannot save money by placing smaller orders. When considering the per-trade commission and the spread on stock CFDs together, XTB is actually one of the more expensive UK brokers for stock and ETF trading.
XTB is relatively light on account fees. The platform doesn't have deposit or withdrawal fees, although you must withdraw at least £100 at a time. There is an inactivity fee, set at £10 per month after one year without trading.
XTB Trading Platform
XTB offers its own proprietary trading platform called xStation 5. It's an all-around impressive trading platform, with a ton of built-in tools for trading forex and CFDs.
To start, xStation 5 puts technical charts front and center. You can resize the charting window however you like, open multiple charts side-by-side for comparing assets, or keep as many charts as you want close to hand using a tab system. There are several different chart styles available, including standard candlestick and Heikin-Ashi charts.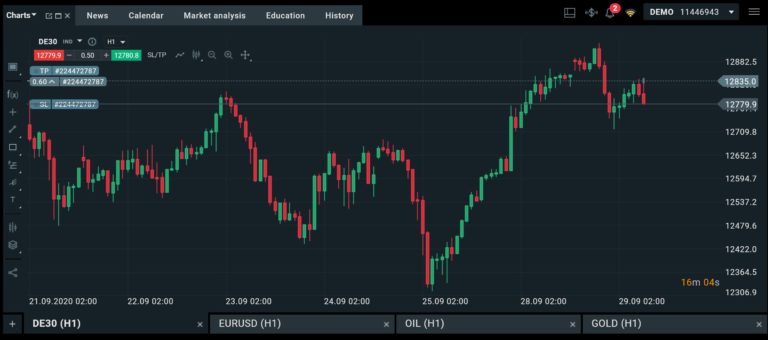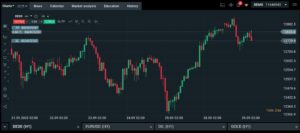 xStation 5 doesn't offer the variety of technical indicators and drawing tools that more advanced traders will need. There are only around 25 technical studies built in, compared to over 100 in other trading platforms. You also cannot build your own custom indicators with this charting software or backtest a strategy using historical price data.
XTB's trading platform also enables you to place orders directly from your chart. You can enter orders based on the current or a previous candlestick, as well as draw lines on your chart to select take profit and stop loss levels. Once you have open orders, they appear in a module at the bottom of the trading platform so you can easily track your profit and loss.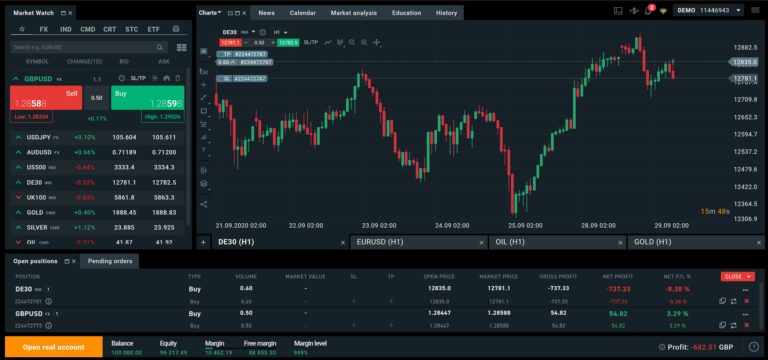 xStation 5 is available as a browser platform on desktop and as a mobile trading app for iOS and Android.
XTB Trader MT4 Trading Software
XTB offers a second trading platform specifically for forex traders: MetaTrader 4. MetaTrader 4 is one of the most popular forex trading software packages in the world and it provides a huge range of tools for traders.
MetaTrader 4 provides a few key features for forex trading that xStation 5 lacks. First, it offers the ability to create custom forex signals and forex robots. Forex signals can be useful when forex trading because they allow you to stay on top of a fast-moving market and remove emotions from your trading.
MetaTrader 4 also enables you to create custom indicators, which you can use on their own or as part of a forex signal. Setting these up takes some work, though, since you'll need to use MetaTrader 4's custom scripting language.
In addition, MetaTrader 4 offers strategy backtesting. This allows you to test your forex signals against historical price data to find out how they perform in real market conditions.
XTB MetaTrader 4 is available on the web and mobile as well as through a desktop app.
XTB Trading Tools
XTB offers a few tools within the xStation 5 platforms to help inform your trading decisions. All of the standard, essential tools are available, including a news feed and economic calendar.
The news feed pulls in headlines from most major media outlets in the UK, US, and Europe. We particularly liked that you can filter the news feed by asset class or search the feed for a specific asset. This makes it much easier to find news that's relevant to the assets you're trading at any given time.
The economic calendar is similarly easy to filter and search. It also offers an estimated impact (on a scale from one to three) for each event. For some economic releases, the calendar even displays the forecast value to be released and compares it to the previous value for that economic metric.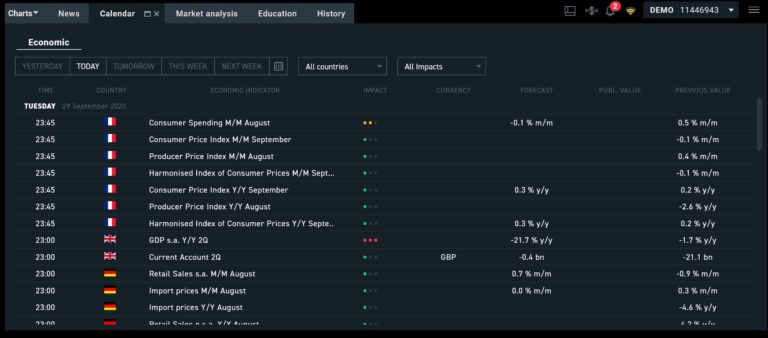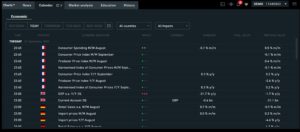 xStation 5 also has a few market analysis tools, the most helpful of which is a market sentiment indicator. You can also scan for top gainers and losers in any asset class. If you are trading stock CFDs, the platform has a basic stock screener that lets you filter stocks based on fundamental metrics like market cap, country, industry, and price to earnings ratio.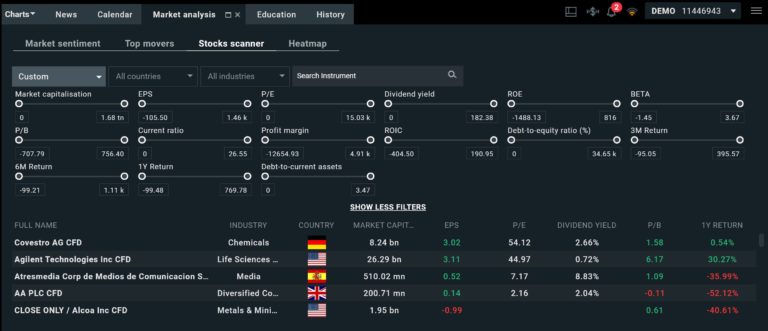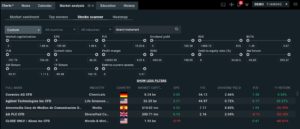 XTB Auto Trading
XTB offers automated trading through the MetaTrader 4 platform. Notably, xStation 5 does not support auto trading. So you can only set up automated trading patterns for forex, not for CFDs.
To start auto trading with MetaTrader 4, you can either create your own forex robots or purchase premade robots from the MetaTrader marketplace. Unlike some other brokers that support MetaTrader 4, XTB doesn't offer any forex signals, custom indicators, or forex robots of its own to help you get started.
MetaTrader 4 has a robust backtesting module, so it is easy to see how an algorithmic trading system would have performed during past market conditions.
XTB Trading Cup
XTB sponsors an annual competition among traders that it calls the XTB Trading Cup. This event uses paper trading through the broker's demo accounts to see who can make the most money in a two-week period. Since the competition takes place in demo accounts rather than in live trading, traders are free to try out their riskiest strategies.
The winner of the XTB Trading Cup is simply the trader who makes the most money during the two-week competition. The winner receives a prize of around £2,000, and there are smaller prizes for second and third-place finishers.
Is XTB Trading Legit?
XTB is regulated by several different financial authorities, including the UK's own Financial Conduct Authority and the Cyprus Securities and Exchange Commission. All UK clients trading with XTB have negative balance protection, meaning that you cannot lose more money than you have in your account when trading with leverage.
XTB is also listed on the Warsaw Stock Exchange. This means that the broker has to make annual public disclosures about its finances, which can provide advance warning if the company ever gets into trouble.
Finally, UK traders are covered in the event of the company going bankrupt by the UK's Financial Services Compensation Scheme. This provides insurance for up to £85,000 in your trading account.
How to Begin Trading
Ready to get started trading in the UK? We'll show you how to sign up for an account with a trading platform and place your first trade.
Sign Up for a Trading Account
Head to the broker's website and opt to create an account. Enter your email and create a password for your account, then fill in personal details like your name, phone number, and date of birth.
You'll also have to verify your identity before you can start trading. You can complete the verification step online by uploading a copy of your passport or driver's license.
Deposit Funds
Your broker may require a minimum deposit when you open a new account. Most brokers allow you to make a payment by bank transfer, credit card, PayPal, or Skrill.
Place a Trade
With your account funded, you're ready to start trading. Search for the asset you want to trade in your dashboard and click 'Buy' or 'Sell. You can then enter your position size and confirm the transaction.
Conclusion
Our XTB trading review found that this broker is a popular option for trading forex in the UK. XTB offers competitive spreads on popular forex pairs like EUR/USD and index CFDs. It also offers commission-free trading on commodity and cryptocurrency CFDs.
However, XTB is a lot less favourable if you are trading stock or ETF CFDs. The broker charges high spreads and a commission of 0.08% per trade. Its trading platform, xStation 5, also comes with fewer than 30 technical indicators built-in. While XTB offers MetaTrader 4, which is extremely powerful, this is only a suitable option for forex traders.
FAQs
Does XTB offer demo trading accounts?
How can I get in touch with XTB's customer service?
Does XTB require a minimum deposit?
Can I trade with XTB on a mobile device?
Does XTB support bond trading?