Coinone is a South Korean cryptocurrency exchange that has gained popularity among investors in KR and globally. As a matter of fact, it is the third-largest digital coin marketplace in South Korea in terms of volume of transaction, after Upbit and Bithumb.
But, as Coinone is primarily focused on South Korean investors, you want to make sure this is the best crypto trading platform for you in the UK before you sign up for a trading account. In our Coinone review UK, we are going to help you determine whether this is the right trading platform for you and see if there are better alternatives in the UK market.
Coinone Review Summary
Coinone is the third-largest crypto exchange in South Korea
It offers a vast range of digital assets
However, our best-recommended cryptocurrency exchange is eToro
What is Coinone?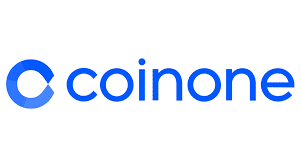 Coinone is a South Korea-based cryptocurrency exchange that was founded in 2014 by Myunghun Cha and is offering low-cost cryptocurrency trading. It offers a wide range of coins and crypto services including margin trading and digital wallet services. But above all, Coinone is mostly known for its top-notch security features and high standard when it comes to coin listings. This has lead Coinone to become the third largest cryptocurrency exchange in South Korea and one of the few exchanges that can rely on its trading businesses as the main source of income.  
Supported Coins
Clearly, one of the main attractions of Coinone is the huge range of supported coins on its platform. This includes more than 200 digital assets and some of the most exotic altcoins you can find in the cryptocurrency market. In general, Coinone has a categorization of the different instruments on its platform – main market and growth market. The main market category lists the 27 largest coins in the crypto market by market capitalisation and includes the following coins: Bitcoin, Ethereum, Ripple, Klaytn, Bitcoin Cash, EOS, Tron, Ethereum Classic, Litecoin, Stellar Lumens, NEO, Filecoin, Polkadot, Bitcoin Satoshi Vision, Qtum, Chainlink, IOTA, Luna, Tezos, Cosmos Atom, sKLAY, and Uniswap.
All in all, the fees at Coinone seem very competitive when we compare the exchange to other platforms in the industry. Plus, there are ways to make the trading fees even lower when the investor increases the trading volume. That said, let's take a closer look at the payment and trading fees at Coinone.
Payment fees
When it comes to payment fees, Coinone does not charge any deposit fees and charges a very competitive fee of just 1000 KRW (which is around $0.9 or £0.65) when withdrawing funds with a bank wire transfer. However, the fee for withdrawing funds with crypto coins is a bit pricey. For example, if you are withdrawing funds with Bitcoin, you need to pay a fee of 0.0015 BTC, which is around 80 USD.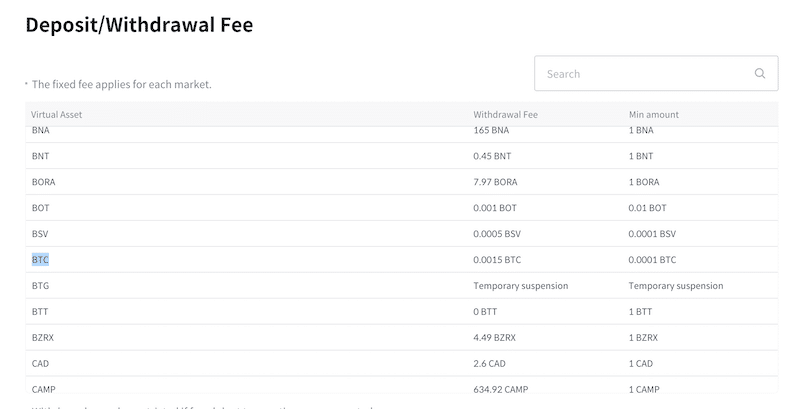 Trading fees
Coinone exchange offers a flat fee of 0.20% for the main market, meaning when you buy 1 bitcoin, you need to pay 0.002 BTC (around $108). For the growth market that includes the majority of exotic altcoins, Coinone charges a flat fee of just 0.10%.
Additionally, the exchange has VIP Program and a Market Maker Program that significantly reduces the trading fees for high volume traders. For the VIP program, you can get fees of up to Maker 0% and Taker 0.01% when you trade over KRW3 billion in one month. The same fees apply for the Market Maker Program – though you need to meet a predefined certain amount of maker trading in one month.
Coinone Buying Limits
Like most financial marketplaces, Coinone maintains minimum and maximum order limits. As such, the minimum buying order is 5000 KRW or 0.0001 BTC, which is around 5 USD. The maximum order size at Coinone is 1 Billion KRW, which is nearly 900K USD.
When it comes to daily withdrawal limits, Coinone has a system that works based on the payment method, and the verification stage.
Stage 1
Stage 2 (Mandatory)
Stage 3
Individual setup stage
Additional stage

Bank account verification
(KRW deposit available)

KRW
–
up to 100M KRW
up to 100M KRW
up to 500M KRW
More than 500M KRW
Virtual asset
–
up to 5M KRW
up to 20M KRW
up to 500M KRW
More than 500M KRW

Non-bank account verification

KRW
–
NH Bank account verification is required
Virtual asset
–
up to 500M KRW
up to 1B KRW
–
More than 1B KRW
Coinone Wallet
Coinone also offers a built-in digital wallet that is available on its desktop and mobile applications and enables users to store, receive and send crypto coins. Crucially, the Coinone exchange does not provide much information about its wallet services and the technology it uses to store the coins, which makes it a better choice for users to store the coins on a hardware wallet where only you have your private key and the funds are kept on an offline device.
Coinone Mobile App
Coinone also offers a mobile app that is available on the App Store (iOS) and Google Play (Android). However, according to a recent message from Coinone on the Google Play Store, the app is currently not available for foreigners, and thus, if you are trading from the UK you'll be able to trade only from a web browser.
Coinone User Experience
If you are looking for a user-friendly cryptocurrency trading platform, then you might have to look for another option if you simply want to invest in bitcoin. Coinone's platform is very complicated and is difficult to use even for skilled professional investors and tech-savvy crypto enthusiasts. The navigation on Coinone's site is not intuitive and the fact that the platform does not completely support English is a major problem.
Essentially, there are many options to trade on this platform with the most useful of all is the Swap, the Exchange, and the ProChart trading view. While the Swap is the easiest way to buy and sell digital assets on this platform, the Exchange and the ProChart are better investing dashboards for intermediate and advanced traders.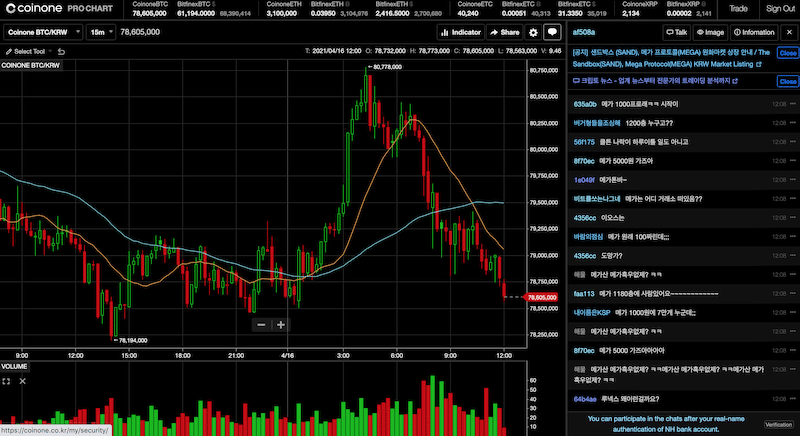 Further, the User Interface is not as efficient as other platforms like Coinbase, Kraken and Binance. This is particularly the case for non-South Korean investors as Coinone is primarily focused on South Korean customers.
Coinone Tools and Features
Coinone seriously lacks a good user interface and many other features that are available on other platforms such as a mobile application and a site that supports different languages. Nonetheless, there are some reasons why it has become one of the most popular cryptocurrency trading platforms in South Korea and globally.
Staking
One of the best features that Coinone offers is the ability to stake coins and get fixed income for locking your digital assets on the exchange network. Their staking program is more flexible than many other exchanges in the sense that it provides users to select periods of 1 day, month, or year and offers up to 20% annual percentage rates (APR) on your staked coins.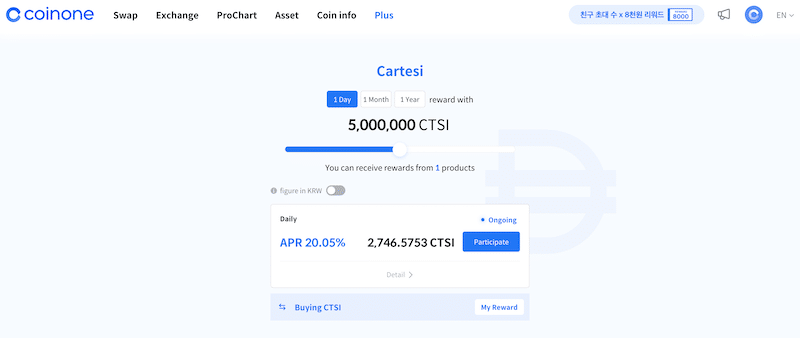 In terms of what you can stake, Coinone offers the following tokens: Cartesi, Klaytn, Qtum, Tron, Cosmos Atom, Tezos, Kava, Luna, USD Coin, DAI, and Ethereum.
Interactive Charts and Level 2 Order Book
Coinone has a good charting facility on its Exchange and ProChart sections. This enables users to analyze coins using technical analysis indicators and advanced charting tools.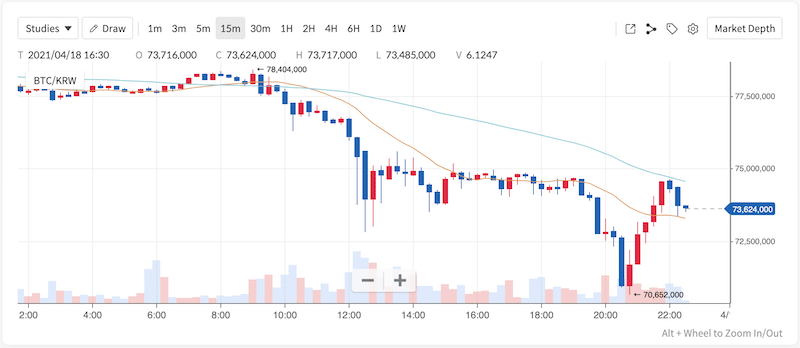 The ProChart is even more advanced and gives investors access to a huge range of indicators including the volume chart, which is a very helpful indicator and is not a common feature on most crypto exchanges.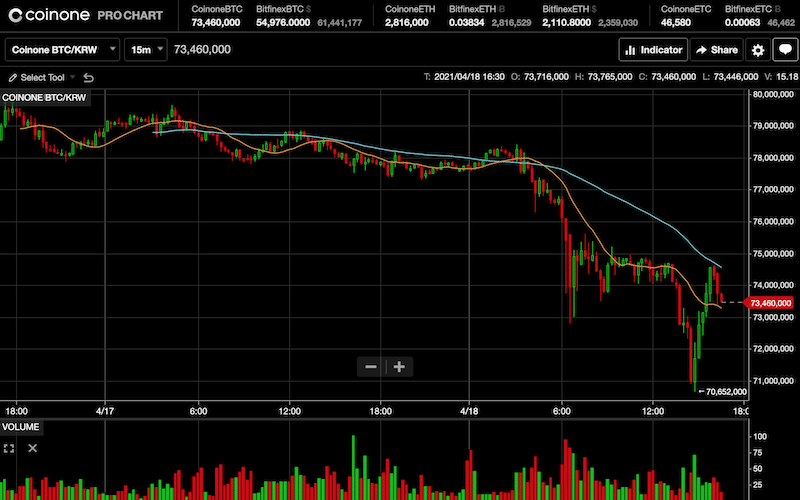 Margin Trading
Even though margin trading has become the standard among cryptocurrency exchanges, it is an important form of trading that is available on Coinone. Basically, margin trading is a method of trading financial assets like crypto coins using funds provided by a third party, which is, in this case, the exchange.
Coinone Minimum Deposit
Much like many other cryptocurrency exchanges in the market, the minimum deposit requirement at Coinone varies based on the payment method the investor chooses to use. For example, if you are using South Korean Won (KRW) as a funding method, you'll need to meet a minimum deposit requirement of 1000 KRW.  However, when you are using any crypto coin to fund your Coinone account, there's no minimum deposit requirement.
Coinone Payments
Coinone offers users only two methods to fund the account – bank wire transfer and cryptocurrencies. In addition, the exchange supports only one fiat currency – the South Korean Won.
When it comes to cryptocurrencies – Users can fund their accounts with the following coins: Bitcoin, Ethereum, DAI, USD Coin, Tether, Wrapped Bitcoin, and Wrapped Ethereum.
Coinone Regulation & Licensing
Coinone, like the vast majority of South Korean cryptocurrency exchanges, is not regulated by any local or global financial agency. The company, however, is registered in South Korea under the registration number 261-81-07437 and claims that it operates under South Korean law. It is important to note that South Korea is one of the most crypto friendly countries in the world and recently passed a legislation that provides a framework for the regulation of cryptocurrencies and crypto exchanges.
Coinone Contact and Customer Service
Once again, you might find yourself scratching your head when you need the support team to answer your queries. Notably, Coinone offers several communication channels that include online chat support, FAQ section, guides, Kakao support, and submit a ticket form. However, the site is focused on South Korean investors and the support service is not designed to provide help or support for foreign users.
How to Use Coinone
As mentioned previously, the Coinone exchange is available for investors from other countries, including the United Kingdom. Crucially, the platform may seem a bit overwhelming at first but if you are ready to start trading with this exchange, you simply need to follow the steps below.
Step 1: Sign Up for an Online Account with Coinone
To get started, the first thing you need to do is to sign up on Coinone's website. To make things easier, we suggest you first change the website's language to EN on the top-right side of the screen. Then, click on the Sign-Up button to start the registration process. In The first step, Coinone requires you to agree on the exchange's terms and conditions.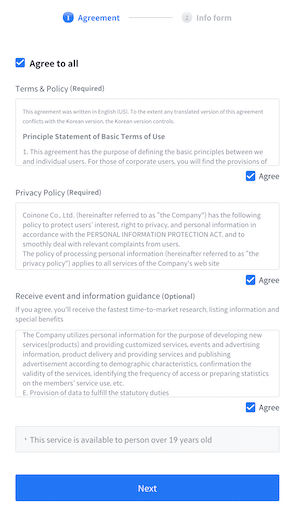 Then, you'll be channelled to a registration form where you'll be asked to provide personal details.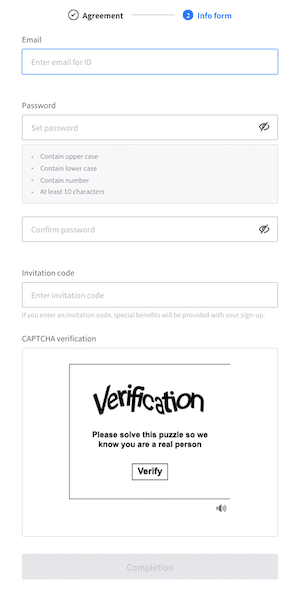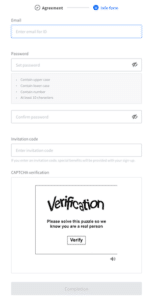 Step 2: Verify Your Identity 
Next, you will receive an email from Coinone to confirm your email address and to enter the exchange with your username (email address) and password. Once you have done that, you'll have to go through a long registration process that includes phone number verification, an OTP verification, and finally, you'll also have to verify your bank account.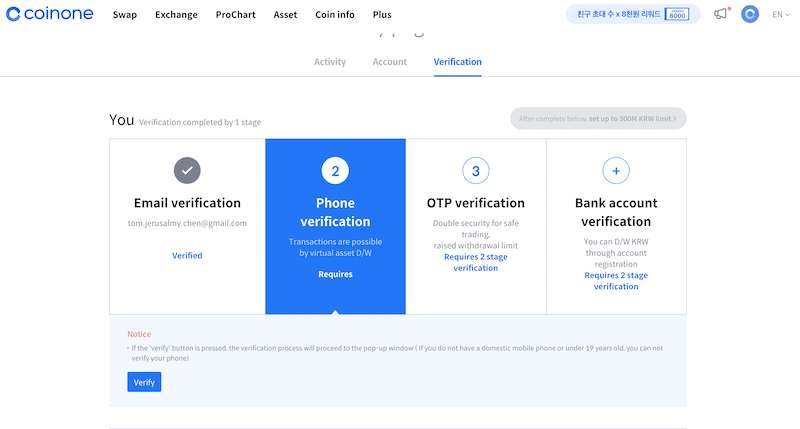 Step 3: Deposit Funds and Trade Cryptocurrencies
Once your Coinone account is approved, you are ready to buy and sell digital coins. But before that, you need to make a deposit. Take note that if you want to use KRW as a fiat currency payment method, you'll have to first verify your bank account. This is a required certification. To make a deposit, you need to navigate to Assets on the top menu bar and then switch to deposit and withdrawals (D/W). From there, you need to choose the payment option – a bank wire transfer or crypto coins, insert the amount, and transfer the funds.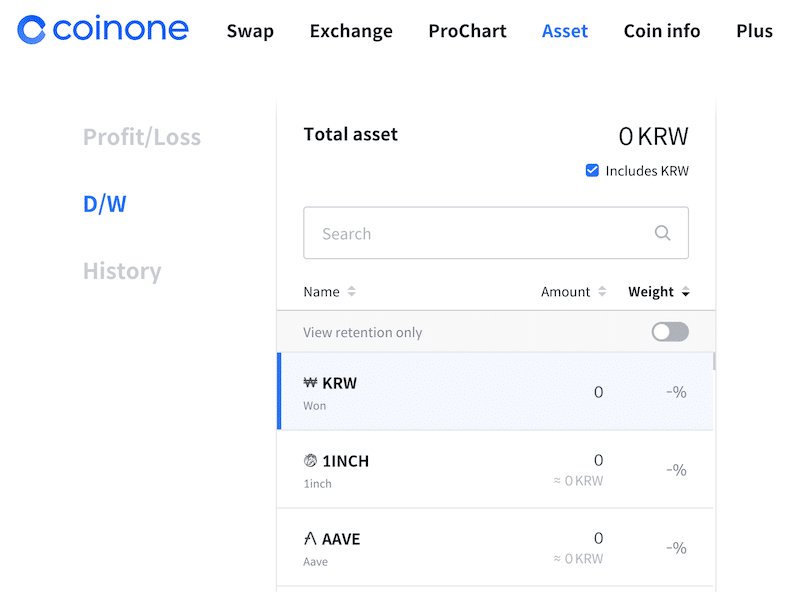 Generally, there are many ways to transact on Coinone's platform but our review found that the most efficient way is via the exchange tab. From there, you can get access to all the listed coins and place an order when you find the coin you wish to buy or sell.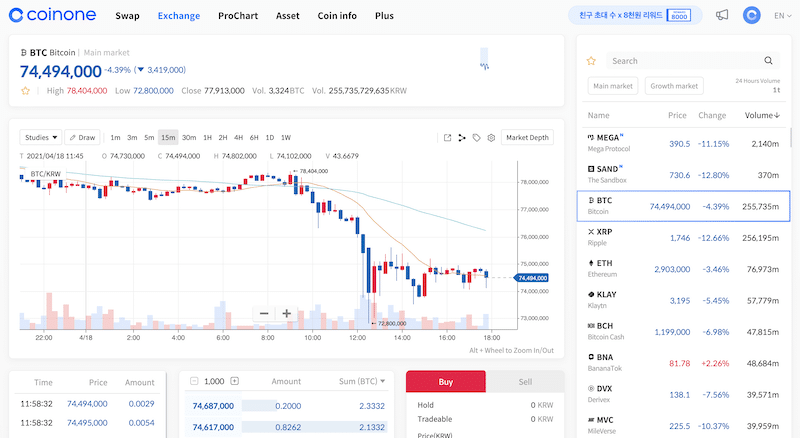 Once you have found the coin you wish to buy or sell, you'll have to navigate to the order form (which is below the chart) and insert the price, the amount, and then click on Buy/Sell to complete your trade.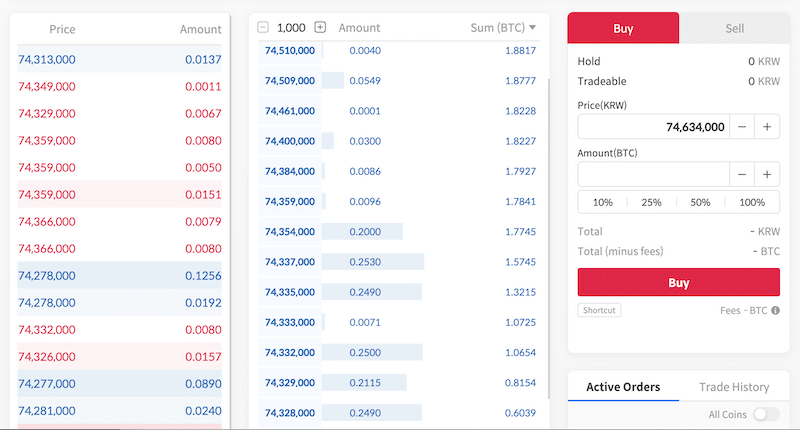 Coinone vs eToro
There's no doubt that for some purposes, even UK investors must use a crypto exchange like Coinone. For example, if you want to buy one of the special altcoins that is listed only on Coinone or you want to start day trading on a certain altcoin via a highly liquid digital exchange, then Coinone is a good choice. Further, Coinone fees are far less than its competitors in the industry if you an active cryptocurrency day trader.
But, these are the only reasons for a UK investor, in our view, to trade with an exchange like Coinone. As such, if you are looking for another platform that enables you to trade cryptocurrencies, we would argue that eToro is the better choice. Not only it is regulated by the Financial Conduct Authority in the UK, but it is also one of the most user-friendly and intuitive trading platforms you can find in the industry.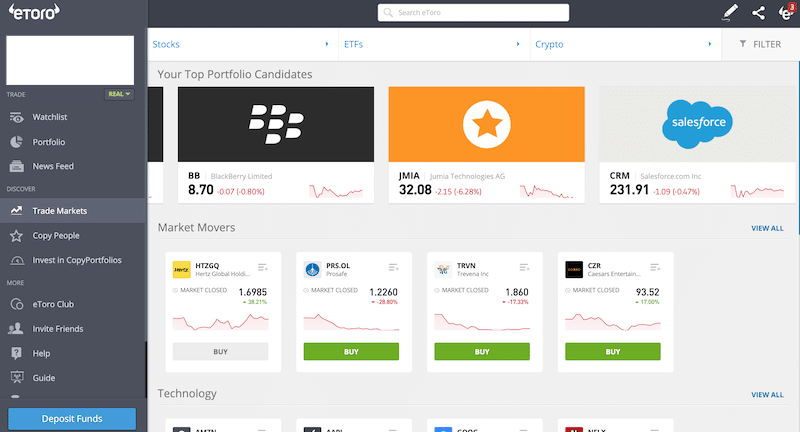 Notably, eToro offers Contract for Difference (CFDs), which is a derivative trading form that enables two parties (usually the investor and the broker) to enter into an agreement in order to speculate on the price of the asset without actually 'physically' holding and exchanging it. This enables eToro to not charge any trading fees when users buy and sell financial assets on its platform. And, as you can see from the comparison table below, eToro is a much more cost-effective trading platform when compared to Coinone.
Crypto Dealing Fee
Deposit and Withdrawal fees
Inactivity Fee
Margin Fee
Stamp Duty Tax on UK Shares
eToro
Commission Free
Deposit – Free of charge

Withdrawals – withdrawal requests are subject to a $5 fee

$10 per month after 1 year
None
None
Coinone
A taker fee of 0.20% for the main market, and 0.10% for the growth market
Coinone has no deposit fees. Withdrawal fee varies depending on the payment method – A fee of 1000 KRQ when using fiat currency as payment method. For BTC – A fee of 0.0015
None
A fee of 0.15% for all levels of accounts
N/A
When it comes to the range of crypto assets, eToro offers only 16 digital coins on its platform compared to over 200 assets on Coinone. However, with eToro, you also get access to other markets like stocks, the best ETFs, commodities, indices, and currency pairs. All trading on eToro comes with leverage including a leverage of 2:1 on cryptocurrencies. Moreover, being the largest social trading platform in the world with more than 17 million members, the eToro platform gives investors plenty of social trading tools such as the CopyTrade tool and CopyPortfolio.
The eToro CopyTrade is a social trading tool that allows you to select professional traders on the platform based on the risk, market, and return and then, to be able to automatically copy the trades made by the chosen trader. Though this is a great tool for beginner investors that are willing to trust other investors, it is also an excellent tool for those who are allowing the eToro network to copy their trades and thus, get rewarded for every new user that want to copy their trading activity.
Finally, while Coinone is not yet regulated and not closely supervised by any public authority in the UK or globally, eToro is regulated by the Financial Conduct Authority (FCA) in the UK, CySEC n the European Union and ASiC in Australia.
Taking the above into consideration, we would argue that eToro is the better platform of the two and is much safer for UK investors.
The Verdict – eToro – Best Broker to Buy Cryptocurrency in the UK
In summary, our Coinone UK review found that this platform might be ideal for crypto enthusiasts and investors looking for unique digital assets that trade solely on this exchange. However, if you are based in the UK, you most likely find Coinone complicated to use and encounter many problems when it comes to the buying and selling of cryptocurrency on this platform.
In this case, you might benefit from using other online platforms like eToro. This brokerage firm is regulated in the UK and is offering investors to trade cryptocurrencies without paying any fixed trading commissions. Moreover, its user-friendly social trading platform comes with a set of trading features and tools like the CopyTrade tool and the built-in managed CopyPortfolios. Finally, unlike Coinone that requires you to use KRW as a fiat coin, eToro allows you to use GBP as your preferred currency and deposit and withdraw funds with a credit and debit card, bank wire transfer, PayPal, Neteller, and Skrill.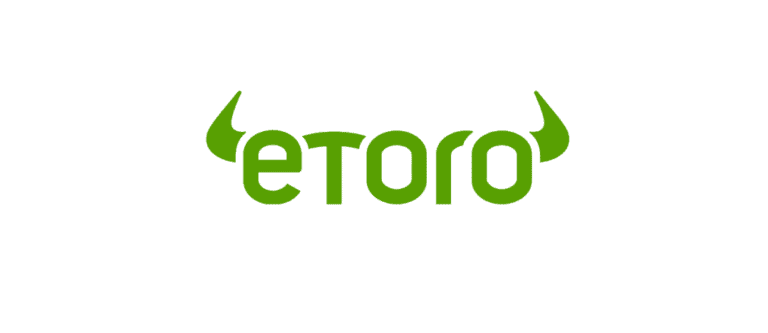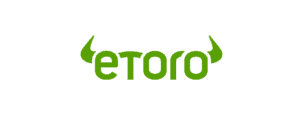 67% of retail investor accounts lose money when trading CFDs with this provider
FAQs
Where is Coinone located?
Is Coinone regulated in the UK?
What cryptocurrencies can buy with a credit card at Coinone?
Does Coinone support PayPal?
What cryptocurrencies can I trade at Coinone?