How to Buy Binance Coin (BNB) in UK | Beginner's Guide
Fact Checked
Everything you read on our site is provided by expert writers who have many years of experience in the financial markets and have written for other top financial publications. Every piece of information here is fact-checked.
Disclosure
Please note that we are not authorised to provide any investment advice. The information on this page should be construed for information purposes only. We may earn commissions from the products mentioned on this site.
Binance Coin (BNB) launched in July 2017 and is now the native coin for the Binance Exchange where you can buy and sell cryptocurrency.
As the cryptocurrency exchange is the largest in the world, it's led to a huge increase in demand for Binance Coin – resulting in moves of more than 2,000% higher! If you're interested in adding crypto assets to your long-term portfolio then keep reading this beginner's guide in how to buy Binance Coin in UK.
What is Binance Coin (BNB)?
Binance Coin (BNB) is a cryptocurrency that was launched in July 2017 through an initial coin offering (ICO). During the ICO, BNB tokens were given to different participants involved in the creation of it. The Binance founding team received 40% of the tokens, angel investors received 10% and 50% went for public sale.
As the Binance Coin is native to the Binance cryptocurrency exchange, users can receive discounts in transaction fees using BNB and it can be traded or exchanged for other cryptocurrencies such as Bitcoin (BTC), Ethereum (ETH), Litecoin (LTC), Ripple (XRP), Cardano (ADA) and many others.
However, the uses of this best Bitcoin alternative – like many other digital currencies – go beyond making transactions on the Binance Exchange. These include:
Trading. You can trade the Binance Coin against other currencies (both fiat currency and digital currency) and potentially profit from the future price direction.
Investments. Some platforms now accept BNB to invest in other asset classes such as stocks, ETFs, and currencies.
Shopping. While cryptocurrency as a form of payment is relatively new, merchants – such as travel companies and entertainment companies – are now starting to accept digital currencies like BNB to purchase items from their stores.
Most UK investors typically buy Binance Coin to hopefully make a profit in the future. BNB has become one of the best cryptocurrencies to invest in throughout 2021.
Why Buy Binance Coin (BNB)? Binance Coin Analysis
At the time of writing, the Binance Coin is a leading cryptocurrency and is in the top five largest cryptocurrencies in the world by market cap. This is a phenomenal achievement for a coin that was only launched in 2017.
At its launch, BNB was trading a price of just ~$2.00. Fast forward a few years and BNB was trading at ~$360.00 at the beginning of 2021! That translates into gains of more than 17,000%.
Even though the price movement has been huge, the Binance Coin itself is still relatively small. Its market cap is just over $34 billion. The market cap for Ethereum, the world's second-largest cryptocurrency is nearly $170 billion. For Bitcoin, it is more than $800 billion.
The long term investment prospects of the Binance Coin – which is the native coin for one of the world's largest cryptocurrency exchanges – still remain very interesting.
Binance Coin Price
The price of the Binance Coin has been extremely volatile in recent years. As the Binance exchange has grown, it has also helped grow the use of the Binance Coin. This is because the platform offers transaction discounts to those who use the coin to buy and sell other cryptocurrencies.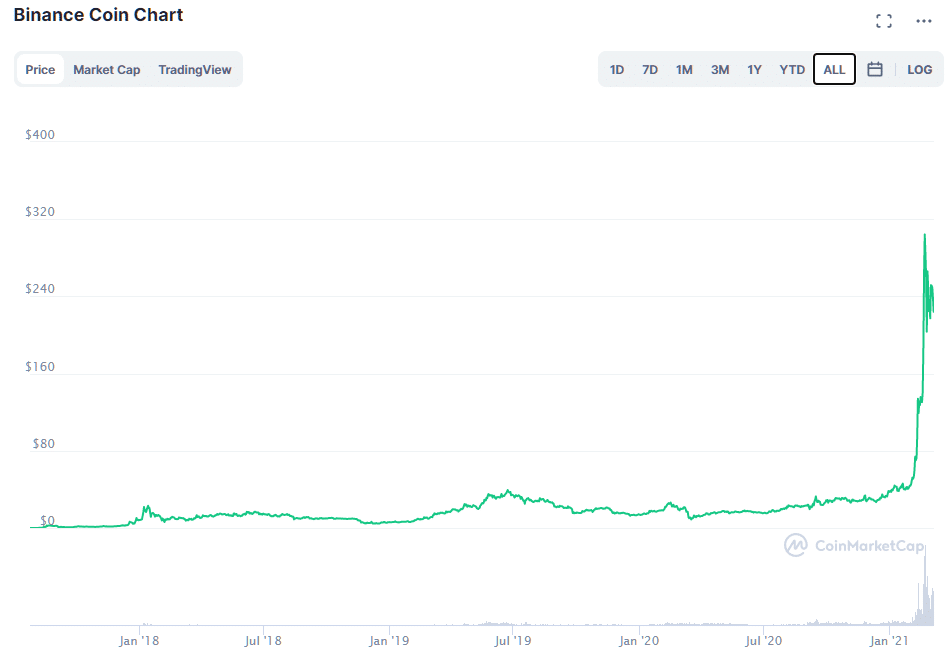 Past performance is not an indication of future results
It has also had the effect of speculators buying the coin anticipating it will be worth even more in the future as the Binance Exchange grows as well. Furthermore, the BNB Burning process has also helped to lift prices.
Every quarter, Binance uses some of its profits to buy back and burn Binance Coins. This quarterly burn will continue to happen until it has destroyed 100 million Binance Coins or around 50% of the total supply. As supply falls, it helps to push up the price of what is left.
Ways of Buying Binance Coin
There are a variety of ways to Binance Coin in the UK. The simplest way is through a cryptocurrency exchange that offers the coin for sale. Other brokers who offer cryptocurrency derivatives and are regulated also present a good option.
Let's have a look at how to buy Binance Coin UK via the most common payment methods.
Buy Binance Coin with PayPal
While PayPal is one of the largest payment processing merchants in the world, there are very few trustworthy cryptocurrency exchanges that allow you to use it. However, there are certain ways to achieve it.
One method is to utilise the Binance P2P (peer to peer) trading system. This allows you to buy Binance Coin and other cryptocurrencies in your local currency. The Binance P2P platform now supports 62 different payment methods, of which PayPal is one of them.
However, it's worthwhile mentioning that this process has a lot of scams. Even Binance themselves put up a risk notice to be wary of scammers using a third-party PayPal account.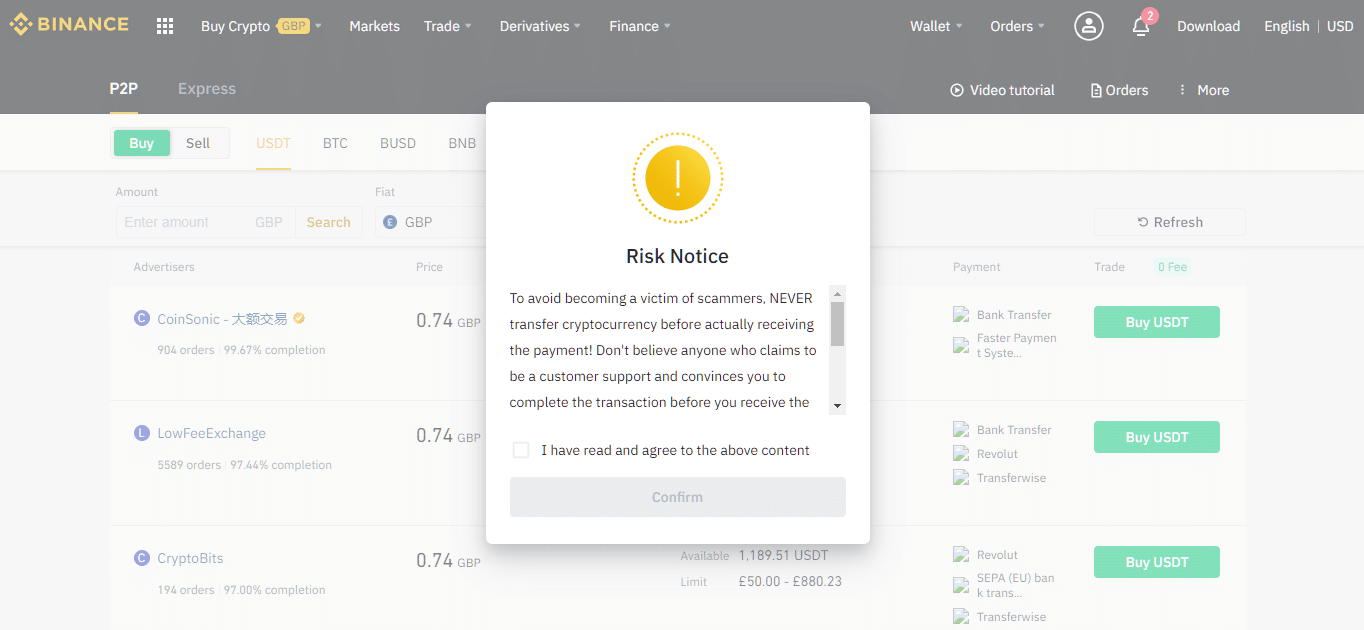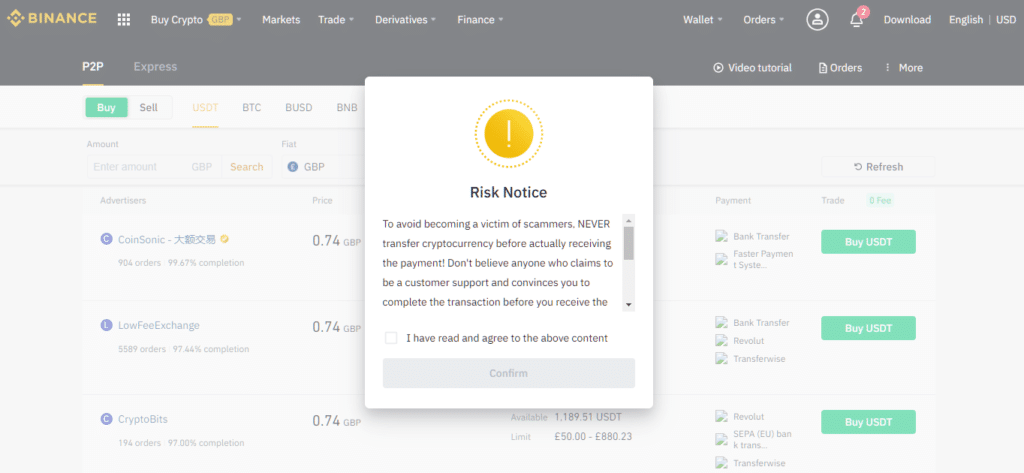 Buy Binance Coin with Debit Card
One of the easiest options to buy Binance Coin in the UK is through a debit card. Not all exchanges allow you to use debit cards as many cryptocurrency exchanges are unregulated.
Fortunately, the Binance Exchange does allow you to buy Binance Coin through debit card purchases. It's a simple process too, as shown below.
Open an account with Binance and verify your ID by uploading your passport or driver's licence.
Click Buy Crypto at the top of the platform and select Debit Card (Visa, Mastercard).
Choose Binance Coin (BNB) from the list of cryptos available.
Type in the amount of BNB you want to buy and then click Buy BNB!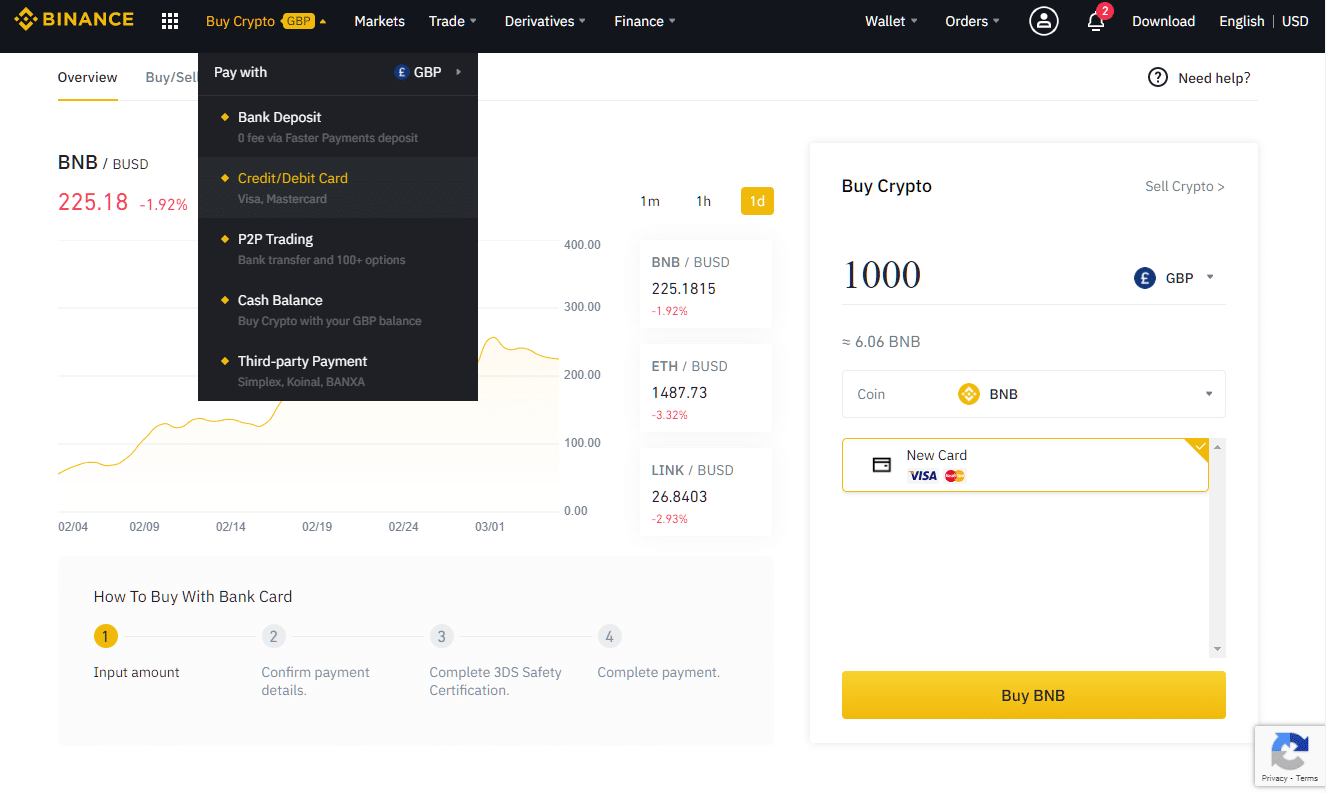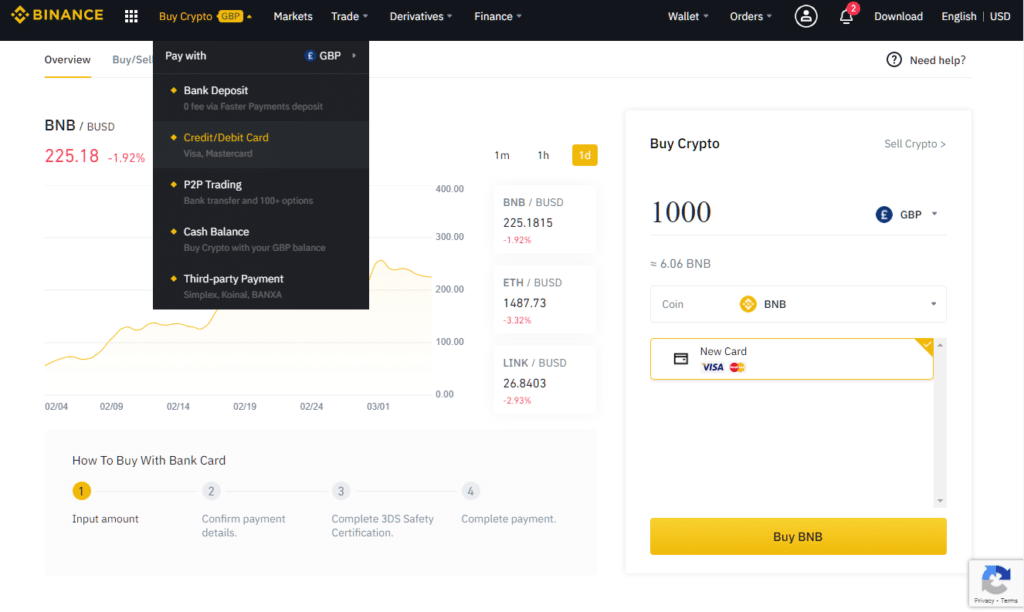 As with most debit cards nowadays there will be a 3DS Safety check too. Once that is completed, the Binance Coin will be added to your BNB wallet.
Buy Binance Coin with Bitcoin
As Bitcoin has a market cap of more than $800 billion, many holders of the digital currency are using their profits to be up-and-coming cryptos like Binance Coin. After all, Binance Coin has a market cap of just over $38 billion so may have a long way to go in the future.
To buy Binance Coin with Bitcoin you first need to have some Bitcoin! Once you have a Bitcoin wallet then you can purchase the Binance Coin from the Binance platform using the steps below.
Open an account with Binance.
In the Wallet area, select Deposit. This will give you several different options. Choose Deposit by Crypto.
This will give you access to your Bitcoin wallet in Binance where you can copy the address and then paste it into your private wallet to make the transfer.
The transfer should take around one minute after which you will have Bitcoin in your Binance account.
Head over to Trade and choose the Convert option. Then input how many Bitcoins you will want to use to purchase Binance Coin. It will give you a preview of the amount for you to confirm. Job is done!
One of the best things about the above process is that you'll only pay 0.1% in trading commissions, as well as a tiny blockchain fee to deposit your Bitcoin.
Where to Buy Binance Coin in the UK
Many investors in the UK are eager to tap into the long-term prospects digital currencies have to offer. While Bitcoin (BTC) has a market cap of $800 billion, many of the other cryptocurrencies are still catching up providing some very interesting opportunities.
Whether you are buying Bitcoin (BTC), Binance Coin (BNB), Ethereum (ETH), Litecoin (LTC), Ripple (XRP), Cardano (ADA) or any of the other altcoins, making sure you are using the right cryptocurrency brokerage and platform is essential.
Here is a review of a top crypto exchange that allows investors to buy Binance Coin.
1. Binance – Largest Cryptocurrency Exchange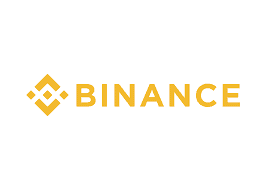 Binance is now the world's largest cryptocurrency exchange and offers a variety of features. The platform offers the ability to buy and sell on hundreds of cryptocurrency pairings. It also offers the ability to buy and sell on spot and futures markets for active cryptocurrency traders.
Trading fees are very competitive at just 0.10% but this is only if you have deposited funds via another cryptocurrency. You can deposit funds using a variety of methods including fiat currency, bank deposit, credit/debit card, P2P trading or third-party payments.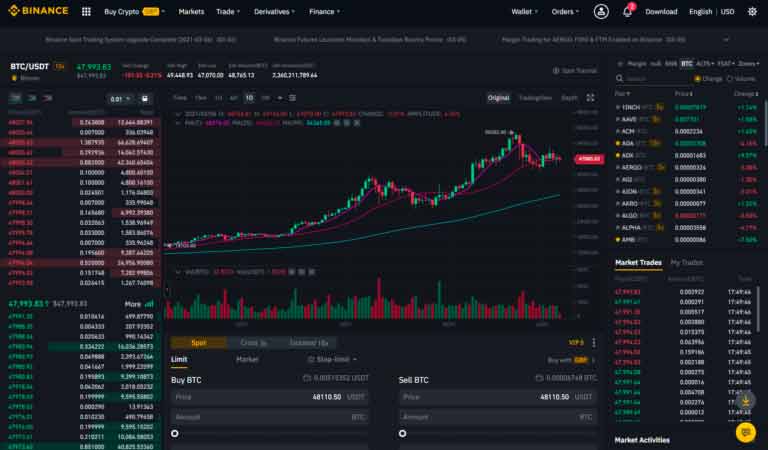 There are zero fees when using bank transfers via Faster Payments and a 1.8% fee when using Visa or Mastercard. Withdrawing funds using the Faster Payments option has a small £1.50 fee, whereas withdrawals back to a Visa card have a 1% fee.
The Binance Exchange also provides access to research and an education section, as well as other features for those building on the blockchain technology such as Binance Labs which is an incubator for top blockchain projects.
Pros
Largest cryptocurrency exchange in the world
Low trading commission of just 0.10%
Buy real cryptocurrency, as well as derivatives such as vanilla options
Zero fees for deposits via Faster Payments
Low fees for deposits via UK debit/credit card
Access to research and education
Cons
The classic trading platform may overwhelm newbies
Cryptoassets are highly volatile unregulated investment products. No EU investor protection.
How to Buy Binance Coin Tutorial
Before we go through some of the frequently asked questions in this How to Buy Binance Coin UK – Beginner's Guide, let's go through a step-by-step process in how to buy Binance Coin through the Binance Exchange. To learn more about using Binance, check out our Binance review.
Follow the simple steps below and you could be holding Binance Coin (BNB) in your own cryptocurrency wallet in just a few minutes. As Binance offers such a wide variety of cryptos, you can follow the same process to also buy Dogecoin, Polkadot, and Chainlink.
Step 1: Open an Account
To start the process you need to open an account with Binance. To do this, just visit their homepage and click the 'Register' button. From here you can create an account via your email address or your mobile. All you need to do is create your own password and make it is a strong one!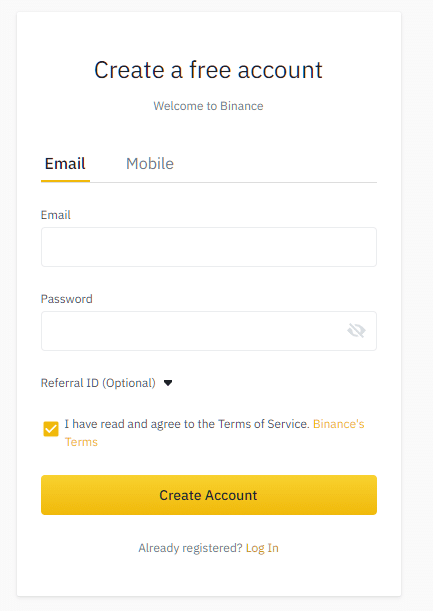 Cryptoassets are highly volatile unregulated investment products. No EU investor protection.
Once you have read Binance's Terms of Service you can click on Create Account. An email will be sent to you to confirm your account opening and once you click on the link provided your account is officially opened!
Step 2: Verify your ID
All reputable financial institutions will ask to verify your identity and address due to regulatory requirements. The verification is a quick and easy process with everything handled online.
To verify your ID you will need some basic information first which will include:
First and last name
Date of birth
Residential address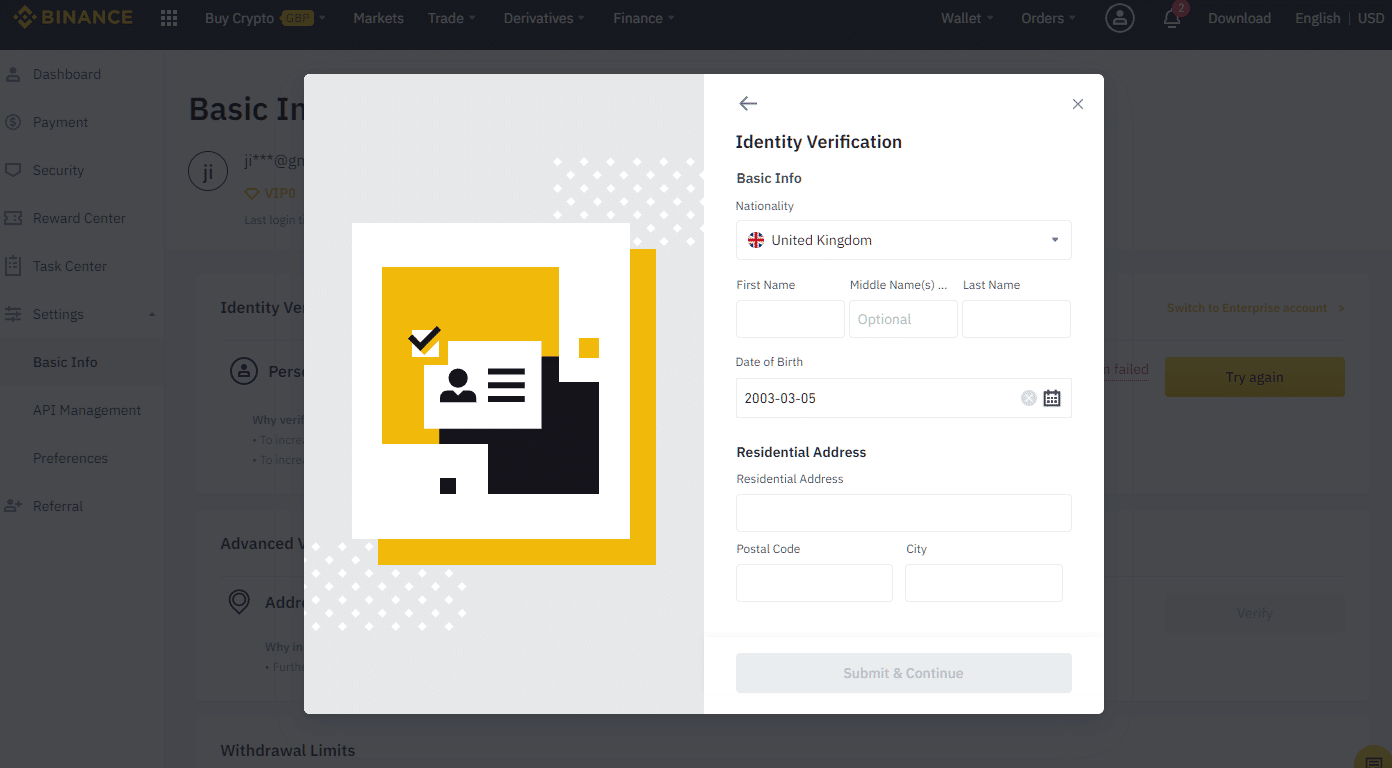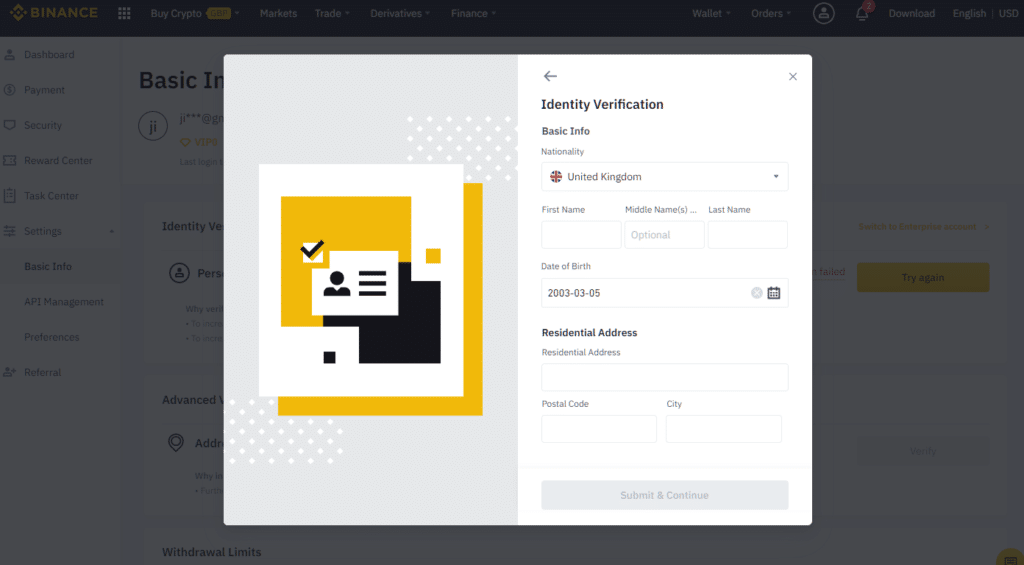 In the next step, you will need to verify your identity via facial verification. This will include:
Uploading a photo of your ID which can be a driver's licence or passport
Taking a picture via a webcam or mobile camera to verify your identity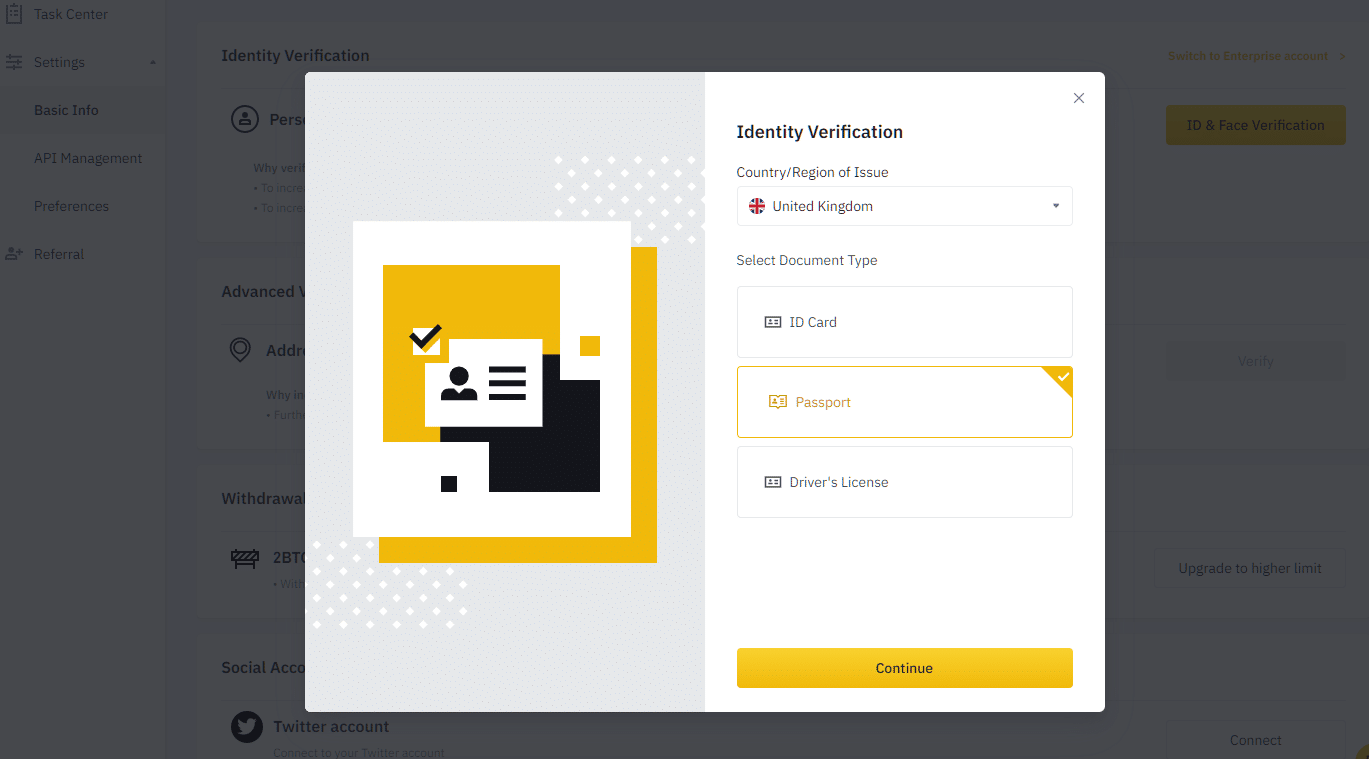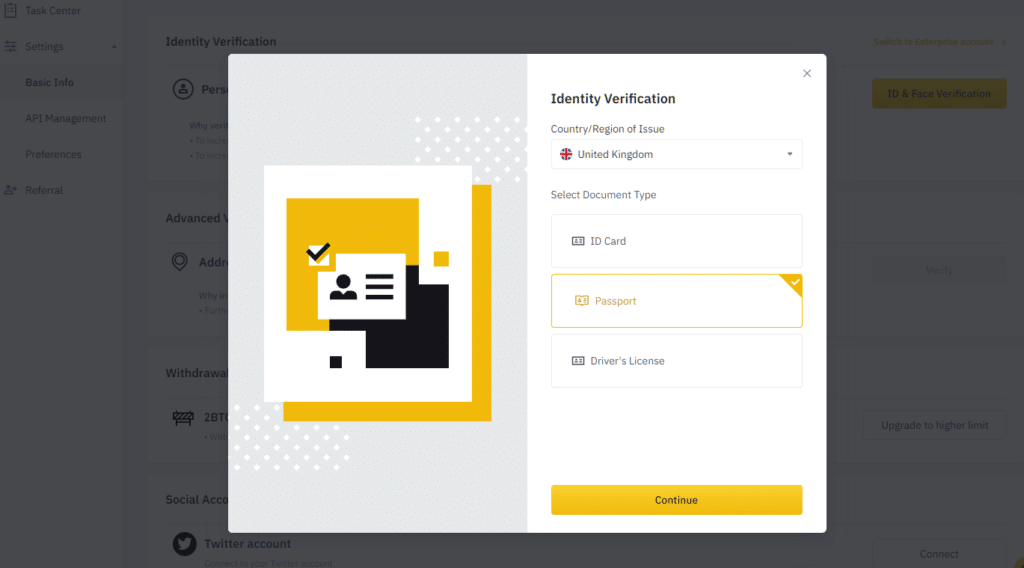 When uploading images or taking a live photo it is important to see all four corners of the document and full face, otherwise, it may get rejected.
Once this has been completed, it allows you to make higher deposits and withdrawals. The maximum at this stage would be deposits of up to £5,000 per day. To increase your maximum deposit to up to £10,000 per day you would need to also verify your bank details and address and upgrade your KYC information.
Step 3: Deposit funds
With Binance, there are a variety of ways to deposit funds. The process will depend on which option you choose. At the top of the platform, the Buy Crypto tab will help you to deposit funds into your wallet.
From this tab, you can select from a large list of currencies such as GBP, as well as EUR, USD, and more. This is great if you have funds held in international accounts. It also gives you a few options to deposit, including:
Bank Deposit – Zero fees via Faster Payments deposit
Credit/Debit Card – Visa/Mastercard 1.8% fee
P2P Trading – Bank transfer and 100+ other options including PayPal
Cash Balance – Buy Crypto with your GBP balance (once initially deposited)
Third-party Payment – Simplex, Koinal, BANXA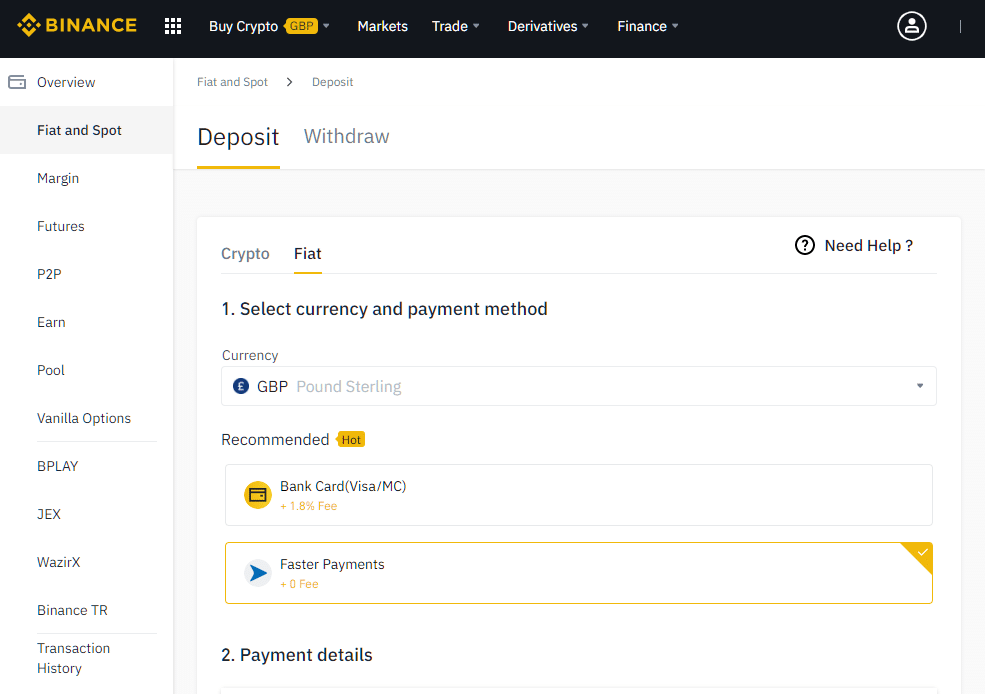 The Faster Payments service offers the most cost-effective way of depositing funds as there are no fees! If depositing via a bank card then there are fees of 1.8%.
If you try to deposit more than your daily limit allows then the remainder will be credited over the next few days. For example, if you deposited £15,000 but your daily limit is £5,000, then funds will be credited into your Binance wallet over the next three days (£5,000 per day).
Step 4: Buy Binance Coin (BNB)!
Once you have deposited funds in your account you will have a cash balance of that particular, let's say it's GBP. To buy Binance Coin you simply need to click on Buy Crypto from the top menu.
There are a few different options available. But, as you have already deposited you can select Cash Balance which allows you to buy crypto with your GBP balance. The next step is to simply choose how much you want to buy in GBP and then choose the right coin.


You can check the performance of all of your cryptocurrency holdings by viewing an overview of your wallet. This helps you stay up to date with the price movements of your digital currency investments.
For more active users, you can also select the Trade option and actively trade your Binance Coin against other currencies – both fiat currency and digital currency.
Step 5: Sell Binance Coin (BNB)
At some point in the future, you may consider selling your Binance Coin and converting it back into GBP. After that, you can then transfer the funds back to your own personal bank account.
If you hold your cryptocurrency in the Binance wallet, all you need to do is use the Convert option to convert your BNB into GBP. Then you can go to your wallet and select the Withdraw option. Withdrawing your funds using the Faster Payments option has a small £1.50 fee and withdrawing back to a Visa card has a 1% fee.
If you transferred your Binance Coin to a private wallet then you would need to send it back to your Binance wallet and then follow the steps above to convert it into GBP.
Conclusion
The long-term prospects of Binance Coin (BNB) look very interesting. With a market cap of only $38 billion, there could be some way to go considering the world's second-largest cryptocurrency, Ethereum, has a market cap of nearly $200 billion.
Choose a suitable crypto exchange and start investing in Binance Coin.
FAQs
Should I buy Binance Coin?
How can I buy Binance Coin instantly?
How can I buy Binance Coin anonymously?
What can I buy with Binance Coin?
What are the risks of buying Binance Coin?
Is it safe to buy Binance Coin?