How to Buy Bitcoin with Neteller – Beginner's Guide
Fact Checked
Everything you read on our site is provided by expert writers who have many years of experience in the financial markets and have written for other top financial publications. Every piece of information here is fact-checked.
Disclosure
Please note that we are not authorised to provide any investment advice. The information on this page should be construed for information purposes only. We may earn commissions from the products mentioned on this site.
Wondering how to buy Bitcoin with Neteller? Electronic wallets such as Neteller have become a traditional payment method for millions of individuals across the world as they are now accepted by a large number of establishments – both online and offline – to purchase goods and services.
Meanwhile, this popular digital payments platform has recently launched a feature through which users can buy cryptocurrencies directly by using their Neteller account or by funding a brokerage account. In this article, we explain in detail the many ways through which you can buy Bitcoin with Neteller.
Key Points on buying Bitcoin with Neteller
Neteller offers fixed and transparent fees for buying cryptocurrencies making budgeting much easier.
For trades under $99.99 transactions fees start from just $0.50..
Neteller makes sending, holding, and acquiring Bitcoin straightforward and fast with P2P transactions also incurring a 0.5% fee.
Why Buy Bitcoin with Neteller?
Are there good reasons to buy Bitcoin with Neteller? Here, we list five characteristics that make Neteller a great choice to purchase this popular cryptocurrency.
Straightforward Transaction Fees
Most pure-play cryptocurrency exchanges nowadays do not disclose the fees they charge for buying and selling crypto assets as they have to cope with the fluctuation of network fees and other unpredictable variables.
However, Neteller has managed to offer fixed pricing for buying crypto and this gives investors the ability to predict how much they will spend on transaction costs.
For transactions below $99.99, transaction costs are charged as a fixed dollar amount starting at $0.50. Meanwhile, for transactions of $100 or higher, Neteller Bitcoin purchases generate a percentage commission on the amount traded starting at 1.3% for gold, diamond, and exclusive VIP users.
Transfer Crypto Easily
With Neteller, transferring cryptocurrencies to third parties including your friends, family, and business associates has never been easier.
The only information you need is the e-mail address or phone number associated with the Neteller account of the transaction's recipient to send them any amount of crypto assets you would like.
All P2P transactions generate a 0.5% fee per transaction.
Multiple Payment Methods Supported
Multiple payment methods are available to deposit money to buy Bitcoin with Neteller. In the United Kingdom specifically, these are some of the methods available:
Debit cards (Maestro/Visa/Mastercard).
Fast Bank Transfer.
Bank Transfer.
Local bank deposit.
Paysafe Card and Paysafe Cash.
Rapid Transfer.
Deposit fees vary depending on the payment method used. In some cases, no deposit fee applies while the highest percentage commission paid is 5%.
Ample Portfolio of Available Tokens
More than 30 different tokens can be bought with Neteller along with a large number of crypto crosses. These are some of the crypto assets and pairs that are currently supported by this platform.
| | | | | |
| --- | --- | --- | --- | --- |
| Bitcoin | Bitcoin Cash | Cardano | Ethereum | Ethereum Classic |
| EOS | Polygon | Decentraland | Stellar Lumens | Compound |
| The Graph | Bancor | Synthetix | Tezos | Uniswap |
| LTC/BTC | ETH/BTC | BCH/BTC | LINK/BTC | MANA/BTC |
This ample selection of tokens allows investors to diversify their portfolios by increasing their exposure to innovative blockchain projects. This can be done safely by relying on the services of a trusted provider such as Neteller, which can protect investors' assets from unauthorized access via the Neteller Bitcoin Wallet.
Withdraw Your Crypto Assets to Another Wallet
With so many different choices available nowadays to store crypto assets safely, this provider has enabled the option of withdrawing funds from Neteller to Bitcoin wallet.
This process can be quickly and easily completed via the Neteller app. Users just have to log into their Neteller account, click on the 'Money Out' option and then go to 'Crypto Wallet'. After that, the user will have to provide the virtual address of the wallet along with the amount of crypto he/she will like to withdraw.
A confirmation message will be received once the transaction has been processed. It is important to note that fees for withdrawing crypto assets from a Neteller Crypto Wallet may vary depending on the fees charged by the network that processes the operation. With this feature, users also have the possibility to send their holdings at Neteller to Bitcoin exchange.
Where to Buy Bitcoin with Neteller
In this section, we provide more details on the three providers you can use to buy Bitcoin with Neteller – including Neteller directly.
1. Coinbase – Best Crypto Exchange to Buy Bitcoin with Neteller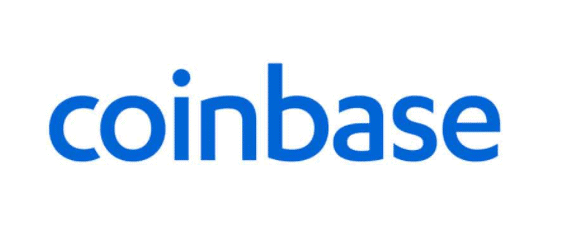 Coinbase is considered the world's largest pure-play cryptocurrency exchange with over 35 million active users and hundreds of billions of dollars in assets under custody. The company is based in the United States and it is regulated by the Securities and Exchange Commission (SEC).
Since this broker specializes in crypto trading, it offers access to a large number of assets within this ecosystem including some of the most exotic tokens out there.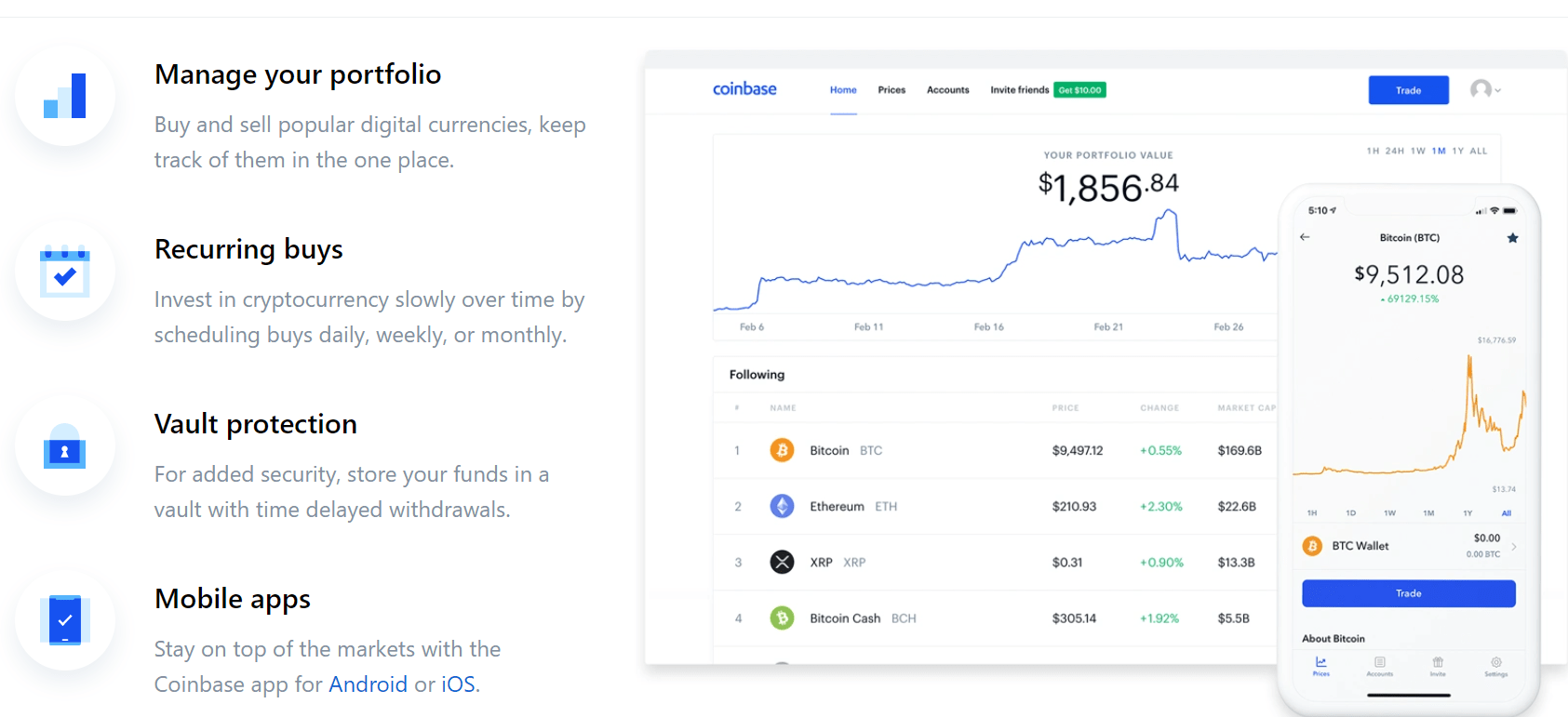 UK residents are required to make an initial deposit of £50 to open an account with Coinbase. This broker does not disclose its trading fees as they vary based on multiple factors. Since cryptocurrencies are traded by using different native blockchains, costs fluctuate wildly from one network to the other.
The company (Coinbase Payments) is regulated by the Financial Conduct Authority (FCA) and authorized to operate under the license number 900635.
| | | | |
| --- | --- | --- | --- |
| Debit Card Instant Buy | Debit Card Withdrawal | UK Bank Transfer | Trading Commission |
| 3.99% | 2% | FREE | 1.49% |
Pros
Pure-play cryptocurrency exchange regulated by a top-tier agency – the United States Securities and Exchange Commission (SEC).
The company holds an FCA license to operate in the United Kingdom.
Ample portfolio of crypto tokens available for trading.
Low minimum deposit required to open an account.
Cons
Trading fees are difficult to estimate.
Your capital is at risk.
2. Neteller – Top-rated Digital Payments Platform
Neteller is a digital payments platform owned and operated by Paysafe – a world leader in payment solutions. This provider offers its services in more than 200 countries and it has recently incorporated a feature through which Neteller account holders can buy and sell cryptocurrencies.
The selection of cryptocurrencies that can be purchased with Neteller at the moment is quite ample and it includes top tokens such as Bitcoin (BTC), Ethereum (ETH), Cardano (ADA), and Litecoin (LTC) and other more exotic crypto assets such as Dogecoin (DOGE), NuCypher (NU), and Numerai (NMR).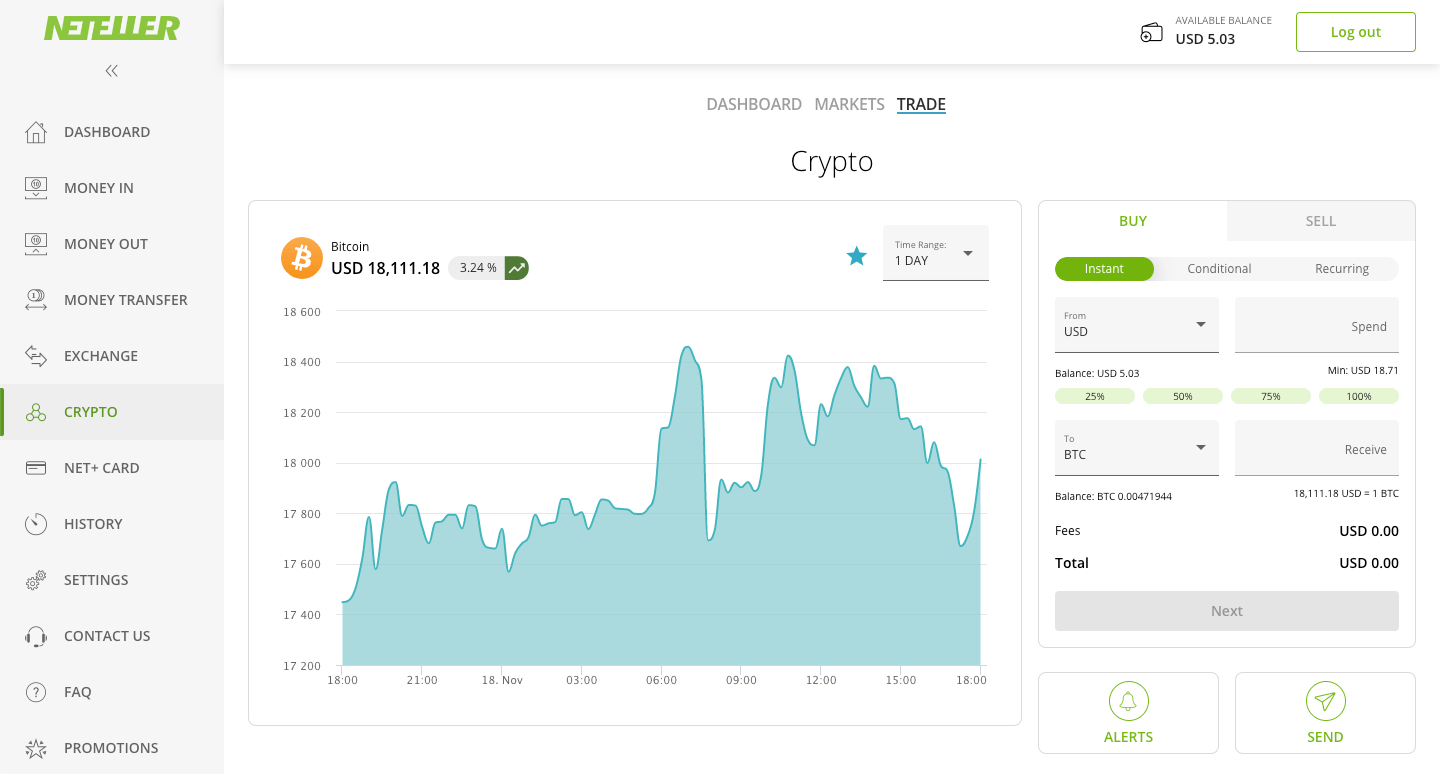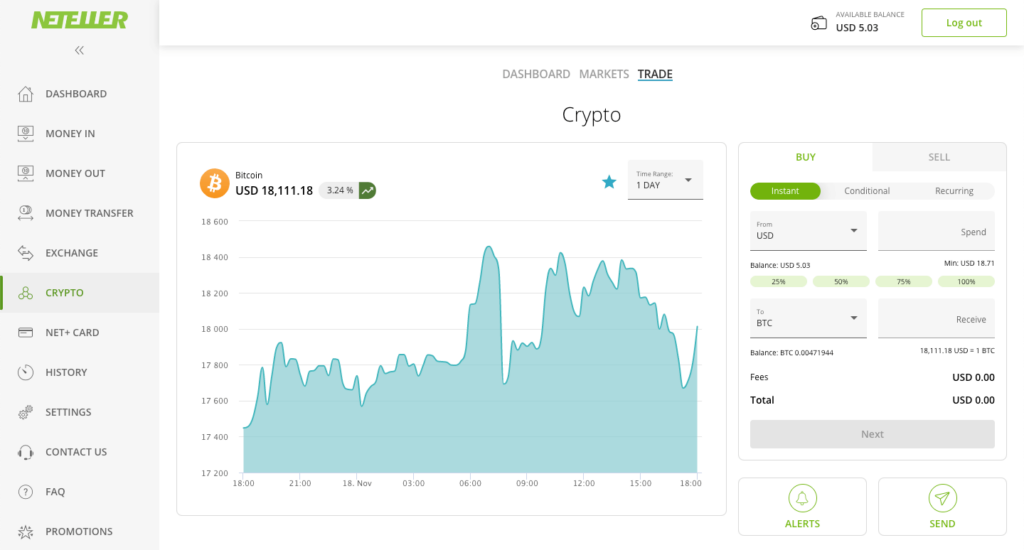 Users can employ their Neteller account balance to purchase cryptos and they can send it to other Neteller users by using their e-mail addresses or phone numbers. The minimum purchase at the moment stands at EUR 10 and fees vary depending on the user's service package. Additionally, Neteller BItcoin purchases can be easily withdrawn to another wallet.
This is a breakdown of all transaction costs involved to buy Bitcoin with Neteller:
| | | | | |
| --- | --- | --- | --- | --- |
| Transaction size | Standard | True | Silver VIP | Gold/Diamond/Exclusive VIP |
| Up to $19.99 | $0.99 | $0.70 | $0.50 | $0.50 |
| $20 – $99.9 | $1.99 | $1.70 | $1.50 | $1.50 |
| $100 or more | 1.90% | 1.70% | 1.40% | 1.30% |
There is also a 0.5% commission charged on P2P transactions that involve sending Bitcoin to Neteller account.
Neteller is a digital payments platform owned and operated by Paysafe Financial Services, a company regulated by the Financial Conduct Authority (FCA) and authorized to operate in the UK under the license FRN 900015.
Pros
FCA-regulated digital payments provider.
The platform is owned and operated by a well-reputed company.
Competitive and fixed trading fees.
The process of opening an account with Neteller can be completed in minutes.
No minimum deposit is required to open an account.
Cons
Neteller Bitcoin withdrawal costs are not disclosed clearly.
This provider charges a 5% deposit fee on all methods including credit and debit cards and wire transfers.
Your capital is at risk.
Conclusion
Bitcoin is progressively becoming the de-facto currency of the digital realm and investors should not miss out on the opportunities that buying and holding this token will bring once its adoption accelerates.
In this article, we have provided you with multiple options to buy Bitcoin with Neteller. This can be done by accessing popular crypto exchanges including Coinbase.
Frequently Asked Questions on How to Buy Bitcoin with Neteller
Can I use Neteller to buy Bitcoin?
Can you transfer money from Neteller to Bitcoin?
How do I get Bitcoin on Neteller?
How do I buy Bitcoin with Neteller?