Easyjet is a UK-based budget airline company that operates throughout Europe. The firm is publicly listed on the London Stock Exchange, meaning that you can buy Easyjet shares with ease.
In this guide, we discuss the easiest and most cost-effective way of buying Easyjet shares online in the UK. We also outline the specific steps that you need to take, alongside the best brokers to do this with.

In order to buy Easyjet shares online, you will need to use a stock broker that gives you access to the London Stock Exchange. If you're from the UK, you will have hundreds of platforms to choose from. But, this can make it challenging to know which broker to sign up with, not least because no two platforms are the same.
To help point you in the right direction, below we discuss two well-regarded online stock brokers that allow you to buy Easyjet shares.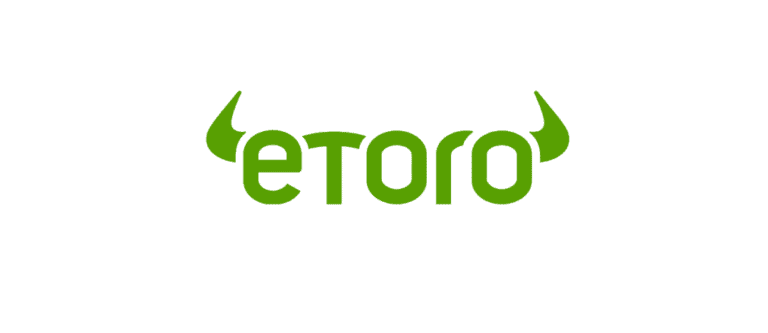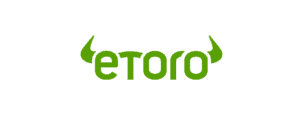 eToro is an online share dealing platform that also offers CFD products. If you simply want to buy Easyjet shares in a simple and cost-effective manner, eToro is likely to be your best option. First and foremost, the online broker allows you to buy shares without paying a single penny in commission.
As such, the only fees that you need to take into account is that of a 0.5% currency conversion charge when you make a deposit. Other than a small $5 withdrawal fee, there are no other costs involved when buying stocks. On top of listing London Stock Exchange companies like Easyjet, you will have access to 16 other markets.
This includes many of the best shares to buy and companies listed in the US, Hong Kong, Germany, Sweden, France, and more. ETFs can also be invested in at eToro – once again on a commission-free basis. If you do like the sound of eToro, it takes just minutes to get set up with an account. Upon registering and uploading a copy of your ID, you can deposit funds with a UK debit/credit card, e-wallet, or bank account.
One of the most notable aspects of eToro is that it's a social and copy trading platform. This means you can engage with other users to discuss strategies and share tips, and you can even use the CopyTrader tool to mimic the portfolios of top investors! This is available on both the desktop platform and the eToro stock trading app.
You will need to meet a $200 minimum deposit, which at the time of writing amounts to £160-ish. You can, however, invest from just $50 into Easyjet shares, meaning that the balance can be utilized on other companies. eToro is heavily regulated, so you should have no issues with safety. This includes a license with the FCA, as well as protection from the FSCS (up to the first £85,000).
Pros:
User-friendly online stock broker
Buy shares without paying any commission or share dealing charges
800+ shares listed on UK and international markets
Buy shares or trade CFDs
Social and copy trading tools
Accepts PayPal
Mobile trading app
Holds an FCA licence
Cons:
Not suitable for advanced traders that like to perform technical analysis
67% of retail investor accounts lose money when trading CFDs with this provider.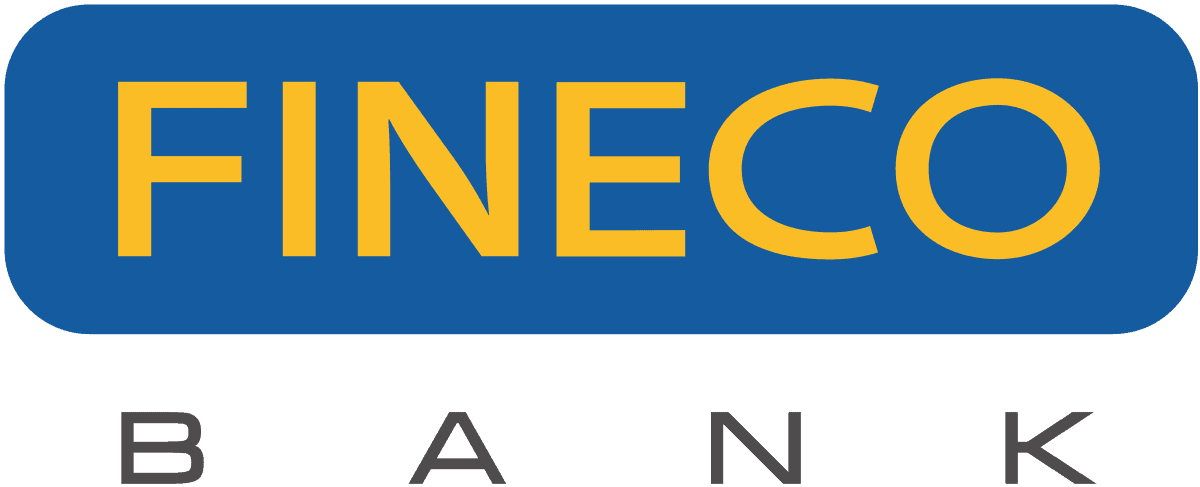 Fineco Bank is not as well known as eToro, but it worth considering nonetheless. The platform is backed by an Italian investment bank that has been operational since 1999. The reason it makes our list is that you will have access to thousands of stocks – including that of Easyjet. This covers heaps of UK and international markets, so you will be able to diversify with ease.
Although Fineco Bank doesn't offer commission-free trades like eToro, you will benefit from a headline rate of just £2.95 per investment. You will need to pay a small annual platform fee of 0.25% if you hold a balance of less than £250,000. This still makes Fineco one of the most competitively priced options out there.
Fineco Bank is also a good option if you are keen to explore stock trading. This means that you will be speculating on the future value of stock CFDs. In doing so, you will have the option of going long or short on Easyjet, as well as apply leverage. Regarding the latter, this stands at 1:5 if you are a UK retail trader. Additionally, funds and ETFs are also offered by the broker.
In terms of the specifics, Fineco Bank requires a minimum deposit of £100. You will need to transfer funds from your UK bank account, albeit, the process is relatively straightforward. Much like in the case of eToro, Fineco Bank is heavily regulated. Among several other licensing bodies, this includes the FCA.
Pros:
Charges just £2.95 per trade when buying and selling shares
Access to thousands of UK and international shares
Deposit funds with a UK bank account
Heavily regulated, including an FCA license
Suitable for both newbies and seasoned investors
Great research and educational department
Established way back in 1999
Cons:
Does not accept deposits and withdrawals via debit/credit cards
Still relatively unheard of in the UK investment scene
Your capital is at risk.
Taking into account the wider impact of the COV-19 pandemic on the global travel industry, it will come as no surprise to learn that Easyjet shares encountered a turbulent time in the first two quarters of 2020. With this in mind, it is crucial that you do some homework on the company before making an investment.
Launched in 1995, Easyjet is a UK-based low-cost airline that services over 30 European countries. Now operating over 1,000 routes, Easyjet has grown significantly since its inception. In fact, it took just 5 years for the airline to float on the London Stock Exchange, which it did in 2000.
With a July 2020 market capitalization of over £3 billion, Easyjet now forms part of the FTSE 250 index. In terms of its share price history, Easyjet stocks were priced at 310p in 2000. The stocks peak in early 2015 where they hit 1,870p per share. This represents an increase of over 558% in just a 15 year period.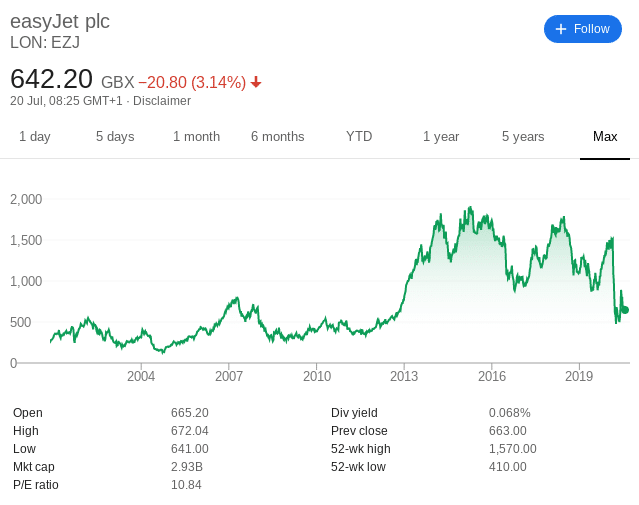 However, Easyjet shares have somewhat volatile since, with the stocks hitting lows of 952p in October 2016. With that being said, the Easyjet share price up an extended upward trajectory until the COV-19 pandemic came to fruition, with a January 2020 price of 1,477p. Much like the rest of the airline industry, the stocks then fell off a cliff. This amounted to lows of 410p in March 2020.
Those entering the market at this point in time are now starring at substantial short-term gains. At the time of writing in July 2020, Easyjet shares are now priced at 691p. This represents an increase of over 68% in just four months. If Easyjet shares are able to regain their pre-COV-19 levels at 1,477p – this would require a further increase of 113%.
Easyjet Dividend Information
As an Easyjet shareholder, you will be entitled to dividends as and when they are distributed. There was, however, a media backlash when the company announced that it would continue to meet its dividend obligations in Q2 2020. The reason for this is that much like the rest of the UK airline industry – Easyjet was forced to utilize the government furlough scheme.
As such, various circles argued that the company should have suspended its dividend policy until further notice. This wasn't the case though, so unless something changes in the short-term, Easyjet will continue to pay dividends.
As is the case with all investments, it's crucial that you consider the long-term viability of your Easyjet share purchase. After all, the COV-19 pandemic showed us just how quickly the stock markets can lose value. Easyjet specifically was hard-hit by the global travel ban, so it's important to do some homework before taking the plunge.
With this in mind, below you will find a list of reasons why investors are bullish on Easyjet shares.
Europe is open – for now
Most European countries began to relax their travel restrictions in June/July 2020. This was nothing short of welcome news for airline companies like Easyjet, whose fleet of planes was largely grounded for near-on three months. As a result, the company is slowly but surely re-introducing its 1,000+ UK and European routes. While arguably it remains to see how long it will take to get back to pre-COV-19 numbers, Easyjet at the very least has incoming cash flow going through its books.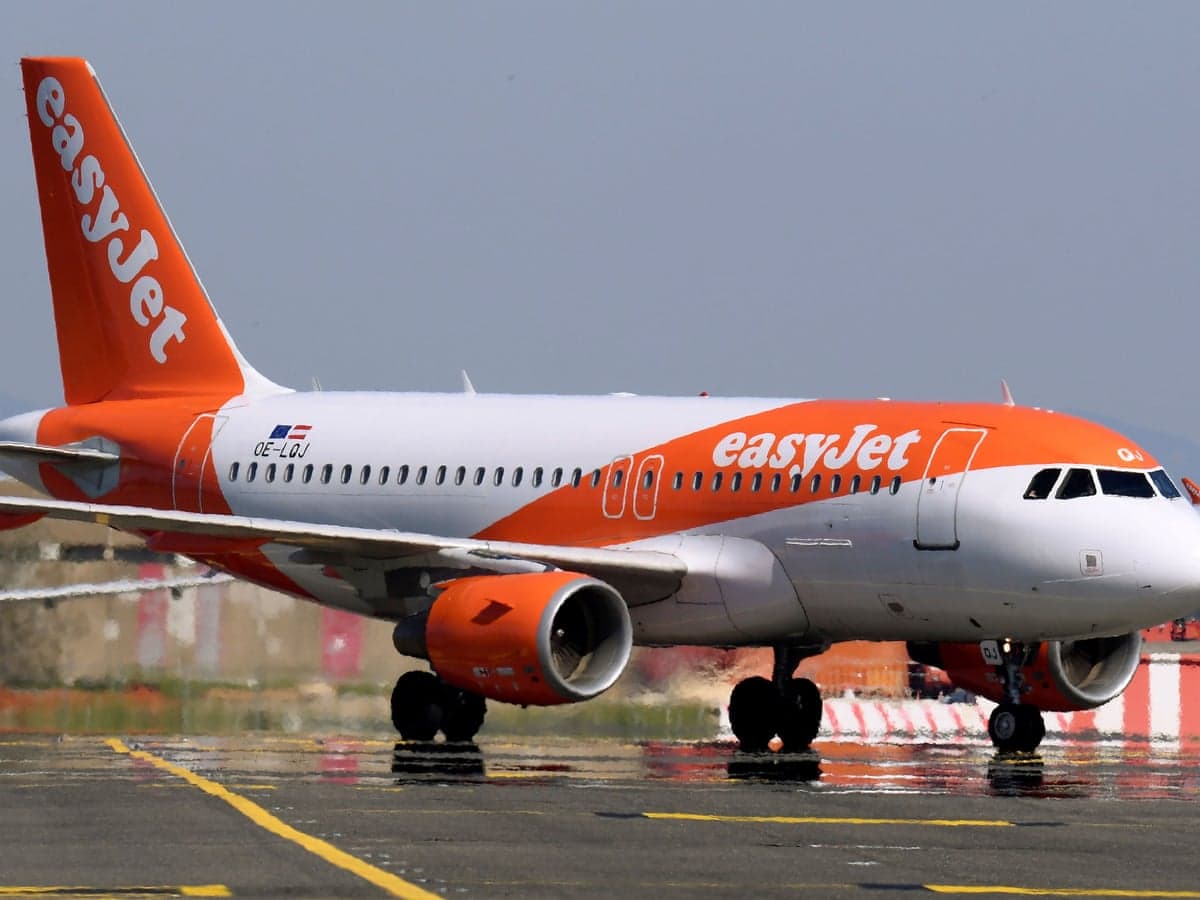 As we briefly discussed earlier, the Easyjet share price plummeted from highs of 1,477p in January 2020, to just 410p in March. However, the shares have since surpassed the 700p mark, resulting in gains of well over 68% in just four months.
Sure, you might have missed the boat on buying this airline stock at 410p.  But, at current levels, a discounted Easyjet share price is still potentially on offer. After all, it wouldn't be entirely unreasonable to set 1,477p as a medium-term target.
This will, however, be entirely dependent on Easyjet passenger bookings returning to pre-COV-19 levels. Once again, nobody quite knows how long this will take – not just in the case of Easyjet, but across the wider airline and travel industry.
In response to the COV-19 crisis, management at Easyjet has since initiated a new share issue. In simple terms, the company raised an additional £419 million across just under 60 million new shares. This move is arguably both a positive and negative for you as an Easyjet shareholder.
On the one hand, this does mean that existing shareholders are looking at a dilution of 15%. On the other hand, the additional capital raised will ensure that Easyjet's balance sheet is shored up.
Step 3: Open an Account and Deposit Funds
If upon researching the credentials of Easyjet you want to proceed with a share purchase, the next step is to open an account with your chosen broker. In order to show you how to invest in stocks of Easyjet, the following guidelines are based on eToro, our recommended broker.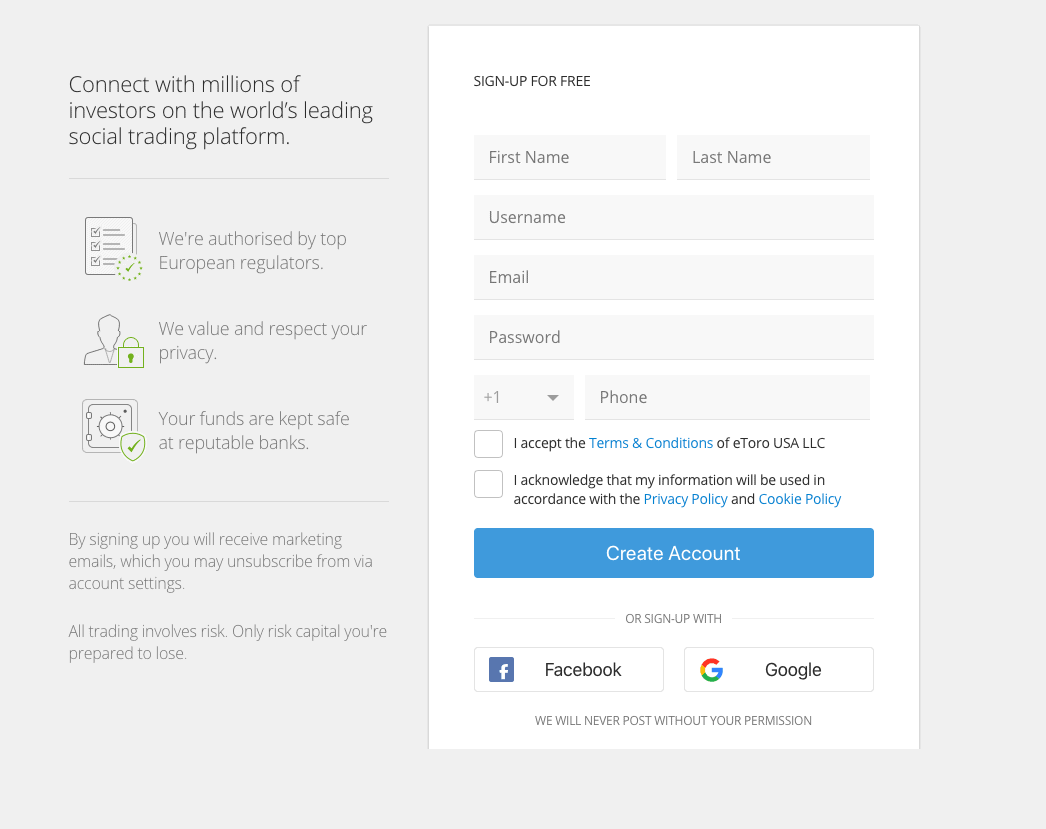 67% of retail investor accounts lose money when trading CFDs with this provider.
So, you will first need to visit the eToro website and elect to register an account. You will then be asked to enter a range of personal information – such as your full name, home address, date of birth, and contact details. You will also need to supply your national insurance number and details of your prior trading experience.
eToro will then ask you to upload some ID. This is to ensure that the broker remains compliant with the FCA. If you are planning to invest less than €2,000 (about £1,800), you can do this at a later date.
The two documents required are:
Passport or Driver's License
Recent Utility Bill or Bank Account Statement
When it comes to depositing funds, you can choose from one of the following payment methods:
Debit Card
Credit Card
Paypal
Skrill
Neteller
UK Bank Transfer
Take note, you will need to deposit at least $200 (about £160). But, and as noted earlier, you can buy just $50 (about £40) worth of Easyjet shares, so you can use the remaining balance to invest in other stocks.
Once you have gone through the registration, verification, and deposit process – you are then ready to buy Easyjet shares. This part of the process should take you no longer than a couple of minutes.
Firstly, enter 'Easyjet' into the search box at the top of the page.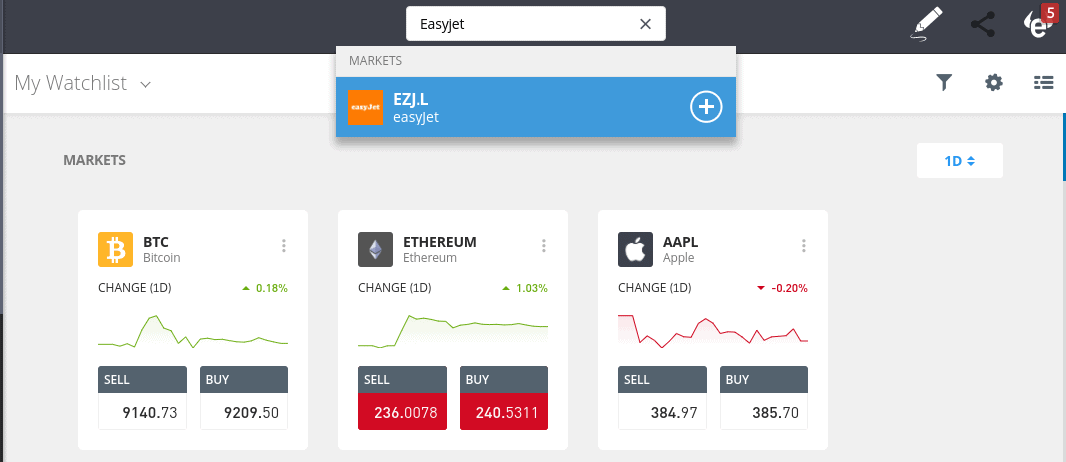 Once you click on the result that loads up, click on the 'Trade' button.
67% of retail investor accounts lose money when trading CFDs with this provider.
Then, you need to enter the amount that you wish to invest in Easyjet. Remember, eToro functions in USD, and not GBP. Finally, click on the 'Open Trade' button to complete your Easyjet share purchase!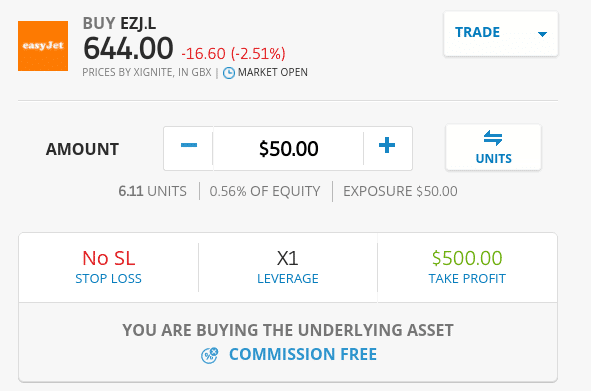 Note: If you are buying Easyjet shares outside of standard market hours (8.00 am to 4.30 pm, UK Time), you will need to click on 'Set Order'. Your share purchased will then be completed when the markets open.
Other Airline Stocks
Interested in investing in other airline companies? Check out the list below.
The Verdict
In summary, many investors will be steering well clear of airline shares like Easyjet. After all, the global travel industry is unlikely to return to pre-COV-19 levels for some time. But, if you believe that this will eventually be the case, then you stand the chance to buy Easyjet shares at a major discount. On top of this, you also stand the chance to benefit from ongoing dividends, as Easyjet is yet to put a suspension in place.
If you do want to buy shares in Easyjet today, you can complete the process from the comfort of your home in minutes. eToro, for example, allows you to instantly deposit funds with your UK debit/credit card or e-wallet, and then invest from just $50 (£40) into Easyjet.
Simply click the link below to get started!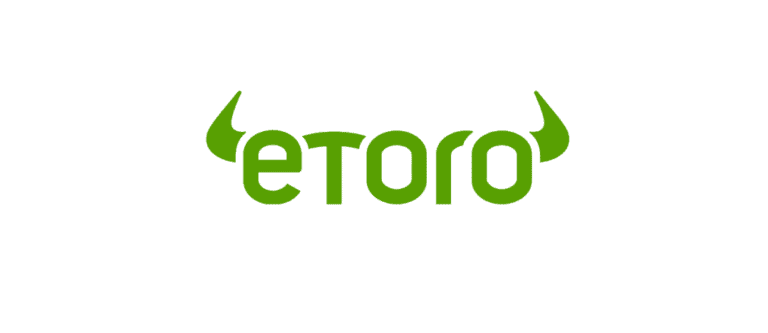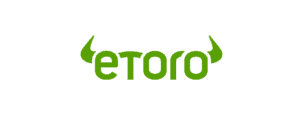 67% of retail investor accounts lose money when trading CFDs with this provider.
FAQs
How much were Easyjet shares when the firm first went public?
How much does it cost to buy Easyjet shares in the UK?
Does Easyjet pay dividends?
What is the minimum number of Easyjet shares that I can buy?
Read next