Launched in 2006, Boohoo is one of the fastest-growing online fashion retailers in the UK. In fact, it recently hit a market capitalization of over £6 billion. Not bad for a firm listed on the UK's secondary exchange – the AIM.
In this article, we show you how to buy Boohoo shares online in the UK.
In This Guide
In This Guide
Step 1: Find a UK Stock Broker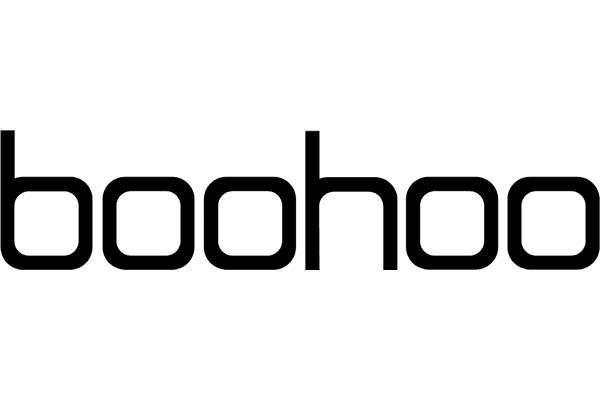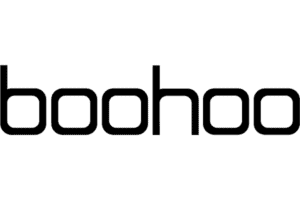 Although the company has a multi-billion pound capitalization, Boohoo shares are listed on the Alternative Investment Market (AIM). As the UK's secondary stock exchange, this does make it slightly more problematic in finding a suitable stock broker.
For example, not only do you need to ensure that your chosen platform offers Boohoo shares, but it needs to meet a range of other metrics. This should include low fees and commissions, lots of supported payment methods, and a license from the FCA.
The good news for you is that we have sourced the best UK stock brokers currently listing Boohoo shares – which you'll find below.
1. IG – Trusted UK Stock and CFD Trading Platform With Competitive-Fees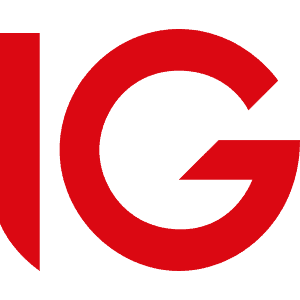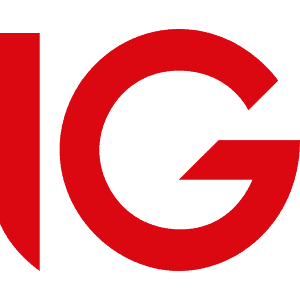 IG is a trusted online brokerage firm that traces its roots back to 1974. On top of licenses with the FCA and ASIC, its parent company is also listed on the London Stock Exchange. In terms of its online investment services, IG covers traditional shares, CFDs, and spread betting. This gives you ample opportunities to profit from the rise and fall of stocks like Boohoo.
Its share dealing platform contains over 10,000 equities, which covers hundreds of UK companies. Outside of the UK's LSE and AIM, you can also buy shares in international firms. This covers everything from the US, Canada, Australia, South Africa, and Germany. If you fancy trading stock CFDs, its library hosts over 13,000 instruments. This also includes Boohoo CFDs.
When it comes to fees, IG is very competitive. You will pay an entry-level commission of just £8 per trade. This means you will pay a fee when you buy shares and again when you cash them out. If you are trading large volumes, this is particularly attractive as you will not get penalized with a variable rate. If you manage to place more than three orders in a single month, then you will have your commission reduced to £3.
We should also note that the spreads are very competitive at IG. At the time of writing, you are looking at a buy and sell price on Boohoo shares of 276.10p and 275.80, respectively. This is reasonable considering that you are trading AIM shares. If you want to get started with IG, you will need to make an initial deposit of £250. You can do this with a debit card, credit card, or UK bank account.
Pros:
Trusted UK broker with a long-standing reputation
Good value share dealing services
Leverage and short-selling also available
Spread betting and CFD products
Access to over 10,000 stocks
Great research department
Cons:
A minimum deposit of £250
US stocks have a $15 minimum commission
Your capital is at risk.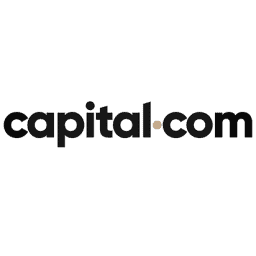 Capital.com is a specialist CFD broker, meaning that you will be 'trading' Boohoo shares. In turn, you won't own the underlying asset. However, CFD trading gives you much more flexibility in opening a position that meets your needs. For example, you have the option of placing a buy or sell order.
For those unaware, not only does this mean that you can speculate on the value of Boohoo shares going up, but you can also profit when the shares go down. This is something that you cannot do with traditional share dealing services. By trading Boohoo stock CFDs, you will also have the option of applying leverage.
This stands at 1:5 on stock CFDs if you are a UK retail trader. If you're deemed to be a professional client, you will get even more. Either way, this allows you to trade with more money than you have in your account. Irrespective of which way you think the markets will go, Capital.com allows you to enter buy and sell positions without paying any commissions.
You will also find that the platform offers tight spreads – even on AIM shares. Overall, Capital.com offers CFDs for over 2,000 shares, including many of the best shares to buy.
You should not have any concerns with safety at the platform, as Capital.com is regulated by the FCA. An additional benefit of using this provider is that you can deposit from just £20. This is ideal if you want to trade Boohoo share CFDs, but you want to start off with low stakes. Finally, Capital.com also allows you to trade on the move via its mobile stock trading app.
Pros:
Trading on hundreds of US and UK shares
Educational app for new traders
AI assistant identifies your weak points
Trade ideas generated daily
Excellent charting and analysis interface
100% commission free trading
Cons:
Cannot build custom trading strategies
75.26% of retail investor accounts lose money when trading CFDs with this provider.
Step 2: Research Boohoo Shares
Boohoo has performed remarkably well since its 2014 IPO, and so early backers have been rewarded handsomely. However, this isn't to say that you should just jump straight in and make a purchase yourself. Instead, you should take a step back and perform some independent research.
To help point you in the right direction, below we have highlighted some of the key fundamentals that you need to consider before buying Boohoo shares.
Boohoo Share Price History
Boohoo is a fashion retailer that has 16-30-year-olds as its key target market. Based in the UK and launched as recently as 2006, the firm went public in 2014. As is often the case with up-and-coming companies, Boohoo opted for the UK's secondary exchange – the AIM. Back during its IPO, you would have been able to get your hands on Boohoo shares at just 70p.
Fast forward to 2020 and the shares are worth considerably more. Boohoo shares hit peaks in June at 433p per stock. In comparison to its 2014 IPO, this translates into growth of over 500%. Not bad for a company that has only been public for 6 years. We should note that the firm has gone through a couple of major market corrections in 2020.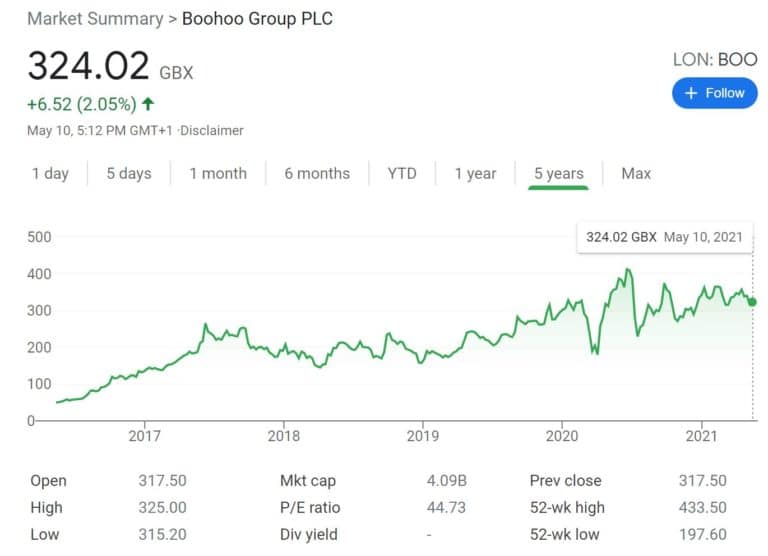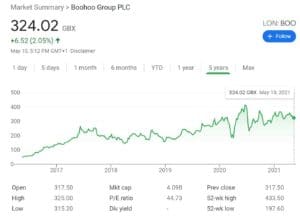 Firstly – and much like the rest of the UK stock markets, Boohoo shares were impacted by the COV-19 pandemic. In fact, between late February and mid-March, the shares went from 327p to 157p. This represents a rapid decline of 51% in just three weeks. However, the shares quickly recovered, smashing through their previous highs as soon as late April.
Crucially, although the shares were moving in a firm upward direction, this was subsequently put to a halt in July. This is because of a story uncovered by The Sunday Times alleging that Boohoo is behind slave-like working conditions. This saw the shares go from highs of 443p down to lows of 210p in a matter of weeks.
The shares have since recovered to 324p, around the same level as before the COVID-19 pandemic. However, the path to get there has been highly volatile.
Boohoo Dividend Information
With a multi-billion pound market capitalization and three-digit percentage growth since its 2014 IPO, you might assume that Boohoo pays dividends. However, the firm is still in its infancy and thus – is yet to reward its shareholders with any dividends to date. This is standard for practice for companies that are still in their growth phase, as profits are re-invested back into the firm.
Should I Buy Boohoo Shares?
Boohoo is often referred to as the 'King of the AIM', not least because it is the largest company on the exchange in terms of market capitalization. As noted earlier, it smashed through a valuation of over £6 billion before The Sunday Times story broke. With that said, Boohoo is still the most valuable stock on the AIM.
Below you will find some useful information surrounding Boohoo as an investment vehicle – both good and bad.
Boohoo was on an Incredible Run
As we discussed above, Boohoo shares have increased 5-fold since its 2014 IPO. Like the rest of the UK markets, the firm had to contend with the COVID-19 pandemic. That is to say, the vast majority of domestically-listed companies lost double-digit percentages in March 2020.
The key point here is that while most UK stocks are yet to fully recover, Boohoo managed to get back on track as early as April. In fact, it continued its upward trajectory right up until July – when the stock peaked at 443p.
Despite The Sunday Times publication, Boohoo has been able to recover. While the story likely hurt the brand permanently among some consumers, it seems likely that Boohoo will eventually leave the scandal behind. When that happens, we could see the shares push back to 443p apiece or even higher.
Boohoo Could be Massively Undervalued
Leading on from the point above, Boohoo shares are worth 324p at the time of writing. This works out at 27% lower than the 52-week high it achieved in July. It's also worth noting that the shares appeared to be heading even higher before The Sunday Times story broke. So, 443p might just be an initial price target for this stock.
Insider Transactions
As we often note, insider transactions should always be viewed as a vote of confidence from those running a company. After all, management wouldn't invest their own personal funds if they didn't believe in the firm's long-term future.
With that in mind, it is notable that founders Mahmud Kamani and Carol Kane both invested money in the wake of The Sunday Times scandal. While the former invested £10.7 million, £4.3 million was invested by Kane.
Cost-Effective Clothing
If Boohoo's online store is known for one thing – its cost-effective clothing. This could be absolutely pivotal in a time where UK consumers are tightening their belts. After all, it is often the case during times of economic uncertainties that the public will source cheaper alternatives. In the case of fashion. Boohoo offers highly affordable options.
The Sunday Times Scandal
As we have repeatedly made reference to, The Sunday Times newspaper published a story in early July concerning Boohoo and its poor working conditions. In a nutshell, it is alleged that a garments factory based in Leicester is paying its employees just £3.50 per hour – far below the minimum wage.
Although the factory isn't owned by Boohoo, it does supply significant volumes to the online retailer. Not long before the publication, separate allegations were also made against Boohoo with respect to COV-19 restrictions. More specifically, it was alleged that the factory was putting lives at risk by failing to adhere to social distancing policies, nor was it providing PPE.
Investor Sell-Off
It came as no surprise to see major shareholders offload their Boohoo stocks as a result of the aforementioned allegations. One such example of this was Standard Life Aberdeen – a top-10 Bohooo shareholder. If other major investors continue to follow suit, this could have an even bigger impact on the firm's short-to-medium share price.
Step 3: Open an Account and Deposit Funds
So now that we have covered both the good and bad of Bohooo shares, we are now going to show you what you need to do to make an investment today. Although there are several brokers to choose from, we are going to show you the process with the top-rated platform IG.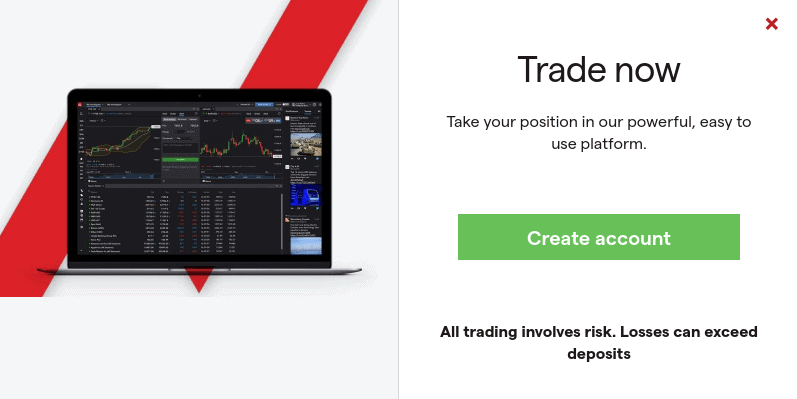 Your capital is at risk.
To get the ball rolling, you will need to visit the IG website and elect to open an account. As is the case with all online brokerage sites, you will need to prove some personal information.
This includes:
Full name
Nationality
Date of birth
Home address
National insurance number
Contact details
Username and password
As IG is regulated by the FCA, you will now be asked to upload some documents.
This includes your:
Passport or Driver's License
Recent Utility Bill or Bank Account Statement
Next, you will need to deposit some funds. IG supports debit/credit cards and a bank account transfer. The minimum deposit is £250.
Step 4: Trade or Buy Boohoo Shares
Once your deposit at IG has been confirmed, you can proceed to trade or buy Boohoo shares.
If it's the former, you will be trading CFDs. And the latter – you will be buying the shares in the traditional sense. In our example, we are looking to trade Bohooo shares to benefit from leverage and tighter spreads.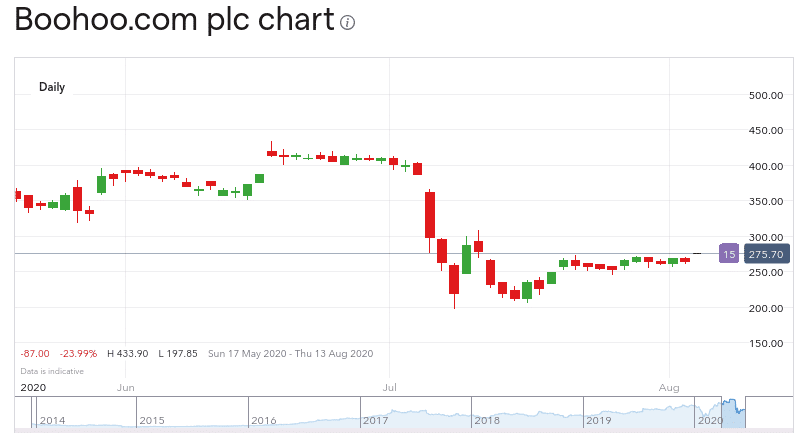 Once you search for Boohoo and land on its trading page, you will then see an order screen like the below.
Your capital is at risk.
Here you will be given several options.
Firstly, you need to decide whether you think the value of Boohoo will go up (buy order) or down (sell order)
Then, enter the amount that you wish to stake on your Boohoo trade
If you want to apply leverage, select your multiple (maximum of 1:5)
Then, all you need to do is confirm the order.
Boohoo Shares Buy or Sell
We think Boohoo shares are a strong buy. The 'King of the AIM' proved that it could make it through the worst of the COVID-19 pandemic with only a short-term drop in its stock price, which speaks to the financial health and popularity of the company. As the pandemic comes to a close, we also expect retail sales to pick up – and that should be a tailwind for Boohoo.
The most damaging thing that Boohoo has faced in the past year wasn't COVID-19, but rather The Sunday Times story alleging poor working conditions. This is something that Boohoo has managed relatively well from a public relations standpoint, and the company's share price has recovered to 324p as a result. Going forward, it would be relatively inexpensive for Boohoo to do more to monitor the working conditions in its partner factories.
What's most exciting to us about Boohoo is that the shares remain heavily undervalued compared to their price when The Sunday Times story broke. If the shares can climb back to 443p apiece, that would represent a 27% gain for investors. The path to getting there might be volatile, but that's a significant upside for this stock.
Given all of these factors and Boohoo's popularity in the UK, we think this stock is poised for a strong year ahead.
The Verdict
Boohoo was making unprecedented gains until news broke of the alleged poor working conditions that one of its suppliers employs. This includes staff being paid just £3.50 per hour and a failure to respect social distancing regulations.
With that being said, you do stand the chance of buying the shares at a discount based on the current Boohoo share price.
If you think this is the case, Captial.com allows you to trade Boohoo shares at the click of a button. There's no commission to pay, spreads are super tight, and you can instantly deposit funds with a UK debit/credit card.
Simply click the link below to get started!
Capital.com – Trade Boohoo Shares With Zero Commission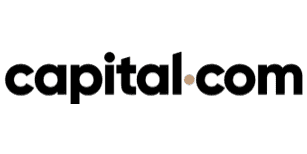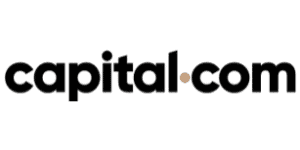 75.26% of retail investor accounts lose money when trading CFDs with this provider.
FAQs
How much were Boohoo shares when the firm first went public?
What stock exchange is Boohoo listed on?
Does Boohoo pay dividends?
Where can I buy Boohoo shares?
Read next
Best Growth Stocks UK Revealed for 2021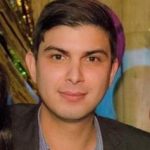 Kane Pepi
August 6th, 2020
Launched in 2006, Boohoo is one of the fastest-growing online fashion retailers in the UK. In fact, it recently hit a market capitalization of over...