Exchange-traded funds (ETFs) have become increasingly popular among UK investors. But ETFs are also rich targets for active trading.
So, what is ETF trading? With ETF trading, you can speculate on an entire industry or market sector in a single position. ETF trading in the UK is an excellent alternative to trading individual stocks, currencies, or commodities.
Want to dive into ETF trading in the UK? In this guide, we'll explain how ETF trading works and highlight some ETF trading strategies. We'll also review three of the most popular brokers you can use to start trading ETFs in the UK today.
What are ETFs?
ETFs are baskets of assets that trade on the stock market. A single ETF might give you financial exposure to, say, hundreds of different stocks or more than a dozen different commodities. ETFs have become very popular alternatives to mutual funds and investment trusts because they trade just like stocks and can be purchased through most UK stock brokers.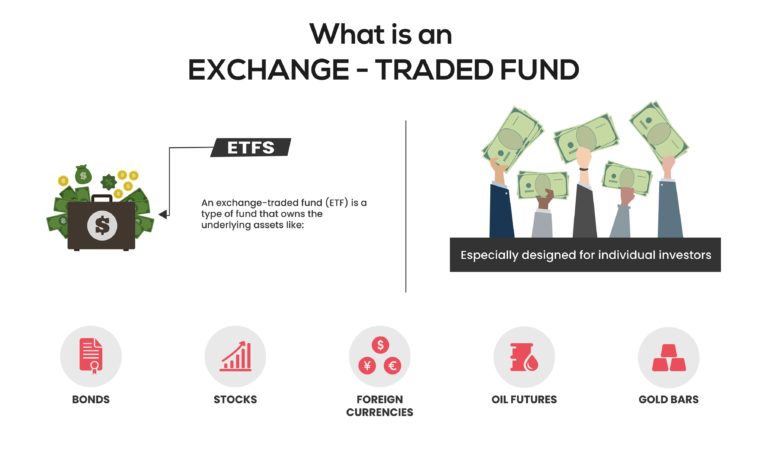 Different Types of ETFs
ETFs can contain many different types of assets, in a wide variety of combinations. Let's take a closer look at some of the most popular types of ETFs in the UK.
Before we move on, you'll be pleased to learn that you can buy and sell ETFs from the comfort of your home via the most popular ETF apps.
Stock ETFs
Stock ETFs, as the name suggests, are baskets of stocks. When you buy a stock ETF, it's almost the same as if you were to buy shares – except that you are buying many different shares at the same time.
There are several different styles of stock ETFs.
Index ETFs are designed to mirror the major stock market indices, like the FTSE 100 or AIM 50. They contain all the same blue chip stocks so that changes in the value of the ETF mirror changes in the broader market.
Dividend ETFs invest primarily in dividend stocks. The value of these ETFs might not change very much over time, but you can realize a return from dividends paid out by all the companies held by the fund.
Industry ETFs give you exposure to a selection of stocks from a particular market sector. For example, you can use industry ETFs to trade pharmaceutical shares, oil shares, or cannabis stocks.
There are many other styles of ETFs, too. Some focus on growth stocks, while others look for undervalued stocks. If you want to trade penny shares, there are also ETFs for that.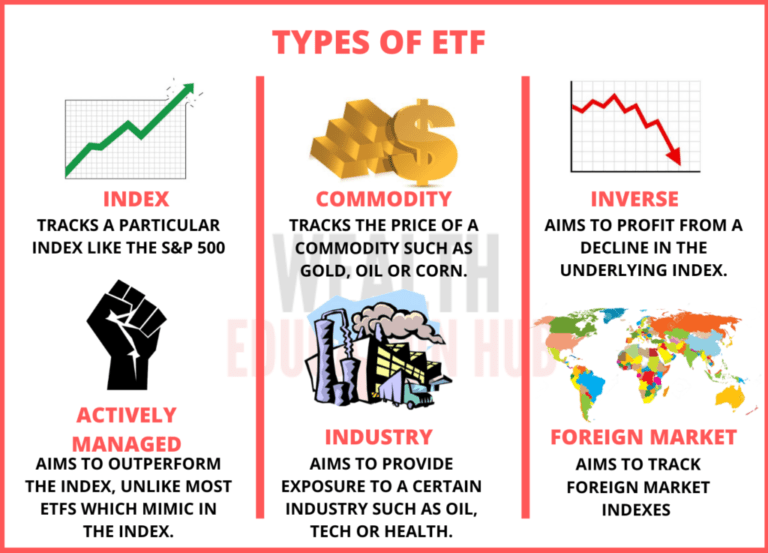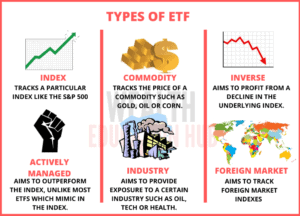 Bond ETFs
Bond ETFs are bundles of bonds. Often, these ETFs offer returns through distributions from the bonds they contain. However, the value of bond ETFs can go up or down as interest rates and bond prices change.
Commodity ETFs
Commodity ETFs give you exposure to a wide variety of commodities – like sugar, coffee, and oil – at once. Commodity ETF trading is a way to jump into commodity trading if you want to speculate on agriculture or energy broadly, rather than on the price of a specific product.
Forex ETFs
Forex ETFs typically contain currency futures contracts, giving you exposure to a bundle of different forex pairs. Trading these ETFs is one way to get into forex trading while avoiding costly currency conversion fees.
What is ETF Trading and How Does It Work?
ETF trading in the UK is a form of trading that focuses on buying and selling ETFs for a profit. This is distinctly different from ETF investing, in which it is much more typical to buy a fund and hold it for months or years at a time. Many ETF traders engage in day trading or weekly swing trading.
ETF trading depends on the fact that ETF prices change throughout the trading day. However, the way that ETF prices move is slightly different from how stock prices move.
Whereas stock prices are primarily driven by buying and selling action, ETF prices are primarily driven by price changes in the assets they hold. Let's look at an example tech industry ETF that contains Amazon, Apple, and Facebook shares. If the share prices of all three companies rise by 5%, then the value of the ETF will also rise by 5%.
Importantly, since ETFs hold multiple assets, the change in value of the ETF reflects the average price change of its underlying assets. So, if Amazon rises by 5%, Apple falls by 2%, and Facebook rises by 1%, the value of the ETF will only rise by 1.33%. So when ETF trading in the UK, it's critical to think about how market news or events will affect all of the assets that an ETF holds.
ETF Trading Fees
Since ETFs trade on major exchanges just like stocks, ETF trading in the UK is usually subject to the same commissions and fees as stock trading. Many UK brokers offer commission-free trading on ETFs, although some charge a fee of several pounds every time you buy and sell. If you are trading ETFs using contracts for difference (CFDs), you may pay a spread of around 0.1% per trade or more.
ETF trading does come with an additional cost that stock traders don't bear. ETFs typically have management fees that can range from just 0.01% of your investment per year to 0.5% per year or more. ETF traders typically don't have to worry about these fees, since they are very small when you are only holding an ETF for a couple days at a time.
Benefits of ETF Trading UK
Wondering why you should trade ETFs? There are several benefits to ETFs that have helped ETF trading explode in popularity in the UK.
ETFs Reduce Risk
Perhaps the number one reason to trade ETFs is that they give you financial exposure to a wide range of assets in a single trade. That's a big deal because it dramatically diminishes the risk of any single trade. For example, if you were to trade company shares of AstraZeneca, your trade could be a rollercoaster in response to news around the company. However, if you trade a biotech ETF instead, any bad news about AstraZeneca would only have a limited effect on the value of your trade.
Of course, this cuts both ways. The good news about the company could push shares of AstraZeneca up several percent. But a biotech ETF in which AstraZeneca is just one of the dozens of companies represent might barely budge in response to the news. ETF trading allows you to reduce risk in exchange for potentially limiting your profits.
Wide Exposure
Another important benefit of UK ETF trading is that in giving you exposure to a wide range of assets, you can speculate on entire industries or markets at once. For example, with ETF trading, you can speculate on the energy market as a whole without making multiple, potentially costly trades for multiple commodities.
Easy Entry
Unlike for mutual funds or investment trusts, you don't need a specific broker or a connection with a money manager to trade ETFs. ETFs trade on the stock market and they don't require a minimum investment. Plus, some ETF trading platforms allow you to buy fractional shares of ETFs so that the amount of money you need to start trading is very low.
High Liquidity
Since ETFs trade on stock exchanges like the London Stock Exchange, they tend to have very high liquidity. This is important for ETF trading in the UK, since it means that you'll have no problem buying and selling ETFs. Even for some less popular ETFs, it is easy for your broker to match your trade with someone else who is buying or selling that fund.
Risks of ETF Trading
ETF trading can be relatively less risky than other types of trading, but that doesn't mean that it's risk-free. As with any type of trading, there is always the possibility that the value of your position will fall. In that case, you may need to close your trade for a loss.
Keep in mind that if you are buying and selling ETFs through CFD trading with leverage, your risk is higher. Leveraged trades multiply your losses as well as your profits.
ETF Trading Strategies
It's important to approach UK ETF trading with a clear strategy in mind. The better your ETF trading strategy, the more likely you are to return consistent profits from trading. So, let's take a look at three of the most popular ETF trading strategies you can start using today:
Momentum ETF Trading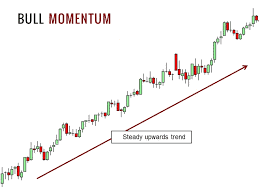 Momentum ETF trading involves buying and selling ETFs that are moving strongly in one direction. ETFs often gain momentum because of excitement around (or disenchantment with) the market sectors they represent. For example, if the tech sector is flying high, tech ETFs might see massive price jumps over the course of several days.
The goal of momentum trading is simply to ride the wave. Rather than try to time the market perfectly, exit your position as soon as the momentum shows signs of fading. These signs could come in the form of lower trading volume or a trading signal from a momentum indicator like moving average convergence-divergence (MACD).
Overbought and Oversold ETF Trading
Another simple but effective ETF trading strategy is to monitor overbought and oversold levels. These levels can be defined using a technical indicator like the relative strength index (RSI).
The key to this type of trading is to get the timing right. Don't buy an ETF as soon as it's oversold. Rather, wait until it shows a strong reversal to open a bullish position. It's better to miss out on a small amount of upside than to risk that the ETF will continue falling without a reversal.
Range-bound ETF Trading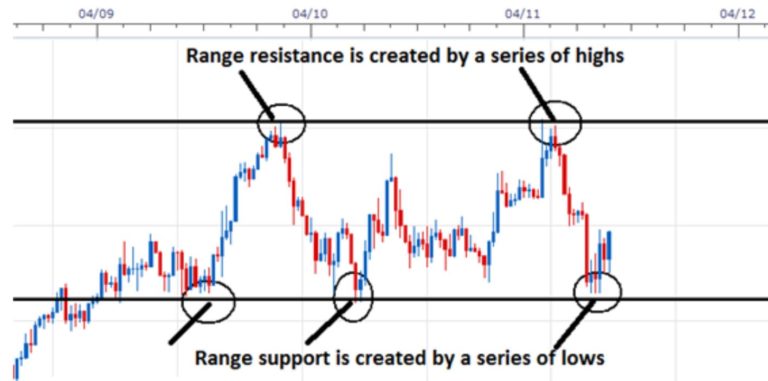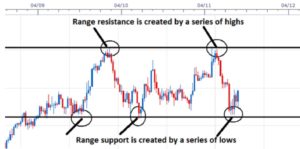 ETFs will sometimes bounce back and forth between support and resistance price levels. This offers an opportunity for ETF trading, as you can buy and sell the movements between those price levels. Be cautious about trading around the support and resistance levels, however, as a breakout is likely to happen eventually. When it does, the price movement can be fast and powerful.
Tips for ETF Trading UK
Getting started with UK ETF trading is easy, but mastering it takes time and practice. To help you improve, here are five of our favourite tips:
#1. Take an ETF Trading Course
This guide is a great place to start learning about ETF trading in the UK. But if you want hands-on help and ETF trading strategy advice, we recommend taking an ETF trading course. There are tons of courses online offered by professional ETF traders and even some of the most popular ETF brokers.
#2. Pick up an ETF Trading Book
Reading an ETF trading book is another way to learn more about the ins and outs of UK ETF trading. Two of our favourites are 'Trading ETFs: Gaining an Edge with Technical Analysis' by Deron Wagner and 'A Practical Guide to ETF Trading Systems' by Anthony Garner.
#3. Study a Single Industry
When you're just starting out with ETF trading, it's wise to focus in on a single industry or market sector. The more you know about that market, the better you'll be able to craft an ETF trading strategy and understand how prices in that market move. Only once you've mastered that market should you move on trading in another industry.
#4. Learn to Use Stop Losses
Stop losses play a key role in ETF trading. They prevent your losses from mounting when a trade goes bad, protecting your hard-earned profits from other trades.
#5. Be Patient
ETF trading requires a significant amount of patience. When there isn't a good trading opportunity that suits your strategy, don't force one. It's better to take a day away from trading than to rush into a trade and lose money.
Most Popular ETF Trading Platforms
Picking the most popular ETF trading platform plays a big role in your trading. Your ETF broker determines what ETFs you'll be able to trade and how much every trade will cost you. Plus, your ETF trading platform is your main source for analysis tools and research to help guide your trades.
So, let's take a closer look at three of the most popular UK ETF brokers you can use to start trading today:
1. eToro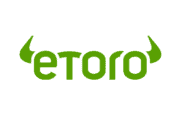 eToro is one of the most popular ETF trading platforms in the UK. With this broker, you can trade more than 450 ETFs either outright or through CFDs. All trades are completely commission-free, and eToro charges spreads of less than 0.1% on most ETF CFD trades. Better yet, eToro allows you to trade fractional shares of ETFs with a minimum trade size of just £40.
This broker also stands out for offering an integrated social trading network with its ETF trading platform. You can follow other ETF traders and see what funds they're buying and selling. You can also take advantage of the copy portfolios feature, which allows you to automatically mimic the trades of professional ETF traders.
eToro's proprietary charting software interface isn't the most advanced we've seen. But it is easy to use and comes with more than a hundred built-in indicators and drawing tools. The main limitation is that you cannot create your own technical studies.
Sponsored ad. 67% of retail investor accounts lose money when trading CFDs with this provider.
2. Plus500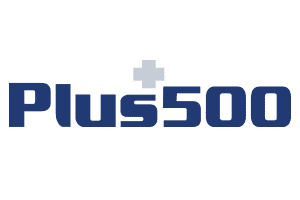 Plus500 offers CFD trading for hundreds of ETFs from the UK and US. The selection is impressively wide, with dozens of commodity ETFs as well as index ETFs for emerging markets. All ETF trades on Plus500 are commission-free, and the broker has some of the lowest CFD spreads we've seen in the UK.
Another benefit to Plus500 for ETF trading is that this broker allows you to trade with leverage up to 1:5. That's significantly more than most competing online brokers. So, if you're looking to maximize your ETF positions, Plus500 is the broker of choice. Helpfully, Plus500 also offers fractional ETF shares through its CFDs.
Plus500 gives traders access to an easy-to-use charting software both online and through a mobile investment app. It comes preloaded with nearly 100 technical indicators and includes a useful price alerts feature. However, you cannot create your own indicators or backtest an ETF trading strategy.
3. IG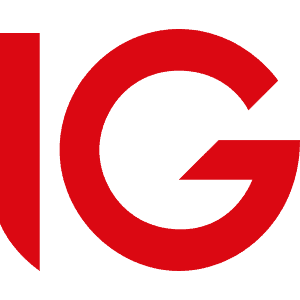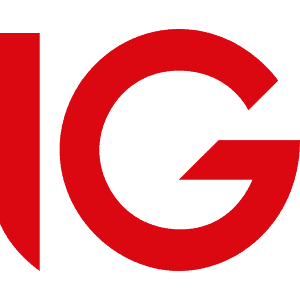 IG has a significantly larger selection of ETFs than virtually any other online ETF trading platform in the UK. There are thousands of funds in all that trade across exchanges in the UK, US, and Europe. Having such a wide selection can be advantageous since you can choose from multiple ETFs that cover the same market sector with different underlying assets.
Another benefit to IG is that you can choose how you want to trade ETFs. The broker offers CFD trading, spread betting, or outright investing. CFD trading and spread betting are commission-free, although the spreads can be surprisingly high. Outright ETF trading carries a commission of up to £3 per trade.
One of the things about IG is that you get access to the incredibly advanced ProRealTime ETF trading platform. With this software, you can create custom technical indicators and backtest your trading strategy against historical price data. It also comes with customizable price alerts and a mobile trading app.
Sponsored ad. There is no guarantee you will make money when trading CFDs with this provider.
ETF Trading Fees
Want to get a better understanding of the fees involved with ETF trading? Here are what the most popular ETF brokers charge.
| | | | |
| --- | --- | --- | --- |
| UK ETF Broker Fees | Charge Per Trade | Annual Fee | Conversion Fee |
| eToro | Free | Free | 0.50% |
| Plus500 | Variable spread | Free | 0.50% |
| IG | £0 -£10 | £24 per quarter (less than 3 trades) | 0.50% |
How to Start Trading ETFs
Ready to jump into ETF trading in the UK? We'll show you how to get started with a regulated broker, which offers outright trading or CFD trading for more than 450 popular ETFs.
Open an ETF Trading Account
Get started with eToro by opening a new trading account. On the broker's website, click 'Join Now' and then enter a new username and password along with your name and email.
eToro requires you to verify your identity in order to comply with UK government regulations. You can complete this step online by uploading a copy of your passport or driver's license along with a copy of a recent financial statement or utility bill.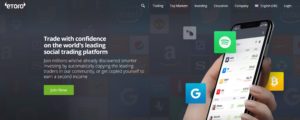 Sponsored ad. 67% of retail investor accounts lose money when trading CFDs with this provider.
Fund Your Account
Add funds to your eToro trading account using a debit or credit card, e-wallets like Neteller or Skrill, or bank transfer. Keep in mind that eToro requires a minimum deposit of £140 when you open a new account.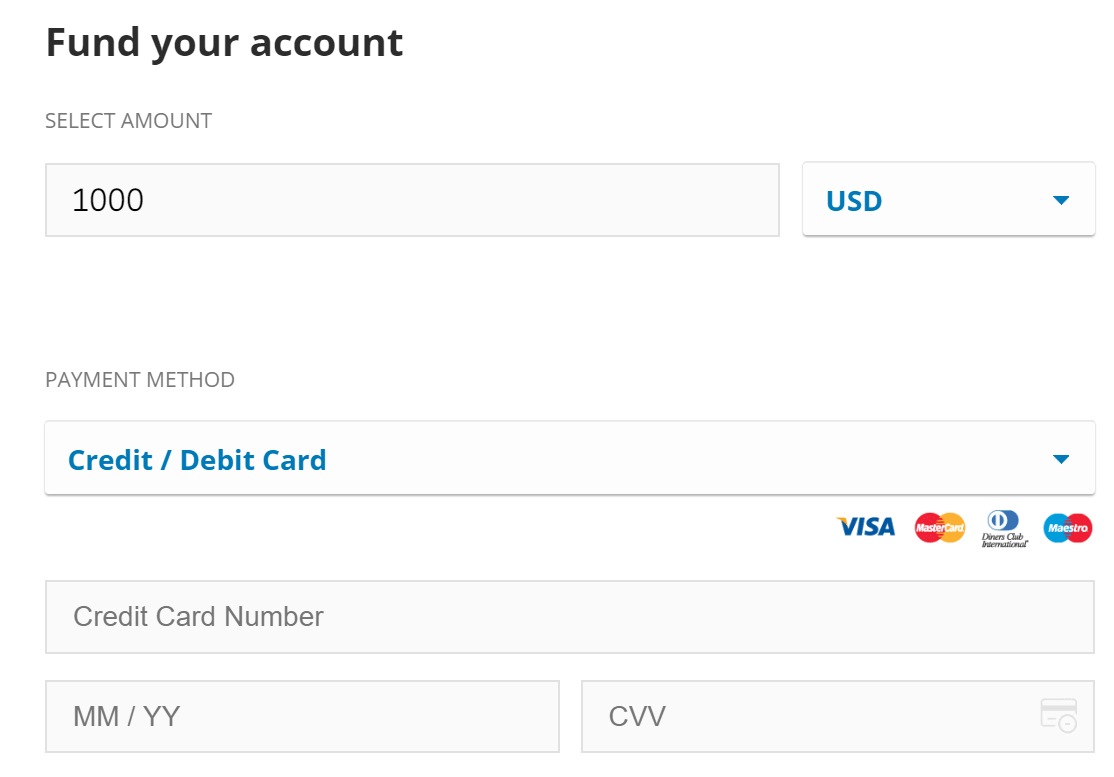 Sponsored ad. 67% of retail investor accounts lose money when trading CFDs with this provider.
Place Your First ETF Trade
Head to eToro's ETF dashboard to browse popular ETFs, or search for a specific fund by name. When you've found an ETF to trade, click the 'Trade' button to open a new order form.
In the order form, specify how much money you want to trade and how much leverage to apply, if any. You can also enter a stop loss level or take profit level here, in accordance with your ETF trading strategy. When you're ready, click 'Trade' to open your first ETF trade.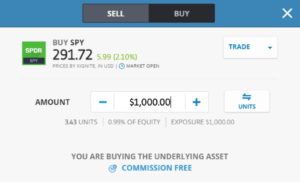 Conclusion
ETF trading allows you to speculate on entire market sectors or industries in a single trade. By giving you exposure to a wide range of assets, UK ETF trading can partially reduce your trading risk compared to trading individual assets. Plus, ETFs are easy to enter and exit and don't require a large amount of money to trade.
Sponsored ad. 67% of retail investor accounts lose money when trading CFDs with this provider.
FAQs
What is ETF options trading?
What are ETF trading rules?
Can I trade international stocks through ETFs?
How are profits from ETFs taxed in the UK?
Does ETF trading require a minimum investment?