MT4 for Mac UK – How to Open an Account
Fact Checked
Everything you read on our site is provided by expert writers who have many years of experience in the financial markets and have written for other top financial publications. Every piece of information here is fact-checked.
Disclosure
Please note that we are not authorised to provide any investment advice. The information on this page should be construed for information purposes only. We may earn commissions from the products mentioned on this site.
MetaTrader 4 (commonly abbreviated as MT4) is one of the most popular trading platforms, allowing millions of users across the globe to place trades and automate investments. With a host of valuable features, MT4 makes trading straightforward and can be downloaded on your MacBook in a few quick steps.
In this guide, we show you How to Download MT4 for Mac UK.
Sponsored ad. 75.3% of retail investor accounts lose money when trading CFDs with this provider.
How to Download MT4 for Mac
If you're looking for a quick overview of how to download MT4 for Mac UK, then look no further. In the section that follows, we will examine this process in detail, allowing you to follow along and download MetaTrader 4 for Mac.
Choose a Reliable Broker
Create an Account with MT4 Broker
Verify your ID and Address
Deposit into your Account
Download MetaTrader 4 Installer for Mac
Install and Verify the MT4 Application for Mac
Launch MT4 Application
Choose the Correct Server
Login Using Broker Details
Begin Investing
How to Download MT4 for Mac – Tutorial
The MetaTrader 4 application is designed and built to be used on the Windows operation system – therefore, getting it for Mac is a slightly more complicated process. As it runs natively on Windows, specific software must be downloaded, which will allow the program to run on Mac's operating system smoothly, meaning you can trade straight from your MacBook or iMac.
This section will provide a step-by-step walkthrough showing you how to do this from start to finish. The walkthrough will be broken up into two crucial parts – creating an account with a reliable MT4 broker and downloading the MT4 platform for Mac.
Part 1 – Create an Account with MT4 Broker
1. Choose a Reliable Broker
The first thing you need to do to download MetaTrader for Mac is sign up for one of the popular MT4 brokers. There are many brokers out there that allow traders to use MT4 to facilitate their investments.
For example, some popular MT4 trader brokers let you trade with ZERO spreads. This spread is the difference between the bid and ask prices on a specific asset. Usually, this difference can be thought of as the 'commission' you have to pay to invest in an asset.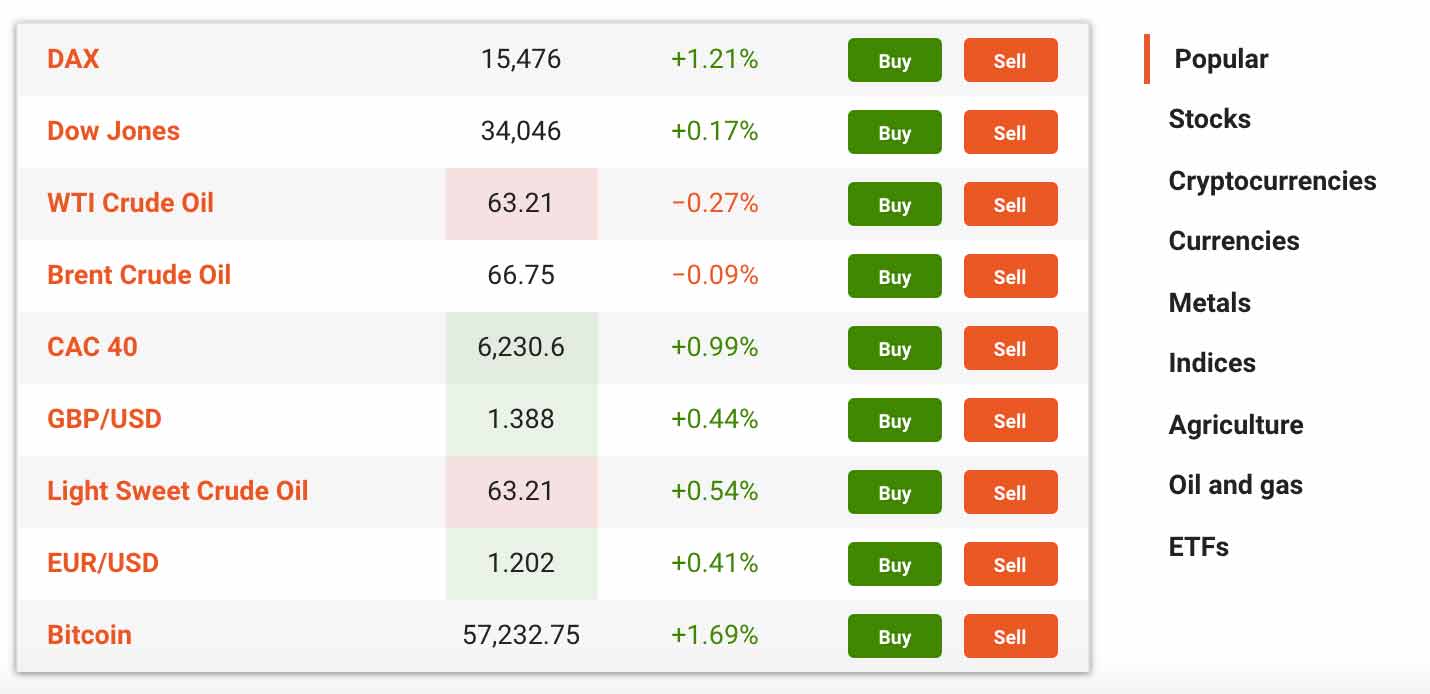 Libertex is regulated by CySEC, ensuring your capital and personal details are afforded the highest levels of security. Also, as Libertex are primarily a CFD trading platform, you have the option of using leverage in your investments. Libertex offer various leverage amounts, ranging from 30:1 when trading forex to 5:1 when trading equities. This leverage essentially allows you to boost your position size, thereby increasing any potential profits you may make.
Finally, Libertex ensures that their account opening process is quick and easy and offer many different methods to fund your account – including bank transfer, debit/credit card, Skrill, and Neteller. The minimum deposit when you first fund your account is €100 (around £86); however, any subsequent deposits only have to be a minimum of €10 (around £8.60).
However, take note that there are multiple other MT4 platforms in the space. Users can choose the right platform for themselves by reading our guide on the popular MT4 Trading platforms in UK.
2. Create an Account with MT4 Broker
Once you've chosen which broker you wish to use for trading with MT4, you'll have to sign up and fund your account before you can trade.  Simply navigate to your chosen website, click the 'Register' button, and then enter your email address and choose a password.
3. Verify your ID and Address
The next step involves supplying relevant personal information and verifying your ID and address. Simply enter the personal details that your platform requires and upload proof of ID (a copy of your driver's license or passport) and proof of address (a copy of a bank statement or utility bill). Once uploaded, your account should be verified in only takes 1-2 business days.
4. Deposit into your Account
The final step to set up your broker account for MT4 trading on Mac is to fund your account. Depending on the broker you choose, you may be allowed to deposit via bank transfer, credit/debit card, Skrill, Trustly, Neteller, and more. The fastest method is through debit/credit card – this will arrive in your account instantly and does not come with any commissions attached.
Once you have funded your account, you have officially completed Part 1 of downloading MetaTrader 4 for Mac. In Part 2, we show you how to download and install the MT4 program and link your Libertex account with it to begin trading right away.
Part 2 – Download MT4 for Mac
Now that you've signed up for one of the popular stock brokers that allow you to trade with MetaTrader 4, it's time to download and install the MT4 platform on your Mac. As mentioned previously, MetaTrader is designed by the company Metaquotes for the Windows operating system. Therefore, if you were to download the application normally, it would not work on Mac's operating system.
There are multiple ways to download MT4 for Mac. Some involve downloading 3rd party programs and running MT4 on an emulator, whilst others utilise a Virtual Private Server (VPS) to host the MT4 application at a remote location. However, over the past year, the creators of MetaTrader have developed an all-in-one package that Mac users can download from their website and install easily, without having to jump through hoops.
This section will provide a step-by-step guide on how to download, install, and set up MT4 on your MacBook or iMac so that you can start trading in as little time as possible.
1. Download the MetaTrader 4 Installer for Mac
The first thing you'll have to do is head to the official MetaTrader 4 website and navigate to the section where they discuss installing the MT4 terminal on Mac OS – this link will take you directly to the appropriate page. The image below shows the page that should appear.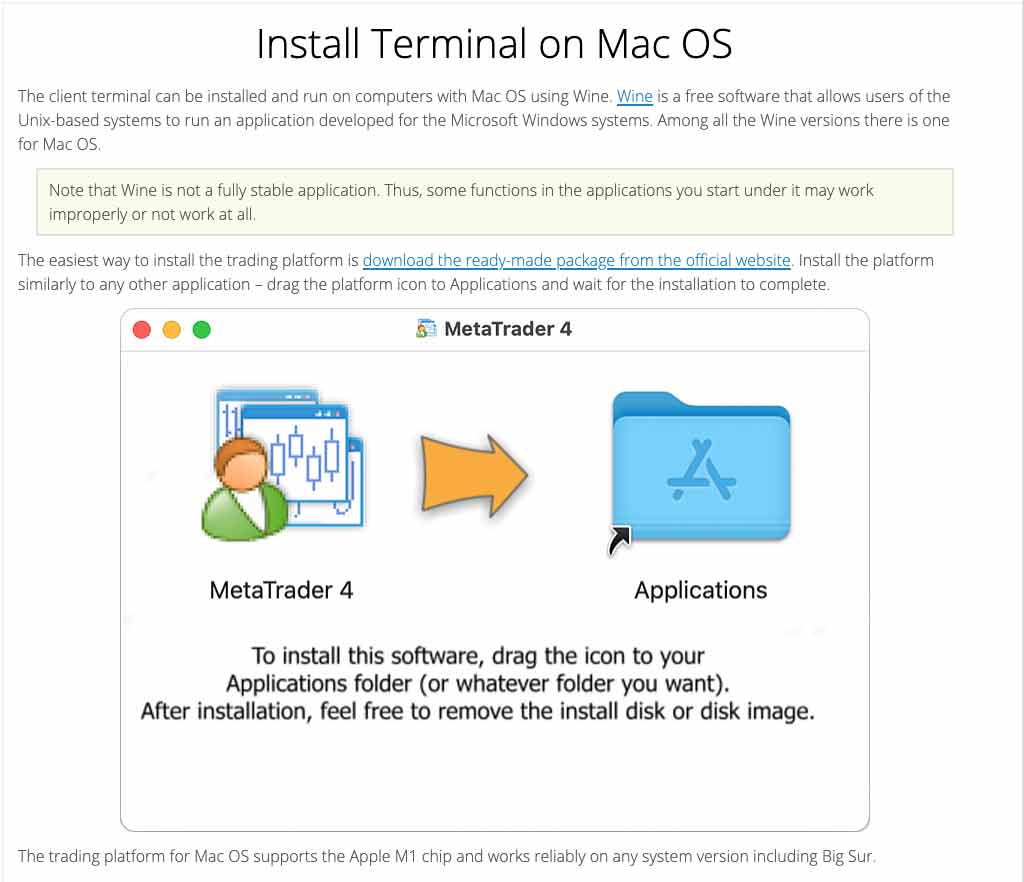 On this page, you may directly download the all-in-one installation package that the MetaTrader 4 creators have developed. This package allows Mac users to install MT4 on the Mac OS easily. Simply click the link that states 'download the ready-made package from the official website', and the installer will begin downloading. This should only take a few minutes, depending on the speed of your internet connection.
2. Install and Verify the MT4 Application for Mac
Once downloaded, click on the 'MetaTrader4.dmg' file that will be located in your downloads folder. A screen similar to the image below will appear. Simply drag the MT4 icon over to the Applications folder (or double-click it). Once you have done this, the MT4 program will begin installing onto your computer.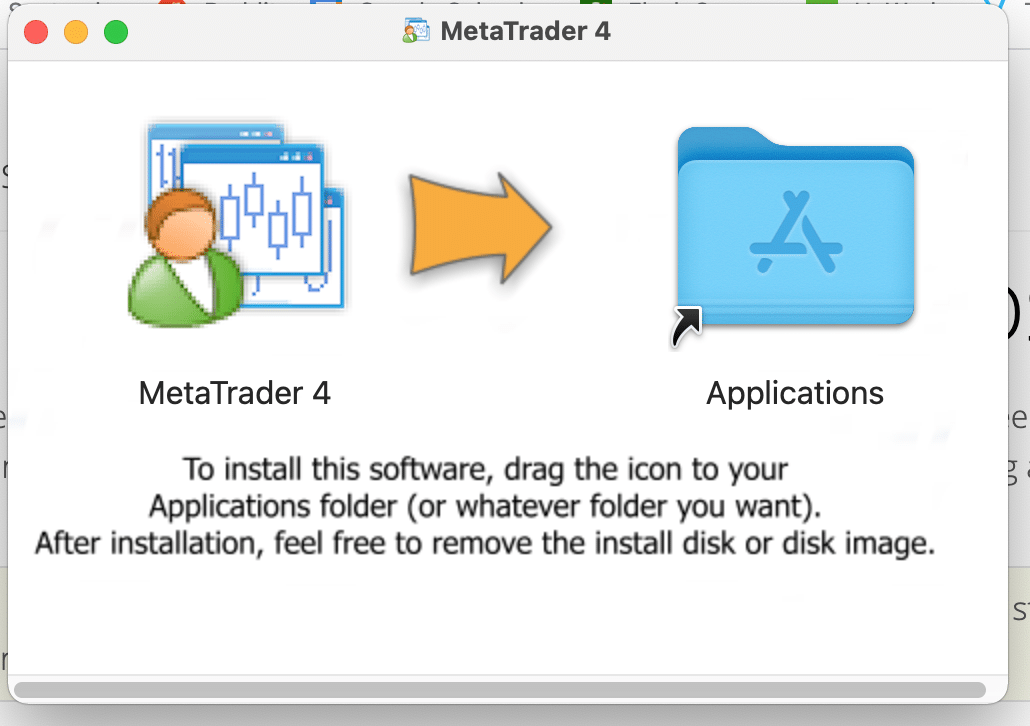 3. Launch MT4 Application
Installation usually only takes 2-3 minutes to complete. Once installed, double-click on the MT4 icon again to launch the newly installed application. Your Mac will then begin verifying the program, after which a pop-up similar to the image below will appear asking if you wish to open this application that has been downloaded from the internet. Click 'Open' to proceed.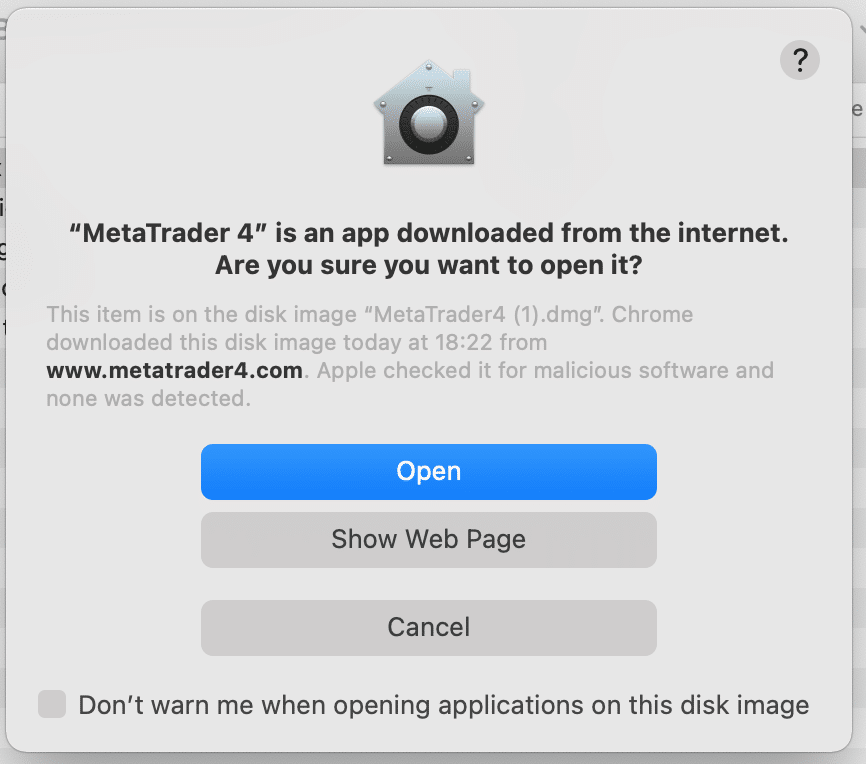 One final pop-up will appear, asking if you wish to move the MT4 program to the Applications folder. You may decide what you'd like to do at this step, but for quickness, you can choose 'Move to applications folder' so that the program is easier to find. After this, it will appear as if nothing is happening, but don't panic. MetaTrader 4 takes around 30 seconds to launch on Mac, after which it will be up and running.
4. Choose the Correct Server
As soon as the MT4 application launches, you will be met with a pop-up much like the one below. MT4 requires users to connect to the server that their chosen broker uses to place trades. This may seem complicated, but don't worry – we will show you how to do this.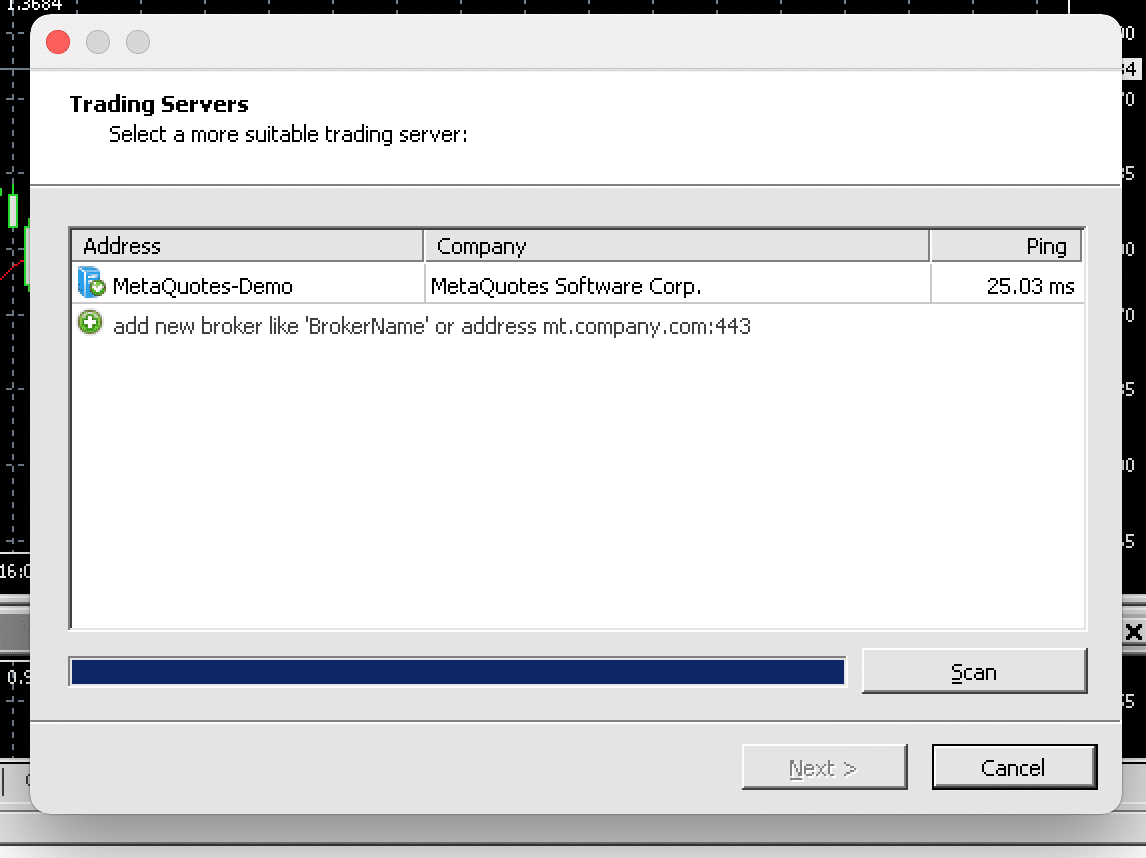 Click the plus symbol next to the 'add new broker' option, and type in the name of your chosen broker – for the purposes of this guide, we will be using Libertex. MT4 will then perform a search for servers with your broker's name and then list them for you. Most brokers will offer a 'Demo' server and a 'Real' server and may provide multiple options of each. However, as long as you choose whether your account is a demo account or a live account, you have the choice to select any option. Simply click on the relevant server and click 'Next'.
5. Login Using your Broker Details
In the screen that follows, you will be asked to log in to your trading account. To do this, click on the 'Existing Trade Account' option, and use your email address and the password that you created when signing up to Libertex.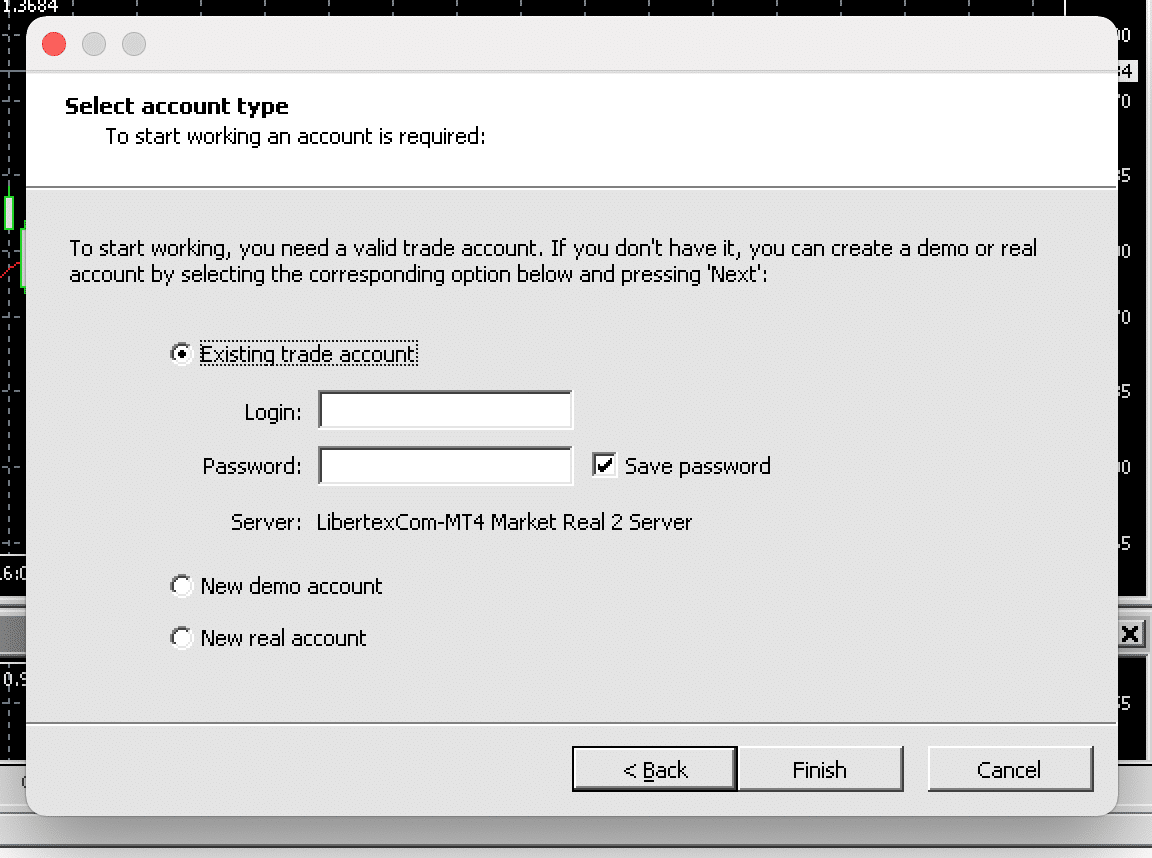 6. Begin Investing
You are officially logged into your broker account on MT4 for Mac and can now utilise all of MetaTrader 4's features. You may also purchase shares using the MT4 platform, which is linked to your broker account. This means that placing trades on MT4 will automatically take the capital out of your brokerage account, and also means that when you close a trade that is in profit, the money will automatically be put into your brokerage account too.
Features of MT4 on Mac
Now that you understand how to download MT4 onto your MacBook or iMac let's take a look at why this program is so popular across the world. MetaTrader 4 has so many features for investors, and in this section we will discuss five of the key features about MT4.
Auto-Trading
One of the main features of MT4 is its auto-trading feature. Also known as algorithmic trading, this feature allows you to develop, test, and utilise advanced auto-trading techniques which can take your trading strategies to the next level. MT4 refers to these auto trading tools as 'Expert Advisors', but can be thought of as helpful trading robots which can spot opportunities using advanced algorithmic methods.
MT4 has its own editor section, where users with experience in programming can go in and create their expert advisor, which will allow for automated trading. If you're not experienced in programming – not to worry.MetaTrader also offers a 'Code Base' where users can publish the expert advisors and custom indicators they have created, allowing other MT4 users to download and use them. Finally, if you have spent the time creating a valuable and profitable auto trading system, you may even sell it on the MGL5 marketplace to other traders, meaning you can generate even more income.
These automated trading tools mentioned in the previous paragraph are helpful when trading many assets, as they take emotion out of trading and focus on objective market data. Furthermore, as these tools are automated, they allow orders to be placed faster than humans would be able to. Finally, these trading systems can be backtested and tweaked over time, allowing them to be optimised for your MT4 trading going forward.
Analysis Tools
Another feature of MT4 is their extensive range of analysis tools that are available to traders. Many investors worldwide prefer to conduct technical analysis before opening a position, especially when it comes to assets such as FX and specific commodities. The MT4 platform offers users various price charts for each asset, along with several different timeframes so that in-depth analysis can be conducted.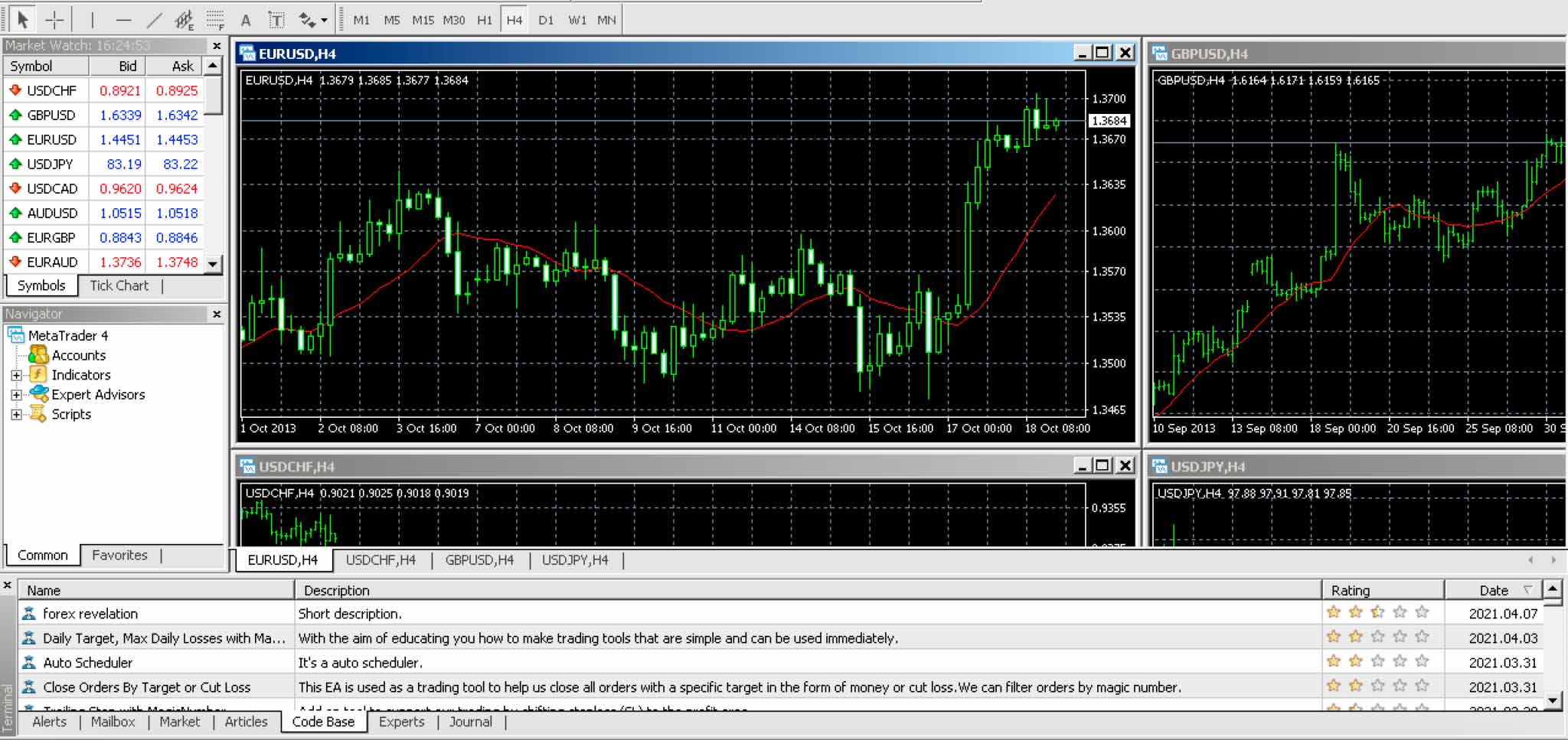 On top of their customisable charting options, MT4 also offers many indicators that traders can use. The platform presents over 30 different technical indicators, ranging from trend tools to volume indicators. Some of the most effective indicators offered by the MetaTrader 4 platform are MACD, RSI, and Fibonacci Retracements.
Finally, MT4 users can customise each asset's price chart when conducting technical analysis. The MetaTrader platform makes it easy to draw lines, identify support and resistance levels, and even set alerts for various price points. Furthermore, charts can be saved so that your technical analysis remains the same each time you return onto the platform.
A Large Number of Assets to Trade
MetaTrader 4 offers functionality to trade a wide range of financial markets, ensuring investors have many options at their disposal. By partnering with one of the popular MT4 brokers (such as Libertex), investors get access to a library of assets, including the popular shares, commodities, FX, and more. MT4 offers the ability to trade all of these assets through their platform, linking seamlessly with your brokerage account.
When you trade through MT4, you also have access to various order types that allow you to tailor your investment to your unique goals. Along with the typical 'Market Order', MetaTrader also offers Pending Orders such as Buy Limits and Sell Stops. Also, MT4 allow you to set a Stop Loss and Take Profit level – meaning that you have the option to essentially set your trade up, and the MT4 platform will take care of the rest.
Real-Time Access to Market Prices
Another feature of MT4 is that it provides real-time access to asset prices and liquidity. The price data that MT4 provides is commonly thought of as one of the quickest and most reliable datasets for various assets. Furthermore, price data on MetaTrader 4 showcases tiny price movements, even down to tick-by-tick price action for many currencies.
On top of their up-to-date market data, MT4 also offer users incredible levels of liquidity thanks to their fast servers. When trading certain assets, such as currencies, liquidity levels must be high so that traders can instant order execution at the price point that they open their position at. With the MT4, you may rest assured that any order you place will be opened immediately through the program's low-latency direct market access.
Adapted for Smartphone
The final feature we will touch on in this guide is MT4's adaptability across many devices. Many people will not have access to their laptop or computer at specific points during the day, so will therefore require flexible access to their MT4 account to check trades and keep an eye on prices. With MT4, you may download their handy app on your smartphone (for both iOS and Android) or your iPad, allowing you to trade on the go.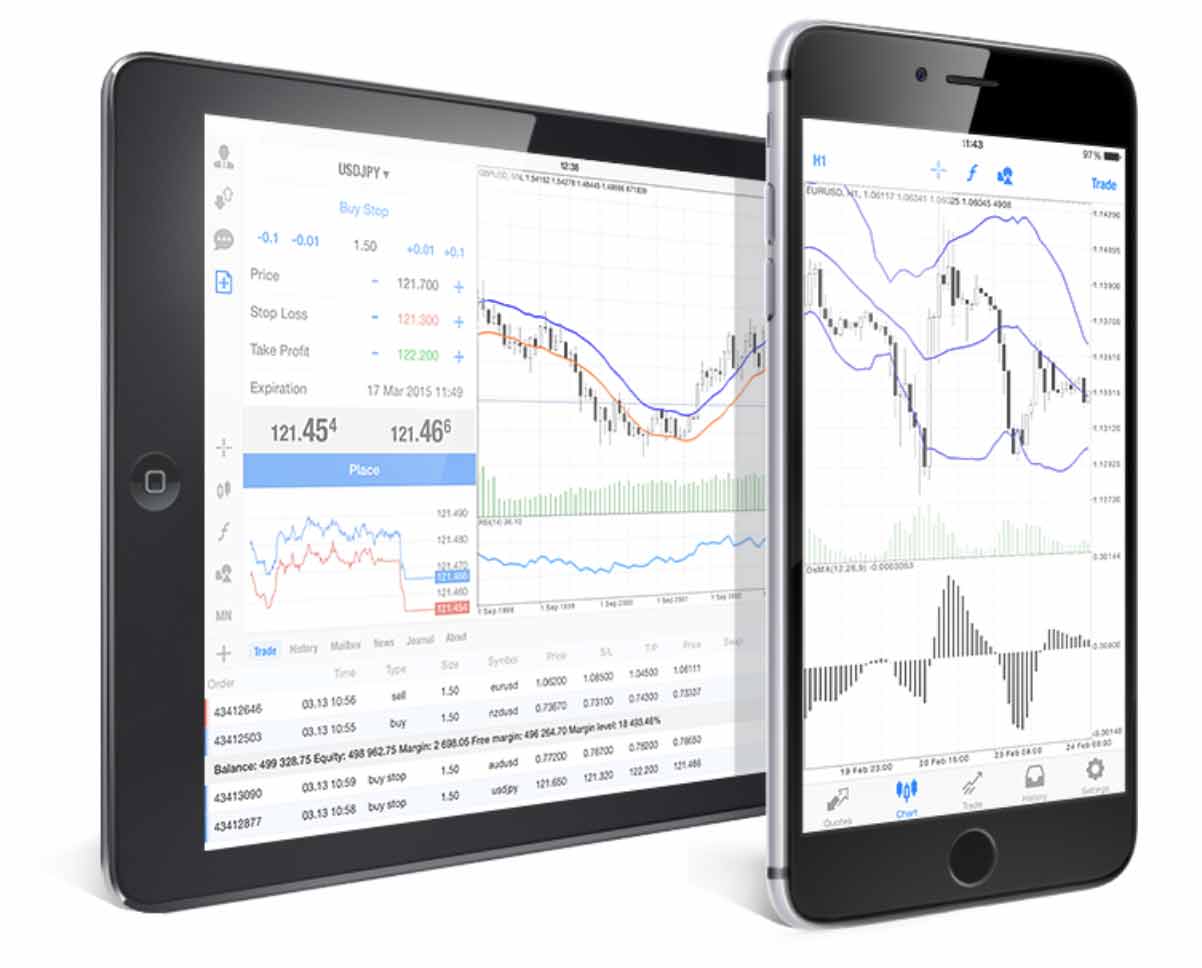 Also, as you can log in to the same account as you use on your laptop, MT4 allows you to have a seamless connection between all devices. This means that if you were to place a trade on your computer, you could keep track of the trade on your iPhone whilst out and about. In addition to this, MT4's helpful app allows you to place trades, close trades, and even make deposits and withdrawals too.
Conclusion
To wrap up, this guide has provided a quick and easy walkthrough that highlights how to download MT4 for Mac and begin investing from the comfort of your own home. Through its range of useful features and easy-to-use interface, MetaTrader 4 makes trading simple and accessible to retail and professional investors worldwide.
FAQs