Micron Technology is a US-based producer and manufacturer of computer data storage units. This covers everything from USB flash drives to dynamic-random memory.
This heavyweight stock has been listed on the NASDAQ exchange for several decades, meaning that you can buy shares with ease. All you need to do is find a suitable UK broker that gives you access to US-listed firms.
In this guide, we show you how to buy Micron Technology shares online in the UK. On top of guiding you through the process step-by-step, we also discuss the best UK brokers to buy the shares from.

The best UK stock brokers active in the online space will give you access to US-listed shares. This means that you can buy Micron Technology stocks in a safe and convenient manner.
With that said, knowing which platform to sign up can be challenging – as there are simply so many providers to choose from.
To save you countless hours of research, below you will find a small selection of UK stock trading sites that allow you to buy Micron Technology shares.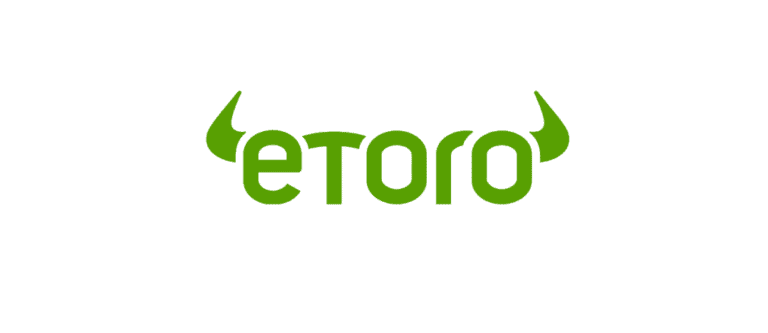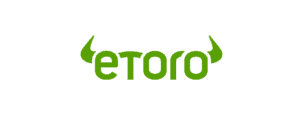 eToro is an online and mobile brokerage platform that boasts a customer base of over 12 million traders. Many of its users are based in the UK – not least because eToro is licensed by the Financial Conduct Authority (FCA) – and partnered with the Financial Services Compensation Scheme (FSCS).
Regarding the former, this means that even if the unlikely happened and eToro ceased to exist – your money would be protected up to the first £85,000. Nevertheless, UK traders opt for eToro for reasons above and beyond just it's strong regulatory standing. For example, the platform is one of the very UK brokers that allow you to buy shares in a 100% commission-free manner.
This isn't the case just with UK stocks – but international firms, too. As such, you can buy Micron Technology shares in the UK without paying any fees whatsoever. In total, the eToro website gives you access to over 1,700 shares from 17 stock exchanges, including many of the best shares to buy. This means that you can diversify across heaps of companies and sectors at the click of a button. Going back to Micron Technology shares momentarily, eToro allows you to invest from just $50 (about £40).
You can open an account with this FCA-regulated broker in a matter of minutes and the minimum deposit is $200 (about £160). The platform offers a good range of payment methods – including debit cards, credit cards, e-wallets, and bank wire transfer. All deposits come with a 0.5% currency conversion fee. But, once you pay this, you won't need to worry about ever-changing FX rates – especially when accessing US shares like Micron Technology.
Pros:
User-friendly online stock broker
Buy shares without paying any commission or share dealing charges
800+ shares listed on UK and international markets
Buy shares or trade CFDs
Social and copy trading tools
Accepts PayPal
Mobile trading app
Holds an FCA licence
Cons:
Not suitable for advanced traders that like to perform technical analysis
67% of retail investor accounts lose money when trading CFDs with this provider.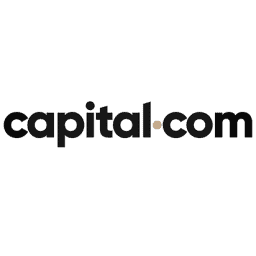 An additional option for you to consider if to 'trade' Micron Technology stock via a CFD broker`. For those unaware, CFDs allow you to trade shares (and other assets) without you owning the underlying stock. This comes with heaps of benefits that you won't find at a traditional share dealing platform.
For example, Capital.com allows you to trade Micron Technology shares with leverage. This stands at a maximum of 1:5 in the UK, meaning that you can trade £1,000 worth of stock CFD instruments with a deposit of just £200. Capital.com also offers super-tight spreads and a 0% commission policy across all of its supported assets.
Regarding the former, this currently stands at a spread of just $0.17 on Micron Technology stock CFDs – which is very competitive. An additional reason why we like Capital.com is that you can start off with very low stakes. In fact, by depositing funds with a debit/credit card or e-wallet, you're required to meet a minimum funding requirement of just £20. This allows you to figure out how CFD trading works before making a larger financial commitment.
What you'll also like about Capital.com is that you will have the option of going long or short when trading Micron Technology share CFDs. In simple terms, this means that you can predict the Micron Technology share price going up or down. In terms of trading features – Capital.com offers plenty of research and educational tools.  This includes a mobile trading app, alongside an app that is dedicated to learning. Finally, Capital.com is licensed by the FCA.
Pros:
Trading on hundreds of US and UK shares
Educational app for new traders
AI assistant identifies your weak points
Trade ideas generated daily
Excellent charting and analysis interface
100% commission free trading
Cons:
Cannot build custom trading strategies
75.26% of retail investor accounts lose money when trading CFDs with this provider.
Step 2: Research Micron Technology Shares
Whether you're investing in Micron or other tech companies like Snowflake, it's best to research your chosen stock before making a commitment. After all, not all share investments will return a financial gain. On the contrary, there is every chance that your investment will return less than you had hoped for.
With this in mind, the sections below will discuss some of the key points surrounding Micron Technology shares.
What is Micron Technology?
Micron Technology is a major US company involved in designing, manufacturing, and distributing cutting-edge storage and memory solutions. This covers everything from flash memory, USD flash drives, and random-access memory tools. The firm is now active in 17 different nations and fully supported by over 40,000 employees.
Micron Technology Share Price History
Micron Technology first went public in 1984 – where it opted for the technology-focused NASDAQ exchange. Since then, the company has executed three stock splits. This consisted of a 5-for-2 split in 1994, a 2-for-1 just one year later, and then an additional 2-for-1 in 2000.
Taking this trio of stock splits into account, you would have paid just over $1.40 for a Micron Technology share in 1984. Although the stocks are worth considerably more than they initially were, it has been somewhat of a rollercoaster ride for Micron Technology shareholders. For example, the shares actually peaked in 2000 – hitting all-time highs of over $90 per stock. This represents an IPO increase of over 6,300%.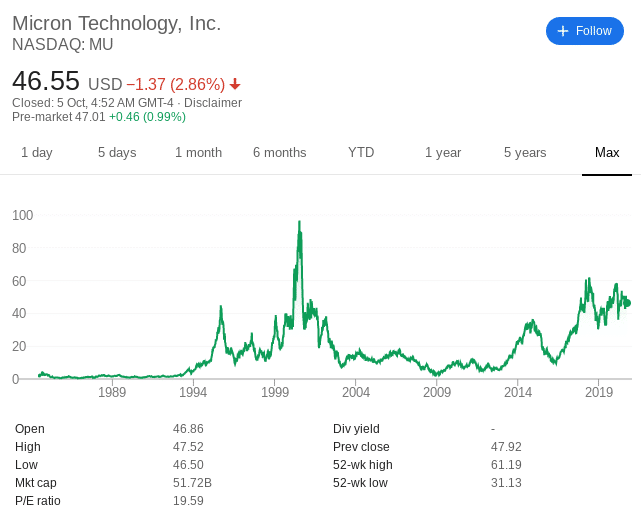 Then – fully in-line with the wider dot.com bubble, Micron Technology shares capitulated. Just two years later, the stocks hit lows of just under $8 per share. This translates into a rapid decline of 91%. The good news is that MIcron Technology stocks have since recovered from their dot.com woes, albeit, at $46 per stock they are still worth less than half of 2001 levels.
In more recent times, Micron Technology shares started 2020 at a price of just over $55. Much like the rest of the wider US stock markets, the shares were negatively impacted by the coronavirus pandemic. However, a good proportion of these losses have since been recovered – subsequently ensuring that the stocks are once again moving in the right direction.
Micron Technology Shares Dividend Information
Although Micron Technologies has historically been a good, consistent dividend-payer, it recently announced that it would be temporarily suspending distributions. It goes without saying that this was a result of the coronavirus pandemic – which dented its operating revenues.
Management at Micron Technology is yet to give any indication when its dividend policy will resume, so at the time you will be focused exclusively on capital gains. If dividend stocks are what you are after, there are plenty of other tech companies that are still paying an attractive yield.
Should I Buy Micron Technology Shares?
Micron Technology has been through several bull and bear markets since it went public in 1984. At the forefront of this was the dot.com bubble – where the stocks lost over 90% in value in the space of just three years. Although recovery of the stocks has since been realised, they are still worth less than half of their 2001 all-time highs.
Nevertheless, this doesn't necessarily mean that you should avoid Micron Technology, as you should be more concerned about what the future holds as opposed to focusing purely on historical Micron Technology share price action. As such, below we discuss some fo the key points surrounding Micron Technology from an investment perspective.
Major Client Huawei is Still Blacklisted
Huawei has been at the forefront of US-China disputes for several years – with the former accusing the latter of severe national security breaches. In turn, the US processed to blacklist Huawei in 2019. This was and still is, bad news for Micron Technology stockholders – as Huawei accounted for just over 12% of the firm's order book.
Micron Technology Shares Were Booming Before COV-19
It is important to recognise that Micron Technology stock was performing extremely well before the realisations of COV-19 came to fruition. For example, in the 12 months prior to writing this page, the shares were listed on the NASDAQ at $44 each. Fast forward to February 2020 and the Micron Technology share price was just over $61.
This translates in a 38% increase in the space of just four months. Crucially, it remains to be seen just how long this upward trajectory would have listed had the pandemic not put a dent on things.
Wall Street is Bullish on 2021 Earnings
On the one hand, Wall Street analysts expect Micron Technology to see a 9% decline in revenues by the end of 2020, and earnings to decrease by 56%. On the other hand, analysts predict a much brighter outlook for 2021.
For example, revenues are expected to jump 11% next year, with earnings following suit at 50%. Crucially, Micron Technology must ensure that it is able to weather the short-term COVID-19 storm to ensure that it is able to meet these expectations.
Mobile DRAM and 5G
The mobile DRAM sector provides a huge segment of Micron Technology's order book. This is fundamental, as it's technology is a core requirement for 5g mobile devices. As the world inches closer and closer to a wider rollout of 5g data – this could be highly beneficial for Micron.
Step 3: Open an Account and Deposit Funds
Once you have performed the necessary research on Micron Technology shares and have decided to proceed with an investment – you then need to open a share dealing account with your chosen broker. The process is very straight forward – especially when opting for a user-friendly platform like eToro.
If you're unsure how the process works,  follow the steps outlined below.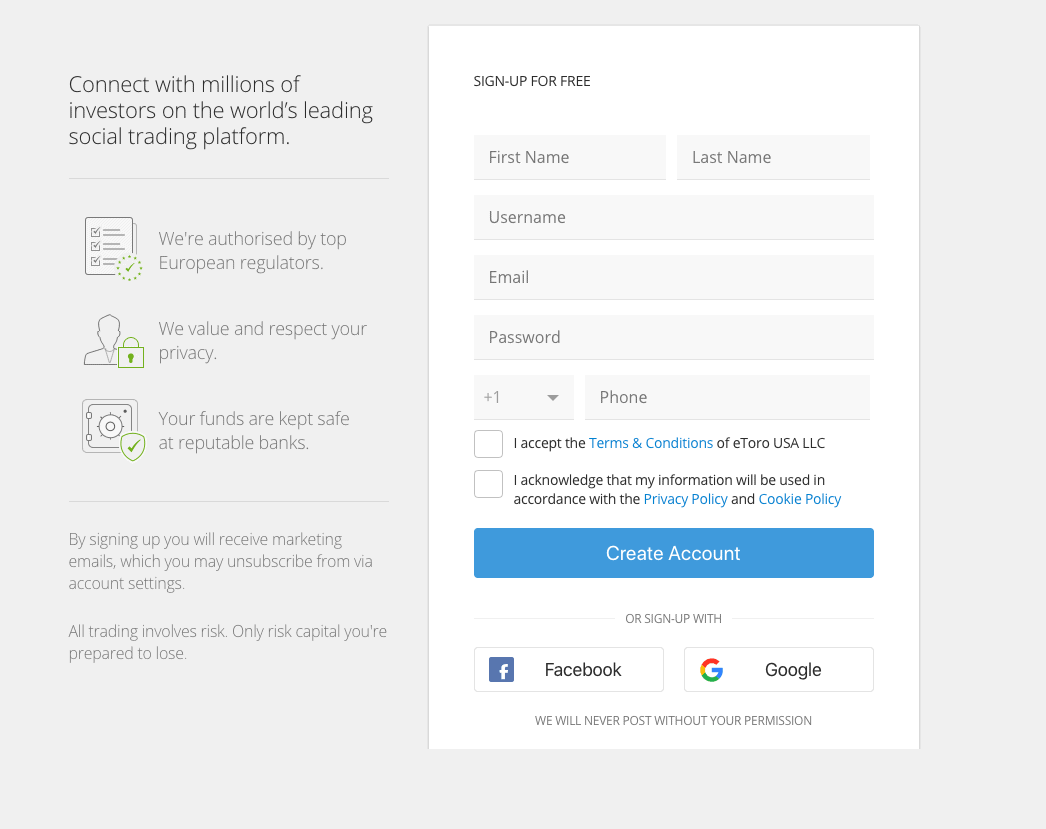 To get the ball rolling, visit the eToro website and click on the 'Join Now' button. You will then be prompted to enter some personal information, such as your:
Full name
Nationality
Date of birth
Home address
National insurance number
Contact details
Username and password
As eToro is an FCA regulated broker, you will also be asked to upload some verification documents.
This includes:
Passport or Driver's License
Recent Utility Bill or Bank Account Statement (Dated within the last 3 months)
If you are not planning to deposit more than $2,250 right now, you can skip the verification process and proceed to buy Micron Technology shares. However, you will need to do this if you exceed $2,250 or elect to make a withdrawal – whichever comes first. 
In terms of funding your share purchase, eToro requires a minimum deposit of $200. This works out at about £160. You can choose from a debit/credit card, bank transfer, or an e-wallet like Paypal or Skrill. Your deposit will incur a 0.5% currency conversion charge, albeit, you won't need to worry about FX fees when buying Micron Technology stock.
Step 4: Trade or Buy Micron Technology Shares
Assuming you opted for a debit/credit card or e-wallet, your deposit should have been credited to your eToro instantly. If so, you can now buy Micron Technology shares.
Firstly, enter 'Micron Technology' into the search box at the top of the page. When the result loads, click it.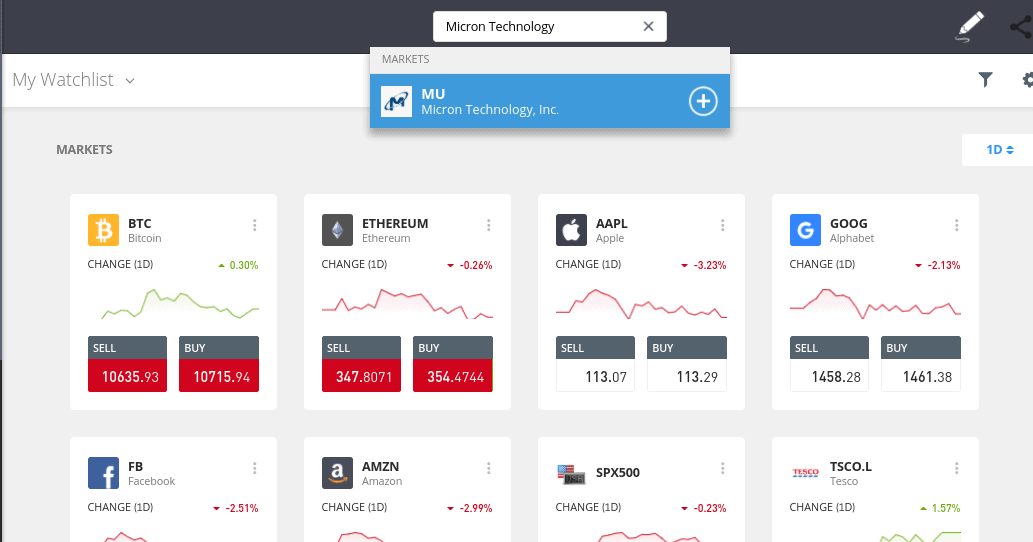 On the next page, you will need to click on the 'Trade' button.

Finally, you will now see an order box. This requires you to enter the amount that you wish to invest in Micron Technology. This needs to be at least $50. To complete your order, click on the 'Open Trade' button.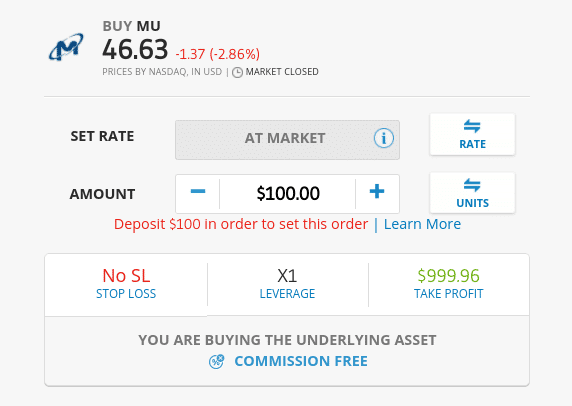 Note: If you are trying to buy Micron Technology shares outside of standard market hours – you will need to click on the 'Set Order' button. In doing so, your purchase will be completed when the market reopens. 
Micron Technology Shares Buy or Sell?
Although 2020 hasn't been a fantastic year for Micron Technology – this is the case for the vast majority of the US markets. If you are able to see past the wider impact of the coronavirus pandemic, Micon Technology shares were booming prior to February 2020. As such, if you think that this trend will eventually return, you still stand the chance of obtaining the shares at a slight discount.
The Verdict?
Analysts on Wall Street are somewhat split in the case of Micron Technologies. Whether or not you decide to invest should, however, be based on independent research. If you feel that Micron is a buy, then we would suggest completing the process the eToro.
This FCA regulated broker allows you to buy Micron Technology shares in a 100% commission-free manner with no ongoing fees charged. You can also invest from just $50 – meaning that you can diversify with ease.
Simply click the link below to get started!
eToro – Buy Micron Technology Shares With Zero Commission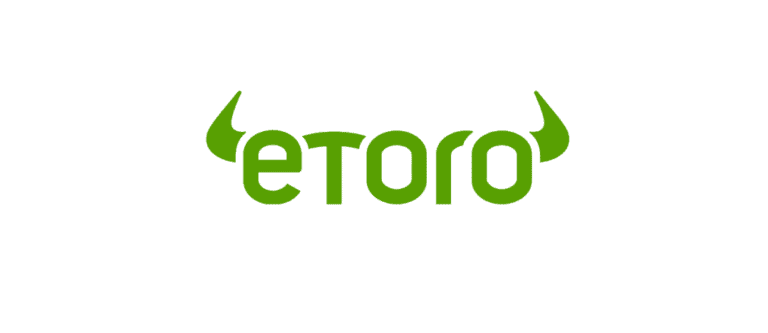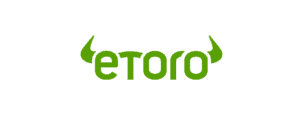 67% of retail investor accounts lose money when trading CFDs with this provider.
FAQs
[sc_fs_multi_faq headline-0="h3″ question-0="What does Micron Technology do?" answer-0="Micron Technology builds data storage and memory chips.   " image-0="" headline-1="h3″ question-1="What stock exchange are Micron Technology shares listed on?" answer-1="Micron Technology is listed on the NASDAQ exchange. Although this exchange is US-based, you can still buy Micron Technology shares in the UK with ease. " image-1="" headline-2="h3″ question-2="Do Micron Technology shares pay dividends?" answer-2="Historically, yes – Micron Technology has been a consistent payer of dividends. However, the firm suspended its dividend policy in 2020 until further notice – as per the coronavirus pandemic.       " image-2="" headline-3="h3″ question-3="When did Micron Technology go public?" answer-3="Micron Technology first went public in 1984. It has since executed three stock splits and as of September 2020 – has a market capitalisation of over $51 billion.   " image-3="" headline-4="h3″ question-4="How do you buy shares in the Micron Technology?" answer-4="In order to buy Micron Technology shares in the UK, you will need to use an FCA broker that gives you access to the US markets. eToro, for example, allows you to buy Micron Technology shares on a commission-free basis.   " image-4="" count="5″ html="true" css_class=""]