Ripple is the third-largest cryptocurrency in the world by market cap. While it largely hasn't experienced the same attention from traders and investors as Bitcoin (BTC), Ripple is quickly growing in popularity and value.
So, what is Ripple and how do you get it? In this guide, we'll explain everything you need to know about how to buy XRP in the UK and review five top UK crypto exchanges where you can buy Ripple today.
How to buy Ripple (XRP) in UK – Quick Step Tutorial
Want to buy Ripple in the UK right away? Here's how you can get started with eToro, our top-rated cryptocurrency exchange in the UK.
✅ Step 1: Open an eToro account
Visit eToro's official website and tap on 'Join Now'. Enter your details and choose a username and password.
🔎 Step 2: Verify your account
As eToro is fully regulated in UK by top-tier financial authorities you'll need to verify your account by uploading proof of ID and proof of address before buying any crypto.
💳 Step 3: Fund your account
Deposit a minimum of $10 (around £7)  into your trading account via credit/debit card, bank wire transfer, or e-wallets such as PayPal or Skrill.
🛒 Step 4: Buy Ripple
Type "XRP"  into the search bar and click on 'Trade'. With a minimum investment of $10 you can buy fractional of Ripple with 0% commission.
=
Bitcoin Cash
Cardano
Dash
Ethereum
Ethereum Classic
IOTA
Litecoin
Stellar
XRP
Binance Coin
EOS
NEO
Tezos
TRON
ZCash
Elrond
Chainlink
Uniswap Protocol Token
Dogecoin
yearn.finance
Decentraland
Algorand
Basic Attention Token
Polygon
Shiba Inu
Enjin Coin
Maker
Tether
Compound
Bitcoin
Polkadot
Solana
FTX Token
Terra
0x
Aave
Aragon
Augur
Avalanche
Balancer
Bancor Network Token
Band Protocol
Bitcoin Diamond
Bitcoin Gold
Bitcoin SV
Bitshares
BitTorrent
Blockstack
Celo
Celsius Network
Chiliz
Cosmos
Curve DAO Token
CyberVein
Dai
Decred
DFI.money
Electroneum
Energy Web Token
Fantom
Gnosis
Golem Network Token
Hedera Hashgraph
HedgeTrade
Helium
Hive
Holo
Huobi Token
ICON Project
IOS token
Kava
RIF Token
SafeMoon
Serum
Siacoin
Sola
Stacks
Status Network Token
Steem
Storj
Stox
Stratis
Sushi
Swipe
Synthetix
The Graph
Theta
Thorchain
TomoChain
UMA
UniBright
USD Coin
Utrust
VeChain
Verge
Waves
Wrapped Bitcoin
xDai Chain
ZB
Zilliqa
Komodo
Kusama
Kyber Network
Lisk
Loopring
Machine Xchange Coin
Matic Network
MonaCoin
Monero
Ocean Protocol
OMG Network
Ontology
Orchid Protocol
PAX Gold
Paxos Standard
PlusCoin
QTUM
Quant
Ravencoin
REN
Reserve Rights
Revain
Multi Collateral Dai
Nano
NEM
Nervos Network
1inch
Axie Infinity Shards
Hoge Finance
Alien Worlds
Yield Guild Games
The Sandbox
Ankr Network
Crypto.com
Amp
API3
Livepeer
My Neighbor Alice
Origin Protocol
Crypto.com Chain Token
Hydro Protocol
Oasis Labs
Raydium
Illuvium
Render Token
Gala
Travala
PancakeSwap
Ethernity Chain
Harmony
Cartesi
Impact
Gas
Mercury Protocol
Near
Numeraire
iEx.ec
Gemini Dollar
PARSIQ
Ardor
Compound Governance Token
Floki Inu
HyperCash
NEXO
Ovr
5 Providers that match your filters
5 Providers that match your filters
Features
Payment methods
What is Ripple (XRP)?
Ripple is a cryptocurrency like Bitcoin or Ethereum (ETH), that's made its way into the best Bitcoin alternatives list. This digital currency is based on blockchain technology and allows for instant, global payments to anyone around the world. However, it differs from these other popular digital coins in a few important ways.
Ripple uses a different mechanism from Bitcoin for generating coins. Whereas Bitcoin requires that miners commit time and computer power to validate transactions and generate new Bitcoin in the process, transactions with Ripple are validated by consensus. There is no computationally intensive mining process involved.
All XRP – the digital currency that powers the Ripple network and which is commonly referred to as Ripple – is entirely pre-mined. The currency is held in an escrow account and new coins are released on a monthly basis based on how many transactions are taking place over the Ripple payment network.
Thanks to this unique blockchain system, transactions with Ripple proceed much faster than transactions with Bitcoin or Ethereum. Whereas it could take a few seconds for a Bitcoin transaction to proceed, users can send and receive Ripple anywhere in the world instantly. This makes Ripple much more suitable for widespread use on the scale of fiat currencies like the US dollar.
Notably, the term 'Ripple' refers to both the cryptocurrency – which is officially named XRP – and to the company, Ripple Labs, which founded the blockchain system for XRP. Ripple Labs not only operates Ripple but also coordinates a global network of more than 200 financial institutions that facilitate cross-border payments using Ripple.
---
Where and how to buy XRP?
Wondering where to buy Ripple in the UK? There are dozens of cryptocurrency exchanges that let you buy cryptos under £1, but not all options are equally good. When considering what crypto exchange to use, you need to look closely at factors like cost, trading tools, regulation, and more.
To help you find the best place to buy Ripple in the UK, let's take a closer look at five of our favourite crypto brokers:
---
1. eToro – Best UK Platform for Buying XRP
eToro is our top-rated cryptocurrency exchange for UK traders and investors who want to buy Ripple. This exchange offers commission-free trading for XRP with a fixed 2.45% spread. The spread covers both the buy and sell sides of your trade, so it's among the most competitive pricing available in the UK today. eToro does charge some minor account fees, including an inactivity fee and withdrawal fee, but they are easy to avoid.
One of the things that help eToro stand out is its advanced trading platform. You can view customizable technical charts and apply more than 100 built-in technical studies. Charts can display one-minute bars, which are essential for day trading Ripple, and you also have access to a variety of drawing tools. Another plus is that eToro offers research from professional analysts to help you decide whether you should buy Ripple right now.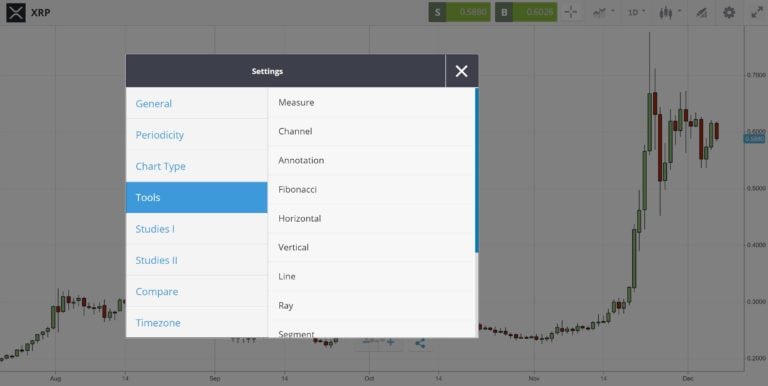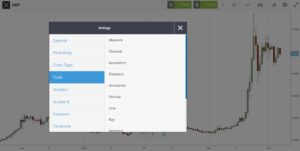 Your money is at risk.
eToro is also relatively unique among UK crypto exchanges in that it offers a social trading network. You can follow other cryptocurrency traders and host discussions about changes in Ripple's price. Plus, eToro lets you see what proportion of traders are buying Ripple and what proportion are selling it. The platform also offers copy portfolios, which enables you to automatically mimic the moves of professional cryptocurrency traders.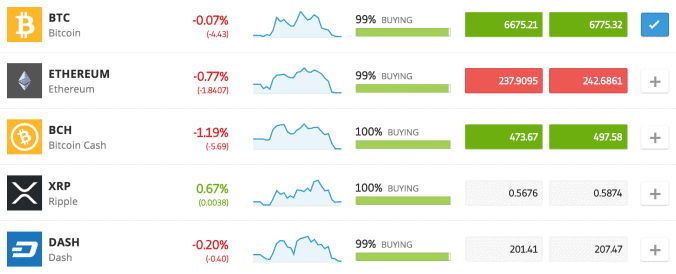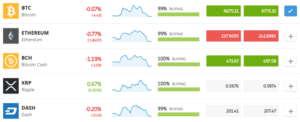 This platform makes it easy to fund your account with a variety of payment methods. You can buy Ripple with a bank account, credit card, or VISA debit card. Alternatively, you can use an e-wallet like PayPal, Neteller, or Skrill to fund your account or buy Ripple using Bitcoin. All deposits to eToro are fee-free.
If you want to go beyond investing in Ripple, eToro offers 15 other cryptocurrencies as well as a wide range of traditional assets. You can buy shares for over 800 global companies, trade forex or commodities, and invest in ETFs and bonds.
Importantly, eToro is considered highly trustworthy and is regulated by the UK Financial Conduct Authority. UK trading accounts are also covered by the Financial Services Compensation Scheme, which guarantees up to £85,000 in your trading account in the event that eToro runs into financial trouble. As eToro operates in USD, you need to pay a small conversion fee when depositing in GBP.
Your money is at risk.
---
2. Huobi – Best Exchange to Buy Ripple (XRP) with Low Trading Fees
If you're looking for a viable alternative to eToro, we'd also recommend checking out Huobi. Huobi is one of the top ten cryptocurrency exchanges globally when it comes to trading volume, regularly handling over $1.3bn each day. The platform provides over 350 cryptocurrencies for users to trade (including XRP), with a selection of derivatives markets on offer, too. If you're looking to buy Ripple, you can do so for a fee of only 0.2% – which can be reduced by 50% if you hold HT.
In terms of the trading experience, Huobi offers a web-based platform and a mobile app. The former has lots of information on offer, including built-in TradingView price charts and depth-of-market data. Furthermore, there are four different order types to utilise and a dedicated section for daily price statistics. The mobile app offers a sleeker version of the web-based platform, with less information but a more straightforward trading experience for beginners.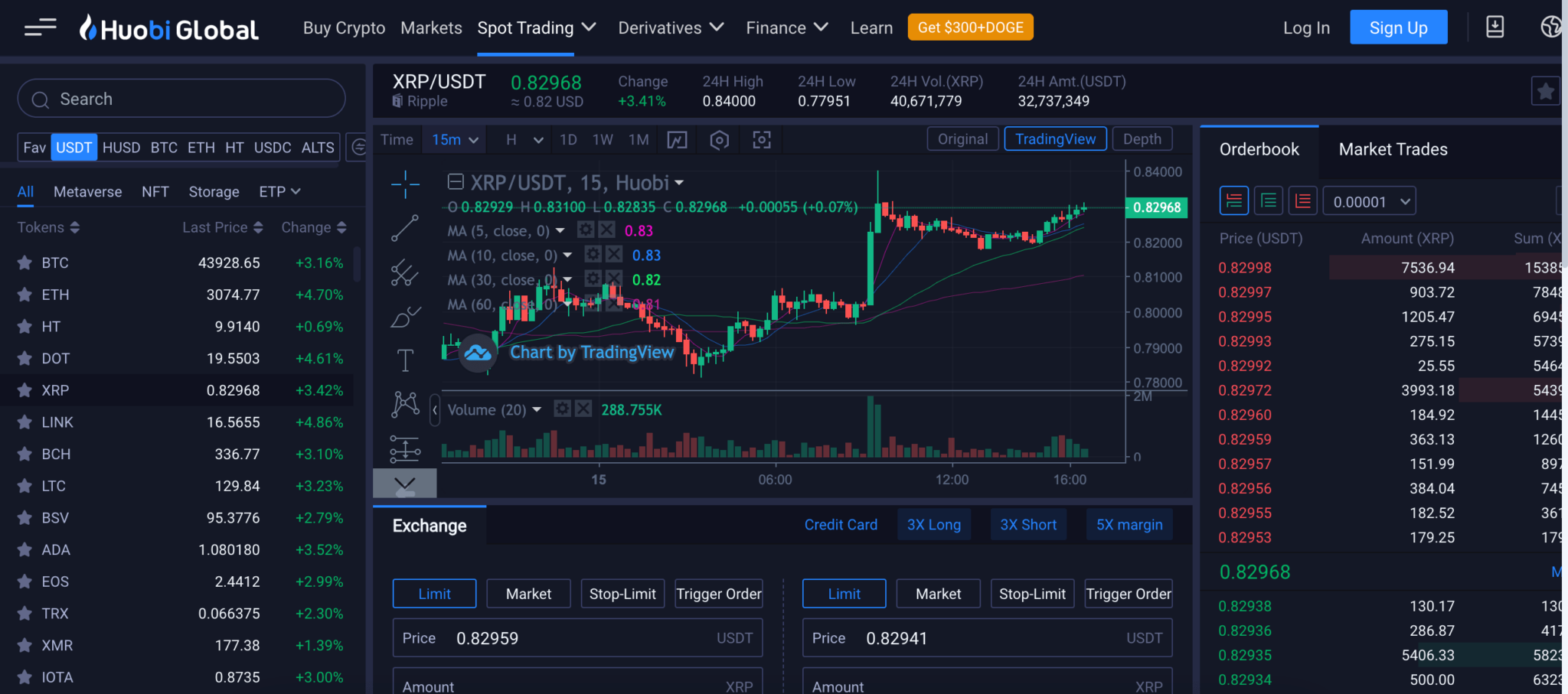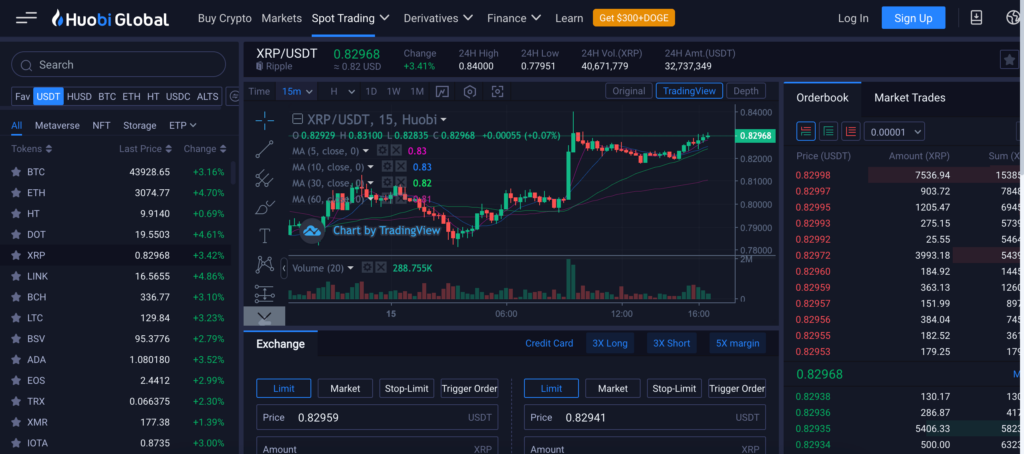 Huobi users can also download the Huobi Wallet app for free, available on iOS and Android. This wallet is ideal for storing your Ripple holdings as it offers complete control over your private keys and supports multiple blockchains. Finally, Huobi even has a valuable 'Huobi Learn' feature, where users can earn cryptocurrency for completing educational courses.
Your money is at risk.
---
3. Crypto.com – User-Friendly Exchange to Buy Ripple Easily
Another of the best crypto exchanges UK to consider is Crypto.com. Crypto.com was founded in 2016 but has grown to over 10 million users in the last few years. The platform offers around 150 cryptos to trade, including a selection of DeFi tokens and ERC-20 tokens. Crypto.com utilises a maker/taker model in terms of fees, which will be set at 0.4% per trade for retail traders.
Deposits are easy to make with Crypto.com, as the platform allows users to fund their accounts for free with crypto or FIAT currency. Notably, Crypto.com allows instant deposits in GBP via Faster Payments – ideal for UK-based traders. If you do not wish to deposit, you can skip this step and buy Ripple directly using a credit or debit card. Usually, this comes with a 2.99% transaction fee, although this fee is waived for the first 30 days of using the Crypto.com platform.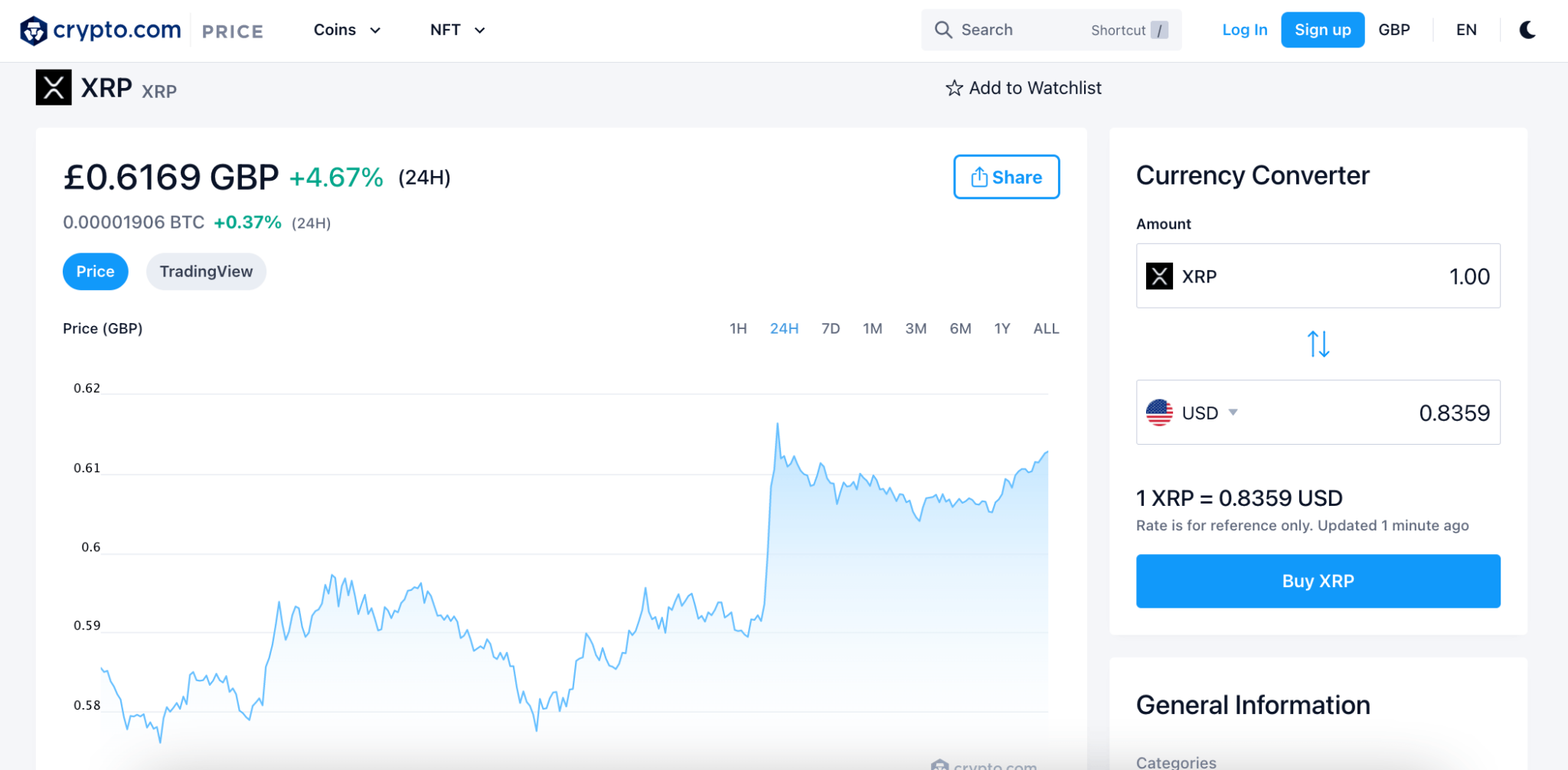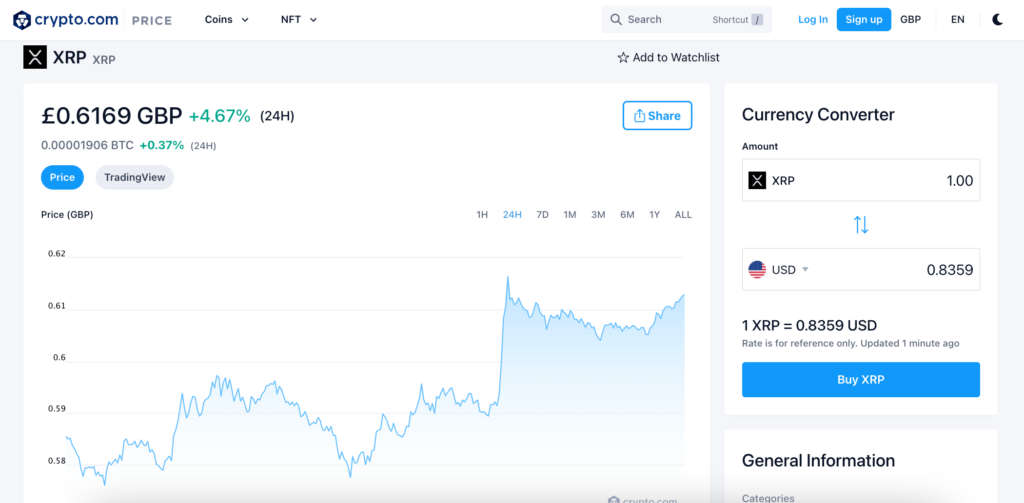 Users can trade on the web-based exchange or the Crypto.com app, with the latter being ideal for beginners. The app has a straightforward interface with price charts and real-time data and offers the ability to set price alerts. Finally, Crypto.com even provides a 'crypto VISA card', allowing users to spend their crypto holdings as if they were FIAT!
Your money is at risk.
---
4. Coinbase – Advanced Cryptocurrency Research Tools For Trading XRP
Coinbase is a US-based cryptocurrency exchange that offers trading on more than 3,000 top digital assets. The exchange was one of the first major players in the cryptocurrency trading space and is considered highly trustworthy. In fact, Coinbase is one of only a few entities to hold a specialised e-money license from the UK's Financial Conduct Authority.
What's great about Coinbase is that it provides a ton of tools for cryptocurrency traders and investors. With this platform, you can create a diversified portfolio of digital currencies and manage recurring investments over time. You can also set up a self-managed crypto wallet on your smartphone, which is great if you want to use Ripple or Bitcoin to send money or pay for everyday purchases.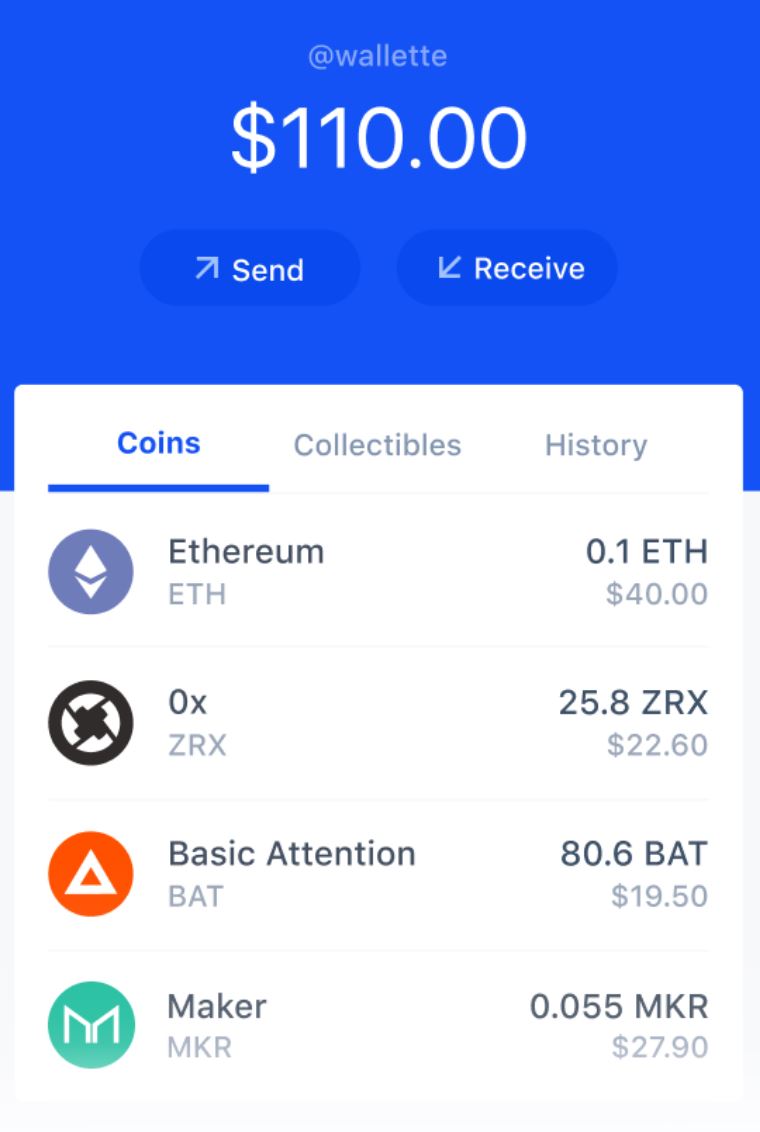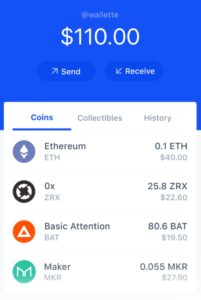 Our favourite thing about Coinbase, though, is Coinbase Pro – the exchange's cryptocurrency trading platform. This platform is very advanced, with dozens of built-in technical studies and drawing tools for you to analyse Ripple's price movements. Coinbase Pro also takes advantage of the open nature of blockchain technology to show you the entire trade history and order book for Ripple. While this information isn't essential for long-term investors, it can make a big difference for short-term traders.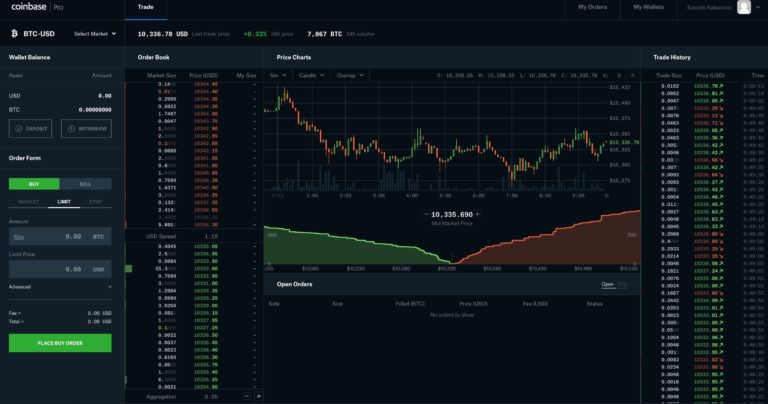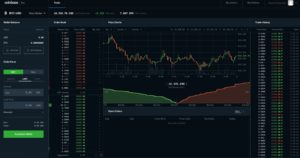 The downside to Coinbase is that these tools don't come cheap. Coinbase charges a 0.50% spread for every Ripple transaction, plus a flat fee based on how much you trade. The fee can range from £0.99 to £2.99 per Ripple trade, which can be up to 10% of your transaction value and can add up pretty quickly. Thankfully, Coinbase doesn't charge any account fees.
Coinbase allows you to deposit and withdraw funds using a bank account, debit card, or credit card. You can instantly withdraw funds to a credit card, but note that this carries a 2% fee.
Your money is at risk.
---
5. Binance – Lowest Spreads for Buying Ripple


If you're looking for the cheapest way to buy Ripple in the UK, Binance may be the best cryptocurrency exchange for you. This trading platform offers incredibly low spreads that start at 0.10% per trade. If you hold Binance's proprietary BNB cryptocurrency, you can also get discounts that bring your spread down to as little as 0.06%. Binance doesn't charge any account fees, so you won't find a better deal in the UK for buying Ripple.
Binance is a little more complicated to get started with than platforms like eToro or Coinbase. But the exchange has a ton of tools and features to offer, including three different trading platforms. If you just want to make a one-time purchase of Ripple, you can use the Basic or Classic interfaces. If you want detailed technical charts and access to Ripple's full order book, the Advanced web trading platform offers a comprehensive look at the market for XRP.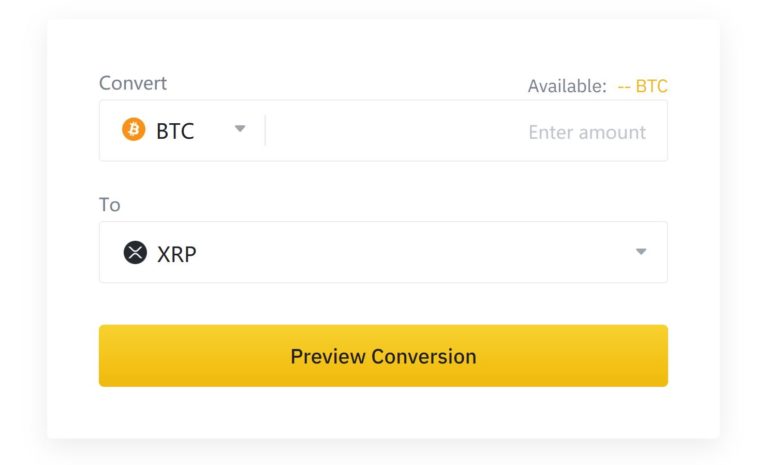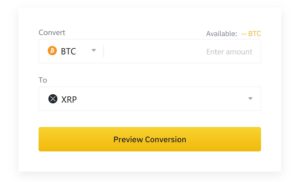 One thing we like about Binance is that it provides more educational resources for new cryptocurrency traders than other exchanges. This exchange offers dozens of video explainers to help you understand blockchain technology, how Bitcoin works, and what to watch for when investing in digital assets. There is also a trader forum where you can ask questions and quizzes to help you test your knowledge.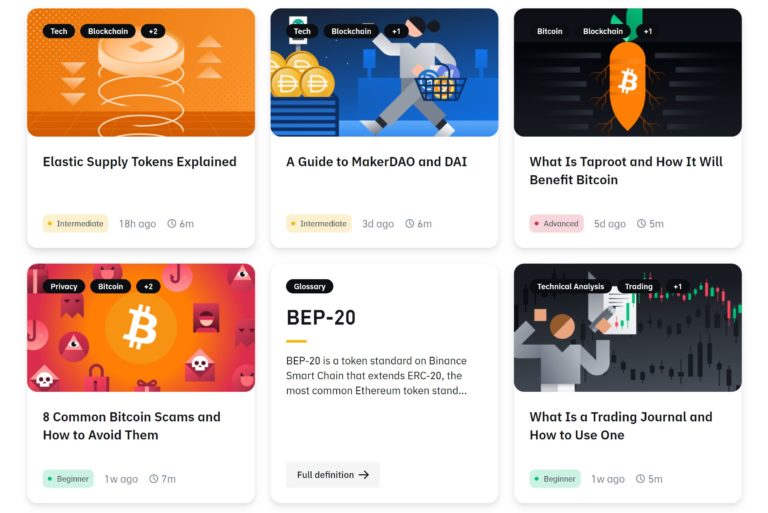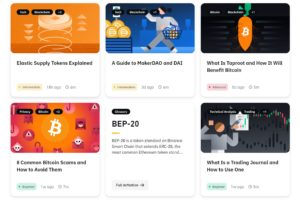 Binance allows you to fund your Ripple investment with a bank transfer, credit or debit card, or several popular e-wallets. You can also migrate Bitcoin from any existing wallet to Binance and use that to buy XRP.
Binance is regulated in the US and by the UK's Financial Conduct Authority. It is one of the most well-established names in the cryptocurrency trading space, and its security measures have proven durable in the past against attempted hacks.
Your money is at risk.
---
Best Way to Buy XRP in UK – eToro Tutorial
The best way to buy Ripple in the UK today is to use eToro, which offers low-cost fixed spreads, a social trading network, and an advanced crypto trading platform. We'll show you how to buy Ripple using eToro in just four simple steps.
Step 1: Sign Up for eToro
To get started, head to eToro's homepage and click 'Join Now.' Enter a username and password to create a new account, or sign up using a Google or Facebook account.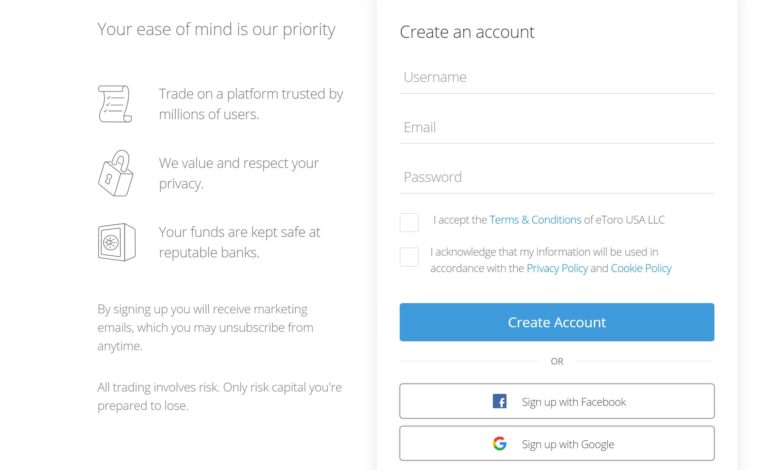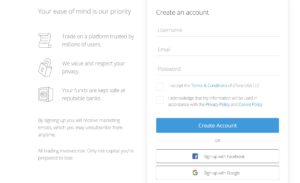 In order to comply with UK anti-money laundering regulations, eToro requires you to verify your identity. You can complete this step online by uploading a copy of the photo page of your passport or your driver's license, plus a copy of a recent bill or financial statement that shows your address.
Your money is at risk.
Step 2: Download the eToro Mobile App
You can continue with eToro on the web, but the eToro mobile app provides an excellent trading experience and enables you to buy and sell Ripple from anywhere. Just search 'eToro' in the Apple App Store or Google Play Store and tap 'Install.' Then log into your account.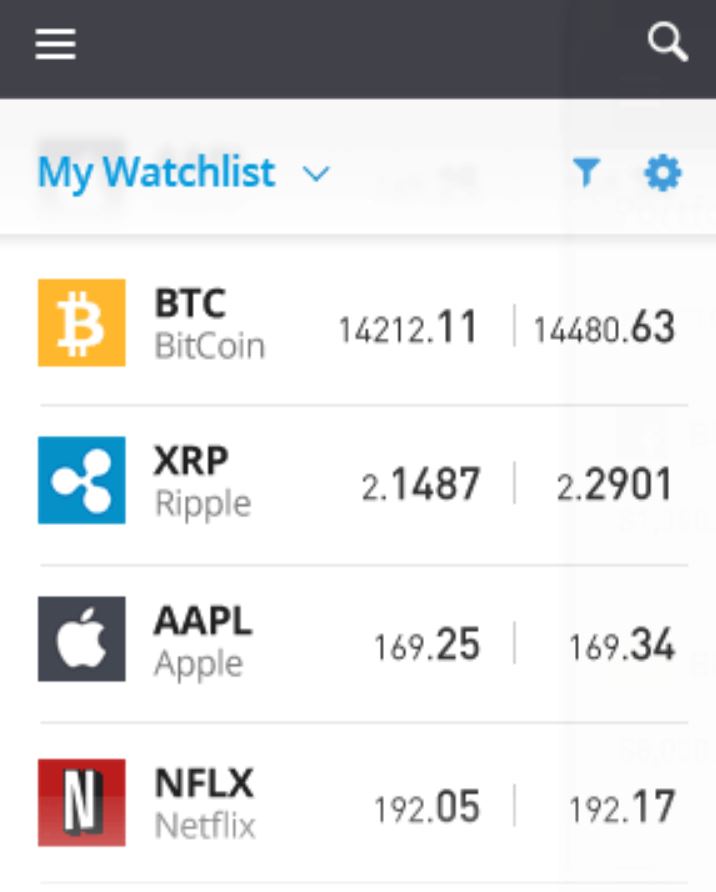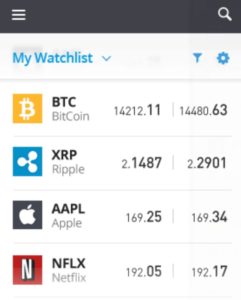 Step 3: Deposit Funds
The next step is to fund your eToro trading account. eToro requires a minimum deposit of £140, which you can pay by credit or debit card, UK bank transfer, Neteller, Skrill, or PayPal.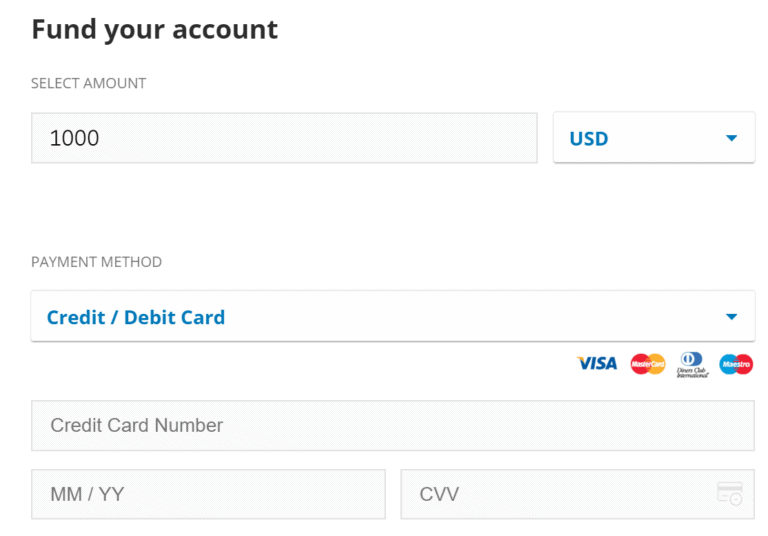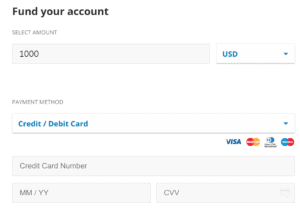 Step 4: Buy Ripple (XRP)
Now you're ready to buy XRP with eToro. From the eToro dashboard, search 'Ripple' or 'XRP' and tap 'Trade' when it appears in the results.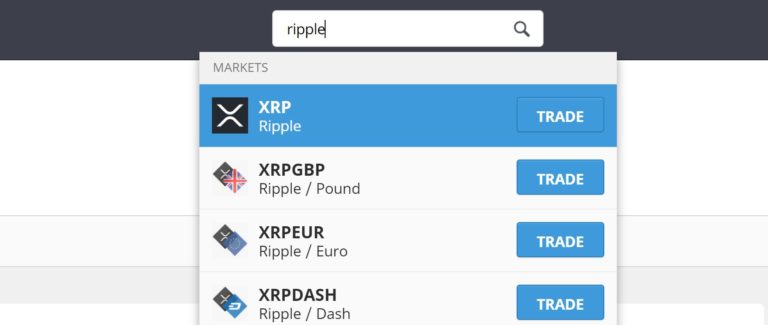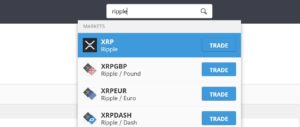 Enter the amount of XRP you want to buy and set a stop loss or take profit for your trade if desired. When you're ready, click 'Open Trade' to buy Ripple.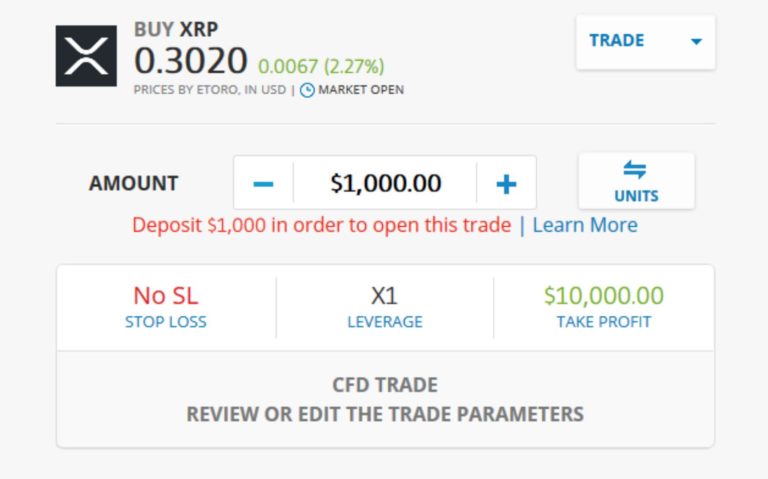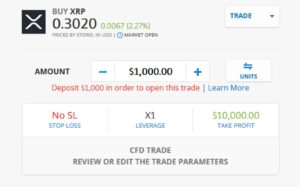 Is Ripple a good investment?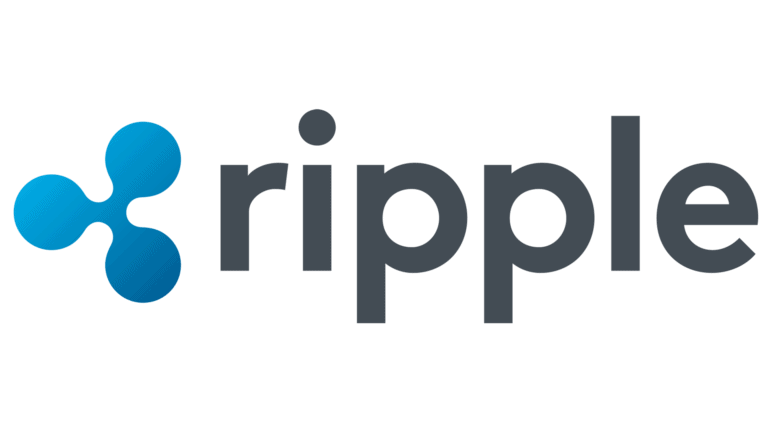 Ripple has attracted increasing attention from traders and investors in the UK and around the world. The price of this coin is still modest – around 46 pence, compared to over £14,000 for Bitcoin – but there is so much XRP on the market that it is actually the third-largest digital currency by market cap. Today, Ripple is worth more than £20.7 billion.
Price alone doesn't make Ripple a good investment, though, especially since you can buy fractional Bitcoin and Ethereum if you only have a small amount to invest. But there are several reasons why we think Ripple is worth a look for UK cryptocurrency trading and investing.
The most important is the payments system underlying Ripple. One of the biggest challenges limiting the widespread adoption of digital assets by the mainstream public and by financial institutions is that they cannot handle the firehose of transactions that happen in the global economy every day. Credit card companies, for example, routinely process 5,000 transactions per second or more.
As we noted, transactions using the Ripple payment system are far faster than those using Bitcoin or Ethereum. In fact, Ripple can handle roughly 1,500 transactions per second compared to 7 for Bitcoin and 15 for Ethereum. So, Ripple offers the liquidity needed for traditional financial applications, and the XRP coin could stand to benefit as a result.
In fact, Ripple has already proven that it can compete on a global scale. Ripple has been adopted by more than 200 global financial institutions to facilitate cross-bank accounts and cross-border payments. Banks using Ripple to facilitate payments that normally take a significant amount of time to process are saving over £400,000 per year on average.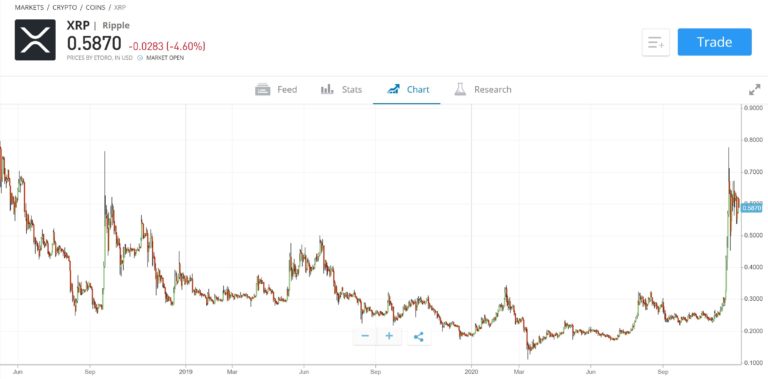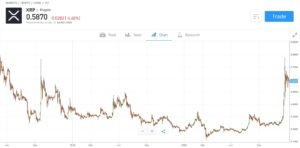 How Much Does It Cost to Buy XRP?
You can buy XRP in the UK through most cryptocurrency exchanges. The fee structure can vary widely between exchanges, so it's important to read the fine print.
In general, you should expect to pay a spread of anywhere from 0.5% to 1.5% per Ripple transaction. That means your total cost for buying and selling Ripple can range from 1% to 3% of your total purchase.
Some exchanges charge cheaper spreads but include other fees that can raise the cost of buying Ripple. For example, Coinbase charges a spread of around 0.50% when you buy XRP, but adds a flat fee of £0.99 to £2.99 depending on how much XRP you buy.
How to Buy Ripple with PayPal
PayPal recently introduced a new cryptocurrency service that supports exchange between fiat currencies, Bitcoin, and altcoins like Bitcoin Cash, Ethereum, and Litecoin. Notably, PayPal's new service doesn't support Ripple. However, that doesn't mean you can't indirectly use PayPal to buy Ripple in the UK.
Many top crypto exchanges, including eToro, allow you to fund your account with PayPal. So, you can simply transfer funds from PayPal to your exchange account and then buy Ripple as you normally would. This is the same process you would use to buy XRP from an exchange using a bank transfer, except that you replace your bank account with your PayPal account.
It's also possible to buy Ripple using some other payment providers, like Neteller and Skrill.
How to Buy XRP with Bitcoins
If you already own Bitcoin, using this digital currency to buy Ripple is simple. Almost every UK Bitcoin exchange allows you to convert Bitcoin to Ripple (or any other cryptocurrency) and pay just a spread, with no additional fees.
To convert Bitcoin to Ripple, just go to your exchange account and buy Ripple as you normally would. If you only have Bitcoin in your account, it will be used automatically to fund your Ripple purchase. If you have Bitcoin and fiat currencies in your account, you can select which currency to use to buy XRP.
Buying XRP Safely
Although Ripple is a relatively trustworthy cryptocurrency with a massive global user base, safety should always be on your mind when buying and selling cryptocurrencies. The best way to buy Ripple in the UK safely is to use an established cryptocurrency exchange, such as eToro. Make sure that the exchange you use is overseen by financial regulators like the UK Financial Conduct Authority.
Keep in mind that in order to hold Ripple, you will need a cryptocurrency wallet. Most cryptocurrency exchanges provide you with a managed wallet, which works just like a traditional brokerage account. Make sure that whatever exchange you use has strict security measures in place to protect clients' wallets. We recommend against creating and managing your own wallet, as self-managed wallets are much more prone to attack, theft, and loss.
Risks of Buying Ripple in the UK
As with Bitcoin investment or any other cryptocurrency, buying Ripple involves risk. The value of Ripple is based solely on what traders and investors are willing to pay for it, which varies widely based on market news and developments in the cryptocurrency world. Ripple is highly volatile and can experience sharp price swings with little notice.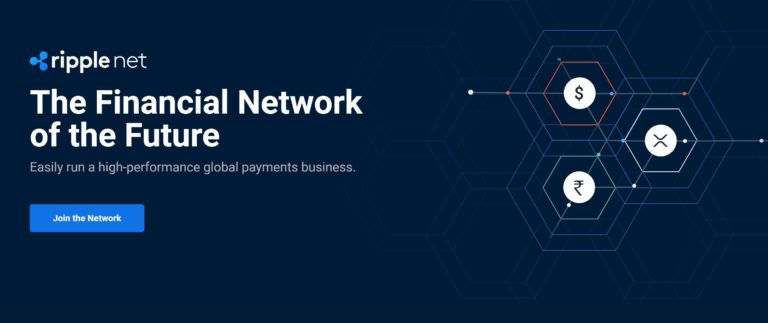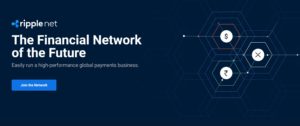 Over the long term, there is no guarantee that Ripple will live up to its promise. While this digital asset has a head start over competitors in building a network of mainstream financial institutions, there are many startup cryptocurrencies that promise faster cross-border payments. In addition, although Ripple offers much faster payments than Bitcoin, Bitcoin still has much wider name recognition and is accepted as payment by many small and large businesses.
Given all this, UK traders should be cautious about buying Ripple. There is a lot to like about Ripple and it is quickly gaining attention and popularity. However, if the cryptocurrency world has demonstrated anything, it's that no coin's future is a guarantee.
Selling Ripple (XRP)
When you're ready to sell Ripple (XRP), the process is largely the same as buying it. Any cryptocurrency exchange that allows you to buy XRP also allows you to sell it for Bitcoin or fiat currency. Simply log into your exchange account and open a sell order for your Ripple coins.
One of the nice things about trading Ripple is that this cryptocurrency has relatively high liquidity. So, you should have no problem selling your XRP instantly at the quoted market price.
---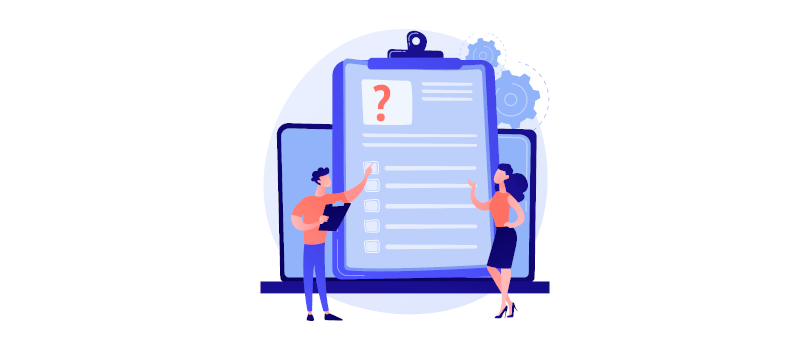 Recent news you need to consider before buying Ripple (XRP)
Last updated: 03/08/2022 – Ripple is a significant player in the crypto space because their project enables cross-currency transactions at fast speeds and low prices. This means they could play a role in the establishment of a global financial network that includes cryptocurrencies. Banks and corporations already use Ripple to quickly convert different currencies, meaning it acts as a bridge between major financial institutions. The technology is still young, however, and cryptocurrencies are highly volatile. Consider the following before making an investment decision:
Million dollar XRP transactions were made to exchanges and and members of Ripple's eco-system. This is part of a move to improve XRP liquidity and encourage activity across Ripple's wallets and other offerings.
XRP faces bearish conditions as Ripples conducts multimillion dollar transactions across its network. The crypto currently trades at $0.38 on major exchanges.
Ripple Labs has been enlisted by Columbia to place land deeds on blockchain. This is part of a government plan to rectify land distribution efforts.
Conclusion
Ripple is a hot cryptocurrency with a lot of future potential. While traditional financial institutions have largely shunned Bitcoin, Ethereum, and other digital assets, many have gotten on board with Ripple's cross-border payments system, fast transaction processing, and high liquidity. That paves the way for broader adoption of Ripple, which could drive up the price in years to come.
We covered everything you need to know about how to buy Ripple in the UK and where to buy Ripple. To start trading Ripple today, click the link below and sign up for an eToro account!
Your money is at risk.
Frequently Asked Questions on Ripple (XRP)
What's the difference between Ripple, Ripple Labs, and XRP?
Do I need to buy Bitcoin before I can buy Ripple?
What financial institutions are in the Ripple payments network?
How is Ripple different from SWIFT?
How do I buy Ripple stock?