Best Oil Tanker Stocks in the UK to Watch
Fact Checked
Everything you read on our site is provided by expert writers who have many years of experience in the financial markets and have written for other top financial publications. Every piece of information here is fact-checked.
Disclosure
Please note that we are not authorised to provide any investment advice. The information on this page should be construed for information purposes only. We may earn commissions from the products mentioned on this site.
The subject of storing oil and other energy products is not a new one. Since oil has started to flow through the pipeline, storage was needed. Nowadays there is a huge demand for oil products. Oil tanker companies are thriving and have a big impact on energy prices like Brent crude oil and natural gas.
In this guide, we review some popular oil tanker stocks in the UK. We'll list the 10 stocks and review each one of them. We'll also look at some brokers in the UK that allow you to buy oil tanker stocks.
List of Popular Oil Tanker Stocks UK 2023
Below is a list of oil shares based on trading volumes. Keep scrolling for a full review of each oil tanker stock.
Euronav 
DHT holdings 
Scorpio tankers 
Teekay tankers 
Frontline 
Nordic American Tanker
International Seaways Inc
Tsakos Maritime Holdings
SFL Corporation LTD
Cheniere Energy
Oil Tanker Stocks UK Reviewed
Even though the oil industry is currently recovering from the coronavirus stock market crash, it is crucial to analyze each stock and find out if the company is in a solid financial situation. This is particularly significant when we take into account the negative impact of the pandemic and lockdowns across the globe on energy-related companies. With that in mind, below we analyze the oil tanker stocks in the market.
1. Euronav 
In terms of market capitalization, Euronav is the largest oil tanker company in the world. As of February 2021, Euronav has a market capitalization of $1.8 billion and a dividend yield of 15.54%! The Belgium-based company is engaged in the storage and transportation of crude oil products through its fleet of over 70 ships that include 42 supertankers, which can each carry around 2 million barrels of oil.
Euronav shares trade on various stock exchanges that include the New York Stock Exchange, the Brussels stock markets, and Euronext. The Euronav share price was trading at around $13 per share in late 2019 and dropped to $7.36 over the past year due to fears that the coronavirus will slow down the economy.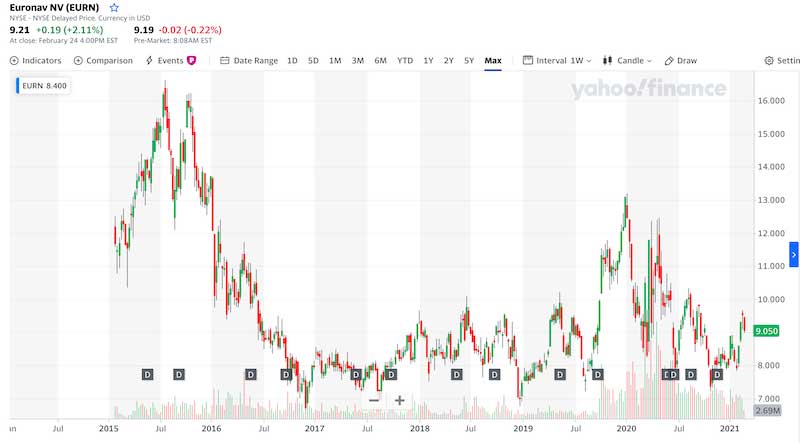 Sponsored ad. Your capital is at risk.
2. DHT Holdings
DHT Holdings Inc (NYSE: DHT) is one of the largest crude oil tanker companies with a market capitalization of nearly $1 billion and a trailing twelve months (TTM) revenue of $535 million. The Bermuda-based company, which was founded in 2005, trades very large crude carriers (VLCC) internationally with an overall fleet of 29 vessels. The DHT Holdings stock trade on the New York Stock Exchange, offering investors an annual dividend of around $0.20 per share, which represents a dividend yield of 3.50%.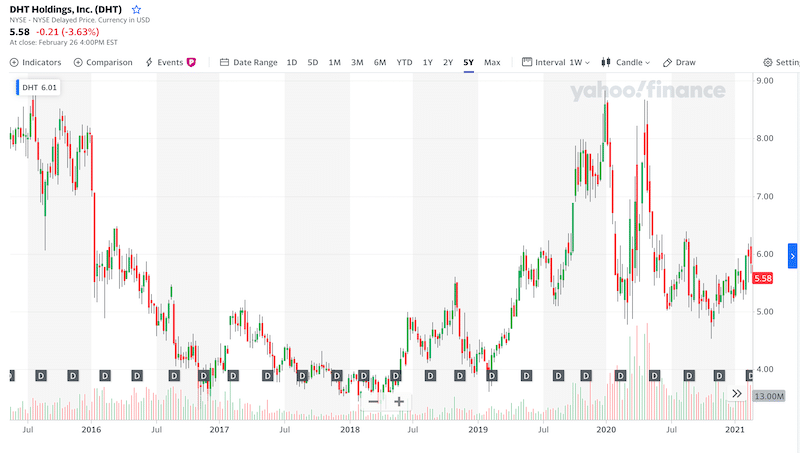 Generally, the DHT Holdings stock trades at a relatively narrow range, since 2012 though the stock fell by around 40% since March last year when the Covid-19 crisis started.
Sponsored ad. Your capital is at risk.
3. Scorpio tankers
Scorpio tankers is a Monaco-based marine transportation company that was founded in 2009 and has grown to become one of the largest oil tanker companies. With a fleet of 109 vessels (including Suzemax tanker) and a market cap of nearly $860 million. Recently, Scorpio tankers announced a fourth-quarter net loss of $76.3 Million and a net loss of $56.6 million for the three months ended December 31, 2020.
However, at the same time, Scorpio tankers also announced a cash dividend payment of $0.10 per share that is scheduled to be paid on March 15, 2021. As a matter of fact, over the last 12 months, the company distributed a total of $0.40 per share, which equates to a dividend yield of 2.42% at current price levels.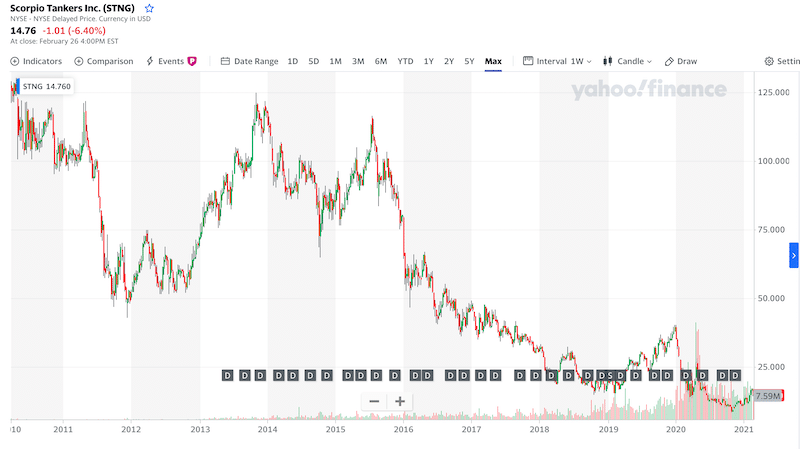 As shown in the chart above, Scorpio's share price has been on a long-term declining trend since 2015 when the stock was trading at around $100 per share. Last year, the Scorpio share price spiked in April due to the oil crisis in 2020 but then fell to a bottom of $8.88 in October. From the start of the year, however, Scorpio gained 31%, rising from $11.50 to around $14.76 at the time of writing.
Scorpio is an income stock with an annual dividend yield of 2.71%.
Sponsored ad. Your capital is at risk.
4. Teekay Tankers Ltd 
Teekay tankers Ltd (NASDAQ: TNK) is an international transporter of oil products and one of the largest operators of mid-sized oil tankers. The company's share price has been making steady progress since the beginning of the year, with a YTD return of over 22%. Still, Teekay Tankers Ltd is trading way below pre-Covid-19 levels. Just a year ago in April, the Teekay share price was trading at $25.18 per share.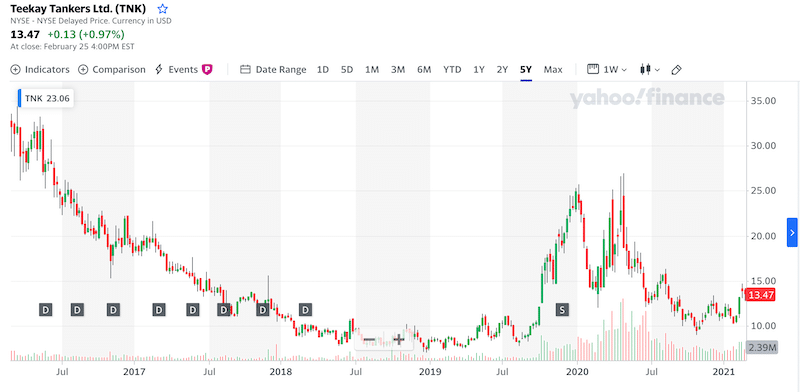 In terms of fundamentals, Teekay reported a fourth-quarter loss of $73.3 million in 2020, but it also reported a net income of $87.3 million, or $2.59 per share for the year ended, an increase of 138% from 2019. Generally, Teekay has a strong balance sheet and liquidity, and, at current prices, the company has a PE ratio of 2.04 and a trailing twelve months EPS of 6.39. 
Sponsored ad. Your capital is at risk.
5. Frontline 
Frontline Ltd. is a leading shipping company engaged in the transportation and storage of crude oil and petroleum products. The company has a market cap of $1.4 billion, making it the fourth-largest oil tanker shipping company. At present, Frontline has a trailing twelve months (TTM) PE ratio of 3.37.
Analysts remain bullish on the outlook of Frontline LTD, largely due to the better than expected revenues in the fourth quarter of 2020. The fundamentals are strong overall, with the end of Covid-19 creating a surge in demand for oil storage and transportation companies like Frontline. Evidently, Frontline has a twelve trailing months revenue of around $1.3 billion and $1.22 billion for the fiscal year ended 31 December 2020, an increase of 28% from the previous year. Finally, at current prices, Frontline Ltd pays out an annual dividend yield of over 22%.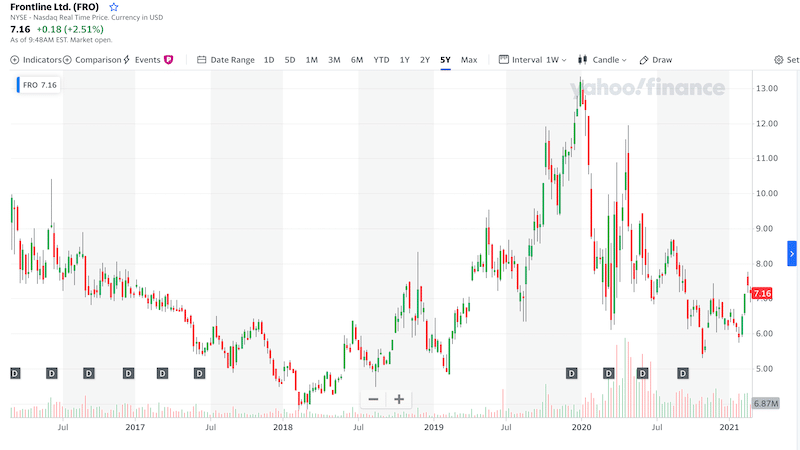 Sponsored ad. Your capital is at risk.
6. Nordic American Tanker
With a market cap of $500 million and TTM revenues of $406 million, the NAT stock could be a bargain, particularly as the market recovers and demand for oil picks back up. The stock is currently trading at $3.3 per share, after falling from a $7.3 per share level in April last year. Besides the upside potential, Nordic American Tanker offers shareholders a juicy dividend yield of about 4.8%.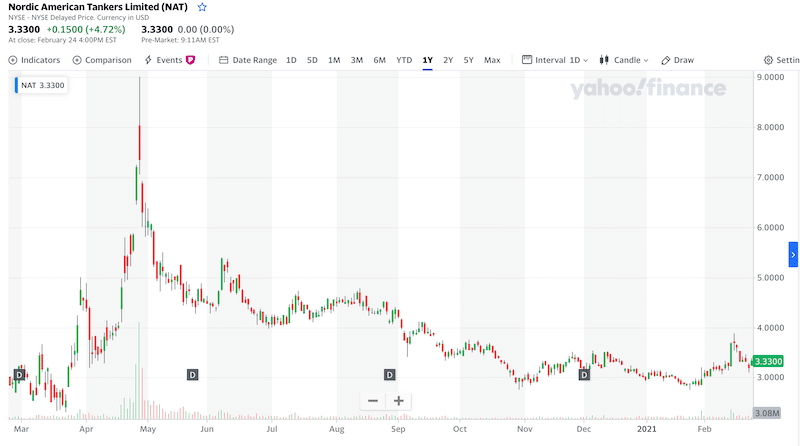 Sponsored ad. Your capital is at risk.
7. International Seaways Inc 
Based in the New York United States, International Seaways Inc is among the largest oil and petroleum tanker companies in the world with a fleet of 36 vessels including 11 VLCCs, two Suezmaxes, four Aframaxes/LR2s, 13 Panamaxes/LR1s, and 4 MR Tankers.
Despite the mini-crisis in 2020, INSW actually had another year of growth. Its' TTM earnings for the third quarter in 2019 were $4.40 per share, a 182% increase from $1.56 per share from the third quarter of 2019. in Q4, International Seaways Inc reported an EPS of $0.98, beating analysts' expectations of $0.75.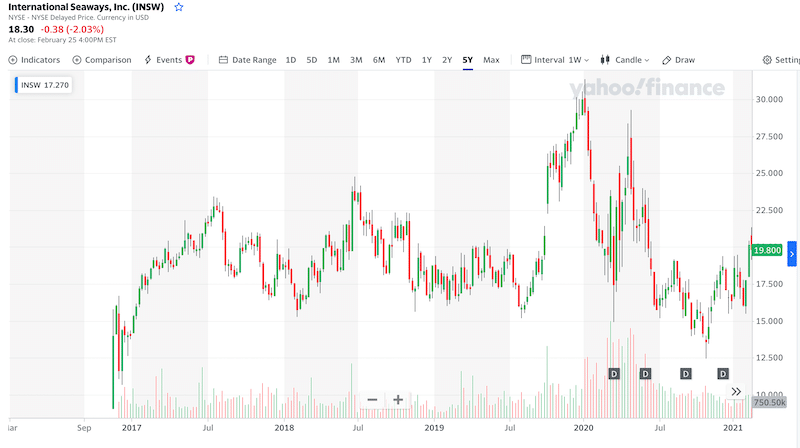 The INSW share price, however, dropped by 8% over the past year. Just before the coronavirus pandemic, the company's share price was trading at a record high around $30 per share. The share price has fallen to around $13.5 per share in October but then, surged back again in 2021 with a YTD of 12% at the time of writing.
Sponsored ad. Your capital is at risk.
8. Tsakos Energy Navigation 
Tsakos Energy Navigation is a fairly small company in terms of market cap valuation and revenues. At the time of writing, TNP has a modest market capitalization of just $173 million. Nonetheless, this company is one of the largest oil tanker companies in the world with 64 modern crude, oil, and product tankers, LNG, and shuttle tankers. Tsakos is listed on the New York Stock Exchange (NYSE) under the symbol TNP and in the Bermuda Stock Exchange (BSX) under the ticker symbol TEN.
Looking at the all-time chart, we can see that TNP is trading at record low levels. Before the pandemic started, Tsakos was trading in an upward direction, reaching its highest level in two years of $22.5 per share. However, so far this year, Tsakos has gained over 15%, and the current consensus rating for the stock is sitting at 'Buy' with a price target that ranges between $11 to $41.5 (average of $22.7). This represents a potential upside of more than 170%.
In addition, Tsakos is a paying dividend stock with a current yield of 5.23%.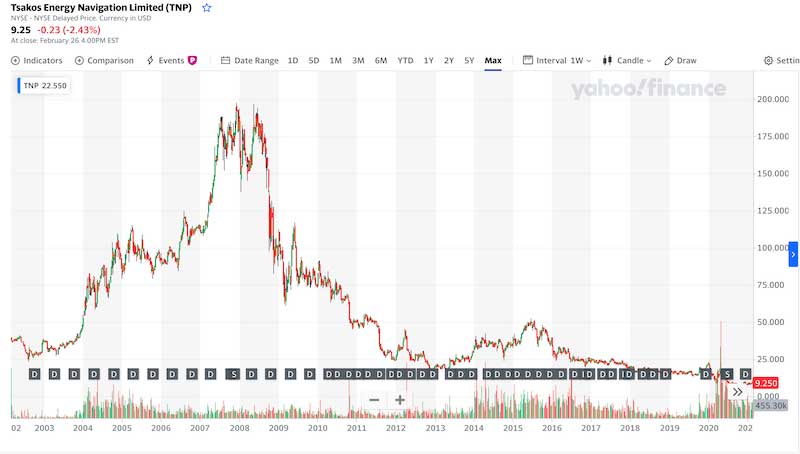 Sponsored ad. Your capital is at risk.
9. SFL Corporation LTD
SFL Corporation Ltd is another Bermuda-based company that operates in various sectors of shipping and storage, including oil and energy transportation. Much like the vast majority of shipping companies in the market, SFL Corporation Ltd (NYSE: SFL) fell sharply over the past year and bounced back since the beginning of 2021.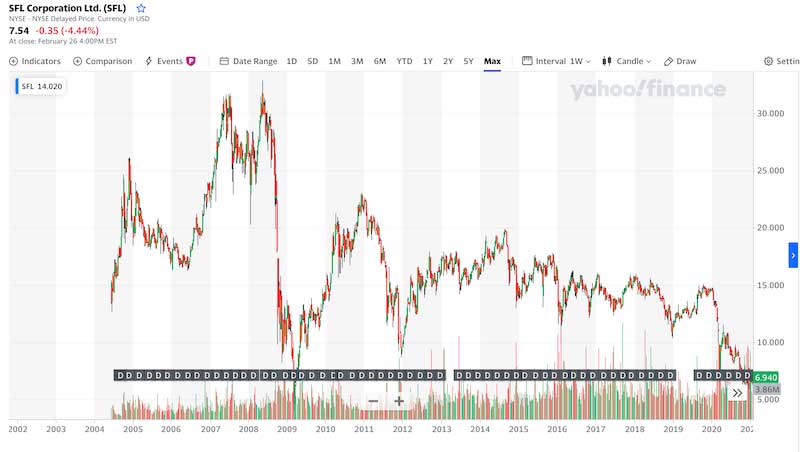 Despite disappointing earnings results and the $187 million hit from its partner company Seadrill's Chapter 11 filling, SFL Corporation Ltd is still a giant shipping company with a fleet of more than 80 vessels and a market cap of nearly $900 million. It also declared a dividend of 0.15% to be paid around March 30. Clearly, SFL Corporation is the most diversified shipping in terms of fleet, main shipping segments, and the products it transports.
Sponsored ad. Your capital is at risk.
10. Cheniere Energy
Cheniere Energy is mainly a producer of liquefied natural gas (LNG) and one of the most unique and interesting investment opportunities in the energy market. In fact, this is the first American company to export liquefied natural gas and is a Fortune 500 company with a market cap valuation of over $17 billion. The company has over 1,370 employees in nine offices across the globe.
Cheniere is not a 'shipping' company, but it has several third-party and subsidiary firms that help it transport its natural gas and other energy-related products.  Although it had a bump in the road in April 2020, the Cheniere share price already rebounded to near-record highs.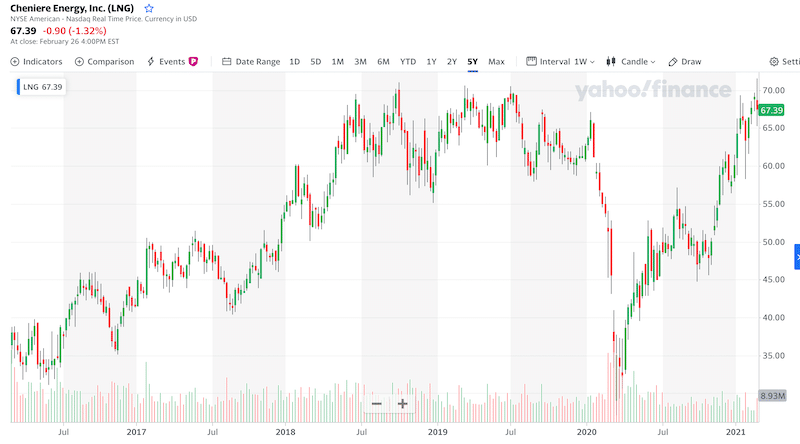 Sponsored ad. Your capital is at risk.
Important Features of Oil Tanker Stocks
An oil tanker, also known as a petroleum tanker, is a large ship that stores and transports oil and other energy-related products from one point of origin to another. Obviously, as demand for oil rises, demand for oil storage increases as well.
But, oil tanker stocks are a combination of shipping and energy-related companies due to the content of their cargo. It would therefore be fair to say that the oil tanker industry has a defensive nature and the majority of oil tanker stocks are less speculative than other industries or sub-industry like blockchain or airline stocks.
The energy sector on its own has seen a lot of volatility over the past year. But, when we take aside the oil price war and the risk of another lockdown, oil tanker stocks are the safest spot in the energy market these days.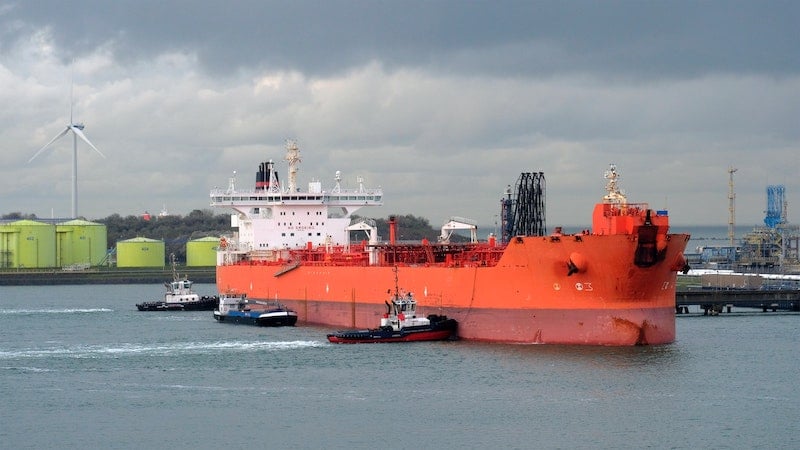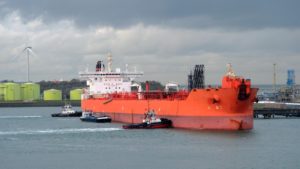 While there are many factors also at play that impact the oil market and the oil tanker industry, it all comes down to the question of when the coronavirus will be behind us and the global economy returns to equilibrium and pre-covid-19 levels. Generally, oil is the driving force of the global economy, and thus, demand for oil is expected to pick up when the global economy completely recovers from the negative impact of the coronavirus pandemic.
Indeed, there's high competition in the energy shipping industry. Oil tanker companies transport 2 billion metric tons of oil each year, and thus, each company has to grab as much market share as possible.
Oil Tanker Stock Brokers in the UK
So now that we have analyzed some oil tanker stocks in the UK, the next step is to find a stock broker or stock trading app that gives you access to the oil tanker stocks in the above list. The vast majority of oil tanker stocks trade on US stock markets so you'll be better finding a UK-regulated broker that connects investors to NASDAQ and NYSE stock exchanges.
To help you find the right broker, below we suggest online stockbrokers in the UK that offer a great selection of oil tanker stocks to buy.
1. eToro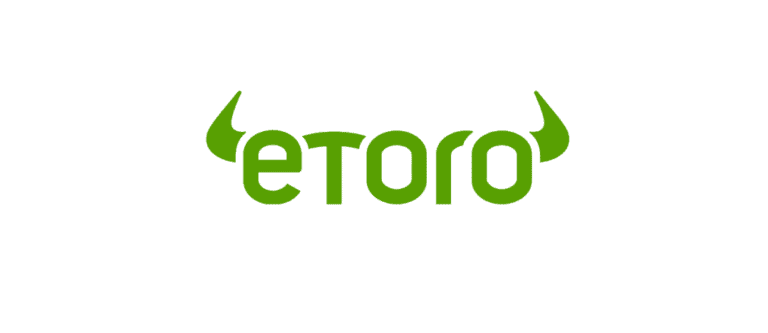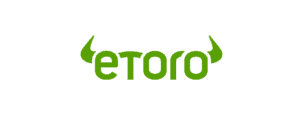 One of the largest brokers in the UK and the biggest social trading platform in the world. eToro covers a wide range of US and global stocks, so you'll get access to most of the oil tanker stocks we have suggested above. In addition, eToro offers a huge range of stocks from 17 different exchanges across the world and other popular markets that include Forex, commodities, ETFs, stock market indices, cryptocurrencies, and built-in portfolios. This means you can buy oil stocks and carry out oil trading with low fees.
The key feature of eToro that sets it apart from other online trading platforms in the market is the ability to use social trading tools via a web-based user-friendly trading platform. In that regard, eToro is not like any other trading platform where you need to spend days, weeks, and even months to utilize the platform and get familiar with the tools and features. Instead, eToro's platform is very similar to any other social network you already know – you have a profile page, you can view posts and tweets, and contact other members of the broker's network.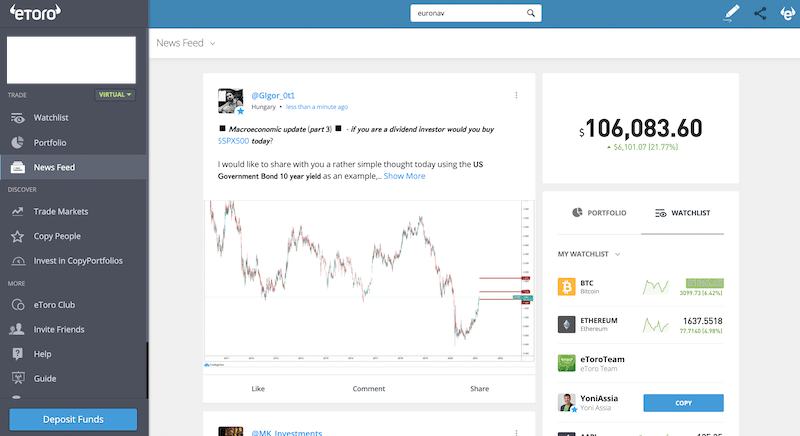 Sponsored ad. 68% of retail investors lose money trading CFDs at this site
This trading platform also lets you automatically copy trades of other investors on eToro's network. The idea of the tool called CopyTrader is pretty simple – you can choose any investor you want to copy and then the software will mimic the trading activity of the chosen investor. In addition, eToro offers the Copy Portfolios, which are select combinations of assets based on a predefined strategy, industry, or region.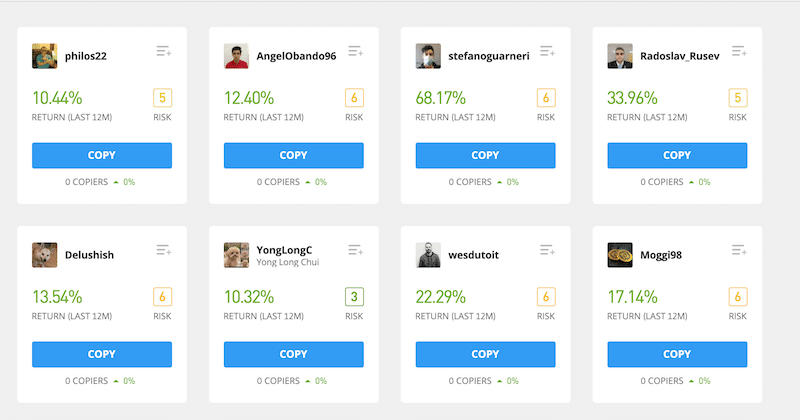 Also eToro does not charge any trading commissions when you buy and sell financial assets. Instead, the broker makes money by charging a fixed spread. Other than that, you'll have to take into account an inactivity fee, and a withdrawal fee of £4 when you wish to withdraw funds from your account.
If you want to get started, you need to meet the minimum deposit requirement of just $10. You can add funds to your account with a debit card, credit card, bank account transfer, or e-wallets like Paypal and Skrill. Finally, if you have any concerns about the safety of your funds, eToro is FCA-regulated and ensures the clients' funds are well protected by the FSCS scheme.
| | | | | |
| --- | --- | --- | --- | --- |
| Stock Broker | Minimum Deposit | Fractional Shares? | Pricing System | Fees & Charges |
| eToro | $10 | Yes – $10 minimum | 0% commission on ALL real stocks, spreads for CFDs | No Deposit fees, $5 withdrawal fee, $10 inactivity fee, no account management fees. |
Sponsored ad. 68% of retail investors lose money trading CFDs at this site
2. Plus500 
Another excellent option for UK investors to get access to the stock market is through Plus500. Founded in 2008, this online trading platform provides users with the ability to trade on more than 2500 CFD assets, including some oil tanker stocks UK and shipping companies.
Like eToro, Plus500 offers commission-free trading on its CFD products with very competitive spreads and very few non-trading fees. While Plus500 does not offer a social trading network, it does provide access to a variety of unique features and tools that include market sentiment, negative balance protection, price alert service, and guaranteed stop-loss order.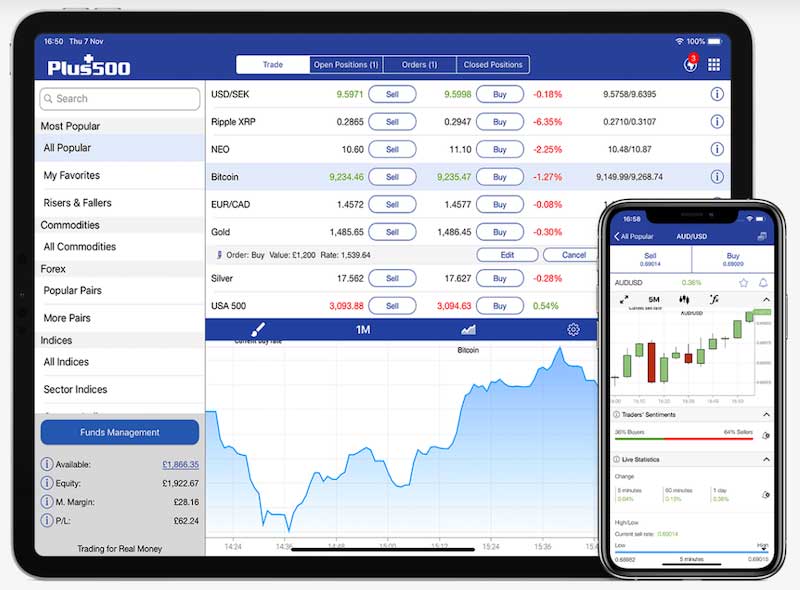 Plus500 also offers a wide range of stock CFDs on its user-friendly trading platform, it is available on web-browsers and as a mobile application. As a UK investor, you'll be able to trade on all shares, including oil tanker stocks, with a leverage ratio of 5:1. The broker also charges some of the lowest overnight fees in the market for CFD products. 
If you wish to start trading oil tanker stock CFDs at Plus500, the minimum deposit is just £100. The broker also allows potential and existing users to use the platform on a demo account with virtual money. Finally, Plus500 is heavily regulated by several regulators that include the Financial Conduct Authority (FCA), the Cyprus Securities and Exchange Commission (CySEC), the Australian Securities and Investments Commission (ASIC).