Best European Stocks UK to Watch
Fact Checked
Everything you read on our site is provided by expert writers who have many years of experience in the financial markets and have written for other top financial publications. Every piece of information here is fact-checked.
Disclosure
Please note that we are not authorised to provide any investment advice. The information on this page should be construed for information purposes only. We may earn commissions from the products mentioned on this site.
With the UK stock markets still somewhat sluggish since the Brexit vote, some investors are looking to put their money in other markets such as those based in Germany, France, Sweden, and the Netherlands. In this guide, we explore some popular European stocks.
List of 10 European Stocks
Here's a breakdown of 10 popular European stocks based on trading volume.
Heineken
Total SA
SAP
Nestle
LVMH
Juventus Football Club
Airbus
Unilever plc
Novo Nordisk
Vanguard FTSE Europe
European Stocks UK Reviewed
There are heaps of individual stock markets in Europe. In fact, there are many well-known brands that have opted to list their stocks domestically – as opposed to larger exchanges in the UK or US.
With that said, there are tens of thousands of European stocks available to purchase online in the UK – so the choice is plentiful.
To help you along the way, below we discuss the 10 European stocks.
1. Heineken 
Heineken is one of the largest beer companies globally. The firm – which is headquartered in the Netherlands, now operates in over 70 countries.
For example, Heineken shares were priced at 52-week highs of €90 in February 2020. But, as per the wider impact that COVID-19 has on supply chain capabilities, the stocks then tumbled down to €68.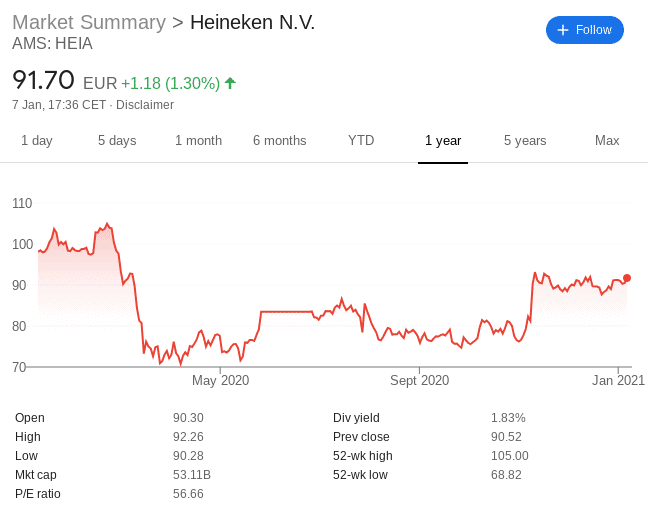 In terms of its listing, you'll find Heineken shares on the Amsterdam Stock Exchange.
2. Total SA 
Total SA is a huge oil and gas company that was first founded in 1924. Much like the rest of the industry, Total SA was hit heavily by the pandemic. The price of oil itself hit 2020 lows of sub-$20 – which was devastating for the firm. After all, revenues generated by oil companies like Total SA are reliant on the global price of oil.
As such, the sheer lack of demand for oil has resulted in a significant stock price capitulation for the French company. For example, Total SA shares were priced at €50 in early 2020. Just a couple of months later the same shares were worth just €20. This translates into a stock price drop of 60%.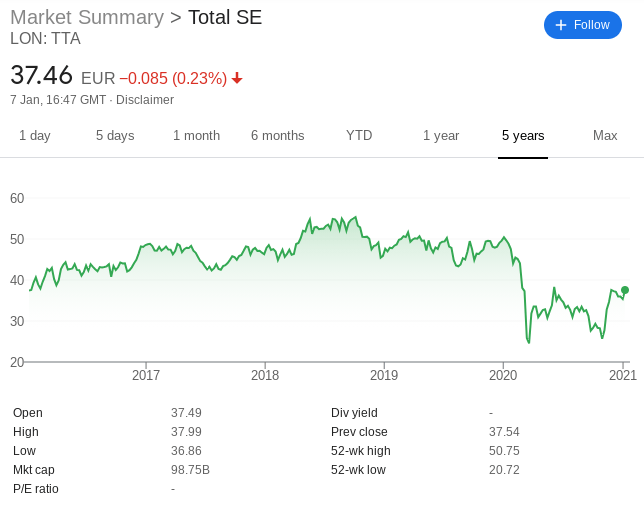 This European stock has since recovered to €37. This is an increase of 85% since its 2020 lows of €20.
3. SAP
If you've ever worked in an office-based role, there is every chance that you have come across SAP. The German powerhouse provides enterprise software for over 440,000 businesses in more than 180 countries. In terms of its shares, SAP is listed on the Xetra exchange in Germany.
Interestingly, this European stock was enjoying a period of success in mid-2020 before crashing in October. For example, SAP shares went from 2020 lows of €82 in March, up to 130 just seven months later.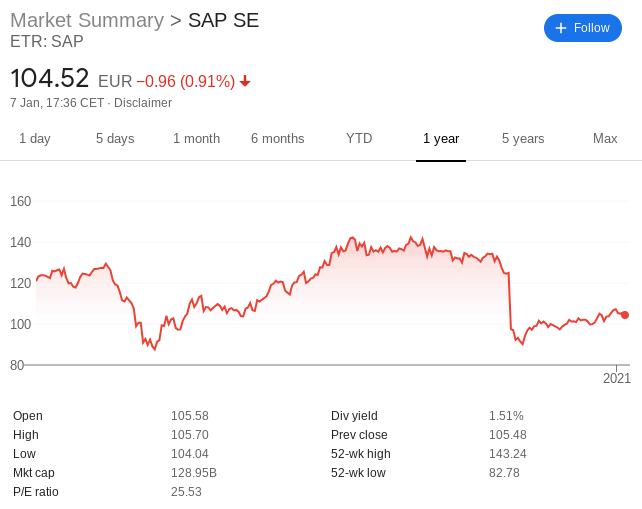 However, in the space of two weeks, SAP stocks hit lows of €90. This represents a rapid decline of over 32%. The shares have, however, recovered to the €105 mark.
Crucially, not only does SAP have strong cash flows, but it is in the process of taking subsidiary Qualtric public. SAP acquired the firm a little under two years ago for $8 billion.
4. Nestle 
Nestle is a major Swiss company that specializes in packaged food products. In fact, the firm is behind over 2,000 global brands – many of which generated well over £1 billion in annual revenues. Some of the most well-known Nestle brands include Nescafe, Milo, Kit Kat, Perrier, and Hot Pockets.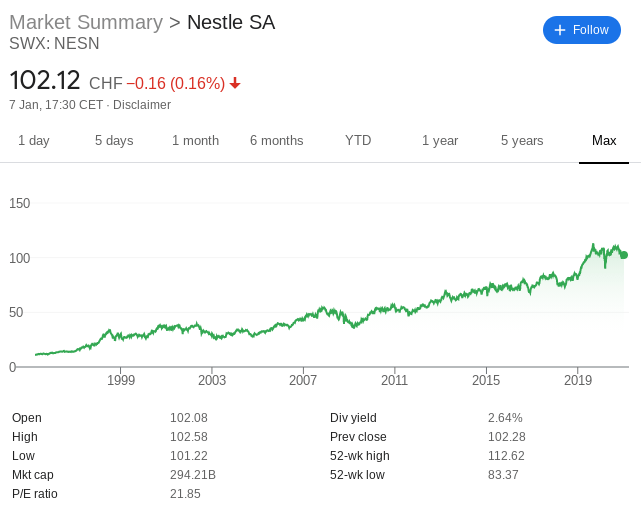 5. LVMH 
Bearing in mind that the coronavirus pandemic has resulted in everyday consumers tightening their belts – you might be inclined to think that there isn't much demand for luxury goods. However, this couldn't be further from the truth in the case of French company LVMH Moet Hennessy Louis Vuitton.
Some of the most famous brands under the LVMH umbrella including Louis Vuitton (Luxury handbags), Moët & Chandon (Champagne), and Hennessy (Cognac). The firm is also behind a range of luxury watches, jewelry, wines, and perfumes. In terms of its stocks, you'll find LVMH shares listed on the Paris Stock Exchange.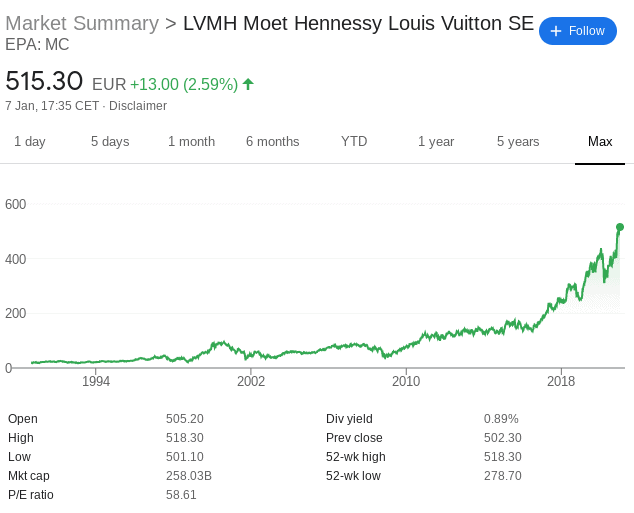 Due to its market capitalization of over €250 billion, LVMH is also a constituent of the EURO STOXX 50 – an index fund for major players on the European Stock Market.
LVMH stocks are worth €515 in early 2021. That's a increase of 3,300%. In more recent times, LVMH has defined the wider impact of the pandemic. With the stock price at €278 in March 2020, LVMH shares have since grown by 85% in just over nine months of trading.
6. Juventus Football Club
Even if you're not a fan of football, it's all but certain that you have heard of Juventus Football Club. After all, the Italian Serie A team has been dominating European football for many, many decades. In fact, the shares have been listed on the Milan Stock Exchange since 2001.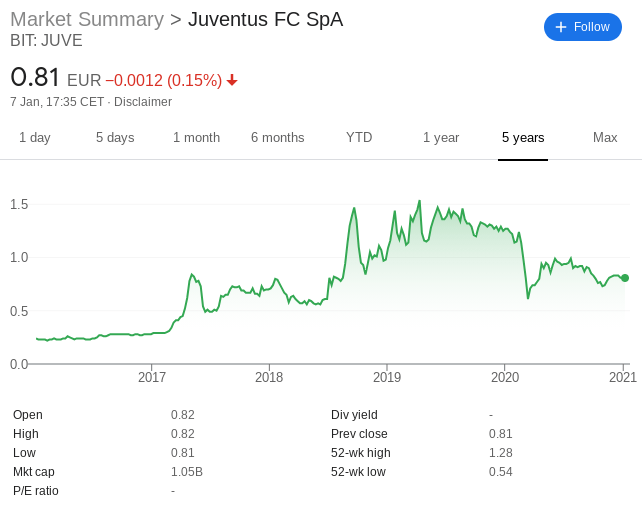 7. Airbus
Airbus – which is headquartered in France, is a global leader in the aerospace industry. It designs, builds, and subsequently distributes planes and helicopters on a mass scale.
After all, if passenger numbers are low, demand for its planes will follow suit. In fact, according to Boeing CEO David Calhoun – a direct competitor of Airbus, 2019 passenger numbers will likely not be seen again until 2023.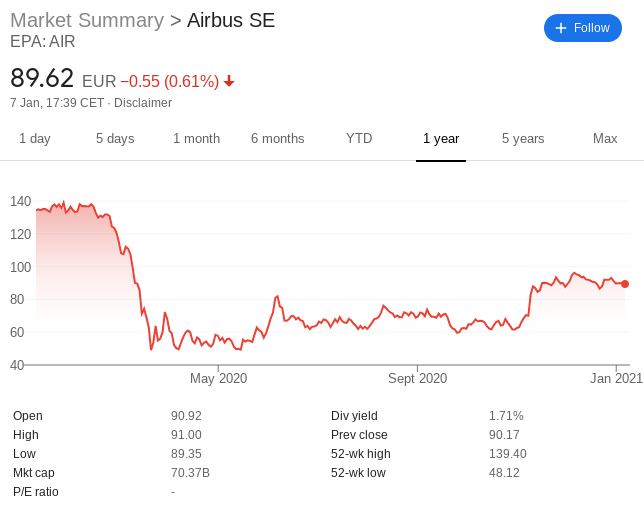 8. Unilever plc 
Unilever is a huge global conglomerate that is behind over 400 brands. Its diversified portfolio of products covers everything from household goods, food, and personal care. Popular Unilever brands that you are likely to have come across include Hellmann's mayonnaise, Dove soap, and Ben & Jerry's ice cream.
At the time of writing, Unilever carries a market capitalization of over €129 billion on the Amsterdam Stock Exchange.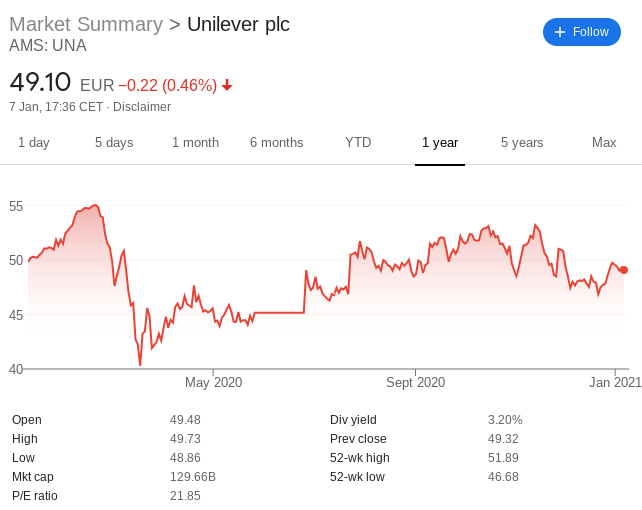 In terms of its stock price, Unilever stocks were priced at €54 before the pandemic-related stock market crash that occurred in March. However, Unilever was pretty much unaffected, only hitting lows of €46. In early 2021, the shares are priced at €49. As such, this resilient European stock was unimpacted by the virus.
9. Novo Nordisk 
For those unaware, Novo Nordisk is a Danish pharmaceutical company that specializes in diabetes drugs.
In fact, the firm commands a 30%-ish share of the type-2 diabetes treatment market, with more than 30 million patients reliant on its treatment.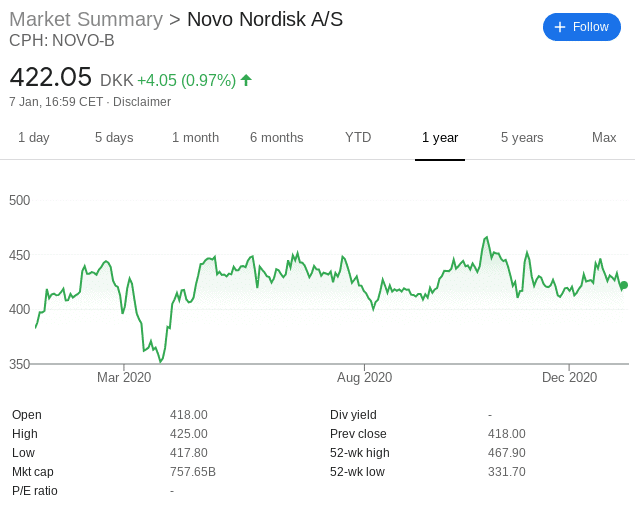 In terms of its shares, Novo Nordisk is listed on the Copenhagen Stock Exchange. 757 billion Danish Krones – which is about £92 billion. In early January 2020, Novo Nordisk shares were priced as 382 Danish Krones. 12 months later, the same shares are worth 422 Danish Krones. This translates into modest 1-year returns of just over 10%.
10. Vanguard FTSE Europe
With thousands of European stocks to choose from across dozens of individual exchanges, knowing which shares to buy can be a daunting process. Additionally, the process of researching the ins and outs of a specific stock can be time-consuming and arguably – requires an understanding of fundamental analysis.
To give you an idea of some of the stocks that the ETF gives you access to, check out its 10 holdings below.
Nestle SA
Roche Holding AG
Novartis AG
ASML Holding NV
LVMH Moet Hennessy Louis Vuitton SE
AstraZeneca plc
SAP SE
Royal Dutch Shell plc
Sanofi
Novo Nordisk A/S
As you can see from the above, many of the shares in the Vanguard ETF basket have been discussed in our list of popular European stocks. But, in addition to the above, you'll be investing in 1,300 other European companies. And of course – like most ETFs, you will also be entitled to dividends. This is usually distributed on a quarterly basis.
Important Features of European stocks
Although we have already discussed some popular European stocks in 2023 – we would suggest doing your own research. In doing so, you'll be able to buy stocks that mirror your financial goals and appetite for risk.
Look for Undervalued European Stock
If you buy an undervalued European stock, this means that you are paying a price that is below its 'perceived' value. In other words, you're investing at a discount. Whether or not a stock is undervalued is somewhat subjective. But, there are various metrics that investors will look at to make this judgement.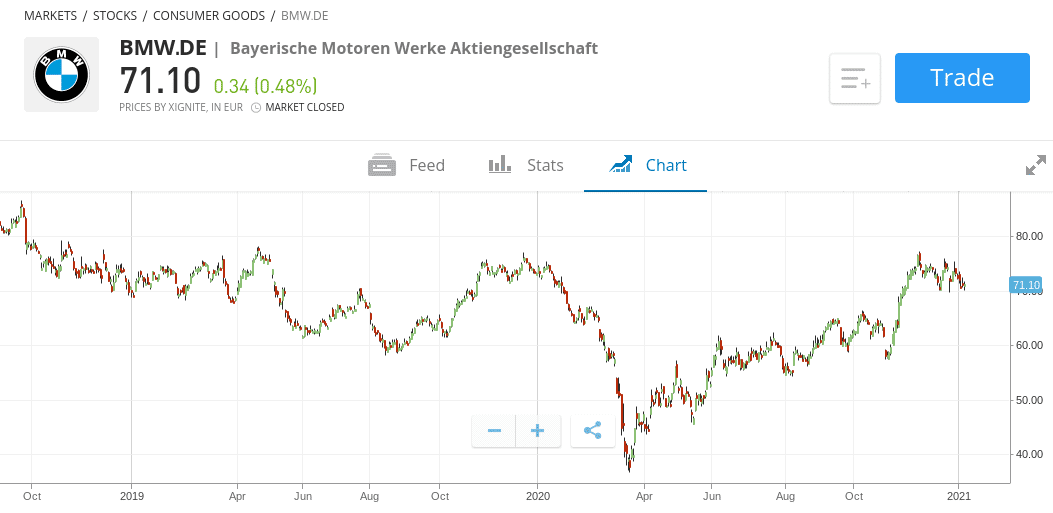 At the forefront of this is the stock's P/E (price-to-earnings) ratio. In its most basic form, this looks at the stock's current price against that of its earnings-per-share. The result is a ratio that in some cases, can tell us whether a stock is undervalued (or even overvalued).
Now, there is no rule of thumb with what constitutes an undervalued ratio, as it really depends on the average found on the respective stock exchange and sector. For example, if Total SA has a P/E ratio of 57 but the average for oil stocks in Europe is 80, then the firm could be undervalued.
Focus on Specific Sectors
In terms of economic uncertainties, it's ideal to think about which sectors are likely to thrive, and which sectors you should avoid. As a prime example, the coronavirus pandemic has shown just how devastating lockdown restrictions have been for those operating in the retail, oil, and airline sectors.
However, those active in online fashion and technology have excelled. Ultimately, by thinking about which sectors might do well in the coming months and years, you'll hopefully be able to find European stocks for your personal investment profile.
Create a Diversification Plan
Diversification is the most important metric to take into account in your search for European stocks. This means that you will be buying stocks from various markets and sectors.
For example, you might decide to add European stocks to your portfolio from Germany, France, The Netherlands, Sweden, Spain, and Denmark. Additionally, you might decide to focus on several sectors – such as banking, tech, consumer goods, and e-commerce.
Crucially, creating a diversified portfolio of European stocks will ensure that you are not over-exposed to a small number of companies and/or economies.
Stock Brokers that Offer European Stocks
A lot of brokers in the UK only give you access to shares listed on the London Stock Exchange. As such, your next port of call is to find a reliable trading platform that allows you to invest in European companies. You also need to check whether any additional fees come into play – which they likely will. After all, UK brokers typically charge a premium when you buy foreign equities.
To help point you in the right direction, below you will find a small selection of UK stock brokers and stock trading apps that allow you to buy European stocks online.
1. eToro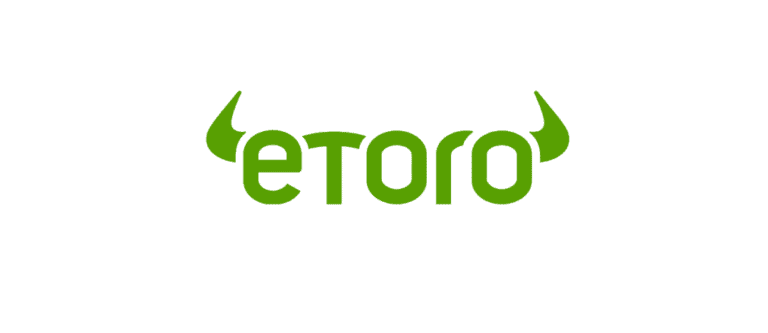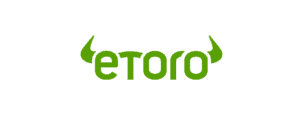 eToro is an FCA-regulated stock broker that gives you access to over 2,300 stocks across 17 exchanges. Many of its supported markets are based in Europe. For example, you can easily invest in companies listed in Belgium, The Netherlands, France, Portugal, Spain, Italy, Germany, Sweden, and more. eToro also offers a wide selection of US stocks and Asian stocks.
In fact, each of the 10 shares that made our list of popular European stocks can be bought at eToro. In terms of fees, eToro is arguably the most cost-effective broker in the UK. This is because the platform does not charge any trading commissions – even on non-UK stocks and vegan stocks.
In terms of getting started, the minimum deposit at eToro is $10. But, you can invest from just $10 into your chosen European stock as the platform supports fractional ownership. In terms of payment methods, eToro accepts debit/credit cards, e-wallets, and bank transfers.
| | | | | |
| --- | --- | --- | --- | --- |
| Stock Broker | Minimum Deposit | Fractional Shares? | Pricing System | Fees & Charges |
| eToro | $10 | Yes – $10 minimum | 0% commission on ALL real stocks, spreads for CFDs | No Deposit fees, $5 withdrawal fee, $10 inactivity fee, no account management fees. |
Sponsored ad. 68% of retail investors lose money trading CFDs at this site
3. DEGIRO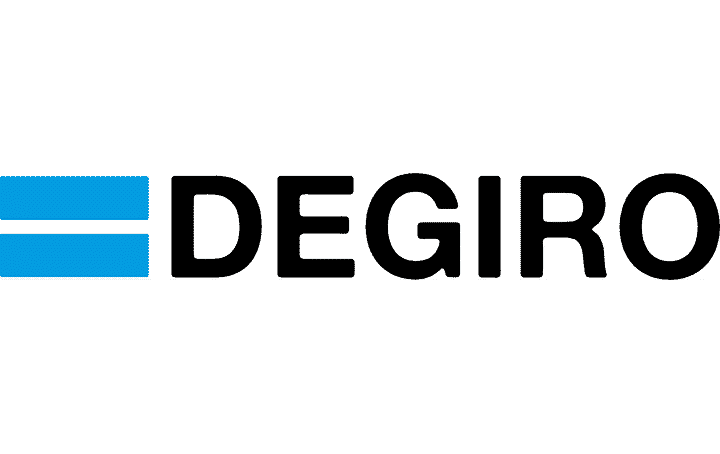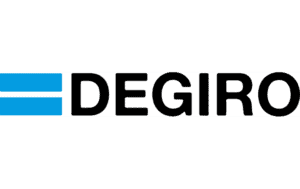 This online broker is popular in the UK as it offers competitive trading fees. For example, buying £1,000 worth of Bank of Ireland shares (Irish Stock Exchange) would cost you just £3.86 in commission, while £2,000 worth of Nestle shares (Swiss Stock Exchange) would cost £4.36.
Buying £4,000 worth of BMW shares (Xetra Stock Exchange) would cost just £5.36. Degiro does have a much larger library of European stocks. As such, if eToro doesn't offer the specific company you are interested in, it's worth diverting to Degiro.
On the flip side, Degiro deposits do take several days to arrive, as the broker only supports bank transfers. As such, and unlike eToro, you won't be able to use your debit/credit card or e-wallet. Degiro does, however, allow you to fund your account without needing to meet a minimum – which is definitely a plus point.
| | | | | |
| --- | --- | --- | --- | --- |
| Stock Broker | Minimum Deposit | Fractional Shares? | Pricing System | Non-trading Fees |
| Degiro | $0 | No | Low commissions on stocks and ETFs | None |
Sponsored ad. Investing at this trading platform involves risk of loss.
How to Open a Brokerage Account & Gain Exposure to European Stocks
Once you decide which broker you want to buy European stocks from, the investment process is relatively straight forward. That is to say, it's usually just a case of opening a brokerage account, making a deposit, and then proceeding to buy your chosen shares.
However, if this is your first time buying European stocks online and you want a bit of guidance – check out the step-by-step walkthrough outlined below.
Step 1: Open an Account and Upload ID
Your first port of call is to visit your preferred broker's website and open an account.
Simply follow the on-screen instructions by entering your personal information and contact details. You will need to verify your UK mobile number via an SMS code.
Step 2: Confirm Identity
You will need to confirm your identity as most brokers are regulated by the FCA.
You can do this instantly by uploading a clear copy of the following:
Valid passport or driver's license
Utility bill or bank account statement
Step 3: Deposit Funds
Your chosen broker will now ask you to deposit some funds.
The minimum deposit varies on the broker you choose and you can usually pick from the following payment options:
Debit cards
Credit cards
E-wallets (PayPal, Skrill, or Neteller)
Bank transfer
Step 4: Browse European Stocks
If you know which European stock you want to buy, simply search for it.
Otherwise, you can head over to the 'Trade Markets' section and click on 'Stocks'. You can then browse the many European stocks offered by the broker by clicking on your chosen sector or exchange from the dropdown list.
Step 5: Research & Buy European Stocks
Finally, now you need to set up a buy order so that you can purchase your chosen European stock.
This simply requires you to enter the amount that you wish to invest. Irrespective of which currency the stocks are priced in.
To confirm your order, click on the 'Open Trade' button.
Conclusion
In summary, if you want to build a portfolio of European stocks to diversify outside of the UK market, many brokers provide access to EU stocks. With that said, you still need to spend some time deciding which stocks you are interested in buying.
Although we have discussed a few popular stocks, it's imperative that you perform your own research.
FAQs
How do you buy European stocks?
What is the biggest European stock exchange?
What is the main European stock index?
Do you need to pay stamp duty on European stocks?