Bullish on the German economy but not sure which individual companies to invest in? Trading the DAX index instead could be your best move. In this guide, we'll explain how to trade the DAX index UK.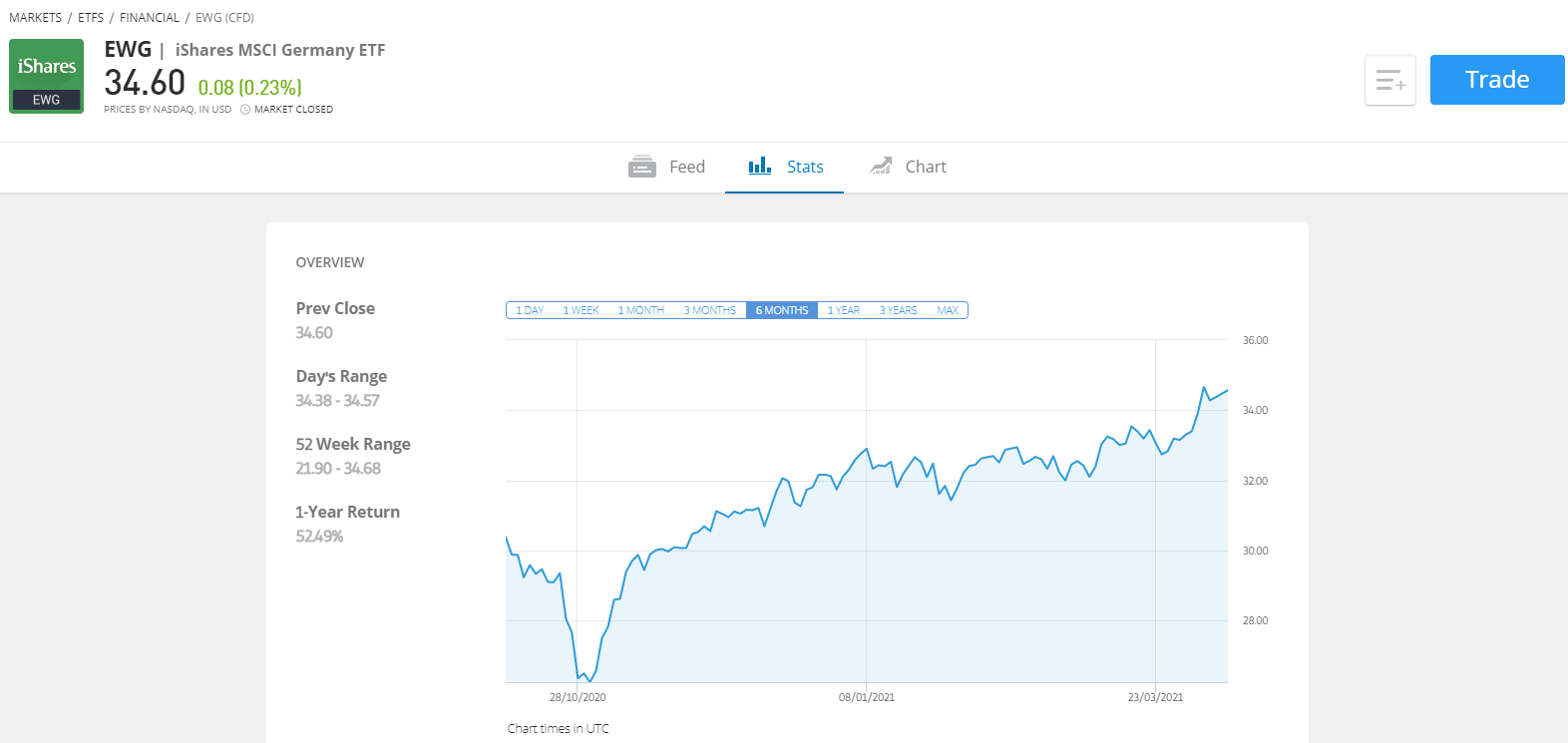 The other main way to trade the DAX is to trade DAX CFDs. With CFDs, you can speculate on the price of the DAX itself without owning any of the shares that make up the index.
One of the benefits to DAX index CFD trading is that you can speculate in either direction. That is, you can bet that the DAX will gain value or that it will lose value. You can also leverage your trade to increase the effective size of your position.
The downside to index CFD trading is that it can be expensive, especially if you plan to hold a leveraged position overnight. Most brokers charge overnight interest fees since you're effectively borrowing money from your broker. For this reason, DAX index trading is typically restricted to day trading.
You can buy or sell DAX CFDs with eToro – just search for the 'GER30' CFD contract.
What is the DAX Index?
The DAX index tracks the value of 30 of the largest companies by market cap that trade on the Frankfurt Stock Exchange in Germany.
The index is dominated by giant German corporations like Volkswagen, Daimler, Allianz, Bayer, Deutsche Bank, Siemens and BMW. Because of this, the DAX is much more oriented toward traditional and so-called "old economy" sectors like car manufacturing, aviation and heavy industry. In that sense, it's very different from the US stock indices like the S&P 500 and the Nasdaq, which are more technology heavy.
The DAX is very popular to trade, and as a result is highly liquid with tight spreads and long trading hours.
Is DAX a Good Investment?
For any investors looking to have exposure to the fifth largest economy in the world and the largest one in the European Union, the DAX is a great place to start. The index may only cover 30 companies, but it represents a huge swath of the German economy.
Another reason to invest in the DAX is to achieve diversification. If you are heavily invested in tech stocks through the S&P 500 and the Nasdaq indices in the US, the German DAX gives you exposure to automakers, heavy industrial companies, and financial stocks.
It's also worth pointing out that Germany's economy is in the midst of a transformation. European stocks are increasingly moving towards the tech sector, particularly after the COVID-19 pandemic. The DAX stands to be one of the major beneficiaries in the EU market in the years to come.
How to Make Money from Investing in DAX
Investing in the DAX is mostly done in the form of long term investments through an index fund or tracker fund. These passive investing types of funds are great for such strategies as they are well diversified within the countries market, and also they are very cheap to purchase.
Since its launch more than 30 years ago, the value of DAX has increased more than tenfold, with an average annual return of close to 8 percent. Already this year, the DAX is up around 10.93% and is outpacing both the S&P 500 and Nasdaq indices.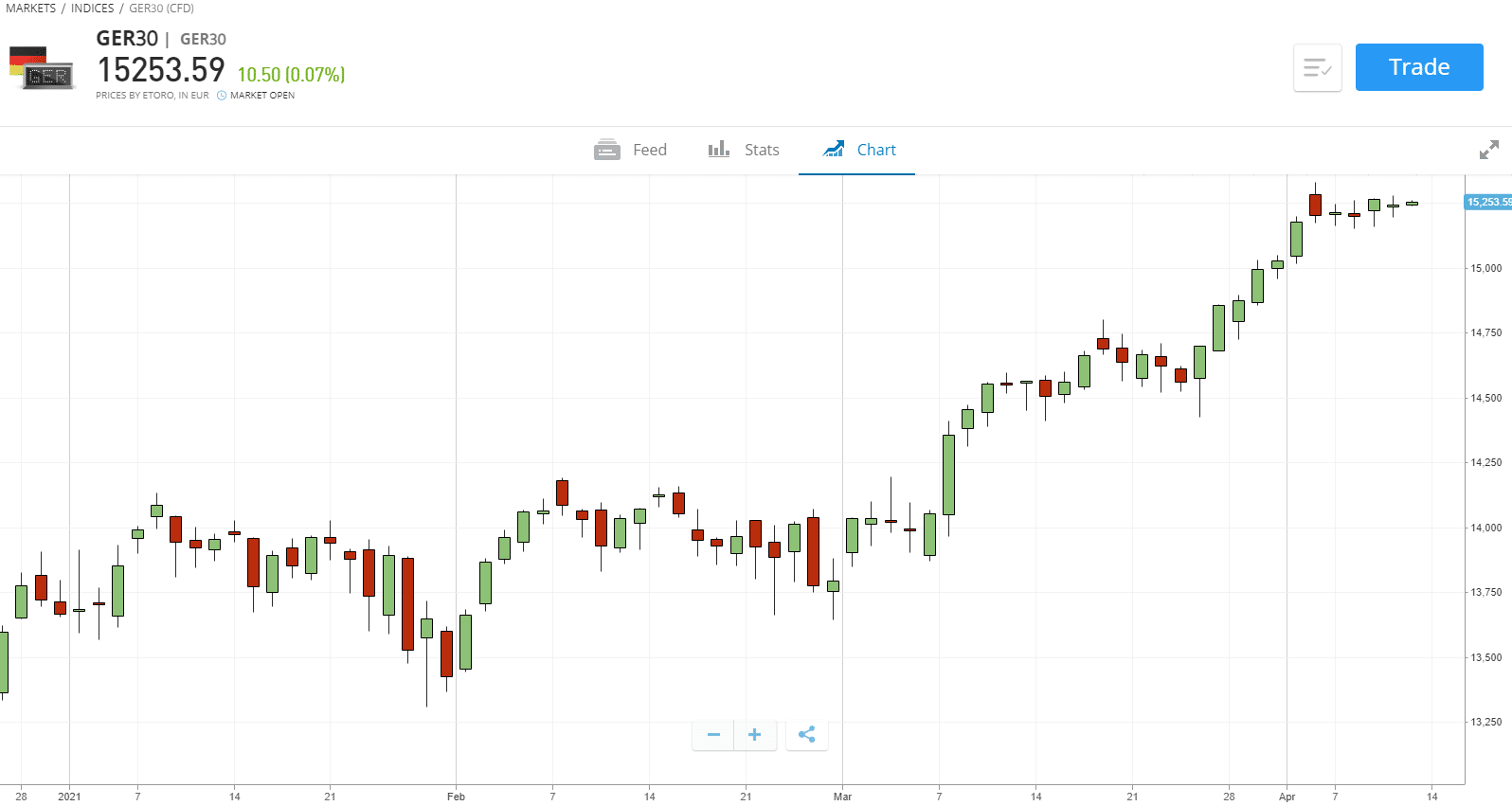 If just investing in the index is not your cup of tea, you can go on and create your a portfolio of companies included in the index. This is a great way to customise your portfolio's weighting how you see fit; so, if you wanted to invest more in BMW than Bayer, you would simply put more weight in BMW than it has in the index, and reduce the weight of Bayer.
With eToro, this can easily be done as almost all of the DAX components can be found on the platform and purchased without having to pay any commission.
DAX Investment Strategies
As we already said, most investors use long-term time horizons for this type of investment. However, you can also day trade or even swing trade the index.
For beginners, a good strategy would be to invest for the long term and to use dollar-cost averaging . This strategy involves investing a set amount of money into DAX index consistently and over long period of time. As for the intervals, you can decide if you want to add already pre-set amount of money on a monthly, quarterly or yearly basis.
This way, you would be investing both when the price is rising, which increases your average cost, but also when the price is falling, helping to lower your cost basis and get you more upside potential for future price increases. Another important thing is that you won't have to focus on watching the market closely and timing your entries. This strategy works relatively well since the market almost always goes up in the long run.
Another strategy is to invest an upfront lump sum into a DAX index tracker fund or a portfolio you have created and leave it on the side for a more extended period. As this index is more of a passive investment, this strategy will allow you to avoid the temptation to rebalance or change your portfolio's weighting due to fluctuations in price. As we have previously mentioned, the DAX has returned around 8 percent on average since its inception.
Lastly, including the DAX investment to your portfolio would be a good thing for portfolio diversification, especially if you are heavily invested in growth stocks from the US and China. This will allow you to spread the risk across multiple assets and across geographical areas, which can reduce the impact of a downturn in one of the areas of your portfolio. Just adding a few of the names that make the DAX to your existing portfolio can make a big difference to the overall portfolio diversification. With eToro, you can invest as little as $50 (around £36) in the DAX.
How to Trade DAX Index UK on eToro
Ready to start investing in the DAX index right now? We'll show you how to invest with eToro, an FCA-regulated broker that charges zero commission.
Step 1: Open an Account and Upload ID
Head to the eToro homepage and begin the registration process. You will be asked to provide personal information such as your name, email, and mobile number.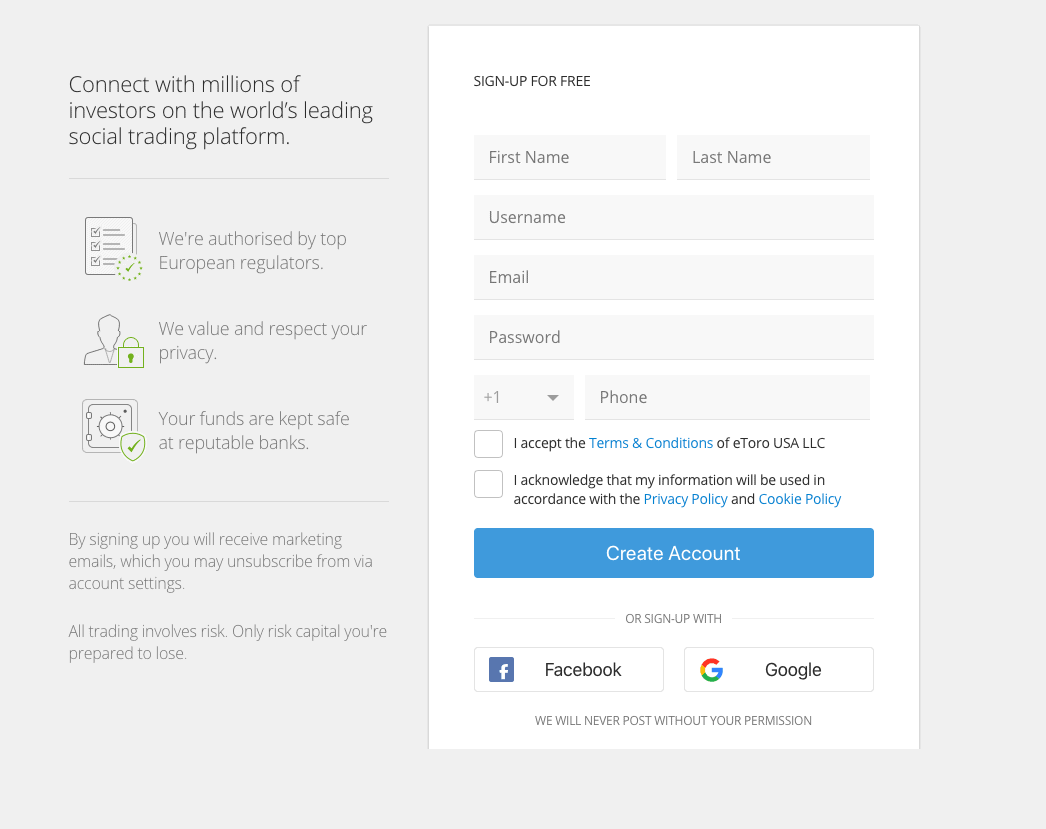 eToro will send a code to your phone via SMS – which you will then need to verify on-screen to complete the registration process.
Step 2: Confirm Identity
Since eToro is regulated by the FCA, the broker requires you to verify your identity. All you need to do is upload a copy of your government-issued ID (passport or driver's license) and a proof of address (utility bill or bank account statement).
Step 3: Make a Deposit
You will now need to deposit some funds into your newly created eToro investment account.
You can do this via the following payment types:
Debit/Credit Card (Visa, MasterCard, Maestro)
PayPal
Skrill
Neteller
UK Bank Transfer
You must deposit at least $200 when opening a new account.
Step 4: Search for DAX Index
Now you can invest in the DEX index through CFDs or buy the iShares MSCI German ETF. The easiest way to do this is to use the search box at the top of the page.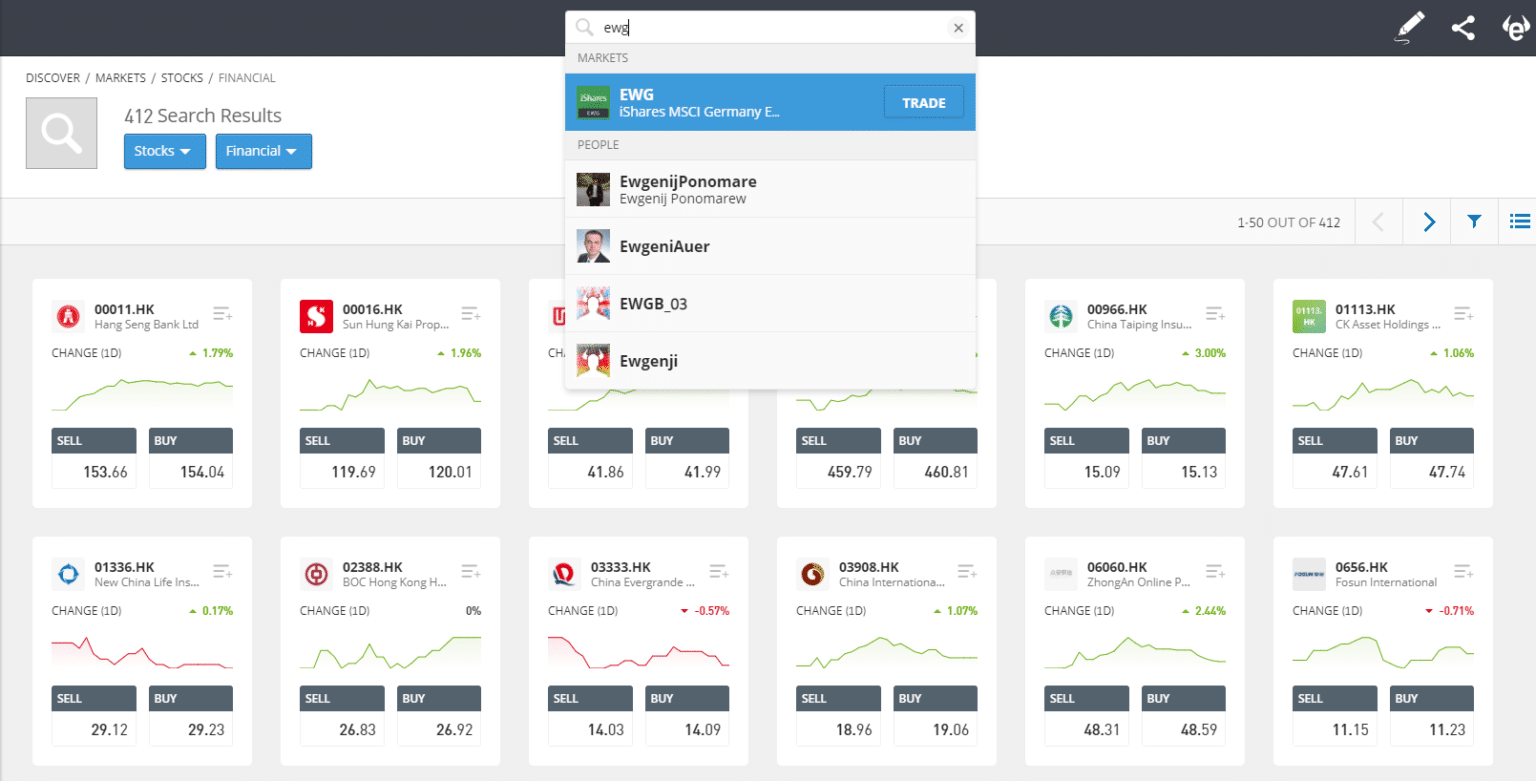 As you can see from the above, simply type the ticker symbol or the full name in the Search box.
Step 5: Place an Order
Once you have found the index that you wish to purchase, click on the 'Trade' button. An order form will then appear on-screen.
Simply enter your investment (in USD, minimum $50), and click on the 'Open Position' button to complete your commission-free investment!
eToro – Trade DAX Index UK with Zero Commission
If you're interested in investing in some of the biggest companies in Germany, consider investing in the DAX. The index has a strong historical performance and could be poised to rise as Germany pivots into the post-COVID world.
Ready to invest in the DAX index in the UK? Get started today with eToro – just click the link below to sign up!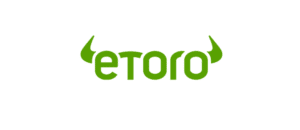 67% of retail investor accounts lose money when trading CFDs with this provider.
FAQs
Should I trade DAX?
The answer depends on your preferences, but if you are aiming to build a well-diversified portfolio, DAX can be a great addition, especially since investing in it can be done in a really low-cost way.
How can I day trade the DAX?
You can day trade DAX through the ETFs designed to replicate its performance (or their leveraged versions like already mentioned WisdomTree 3X ETF). However, with day trading, investors rely almost entirely on technical analysis and order flow as the moves occur very fast and last for a short time, so it is not recommended for beginners or for people with a regular job that can't monitor the market constantly during the open hours.
What time does DAX open?
The FSE trading hours for the DAX are 09:00 GMT to 17:45 GMT and most providers will also give pre and post-market indications. This is to help traders gauge where markets are expected to open and where they are quoted after the official market has closed.
What are the best DAX companies to Trade?
Within the DAX Index you will find some of the most well-known, multinational companies like sportswear manufacturer Adidas, software developer SAP, pharmaceutical giant Bayer, famous car manufacturers like BMW, Daimler and Volkswagen, industrial conglomerate Siemens and financial service company Allianz among others. All of these companies are global leaders in their fields, and represent well known, blue-chip names of German economy.
How much money should I invest in the DAX Index
This depends on you and your preference, but you can also, for example, split the overall amount that you planned to allocate to German market in such way that you purchase either DAX index (symbol GER30 on eToto), or iShares MSCI Germany ETF (EWG) to get a broad based exposure, while using the other part of the planned capital to purchase some of the best individual companies of the index in order to get more upside potential.