If you're looking for a low-cost share dealer in the UK, it's worth taking a closer peek at iWeb. This broker is owned by Halifax and is part of the Lloyds banking network, but it offers significantly lower fees than either of its parent companies.
Despite the lower commissions and account fees, you get the same underlying trading service with access to many of the same assets and much of the same research and analysis tools. That said, iWeb's interface is somewhat outdated and the brokerage doesn't offer a mobile trading app. So, you do give up on some amenities in exchange for lower fees.
If you're considering using iWeb, our iWeb share dealing review will explain everything you need to know about this UK platform to help you decide.
iWeb Review Summary
iWeb is a fairly affordable share dealing platform that offers a flat £5 commission for every trade. The platform doesn't charge an annual fee for general investing accounts and ISAs, but there is a somewhat pricey quarterly fee if you want to open a SIPP. iWeb offers a wide range of shares, but we weren't overly impressed with the selection compared to other brokers. The trading platform this broker offers is decent, but there are few technical analysis tools. iWeb also doesn't have a mobile app, so it's hard to trade shares on the go.
What is iWeb?
iWeb was founded in 1978, but was acquired by Halifax in 2003. Halifax was then acquired by Lloyds in 2009, so iWeb is part of one of the UK's largest banking and investing networks.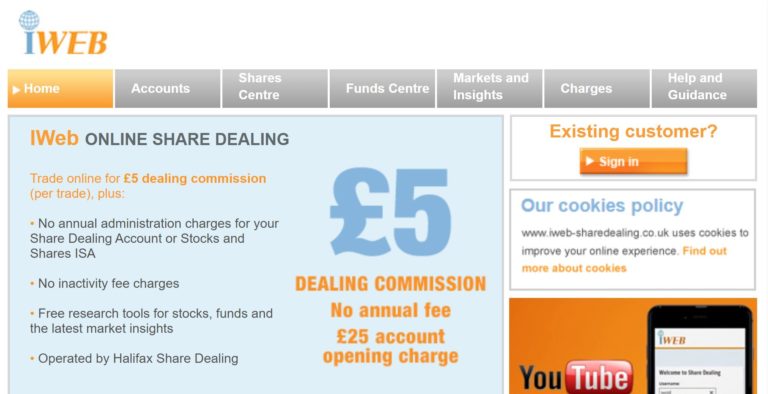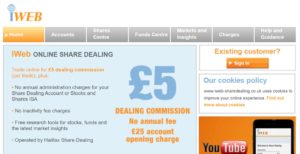 Despite that, iWeb retains its own unique identity. This is good and bad. On the one hand, iWeb is a significantly lower-cost option for UK traders than either Halifax or Lloyds. On the other hand, iWeb's website appears as if it hasn't been updated since 2003 and the platform has very few tools to help it stand out in a crowded field.
iWeb offers standard share dealing accounts, but this stock broker can also be used by retirement and other long-term investors. The platform offers both individual savings accounts (ISAs) and self-invested personal pension (SIPP) plans.
What Shares Can You Buy on iWeb?
iWeb share dealing offers trading on a variety of assets, although the broker's range isn't quite as wide as what some of its pricier competitors offer.
Shares
This broker enables you to trade nearly all shares on the London Stock Exchange, as well as shares on the New York, NASDAQ, and Euronext Stock Exchanges. In all, iWeb share dealing offers trading on more than 1,500 shares across seven countries, including many of the most popular shares. If you want to trade popular UK stocks like Tesco and Royal Mail, you can do it with iWeb.
However, it's worth noting that iWeb leaves out shares in emerging markets across Asia and Africa. There are no depository receipts available on iWeb, so your only option for exposure to these markets is to invest in a fund that contains international shares.
Mutual Funds, ETFs, and Investment Trusts
iWeb also offers trading on a range of mutual funds, ETFs, and investment trusts. There are more than 2,000 mutual funds in total available though this broker, which you can sort by provider and by Morningstar rating. More than 575 ETFs (exchange-traded funds) and more than 250 investment trusts are available as well. These primarily cover shares and market sectors in the UK and US, but there are also a number of funds available through iWeb that give you financial exposure to commodities, real estate, and emerging markets.
Notably, we found that this broker does not offer the same ready-made portfolios that you can access through Halifax or Lloyds.
iWeb Charges, Fees and Commissions
Our iWeb review found that the platform stands out most for the low fees and commissions it charges when you buy shares. iWeb charges a flat, one-time fee of £25 when you first open a share dealing account or stocks and shares ISA. After that, the account is free of monthly charges or management fees and there are no deposit or withdrawal fees.


A SIPP account doesn't entail an initial fee, but you will instead be charged a flat quarterly fee for your account. This quarterly fee is £22.50 if you have less than £50,000 in your SIPP or £45 if you have more than £50,000 invested.
Once your account is opened, iWeb charges a £5 commission for buying and selling assets. That £5 commission is the same regardless of what type of account you're trading with or whether you're trading individual shares or funds. Considering that Halifax charges £12.50 per trade, this is an enormous discount that can benefit active investors.
One thing to keep in mind is that iWeb also supports regular investing, and you get a discount on trades when using this investment approach. It costs £2 to set up a new regular investment plan, and you pay only £2 for each trade made as part of the plan.
iWeb Share Dealing Platform and Trading Tools
iWeb uses essentially the same trading platform as its parent companies, Halifax and Lloyds. The platform is significantly more modern than the rest of the iWeb site, which is good.
Despite this, there is no iWeb share dealing app available. While you can access the online platform from a smartphone's browser, the experience is far from seamless and is unimpressive compared to the most popular trading apps on the market.
Our iWeb share dealing review found that the main features of the iWeb trading platform are the Shares and Funds Centres. These include screeners that enable you to search for potential investments. This isn't generally necessary for shares, as you should approach iWeb with an idea of what individual shares you want to trade already in mind. However, it can be very useful for choosing mutual funds, ETFs, and investment trusts.
For these fund-style assets, iWeb's screener offers quite a few parameters. Most notably, you can search funds by the investment firm that owns the fund, by the risk rating and performance values that Morningstar assigns to the funds, and by the market sector that the fund covers. You can also filter out high-fee mutual funds in order to keep the cost of your long-term investments low.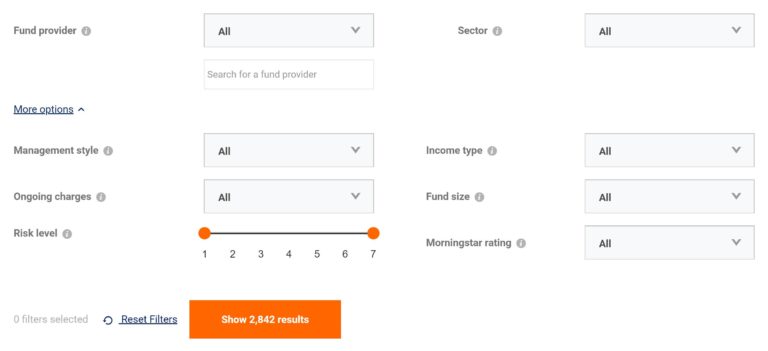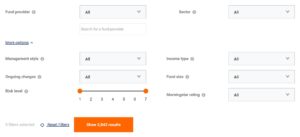 Unfortunately, iWeb doesn't provide much help when it comes to actually choosing the fund that's right for you. There is no way to analyze your portfolio and automatically suggest market sectors that you could invest in to increase diversity. In addition, iWeb does not offer any opinions or recommendations about what funds or shares the company's analysts are watching on any given day.
The only meaningful help you get, really, is a news feed that pulls headlines from Web Financial Group. While this can be helpful, all of these stories are freely available online. You cannot sort news stories by market sector or pick out headlines that are related to stocks in your watchlist, either. On the whole, we weren't particularly impressed by the news you get with iWeb.
iWeb Research and Analysis
There are some iWeb research and analysis tools for shares and funds, which is nice considering the low cost of this broker. However, the available tools and data certainly don't go above and beyond and active investors will likely need to invest in alternative platforms.
The technical charts are one of the strengths of iWeb. You get access to candlestick-style price charts with more than 90 built-in indicators. Unfortunately, our iWeb review found that charts open in a separate browser window, which makes it difficult to compare multiple investments or to access technical charts from your smartphone.


It's also important to note that the indicators are only mildly customizable. You can change some basic parameters, but you won't be able to drastically modify the indicators or to screen for shares using a combination of technical studies.
iWeb does offer some fundamental data for shares, but it is hardly impressive. You get access to basic balance sheet data, but not the full cash flow statement for most companies. Without that depth of data, it's very difficult to run most in-depth fundamental analyses. For the most part, you will be limited to comparing basic metrics across companies (and iWeb doesn't make this cross-comparison particularly easy).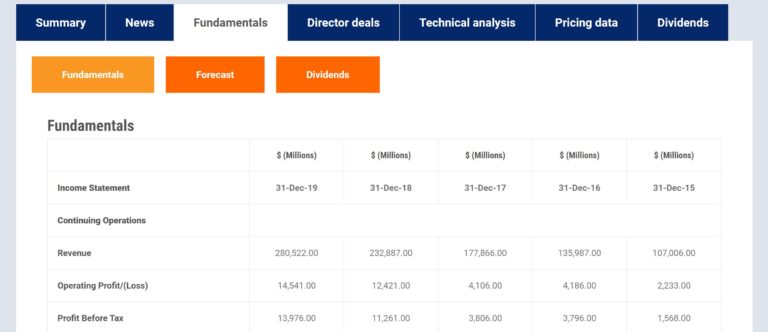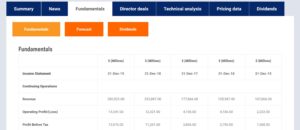 Payments at iWeb
iWeb only accepts payments by bank transfer (direct deposit or wire) or by debit card. You cannot fund your stock trading account with a credit card or e-wallet like PayPal or Skrill. Thankfully, there are no deposit or withdrawal fees at iWeb and there is no minimum deposit required to open a new account.
iWeb Share Dealing Login
If you are already an iWeb customer and have a share dealing account, you can click here to login. You'll find all your share dealing account details once you login. If you are unable to login, below are iWeb's customer support details so that you can get in touch.
 iWeb Share Dealing Contact and Customer Service
iWeb's customer service is satisfactory when you consider that this is a low-cost brokerage. Current account holders can get in touch with an agent within minutes over live chat from 8 am to 9 pm, Monday to Friday. Alternatively, anyone (with or without an account) can contact the company by phone from 8 am to 7 pm Monday to Friday.
Unfortunately, you won't find much help on iWeb's website. There are only answers to a few basic questions on the site, and they don't offer much insight into how to place a trade using the platform. Our iWeb review found that most of the online help is focused on transferring accounts from another broker to iWeb, and even this will likely require a phone call for clarification.
iWeb contact number: 0345 835 5726
iWeb address: IWeb Share Dealing, Lovell Park Road, Leeds LS1 1NS
Is iWeb Safe?
iWeb is a subsidiary of Halifax and Lloyds, two well-established investment institutions with long histories in the UK. iWeb, as part of Lloyds, is under the regulation of the UK's Financial Conduct Authority and is subject to all standard UK investment regulations. Furthermore, Lloyds' financial data is available to the public since the company trades on the London Stock Exchange as part of the FTSE 100.
Another important thing to keep in mind is that every iWeb share dealing account is backed by the UK's Financial Services Compensation Scheme. This insures your account for up to £85,000 in the event that the company becomes insolvent, although this is unlikely to happen.
Final Verdict on iWeb
iWeb is one of the most cost-effective brokers in the UK, at least when you compare it to traditional brokers rather than online-only platforms. You get access to nearly all of the same shares and funds as well as the same trading platform, but with no ongoing account fees and extremely low commissions.
That said, iWeb share dealing falls well short of the mark when it comes to the broker's trading platform and tools. There is no iWeb app, which is a huge blow considering that most investors are monitoring shares and placing trades from their smartphones and tablets. In addition, this broker offers only the bare minimum of fundamental data and a less than stellar technical charting interface.
On the whole, iWeb can be a suitable choice for active investors who are looking for a low-cost ISA or SIPP plan to save for retirement.
Frequently Asked Questions about iWeb
Can I set up regular investments with iWeb?
Are there any account fees on iWeb?
Can I transfer an account from another broker to iWeb?
Can I invest in bonds through iWeb?
Can I set up price alerts for my iWeb shares watchlist?