Companies listed on the AIM are often small firms that are still at the beginnings of their corporate journeys and have a lot of potential ahead of them. In this guide, we'll highlight the best AIM shares to buy in 2021 and explain everything you need to know about the AIM.
Choose a 0% commission stock broker – we recommend registering with eToro.
Fund your account with card, Paypal, or instant bank transfer (min deposit $50).
Select a company stock and open a position by clicking 'Buy'.
To buy and own physical shares, select 1x (zero leverage).
To trade the share as a CFD, specify your Stop Loss, Leverage (2x or more), Take Profit, and open your trading position.
To learn more, continue reading this guide.
So now that you know why some investors choose to add AIM shares to their portfolio, you're probably wondering how to identify the top AIM shares list. Luckily, we've created the following list of AIM shares, in which we profile the best AIM shares to buy now.
Boohoo Group is set to become the latest success story of the AIM exchange. The firm is involved in the online fashion space and is specifically targeted at young buyers. Although Boohoo was only founded in 2006, it has grown significantly since its launch. For example, the firm was floated on the AIM in 2014 – at a share price of 70p.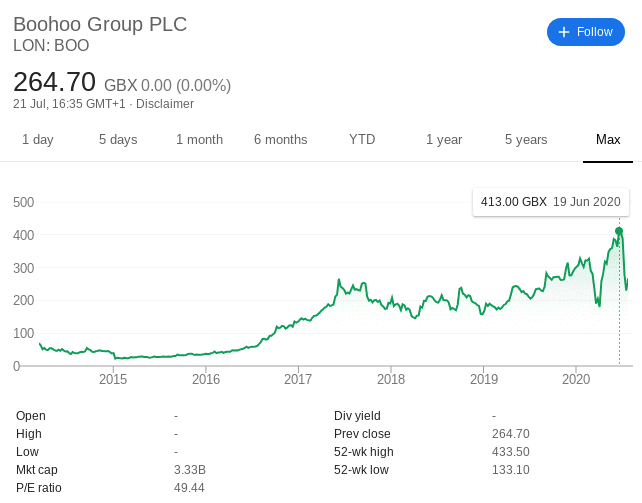 Interestingly, its stocks didn't have the best start to corporate life. In fact, Boohoo shares spent the first two years of their AIM listing moving southwards – hitting lows of 22p in 2016. However, the stocks have since enjoyed a fruitful time in the markets, hitting highs of 433p in June 2020.
As such, had you invested in Boohoo shares in 2016 at 22p per stock, this would represent gains of 1,868%. With that being said, the stocks have since retreated back down to 264p as of July 2020. This translates into a stock reduction of 47% in the space of just one month. Such a rapid decline is thought to relate to a media report that a Boohoo factory employs poor working conditions. Nonetheless, Boohoo remains one of the best AIM shares to watch in 2020.
2. AB Dynamics PLC – Best AIM Growth Stock
Although you might not have heard of AB Dynamics – the British company is yet another success story of the AIM. With that said, many would argue that the firm still has a long way to go – not least because it has a market capitalization of just £395 million. Nevertheless, the firm is involved in the automobile industry.
It provides testing equipment and advanced measurement services to car producers in the UK and overseas. One the most interesting aspects to AB Dyanamnic from an investment perspective is that the company was actually launched ways back in 1982. As such, it is anything but an up and coming stock.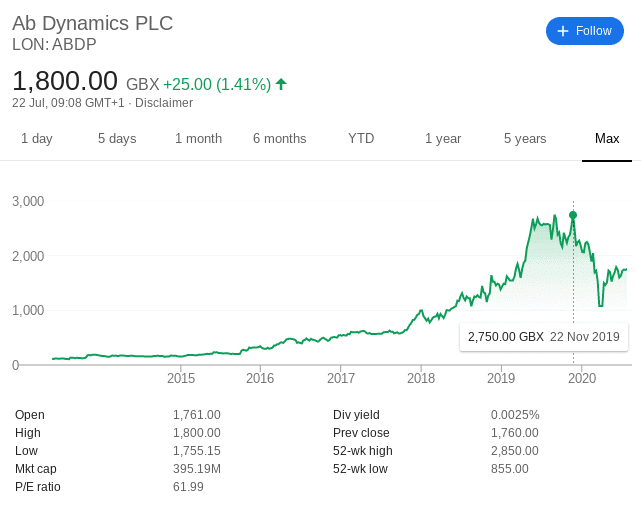 On the contrary, AB Dynamics has been growing on a slow and steady basis. If anything, this is actually a good thing. In terms of its floatation on the AIM, this was initiated as recently as 2013. Back then, you would have paid in the region 115p per share. All-time highs were hit as recently as November 2019 – where the AIM shares were priced at 2,750p.
For those that got involved during the firm's IPO in 2013, you would be looking at 6-year gains of 2,291%. However, AB Dynamics shares have since tailored off slightly, with a July 2020 price of 1,800p. As such, you stand the chance of buying the shares at a major discount, making AB Dynamics one of the best AIM shares to buy now.
GlobalData PLC is another organization that moved into an innovative space before it really took off – data analytics. After all, the sector wasn't really a thing back in 1999 when the firm was first launched. As such, you would have paid in and around 89p per share in 2009 when GlobalData PLC first floated on the AIM.
Since then, the stocks have been on an upward trajectory. In fact, at the time of writing in July 2020, GlobalData PLC shares are now at all-time high levels. Standing at 1,425p, this represents growth of just over 1,500% since it went public in 2009.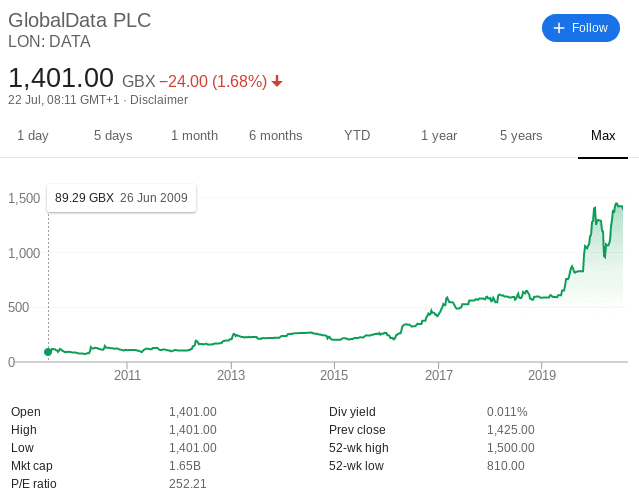 Most importantly, although the shares took a dive in Q1 2020 (much like the rest of the markets as per COV-19), the stocks have not only recovered – but continue to rise. Looking at the fundamentals, GlobalData has a current market capitalization of £1.65 billion. This actually makes it one of the largest AIM shares on the exchange.
As such, some analysts would argue that the firm is primed for a more substantial listing on the London Stock Exchange and thus – it could soon become a constitute of the FTSE group of companies.
Breedon Group is a UK-based supplier of construction materials. Founded as recently as 2008, the firm now boasts an AIM market capitalization of over £1.3 billion. This represents incredible growth in a period of just 12 years. In terms of its floatation on the AIM exchange, this occurred as recently as 2010.
Back then, you would have paid in the region of 12p per share. The stocks went through a hugely successful upward trajectory for the following 7 years, albeit, they then began to drop off. However, Breedon Group shares have since recovered – hitting highs of 101p in February 2020.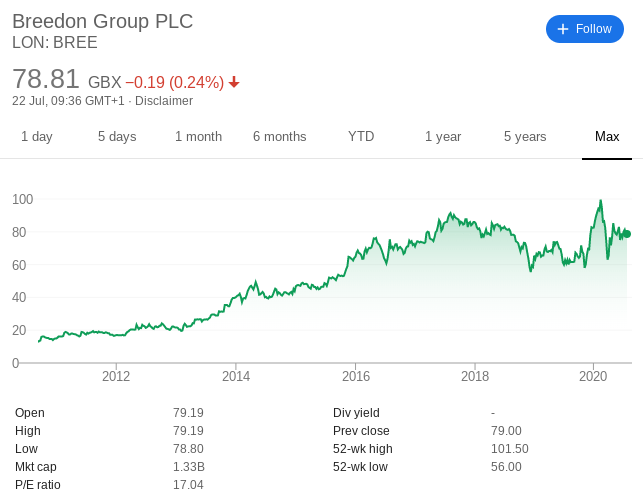 The shares were moving northwards at a rapid rate until the impact of the COV-19 pandemic came to fruition. As such, the shares are now in the 79p per stock region. This does, however, represent substantial growth in the AIM share's one decade of trading.
In fact, based on today's price of 79p, this amounts to a growth of 550%. As the shares are once again moving in the right direction, a reasonable medium-term target could be the 101p the company hit in February. If it is able to achieve this feat, you would be looking at gains of 29%.
Burford Capital is a financial services company that provides financing to the legal sector. This includes performance-based loans in litigation and arbitration cases, as well as specialized financing to lawyers and other legal professionals. The company now has a physical presence in the UK and US, with further expansion expected in the coming years.
Interestingly, although the company was founded in 2009, this was the same year that is floated on the AIM. Had you purchased shares back then in 2009, you would have paid around 108p.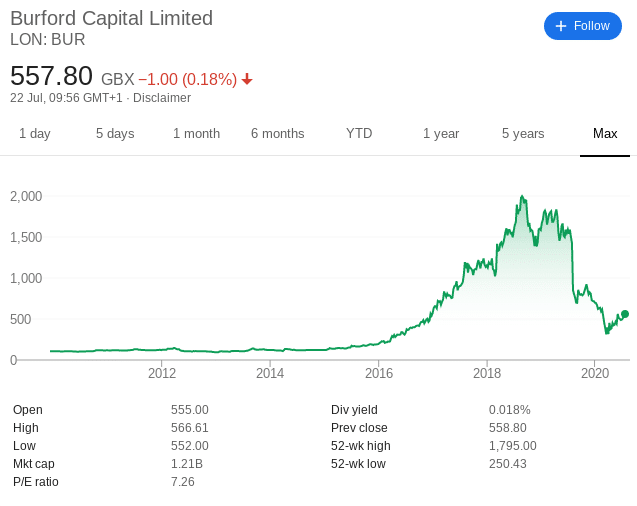 The stocks then went on a parabolic run for near on 9 years, hitting peaks of 1,978p in mid-2018. For earlier investors, this would have netted a return of over 1,700%. With that being said, the shares have cooled off by some distance since, with a July 2020 stock price of 557p.
Although this is somewhat concerning for the company, it should be noted that Burford Capital shares have performed extremely well since hitting lows of 280p in March 2020. In fact, based on current prices, this represents gains of just under 100% in a 4 month period, making this one of the best AIM shares to buy in 2021.
The Alternative Investment Market, more commonly referred to as the AIM, is a subsidiary of the London Stock Exchange. That is to say, companies that are either too small or young to join the primary London Stock Exchange will instead float on the AIM. The AIM as an exchange was actually only launched in 1995.
It replaced the Unlisted Securities Market (USM) – which for all intents and purposes provided the same services as the AIM. Nevertheless, there were just 10 companies listed on the AIM when it first launched – taking the total market capitalization of the exchange to just over £80 million. Fast forward to 2020 and there are now over 850 AIM shares listed with a total valuation of over £104 billion.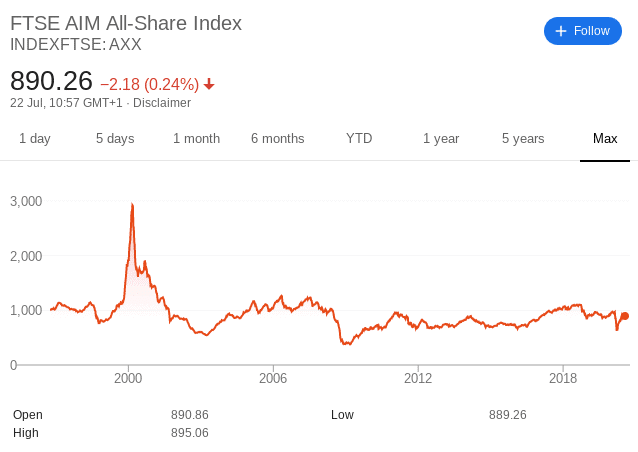 However, although this illustrates that the AIM has grown significantly since its launch in 1995, it is still substantially smaller than its London Stock Exchange counterpart. For example, the likes of AstraZeneca alone are worth more than the entire 850+ firms that constitute the AIM!
In terms of getting your hands on AIM shares, the process works largely the same as any other stock investment. That is to say, you will need to find an online broker that gives you access to the AIM exchange. Then, upon opening an account and depositing funds, you will need to choose which AIM shares you wish to buy.
Much like any investment, the overarching motivation of buying AIM shares is to make money. With that said, there are some clear differences between AIM shares and FTSE shares, so we need to explore why some investors consider  AIM shares to be among the best shares to buy.
Invest in Young Companies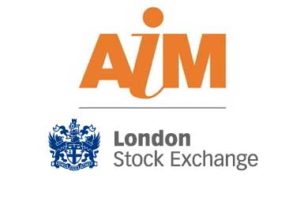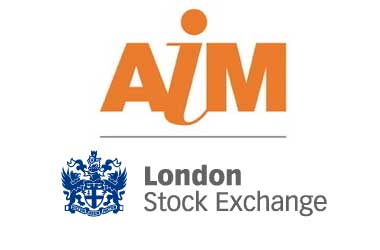 One of the main reasons that companies opt for the AIM is because they are simply too young and small to meet the requirements of the London Stock Exchange. Crucially, the London Stock Exchange has a significant number of regulatory demands that it expects from all new constituents.
As up-and-coming companies are unable to meet these demands, they opt for the AIM. And here lies the key point – the AIM provides a gateway for investors to buy shares in companies that are still in their infancy.
If the respective firm goes on to make it big – then the investor will have entered the market when the stocks were super cheap. A great example of this is ASOS.
Although ASOS was only founded in 2000, it floated on the AIM exchange in 2001
Back then, the company had a stock price of just 24p
A few years later the company moved from the AIM to the London Stock Exchange
ASOS hit highs of 7,556p in 2018
The firm now has a market capitalization of over £3 billion
When it first hit the AIM, this stood at just £18 million
As you can see from the above, buying the top AIM shares at the very start of the company's journey can be highly rewarding. In this example, ASOS stocks increased by 31,000% between 2001 and 2018. With that being said, you need to ask yourself whether or not you would have invested in an online clothing company at the turn of the century.
By this, we mean that nobody could have foreseen that online shopping would have become as dominant as it now is. As such, investing in AIM listed shares is often a case of looking into the future and assessing where you think the company will be in the next decade or two!
Invest in Innovative Companies
Once you begin the research journey in your hunt for the best AIM shares to buy in 2021, you will notice that a lot of companies are involved in innovative products and services. In other words, these companies are looking to make it big in a sector or industry that is to take off.
For example, you will find heaps of firms that are looking to revolutionize the global energy industry. This includes everything from solar panel producers, wind farms, and even waste-to-energy technologies. The key takeaway is that although renewable energies constitute such a minute proportion of the wider global energy scene – this might not be the case in 10-20 years.
As such, if you are a firm believer of green and sustainable energies – and you think the sector will play a major role in how we view energy in the future, the AIM gives you exposure to such companies at a very early stage.
Fast and Volatile Growth
There are many types of investor profiles. At one of the spectrum, some investors will strive to minimize their risk as best as possible. This means that they will invest in strong and stable blue chip stocks or bonds. In turn, the ROI is going to be relatively small.
At the other end of the spectrum, some investors prefer to chase a higher risk vs reward ratio. In simple terms, they are prepared to take higher levels of risk to generate higher returns. If this sounds like you, then the best AIM shares are likely to be of interest. One of the key reasons for this is that AIM shares can move up or down very, very quickly.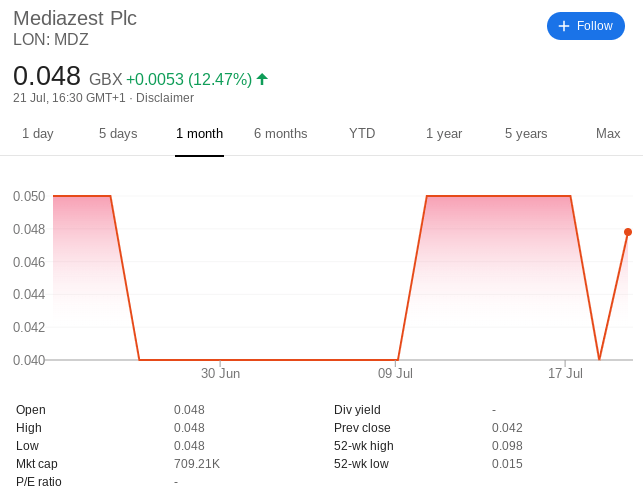 This is large because of the small market capitalizations that some top AIM shares possess. Let's take Mediazest Plc as a prime example. The stock currently has a market capitalization of just over £700,000. As such, were an institutional investor to buy a substantial number of shares, it could push the value of the company up by double-digits in the space of a single trading day.
In another example, the likes of Catenae Innovation saw Its share price grow by over 160% in the space of a few weeks in June 2020. Once again, this is because of the small market capitalization that the firm carries. In the case of Catenae Innovation, this stands at just over £8 million.
A large number of companies listed on the AIM are effectively penny shares. This is because they have a share price of less than £1, have super-small market capitalizations, and suffer from low levels of liquidity. While this in itself does carry additional risks, it also means that you stand to buy AIM shares at a very low per-stock price.
In simple terms, this means that you can build a portfolio that contains a significant number of shares. Then, if you are fortunate enough to see your chosen group of companies perform well in the future, this would leave you with a much larger stake in the said firms.
For example, the likes of Motif Bio PLC have a current stock price of just 0.47p. This means that a £100 investment would leave you with 21,276 shares. This is in stark contrast to major FTSE 100 shares listed on the London Stock Exchange. For example, AstraZeneca shares cost 9,048p at the time of writing. As such, a £100 investment would get you just 1 share!
On the one hand, AIM shares do offer the potential for rapid gains, not least because you will be buying stocks in companies that are yet to realize their full potential. However, it is important to remember that even the best AIM shares to watch do come with a number of risks that you need to take into account.
This includes:
Highly Volatile
It is not uncommon for AIM shares to move up or down by double-digit percentages in a single day of trading. This is in stark contrast to major London Stock Exchange companies, which generally speaking – are much more stable. As such, you stand just as much chance of losing a significant amount of money in a short period of time – as you do ending up in the green.
Wide Spreads
The spread is the difference between the 'ask' price of a share with that of the 'bid' price. Put simply, the percentage gap between the two prices will dictate how much you need to make from your investment just to break even. For example, if the spread amounts to 0.3%, then you won't make any profits until the shares increase by 0.3%.
So, in the case of large-scale companies like HSBC, BP, or Royal Mail – the spreads offered by online stock brokers are going to be super-thin. This means that you can buy and sell the shares in a cost-effective manner. However, as some AIM shares suffer from very low levels of liquidity, you might find that the spreads are extremely high.

Let's take Blue Star Capital PLC as a prime example, As you can see from the above screenshot, Hargreaves Lansdown is offering a buy price of 0.20p and a sell price of 16p. This works out at a staggering spread of 22%. As such, you would need to make gains of 22% on your Blue Star Capital PLC purchase just to break even!
While there are several AIM share success stories to talk about, there is also heaps of examples where companies have failed. In fact, the vast majority of stocks listed on the AIM never make it. There are hundreds of examples where firms have enjoyed a brief period on the exchange, only to then drop 90% in share value.
This is something that you would not expect when investing in large-scale companies on the primary London Stock Exchange. As such, you should keep your stakes low and ensure that you diversify as best you can.
So now that we have covered the ins and outs of what you need to consider prior to buying AIM shares, we now need to discuss brokerage firms. After all, the only way that you will be able to buy the best AIM shares is to open an account with a suitable stock trading broker.
With that in mind, below you will find a small selection of the best UK stock brokers currently offering the best AIM shares to buy in 2021.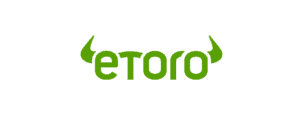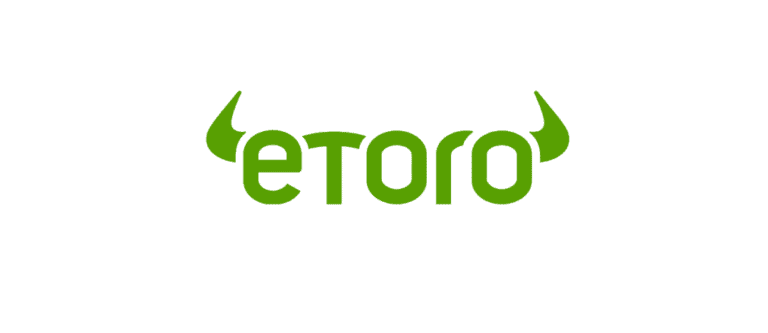 eToro is a user-friendly share dealing platform that is suitable for investors of all skill-sets. In fact, even if you have never bought a single stock in your life – you'll have no issues navigating your way through the eToro platform.
This is because it takes just minutes to open an account and deposit funds – and you will then have access to over 800 shares at the click of a button. This includes companies from 17 different stock exchanges, including the AIM.
For example, you can easily buy shares in leading AIM stock Fevertree Drinks – with minimum investments starting at just $50 (about £40). The most appealing thing about the share purchase process at eToro is that the platform does not charge any dealing fees. Instead, you can buy as many shares as you wish throughout the month without paying a single penny in commissions.
On of the best things about eToro is that it's a social trading platform that offers copy trading. This means you can interact with over 12 million other users to discuss strategies and share tips, and you can even copy the entire portfolios of top investors on the eToro platform!
When it comes to regulation, eToro is licensed on three fronts. This includes the Financial Conduct Authority (FCA), as well as licensing bodies in Cyprus and Australia. Most importantly, your funds are protected by the FSCS in the event that eToro no longer operated. This is, however, limited to the first £85,000. Finally, you can easily deposit and withdraw funds at eToro. Minimum deposits start at $50, which you can via a UK debit/credit card, bank account, or e-wallet such as PayPal.
Pros:
User-friendly online stock broker
Buy shares without paying any commission or share dealing charges
800+ shares listed on UK and international markets
Buy shares or trade CFDs
Social and copy trading tools
Accepts PayPal
Mobile trading app
Holds an FCA licence
Cons:
Not suitable for advanced traders that like to perform technical analysis
67% of retail investor accounts lose money when trading CFDs with this provider.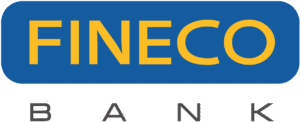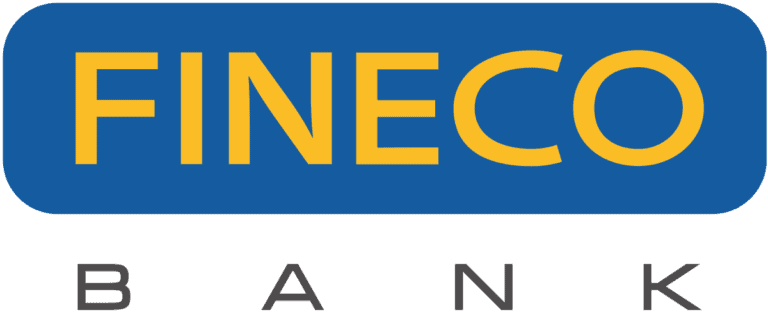 Fineco Bank is an Italy-based brokerage with a strong presence in the UK. This platform has a ton to offer, including an enormous selection of shares and low fees. In fact, you can buy and sell over 10,000 shares from the AIM and beyond with Fineco Bank!
Fineco Bank gives you 2 ways to trade AIM shares. You can trade CFDs, in which you don't own the underlying shares, or you can buy the shares outright. Trading AIM share CFDs is commission-free and you have the option to trade on margin up to 5:1. Buying AIM shares outright comes with a commission of £2.95 per share deal.
This broker has an in-depth trading platform called PowerDesk to help you decide what AIM shares to buy. The platform includes comprehensive technical charts with dozens of built-in studies and drawing tools. You can also set up watchlists, price alerts, and more to stay on top of the market.
Fineco Bank is regulated by the Bank of Italy and the UK FCA, so it's considered extremely trustworthy. On top of that, Fineco Bank is itself a publicly traded company on the Milan Stock Exchange. The broker offers excellent customer support and you can open an account with no minimum deposit.
Pros:
Trusted broker with a long-standing reputation
Good value share dealing services
Leverage and short-selling also available
Access to dozens of international markets
Powerful trading platform
Cons:
ETF trading can be expensive and requires a minimum deposit
Your capital is at risk
So now that you have had a chance to ponder over some of the best online stock brokers in the space, we are now going to show you the step-by-step process of buying top AIM shares in the UK. By following the guidelines below, you could be in possession of your first AIM share in less than 10-15 minutes!
Step 1: Open an Account and Upload ID
Head over to the eToro website and begin the account opening process. You will need to provide your full name, home address, date of birth, contact details, and national insurance number. You will also need to choose a username and a strong password.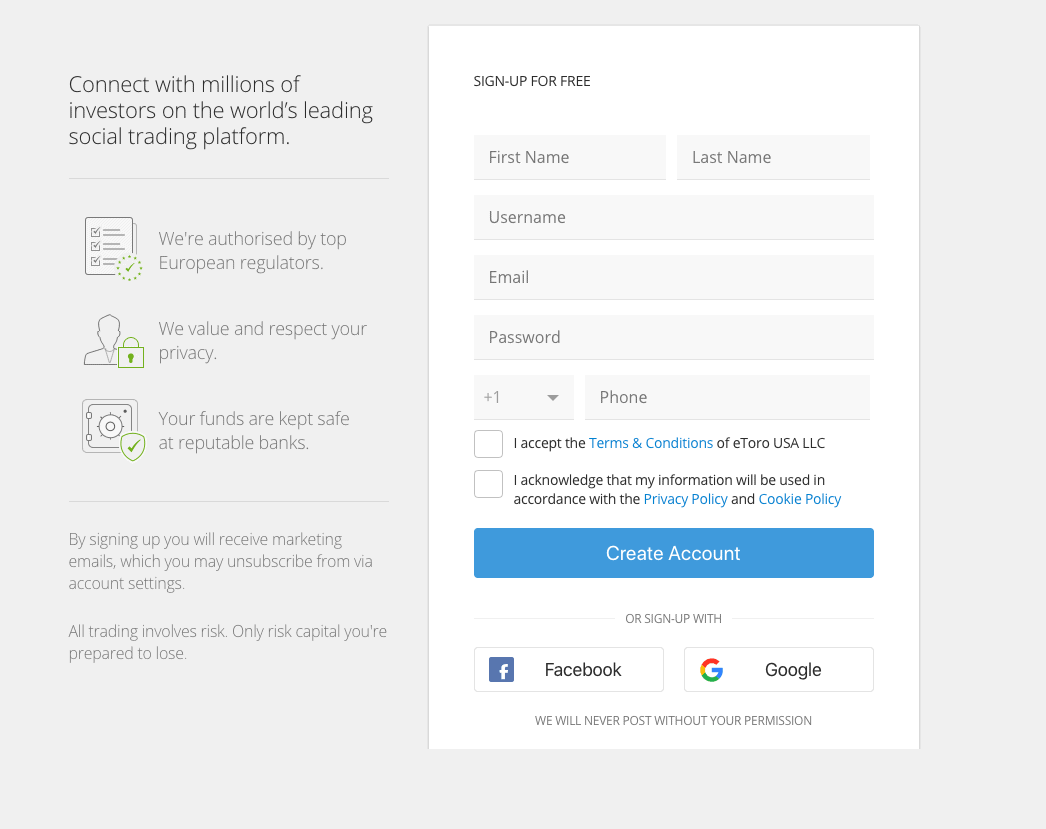 eToro will then ask you to verify your identity through documentation. All this requires is a clear copy of passport or driver's license, alongside a recent utility bill or bank account statement.
If you don't have the documents to hand, you can still proceed with an AIM share investment. However, your deposit will be limited to appropriately £1,800 and you will not be able to make a withdrawal. As such, it's best to upload the documents straightway.
Step 2: Deposit Funds
You will now be asked to deposit some funds into your newly created eToro account. You'll need to deposit at least $50 and you will incur a small currency conversion fee of  0.5%. Supported payment methods include:
Debit cards
Credit cards
Paypal
Skrill
Neteller
Bank transfer
Your account will be credit instantly – unless transferring funds from your bank account.
Now that you have a fully funded eToro account, you buy all the best shares on our AIM shares list at the click of the button. First, you need to search for the specific AIM share that you wish to invest in. As you can see from the example below, we are looking to invest in stocks of the AIM-listed Fevertree Drinks.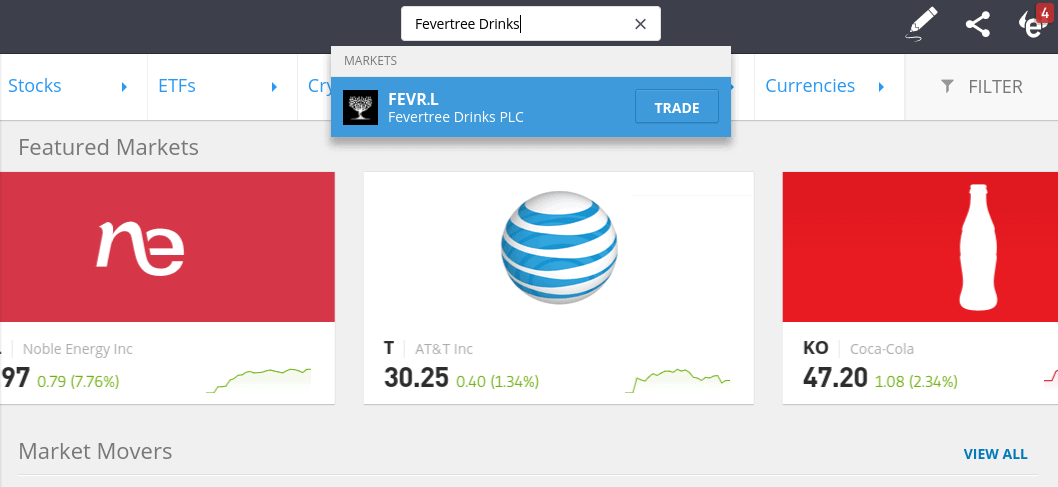 Then, we need to click on the 'Trade' button.

You will now see an order box like the screenshot below. All this requires from you is the size of your investment. As long as you meet a $50 minimum, you can invest as much or as little as you please.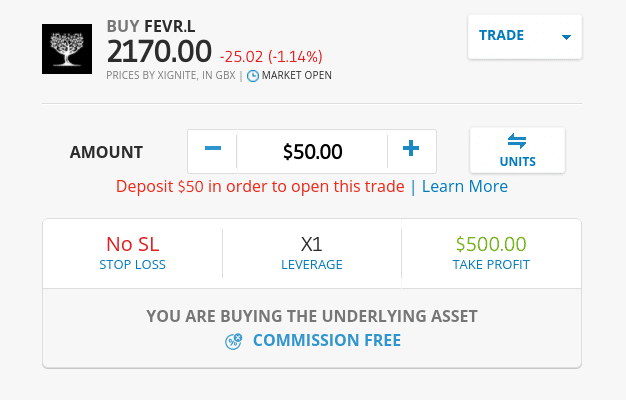 Finally, click on the 'Open Trade' button (or 'Set Order' if outside of standing market hours) to complete your AIM investment!
If you are looking to allocate a small proportion of your stock investment portfolio to higher-risk assets, AIM shares might be right for you. There is every chance that you will pick a company that ends up making it big, meaning that the upside potential is substantial.
However, AIM shares are also fraught with risk. Not only are they much more volatile than traditional FTSE shares, but the spreads can be very high.
Nevertheless, if do want to proceed with an investment, eToro offers all of the best AIM shares to buy now. You can deposit funds instantly with your UK debit/credit card, and then purchase your AIM shares without paying a single penny in commissions!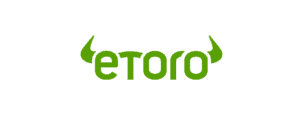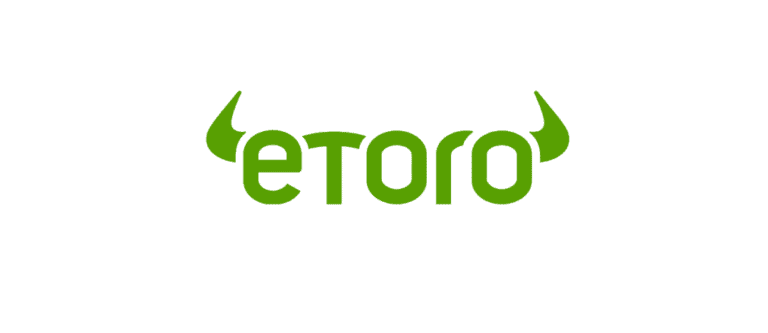 FAQs
When was the AIM launched?
Do AIM shares pay dividends?
How many companies are listed on the AIM?
Read next