How to Invest in Ripple UK – Beginner's Guide
Fact Checked
Everything you read on our site is provided by expert writers who have many years of experience in the financial markets and have written for other top financial publications. Every piece of information here is fact-checked.
Disclosure
Please note that we are not authorised to provide any investment advice. The information on this page should be construed for information purposes only. We may earn commissions from the products mentioned on this site.
For several months, Ripple has been in the headlines due to the SEC claims that it is illegal security distributed and sold by Ripple Labs. Meanwhile, the company behind XRP claims that the coin is similar to any other token much like Bitcoin and Ethereum, and asks the Securities Exchange Commission to acknowledge the coin. Following the lawsuit between the SEC and Ripple in December 2020, the XRP coin dropped from around $0.6 to $0.22, but then rose again to trade at around $0.45.
Despite the SEC claims, Ripple has proven its strength and resiliency since the beginning of the year and is still one of the largest cryptocurrencies in the world with a market cap of nearly $22 billion.
So, if you are based in the UK and looking for the best ways to buy the XRP coin, this guide on how to invest in Ripple UK will help you find the answers. We'll suggest the most effective investment platforms that offer you to buy Ripple, analyze the coin's price performance, and determine if it's a good investment right now. Finally, we'll also include a tutorial on how to open an account and invest in Ripple in the UK.
How to Invest in Ripple Quick Tutorial
If you are ready to buy Ripple instantly without going into details, below we present our quick four-step tutorial to make a Ripple investment with eToro.
Choose a regulated broker that supports Ripple: At first, you need to find a UK-regulated broker that allows you to trade Ripple. From our research, eToro is one of the best choices in the market to buy XRP.
Sign Up for an Account: You'll then need to register for an online trading account. To do that, visit eToro's homepage and complete the registration process. This includes submitting your personal details and complete a verification process.
Deposit Funds: Once your account is approved, you can make a deposit so start trading. eToro supports bank transfer, credit/debit card, PayPal or e-wallet, and maintains a deposit requirement of at least 140 GBP.
Buy Ripple: The last step you need to take is to search Ripple/XRP in the search bar and place an order in the order box.
Choose a Ripple Investment Platform
In order to buy Ripple, you first need an online trading platform that gives you access to cryptocurrencies. Two of the most common methods to do that is through an online CFD platform or a crypto exchange. It is important to note that while trading with a CFD broker is much faster, easier, and safer; some prefer to buy digital assets directly from the exchange. To help you find the right investment platform or investment app, below we provide the two forms to invest in Ripple in the UK.
1. eToro – Overall Best Platform to Invest in Ripple UK (FCA Regulated)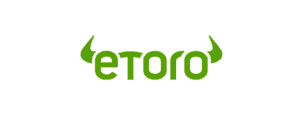 eToro is our top choice for buying Ripple and other digital assets in the UK. This FCA-regulated broker offers investors to buy and sell 16 different coins with a leverage ratio of 2:1 and to invest directly in built-in managed portfolios. Unlike cryptocurrency exchanges, eToro offers commission-free trading, meaning you do not have to pay fixed fees when you buy and sell digital coins on its platform.
In addition to Ripple, users get access to some of the most popular crypto coins in the market that include Bitcoin, Ethereum, Cardano, IOTA, Bitcoin Cash, Litecoin, Zcash, DASH, Ethereum Classic, Stellar, EOS, NEO, Tezos, Binance Coin, and Tron.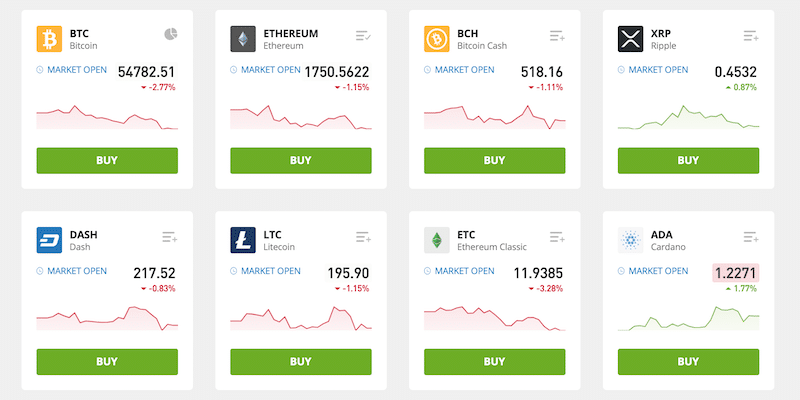 Don't invest in crypto assets unless you're prepared to lose all the money you invest.
For those who want to trade cryptocurrencies directly on the exchange and not in the form of CFDs then eToro is our top pick, you can see this in our eToro vs Trading 212 comparison. The broker provides access to an advanced professional cryptocurrency exchange known as eToroX. The exchange is most suited for algo traders, institutional-grade investors, and experienced crypto-traders. Another benefit of using eToro for cryptocurrency trading is that it offers a multi-crypto digital wallet that supports more than 120 crypto coins and allows users to store, transfer and receive digital assets. This means you can invest in Shiba Inu, Dogecoin, Cardano and many more cryptos with low fees, a fully regulated trading platform, and copy trading features.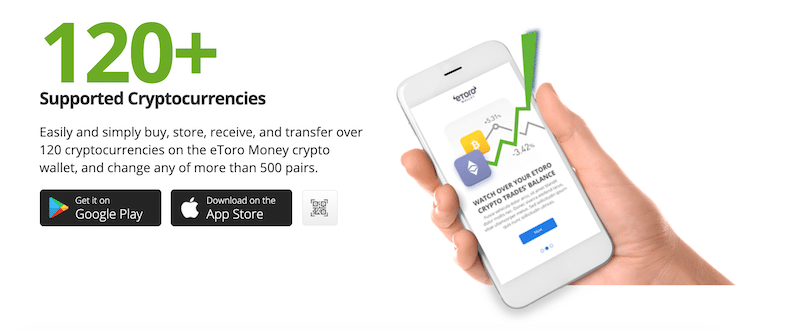 Though eToro is not designed for professional day traders, you get plenty of analysis and research tools for every instrument offered on its network. As such, if you want to analyze Ripple, you need to visit the Ripple page where you can view news and Twitter feed about Ripple and XRP. Additionally, you'll be able to use the interactive chart and the research tab that includes the market sentiment tool and important stats.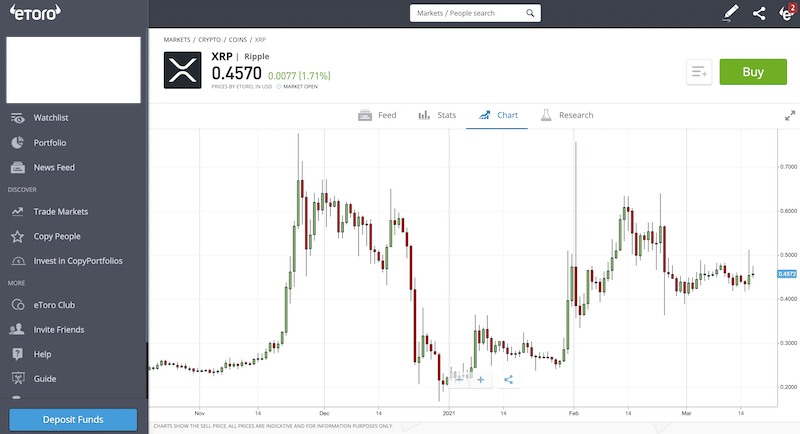 Don't invest in crypto assets unless you're prepared to lose all the money you invest.
Apart from investing in Ripple on eToro's platform, you get access to crypto-related built-in managed portfolios via eToro's CopyPortfolios. As such, you can invest directly in the CryptoPortfolio that collects the top cryptocurrencies in the market by market cap, the Crypto-currency portfolio that is invested 86% in Bitcoin (BTC) and 14% in Ethereum (ETH), and the CryptoTakeOver portfolio that enables you to take a long position on cryptocurrencies and short banks.
Finally, eToro supports social trading tools including its well-known CopyTrade feature. This allows you to choose another investor and automatically copy the trades of the chosen investor. To get started with eToro, you need to meet a minimum deposit requirement of £140 or you can test the platform on a demo account.
Pros
Offers Ripple and 15 digital assets
Commission free trading platform
Largest social trading platform in the world with more than 17 million users
Allows users to buy Ripple with debit/credit card, PayPal, bank wire transfer, Neteller and Skrill
Supports copy trading and crypto CopyPortfolios
Fully regulated in the UK by the FCA
Offers secure multi-crypto digital wallet
Enables short selling
Over 3000 assets available on the platform
Cons
Charges overnight fee
A small withdrawal fee of $5
Don't invest in crypto assets unless you're prepared to lose all the money you invest.
2. Binance – Best Cryptocurrency Exchange for Trading Ripple


If you are looking for the best cryptocurrency exchange in the United Kingdom to buy Ripple, then you should consider Binance. This is one of the world's leading cryptocurrency exchanges in terms of reputation, the selection of assets, liquidity and trading volume, and the range of features and trading tools.
The advantage of using Binance in order to buy Ripple, or any other coin for that matter, is that you can do it via its advanced trading platform or by using the one-time purchase option with credit and debit card. In that aspect, Binance is perfect for advanced traders but it is also a great option for those who don't have any trading experience and just want to buy and hold Ripple.
If you decide to make a one-time Ripple purchase, you'll have to create an account with Binance and then navigate to the Buy Crypto on the top menu bar and then choose credit and debit card. From there, search for XRP, set the amount, and provide the details of your credit/debit card.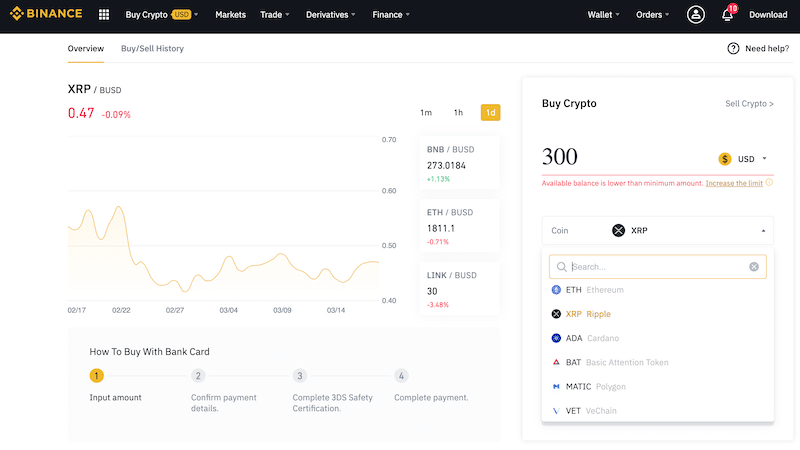 While the Basic Binance trading platform is best for beginner investors, Binance is among the best exchanges for active day traders that want to get access to a top-notch platform. The Binance platform is full of quality material, and above all, the level 2 order book that allows you to view the real-time buyers and sellers in a particular market.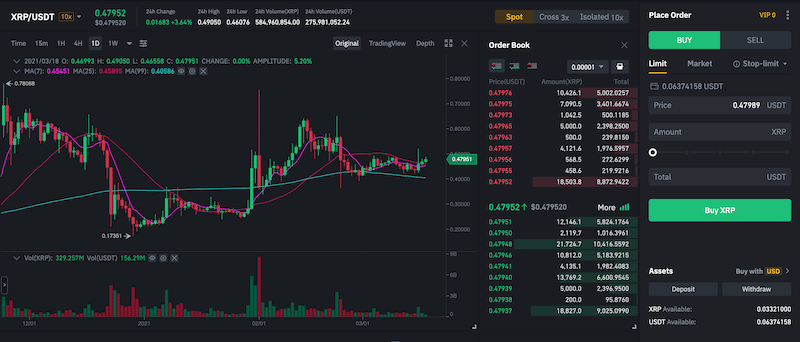 Finally, Binance also allows you to store your Ripple coins on its wallet, known as TrustWallet. Once you have purchased Ripple on the Binance platform, you can store your cryptocurrency investment in their official Trust Wallet. This mobile app wallet is considered safe and can be downloaded on the App Store and Google Play.
All in all, Binance is perhaps the best all-around trading platform choice. It has major benefits over other cryptocurrency exchanges like Bitstamp, Kraken, Coinbase, and CEX.io. Not only Binance offers users to easily buy digital assets, but it also provides an advanced trading platform for XRP trading as well as the ability to store Ripple on the XRP wallet.
Pros
The largest cryptocurrency exchange in the world in terms of trading volume
More than 150 cryptocurrency pairs supported
Low trading commission of just 0.1% per trade
Offers easy purchase of Ripple with credit and debit card
Safe and secure
Best trading platform for day traders
Excellent mobile trading app
Cons
A bit complicated for beginners
Charge a fee of 2% on debit/credit card deposits
Cryptoassets are highly volatile unregulated investment products. No EU investor protection.
Research Ripple Investment
After you have chosen an online trading platform that supports Ripple, the next thing you need to do is to analyze the coin to determine whether it is a good investment, and what is the best way and strategy to trade XRP. In this section, we'll answer crucial questions about Ripple and suggest strategies to trade the coin.
What is Ripple?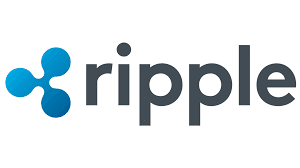 The most important thing you need to know about Ripple is that it has many applications. At first, Ripple is a global payment network used by banks, money services businesses, and large institutions. Via the RippleNet, which is a decentralized peer-to-peer network, users can transfer any currency in a very short time and with a very low transaction fee.
Being a global payment settlement network, Ripple is used for the exchange of faster payments of currencies and as a money transfer network using blockchain technology. So, you might ask what is the difference between Ripple and Bitcoin? While Bitcoin is a digital currency used for transactions to buy or sell goods, Ripple is a real-time payment network for banks and large institutions. As such, some of the main partners of Ripple Labs include American Express, MoneyGram, Banco Santander, SBI Holdings, National Bank of Fujairah PJSC (NBF), Standard Chartered Bank (SCB), The Royal Bank of Canada, the National Bank of Abu Dhabi, and many more.
XRP is the digital currency used on the Ripple payment network. In that aspect, XRP is not an alternative to fiat currencies nor the current banking systems. It is an external payment network based on blockchain technology that offers customers to transact with lower fees and high-speed execution. As of 2021, Ripple is one of the largest fintech firms in the world and the XRP coin has a market valuation of nearly $21 billion at the time of writing.
Ways to Invest in Ripple
Fortunately, there is more than one way to invest in Ripple in the UK and you can opt for any one of the suggested ways below.
Buying Ripple on a Cryptocurrency Exchange
The most common way to buy a digital asset like Ripple is via a cryptocurrency exchange. This way, when you buy a cryptocurrency, you essentially own the coin and can use it to transfer and receive funds. A cryptocurrency exchange allows you to buy and sell digital assets and in most cases, the exchange also provides a digital cold wallet to store your coins and to receive and transfer funds.
In that regard, Binance is the one of best options to buy digital assets as it is the largest cryptocurrency exchange in terms of daily trading volume and liquidity. Moreover, the exchange enables users to buy Ripple with a credit and debit card, PayPal, or any other cryptocurrency.
Buy Ripple CFDs
Another option to buy Ripple in the UK is by using a CFD platform. In simple terms, CFDs are financial contracts between the investor and another party (typically it is a brokerage firm) with the idea that the two parties commit to paying the differences in the settlement price between the open and closing price. This means that CFDs enable users to speculate on the price of an asset without actually owning it.
The best way to buy Ripple CFDs is to use an FCA-regulated broker like eToro. As such, you'll be able to get a leverage of 2:1 and ensure that your funds are safe and secure.
Investing in Ripple Stocks
Essentially, there's no direct way to invest in Ripple stocks. Ripple Labs is not a public traded company, which means you can only buy shares of the company on the secondary market. The Ripple company often issues shares to investors, employees, and board but you need to qualify as a sophisticated investor in order to be able to buy shares of Ripple Labs.
Another indirect way to invest in Ripple is by buying Ripple-related stocks. You'll have to dig in here a bit to find good Ripple-related companies. That said, some of the best Ripple stocks include MoneyGram International (NASDAQ: MGI), American Express (NYSE: AXP), Banco Santander (NYSE: SAN), Canadian Imperial Bank of Commerce (NYSE: CM), Itaú Unibanco Holding S.A. (NYSE: ITUB), Kotak Mahindra Bank Limited (NSE: KOTAKBANK.NS).
Is Ripple a Good Investment?
From the start of the year, Ripple's price has been volatile due to the lawsuit of SEC that claims that Ripple Labs sold XRP as an unregistered security. Clearly, there's a risk for Ripple in case the SEC wins the lawsuit. However, Ripple has a strong counter-argument, and the fact that many XRP holders seek to intervene in the lawsuit shows the strength of the Ripple network.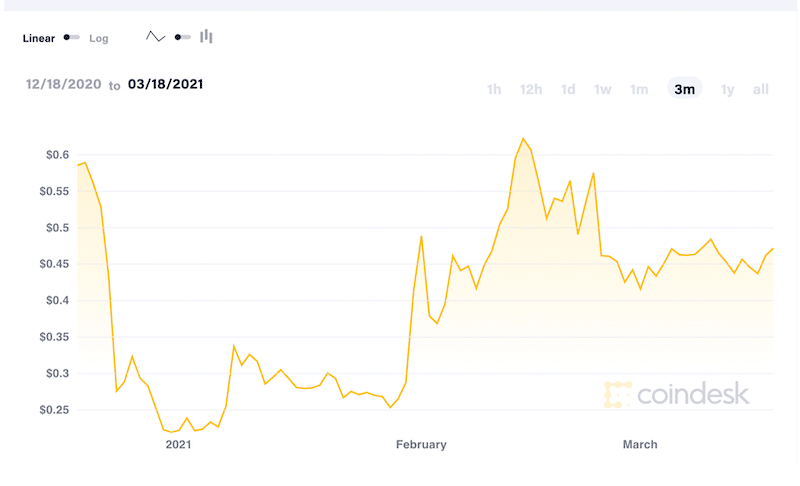 The main reason why XRP is considered one of the best ways to invest money UK is that it has huge potential to grow in the upcoming years. Unlike other cryptocurrencies, some people believe that Ripple is the future of the banking and financial sector. XRP, in that aspect, serves as a bridge between fiat coins and cryptocurrencies and makes the flow of the RippleNet network. Using blockchain technology, Ripple solves many problems for big banks and large financial institutions. So, if Ripple succeeds to grow further, the demand for XRP increases, and thus, the price of XRP will rise.
Invest in Ripple or Bitcoin?
When we compare Bitcoin and Ripple, there's no doubt that Ripple has a much better network than Bitcoin in terms of transaction costs, speed, and the quality of the technology. Also, Ripple has higher potential growth than Bitcoin due to its relatively low valuation of $0.47 per coin.
In general, Bitcoin is considered an "alternative coin" for fiat currencies and is sort of an alternative financial system. The projections that Bitcoin could be reaching $100K or $200K per coin are slowly becoming a reality. At the time of writing, Bitcoin is trading at around $60K per coin. Therefore, it would be impossible to say that Bitcoin is not a good investment right now. But, in the best case that Bitcoin rises to the price above, you'll get a return of around 60%-180%.
Ripple, on the other hand, has no intention to become a substitute for fiat currencies. XRP is also not mined and is distributed by the company Ripple (though there's a finite supply of the token). The price of XRP, therefore, is primarily dependent on the adoption of Ripple's network by banks and large financial institutions.
That said, some analysts forecast that Ripple could grow to $5 and $10 per coin, and perhaps even more. If that occurs, you will definitely make a higher return than investing in Bitcoin with a relatively low-risk investment.
Ripple Investment Strategies
In this section of our guide, we'll take you through the various trading strategies that you might want to try when you invest in Ripple.
Long Term Investment
If you wish to take a longer-term investment approach, there are two option:
Ripple buy and hold – The first option is the most common and simple – to buy ripple and hold it for the long term. Some analysts predict that Ripple would hit around $5 per coin by 2025 and $10 by 2030. In this case, it could be a"buy and forget" to own for the next decade and beyond.
Dollar-cost averaging – Another popular long-term investment strategy is the Dollar-cost averaging (DCA), also known as the constant dollar plan. With this strategy, you are trying to spread your Ripple purchases, increasing the position at various intervals and in equal amounts.
Short Term Investment
If you are going to deal with short-term trading, then you'll have to find a trading strategy that works for you. In that regard, finding a cost-effective trading platform is crucial for the success of day trading activity so we recommend you check our suggested platforms before you start trading.
Scalping Trading – Scalping is a strategy in which the trader aims to find minor changes in intra-day price movements. For this kind of trading strategy, Binance is the best trading platform as it offers the level 2 order book.
Day Trading – Refers to the trading strategy of buying and selling cryptocurrencies (or any other asset) like Ripple within the same trading day.
Swing – A speculative trading strategy in which the trader takes positions for a duration of 2-5 days.
How to Invest in Ripple on eToro
As previously mentioned, eToro is one of the most trusted UK brokers allowing users to buy and sell Ripple. As such, in this section of our guide, we'll show you how to open an account with eToro and trade this popular cryptocurrency on its platform.
Step 1: Open an eToro Trading Account
The first step you should take to start trading Ripple is to visit eToro's site and register for an online trading account. The process is fairly simple – To begin, click on the 'Join Now' button on eToro's homepage and submit your personal information.
Don't invest in crypto assets unless you're prepared to lose all the money you invest.
Step 2: Verify Your Identity
Until you verify your identity, eToro does not allow you to start trading. This is because the broker is regulated by the FCA, which requires brokers to conduct the Know Your Customer (KYC) procedure. As such, you must submit additional personal information such as your financial and trading background and upload documentation that verifies your identity. This includes proof of ID and proof of address.
Step 3: Deposit Funds
The verification process at eToro can take a few days, but as soon as your account is approved, you can make a deposit. For UK investors, eToro requires a minimum of 200 USD (140 GBP) that can be funded using a credit or debit card, PayPal, bank wire transfer, Neteller, and Skrill.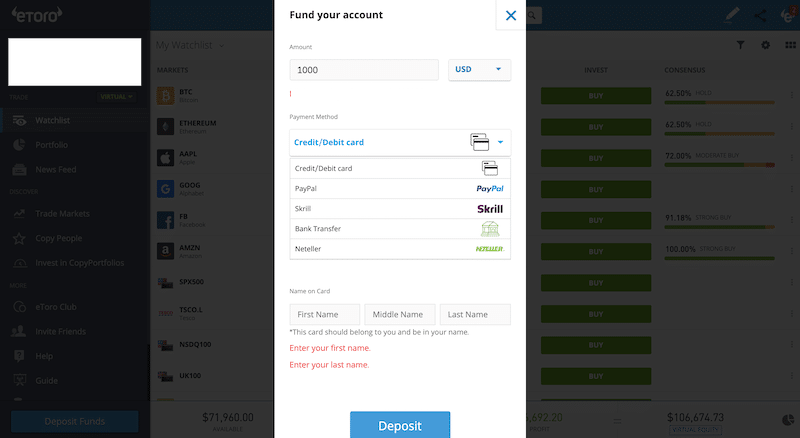 Step 4: Invest in Ripple
Now that you have funds in your account, search for Ripple in the search bar at the top of the dashboard and click on the 'Trade' button. Bear in mind that you can also click on the result that pops up to get transferred to the XRP instrument page. From this page, you can analyze the coin by using the news feed, charting package, stats, and research tool.

Don't invest in crypto assets unless you're prepared to lose all the money you invest.
At this point, you'll see an order box. This is where you need to enter the amount of your trade and the order type. You'll be able to choose a market order that gives an instant execution or choose a limit order that enables you to set the price in which you want to get the execution.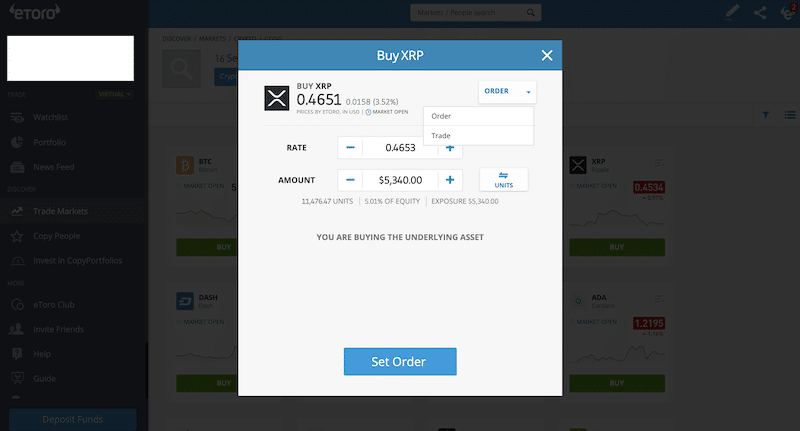 Step 5: Transfer Ripple to eToro Crypto Wallet (Optional)
As previously mentioned, eToro allows you to store your cryptocurrencies on its multi-crypto digital wallet if the coin was purchased via the eToroX exchange. To do that, you'll have to navigate to the portfolio, click on your Ripple position, and then click on the 'Transfer to wallet' button to store the coins in the hardware wallet.
When you have completed the Ripple coin transfer, you'll be able to see your Ripples on the eToro crypto wallet that is available as a mobile application.
Conclusion
Presently, Ripple is one of the most discussed altcoins in the market. Earlier this year, the XRP coin was targeted by Reddit groups (much like GameStop stock) which made Ripple's price jump 100%. There's a concern that SEC wins the case against Ripple, but the XRP coin can also get a boost in value if Ripple Labs wins this lawsuit. This way or another, Ripple has a lot of room to grow in the upcoming years.
In our view, the best option to buy Ripple is with eToro. This online CFD platform does not require you to take a long registration process and allows you to buy and sell Ripple without paying a fixed trading commission.
eToro – Best Broker to Invest in Ripple with 0% Commission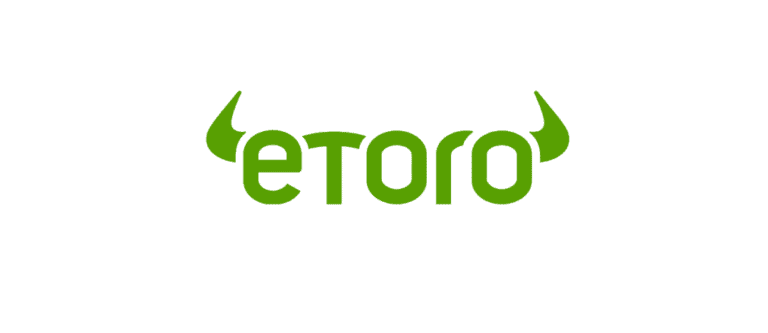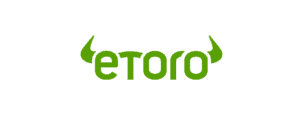 Don't invest in crypto assets unless you're prepared to lose all the money you invest.
FAQs
Should I invest in Ripple?
Is it too late to invest in Ripple?
Is it safe to invest in Ripple?
What is the minimum you can invest in Ripple UK?
What is the best way to buy Ripple with credit and debit card?
How can I short sell Ripple?