Best Metaverse Coins UK – How to Invest in Metaverse Token
Fact Checked
Everything you read on our site is provided by expert writers who have many years of experience in the financial markets and have written for other top financial publications. Every piece of information here is fact-checked.
Disclosure
Please note that we are not authorised to provide any investment advice. The information on this page should be construed for information purposes only. We may earn commissions from the products mentioned on this site.
The idea of the Metaverse came into the public consciousness when Facebook changed its name to Meta, highlighting the potential opportunities within this exciting new realm. Naturally, there has been much discussion about the potential for crypto and the Metaverse to synchronise, creating virtual worlds and social media platforms with deep levels of customisability.
In this guide, we'll discuss the Best Metaverse Crypto Coins to Invest In, highlighting what they are and how they work before showing you where to invest in these coins today – with no commissions!
Best Metaverse Coins to Invest in
Are you looking to invest in Metaverse crypto right now? If so, the list below presents our top ten Metaverse coins available to trade, identified through extensive research and technical analysis.
Tamadoge (TAMADOGE)– Best Metaverse Coin In The Doge Eco-System – Invest Now
Battle Infinity (IBAT)– Best NFT-Based Gaming Platform With Immersive Metaverse Experience- Invest Now
Decentraland (MANA) – Top Metaverse Virtual Reality Platform
Axie Infinity (AXS) – Exciting Video Game Metaverse Token
Enjin (ENJ) – Metaverse Crypto Coin with Built-In Scarcity
Ethereum (ETH) – Best Metaverse Crypto Blockchain Platform
The Sandbox (SAND) – Metaverse Coin with Extensive NFT Marketplace
UFO Gaming (UFO) – Best Metaverse Crypto in Early Growth Stage
Ankr (ANKR) – Innovative Metaverse Coin for Web3 Development
Illuvium (ILV) – Best Metaverse Crypto Game for 2022
Somnium Space (CUBE) – Metaverse Platform Backed by the Winklevoss Twins
Gala (GALA) – Metaverse Crypto Game Developer with Huge Potential
A Closer Look at the Best Metaverse Coins
When researching the best crypto to invest in, attention must be paid to Metaverse tokens, as this flourishing area of the cryptocurrency ecosystem has the potential to shake up numerous industries. Let's explore the Metaverse coins noted in the previous section and learn more about their features and future outlook.
1. Tamadoge (TAMADOGE)- Best Metaverse Crypto In The Doge Eco-System
The newest addition to the well-known doge eco-system is the tamaverse, which exclusively accepts TAMADOGE
as payment. In the Tamaverse, users can take care of their doges, purchase virtual products, and participate in battles to earn doge points with TAMADOGE.
Doge fans can interact with their NFTs in the metaverse using the Tamaverse platform. One of the next products from the Tamaverse project is an augmented reality application that will revolutionise how dogee owners may communicate with their NFT canines.
TAMADOGE is a deflationary token. Each time a consumer makes a purchase at the Tamadoge store, 10% of the coins are burned. This will gradually increase the coin's price and increase its value. Only 2 billion TAMADOGE tokens are in existence as well.
During the presale, 1 billion of these tokens will be made available for purchase; 400 million will be reserved for exchanges; and the remaining 600 million will be distributed over the ensuing few years.
TAMADOGE is positioned to succeed after other Doge coins have already seen tremendous market development. This new coin will be valuable to players since it grants access to the Tamaverse. During the presale, TAMADOGE can be bought from the Tamadoge website. The token is now in the public stage of the presale event.
Your money is at risk. 
2. Battle Infinity (IBAT)- Best NFT-Based Gaming Platform With Immersive Metaverse Experience
At the top of our list is IBAT, the native token of the Battle Infinity NFT gaming platform. Battle Infinity is a brand new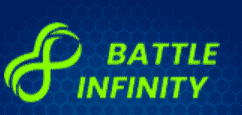 gaming platform that aims to birng an immersive metaverse experience to gamers through NFT-Based multiplayer sports games.
The IBAT token is used within the Battle Infinity universe to purchase games, players and in-game products. In the future, users will also be able to stake IBAT tokens for rewards by using the Battle Swap exchange. IBAT is built on the Binance Smart Chain and are based on the BEP20 protocol.
The supply of IBAT tokens will be limited to 10 billion, with 28% of these going live in the presale event. You can purchase the token directly through the Battle Swap exchange which is a completely decentralized exchange operating within the Battle Infinity eco-system.
One of Battle Infinity's main offerings in the IBAT Premier League. The IBAT Premier League is a virtual sports tournament in which players build teams and compete for rewards. As well as the tournament, players can earn rewards by taking part in a range of multiplayer games that are offered by the platform.
You can purchase IBAT from the PancakeSwap exchange on the 17th of August at 16:00pm UTC time.
| | |
| --- | --- |
| Min Investment | 0.1 BNB |
| Max Investment | 500 BNB |
| Chain | Binance Smart Chain |
| Presale Start Date | 11th July 2022 |
| Exchange listing date | 17th of August 2022 |
Your money is at risk.
3. Decentraland (MANA) – Top Metaverse Crypto with Virtual Reality Platform
Our top pick when it comes to Metaverse tokens is Decentraland. Since the concept of the Metaverse became popular, investors have been looking to buy Decentraland as it is a decentralised virtual reality platform that is hosted on the Ethereum blockchain. Users can purchase spots of land within the world, called parcels, and can then create anything they wish, such as art or buildings. The exciting thing is that Decentraland users can then monetise their creations, creating an entire ecosystem built within a digital world.


Decentraland is powered by the MANA token, which is an ERC-20 token. There are over 1.8bn MANA tokens in existence at present, with a burn mechanism in place to gradually reduce the supply, thereby increasing MANA's value. Looking ahead, as users can sell or lease their land ownership (called LAND) as NFTs, there is scope for an entire economy to be created within this world. Add into the mix the potential for advertising by large companies, and it's clear to see why Decentraland is so highly thought of when it comes to Metaverse coins.
4. Axie Infinity (AXS) – Exciting Video Game Metaverse Token
Another great Metaverse coin to consider is Axie Infinity. Axie Infinity is an online role-playing game (RPG) that allows users to collect coins and NFTs. According to activeplayer.io, the platform had over 2.5m players alone in the past 30 days. Sky Mavis, the developer behind Axie Infinity, recently raised $152m in Series B funding, which is set to be used to take the game to the next level.


The concept of Axie Infinity is to buy and breed in-game monsters called 'Axies', which can be pitted against other users to earn in-game money. The exciting thing is that this in-game money can then be transferred into FIAT currency (such as USD or GBP), incentivizing players to play. Furthermore, Axies are structured as non-fungible tokens (NFTs), meaning that users can trade them and pocket real-world cash – for example, one Axie was sold earlier this year for $800,000! By investing in AXS, Axie Infinity's native token, you'll be able to gain exposure to this growing world – and make a return in the process.
5. Enjin (ENJ) – Metaverse Crypto Coin with Built-In Scarcity
Enjin is a blockchain platform with numerous applications within the areas of crypto gaming and the Metaverse. At its most basic level, Enjin enables users to create digital assets and utilise them within games and apps hosted on the Ethereum blockchain. The platforms native token, ENJ, is crucial to the entire ecosystem, as digital assets created on Enjin are priced in ENJ. As the NFT craze continues to expand, the demand for platforms such as Enjin will undoubtedly increase – which is excellent news for this Metaverse token's price.


Enjin also offers its own wallet (handily called the Enjin Wallet) available on iOS and Android that allows users to store their cryptocurrency holdings and NFTs safely. In terms of the economics of the token, ENJ's max supply is capped at 1 billion. According to CoinMarketCap, there are already over 842 million tokens in circulation, which means that over 84% of tokens that could possible exist are already floating around. Ultimately, this makes ENJ a scarce asset – and as the platform continues to grow, we'll likely see this translate into consistent price increases.
6. Ethereum (ETH) – Best Metaverse Crypto Blockchain Platform
If you're familiar at all with the crypto world, you'll undoubtedly have heard of Ethereum. Commonly referred to as the best Bitcoin alternative, Ethereum is an open-source blockchain platform with extensive smart contract functionality. As the second-largest cryptocurrency in the world by market cap, Ethereum has enormous sway within the ecosystem, with many investors and analysts claiming that it has a brighter future (and more use cases) than BTC. Since Ethereum allows developers to create decentralized applications (dApps) in various areas, Metaverse-based concepts have enormous potential.


Ethereum makes our list because many of the best Metaverse coins (such as Decentraland and Axie Infinity) are hosted on the Ethereum blockchain. As such, investors in Ethereum get indirect exposure to the growing popularity of Metaverse crypto. The great thing about investing in Ethereum is that, aside from the Metaverse aspect, you'll also gain exposure to other burgeoning areas such as DeFi. Overall, Ethereum is undoubtedly here to stay and is worth considering adding to your crypto portfolio if you don't already own it.
7. The Sandbox (SAND) – Metaverse Coin with Extensive NFT Marketplace
Like Axie Infinity, The Sandbox is a play-to-earn game based on the Ethereum blockchain that allows users to create and trade NFTs. Players can construct avatars for use in-game and monetise them through the Sandbox Marketplace. Furthermore, The Sandbox users can utilise VoxEdit, a software application that allows users to create other in-game items such as clothing and weapons. Much like avatars, these can be bought and sold on the Sandbox Marketplace.


Assets listed on the Sandbox Marketplace are denominated in SAND, the native token of The Sandbox. As an ERC-20 token, SAND is used to pay for all transactions within the game's ecosystem, although it is also a governance token – meaning SAND holders can vote on potential changes to the platform. Users can also stake their SAND holdings and earn a revenue share from the transactions made in the marketplace. Overall, the potential within The Sandbox's world is limitless, with scope for the ecosystem to grow in the years ahead as more people play the game. If this were to happen, the value of SAND tokens would naturally rise – making it a great investment opportunity for speculative investors.
8. UFO Gaming (UFO) – Best Metaverse Crypto in Early Growth Stage
UFO Gaming is a blockchain-based gaming platform making waves in the Metaverse. The platform aims to act as a bridge between 'traditional' video games and the blockchain. The central concept behind UFO Gaming is the platform's 'Dark Metaverse', which is a closed-loop ecosystem containing many different play-to-earn (P2E) games. Like other Metaverse games, UFO Gaming enables users to create a self-sustaining marketplace by creating in-game items and trading land.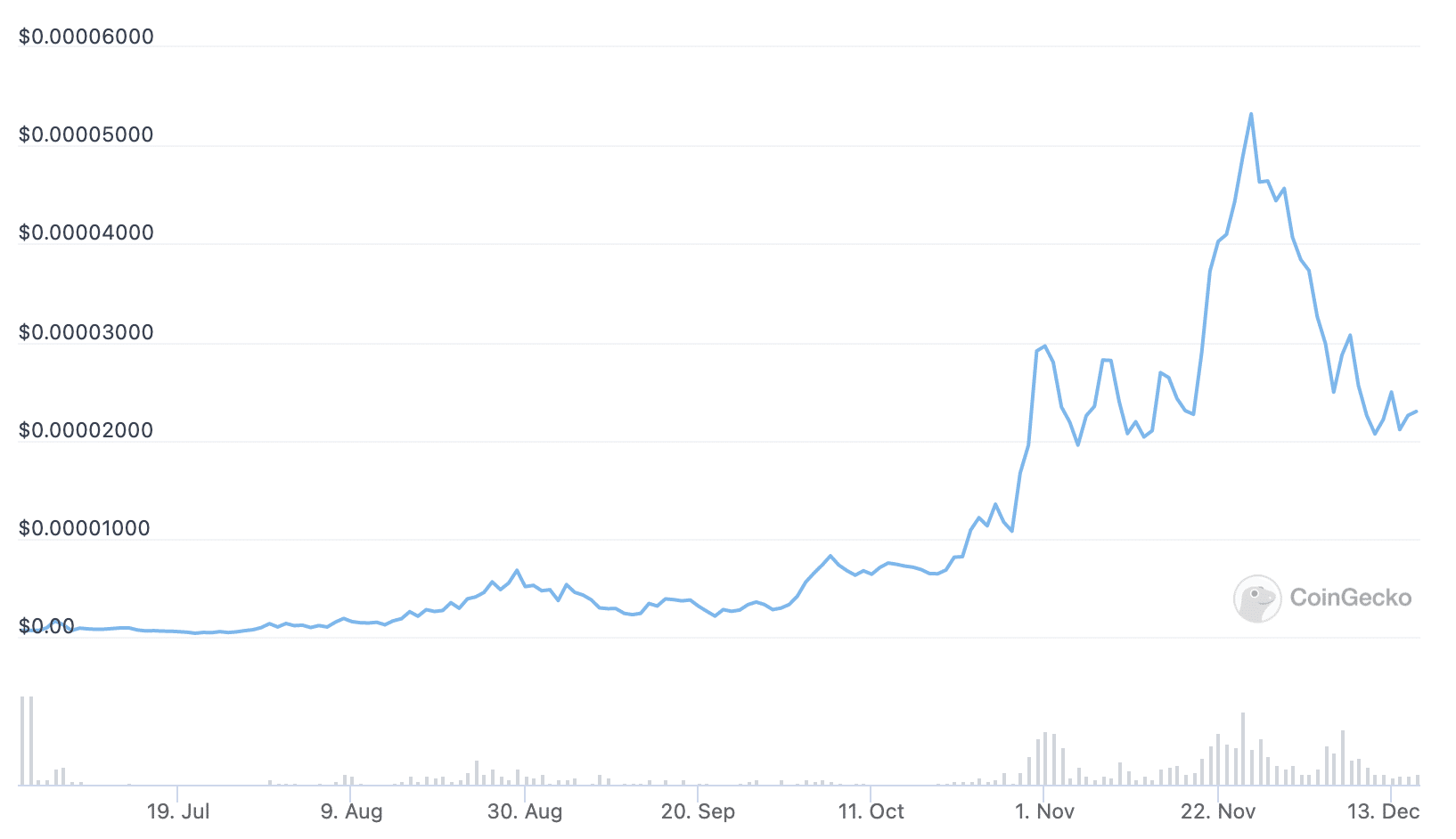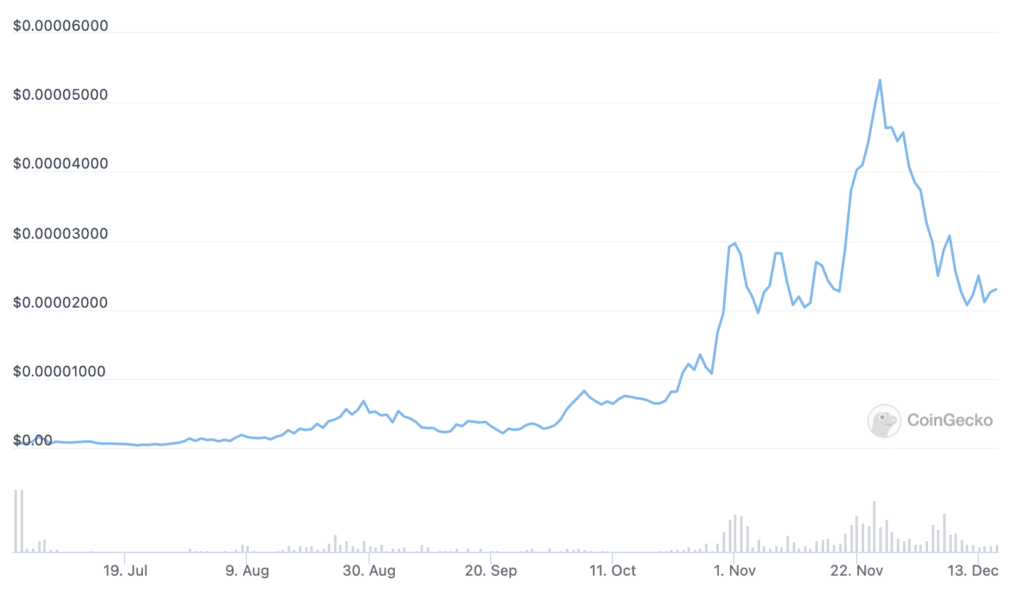 The first game launched by UFO Gaming is called Super Galactic, which allows players to create avatars, join clans, and complete missions. As the popularity of this game grows, the aim is to add more digital worlds to the Dark Metaverse, making them all interconnected. Finally, UFO Gaming is performing admirably in the marketing side of things by hosting an e-sports tournament and sponsoring the Chainlink Fall 2021 Hackathon. Although UFO Gaming still has a relatively small market cap, the platform is in the very early stages of its growth – meaning savvy investors can purchase UFO at an attractive price point.
9. Ankr (ANKR) – Metaverse Coin for Web3 Development
Another great Metaverse crypto to consider is Ankr. Most people think of Ankr as simply a DeFi platform, yet it has applications within the Metaverse too. Put simply, Ankr allows people and companies to lease computing power that they aren't using. In return, entities who lease their computing power can receive compensation in ANKR tokens. Naturally, this entire process is decentralised, meaning it offers a viable alternative to the likes of Amazon Web Services.


Although not directly a Metaverse token, Ankr does fulfil an essential role in this area. Ankr is entirely focused on Web3 development (the transition of the web to the blockchain), which will mean that the platform will be involved in minting NFTs and transferring crypto through the Ankr Protocol. This protocol will essentially allow Metaverse projects to connect, which is crucial to the growth and proliferation of this area. Although Ankr may not be as exciting as game-based tokens, it provides a much-needed service, which makes it a valuable Metaverse coin to consider.
10. Illuvium (ILV) – Best Metaverse Crypto Game for 2022
Similar to Axie Infinity and The Sandbox, Illuvium is a blockchain-based video game that will be released next year. Built on the Ethereum blockchain, players can collect in-game items and complete quests with other players throughout the game's virtual world. The platform's native coin, ILV, will be rewarded to users who complete specific tasks and will derive its value from the game's popularity.


Aside from earning ILV as a reward, users can also earn ILV by staking their holdings in the Illuvium Vault. Furthermore, ILV holders can have a say in the platform's governance via the Illuviam Decentralised Autonomous Organisation (DAO). Although the game may appear similar to other blockchain-based games, Illuvium is set to have extensive customisability and classes for in-game characters, which will set it apart from some other options. At present, ILV is up 178% since it was listed on Binance earlier this year and is trading at $1125.
11. Somnium Space (CUBE) – Metaverse Platform Backed by the Winklevoss Twins
According to Gemini, Somnium Space is a virtual reality world built on the Ethereum blockchain that allows users to buy plots of land and construct houses and other in-game items. The thing that differentiates Somnium Space is that users are not divided into different servers – all users are located in the same world. Much like other blockchain games, users can tokenize their in-game assets and then monetise them through the game's marketplace. Notably, through their platform Gemini, the Winklevoss Twins have a considerable stake in Somnium Space, which adds to the platform's credibility.

The token that underpins the entire world is called CUBE, an ERC-20 token. CUBE is used to pay for various transactions within the Somnium Space ecosystem, whilst PARCELs are NFT's that relate to a specific piece of land within the game world. Players can also mint their own full-body VR avatars using CUBE – and can also purchase other players' avatars if they wish. Finally, Somnium Space has an innovative Karma system that measures how other players perceive one another. Players with great Karma will earn CUBE rewards, incentivizing them to conduct themselves appropriately in the world.
12. Gala (GALA) – Metaverse Crypto Game Developer with Huge Potential
Finally, we have Gala. Gala is a blockchain-based game developer that develops games based on the play-to-earn model. There is currently only one game available from Gala, called Town Star, although numerous others are in development. The developer's native token, GALA, recently got listed on Coinbase, which added to its hype.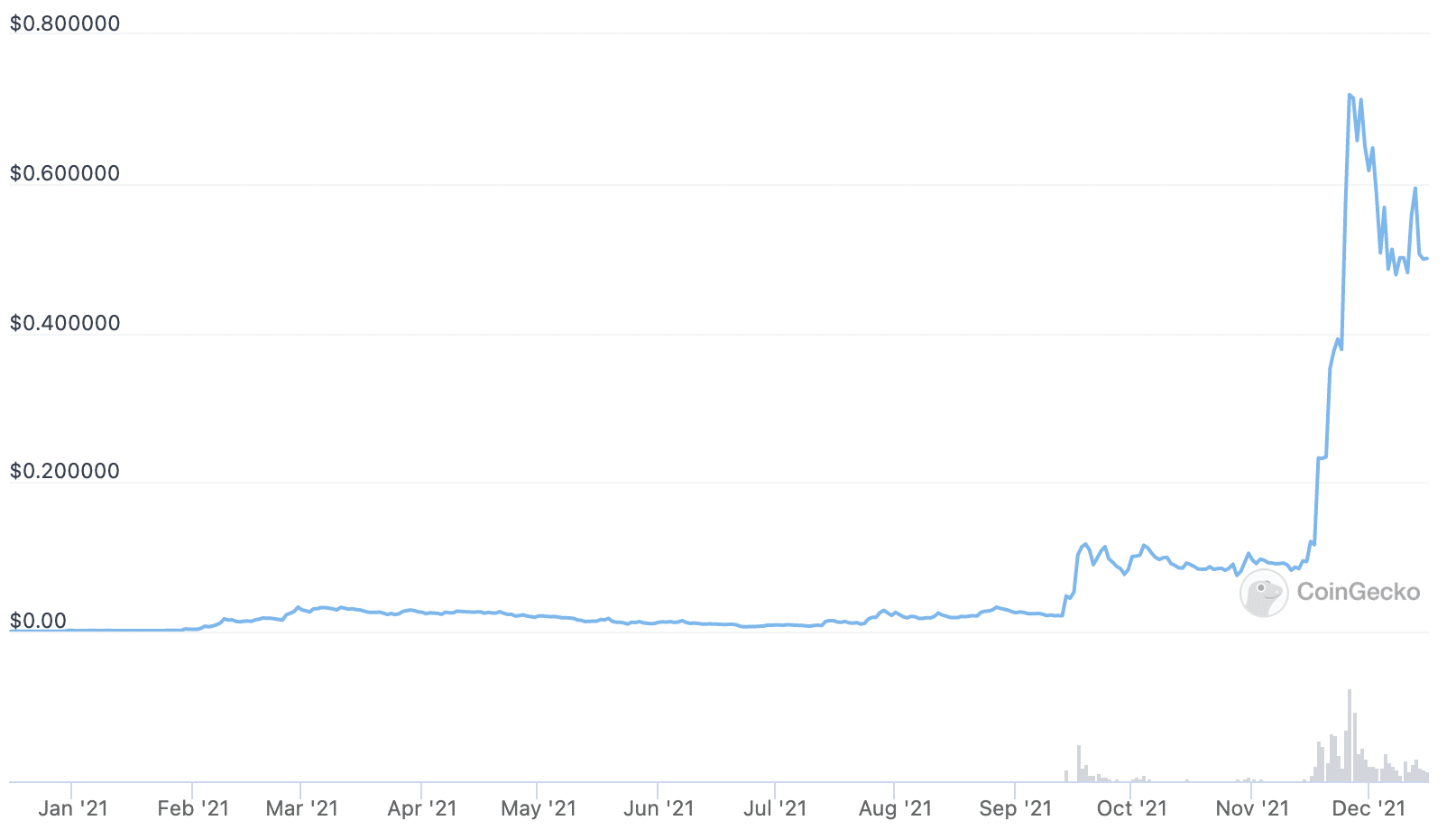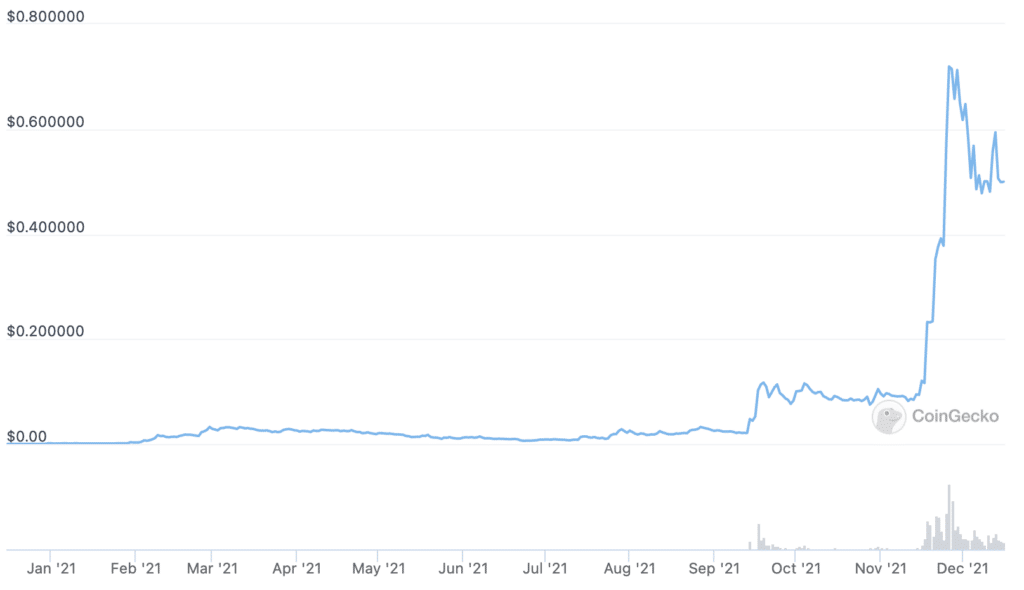 Town Star has over 600 million players and has recently allowed players to run nodes, which provide returns (much like staking). The Gala team has extensive experience in the gaming industry, and they constantly engage with the community through social media and Discord. Finally, Gala has already secured lucrative partnerships with popular platforms such as Polygon and Flare – meaning 2022 could be a big year for this developer.
What are Metaverse Coins?
As defined by The New York Times, the Metaverse refers to various virtual experiences, environments, and assets hosted online. More specifically, crypto Metaverses are virtual worlds that leverage blockchain technology to create economies where users can exchange items and monetize in-game assets. As such, the Metaverse combines the realms of video games, cryptocurrency, and economics to create a new and exciting experience.
Many crypto platforms, such as Decentraland and Axie Infinity, have pounced on this opportunity and developed their own worlds where users can create characters and mint in-game items that users can sell for crypto. These games are known as 'play to earn' and allow users to monetize their creativity. Many Metaverse platforms are hosted on Ethereum's blockchain, making it exceptionally valuable as this area of crypto continues to grow.
The History of Metaverse Tokens
The concept of 'the Metaverse' has existed long before cryptocurrency was a thing, dating back to the 1980s and 1990s when books and movies discussed it. However, the emergence of online worlds such as Runescape sped up the growth of Metaverses and culminated in the launch of NFT characters called 'Cryptopunks' in 2017. This caused NFTs to become popular and led to the launch of Decentraland, the first proper blockchain-based world. Since Decentraland launched, more and more cryptos have sprung up, and there are now tens (if not hundreds) to choose from.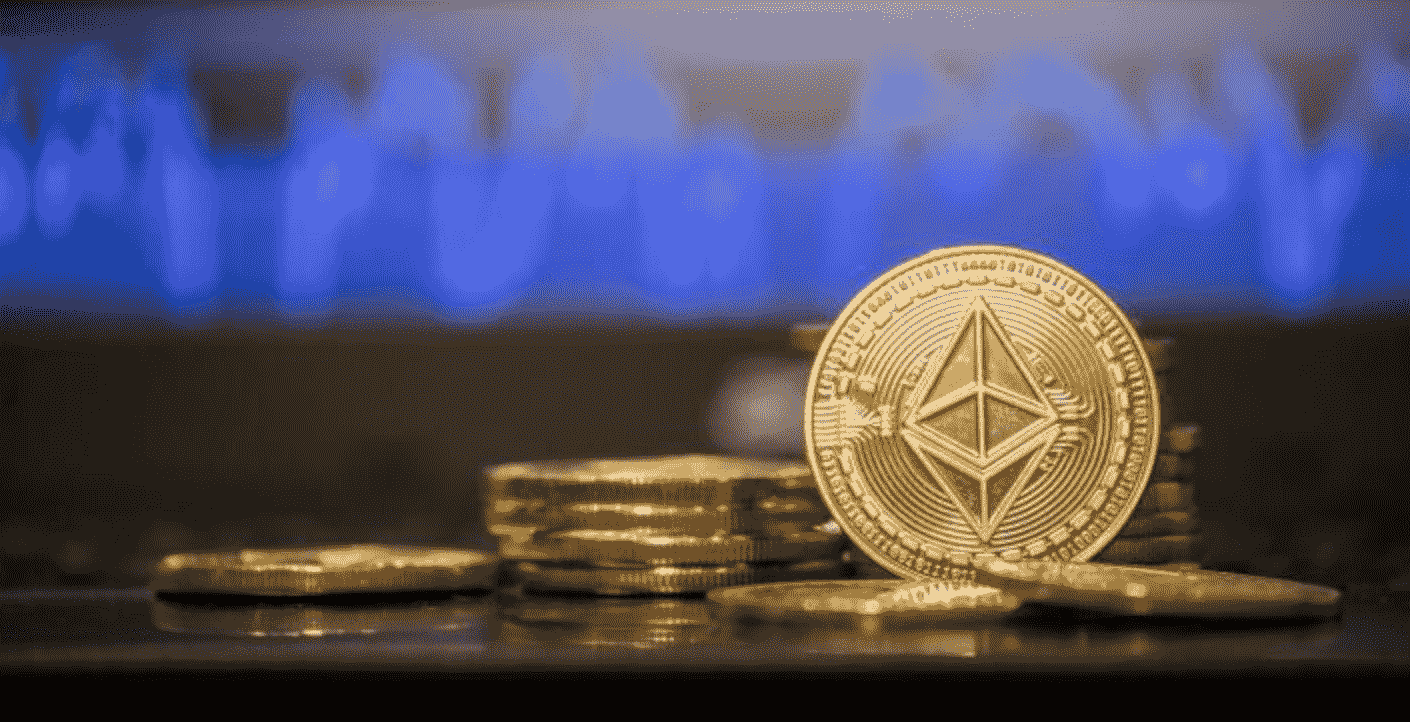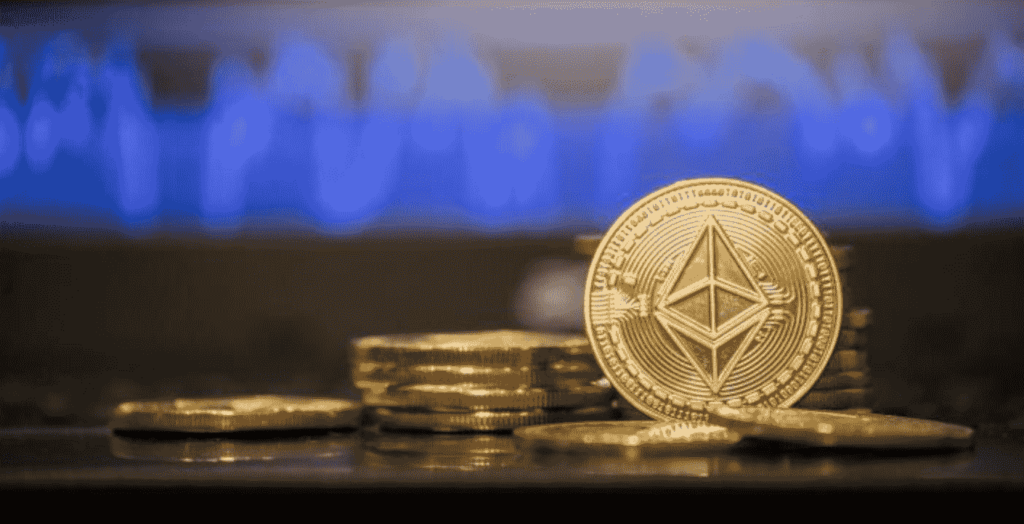 Are Metaverse Coins a Good Buy?
So, is it a good idea to buy Metaverse coins? To help answer this question, let's look at three reasons why these coins could be a good investment:
Growth of NFTs: NFT marketplaces are becoming increasingly popular, with numerous brands launching that are attracting huge investment. By investing in Metaverse coins, you'll gain exposure to this growing movement, which shows no signs of stopping.
Increasing Digitisation: Virtual worlds look likely to change how specific industries operate, with areas such as social media and advertising already showing signs of transitioning into the Metaverse. As more enterprises consider the benefits, we'll likely see big moves in many major Metaverse coins.
Transition to Crypto: Finally, the entire financial ecosystem is beginning to transition towards crypto, with areas such as DeFi changing the whole landscape. As such, Metaverse coins will likely continue to rise in value – and may even rival FIAT currencies in the years ahead.
Where to Invest in Metaverse Coins
Now that you have an idea of your options in the market, let's discuss how to invest in Metaverse crypto. If you're interested in cryptocurrency trading UK, you'll need to sign up with a reputable broker or exchange before being able to place trades.
Buy Metaverse Crypto UK
In summary, Metaverse crypto is an exciting area within the cryptocurrency ecosystem and could shake up entire industries in the years ahead. By researching and considering an investment into this area today, you'll provide yourself with a good chance of riding the wave of adoption as the Metaverse continues to grow.
FAQs
What is Metaverse crypto?
What are the best Metaverse coins?
How do I invest in Metaverse crypto?