Best Crypto Lending Platforms 2023 – With Highest Interest Rates
Fact Checked
Everything you read on our site is provided by expert writers who have many years of experience in the financial markets and have written for other top financial publications. Every piece of information here is fact-checked.
Disclosure
Please note that we are not authorised to provide any investment advice. The information on this page should be construed for information purposes only. We may earn commissions from the products mentioned on this site.
Crypto lending is a new application of decentralized finance that is taking the cryptocurrency world by storm. Crypto lending platforms enable you to loan out your cryptocurrency to other investors, developers, or platforms in exchange for interest. So, it's possible to earn money from your crypto holdings regardless of what is happening to crypto prices from day to day.
In this guide, we'll review the 5 best crypto lending platforms in the UK for 2022. We'll also explain how crypto lending works and show you how to get started today.
Key Takeaways on Crypto Lending
Did you know that obtaining a crypto loan is typically simpler than receiving a conventional loan from a centralized bank?
Crypto-hungry investors are HODLing their crypto assets in cold and hot storage waiting for market prices to appreciate.
With crypto lending, traders can make their cryptocurrencies work for them by earning interest on their supply of digital assets.
AQRU is one of the leading crypto lending platforms in 2022 offering up to 12% interest on stablecoins, and 7% interest on ETH and BTC.
The Best Crypto Lending Platforms UK for 2022 List
Let's dive straight into the 5 best crypto lending platforms you can get started with today:
DeFi Swap – Best DeFi Lending Platform overall for 2022
AQRU – Best Crypto Lending Platform with Up to 12% APY
Crypto.com – Earn Up to 14% APY on More Than 50 Tokens
BlockFi – Top Crypto Lending Platform for Stablecoins
Nexo – Earn Up to 36% APY Paid Out Daily
YouHodlr – Simplified Crypto Lending Across 50 Coins
While not on our top five list, another popular crypto lending provider is Celsius. Read our Celsius review to find out how you could earn up to 17% APY on your cryptocurrencies.
Top Crypto Lending Sites in the UK Reviewed
Want to learn more about the best crypto lending platforms? We've put together short reviews of each of the top 5 sites so you can find out what they offer and decide which platform is right for you.
1. DeFi Swap – Best DeFi Lending Platform overall for 2022
DeFi Swap is currently the best DeFi lending platform to consider. Through the newly launched platform, users can now buy and sell digital currencies without relying on third parties.
Additionally, DeFi Swap offers various lending services that provide an attractive APY on idle tokens. The platform has a crypto yield farming option where you can select what type of interest rate you want based on the type of token you wish to lend.
Furthermore, DeFi Swap lets you choose a lock-up period of your choice. The longer you keep your tokens locked away, the more interest you will receive. For example, using the platform's native cryptocurrency – DeFi Coin – as a loan, you could earn 30% APY on a 30-day term.
If you choose the maximum lock-up term of 365 days, your APY will increase to 75%. You can also choose 90-day (45%) or 180-day (60%) terms. Regardless of the token, you wish to lend out, DeFi Swap will return your principal amount and earned interest once the term ends.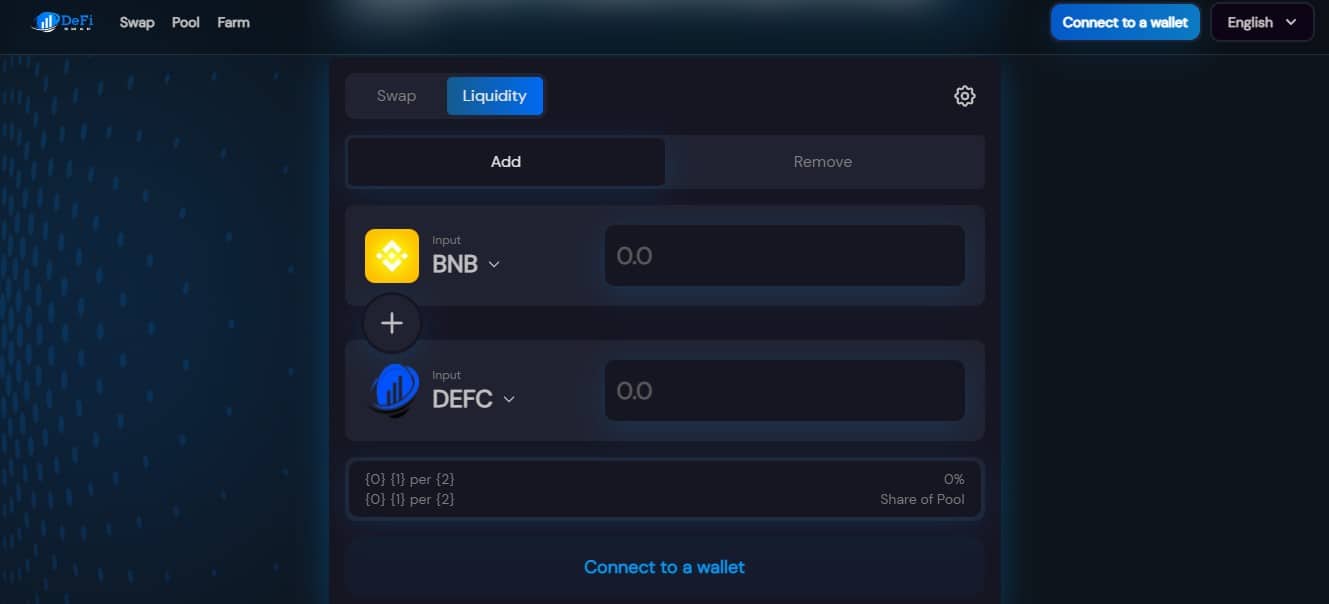 Another option is to provide liquidity to the DeFi Swap exchange. As a result, you earn a share of the trading fees that the platform collects. DeFi lending services use transparent and immutable smart contracts to execute and maintain their services.
Platforms backed by a centralized operator cannot claim to be proponents of DeFi. Therefore, to begin using this top-rated lending platform, you must connect your wallet to the DeFi Swap website.
MetaMask and WalletConnect are supported – and the latter enables you to use Trust Wallet. Soon, DeFi Swap plans to launch an iOS/Android mobile app and an NFT marketplace.
DeFi Coin is available for only one dollar and currently has more than 6000 members in its official Telegram group, making it a safe and famous cryptocurrency.
| | |
| --- | --- |
| Maximum Interest Rate | Fees |
| 75% APY | 10% buy and sell fee |
Pros
The best DeFi lending platform on the market
High yields available
The best DeFi app on the market
Provides crypto yield farming and liquidity support
Smart contracts power the platform, which is 100% decentralized
Coming soon: NFT marketplace and mobile app
Powered by top-rated growth crypto token DeFi Coin
The high APY when holding DEFC makes it a leading platform for staking DeFi
Cons
Not as well established as other DeFi lending platforms
Cryptoassets are highly volatile unregulated investment products. No EU or UK Protection.
2. AQRU – Best Crypto Lending Platform with Up to 12% APY
AQRU is the best Bitcoin lending platform in the UK in 2022. With this platform, you can lend out Bitcoin, Ethereum, Tether, USD Coin, and DAI at rates up to 12.0% APY. Each coin has its own risk profile and interest rate, so it's easy to make a mix-and-match portfolio that draws in variable rates. AQRU never locks in your money, so you're free to withdraw crypto or reallocate your portfolio at any time.
One of the most exciting things about AQRU is that this platform allows you to go from fiat to crypto lending in a single step. You can make a deposit by credit card, debit card, or bank transfer and the platform will use MoonPay to convert your funds to crypto automatically. There are no extra deposit fees for using fiat and no withdrawal fees when you get paid out in fiat. Of course, AQRU also accepts crypto deposits in any of the 5 cryptos it supports.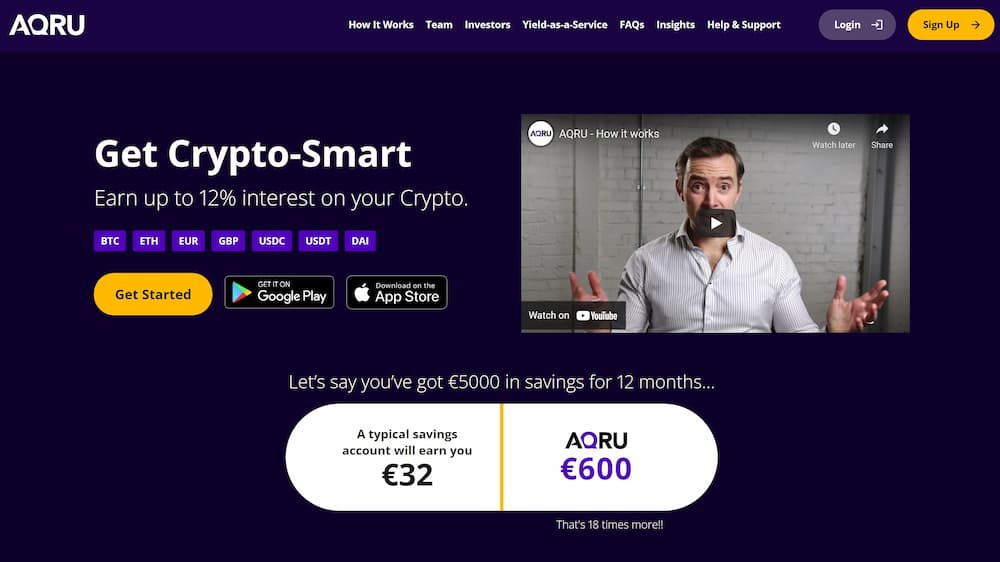 AQRU is very simple to use and offers a mobile app so you can manage your crypto lending on the go. Interest is paid out daily, which means that you can start compounding quickly. You can even monitor how much interest you're earning on an hourly basis, making the money you earn feel that much more tangible.
Check out our full AQRU review for more information.
| | |
| --- | --- |
| Maximum Interest Rate | Fees |
| 12.0% APY | None |
Pros
Earn up to 12.0% APY
Deposit fiat currency or crypto
No deposit or withdrawal fees for fiat
Interest is paid out daily
Cons
Only supports lending for 5 cryptos
Cryptoassets are highly volatile unregulated investment products. No EU or UK Protection.
3. Crypto.com – Earn Up to 14% APY on More Than 50 Tokens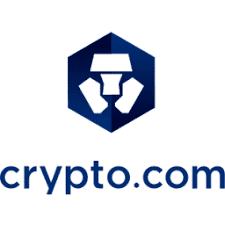 Crypto.com is one of the best crypto lending companies for earning interest on altcoins. That's because this lending platform accepts more than 50 tokens and offers up to 14.0% APY for USD Coin. Bitcoin and Ethereum each earn 8.5% APY at Crypto.com.
One thing we especially like about Crypto.com is that you can choose a flexible loan period or lock in your crypto for 1 or 3 months. Locking in your crypto earns you higher rates, but there are penalties if you decide to withdraw early.
One thing to note is that Crypto.com reserves its best Bitcoin lending rates for users who also stake at least $4,000 in CRO, Crypto.com's native cryptocurrency token. A simple calculator lets you figure out how much you could earn with Crypto.com for lending out different coins with different lock-in periods and CRO stakes. As for AQRU, it's relatively easy to build a diversified crypto portfolio with many different coins and interest rates.
Crypto.com pays out interest on a weekly basis, and you can monitor your earnings either online or through the Crypto.com mobile app. The app integrates with Crypto.com's exchange and other offerings, including a crypto-back rewards credit card, so it's a one-stop platform for everything crypto.
Check out our full Crypto.com review for more information.
| | |
| --- | --- |
| Maximum Interest Rate | Fees |
| 14.0% APY | None |
Pros
Lend 50+ cryptocurrencies
Earn up to 14.0% APY
Get higher rates by locking in your crypto
Excellent mobile app and other offerings
Cons
Must stake CRO for best crypto lending rates
Cryptoassets are highly volatile unregulated investment products. No EU or UK Protection.
4. BlockFi – Top Crypto Lending Platform for Stablecoins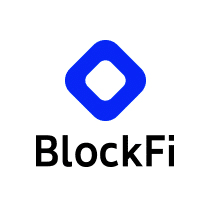 BlockFi is another one of the top Bitcoin lending platforms in the UK right now. BlockFi specializes in stablecoin lending, offering interest on coins like USDC, GUSD, PAX, USDT, and BUSD. Of course, BlockFi also supports lending for ultra-popular cryptocurrencies like Bitcoin and Ethereum.
BlockFi's interest rates top out at 8.75%, so it doesn't have the best Bitcoin lending interest rates we've seen. In addition, the rates are tiered such that you earn most of your interest on your first 1-2 Bitcoin or Ethereum. Account balances beyond that earn diminishing rates.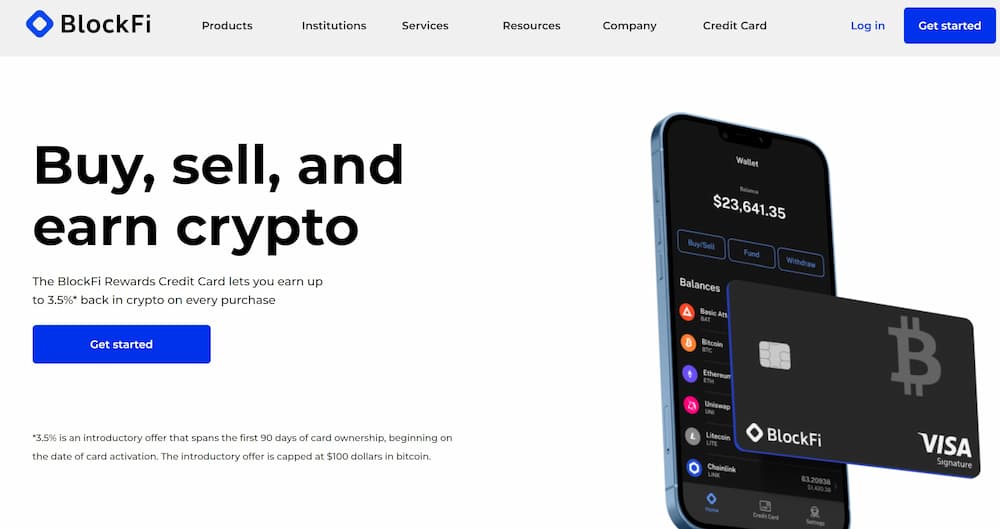 This makes BlockFi suitable for crypto investors with relatively small holdings, but it can be a turn-off if you have a lot of crypto you want to lend. The good news is that BlockFi doesn't charge any fees for its crypto savings accounts.
In addition, there's a lot to like about the BlockFi crypto ecosystem, of which the lending service is just one part. BlockFi also has a rewards credit card, a cryptocurrency exchange, investment-grade products, and an integrated crypto wallet.
| | |
| --- | --- |
| Maximum Interest Rate | Fees |
| 8.75% APY | None |
Pros
Supports a wide range of stablecoins
No fees for interest accounts
Earn up to 8.75% APY
Rewards credit card and investment products available
Cons
Interest rates diminish as your account balance grows
Cryptoassets are highly volatile unregulated investment products.
5. Nexo – Earn Up to 36% APY Paid Out Daily

Nexo crypto lending is designed for aggressive investors who want to squeeze the highest possible interest rates out of their crypto. With Nexo, you'll find promotional rates up to 36% APY for Axie Infinity and 20% APY for Terra. Regular interest rates reach up to 16% APY for Polygon and 15% APY for Polkadot.
Nexo offers lending on 32 cryptocurrencies in all, and it pays out interest daily on all of them. That means you get to take advantage of these high Bitcoin lending rates with daily compounding growth.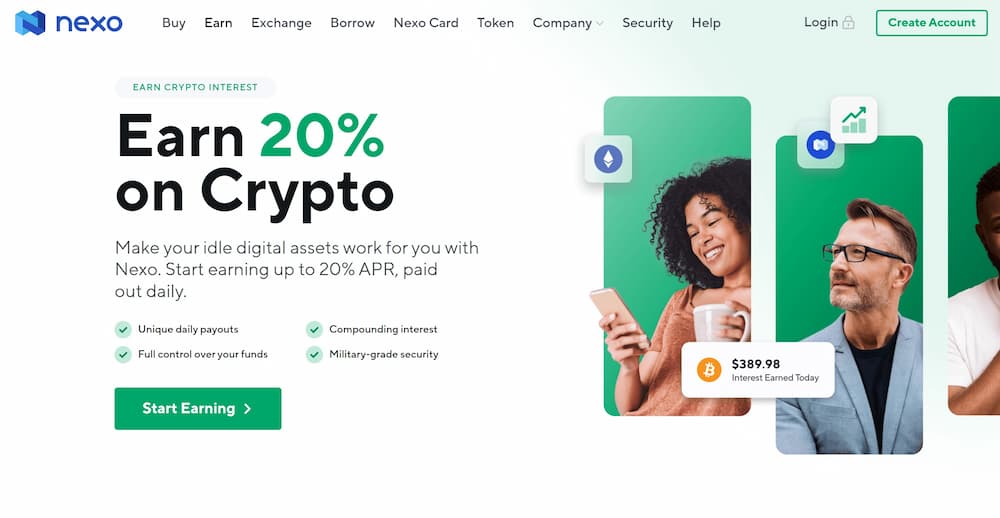 One important thing to keep in mind about Nexo, though, is that all interest is paid out in NEXO tokens – not in the cryptocurrency that you loan out. This can be a good thing if you like the NEXO token, but it does mean you'll incur swap fees if you want to switch back to another crypto.
Nexo crypto lending accounts are fee-free and the platform uses mutli-layered insurance to protect clients' funds. To date, the Nexo has paid out more than £170 million in interest. For more details read our full Nexo review as well.
| | |
| --- | --- |
| Maximum Interest Rate | Fees |
| 36.0% APY | None |
Pros
Promotional rates up to 36% APY
Regulare rates up to 16% APY
Daily interest payouts
No fees for lending
Cons
All interest payments are in NEXO
6. YouHodlr – Simplified Crypto Lending Across 50 Coins

YouHodlr is another one of the best Bitcoin lending sites in the UK today. It allows you to lend across 50 different coins, tying it with Crypto.com when it comes to versatility. The top rate of 12.3% APY is available for Tether, while USD Coin earns 12.0% APY and Bitcoin earns 4.8% APY.
YouHodlr has a few features that make it unique. First, you can use crypto in your savings account as collateral for crypto loans. This is a big deal because it means you can effectively use your crypto twice – once to earn interest, and again as collateral for a loan – all from the same account.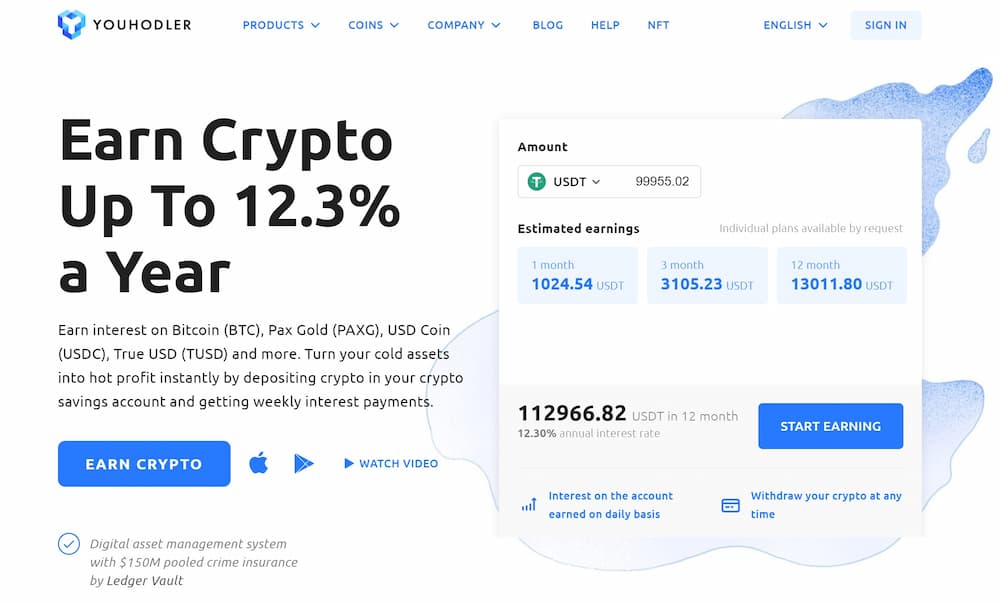 In addition, YouHodlr offers completely flexible loan periods, so you're free to reallocate your portfolio or withdraw your funds at any time. Crypto interest is paid out weekly, so there's no delay for generating compound interest.
One other thing we like about YouHodlr is that it has a $150 million insurance policy. That provides a lot of peace of mind when lending through the platform, since you can be confident that your funds are covered in the event of a hack.
| | |
| --- | --- |
| Maximum Interest Rate | Fees |
| 12.3% APY | None |
Pros
Lend across 50 different coins
Interest up to 12.3% APY for Tether
Use crypto savings as collateral for a loan
$150 million loss insurance policy
Cons
No lock-in options for higher rates
Best Bitcoin Lending Platforms UK Compared
Want to know more about how the top crypto lending platforms stack up? The table below shows crypto lends and interest rates at each of the best lending sites.
| | | |
| --- | --- | --- |
| | Tokens for Lending | Maximum Interest Rate (APY) |
| AQRU | BTC, ETH, USDT, USDC, DAI | 12.0% |
| Crypto.com | CRO, USDT, USDC, TUSD, DAI, BUSD, HUSD, BTC, EURS, ETH, LINK, UNI, COMP, MKR, SUSHI, YFI, SNX, OMG, PAXG, DOGE, LTC, XRP, XLM, ZRX, BNT, BNB, ADA, DASH, TRX, EOS, BCH, AAVE, DOT, HT, XTZ, BAT, USDP, REP, AVAX, BTT, 1INCH, FTT, NEAR, ZIL, FIL, ATOM, SRM, FTM, LUNA | 14.0% |
| BlockFi | BTC, LTC, ETH, LINK, USDC, GUSD, PAX, PAXG, UDST, BUSD, DAI, UNI, BAT | 8.75% |
| Nexo | USDT, USDC, DAI, USDP, TUSD, UST, USDX, EURX, GBPX, BTC, ETH, NEXO, AXS, FTM, MATIC, DOT, LUNA, AVAX, KSM, ATOM, BNB, ADA, SOL, XRP, LTC, LINK, BCH, XLM, TRX, EOS, PAXG, DOGE | 36.0% |
| YouHodlr | USDT, USDC, TUSD, DAI, BUSD, HUSD, BTC, EURS, ETH, LINK, UNI, COMP, MKR, SUSHI, YFI, SNX, OMG, PAXG, DOGE, LTC, XRP, XLM, ZRX, BNT, BNB, ADA, DASH, TRX, EOS, BCH, AAVE, DOT, HT, XTZ, BAT, USDP, REP, AVAX, BTT, 1INCH, FTT, NEAR, ZIL, EGLD, CAKE, FIL, ATOM, SRM, FTM, LUNA | 12.3% |
How Does Crypto Lending Work?
Crypto lending works similarly to traditional lending. Individuals who buy cryptocurrency can make those funds available to a crypto platform, which takes the role of a traditional bank. The platform then loans that crypto out to other investors, developers, or platforms in exchange for interest. The lending platform keeps some of the interest as a fee, but passes the rest on to the original cryptocurrency owner.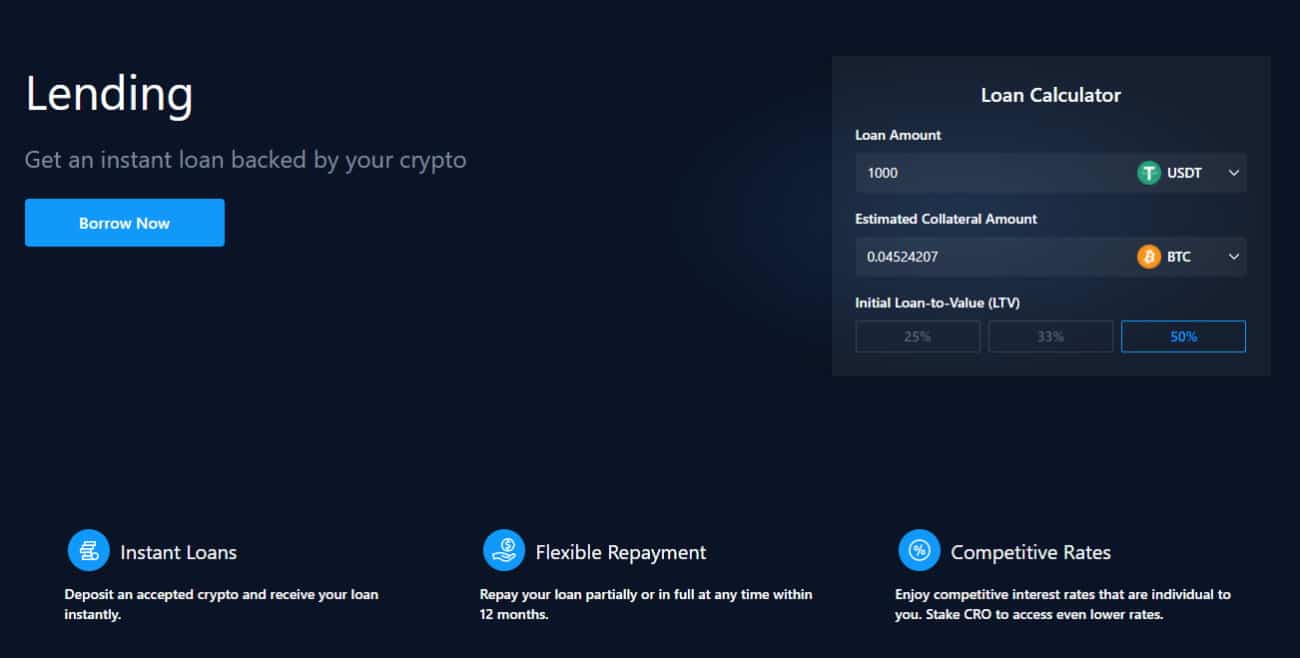 The advantage to lending out crypto is that you can earn interest. Interest rates for cryptocurrencies can be hundreds of times higher than savings account interest rates for lending out pounds.
Notably, many lending platforms, including AQRU, don't require you to commit to a specific loan period. You can withdraw your crypto at any time without penalties or fees. Other sites, like Crypto.com, offer the option to lock your crypto into 1- or 3-month lending periods in exchange for higher rates.
For crypto traders looking to leverage their NFTs, you might want to read our best NFT lending platforms guide right now.
Types of Cryptocurrency Lends
There are several different ways to lend out cryptocurrency. Here, we'll take a closer look at the most popular methods and explain how they differ.
Lending Crypto From a Site
All of the crypto lending platforms that we reviewed fall into the category of lending crypto from a site. These platforms hold your crypto in a custodial account and lend it out on your behalf. They take a cut of the interest that borrowers pay, but you don't have to do any of the hard work of finding borrowers and coordinating payments.
Lending crypto from a site is beginner-friendly, and interest rates can be quite competitive.
Lending Crypto to a Platform
Lending crypto to a platform is more frequently called staking. With this type of crypto loan, you are committing your cryptocurrency as the stake required to validate new transactions on a crypto blockchain. As transactions are validated, the blockchain releases rewards – newly minted coins. A portion of this blockchain reward is returned to you as interest for your staking.
Staking typically requires you to lock your cryptocurrency for several days or weeks at a time. If you withdraw your crypto before the end of the lock-in period, you will not receive interest payments. In general, staking is best if you want to earn more of a specific cryptocurrency, which makes sense if you think the value of a coin will go up in the future.
Peer-to-Peer Crypto Lending
Peer-to-peer Bitcoin lending involves loaning your crypto directly to another individual. This is one of the riskiest types of crypto lending, since if the borrower defaults you have little recourse to get your money back. The advantage of peer-to-peer crypto lending is that it offers some of the best crypto lending rates available. In fact, it's one of the highest yield investments available.
There are several decentralized lending exchanges where you can find potential borrowers and set up laon repayments.
Bitcoin Lending Interest Rates Explained
One of the key things to consider when comparing Bitcoin lending platforms as well as which coins to lend is what rate you'll get. Crypto lending rates can vary widely between lending platforms, and they can change over time as demand for borrowing crypto goes up and down.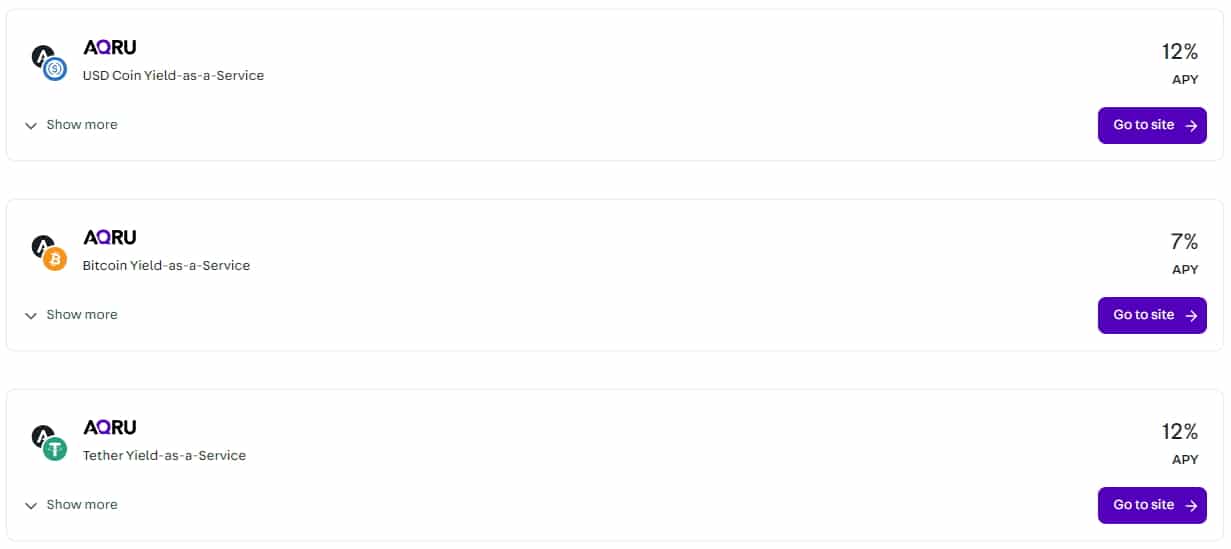 Typically, crypto lending rates are measured in APY, or annual percentage yield. This number reflects the gain you'll receive in interest on your crypto if you were to lend it out for a full year. If you lend your crypto out for less time, you'll receive a fraction of the APY.
What Cryptocurrencies Can Lend?
Not all cryptocurrencies can be loaned out. Lending platforms typically work with popular coins for which there is strong demand. More demand for a coin means that more investors and developers will want to borrow it, which pushes interest rates higher – a win for both the lending platform and anyone who is lending out their crypto.
At the same time, top crypto lending platforms want to cater to a wide range of altcoins. Altcoins have huge growth potential, and investors often want to earn interest on them to realize a profit without selling. As a result, sites like Crypto.com and YouHodlr now each offer lending on 50 different cryptos.
Some of the most popular cryptocurrencies for lending include:
Ethereum
Tether
USD Coin
PAX USD
Maker
Uniswap
Chainlink
Avalanche
Tezos
Cosmos
Terra
Check out the table above for a full list of coins available at each lending site.
How to Lend Cryptocurrency UK
Ready to lend out your cryptocurrency for interest? We'll show you how to get started with AQRU, our top-rated site for lending Bitcoin and more in 2022.
Step 1: Sign Up for AQRU
Head to AQRU.io and click Sign Up to create a new lending account. Enter your email and select a password, then click Create Account.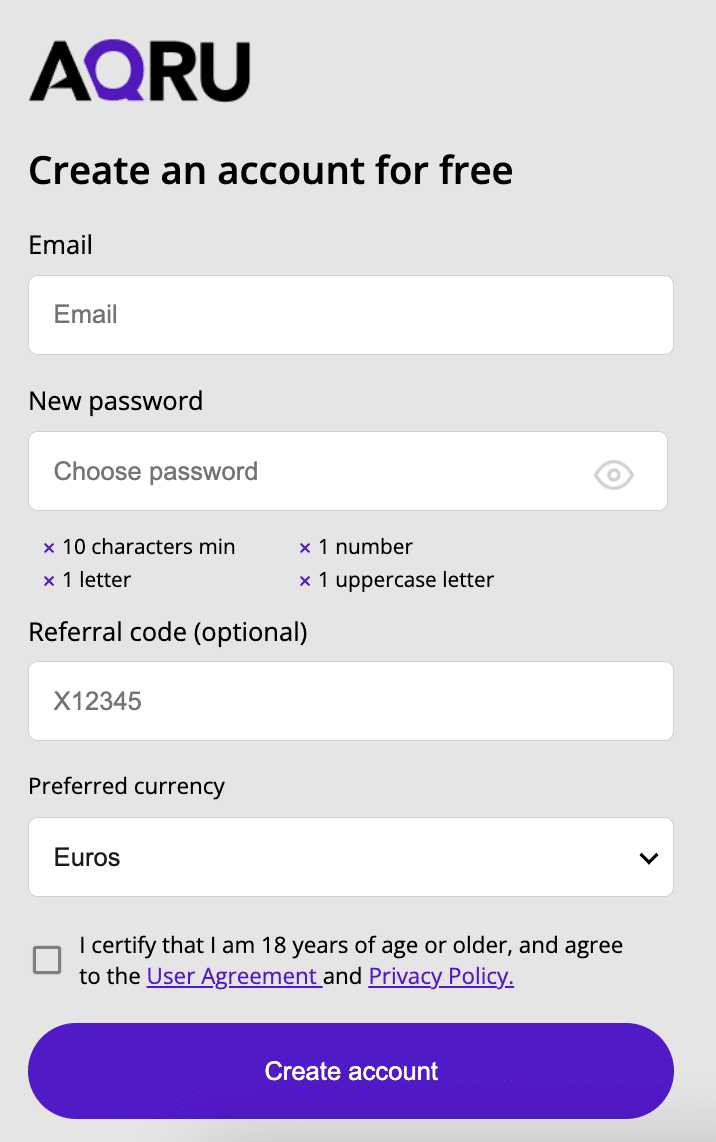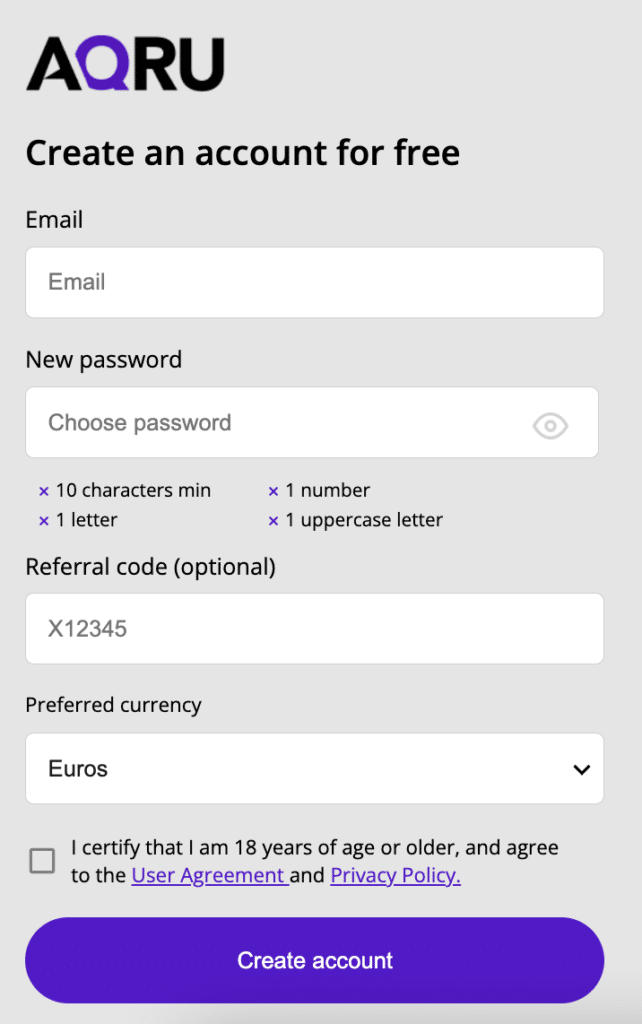 Cryptoassets are highly volatile unregulated investment products.
Step 2: Make a Deposit
AQRU accepts fee-free deposits by credit card, debit card, bank transfer, or crypto. Select your deposit method and enter the amount you want to deposit. If you are depositing crypto, you will need to initiate a transfer from your crypto wallet.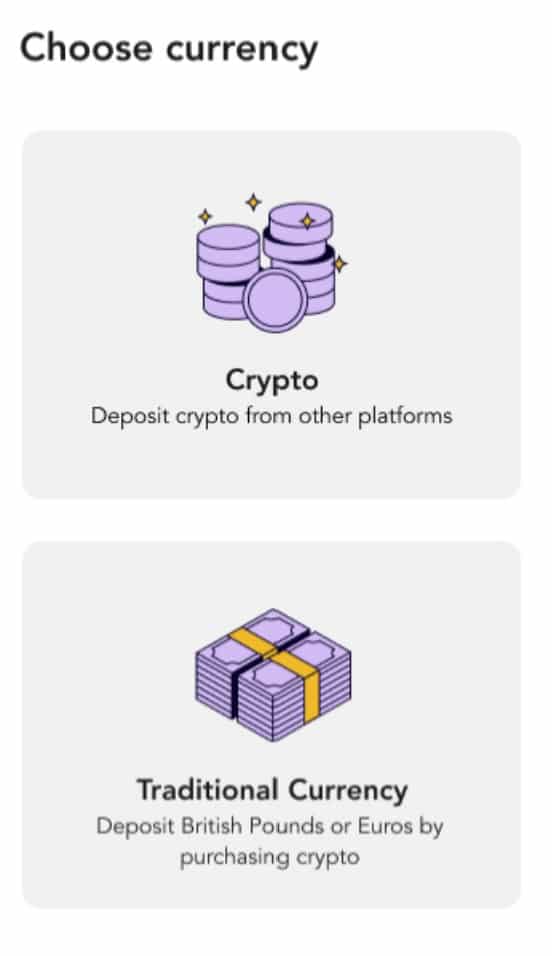 Step 3: Lend Crypto
Now you're ready to lend out your crypto with AQRU. Select the coin you'd like to lend out based on the displayed interest rates, and choose how much you'd like to lend. Keep in mind that AQRU enables you to lend multiple coins, so you can create a portfolio of crypto lends with different interest rates and risk profiles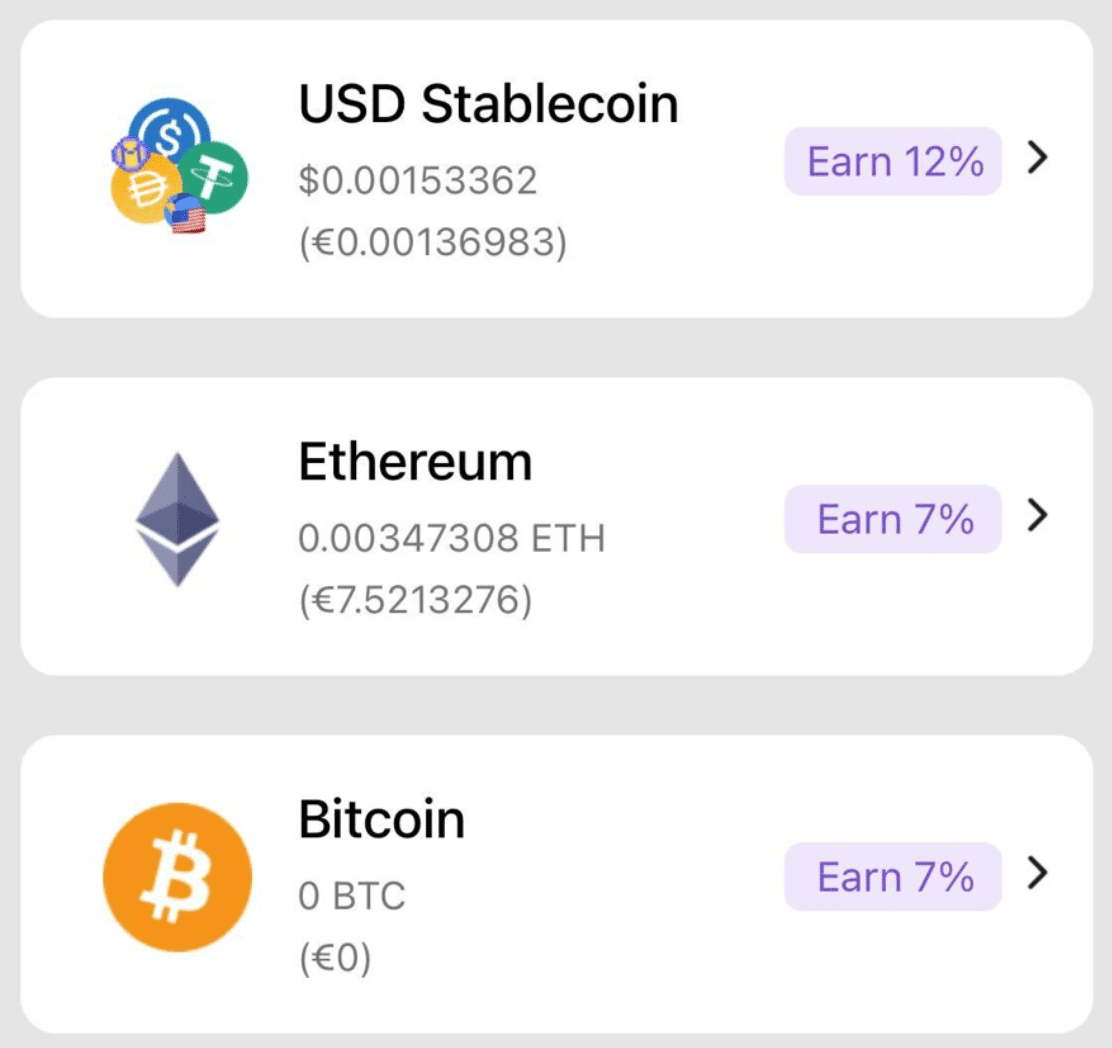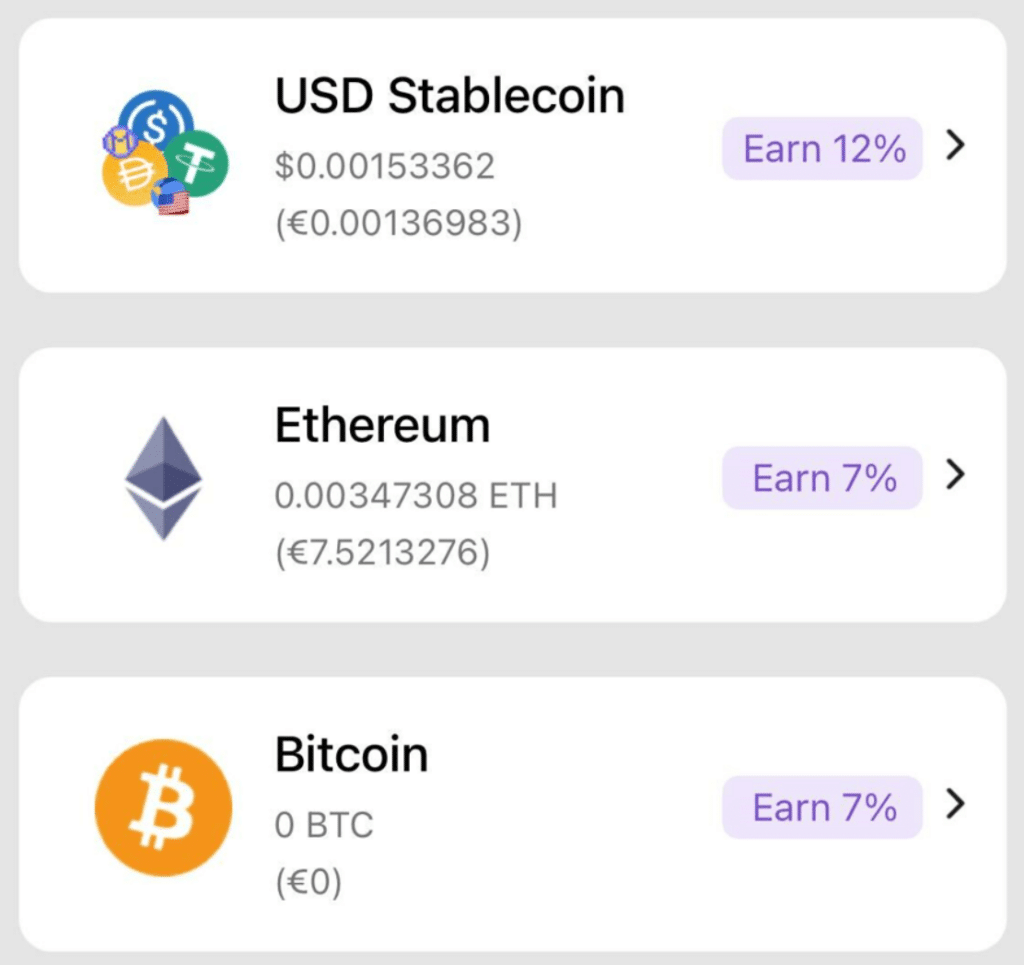 Is it Safe to Lend Crypto?
Lending crypto is relatively safe, although it should not be considered as safe as traditional fiat lending through a bank. Unlike savings accounts, crypto lending accounts are not protected by the Financial Services Compensation Scheme.
That said, the best crypto lending platforms go to great lengths to protect your funds. Most use secure crypto wallets to store clients' funds throughout the lending process. Platforms like AQRU also have insurance policies to replace your money in the event of a hack or other loss.
It's also important to keep in mind that you can lose money while lending out crypto. Repayments are not guaranteed, and you can lose some or all of your principle if lenders default – this is especially the case for peer-to-peer Bitcoin lending, in which you are dependent on a single borrower to make repayments. The price of the coins you are holding can also drop, causing you to lose money even if you are still earning interest on your crypto loan.
Conclusion
Crypto lending companies make it easy to earn interest on your cryptocurrency holdings. With the 5 best crypto lending platforms in the UK, you can start putting your crypto to work for you today.
We especially recommend AQRU, which accepts fiat deposits and offers rates up to 12.0% APY. Get started today at AQRU.io.
Cryptoassets are highly volatile unregulated investment products.
Frequently Asked Questions on Crypto Lending
How does crypto lending work?
Which is the best platform for lending crypto?
Is lending Bitcoin profitable?
How can I make passive income with crypto lending?