Best Japan ETF UK to Watch
Fact Checked
Everything you read on our site is provided by expert writers who have many years of experience in the financial markets and have written for other top financial publications. Every piece of information here is fact-checked.
Disclosure
Please note that we are not authorised to provide any investment advice. The information on this page should be construed for information purposes only. We may earn commissions from the products mentioned on this site.
Exchange-traded funds (ETFs) have become one of the popular trading means in exchanges recently. They are collections of investment funds and products such as bonds, commodities, shares, and others.
This article will review some popular Japan ETFs in the U.K.
Popular Japan ETFs in 2022 List
Here are some Japan ETFs that are available to trade in the UK.
iShares MSCI Japan ETF (EWJ)
iShares Currency Hedged MSCI Japan ETF (HEWJ)
WisdomTree Japan Hedged Equity (DXJ)
HSBC MSCI AC Far East ex-Japan UCITS ETF (HMAF)
Vanguard FTSE Japan UCITS ETF (VJPN)
Japan ETFs Reviewed
Now let's take a closer look at the popular Japanese ETFs to watch.
1. iShares MSCI Japan (EWJ)
iShares MSCI Japan has the objective of tracking an index composed of investment results of Japanese equities. Its inception was in March 1996 and has net assets of funds of about $12,898,183,105 as of November 8, 2021.
EWJ boasts of sustainability characteristics that can assist investors in inputting non-financial strategies in processing their investment. This means that investors engage in fund evaluations that depend on certain factors to make their decisions. Some of the factors include governance (ESG), environmental and social opportunities, or risks.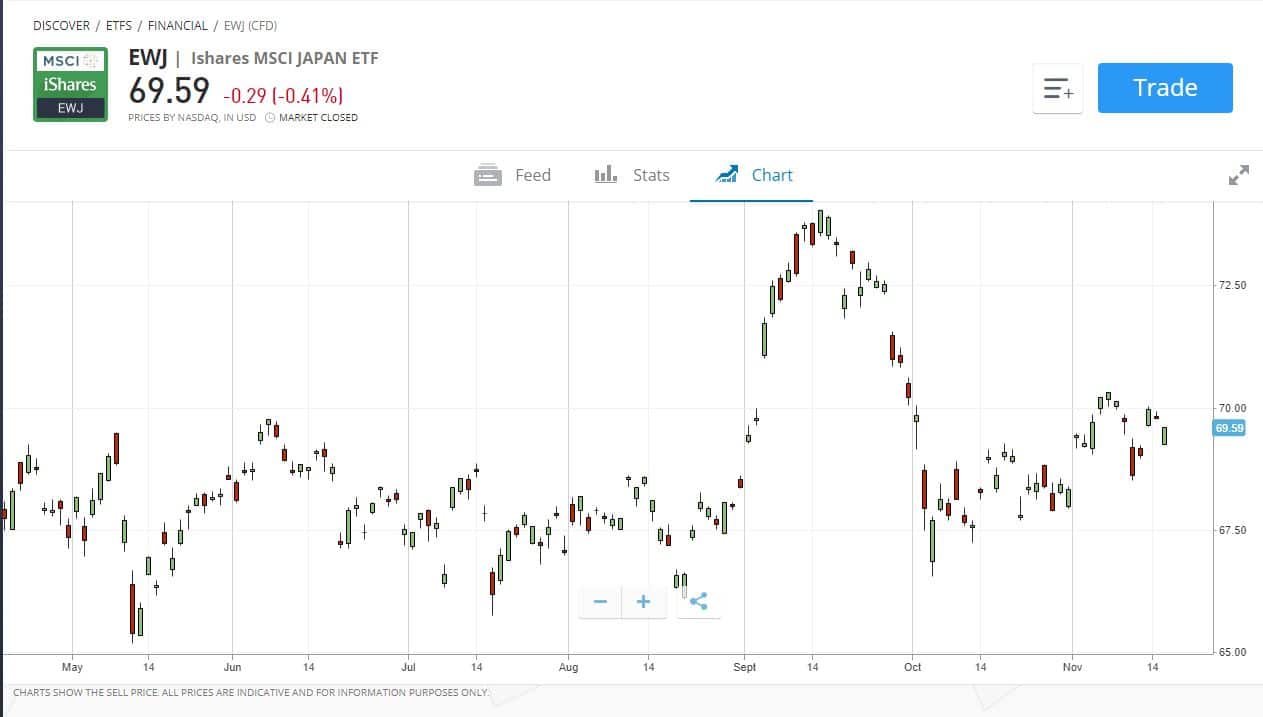 The three largest holdings of EWJ are Toyota Motor Corp, Sony Group Corp, and Keyence Corp. At the time of writing, iShares MSCI Japan ETF (EWJ) price stands at $69.63.
The performance overview of iShares MSCI Japan ETF (EWJ) for the past year is 19.22%.
Functions of EWJ:
It publicizes Japanese large and medium-sized firms.
Forms a means of displaying views within the Japanese market.
Makes the Japanese stock market quite accessible within a single trade.
2. iShares Currency Hedged MSCI Japan ETF (HEWJ)
iShares Currency Hedged MSCI Japan ETF was incepted in January 2014. Its operation inculcates a USD index that combines large and mid-cap Japanese organizations. This helps reduce influences from the constant swing in the values of USD and the Japanese yen. In addition, HEWJ engages in tracking funds to the index.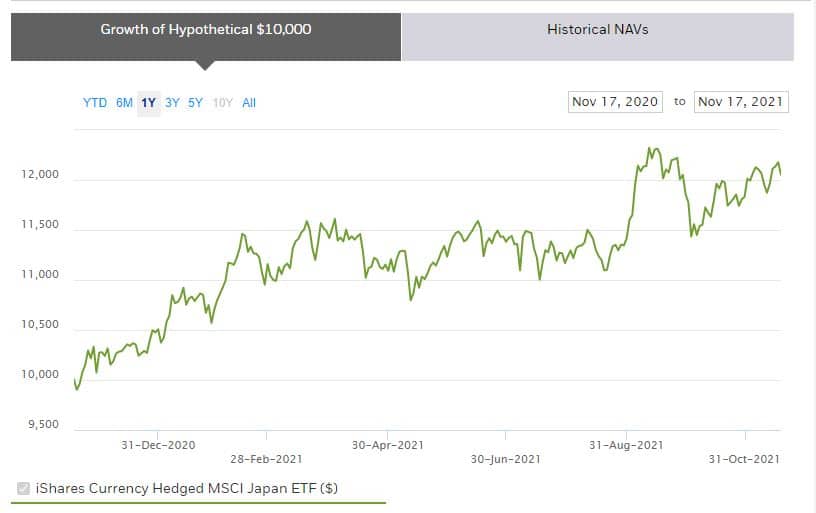 The strategy from HEWJ is through currency-hedging that eliminates exposure to the fluctuation in the Yen value. Moreover, it uses the blended approach that combines investment in stocks' growth and value for large-cap equities.
By using its assets up to 80%, this iShares Japan ETF invests within component securities as well as the underlying index instruments. Also, it engages in other investments with economic attributes similar to the underlying index's component security.
HEWJ largest three holdings are Toyota Motor Corp, Sony Group Corp, and Keyence Corp. The performance overview for this Japan ETF is 28.24%. It plummeted during the recent pandemic. The current price of the EFT at the period of writing is $40.46.
Functions of HEWJ:
Through the allocation within Japanese equities, the funds aim at reducing the influence of the Yen relating to the USD,
Addressing issues of currency risk while ensuring unwavering equity exposure via the combination of HEWJ and EWJ (the unhedged version).
Acquisition of larger exposure to diverse Japanese firms that could be profitable through Japanese stimulus policies.
3. WisdomTree Japan Hedged Equity (DXJ)
WisdomTree Japan Hedged Equity Fund was incepted in June 2006. It operates intending to publicize the Japanese equity market while shielding the swing between the Yen and USD. DXJ has the functionality of tracking.
The three largest holdings of this Japan ETF are Toyota Motor Corp, Mitsubishi UFJ Financial Group Inc., and Sumitomo Mitsui Financial Group Inc. Through the use of a currency hedging approach; the fund dismounts the effects of changes in the value of the Japanese yen.

Also, the ETF has more focus on exporters and hence displays exposure firms in Japan that pay dividends.
The industrial sector has the highest exposure to DXJ. The next follow-up is the consumer discretion as well as the financials. The funds combine growth stocks and the value of several large-cap organizations.
DXJ has its performance overview for the past one year at 32.72%. Moreover, the impact of the last global pandemic in 2020 had a drastic negative effect on DXJ. From the chart indicates, the ETF had its lowest dip in March 2020. At the time of writing this article, the price of WisdomTree Japan Hedged Equity Fund is $63.80.
Functions of DXJ:
The Currency Hedge curbs every fluctuation exposure of the Japanese yen.
Provides the means of maintaining the equity exposure of Japan as it annuals the currency fluctuation between the Japanese yen and the USD.
Through an exporter focus, it receives wider exposure of equity to companies that pay dividends in Japan.
4. HSBC MSCI AC Far East ex-Japan UCITS ETF
HSBC MSCI AC Far East ex Japan UCITS ETF takes its investments in stocks with a tilt on the Asia Pacific. It operates by reinvesting the funds' dividends which gives rise to accumulating dividends for investors.
This is one of the Japan ETFs that doubles the underlying index's performance through sampling technique. The technique deals with the purchase of most outstanding components of the underlying index to ensure repeated performance.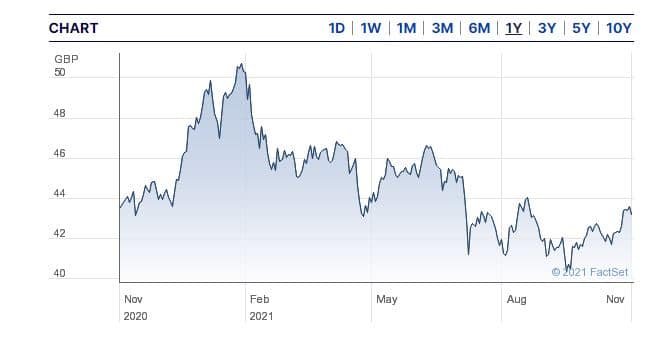 The fund is incepted in September 2013 and has more than 468 million Euro assets in its management. The biggest three holdings of this Japan ETF are Taiwan Semiconductor Manufacturing Co Ltd. Tencent Holdings Ltd, and Alibaba Group Holding Ltd.
HSBC MSCI AC Far East ex Japan UCITS ETF performance overview for one year is -1.96%. The ETF's chart shows a dip during the recent global pandemic. At the time of writing, the price of HSBC MSCI AC Far East ex Japan UCITS ETF is $57.20.
Functions of HSBC MSCI AC Far East ex Japan UCITS ETF:
The ETF tracks the broad equity markets of both developed and developing nations within the East Asia region.
5. Vanguard FTSE Japan UCITS ETF
The design of Vanguard FTSE Japan UCITS ETF is for tracking the performance of an index that combines both mid and large-cap firms in Japan. Its functionality is through the indexing investment approach that inculcates passive management for assets under it. This means that there's the physical acquisition of the securities under the control of the main index for its tracking
Also, the Vanguard Japan ETF replicates the index through its complete investment of almost all its stock assets. The investment has nearly the same proportion in weight as the underlying index.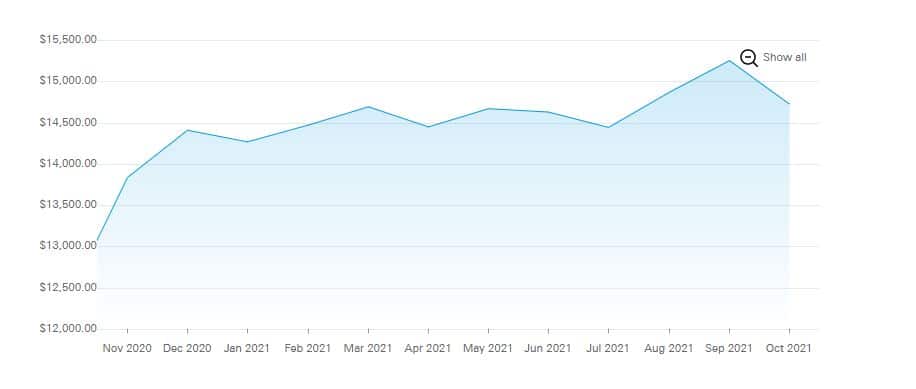 Launched in May 2013, this ETF is among Japan ETFs list that has shown meteoric growth over the years. Its performance overview for one year is 11.33%. The price of the ETF at the period of writing is 36.42%.
The biggest three holdings of this Vanguard Japan ETF are Toyota Motor Corp, Sony Group Corp, and Keyence Corp.
Functions of Vanguard FTSE Japan UCITS ETF
The ETF tracks the index performance through indexing investment.
It replicates the index by investing all its assets.
Japan ETFs Explained
Japan ETFs are exchange-traded investment funds with the aim of tracking the performance of financial assets, instruments, or products in Japan equity market. The investment could be for a particular stock market, asset, index, or industry sector.
Just like mutual funds, EFTs are traded daily on the stock market. You may engage in trading by either buying or selling any products of your choice. Such involvement requires that you must have an online trading account with a popular ETF brokerage. Also, trading on ETFs leaves the management of your funds solely to your broker.
Brokers Offering Access to Japan ETFs
There are several exchanges and brokerages within the industry that advertise for investors to purchase ETFs and other assets through them. The primary factor that you must maintain while committing to any form of investment is to understand what you're going into and the means to such investment. Hence, there's every need to use a trusted and reputable platform for your investments.
1. eToro
Since its launch in 2006, eToro has over 26 million users.
The broker provides online services for different instruments and products like ETFs, stocks, CFDs, cryptocurrencies, indices, and others. Its operations are cut across several countries worldwide. eToro is under the strict regulation of some global financial agencies – the FCA, FinCEN, ASIC, and CySEC.
When it comes to fees, eToro is competitively very low with the industry. It offers low commissions on trading its diverse stocks and ETFs, plus there's no deposit fee for users irrespective of your transfer method.
eToro's CopyPortfolio is one of its popular features for users. This creates the opportunity for customers on the platform to engage in copy trading. Through the CopyPortfolio, users can mirror the trading patterns of some successful traders and receive more insights. Moreover, the feature serves as your guide in changing your trading schedules and strategies to correspond to the user's trading pattern you intend to imitate.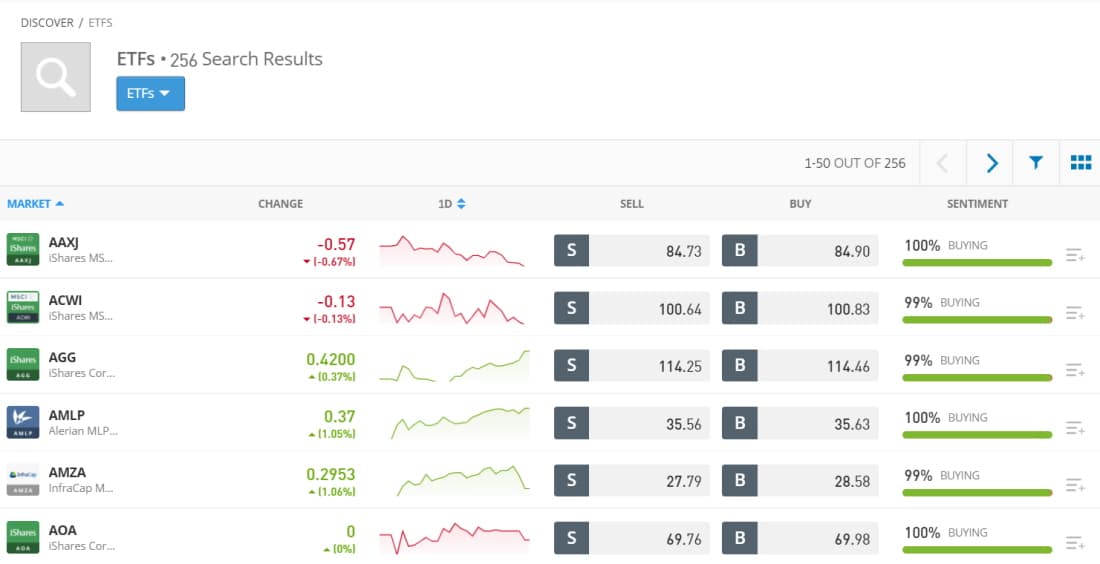 The platform is equipped with a demo account for beginners to train and learn how to purchase EFTs and other instruments. It comes with a balance that synchronizes with real-time prices.
Furthermore, the broker includes some technical tools which for helpful in analysis for different financial instruments on the platform. The clients have access to a news feed, some charting tools, and comments or ideas from analysts over high-performing assets. Also, users are introduced to a social trading platform where they can interact and communicate with one another.
eToro Fees: 
| | |
| --- | --- |
| Account Fee | None |
| Deposit Fee | None |
| ETF trading fee | 1% Commission |
| Pricing Structure | 1% Commissions, low spreads |
Your capital is at risk. Other fees apply. For more information, visit etoro.com/trading/fees. 
Conclusion
Exchange-traded funds (ETFs) are gaining popularity recently as a means of speculating on diverse financial instruments. Users should make sure to research the ETFs past performance and keep track of their possible investment options prior to opening a new trade.
Frequently Asked Questions on Japan ETFs
Does Vanguard have a Japan ETF?
What are some of Japan ETFs?