Huobi Review UK 2023 – Features, Fees, Pros & Cons Revealed
Fact Checked
Everything you read on our site is provided by expert writers who have many years of experience in the financial markets and have written for other top financial publications. Every piece of information here is fact-checked.
Disclosure
Please note that we are not authorised to provide any investment advice. The information on this page should be construed for information purposes only. We may earn commissions from the products mentioned on this site.
There are several options for traders to buy cryptocurrencies like Bitcoin, Litecoin, or ADA. One of them is Huobi. This regulated crypto exchange allows UK investors to buy, sell, hold and trade digital assets easily. The interface is intuitive, and the payment options are quite flexible.
But, is Huobi, the best broker for you? In this Huobi Review UK, we cover everything you need to know and whether Huobi is the best cryptocurrency exchange or if there is a better recommended exchange.
Key Takeaways 
Huobi is one of the most popular cryptocurrency exchanges with a strong foothold particularly in the Asian crypto markets.
Established in 2013, Huobi offers a crypto trading ecosystem that covers everything from spot trading, crypto staking, derivatives and much more.
Huobi even has its own blockchain called the Huobi Eco Chain that comes with its governance token dubbed the Huobi Token.
If you're looking to buy Bitcoin, Ethereum, Dogecoin and earn double-digit rewards of a variety of cryptos we recommend opening a Huobi account today.
What is Huobi?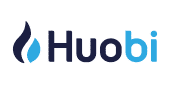 Huobi is a Singapore-based cryptocurrency exchange and online brokerage firm. Besides giving access to popular crypto-assets like Bitcoin, Ethereum, and XRP, Huobi also allows users to get their hands on initial coin offering (ICO) tokens before they go mainstream. Huobi's origin can be traced to Beijing, China. The company's presence grew rapidly in the Chinese crypto before it was expelled due to the government's expulsion of crypto exchanges in 2017.
It subsequently moved to fellow Asian nation Singapore due to friendlier crypto laws.  Huobi supports over 355 crypto-assets across the board. The platform boasts of over 5 million active users globally trading from 130 countries. Huobi is ranked No 3 in the list of top cryptocurrency exchanges based on daily trading volume, according to data from Coinmarketcap. Coinbase and Bithumb feature prominently on the list.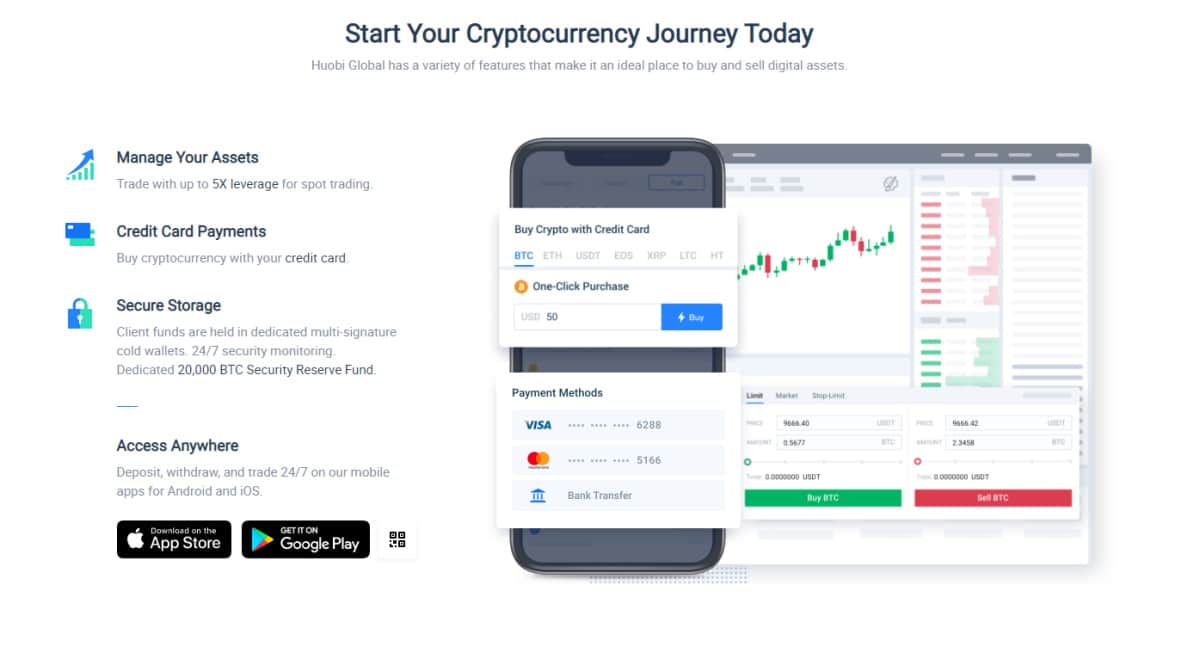 One of the reasons why Huobi is so popular is because it is user-friendly and great for newbies and more seasoned traders. It takes about two minutes to get your account fully set up, and you can do this at the click of a button.
Huobi hasn't experienced a security breach on its company wallets since it launched. The platform has maintained this enviable record due to its adherence to strict security protocols. Huobi stores its crypto funds in an off-chain cold storage facility, making it impossible for these bad actors to get their hands on them.
Another popular crypto exchange that we think you should consider is Crypto.com. You can find out more by reading our convenient Crypto.com review today.
Supported Coins
Once you are through with your account setup and verification process, you can make your choice across a multitude of cryptocurrency options, as shown in our Huobi Review UK.
There are hundreds of cryptocurrencies available for trading on the platform, so you have a huge amount of coins to choose from. This includes major cryptocurrencies like Bitcoin, Ethereum and Ripple, as well as Bitcoin alternatives.
Huobi Fees
Huobi offers some of the most affordable fees for most cryptocurrency trading exchanges. The fees are all laid out on its tiered fees page, and we will briefly touch on a few.
Trading Fee/ Commission
Huobi started out with a zero-fee service with other Chinese crypto exchanges like OKCoin, and BTCC. But Chinese regulators mandated them to impose a flat fee to forestall against market manipulation and increase liquidity.
Huobi offers a flat 0.2% for both its maker and taker fee rates in the spot trading market. Its margin interest rate is 0.098%, and its fiat trading fee rate is 0.20% for the maker and free for the taker. Huobi's 0.20% spot trading fees are lower than the industry average of 0.25%.
Huobi also makes it easier for users to make more money by reducing their trading fee whenever they use the platform's native coin, the Huobi Token (HT).
The Huobi token offers a discount for trading fees of up to 50%. It is also a governance tool by which HT holders can vote on the platform's direction, and they can also participate in initial exchange offerings (IEOs) with them. The more HTs you have, the lesser the trading fee drops.
Huobi Deposit Fees
Type
Level
30-day trading volume (BTC)
Base fee rate
HT holdings
Fee Rate (in HT)
Effective Discount
Normal users
1
< 1000 BTC
0.2000%
≥10HT
0.1800%
10%
2
≥100HT
0.1600%
20%
3
≥500HT
0.1200%
40%
4
≥1,000HT
0.0900%
55%
5
≥2,000HT
0.0800%
60%
6
≥5,000HT
0.0700%
65%
Deposits from fiat currencies like the Pounds and the US Dollars attract a fee. According to Huobi, you would be charged 1% of your total deposits for international wire transfer and 1.5% of the amount for using the e-Wallet option OKPAY.
It runs a tiered fee system which reduces the more you trade and level up
Huobi Withdrawal Fees
Huobi charges 1% of the total amount for international wire transfers and 0.5% if you use OKPAY to make the withdrawal.
For crypto withdrawals, you have to pay 0.0001 BTC and 0.001 LTC, respectively.
Huobi Buying Limits
Huobi does not have a specified limit for your crypto purchases, but it sets a £750 for users who have not verified their account by uploading their documents. The maximum withdrawal limit for verified accounts is set at 200 BTC.
Huobi Wallet
The Huobi Wallet offers a multi-currency storage facility that gives you full control over your digital currencies. The wallet has a simple and sleek design that makes it super easy to complete transactions on the wallet. You can easily withdraw and deposit your favourite cryptocurrencies there. It supports 16 major cryptocurrencies, including Bitcoin, ATOM, Ethereum, XRP, DOGE, LTC, and others.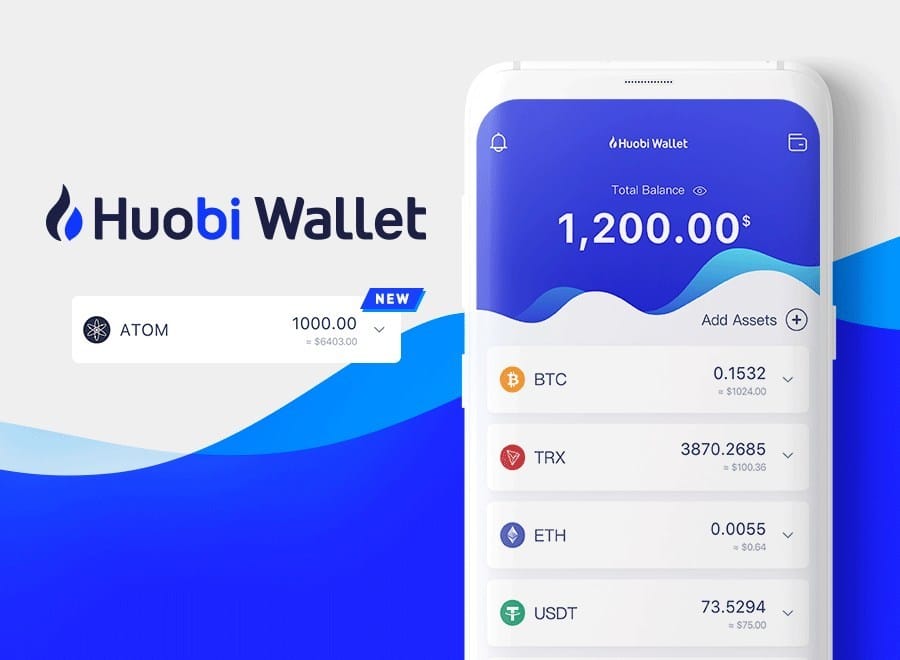 Stablecoins like USDt, HUSD, USDC, TUSD, GUSD, PAX, EYRT, DAI, and EURS can also be stored here. And to crown it all, all ERC-20 tokens are supported on the Huobi wallet.
Huobi uses an advanced distributed system architecture where it stores 98% of customer assets in multi-signature cold storage wallets. This makes it impossible for it to be accessed online and helps it forestall a possible security breach.
Cryptoassets are a highly volatile unregulated investment product. No UK or EU investor protection.
Huobi Mobile App
Huobi offers a mobile version of their trading platform for users, and it is compatible with Android, iOS, and Windows smartphones. Huobi mobile app supports multi-currency trading just like its wallet stores different virtual currencies. It also provides you with real-time market data allowing you to assume the best position on time.
You will also be treated to professional market charting tools much like you get when you use the desktop version. You can make fast deposits and withdrawals, get price alerts, and get 24/7 multi-lingual service support whenever you are stuck and need help. You are also treated to a detailed trading history to keep you updated on what you have been spending your money on.
Huobi User Experience
As we mentioned at the beginning of this Huobi Review UK, getting things done on the Huobi cryptocurrency platform is super easy to do. Huobi also has a simple and sleek design which enhances the user experience, especially compared to Coinone which has a far more complicated layout. The ease users enjoy with Huobi has seen it carve out a market for itself in the UK.
For instance, opening an account will take you less than five minutes to complete. You'll also be required to verify your identity and other KYC measures.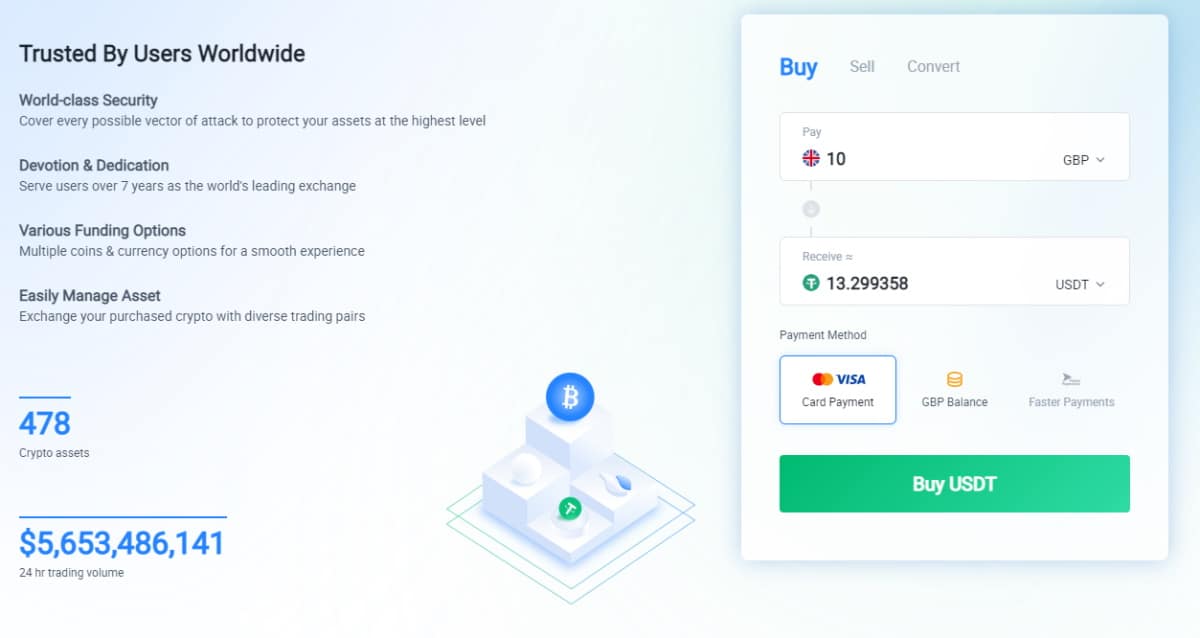 You can take snapshots with your webcam in real-time, saving you the time of taking the pictures and uploading them from your system's memory. In most cases, the verification of your documents does not take long.
And the deposit process is quite seamless. All you need to do is click on "Buy Crypto" on the top bar, and you will be directed to a purchase page.
The spot trade is also quite easy to wrap your head around. From the homepage, you can easily search for your favorite crypto asset via the search bar.
From there, you will be given a full view of the exchange rate of the trading pair, the order book, and the market trade in real-time.
You can also choose how much you are willing to invest in each digital asset. Huobi does a great job showing you the total cost for each trade, the set price, and fees.
Huobi Tools and Features
Huobi has a great many features that have endeared it to many crypto users. With its clean-cut and responsive user interface, it is quite easy for users to make trades without stress. But aside from this, there are a few features that make it stand out.
Large Inventory of Trading Pairs
Huobi has one of the largest trading pairs in the crypto industry. Boasting over 350 cryptocurrencies hosted on the platform, there is a high possibility that you won't run out of digital assets to invest in.
Huobi is also very supportive of upcoming crypto projects, so you might run into one or two digital assets you may not have known before.
Prompt Customer Service
Huobi's customer support is readily available to answer any questions you may have while trading. There is a possibility that a customer service personnel will get back to you within the hour, making it one of the foremost customer-focused exchanges in the industry.
Huobi User Protection Fund
Just like Binance's Secure Asset Fund for Users (SAFU), Huobi keeps part of its profits in its User Protection Fund (UPF) as an insurance cover against hacks, thefts, and unforeseen accidents that may see users' balance eroded. For a customer, this is a huge plus because you know that your funds are always protected no matter what happens.
Institutional Trading Accounts
As part of the top ten largest crypto exchanges in the world, Huobi has attracted many institutional traders to its platform. To cater to this increased demand, Huobi created an over-the-counter (OTC) and pool trading that allows these investors to make their trades on the Huobi exchange.
It also runs a dedicated professional crypto exchange platform called HADAX, short for Huobi Autonomous Digital Asset Exchange.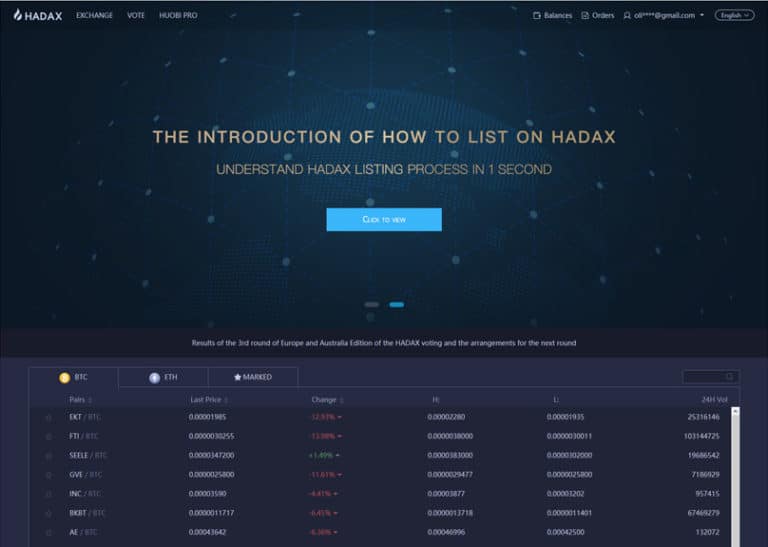 HADAX users are mostly professional traders. The platform allows them to trade more volatile assets and vote on token listings, which HADAX then verifies before they go live on the site. New digital tokens are first listed on the HADAX platform before being moved permanently to the Huobi Global platform.
Derivatives and Margin Trading
Huobi also runs a derivative offering for both futures and swap trading markets. The platform also facilitates margin trading and consumer-to-consumer (C2C) lending on its platform.
However, it's important to note here that the UK's FCA has banned the sale of cryptocurrency derivatives to retail UK traders since October 2020. This means that you will not be able to trade crypto CFDs and crypto-crosses.
This means that you can buy crypto via the Quick Buy/Sell or P2P market tabs as shown in the image below.
Huobi has one of the most sophisticated trading views in the industry. You will find the order book, market trades, list of all listed crypto assets, and you can also see the buy, sell and stop limit on your trading page.
Huobi Payments
We had previously covered payments when we spoke on trading fees and commission, but here's a table detailing how it really works.
| | | | | | | |
| --- | --- | --- | --- | --- | --- | --- |
| | Best For | Buy | Sell  | Deposit  | Withdrawal  | Speed  |
| Faster Payments | Large amount, GBP deposits, withdrawing  | – | – | + | + | 1-3 business days |
| US ABA Transfer | Large amount, GBP deposits, withdrawing | – | – | + | + | 1 business day |
| SWIFT International Transfer | Large amount, GBP deposits, withdrawing | – | – | + | + | 3-5 business days |
| SEN | Large amount, GBP deposits, withdrawing | – | – | + | + | Instantly  |
| Visa/MasterCard | Buy Crypto | + | – | – | – | Instantly |
| USD Balance | Buy Crypto | + | + | – | + | Instantly |
Huobi Minimum Deposit
There's a small $100 minimum deposit to start buying and selling cryptos on the Huobi cryptocurrency exchange.
Huobi Regulation & Licensing
Huobi is regulated by the Financial Conduct Authority (FCA) and is licensed to operate in the UK. The exchange joins a small list of companies offering digital assets trading services to customers in the United Kingdom.
Huobi Contact and Customer Service
Huobi claims to have one of the best customer support services in the business.
The support staffs are available on a 24/7 basis. The online trading broker is widely reputed for adopting this means of staying in touch with its customers. This eagerness to respond to customer's queries better espouses the idea that the company is ready to help out when customers face challenges using their platform.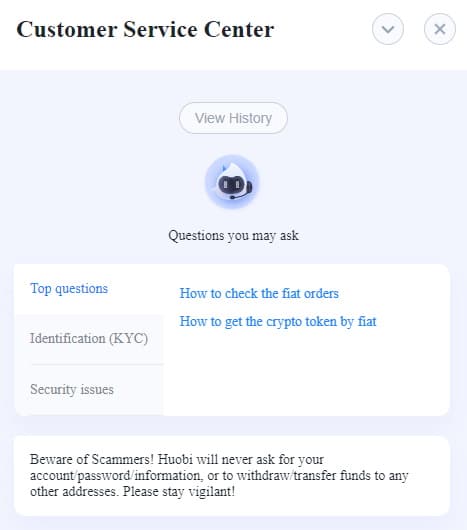 Huobi customer service can be reached via telephone, email or by filling a support ticket on the site. Huobi claims to treat customer queries within a 24hrs period. Huobi offers customer support in English, Chinese, and French.
The Huobi website has a full multi-layered FAQ and helps sections to guide customers through their trading experience. These help sections are rather distributed across and not centrally stored on one page, which shows the Huobi exchange review has put a lot of thought into the process. This can come in handy for customers who may look for specific answers and not have to read a whole page of unrelated topics. But for some others, it may be frustrating in the least.
How to Buy Cryptos on Huobi
Now that we have gone through what Huobi has to offer, how do you buy cryptocurrencies on the platform?
Huobi makes this process painless. In just a few clicks, you can have your first Bitcoin sitting pretty in your Bitcoin wallet.
So, we will show you step-by-step how you can begin your trading journey on the Huobi crypto exchange.
Step 1. Sign up to Huobi
The first thing you will need to do is open an account with them. You will be asked to select your country of residence and fill in your email and a password.
You also get the option of signing up with just your phone number, as the image shows. When you're done supplying your email and picking a  password (make sure it is unique and strong), you will come across an optional invitation code.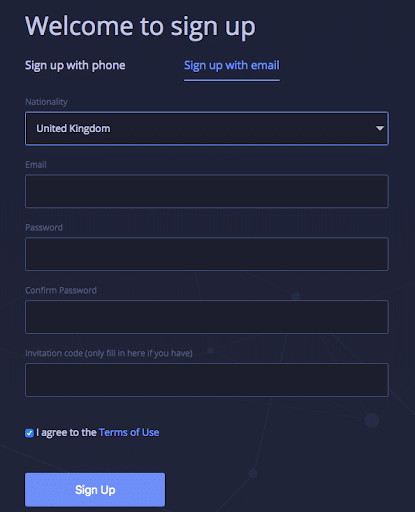 Remember to select the "I agree to the Terms of Use" before proceeding. All in all, it just takes two minutes to get started after verifying your email with them.
Step 2. Download the App
If you are a PC person like I am, you may skip this process. But if you depend heavily on your smartphone, there is a download button attached to the top of the page where you can download the Huobi Review UK app.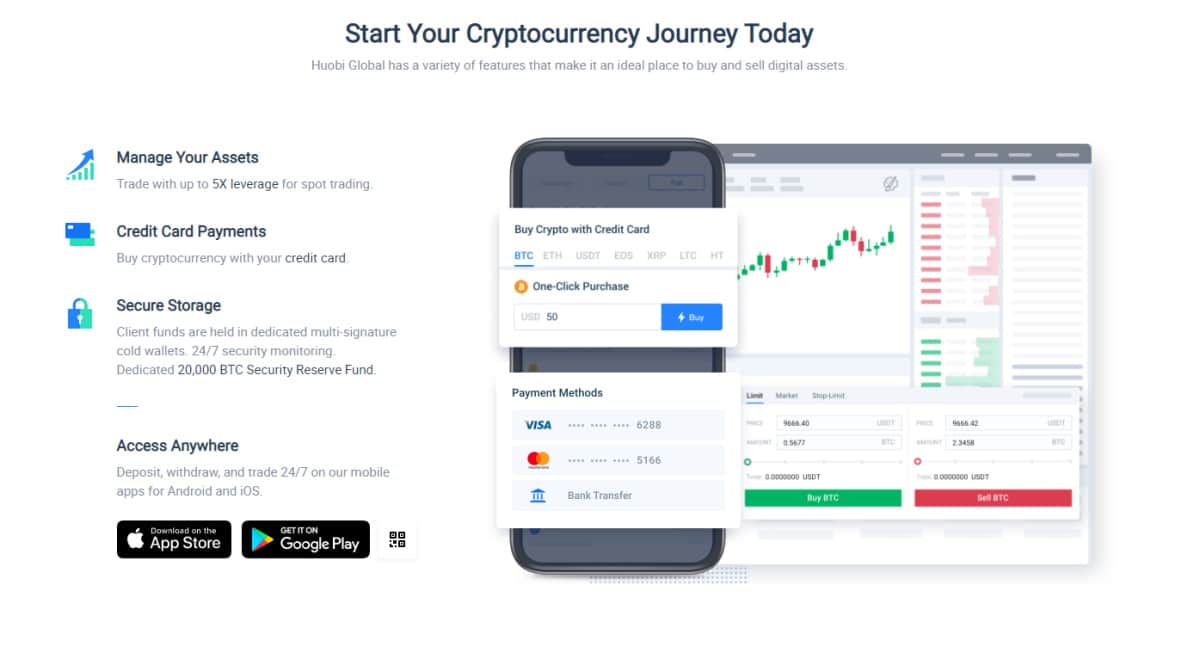 It works predominantly on the most popular operating systems, Windows, Mac OS, Android and iOS. You can choose to scan it or just click on the "View All" button to see the full array of download options.
Step 3. Deposit Funds
Huobi exchange review is unique in this aspect in that it does not mandate you supply personal documents before you deposit into the platform. You can fund your account with a minimum deposit of £72.95 and just get started trading immediately.
For new users, your account will be restricted on Huobi at the start. This places a limit on your maximum deposits and withdrawals. So, if you are keen on making more trades, you'll need to provide more identification. These could be your proof of residence, driver's license, or official passport to unlock more features.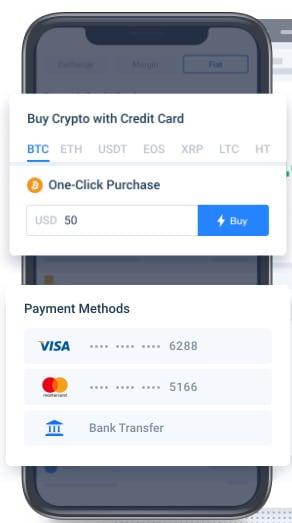 Once you click on the "Buy Now" button on the landing page, where you will be redirected to the "Quick Buy/Sell" page. From there, select the "deposit" now button to make a deposit.
Huobi offers fiat deposits for three major denominations, namely USD, EUR, and the Russian RUB. You can also choose your payment method from a list of three. They cost zero deposit fees so you don't have to worry about any hidden fees.
Step 4. Trade/Buy Stocks
Huobi offers two options; the "Quick Buy/Sell" option, where you can easily buy, sell and even convert cryptocurrencies with just a few clicks or use its "P2P Market" offering to get the best deals on your favorite crypto assets.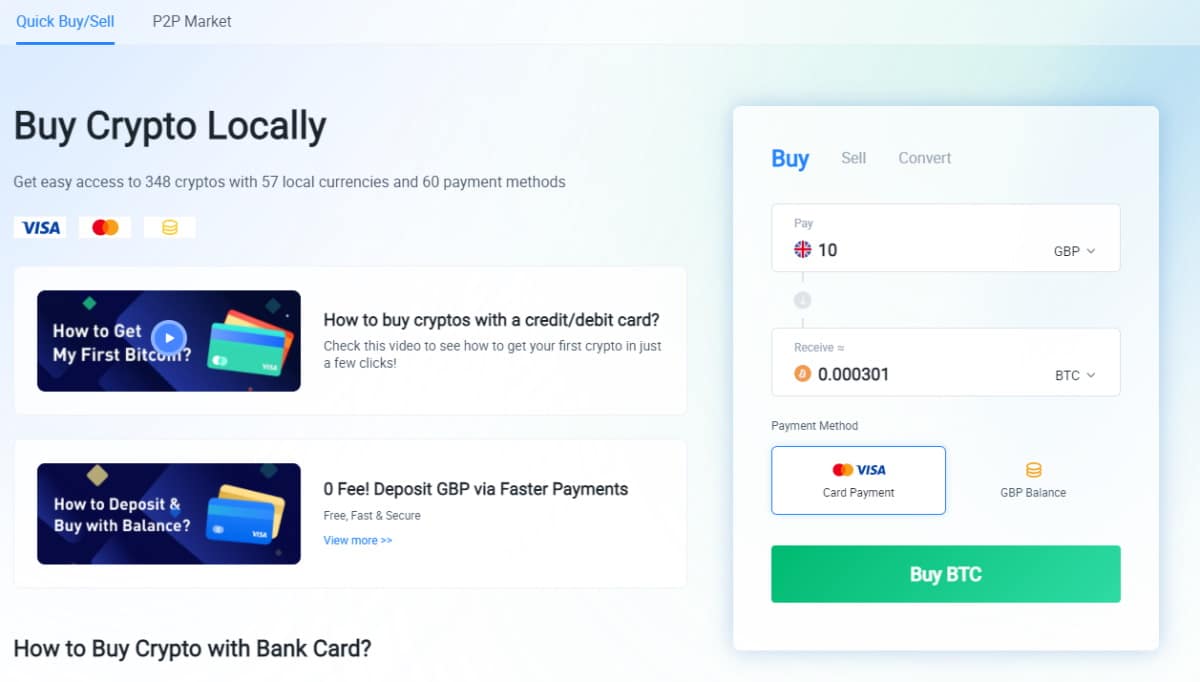 Cryptoassets are a highly volatile unregulated investment product. No UK or EU investor protection.
From the "Quick Buy/ Sell" page, you can select your payment option between Visa and MasterCard or using your USD balance. But its Visa/ MasterCard payment option is limited to a few countries, so you may still have to use the USD balance to purchase your crypto assets. After this is done, you can now head to the spot trading page to trade.
The Bottom Line
Huobi is a great place to begin your trading journey, given its user-friendly interactive design and low fees. Huobi lets crypto enthusiasts exchange, stake and borrow a wide range of digital assets. This means that the most avid crypto investor and the beginner can start trading cryptos with ease at Huobi.
So, if you want to gain exposure to the crypto market we recommend opening an account with Huobi as it's one of the most liquid cryptocurrency exchanges with high yield-generating options.
Huobi – Popular Crypto Exchange to Buy Cryptocurrency in the UK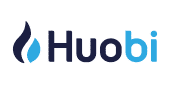 Cryptoassets are a highly volatile unregulated investment product. No UK or EU investor protection.
Frequently Asked Questions on Huobi
Is Huobi good for trading?
How many countries are supported by Huobi?
Has Huobi ever been hacked?