GameStop is widely known as one of the top retailers of online video games and gaming consoles in the US and worldwide. This huge company, which has a market capitalization of $22.67B, operates over 5,500 retail stores in more than 1000 international locations including the United States, Canada, Australia, New Zealand, and Europe.
In this guide, we show you how to buy shares of GameStop in the UK. We'll also cover the history of GameStop,  analyze its share price performance, and suggest top brokers in the UK that offer GameStop shares.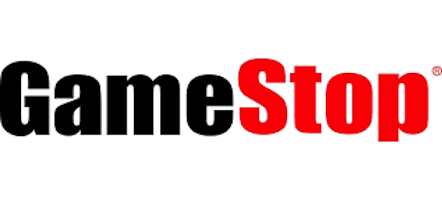 If you're considering adding GameStop to your portfolio, you will need to find UK regulated broker that gives you access to shares listed on US exchanges. This way, you will be able to not only buy GameStop shares but also shares of popular companies such as Amazon, Facebook, Tesla, Alphabet, and many more.
To help you along the way, below you'll find two of our recommended UK broker that offers investors to buy and sell shares of GameStop.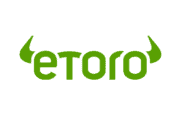 eToro is one of the most popular trading platforms in the UK and worldwide, offering users a social trading experience with thousands of financial instruments to trade on. If you simply want to buy GameStop shares in a cost-effective way, eToro is among the best options out there. This can be credited to eToro's zero commission policy. When you buy shares on this platform, you do not have to pay any trading commissions. Instead, you pay the buy and sell spread only.
At eToro, you will have access to 16 different stock exchanges including NYSE, NASDAQ, London Stocks Exchange, etc. This means you will not only have access to some of the best shares to buy, but also to other financial instruments such as ETFs, FX currency pairs, commodities, and cryptocurrencies.
eToro also offers a built-in social trading platform, where you can start discussions with other members, view the market sentiment on any product, and use the CopyTrade tool to mimic trades of other traders. Another key point of eToro is that it allows you to choose to buy shares in the traditional sense or to buy shares through (CFDs). When you trade CFDs, you can leverage your positions with up to a 5:1 ratio and short sell the stock without having to maintain high margin requirements.
Signing up with eToro is relatively straightforward and you'll need to meet a £160 minimum deposit to start trading. When it comes to the security of users, eToro is regulated by the UK's Financial Conduct Authority and ensures all accounts are secured by the Financial Services Compensation Scheme (FSCS).
Pros:
Buy shares with zero commission
More than 800 global shares
Buy shares directly from exchanges or trade CFDs
Allows you to invest in CopyPortfolios
Fractional trading
Social and copy trading tools
Accepts PayPal
User friendly mobile trading app
Regulated by the FCA
Cons:
Limited technical analysis charting package for advanced traders
67% of retail investor accounts lose money when trading CFDs with this provider.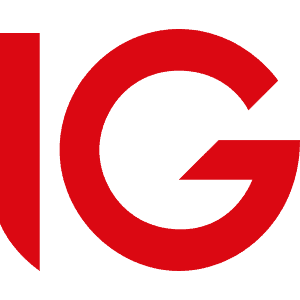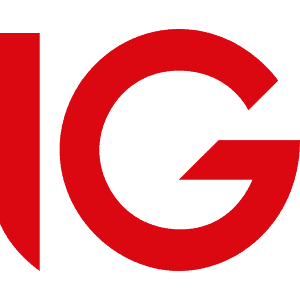 Another great option for UK investors to buy US shares is through IG Markets. This stock broker was founded in 1974 and holds licenses from top-tier regulators like the FCA, CySEC, and ASIC. Moreover, its parent company, IG Group Holdings plc, is also listed on the London Stock Exchange under the ticker symbol 'IGG'.
The reason why IG Markets has become one of the top CFD brokers in the industry is the range of platforms and products offered by the broker. IG allows investors to buy and sell more than 16,000 shares from various exchanges, including shares of GameStop. More importantly, it enables investors to trade directly from the exchange, via CFDs, or spread betting. This means you can switch between different methods and find the one that is most suitable for your needs. For example, when buying shares on a spread bet account, you don't have to pay Capital Gain Tax (CGT) and when buying shares for a long term position, it would be better to do it via the share dealing as you won't have to pay the overnight funding.
IG also offers a range of stock trading platforms aimed at different types of clients. For beginners and intermediate traders, it offers its own proprietary trading platform as well as the popular MetaTrader4. More experienced investors can get access to the ProRealTime and L2Dealer platforms. For those of you who are keen to trade on the move, IG also offers a great mobile stock trading app.
Pros:
Trusted and heavily regulated broker
Offers spread betting and CFD products
Access to over 16,000 shares
Range of trading platforms
A range of tools and features
Offers trading during the pre- and post-market sessions
Regulated by the FCA
Cons:
Does not offer social trading
A minimum deposit of £250
Your capital is at risk.
GameStop share has posted a return of nearly 170% in 2020, outperforming both the S&P 500 and Nasdaq100 indices. But tough the company was facing the possibility of bankruptcy in 2020, this year the GameStop stock surged by more 1600% at the time of writing due to social media speculations and the alleged battle between traders from Reddit to Wall Street. In this section of our guide, we analyze the fundamentals of GameStop corporation and find out what are the key strength and weaknesses of this company.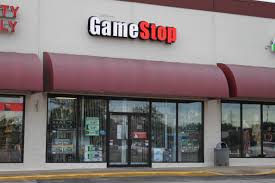 GameStop has been in the online video gaming industry for almost four decades now and is one of the largest consumer electronics and gaming merchandise retailers in history. In 2020, the company has been on a bit of a comeback mixed with uncertainty. It has already closed 388 stores year-to-date as of September 2020, and there are rumors that GameStop is headed for bankruptcy but at the same time, GameStop was one of the most successful stocks in 2020. Since the beginning of 2021, the share price of the struggling video game retailer rose by more than 1600%, from $17.25 to $325 per share as of 1st of February.
GameStop's IPO took place in February 2002, at a price of $18 per share. Since then, the share has had two peaks around $60 and it reached an all-time high of $63.30 on December 24, 2007. However, since 2014 the share was trading in a descending triangle pattern up until 2020.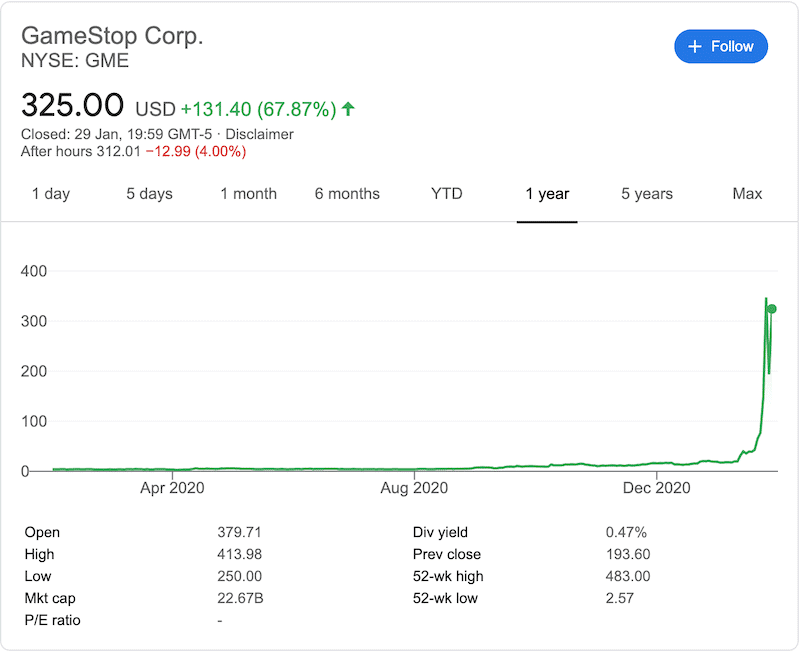 Surprisingly, 2020 has been a big year for GameStop in terms of performance. It is, in fact, one of the few retailers that outperformed the market. But the outstanding story of GameStop in 2021 is now one that making headlines around the world. Since the start of the year, the company's YTD stands on 1600% though GameStop is actually struggling financially. This happened after a group of Reddit traders sparked a 'short squeeze', which is a phenomenon in financial markets that happens when a stock (or any other asset) is heavily shorted and then experience a rapid increase in the price of the stock sue to the high number of sellers that must buy the stock at some point. 
Now, as the company faces an uncertain future, it is not yet clear whether the stock will continue its strong run or it will go back to its pre-reddit story valuation. Ultimately, it is now a battle between retail investors who came from social media sites and Wall Street hedge funds.
Many investors find GameStop as a solid dividend stock as the company was paying a steady annual dividend between 2012 to 2019. The world's largest video game and entertainment consoles software retailer has paid a dividend of $0.38 in 2019, representing an annual yield of 13.9%. However, the company has recently announced that it would eliminate its dividend payments due to its intentions to re-allocate the capital to reduce debt and provide flexibility.
At present, that is undoubtedly a difficult question. On one hand, GameStop share price is booming and it might be tempting to join the trend as one of the best most shorted stocks UK. On top of that, investors have high hopes following the launch of two gaming consoles. At the same time, GameStop is in a very dangerous position and its future is uncertain.
All things considered, we have outlined some of the strengths of GameStop to help you make the right choice.
Join the GameStop Hype
The main reason to buy GameStop shares right now is to 'join the trend'. As we have already known, several groups of individual traders who use social media platforms like Reddit, Discord, and Twitter have decided to promote different stocks including, but not limited to, GameStop. Clearly, there's a risk here but at the same time, it's difficult to know when the trend will stop. Economic bubbles tend to inflate prices of stocks to astronomical valuations, and it could be that the GameStop stock could continue its strong run.
Launch of New Game Consoles
There are two major gaming consoles that were launched at the end of 2020, the PlayStation 5 by Sony and the Xbox Series X by Microsoft. The company has announced that it is ready for the next-gen console launch despite the challenges caused by the coronavirus pandemic. This can give GameStop a boost in sales in the short term.
GameStop Will Be Attempting to Compete with Amazon
Though many analysts have doubts about GameStop plan to compete with Amazon, GameStop share price surged following reports that entrepreneur Ryan Cohen said the company could compete with Amazon. Cohen, which has recently acquired 10% of GameStop's total shares, proposed that GameStop would offer a wider range of products and merchandise on its website and ship it to customers the same way Amazon does.
GameStop is Still A Massive Company
All in all, GameStop corporation is still a huge company with a market cap of $22.67B (an increase from 670.255M from October last year) and more than 5,500 stores. Indeed, GameStop reported a net loss in three out of the last four quarters, however, it has approximately $570 million in total cash and total debt of $552.2 million, leading to total net cash of $18.1.
Experts still have optimistic predictions for the company's future. The fact that GameStop stores are closing may lead to panic in the media and among retailers, but it can also contribute to the company's profitability and hence the continuation of the price surge.
Step 3: Open an Account and Deposit Funds
Now that you've done good research about GameStop and its share price performance, you can move on to the next step of opening a share dealing account. In this section, we'll walk you through the process of creating an investment account with eToro, our recommended broker that offers a commission-free trading platform and access to thousands of UK and US shares.
To get started, visit eToro's homepage and click on the Join Now button to start the registration process. You'll then be transferred to a page where you need to pick a username and password and provide your email address.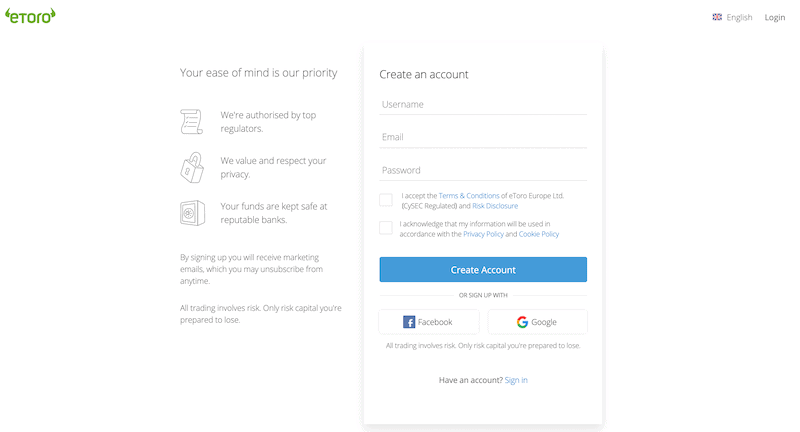 67% of retail investor accounts lose money when trading CFDs with this provider.
As eToro is an FCA-regulated firm, you also need to provide personal information including your full name, email address, date of birth, nationality, and national insurance number. To complete the registration process, you need to verify your account by uploading a copy of your driver's license or passport and verify your proof of residence.
Once your account has been approved by eToro, you'll be able to fund your account using one of the payment methods supported by the broker:
Debit Card
Credit Card
Paypal
Skrill
Neteller
UK Bank Transfer
It's worth mentioning that eToro requires an initial deposit of £160 for UK investors to start trading.
As soon as the funds have been added to your account, you can make your first transaction. To place a buying order, you'll first need to log into eToro's platform and search for GameStop in the search box at the top of the trading dashboard and click on the first result that pops up.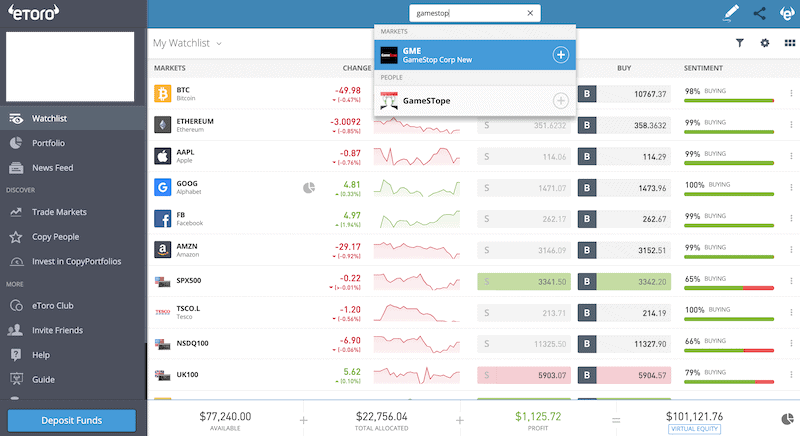 Now, you will be taken to the GameStop instrument page where you can insert a buying order by clicking on the Trade button.

67% of retail investor accounts lose money when trading CFDs with this provider.
Then, you need to enter the parameters in order to place an order in the market. This includes the amount you wish to invest in GameStop, the order type (market or limit order), and stop loss and take profit (not mandatory). Finally, click on the 'Open Trade' button to complete your GameStop share purchase.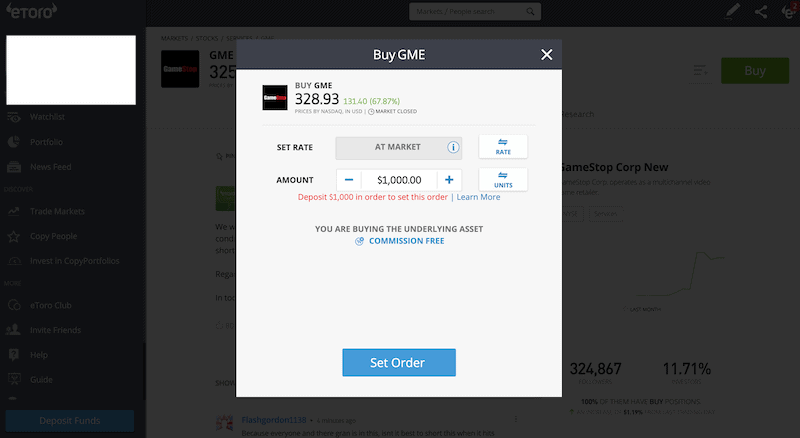 Note: If you are buying GameStop shares outside of standard market hours (9.30 am to 5 pm, Eastern Standard Time), you will need to click on 'Set Order'. Your GameStop shares purchase will then be completed when the markets open.
There is no question that GameStop has been on a long decline before 2020. Its business model is outdated and the company, which was a trendy place for gamers and tech enthusiasts for decades, must adapt and make changes. However, the market has different rules and eventually, the GameStop share price has surged during 2020 and exploded during 2021 in one of the most bizarre events in the financial market in recent years.
GameStop is currently a speculative stock that is more suited for active day traders. And, even though GameStop has reported disappointing earnings recently and the video game retailer could disappear in the future, the share price may still appreciate in the short term due to the Reddit 'Ponzi Scheme'.  Technically, the GameStop share price is likely to fall in the near future to the pre-GameStop saga, however, it could rise even further before finding its true valuation.
In one way or another, you must follow the news and be alert with any update about GameStop. And, ironically, if you want to trade shares of GameStop right now, you might want to find feeds on Twitter, Facebook, Discord, and Reddit.
Assuming you do not believe in GameStop's future and in particular the recent GameStop bubble, you can also short-sell the stock. When short selling, you basically borrow capital from your broker in order to first sell the shares and then buy them back at a lower price. This basically gives you the flexibility to trade the share in both directions.
But right now, finding a broker that allows you to short sell GameStop stock might be a challenge due to the high volatility and the restriction enforced by regulators. For example, Robinhood, one of the largest online trading platforms in the world, has announced that it will close out clients' positions automatically if the client is at risk of not having the necessary collateral. As such, the easiest and most cost-effective to short-sell GameStop shares in the UK right now is via CFD brokers like eToro or Plus500. A contract for differences (CFD), unlike a traditional bilateral contract, requires low margin requirements and allows you to use high leverage when short selling.
The Verdict
At the time of writing, GameStop is in a limbo stage. The fact that Reddit investors took on Wall Street hedge funds makes GameStop one of the most interesting stocks in the market right now, and a target for day traders.
Crucially, the GameStop saga is not really about finance but somewhat of a morality battle. But if you are not taking any side in this matter, you might wanna find a broker that gives you both options on one platform – to buy and short sell GameStop stock. If you think this is the case, you can buy and short-sell shares of GameStop with one of our CFD recommended brokers at the click of a button. Simply click the link below to get started!
67% of retail investor accounts lose money when trading CFDs with this provider.
FAQs
What stock exchange is GameStop listed on?
Does GameStop pay dividends?
What is the minimum amount of GameStop shares I can buy?
How much were GameStop shares when the firm first went public?