How to Buy GameStop Shares (GME) in UK
Fact Checked
Everything you read on our site is provided by expert writers who have many years of experience in the financial markets and have written for other top financial publications. Every piece of information here is fact-checked.
Disclosure
Please note that we are not authorised to provide any investment advice. The information on this page should be construed for information purposes only. We may earn commissions from the products mentioned on this site.
GameStop is widely known as one of the top retailers of online video games and gaming consoles in the US and worldwide. This huge company, which has a market capitalization of $11.16bn, operates over 5,500 retail stores in more than 16 countries, including the United States, Canada, Australia, New Zealand, and Europe.
In this guide, we show you how to buy shares of GameStop in the UK. We'll also cover the history of GameStop, analyse its share price performance, and suggest popular brokers in the UK that offer GameStop shares.
How to buy GameStop (GME) Shares in UK 
✅ Step 1: Open a regulated trading account
Visit your broker's official website and sign up. Enter your details and choose a username and password.
🔎 Step 2: Verify your account
if your broker is FCA-regulated, you'll need to verify your account by uploading proof of ID and proof of address.
💳 Step 3: Fund your account
Meet your broker's minimum deposit threshold via credit/debit card, bank wire transfer, or e-wallets such as PayPal or Skrill.
🛒 Step 4: Buy GameStop (GME) shares
Type "GME" into the search bar and opt to trade. Enter your investment amount and confirm the trade.
Find a UK Stock Broker That Offers GameStop Shares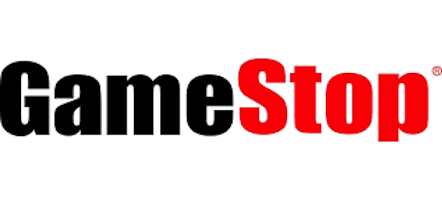 If you're considering adding GameStop to your portfolio, you will need to find UK regulated broker that gives you access to shares listed on US exchanges. This way, you will be able to not only buy GameStop shares but also shares of popular companies such as Amazon, Facebook, Tesla, Alphabet, and many more.
To help you along the way, below you'll find two of the most popular UK brokers that allow investors to buy and sell shares of GameStop.
Research GameStop Shares
GameStop shares posted a return of over 760% in 2021, easily outperforming both the S&P 500 and Nasdaq100 indices. But though the company was facing the possibility of bankruptcy just a few years ago, GameStop has rallied back thanks to the remarkable support from retail traders. In this section of our guide, we analyse the fundamentals of the GameStop corporation and find out what are the key strengths and weaknesses of this company.
How Much Are GameStop Shares Worth? GameStop Share Price History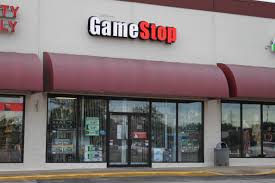 GameStop has been in the online video gaming industry for almost four decades now and is one of the largest consumer electronics and gaming merchandise retailers in history. Back in 2020, the company was on the comeback – although there was still great uncertainty. Over 380 stores were closed in 2020 – and there were even rumours that GameStop was headed for bankruptcy. However, this all changed at the start of 2021, as the share price of the struggling video game retailer rose by more than 1600%, from $17.25 to $325.
GameStop's IPO took place in February 2002, at a price of $18 per share. Since then, the share has had two peaks. The first was around $60, although GME did push up to $63.30 on December 24, 2007. However, since 2014 the share was trading in a descending triangle pattern up until 2020.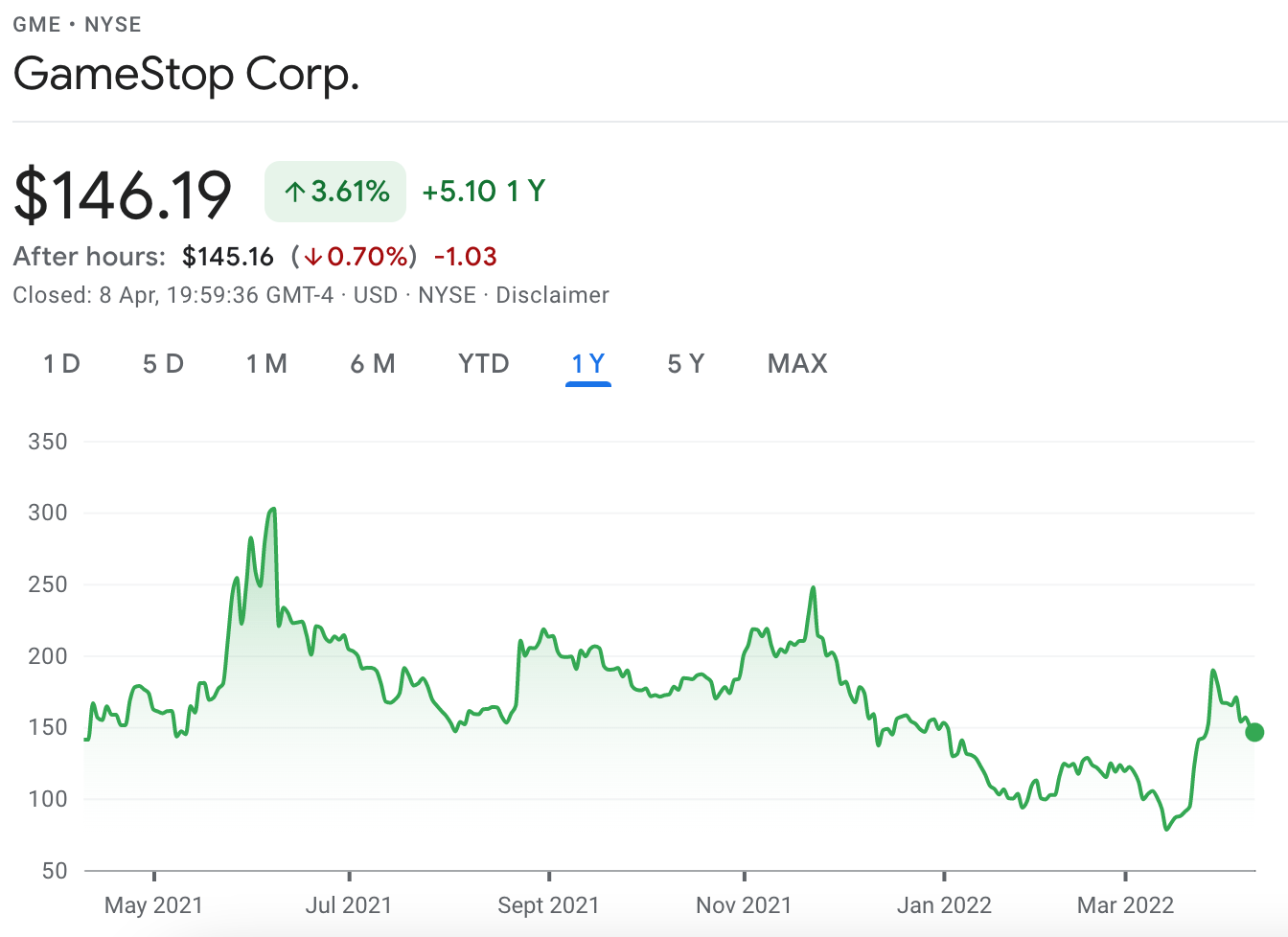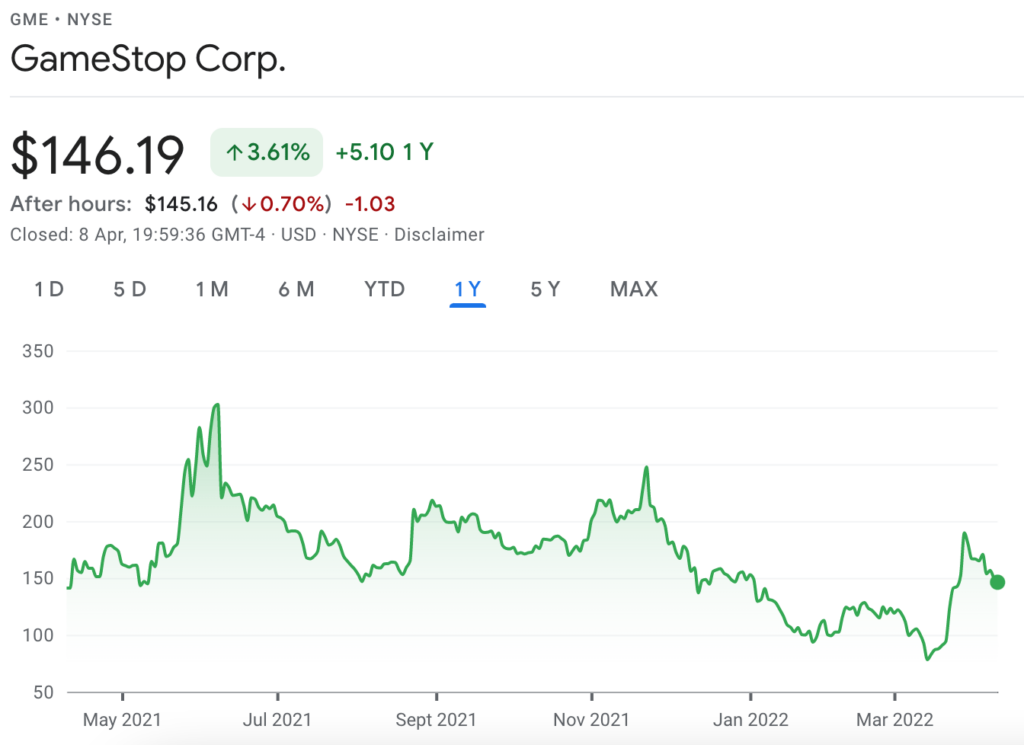 In January 2021, GME shares surged a remarkable 2712% in a matter of weeks. This price increase made headlines worldwide since there didn't appear to be any fundamental basis. However, it quickly became apparent that the surge was thanks to the backing of retail traders on social media sites like Reddit.
This resulted in a 'short squeeze', which is when a stock's short-sellers must scramble to cover their positions after the share price rises substantially. In turn, this causes a snowball effect where the price can generate triple-digit (or quadruple-digit) returns – often in a short space of time.
According to MacroTrends, this short squeeze prompted GME to hit an all-time high of $347.51 on January 27th, 2021. However, the high was short-lived, and GameStop's shares immediately retreated. This was followed by a period of extended volatility, where the share price rose and then descended, which lasted for the entirety of 2021.
At the time of writing in April 2022, GME shares have experienced an uptick in performance, thanks to a proposed stock split. Ultimately, this will make it easier for retail investors to get their hands on GameStop's shares.
GameStop Shares Dividend Information
Many investors find GameStop as a solid dividend stock as the company was paying a steady annual dividend between 2012 to 2019. The world's largest video game and entertainment consoles software retailer has paid a dividend of $0.38 in 2019, representing an annual yield of 13.9%. However, the company has recently announced that it would eliminate its dividend payments due to its intentions to re-allocate the capital to reduce debt and provide flexibility.
Why do People Invest in GameStop Shares?
At present, that is undoubtedly a difficult question. On one hand, GameStop remains one of the most shorted stocks UK. At the same time, GameStop is in a very dangerous position financially – and its future is uncertain.
All things considered, we have outlined some of the key reasons why people opt to invest in GameStop shares:
Join the GameStop Hype
Many people buy GameStop shares right now to 'join the trend'. As we saw in 2021, several groups of individual traders who use social media platforms like Reddit, Discord, and Twitter have decided to promote different stocks including, but not limited to, GameStop. Clearly, there's a risk here but at the same time, it's difficult to know when the trend will stop.
Launch of New Game Consoles
There were two major gaming consoles that were launched at the end of 2020 – the PlayStation 5 by Sony and the Xbox Series X by Microsoft. The demand for these consoles was huge and will continue for the years ahead, since it's likely new versions of the consoles will arrive and more blockbuster games will launch. Since these items can only be purchased physically, this puts GameStop in an ideal position to benefit from this demand.
GameStop Will Be Attempting to Compete with Amazon
Though many analysts have doubts about GameStop plan to compete with Amazon, GameStop share price surged following reports that entrepreneur Ryan Cohen said the company could compete with Amazon. Cohen, who owns over 12% of GameStop's total shares, hinted that GameStop could offer a wider range of products and merchandise on its website and ship it to customers the same way Amazon does.
GameStop is Still A Massive Company
All in all, GameStop corporation is still a huge company with a market cap of $11.16bn and more than 5,500 stores. Indeed, GameStop reported a net loss in four out of the last five quarters; however, it has approximately $1.27bn in total cash/cash equivalents, providing the company with a great deal of financial flexibility.
Open an Account and Deposit Funds
Now that you've done good research about GameStop and its share price performance, you can move on to the next step of opening a share dealing account. In this section, we'll walk you through the process of creating an investment account with an FCA-regulated broker.
To get started, visit your broker's homepage and create an account. You'll then be transferred to a page where you'll likely need to pick a username and password and provide your email address.
If your broker is an FCA-regulated firm, you also need to provide personal information including your full name, email address, date of birth, nationality, and national insurance number. To complete the registration process, you need to verify your account by uploading a copy of your driver's license or passport and verify your proof of residence.
Once your account has been approved, you'll be able to fund your account using one of the payment methods supported by the broker, which may include:
Debit Card
Credit Card
Paypal
Skrill
Neteller
UK Bank Transfer
How to Buy GameStop Shares
As soon as the funds have been added to your account, you can make your first transaction. To place a buying order, you'll first need to log into your trading platform and search for 'GameStop' in the search box at the top of the trading dashboard.
Then, you need to enter the parameters in order to place an order in the market. This includes the amount you wish to invest in GameStop and the order type. Finally, confirm the trade and your order will be executed at the market rate.
Note: If you are buying GameStop shares outside of standard market hours (9.30 am to 5 pm, Eastern Standard Time), you will need to set an order for later. Your GameStop shares purchase will then be completed when the markets open.
Is It a Good Idea to Buy GameStop Shares?
There is no question that GameStop had been on a huge decline before the remarkable price rise in 2021. Its business model is outdated and the company, which was a trendy place for gamers and tech enthusiasts for decades, must adapt and make changes. However, the market has different rules and the incredible community backing that GameStop has received has paved the way for the gains we have seen in the past few months.
Even though GameStop reported disappointing Q4 2021 earnings, the company still has a solid reputation. However, it has undoubtedly been affected by the negative macroeconomic elements that have impacted other growth stocks.
In one way or another, you must follow the news and be alert with any updates about GameStop. And, ironically, if you want to trade shares of GameStop right now, you might want to find feeds on Twitter, Facebook, Discord, and Reddit.
How to Sell GameStop Shares
Assuming you do not believe in GameStop's future and in particular the recent GameStop bubble, you can also short-sell the stock. When short selling, you basically borrow capital from your broker in order to first sell the shares and then buy them back at a lower price. This basically gives you the flexibility to trade the share in both directions.
But right now, finding a broker that allows you to short sell GameStop stock might be a challenge due to the high volatility and the restriction enforced by regulators. As such, one popular approach is via CFD brokers. A contract for difference (CFD), unlike a traditional bilateral contract, requires low margin requirements and allows you to use high leverage when short selling.
The Verdict
The fact that Reddit investors took on Wall Street hedge funds back in 2021 makes GameStop one of the most interesting stocks in the market right now, and a target for day traders.
Crucially, the GameStop saga is not really about finance but somewhat of a morality battle. With that in mind, if you do wish to trade GameStop, you can do so with an FCA-regulated broker that offers US-based equities.
FAQs
What stock exchange is GameStop listed on?
Does GameStop pay dividends?
What is the minimum amount of GameStop shares I can buy?
How much were GameStop shares when the firm first went public?