Best Penny Shares UK To Watch
Fact Checked
Everything you read on our site is provided by expert writers who have many years of experience in the financial markets and have written for other top financial publications. Every piece of information here is fact-checked.
Disclosure
Please note that we are not authorised to provide any investment advice. The information on this page should be construed for information purposes only. We may earn commissions from the products mentioned on this site.
Penny shares (or stocks) are very cheap to buy, especially for people looking to diversify their investments. However, this also means penny shares can be highly volatile, so you need to be careful and do you research.
In this guide, we take a look at some of the popular penny shares UK and explain how users can invest in them. We'll also take a closer look at what exactly penny stocks are, how they work, and the kind of research you need to do in order to make a sensible investment.
Key points on Penny Shares 
UK penny shares are stocks that are priced at less than £1 and trade outside of the primary stock exchanges, meaning they are typically listed on the AIM.
As penny stocks represent small companies, users may experience large growth – however identifying the right penny shares is not a simple task.
However, penny shares can also be highly volatile and suffer from low liquidity.
Featured Investment Opportunity- Dash2Trade

If you're looking to invest in a relatively low-cost stock, Dash2Trade is an excellent investment opportunity. Dash2Trade is a revolutionary crypto social trading and analytics platform that is positioned to dominate the market. At the moment, the native token D2T is undergoing a presale during which you can invest in the project for a very low cost.
Don't miss out! Invest in this brand-new project now.
Cryptoassets are highly volatile and unregulated in the UK. No consumer protection. Tax on profits may apply.
Penny Shares in the UK – Reviewed
---
In this section of our guide, we are going to look at some popular penny shares in the UK. As noted above, there is no hard-and-fast-rule as to what constitutes a penny share. But, with the general consensus being that penny stocks must be valued at less than £1, this is the criteria that we will be using.
Let's review some of the popular penny shares in the UK.
1. Macfarlane Group PLC
Macfarlane Group is a UK-based packaging and labelling company. Although this might not sound like the most glamorous of industries to be investing in, the stocks have been performing well over the past few years. Notably, it still sits firmly within the threshold as a penny share.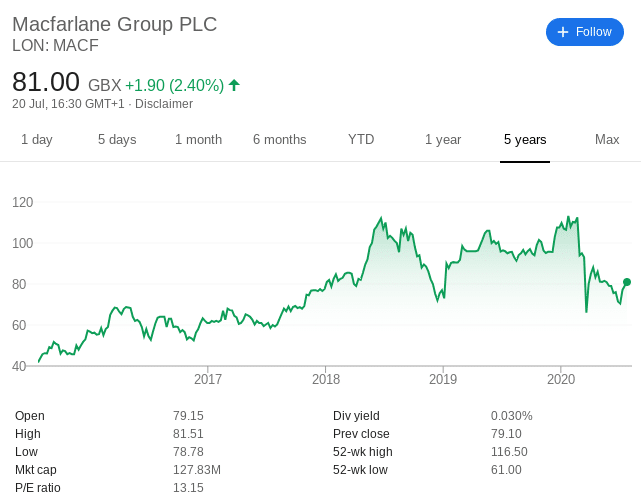 For example, these penny stocks were priced at just over 41p in mid-2015. Before the COV-19 pandemic came to fruition, the very same shares were priced at 110p. This represents a growth of 168%. However – and much like the rest of the UK stock markets, Macfarlane Group shares have since dropped off.
2. Idox Group
Idox is a UK company that specialises in digital solutions. Serving customers both in the UK and internationally, the firm now employs over 600 people and operates in 8 countries. In terms of its status as a penny share, Idox stocks have gone  up to a price of 49p from a price of 12p in 2000.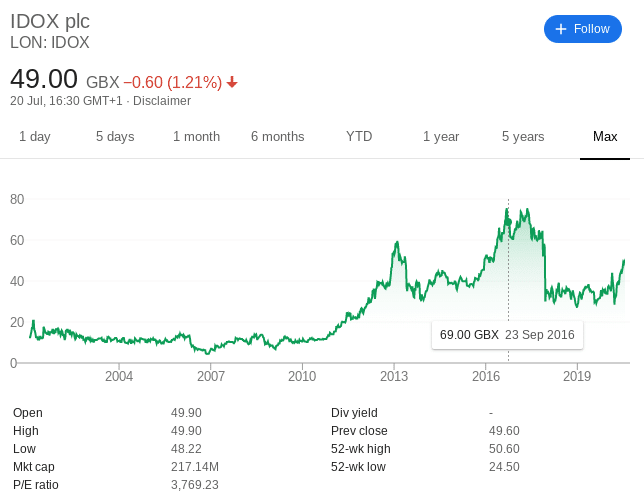 The current market capitalization of Idox Group is over £217 million.
3. Maestrano Group
Maestrano Group is a relatively new British company that is looking to revolutionize the cloud computing space. For those unaware, cloud computing is a cutting-edge technology that is expected to dominate the future of how we communicate with and store online data.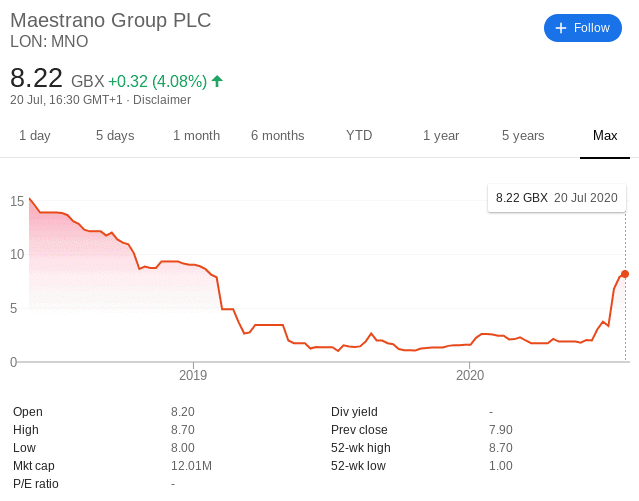 Maestrano Group itself services small-to-medium businesses. In terms of its shares, Maestrano Group only went public in mid-2018. Back then, you would have paid 15p. The shares then went on a downward trajectory – hitting lows of just 1p.
However, Maestrano Group's share price is now hovering above 8p. From is 52-week lows of 1p, this represents growth of over 800%.
4. Verditek
Verditek is a self-proclaimed clean technology company that specializes in solar energy. The firm services the domestic housing market, as well as military campsites. As a relatively new organization, Verditek is currently looking at a valuation of just £37 million.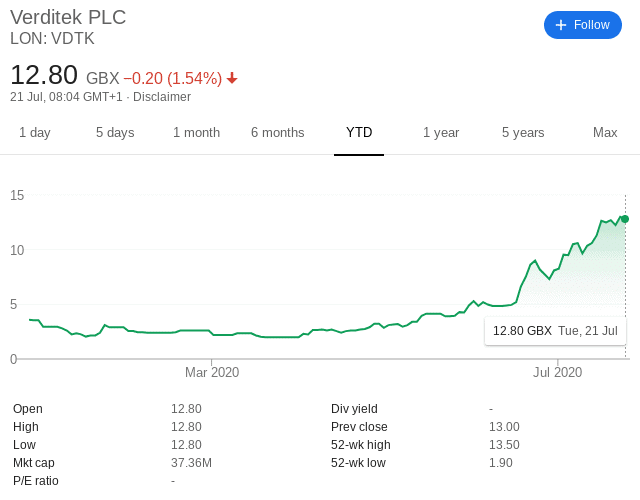 In terms of the current outlook, Verditek had a tremendous 2020. In fact, it was virtually unscathed by the COV-19 pandemic.
At the start of the year, Verditek shares were priced at just 3.50p. At the time of writing in July, the same penny stocks are priced at 12.8p. This represents a growth of 265% in just 6 months of trading.
5. Powerhouse Energy Group
Another penny share company that is heavily involved in the sustainable energy arena is that of Powerhouse Energy Group. The firm is behind cutting-edge technology that has the potential to generate clean energy from burgeoning waste.
In a similar nature to Verditek, not only has Powerhouse Energy Group enjoyed a fruitful 2020, but its shares have been unaffected by the wider COV-19 pandemic.
The stocks started the year at just 0.42p per share. At the time of writing in July, the shares are priced at 3.52p. This translates into staggering growth levels of 758% in just 6 months.
What are Penny Stocks?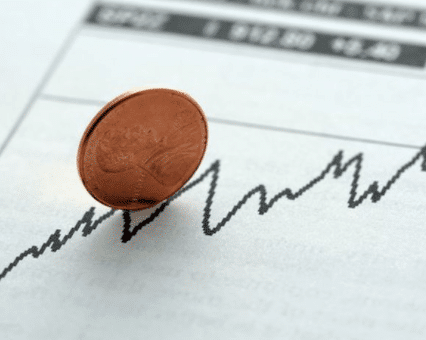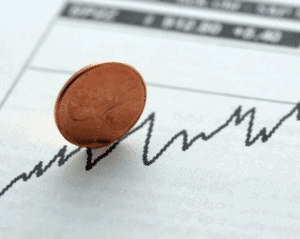 The term 'penny stocks' (or shares) is somewhat of a broad one, as there is no one-size-fits-all definition in the UK trading scene. This is because, in theory, all UK stocks are penny stocks. After all, companies listed on the London Stock Exchange are priced in pennies as opposed to pounds.
With that being said, it is widely accepted that UK penny stocks are stocks that are priced at less than £1, and trade outside of the primary stock exchange. Regarding the latter, this means that penny stocks are typically traded on the Alternative Investment Market (AIM). In other cases, they will be traded on the OTC (Over-the-Counter) markets.
Either way – penny stocks are usually very small companies that are yet to establish themselves. This might be because they were recently launched or their underlying business model is unproven. This subsequently means that the opportunity for growth is significant. That is to say, if the penny share company in question is able to one day float on the London Stock Exchange, it is likely to see its stock price rocket.
However – and as is the case with all investment streams, penny shares also come with their risks. As we explain in more detail later, penny shares are highly volatile and suffer from low levels of liquidity. This means that you stand a chance of losing money in comparison to strong, stable, and established blue chip stocks. It is also not uncommon to see your penny shares increase in value, only to then struggle to find a buyer to take them off your hands.
Are Penny Stocks safe to invest in?
Penny stocks can be bought for a very low price which means that it is possible to risk only a small amount of your capital when investing. However, this does not mean that they are entirely risk-free. Just like traditional stocks, Penny shares are prone to volatility and you could lose the money that you invest. In fact, penny stocks can be considerably more volatile than traditional stocks because new companies have less market experience and may not achieve the success that they hope to. Investing into a new company is always risky, even if share prices are low.
The best way to avoid losing funds when investing in penny stocks is to conduct thorough research and analysis before investing. The best penny stocks will be supported by strong fundamentals and strategy. If a company manages to succeed, penny stocks can offer great returns. However, this isn't guaranteed.
Some Key Offerings of Penny Shares
Here are some of the features that penny share investments may provide users.
Unprecedented Growth
Put simply, people invest in penny stocks because they think that they stand the chance to make substantial gains. Make no mistake about it – if you are able to pick a penny share that subsequently goes on to make it big – you could make a return on investment. But, most penny shares do not achieve this feat – so where there are rewards there are also huge risks.
This is why users should be fully aware of the risks involved in making such investments. Make sure to conduct your own research and analysis before making any investment.
Low Barrier to Entry
An additional reason why UK investors turn to penny shares is because of their low barrier to entry. That is to say, the cost of a single share is so low that you stand the chance to purchase a substantial number of stocks. Let's take ASOS as an example. At an initial listing price of just 24p – a £1,000 investment would have got you 4,166 shares.
At the other end of the spectrum, the likes of British American Tobacco have a current listing price of 2,785p – meaning that your £1,000 investment would get you just 37 shares.
So Many Penny Stocks to Choose From
Unlike FTSE 100 shares – which as the name suggests is capped to just 100 companies, there are thousands of penny shares to choose from in the UK. For example, the AIM lists over 850 different companies from a wide variety of sectors and industries.
You then have over 600 companies that constitute the FTSE All-Share Index – many of whom fall within the remit of a penny share.
Penny Stocks -Strategies
If you're a beginner investing in penny shares for the first time, there are a few strategies and features to consider before investing into these assets.
It is important to remember that very few penny shares will make it big. After all, you will often find that the company in question is behind an unproven business model, so there is never any guarantee that they will be successful.
Diversification
Put simply, diversifying in the stock markets means that you invest in stocks for heaps of different companies, as opposed to being overexposed to a select few.
Furthermore, an effective diversification strategy will see your basket of shares come from a wide range of sectors and industries.
To help clear the mist, below we outline an example of a possible penny share investing scenario.
You have £2,000 to invest in penny shares
You want to diversify your assets, so you purchase penny stocks in 200 different companies
This means that your maximum exposure per penny share is £10 (£2,000 / 200 companies)
These 200 companies will come from heaps of sectors – including but not limited to renewable energies, cloud computing, blockchain technology, medical cannabis research, and online retail.
Look to the Distant Future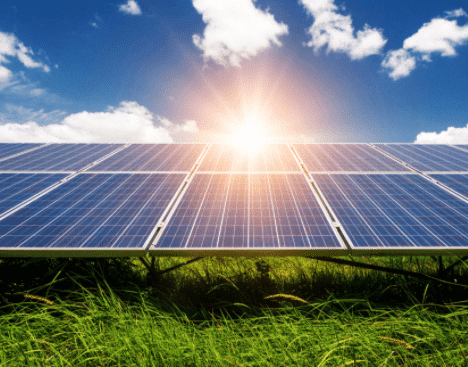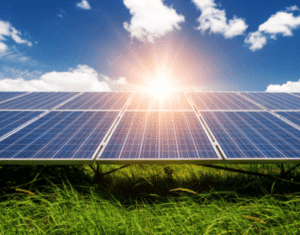 As we have discussed throughout our guide, the overarching objective when investing in penny stocks is to pick a stock that has potential.
Users may want to spend some time and conduct research on which sector to invest for the future. This could be one way for users to decide on which penny stocks to invest in.For example, here are a few popular and emerging sectors in the current climate:
Renewable Energy: More and more countries around the world have – especially those in Western Europe, committed to net-zero emissions by the year 2050.
Blockchain and Cloud Computing: When it comes to digital solutions, both blockchain and cloud computing are two technologies in particular that are becoming growingly popular. Users should look to research different sectors and the stocks within them, to make an investment decision.
Pharmaceuticals: While pharmaceutical stocks like AstraZeneca and GlaxoSmithKline are multi-billion pound companies, there are heaps of penny shares active in the space, too.
The above sectors are 3 of hundreds of potential examples that users could look to conduct research in.
Low Stakes
For risk-averse users, a possible strategy to look into is entering the market with low stakes. Keeping low stakes and diversifying into various penny stocks may also allow users to invest in various sectors. Also, this may reduce the risk of losing big from one single trade.
What are the Risks of Penny Shares?
Before investing in penny stocks in the UK, you need to have a firm understanding of the many risks that you will face.
This includes:
High Volatility
First and foremost, penny shares can be highly volatile. While there are many examples that illustrate just how volatile penny stocks can be, let's look at Catenae Innovation PLC. The firm in question is involved in the blockchain technology space and the chart below is based on its share price over the past month.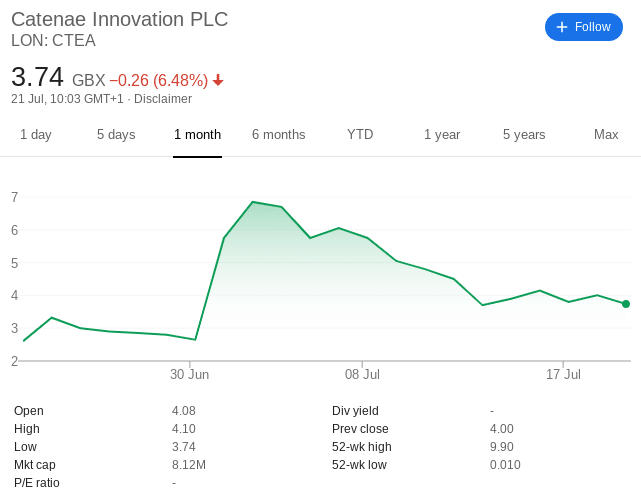 As you can see from the above, the penny shares started the month at 2.60p. A couple of weeks later, the shares stood at 6.85p. This represents a positive swing of 163%. At the end of the one-month period, the shares were priced at 4.07p. This represents a negative swing of 40%.
Low Liquidity
An additional risk that users should know about is when investing in penny stocks is that of liquidity. Major companies on the FTSE 100 have multi-billion pound market capitalizations. But, in the case of penny shares, this might be just a few million. As a result, this can make it very difficult to transact.
Lack of Information
When you purchase shares in FTSE 100 stocks, rest assured that everyone is on a level playing field. By this, we mean that information released by the company is always done through the public domain. As such, it doesn't matter if you have 1 share or you are a majority stockholder – everyone is accustomed to the same information at the same time.
Failure to do this would result in significant fines and sanctions for the company in question. However, the rules surrounding information are much laxer in the penny shares arena. This can make it difficult to know how the company is actually performing.
Pump and Dumps
Leading on from the previous point on low liquidity and high volatility levels – this is a highly conducive receipt for pump and dumps schemes. For those unaware, this is where a group of unsavoury characters collectively agree to purchase shares in a particular stock at pre-determined intervals.
The overarching goal is to artificially increase the value of the shares, so that outside investors unwittingly jump on the bandwagon thinking they are investing in the next big thing.
However, as soon as the stocks get to a certain price, the pump and dump outfit will proceed to offload their shares. In turn, this will see the value of shares capitulate – leaving victims of the scam with significant losses.
Places that Offer Penny Shares UK
So now that you know more about penny stocks, it is also important to review a brokerage before beginning your investment. Depending n your particular requirements, you should review a suitable broker in the UK that can provide low fees and multiple tools & features to assist your investment.
With that in mind, below you will find a selection of popular penny share brokers that are active in the UK market.
How to Purchase Penny Shares UK
Should you choose to invest in penny stocks in the UK, users should do so with a suitable broker that caters to their needs and requirements. After having selected a trading platform, here is how you can begin investing in a few simple steps:
Step 1: Open Account
Head over to the homepage of your trusted broker and begin the account set-up process. You will be required to fill in your personal details – including your full name, email address and mobile number. Create a username and password for the platform to continue.
Step 2: Verifiy Your Identity
Most reputable brokers in the UK are regulated by the FCA – which is why users may be required to verify their accounts. To do this, simply upload proof of ID (a copy of your driver's license or passport) and proof of address (a copy of a bank statement or utility bill). Once these documents have been uploaded, your broker should verify them in a couple of minutes.
Step 3: Deposit Your funds
The next step is to deposit funds into your trading account. Most brokers provide various supported payment methods such as Credit/debit cards, bank transfers or e-wallets.
Choose your preferred payment option and deposit the funds into your account.
Step 4: Invest in Penny Stocks
Once your account has been funded, proceed to search for any penny stock or any other stock you wish to purchase on your platform's search bar. Fill in the amount you want to credit into the trade, and confirm your transaction.
Conclusion
UK penny shares will not be for everyone. While there is potential to make gains – the chance for losing money is equally high. Therefore, you should ensure that you have a set of safeguards in place before taking the plunge. As we have discussed – this should include a strategy that focuses on diversification and small stakes.
Frequently Asked Questions on Penny Shares
How are penny shares defined in the UK?
What exchanges are UK penny shares listed on?
Do penny shares pay dividends?
How do I sell penny shares in the UK?
What is the minimum amount I can invest into a penny share?