If you're looking for an online broker that offers a wide array of asset classes and low fees, whilst providing extensive learning materials for traders, then Alvexo may be worth considering. Launched in 2014, Alvexo has grown exponentially and now has clients from many countries.
In this Alvexo review, we'll cover everything you need to know about this broker, showing you how to create an account in minutes – all from your computer, smartphone, or tablet.
What is Alvexo?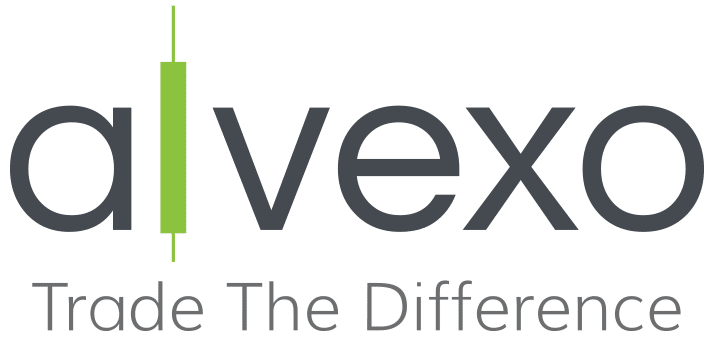 Alvexo is a regulated online trading brokerage that places great emphasis on providing a convenient trading experience whilst offering traders a place to learn and hone their skills. Alvexo officially launched in 2014 and now has offices in Cyprus and Paris. By providing traders with leading trading technology, Alvexo seeks to ensure that trades can be executed instantly, which will be suitable to traders of all experience levels.
Alvexo is primarily a CFD broker and offers many of the same services that stock brokers do, including a web-based trading platform, a mobile app, and even MT4 support for currency trading. Since Alvexo mainly offers CFDs, the platform's fees are built into the spread that is quoted on each asset. Spreads can vary depending on the account type used, although they can be as low as 2.9 pips on the Classic account. Notably, the spread is the only fee that applies – no additional transaction fees are charged.


As noted earlier, Alvexo prides itself on offering traders a platform to trade and learn simultaneously. It does this through a whole host of educational materials, including trading signals, news, webinars, eBooks, economic calendars, and even Financial Web TV. Finally, as Alvexo is regulated by CySEC and is authorised to operate in the EU, traders can benefit from the platform's safe reputation.
What Assets can I Trade at Alvexo?
As mentioned in the previous section, Alvexo primarily offers CFD products – so if you're interested in CFD trading UK, then there are plenty of options. Let's take a look at each of the assets offered by Alvexo:
Stock CFDs
Alvexo offers users a vast array of stock CFDs to trade, including many well-known companies such as Apple, Amazon, and Tesla. Each of these stock CFDs comes complete with a detailed price chart and additional analysis options if you are an Alvexo+ member. Since these stocks are designed as CFDs, retail traders can benefit from up to 1:30 leverage on these products – with even higher leverage options for professional traders.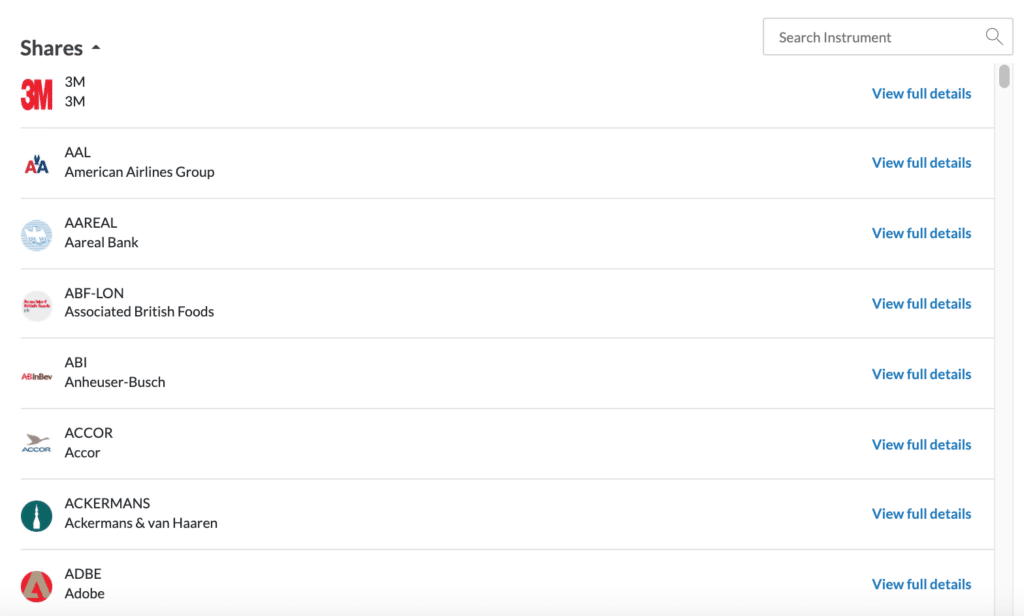 Forex
For people looking to get involved in Forex trading, you'll be glad to know that Alvexo also offers a broad selection of currency pairs to trade. Over 58 pairs are offered, including majors such as EUR/USD and minors such as NZD/JPY. Notably, Alvexo even provides a range of niche pairs to trade, including USD/SAR and USD/RON.
Commodities
Investors interested in commodity trading UK can benefit from a solid selection of commodities to trade. Our Alvexo review noted a total of 13 options within this asset category, including agricultural products such as Corn and Wheat, along with hard metals such as Gold and Silver.
Indices
For those looking to participate in indices trading, Alvexo has a selection of major indices that can be invested in. The choice is diversified internationally so that users can invest in indices located in Australia, Italy, France, Japan, and more. There are even multiple US-based indices on offer, including a 'United States Tech 100' index that tracks the top 100 tech stocks listed on the NASDAQ.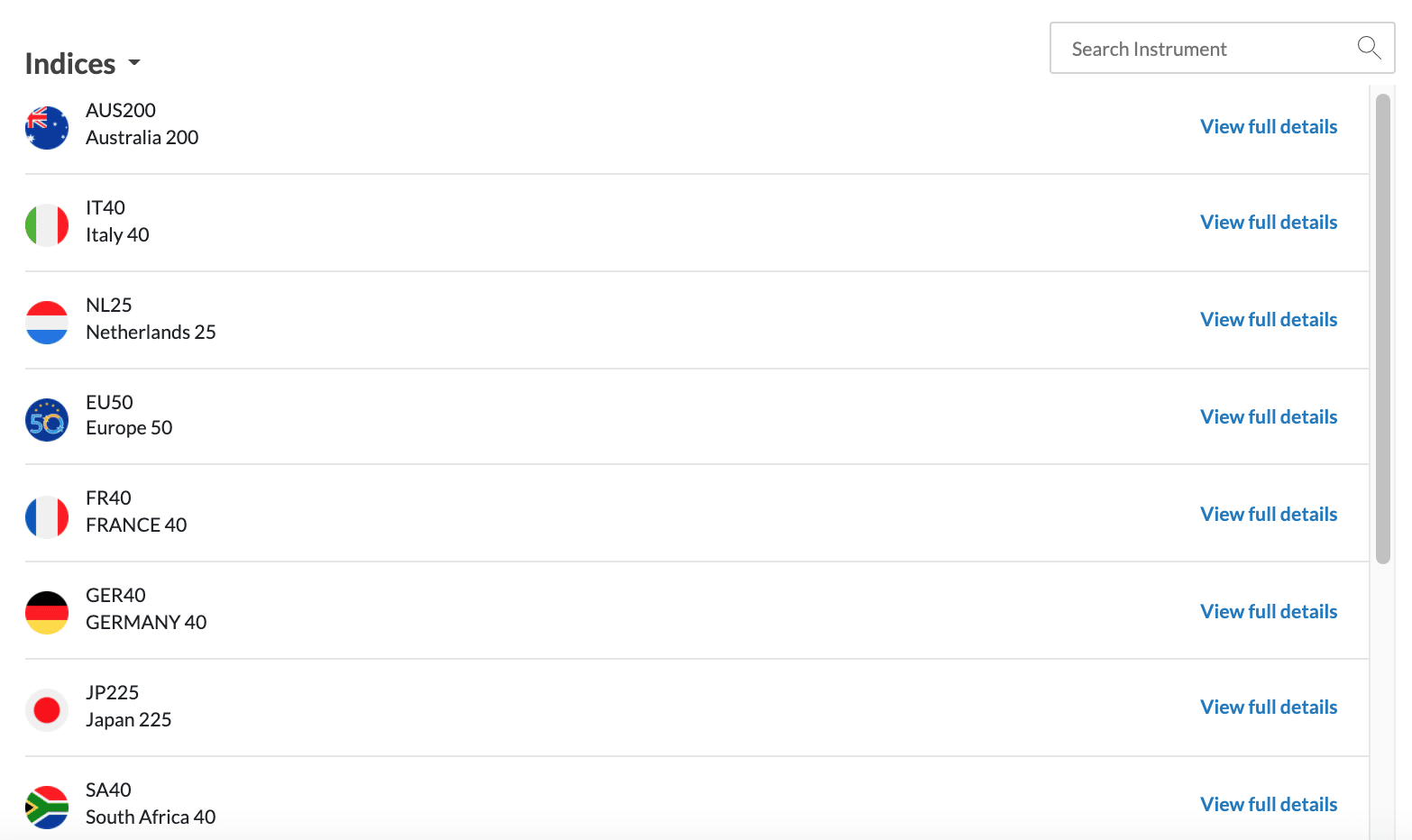 Cryptocurrency
Finally, Alvexo even offers a selection of cryptocurrency CFDs for users to trade. These include trading pairs such as BTC/USD, ETH/USD, XRP/USD, LTC/USD, and DASH/USD. Notably, as cryptocurrency CFD trading is banned in the UK, these instruments will only be available for non-UK traders.   
Alvexo Fees, Charges, and Commissions
The next section of this Alvexo review will focus on the Alvexo trading fees. Many of the most popular investment platforms will offer low trading fees to entice users – and Alvexo is no different. With that in mind, let's explore the various aspects of Alvexo's fee structure.
0% Commissions
The first thing to remember is that Alvexo doesn't charge a commission when you place a trade. Commissions tend to be quoted as a percentage of your position size that is taken as the broker's 'cut' for facilitating the transaction. Commission rates vary from broker to broker, although they can be as high as 3% on some platforms.
Since Alvexo completely eradicates commissions, traders can save a sizable amount on trading fees over the long term – especially active traders. Notably, this 0% commission structure offered by Alvexo extends across all tradeable instruments provided by the platform.
Competitive Spreads
Like many of the most popular CFD brokers, Alvexo's spreads aim to be as competitive as possible. The spread is the difference between the bid and the ask prices on an asset and essentially means that the price you place a BUY order at will be slightly higher than the actual market price of a specific asset. This structure allows CFD platforms to receive some compensation for facilitating your trade.


Again, spreads can vary wildly depending on the broker, although Alvexo's spreads can be as low as 2.9 pips for users with a Classic account. However, spreads are reduced even further for users with a Gold account, starting at only 2.2 pips. Finally, Prime accounts can benefit from spreads starting at 1.8 pips, whilst Elite account holders can trade with spreads from 0.1 pips.
Swap Fees
Swap fees are charged when a CFD position is held overnight. Essentially this refers to the interest charged or deducted on a trader's position. These interest rates are based on the rates offered by Alvexo's liquidity provider and can vary from asset to asset – although all swap fees are quoted clearly on the asset's trading page.
Non-Trading Fees
Aside from the spread, it's wise to consider the non-trading fees that users must be aware of. This Alvexo review found that the broker does charge a small inactivity fee of 10 units of the client's base currency (e.g. $10) if no trades are placed for three months. This charge will then continue monthly until a transaction occurs on the account. 
Alvexo Leverage
Whether you're interested in the most popular shares to buy or want to gain exposure to the forex market, you may wish to employ leverage. Leverage refers to the process of 'borrowing' money from the broker to boost your position size – without the need to deposit more trading capital. By boosting your position size in this way, you can significantly increase potential profits; however, this means that potential losses can be far higher too.
While researching for this Alvexo review, we found that the broker offers up to 1:30 leverage for retail clients. Leverage rates are capped for certain assets by the ESMA, so it's essential to be aware of these. For example, users can trade with the maximum leverage on the major forex pairs, although can only receive 1:20 leverage on minor pairs and 1:10 leverage for commodities.
Notably, if you qualify as a professional trader, Alvexo offers an incredible 1:300 leverage on the broker's tradeable assets.
Alvexo Trading Platforms and Tools
One of the most popular aspects of the Alvexo experience is the variety of trading platforms on offer. Alvexo does offer a trading app, which will be discussed in the following section, along with a web-based trading platform and full support for MT4.
Alvexo Web Trader
The web-based platform, called the 'Alvexo Web Trader', can be accessed from your browser and features speedy trade execution, advanced charting features, and a wide array of trading tools.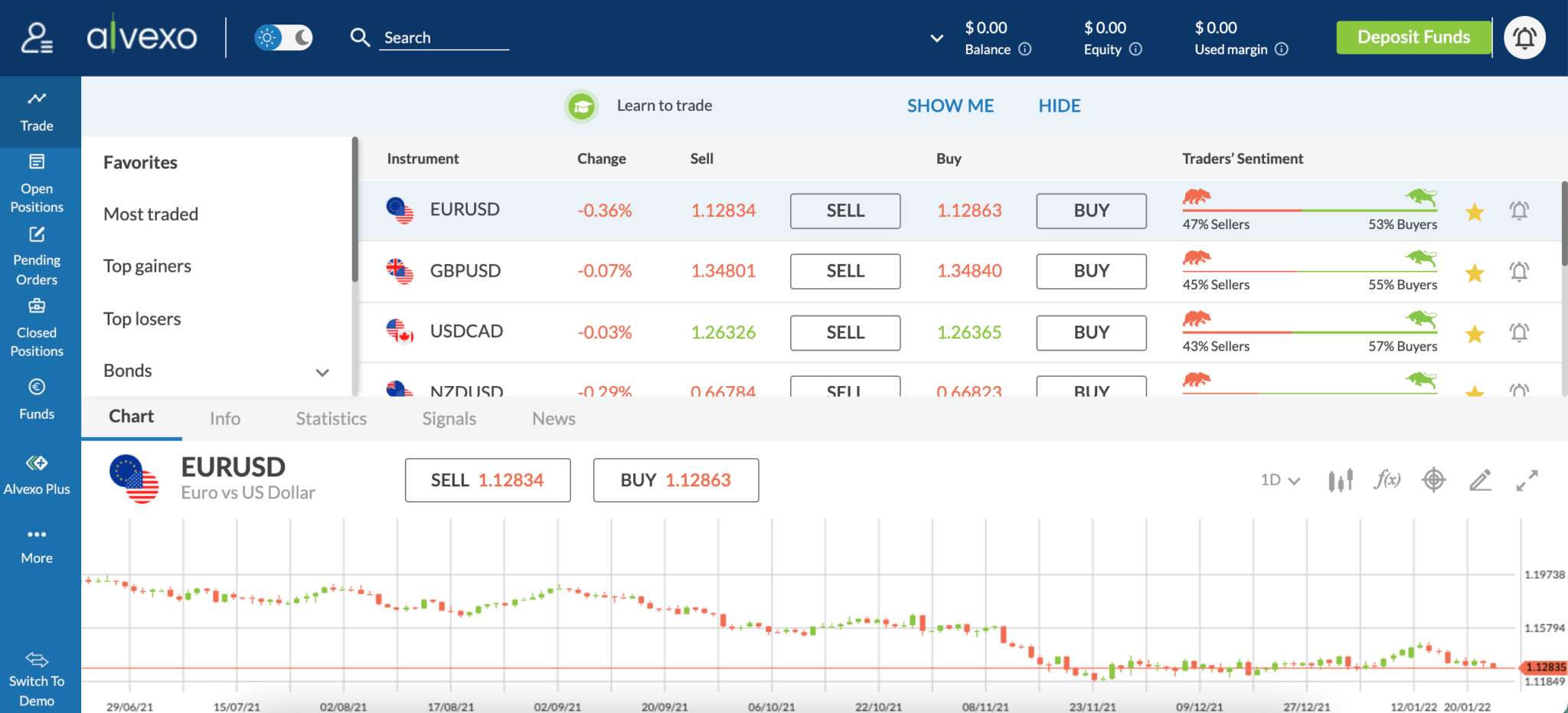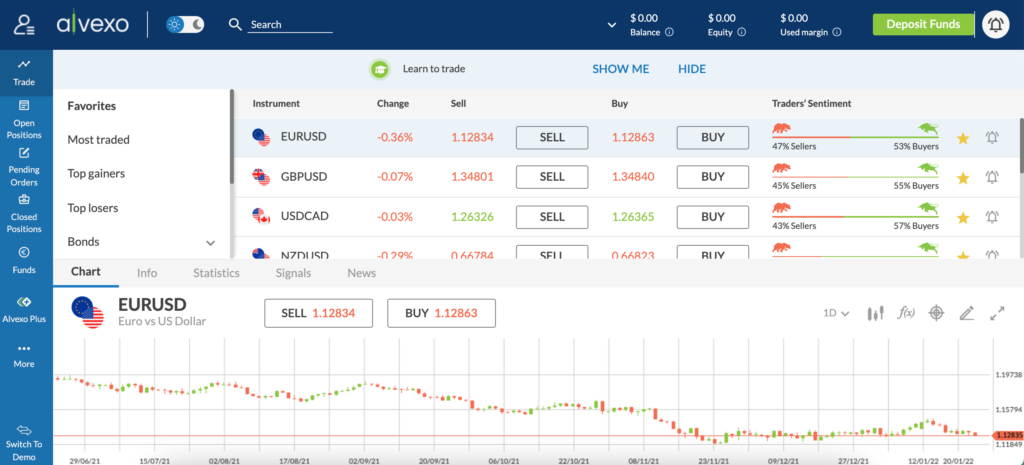 The user interface on Alvexo's web-based platform is sleek and easy to navigate, making it ideal for beginner traders. Users can also benefit from real-time price alerts, with Alvexo+ members receiving pre-researched market signals delivered three times per day. Finally, Alvexo also provides real-time asset data and easy order management so that you can optimise your trading activities.
MT4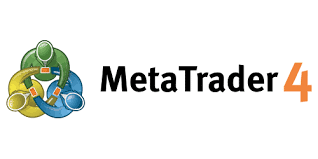 Aside from the web-based platform, Alvexo also offers full support for MT4, making it one of the most popular MT4 brokers for forex traders. Once you've opened a live account with Alvexo, you can download the MT4 app in just a few clicks and log in using your Alvexo credentials.
Once logged in, users can utilise all of the features that MT4 is known for, such as numerous order types, 30 different technical indicators, and nine different charting timeframes. Users can also customise the interface to make trading strategies simpler to apply. Finally, Alvexo users can also download the MT4 app to their smartphone or tablet and log in using the same credentials, allowing seamless trading whilst out and about.
Alvexo App
Our testing for this Alvexo review found that the broker offers one of the most popular trading apps for beginners. The app is available to download from the App Store or Google Play and offers various helpful trading tools, such as real-time price alerts and advanced risk management options. Like the browser-based platform, the Alvexo app also allows users to view price charts and conduct technical analysis.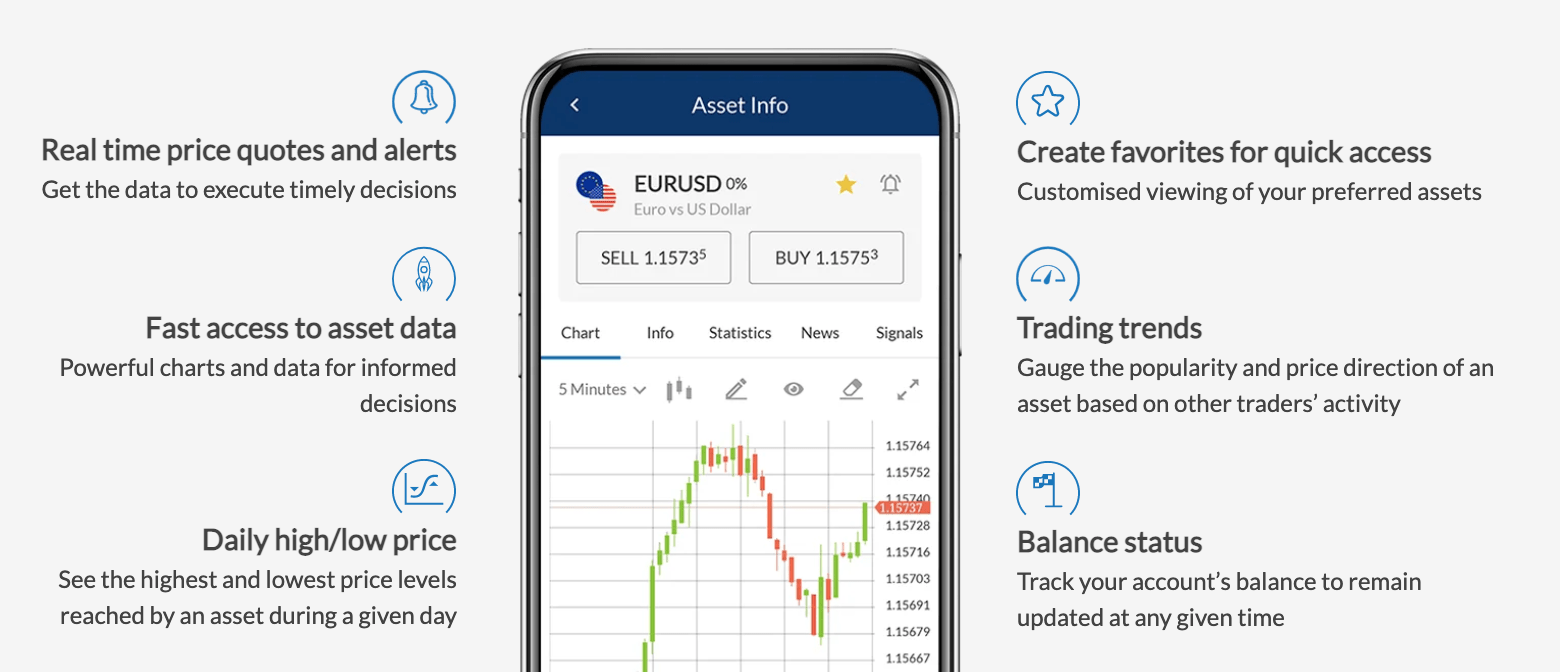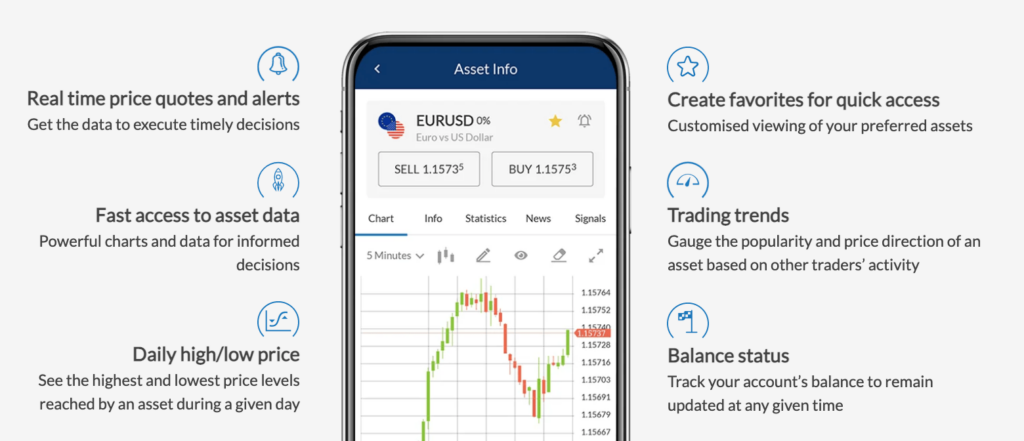 The app seems to be appreciated by most users, as it currently has a 4.4/5 rating on the App Store with over 170 reviews. It also has a 4/5 rating on Google Play, with over 780 user reviews. Notably, users can trade all of the same assets on the app that are available on the web-based platform, with positions synchronising seamlessly.
Education and Research at Alvexo
One of Alvexo's main feature is its broad range of educational materials targeted at beginner investors. Entering the financial markets for the first time can be daunting, which is why Alvexo offers a total of seven eBooks that are designed to explain the basics of the trading process. Alongside these eBooks, users also get access to:
Real-time market news
Webinars on trending topics
An economic events calendar
Web TV
Trading signals
In addition to the materials mentioned above, our Alvexo review found that the broker also offers a free demo account, otherwise referred to as a paper trading account, facility for all users. This account comes complete with €50,000 in virtual money and allows beginners to hone their skills on the Alvexo broker platform in a completely risk-free manner.
Deposits and Withdrawals
When comparing the most popular share dealing accounts, it's vital to review the deposit and withdrawal process. In terms of the former, Alvexo allows deposits from €500 on their Classic account. Notably, the minimum deposit threshold rises if you opt for a more advanced account type, with Gold accounts requiring a €10,000 deposit.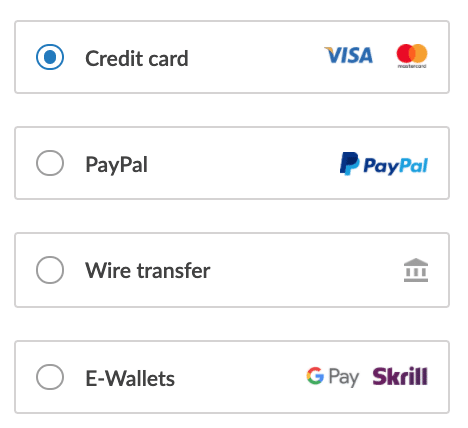 In terms of deposit methods, Alvexo accepts all major credit/debit cards, along with wire transfers and e-wallets such as PayPal, and Skrill. No deposit fees are charged whatsoever, which is also the case for withdrawals. Withdrawals take around 3-5 business days to complete, and Alvexo only allows users to withdraw in USD or EUR.
Is Alvexo Safe?
As noted earlier in this Alvexo review, the broker is regulated by CySEC, one of the leading financial regulatory agencies within the EU. Furthermore, Alvexo is operated by VPR Safe Financial Group Ltd and offers negative balance protection to ensure users are protected in times of severe market volatility. Finally, Alvexo now has over 1.1 million registrations**, which adds significant levels of credibility to the platform.
Sponsored ad.

76.22% of retail investor accounts lose money when trading CFDs with this provider. You should consider whether you can afford to take the high risk of losing your money.
Alvexo Review – The Verdict
To summarise, this Alvexo review has covered everything you need to know about the trading platform, highlighting its features and fee structure and showing you how to create an account in minutes. With strict oversight from CySEC and a wide range of educational materials, Alvexo is undoubtedly a brokerage option for beginners and advanced traders alike.
Sponsored ad.

76.22% of retail investor accounts lose money when trading CFDs with this provider. You should consider whether you can afford to take the high risk of losing your money.
Frequently Asked Questions about Alvexo
When was Alvexo launched?
Does Alvexo offer shares?
What trading platforms does Alvexo offer?
What is the minimum deposit at Alvexo?
Disclaimers:
*Not available for existing ECN Clients, other fees may apply
**App Store and Google Play reserve the right to change at any time the amount of reviews and overall rating at their sole discretion based on a constantly updating database of reviews. Therefore, the number of the total reviews and grade shown above may not reflect the actual numbers at any given time.