If The iShares US Technology ETF is a fund that allows investors to invest in some of the world's largest companies. This fund holds 160 of the largest US-based technology companies. So, it's no surprise to see the fund up 70% in the last 12 months and currently trading at all-time highs.
In this guide, we discuss the fund's history and its largest holdings. We also show you how to choose a stock broker and how to go about investing in the iShares US Technology ETF.
You can own a stake in technology growth companies by investing in the iShares US Technology ETF.
Step 1: Choose a stock broker that is regulated and has a large range of ETFs and other instruments.
Step 2: Open an account by clicking on the 'Register Now' button and following the prompts.
Step 3: Deposit funds into your account.
Step 4: Find the iShares US Technology ETF by using the search bar. The ETF's ticker code is IYW.
Step 5: Enter your order to buy and click the 'Buy' button.
Step 1: Choose an ETF Broker
In order to invest in ETFs, you will need an account with a stock broker or a CFD broker with a range of ETFs.
1. Fineco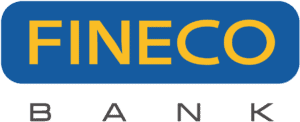 Another broker for ETFs is Fineco Bank. Fineco is part of the Fineco Bank and offers a wide selection of financial services beyond its investing platform. You can use the platform to invest in shares, ETFs, CFDs and mutual funds. UK investors can also use the platform, for ISA investments.
In terms of fees, Fineco doesn't charge a spread, but instead charges a flat dealing fee of £2.95 for UK stocks and £3.95 for US and European stocks and ETFs. If you invest in mutual funds there is no dealing fee, but there is an annual platform fee of 0.25% of the value of your account.
Fineco has a proprietary trading platform with interactive charts and a stock screener to filter stocks. The platform can also be used on mobile devices. Fineco is regulated by the Financial Conduct Authority and the Prudential Regulation Authority in the UK.

Sponsored ad. Your capital is at risk
2. Capital.com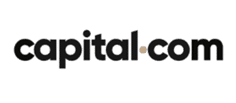 Capital.com is a CFD Broker that can be used for ETF investing. As a CFD broker, any trade you make will be in the form of a contract for difference, rather than the underlying instrument. CFDs are available on ETFs, shares, indices, commodities, currencies and cryptocurrencies – so all asset classes are covered. In terms of ETFs, Capital.com currently lists 379 different funds.
Investing in ETFs with CFDs offers the ability to use leverage and the ability to open short positions as well as long positions.
Capital.com doesn't charge a commission, but instead charges a spread, and is well known for charging very competitive spreads. In addition, you will not be charged for deposits or withdrawals.

If you open an account with Capital.com you will have access to several different trading platforms. The primary platform is a proprietary, feature-rich, web-based platform. It includes a screen for idea generation, charts, a portfolio page, and an insights page.
The broker is also compatible with MetaTrader4 if you want an option with more advanced charting features. Finally, there's a mobile app and an investor education app.
Capital.com is regulated by the FCA in the UK and CySec in Cyprus, the leading regulatory bodies in both countries.
Sponsored ad.

83.45% of retail investor accounts lose money when trading CFDs with this provider. You should consider whether you can afford to take the high risk of losing your money.
In this section we will provide you with all the information you need about the iShares core US Technology ETF so that you can make an informed decision before investing.
ETFs, or exchange-traded funds, are funds that hold other assets but are themselves traded on an exchange like shares. Most ETFs are passive funds, which means they simply track an index. However, some ETFs are actively managed by a fund manager.
The iShares US Technology ETF tracks the Dow Jones U.S. Technology Index. This index is weighted by market capitalization and includes technology companies based in the US. The companies included operate in the electronics, software, hardware, communications and media industries. The index includes 161 companies, and the ETF holds all of these stocks.
The fund was launched in May 2000 and is managed by the world's largest ETF management company, iShares, which is part BlackRock. The fund is rebalanced in September each year, though adjustments are made quarterly to accommodate newly listed companies.
As a technology ETF, it's no surprise to see that this iShares core US Technology ETF has performed very well over the last few years. The chart below shows the price performance since 2010 when it was trading at $14 a share.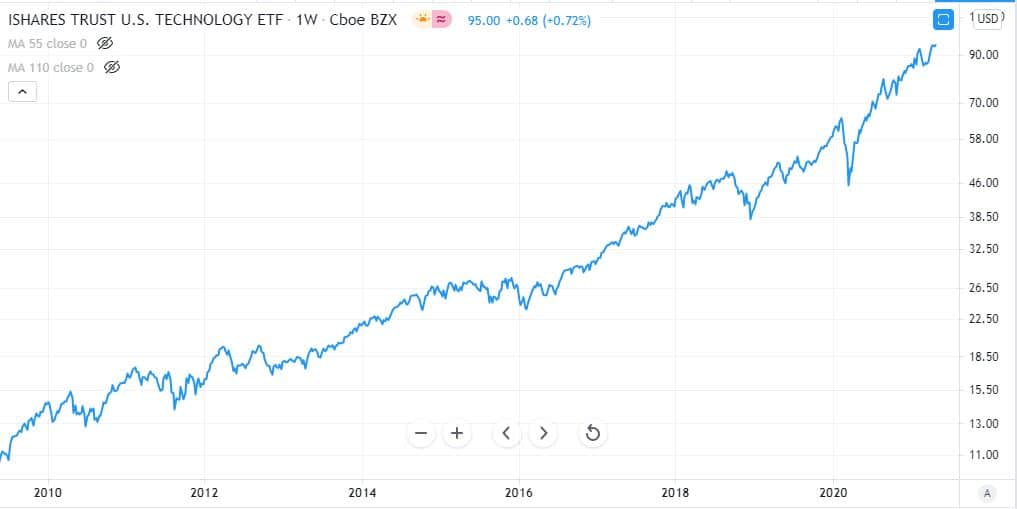 The fund has returned 68% over the last 12 months, 133.84% over three years, and 273% over five years.
The iShares core US Technology ETF holds many of the world's technology and media stocks, which are also rapidly growing companies.  These companies operate in disruptive industries like e-commerce, social media, cloud computing, mobile technology, and software.
There is obviously no guarantee that future returns will be as strong as historical returns have been. However, the funds does hold many of the world's leading companies, many of which are still growing rapidly while increasing their profit margins. The large companies that make up the bulk of the fund have low debt and solid profit margins, so they are reliable companies.
Technology companies tend to prioritize growth over profitability. The bulk of earnings are therefore reinvested in the business to fund further growth, rather than paid out as dividends. However, some companies in the tech sector do pay dividends.
The iShares US Technology ETF pays a modest dividend. The current yield is about 0.78% and dividends are paid quarterly. The last four distributions were 11 cents, 10.4 cents, 7.8 cents, and 9.35 cents, respectively, and totaling 38 cents for the year..
The fund's holdings are weighted by market capitalization. To calculate the weight of each stock, the market value of all the stocks that meet the index requirements are added up. The value of each company is then divided by the total to arrive at the percentage that is allocated to that stock. Weightings are also adjusted so that only the free float for each share is included. This excludes restricted shares that are not available for trading.
The largest 10 holdings, which could all be classified as large cap growth stocks account for 62% of the fund. Over the last two months, large-cap tech stocks have been outperforming the market which has led to strong performance for the fund.
Apple Inc
Apple Inc is the largest holding, accounting for 18.6% of the fund. That isn't surprising since it is also the most valuable company in the world. Apple has come a long way from its roots as a manufacturer of desktop computers. Products like the iPhone, iPod, iTunes, and iPad have all revolutionised their respective industries.
The iPhone remains Apple's biggest revenue generator, but it is slowing transitioning from its reliance on hardware sales. Going forward a growing percentage of revenue will come from services like music, apps, games and TV shows. Apple's shares is up 85% in the last year, and 993% over the last 10 years.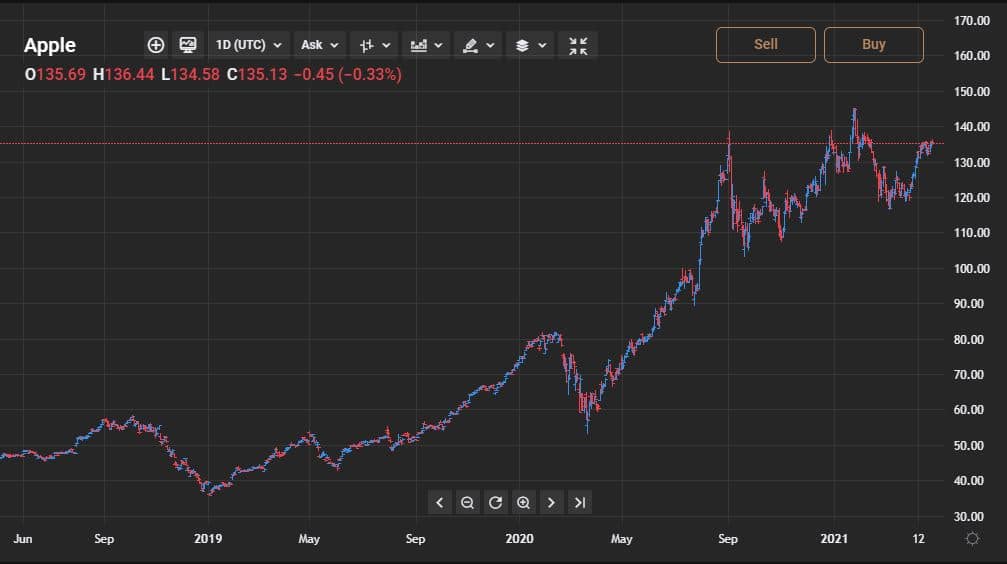 Microsoft
Microsoft Corporation is the second-largest holding at 17.3% of the fund. The tech giant has reinvented itself over the last decade and is now a very well-diversified company. It's no longer dependent on Windows and the Office suite and is now a major player in cloud computing and gaming.
The company benefited during the COVID-19 pandemic as companies accelerated their migration to cloud computing. The Teams product has also become an essential tool for companies with remote workers. Microsoft's shares have responded well to the innovation of the past few years. The stock price has risen 49% over the last year and 980% in the last decade.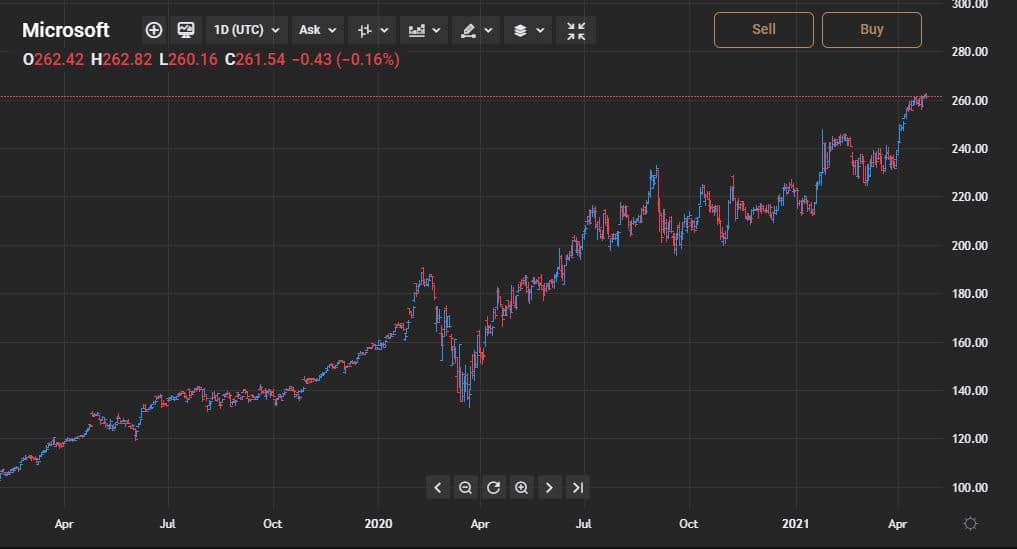 Alphabet
Google's parent company, Alphabet, accounts for just under 10% of the ETF. The shares are actually divided into two classes, one with voting rights and one without. From an investor's point of view, there is no difference when buying Alphabet shares.
Alphabet still earns most of its revenue from Google Search, but there are several other very valuable companies in the group. The most valuable business apart from Search is YouTube. Which is now the third most visited social media site. Google Cloud is the third-largest company in the rapidly growing cloud computing industry. In the future, we are likely to hear more about Waymo, Google's autonomous vehicle operating system.
Google's ad business suffered during the pandemic in 2020 but has bounced back quickly in the first quarter of 2021.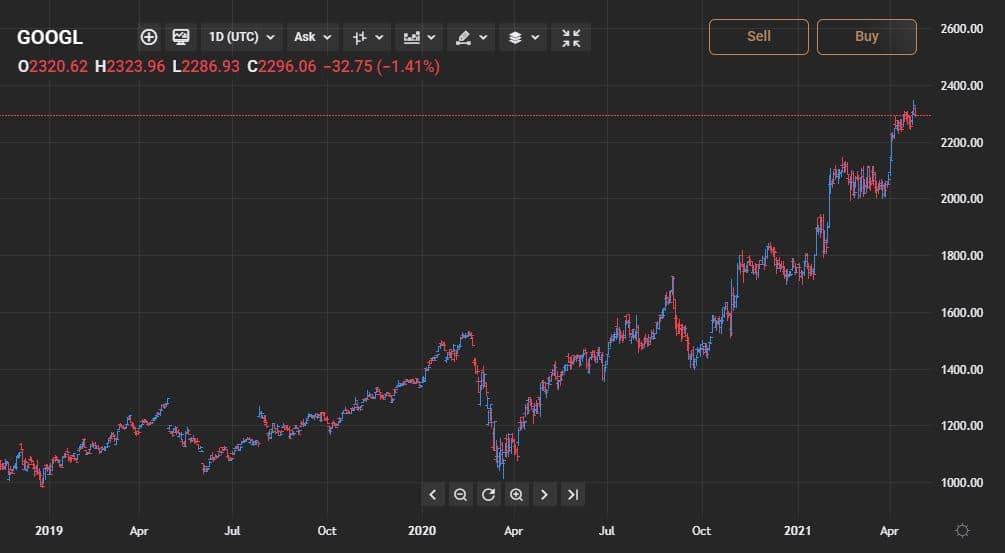 Facebook
Facebook is the fourth-largest holding at 4.6% of the fund. The company earns revenue from advertising on its Facebook, Instagram, and WhatsApp platforms. Facebook's three platforms are some of the most used websites on the internet. In 2020, Facebook's user base reached 2.8 billion, as people spent even more time online. The stock price has risen 67% over the last year and 600% since listing in 2012.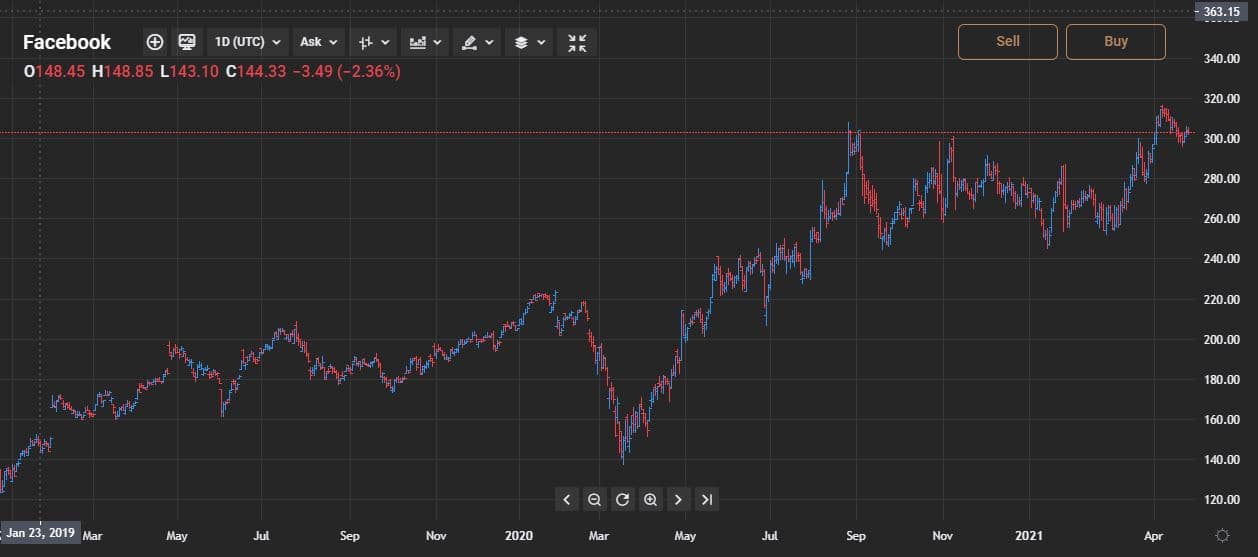 Nvidia
Nvidia supplies components to several of the fastest-growing industries including artificial intelligence, cloud computing, automation, and blockchain technology. The company is now the world's biggest hardware company in the tech sector. The stock accounts for 3.6% of the fund, making it the fifth-largest holding. The share price recently hit a new all-time high after the company gave an upbeat revenue update.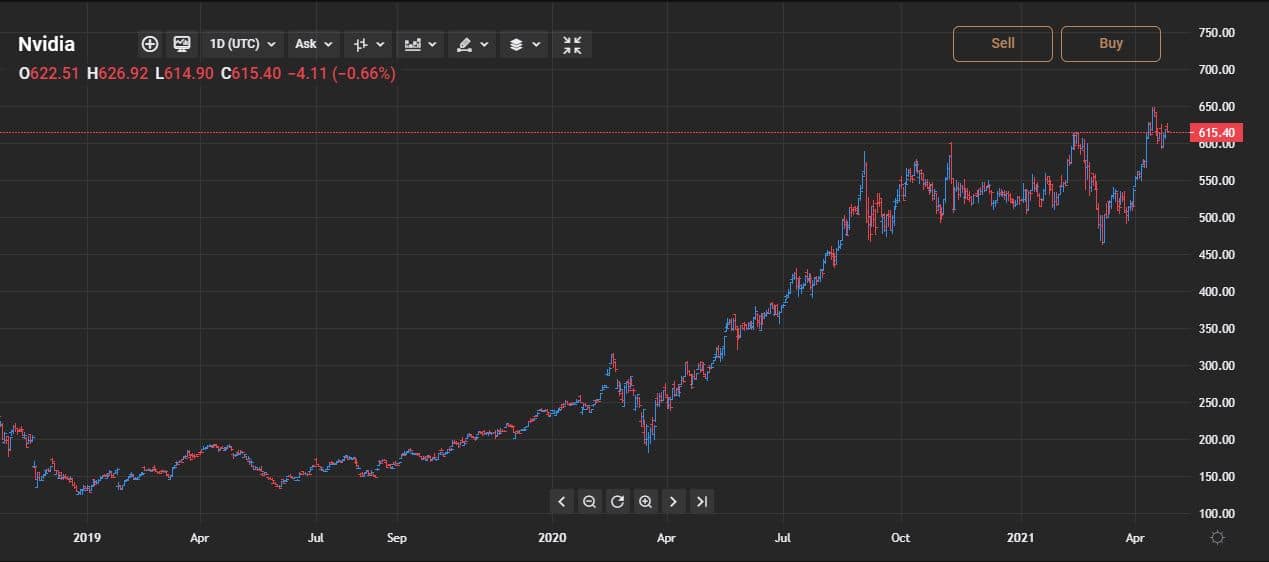 Other companies that account for more than two percent each are Adobe, Intel, Cisco, and Salesforce.
As far as sector exposure goes, the fund is obviously limited to technology companies. However, it's worth noting that some companies that are usually classified in the communications sector are also included.
Some market classification methods result in companies in other sectors being excluded even though they have a strong focus on technology. An example is Amazon which is classified as a retail company despite its position as a leader in technology. This means that if you would need to buy Amazon shares separately to gain exposure to the company.
Besides the points already discussed, below are some of the key facts to know about the fund.
Key Facts
Symbol
IYW
Issuer
iShares
Date of Inception
19-May-00
Fund Size
$7.3 billion
Currency
USD
Expense Ratio
0.43%
Category
US Technology
NAV
95.02
12-Month Range
56.21 – 95.26
12-Month Yield
0.44%
YTD Return
11.78%
1-Year Return
67.97%
5-Year Return
273.16%
Conclusion
You should now have some idea of what the iShares US Technology ETF is all about and why it has performed well over the last decade. This fund holds some of the most profitable companies in the world, and many of them are still growing revenue and profits rapidly.
FAQs
Is there a management fee for the iShares core US Technology ETF?
What is the minimum investment for the iShares core US Technology ETF?
Does the iShares US Technology ETF pay dividends?
Is the iShares core US Technology ETF a high-risk ETF?
How are stocks chosen for this ETF?