Axie Infinity is an exciting and relatively new NFT-based project that combines gaming with cryptocurrency. Having its own in-game economy that runs on the Ethereum blockchain, Axie Infinity gives players the opportunity to "Earn AXS tokens by playing and use them to decide the future of the game!" – according to the developers.
Having a better understanding of Axie Infinity's economy may help you decide whether you want to play the game yourself or invest in some Axie Infinity Shards. In this guide, we explore what this crypto is, what its future looks like, the best place to buy AXS and a detailed guide on how to do so.
How to Buy Axie Infinity Shards (AXS) in UK – Quick Step Tutorial
✅ Step 1 – Open an eToro account
The first step is to open an account with eToro, a regulated cryptocurrency exchange that allows you to purchase AXS with GBP.
🔎 Step 2 – Verify your account
To be able to purchase Axie Infinity Shards (AXS) on the eToro platform, you will need to provide some identification documents. This is a standard security procedure and is required by all regulated exchanges.
💳 Step 3 – Fund your account
You can then deposit funds into your eToro account via bank transfer, debit card, PayPal, or Skrill.
🛒 Step 4 – Buy Axie Infinity Shards (AXS)
Finally, you can buy AXS by selecting it from the list of available cryptocurrencies and clicking on the "Trade" button.
🔒 Step 5 – Secure your coins
After buying AXS, you'll want to store it somewhere safe. The eToro Money crypto wallet is a good option, as it is both secure and easy to use.
Other crypto guides:
---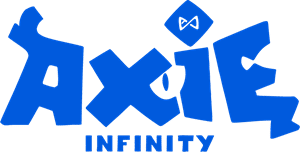 What is Axie Infinity?
Axie Infinity represents the cutting-edge of blockchain innovations because they use the 'play-to-earn' or the 'pay-to-play-to-earn' model, named as such because users play the game and earn real money.
Users 'pay-to-play-to-earn' because there is an initial upfront cost to buy the avatars – Axies – that are required to play the game and navigate the virtual world. Users collect these avatars and battle them, similar to the concept of Pokemon, but they can also breed, collect and build kingdoms for them.
Players can engage in real trade in the Axie ecosystem, such as by buying, selling and trading resources that represent a real-world value. It's possible to own items in this virtual world thanks to NFT technology, which ensures ownership can be proved.
How does the game work?
Inspired by games like Pokemon and Tamagochi, players can enter the digital universe and buy starter avatars – which are NFTs, known as Axies – and pit them against the Axies of other players in various ways.
This involves racing and battling Axies, in addition to breeding and trading them, to earn different cryptocurrencies. The game uses SLP (Smooth Love Potion) and AXS (Axie Infinity Shards) to operate its in-game economy. SLP are infinite and players can obtain this asset by playing adventure games, arena matches and daily quests.
Players can also purchase SLP and use it to breed Axies, which they can then battle against other Axies to win AXS. SLP is typically worth less than AXS because players constantly spend the former but tend to hold on to the latter. AXS is also finite, with around 270,000,000 of them existing in the game, and they are less frequently distributed.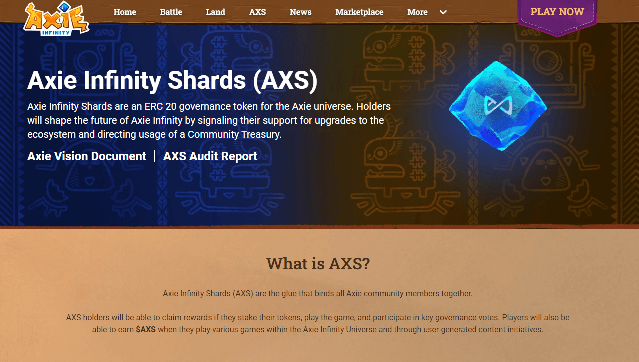 What are Axie Infinity Shards (AXS)?
Axie Infinity Shards (AXS) are the most desirable currency that you can acquire in the game, as it is typically worth the most and can be traded for fiat currency. They also ensure that the game remains decentralised, because it is a governance token, meaning holders gain certain powers.
Those who own AXS are afforded privileges such as staking rewards and key governance voting power. This means they have a say in the direction of the game in terms of developments and updates, and holders are also rewarded for participating in governance votes.
Players who seek to earn money from the game usually gather and hold AXS while repeatedly generating and selling SLP, though other strategies exist. The most skilled players who put in the most time and effort and who contribute the most to the universe earn AXS in the highest amounts.
---
Where and How to buy Axie Infinity Shards (AXS) in UK?
eToro
Positioned firmly in the goldilocks zone, eToro offers the best combination of simplicity and functionality. This marketplace was founded in 2017 and is a UK-based company. As of writing, this platform boasts a user base of 17 million people, spanning across more than 100 countries.
This platform started out as a place to trade stocks and other traditional assets, but has since explained its offerings and made crypto trading possible. eToro is likely the best platform of the three mentioned, purely because it offers everything traders need without being overly complicated to use.
Another impressive feature of this platform is the ability to 'copy trade', which allows users to mimic the trades of their most successful clients. These highly skilled traders want others to copy their trades and they follow stringent risk-control rules to minimise losses.
Here are some of the pros and cons of using eToro:
Pros:
Continuity of website and app: eToro has both a website and an app version and their user interfaces look nearly identical. This may not seem like such a benefit at first, but having an easy-to-navigate interface that is consistent across different devices can make trading much easier.
Copy trading: This is one of the main unique selling points of the platform, as beginners can simply sign up and mirror the trades of pros if they want to. This means they can skip the training stage entirely if they want to and simply place their faith in an experienced trader.
Simple and effective: The platform achieves everything it needs to and caters to the demands of its users while at the same time being easy to use.
Has penetrated the American market: This has proved immensely challenging for many crypto exchange companies due to regulatory issues. eToro has managed to overcome these challenges and successfully penetrate one of the largest markets in the world.
Cons:
High minimum purchase: While in the UK and USA you can begin trading on eToro with a minimum deposit of $10, people in other countries are being charged as much as $200. This is largely due to the varying regulatory environments in different countries.
Cryptoassets are highly volatile and unregulated in the UK. No consumer protection. Tax on profits may apply.
---
How to Purchase Axie Infinity Shards on eToro
If you're based in UK, buying AXS on eToro is quick and easy. Here's the steps you need to follow:
📍 Step 1: Account Set-Up and Verification
What you'll need:
Proof that you're 18+
Computer or smartphone with Internet connection
Phone number connected to your smartphone
Up-to-date browser or version of the app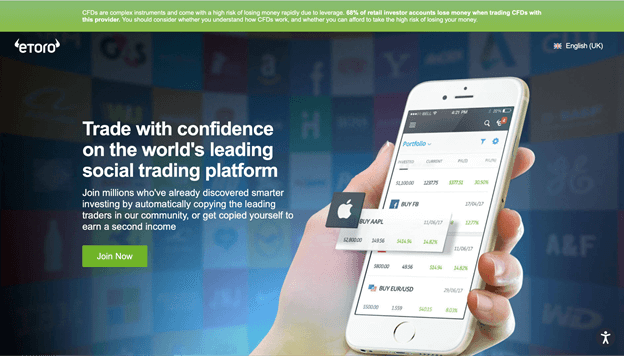 To begin, click this link. You will then be shown the following page:
If this is your first time visiting the platform, click 'join now.'
📍 Step 2: Purchase Axie Infinity Shards (AXS)
Once your account is verified you will be presented with this screen: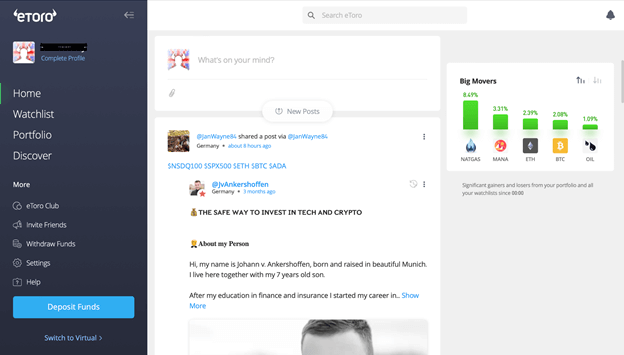 You can link a card and fund your account by clicking 'deposit funds', but the simpler way to purchase AXS is to go to the search bar where it says 'search eToro' and enter 'AXS.'
You'll then see this: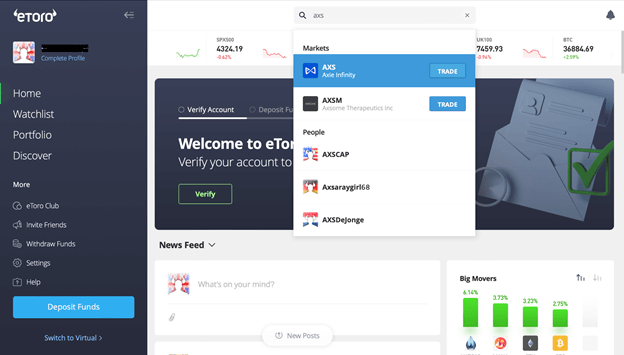 Click 'trade.'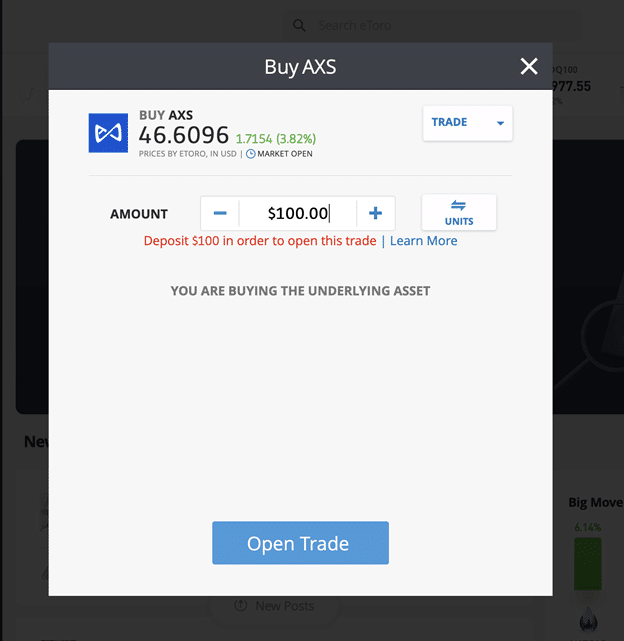 Then, type in the amount you would like to spend and click 'open trade.' Once your trade is open, eToro has purchased the tokens on your behalf and stores them in a separate account under your name. You can view and trade your assets from the portfolio section of your account.
Cryptoassets are highly volatile and unregulated in the UK. No consumer protection. Tax on profits may apply.
---
Coinbase
This is a popular platform with cryptocurrency investors of all experience levels. Coinbase offers over 100 tradeable currencies, including popular offerings such as Bitcoin, Ethereum, Dogecoin and Axie Infinity. It is a beginner-friendly crypto marketplace that makes buying and selling simple, even for first-time investors.
Coinbase is one of the largest exchanges in the world in terms of its user base, having over 73 million active users and over £285 billion in assets held on the platform. Founded back in 2012, Coinbase originally set out to be a place for buying, holding and selling Bitcoin – a goal the platform accomplished and greatly exceeded.
Users can now access Coinbase Pro, which is a more advanced version of the platform that allows for things like DeFi staking. This allows users to stake their assets and earn interest on them for the duration. Another interesting component of Coinbase is the 'Learn and Earn' feature, which gives users the chance to earn free crypto by learning about new currencies and taking quizzes.
Here are some of the top pros and cons of Coinbase:
Pros:
Easy to use: One major draw of using Coinbase is its pleasant and easy-to-navigate user interface. Buying, selling and holding currencies is very easy on this platform.
Supports major cryptos: While Coinbase doesn't offer the widest variety of cryptocurrencies, it supports all of the major ones like Bitcoin, Ethereum and Chainlink. New cryptos are also added frequently, so if coins become popular, you can expect to see them on Coinbase at some point.
Learn and earn: This feature is quite unique and enables users to generate a decent amount of crypto for free, no strings attached. All users have to do is watch (or skip through) some short videos and complete a multi-choice quiz.
Coinbase Pro: Coinbase Pro was a welcomed extension to the platform, as the original Coinbase is limited in a few ways if you're an advanced trader. The Pro version also features reduced transaction fees because it facilitates peer-to-peer trading, and it enables DeFi staking.
Cons:
Limited customer service: While customer service does exist on the platform, it is limited and many users have expressed negative opinions about it online. This is especially concerning for new investors, as support is needed when making important investment decisions and setting up accounts.
Relatively high transaction fees: Users incur transaction fees for both crypto-to-fiat and crypto-to-crypto transactions, and they are higher than many of their competitor's fees. Users still use the platform because they have a solid reputation and the addition of Coinbase Pro offers users a way to avoid these high fees.
Cryptoassets are highly volatile and unregulated in the UK. No consumer protection. Tax on profits may apply.
---
Is Axie Infinity a good investment?
As with most cryptocurrencies, opinion is divided on whether AXS is a good investment. Cryptocurrency sceptics will undoubtedly criticise the asset, as they do with all of them, forwarding ideas about how AXS relies too heavily on the influx of new users.
The truth is, all cryptocurrencies rely on adoption to a certain extent, so this criticism doesn't really hold up in the opinions of many. AXS has seen some intense price action in the last year alone – rising from a mere $0.05 to heights of $160 in November – making it a very well-performing asset.
The Crypto-Gaming Trend
The hype surrounding assets such as AXS and similar projects stems from the exciting innovation that is crypto-gaming. Blockchain has ushered in some revolutionary ways of using and earning money, and crypto-based games are among the latest innovations in this regard.
During the recent pandemic, huge numbers of people in countries such as the Philippines were using Axie Infinity the game as their primary source of income. While this does open the door to controversies surrounding fair wages, it testifies to the revolutionary and innovative nature of the game and its associated cryptocurrency, AXS.
Despite the grand claims made by the likes of Mark Zuckerberg on the topic of the metaverse, Axie Infinity is actually way ahead. The in-game universe of Axie Infinity is a fully functioning metaverse, with purchasable assets that come in the form of NFTs, such as land and other items.
These factors, and many more that haven't been mentioned, all seem to point in a bullish direction. The crypto-gaming trend is also just getting started, and Axie Infinity is undoubtedly one of the companies pioneering the technology.
---
Axie Infinity price prediction
The question on most people's minds is: will Axie Infinity go up?
Some of the price predictions for AXS are incredibly bullish, with gov.capital suggesting that the price will surge to over £350 by the end of October 2022. Their 5-year prediction is even more exciting, as they suggest AXS could reach heights of over £3,200 by 2027.
The analysts at walletInvestor.com are much less bullish, but their predictions are still extremely positive for the asset and its holders. They describe AXS as a fantastic long-term investment, predicting that its price will reach over £200 by February 2022 and around £740 in 5-years time.
---
Conclusion
Axie Infinity Shards or AXS do appear to have a lot of potential in the eyes of investors. The Axie Infinity project as a whole offers something that the majority of other crypto projects don't: the ability to play a game to earn tokens and use those tokens to affect the game. This helps AXS to foster a loyal community and customer base, which in turn helps to make it a self-sustaining and fully decentralised project.
In terms of where to buy Axie Infinity, eToro seems to be the best option for the widest variety of investors. This is because it strikes a balance between simplicity and useability and provides everything investors need, including the option to mirror successful traders. But remember, trading is a risky endeavour and you should always do your research and only trade what you can comfortably lose. Cryptocurrencies are also highly volatile assets and they see immense price fluctuations – so be sure to exercise caution.
Cryptoassets are highly volatile and unregulated in the UK. No consumer protection. Tax on profits may apply.
Frequently Asked Questions on Axie Infinity (AXS)
Here are some frequently asked questions surrounding this particular crypto, along with answers:
What is the current price of AXS?
Is AXS a good investment?
How do I buy Axie Infinity Shards?
Where can I buy Axie Infinity?