We all know that water is the most plentiful compound on the planet and is the source of all life on earth. While there's no real evaluation of the size of the water market around the world, water clearly has a huge market value. According to researchers, the global bottled water market on its own has had a market value of approximately $230 Billion in 2019 and the market is expected to reach around $400 Billion by 2026.
But investing in water is not an easy task. Presently, there's no widely used leading indicator like a water futures contract (although Wall Street has begun trading water as a commodity in 2020) and the World Water Index is not widely used as a trading asset. As such, you'll have to find an online trading platform that allows you to buy water utility stocks and ETFs.
So, if you believe that water is a popular investment, in this guide we'll cover everything you need to know about how to invest in water UK. We'll show you popular instruments to do so, and suggest trading platforms. We'll also outline popular water companies to invest in, and show you the full process of how to invest in water UK
How to Invest in Water UK Tutorial
Before we go on to our full guide of how to invest in water UK, here is a step-by-step tutorial of how to set up a broker account and invest.
Find an FCA-regulated brokerage firm – In order to buy any water-related financial product, you first need to find an FCA-regulated broker like eToro that enables you to invest in water.
Open an account. You'll then have to register for an online trading account with eToro. To do that, visit the broker's homepage, submit your personal details and verify your identity.
Deposit funds. Once your account is approved, you need to add funds to your account. In the United Kingdom, eToro maintains a minimum deposit requirement of $50. This can be deposited via bank wire transfer, debit/credit card, or e-wallets.
Invest in Water – Now, you'll have to find an asset that you wish to invest in. For that purpose, type in Water in the search bar at the top of the screen, choose an asset, and make an investment.
Step 1: Choose a Water Investment Platform
As we mentioned above, finding a platform that offers you to buy water-related assets is the most important decision in the process. As every stock broker offers its own unique trading conditions as well as the selection of assets, this decision will determine the type of investment you are about to make. To help you find the right direction, below are water investment platforms in the UK.
1. eToro – Overall Most Popular Platform to Invest in Water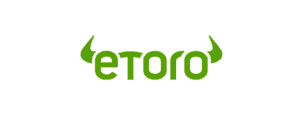 eToro is a very popular online trading platform in the UK and worldwide, offering investors to buy and sell a range of assets in different markets. This includes FX currency pairs, shares, ETFs, commodities, cryptocurrencies, and built-in managed portfolios. As such, you'll get plenty of options to get exposure to water companies and ETFs like American Water Works, Evoqua Water Technologies, Mueller Water Products Inc, etc.

Your capital is at risk.
At eToro, you can also find thousands of other shares and Exchange Traded Funds (ETFs). In fact, the broker provides access to 17 different stock markets from all regions of the world. In the UK, eToro complies with the Financial Conduct Authority and thus, it allows you to leverage your position with up to 5:1. On the same note, eToro is a CFD platform, and thus, you do not own the stock but simple can speculate the price., With that said, if you hold a stock position before the ex-dividend date, you will receive the dividend payment to your account on the payment date.
One of the main reasons why eToro has a large number of users on its network is that it offers users the largest social trading platform in the world. Among the features offered by eToro is the CopyTrade tool that enables any user to 'copy trading' another performing investor. When utilizing this feature, you'll be able to choose the location of the investor, the market, return, risk, and the number of trades per day.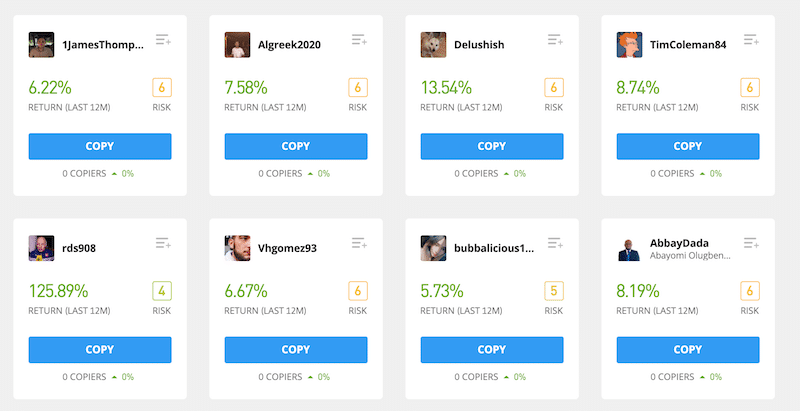 Overall, eToro is for beginners who want to enter the trading world without having to learn advanced trading platforms and go through a long and complicated registration process. The navigation on the platform is quite simple and placing an order is easy. To start, you'll have to meet a minimum deposit requirement of around £140, however, it's also worth mentioning that you do not have to deposit funds in order to open an account and test the platform. Instead, eToro offers a paper trading account with all the features that are available on the live account.
Your capital is at risk.
2. Capital.com – Innovative Platform with Low Spreads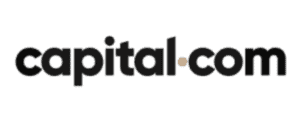 Another option to find shares of water utility companies is through Capital.com, a UK-based regulated CFD platform. This broker offers a huge selection of 3281 shares to trade on from 18 different stock markets. And, much like eToro, the leverage provided by Capital.com when trading shares stands at 5:1. In addition to stocks, Capital.com also offers CFD trading on 20 indices, 236 cryptocurrencies, 41 commodities, and 166 FX currency pairs.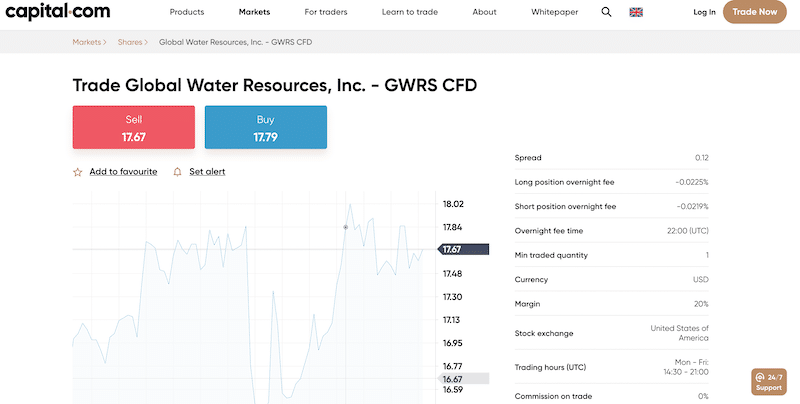 79.17% of retail investor accounts lose money when trading CFDs with this provider.
With Capital.com, users get access to lots of interesting tools with the most impressive one of all is the world's first AI-powered trading platform, which simply enables users to get personalized trading insights (very similar to other famous AI algorithms i.e. Netflix). Moreover, the broker offers several trading features like the investment, which is an education stock app for learning trading and finance. Investors on this platform also get access to one of the most popular charting platforms on the web known as TradingView.
Finally, if you wish to start trading on a more advanced trading platform, Capital.com also offers the MetaTrader4. This is perhaps the most popular platform in the market, largely due to its charting package and automated trading tools.

An account with Capital.com can be opened with a minimum initial requirement of just £20. You can make a deposit using a debit card, credit card, bank wire transfer, Neteller, Skrill, Sofort, iDeal, Giropay, QIWI, and more.
79.17% of retail investor accounts lose money when trading CFDs with this provider.
Step 2: Research Water Investment
Clearly, investing in water is a smart decision, particularly when taking into consideration the impact of climate change and water scarcity. After all, water is the most essential element of life and is needed for all ecosystems to survive. You would, therefore, expect a sort of financial market for water, similar if you were to invest in crude oil, natural gas, invest in silver, gold, wheat, corn, and soybeans. However, this is not the case with water as it is not perceived as a commodity. So, in this section of our guide, we'll help you find popular ways to invest in water.
Ways to Invest in Water
Generally, the most common way to invest in water is to buy shares of a water utility company or an Exchange Traded Fund (ETFs) that collects several water companies. With that in mind, let's take a close look at some of the most popular water companies and ETFs to buy.
Popular Water Companies to Invest in
As mentioned above, the most efficient way to invest in water is to directly invest in companies involved in water infrastructure. In the section below, we have listed the 5 water stock companies to invest in as of 2021.
American Water Works Company Inc
American Water Works Company is the largest US water utility company with a market capitalization of nearly $25 billion. Founded in 1886, this company provides water services to more than 15 million people in about 45 US states. The stock is trading at the New York Stock Exchange under the ticker symbol AWK and is considered one of the most popular water and wastewater utility companies in the world.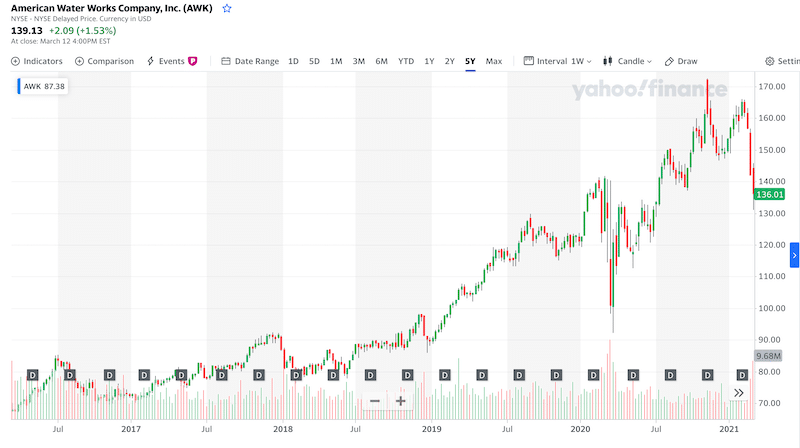 Over the past decade, the AWK share price surged from around 22 in 2010 to its current price of around 140 per share, an increase of 536%. This is excluding a very stable quarterly dividend payment of around $2.20 per share, or around 1.6% annual yield over the past years. However, so far this year, American Water Works fell nearly %10, largely due to taking profit momentum. Though the first quarter was a bit disappointing for AWK, analysts remain bullish on this stock with an average price target of around $162 per share.
Crucially, AWK has released strong fourth-quarter results for 2020 with an increase of 2.3% in revenues and a 6.8% increase in adjusted EPS from the previous year. Looking ahead, the company expects an EPS growth of around 6.9% to 9.5% YoY, and an EPS annual growth rate of 7% to 10% over the next 5-years. It also predicts the average annual dividend growth rate at 7% to 10%.
Your capital is at risk.
Evoqua Water Technologies Corp
Evoqua Water Technologies Corporation (NYSE: AQUA) is a US-based provider of water and wastewater treatment solutions that is mostly known for developing sophisticated and advanced water treatment systems. For example, Evoqua was responsible for developing the Pure Water For COVID-19 Test Vials. Generally, the company offers a broad portfolio of unique water services and products, and thus, it is categorized as a water tech company. And, much like the vast majority of tech-related companies, Evoqua does not currently pay dividends.
Evoqua Water Technologies was founded in 2013 and went public on 2 November 2017 at a share price of $18.00. Since its IPO, the stock has had ups and downs, eventually falling to a bottom price of $8.21 per share in March 2020 at the time the coronavirus crisis emerged. But since then, the AQUA stock has been steadily rising with a 1-year net return of over 220% (when calculating the net change of March 20, 2020 – March 14, 2021). In 2021, however, Evoqua has a negative YTD return of around -2%.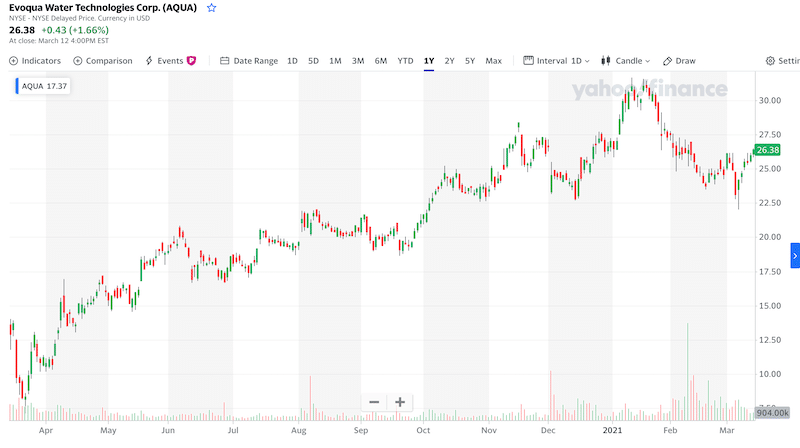 With a market cap of slightly above $3 billion, Evoqua Water Technologies is not a small company and has plenty of room to grow and expand. Also, there's plenty of good news surrounding the water tech company from Pittsburgh – it plans to expand its presence in India, it has recently earned a place on the 2021 Clean200™ list, and it has released positive earning results for 2020 despite the negative impact of Covid-19.
In terms of fundamentals, Evoqua Water Technologies has a PE ratio of 48, meaning investors have high hopes for the future earnings of the company.
Your capital is at risk.
Mueller Water Products, Inc
Mueller Water Products, Inc is one of the oldest water infrastructure companies in the US and globally, operating since 1857. While this company is not the largest nor the most advanced in the industry, it is somewhat a safe bet when it comes to picking water utility stocks. First, it offers a stable annual dividend yield of around 2%. Then, it has a long list of patents and it is already one of the largest manufacturers and distributors of water infrastructure products in North America.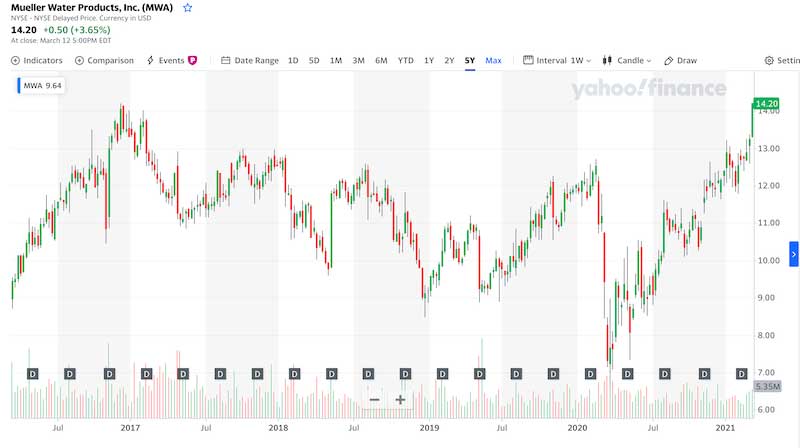 Recently, Mueller has released a good earnings report, with an increase of 11.7% in net sales to $237.4 million. According to Scott Hall, President and Chief Executive Officer of Mueller Water Products, "We benefited from strength in the residential construction end market, and our municipal end markets continued to be resilient,". For the full year 2021, Mueller expects consolidated net sales to increase between 4%-6% as compared to a year before.
Other news that has been released and had a positive impact on Mueller's share price include the contract with Calaveras County Water District to deploy an advanced metering infrastructure network.
Your capital is at risk.
York Water Company
Founded in 1815, the York Water Company is a utility water firm that supplies nearly 20 million gallons of water every day and has more than 71,000 customers. Though this is not a large-cap company since it has a market cap of just $625 million, the York Water Company offers water services to more than 202,000 people in 51 communities in York, Adams, and Franklin County, Pennsylvania.
It currently has a PE ratio for the twelve trailing months of 37, which indicates that the stock is trading at a discount. The York Water Company reported fourth-quarter 2020 EPS of 28 cents, beating analysts' expectations and improving the figure from last year. It also reported operating revenues of $53,852,000, an increase of $2,274,000 from 2019.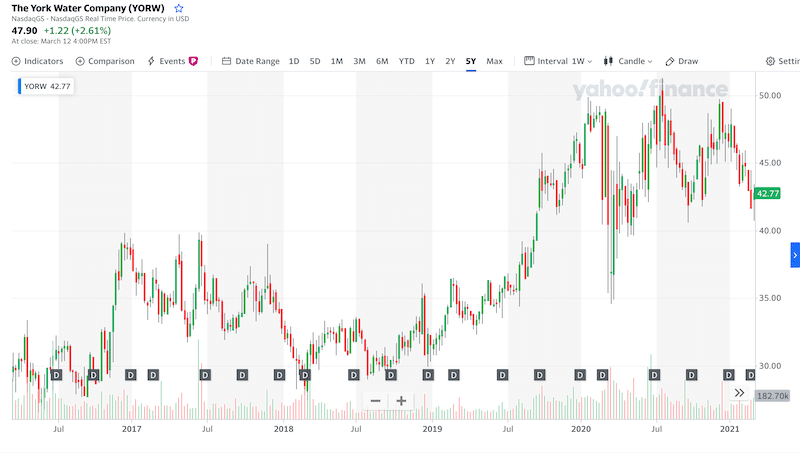 From the start of the year, the YORW share price gained around 8%, but its 1-year return stands at nearly 45%. Overall, while the York Water Company is not as diverse as other water utility stocks, it is a long-term investment in the water industry thanks to its consistent dividend payment and stable returns.
Your capital is at risk.
Pentair PLC
Another promising water utility stock is Painter PLC, an American water treatment company that operates in the US and Canada. With a market cap of almost $10 billion and yearly revenues of approximately $3 billion in 2019 and 2020, it is not a surprise that this company is a component of the S&P 500. Moreover, if investing in Painter PLC, it is reasonable for investors to expect a dividend yield of around 1.3%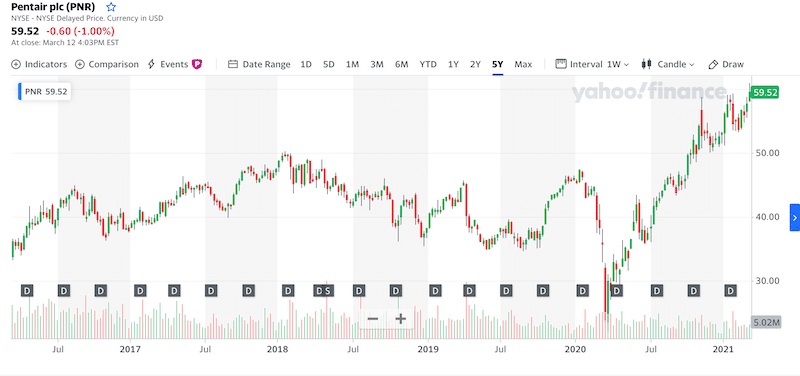 The strength of Pentair is the huge diversity of water solutions products and services it offers. This includes water supply pumps, filters, commercial pool and spa equipment, water tanks, and water supply & disposal accessories. All in all, Pentair operates in 30 countries and employs approximately 9,750 employees. In addition, it has 670 active international patents.
Presently, Pentair EPS for the twelve trailing months is set at $2.14 per share. The company forecasts EPS guidance of approximately $2.43 to $2.58 and on an adjusted basis of approximately $2.60 to $2.75.
Your capital is at risk.
Popular Water ETFs to Invest in
Another way to get exposure to water is to invest in Exchange Traded Funds (ETFs). These are essentially a collection of companies in a certain industry or sector such as water. Below, we outline the 3 water ETFs in the market.
Invesco S&P Global Water iNDEX ETF (NYSE: CGW)
This ETF is the most effective way to get exposure to water utility companies. Generally, the fund invests at least 90% of its total assets in companies listed on a global stock exchange that develops and distributes water-related products. Some of the companies listed on the CGW fund include Veolia Environnement SA, Suez SA, Danaher Corp, Ecolab Inc, Roper Technologies Inc, American Water Works Co Inc, Pentair PLC, etc.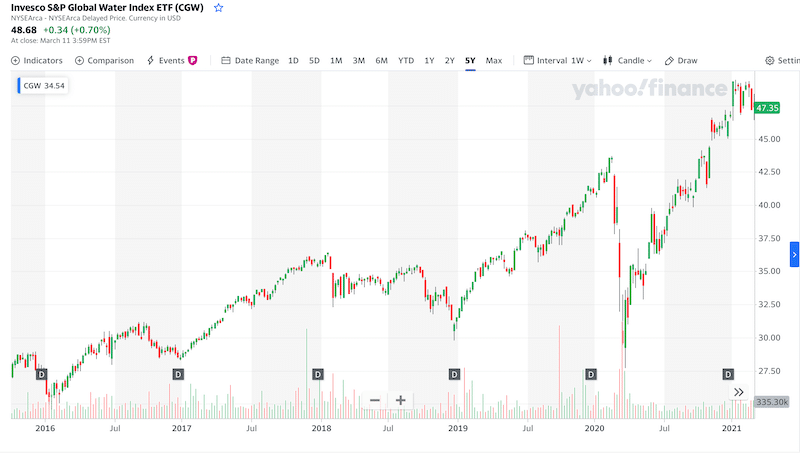 The fund has an annual dividend yield of just 0.95%, which is lower than competitor ETFs in the category. In addition, Invesco Global Water ETF Year-to-date return stands at -1.23% when the average in the industry is at around 20%. Nonetheless, this is by far the most diverse way to invest in water as 90% of the fund is allocated to water utility and technology companies.
Your capital is at risk.
Invesco Water Resources ETF (NASDAQ: PHO)
The Invesco Water Resources ETF (Fund) tracks the performance of the NASDAQ OMX US Water Index (Index), which holds shares of US-listed companies creating and developing various water products. Overall, this ETF covers 35 companies that operate in the clean water sector. Notably, the Invesco Water Resources ETF pays an annual dividend payment of $0.18 per share, representing a dividend yield of 0.37%.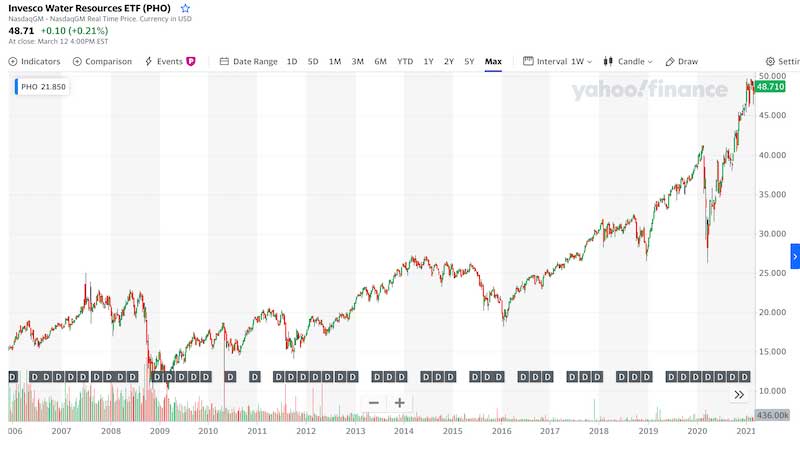 In some analysts' opinions, Invesco Water Resources is one of the most popular long-term ETFs to buy. This can be attributed to the holdings of this ETF that include American Water Works Co Inc, Pentair PLC, Waters Corp, Danaher Corp, Ecolab Inc, Advanced Drainage Systems Inc, etc.
Your capital is at risk.
First Trust ISE Water Index Fund (NYSE: FIW)
First Trust Water Exchange Traded Fund holds stocks of 36 leading water companies that include Xylem, Pentair Plc, Valmont Industries Inc, Advanced Drainage Systems Inc, and more. The fund was founded in 2007 and is designed to give investors broad exposure to some of the largest water utility companies in the world.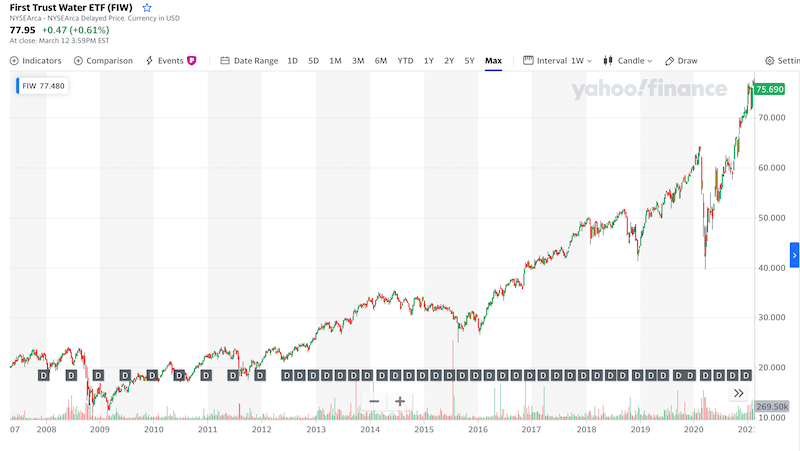 So far this year, the fund has gained around 5% and the yearly return stands at 36%. The total net asset of the First Trust Water Exchange currently stands at slightly above $800 million with 10,000 shares in circulation.
Your capital is at risk.
Is Water a Popular Investment?
Clearly, climate change has substantially reduced the availability of freshwater resources across the world, making water an even more important material. This has raised, once again, the discussion of whether water should be defined as a commodity or not. Generally, there's an ethical issue when it comes to investing in water – Water is a necessity for life on earth, and therefore, water privatization is a threat to a fair distribution of water across the globe. On the other side of the spectrum, some say that water privatization could reduce political influences, and improve the quality of water.
Nonetheless, there are several reasons why water is a popular long-term investment and an excellent solution to diversify an investment portfolio:
Global water demand is indefinite
Water demand is expected to increase
Climate change is a major concern
Water stocks are the most popular safe-haven asset in the market, more than gold, silver, and… bitcoin.
The average global price of water is relatively low
Water scarcity is a threat and may cause limited supply of water
The bottom line, when taking the factors above into consideration, investing in water is a smart long-term decision. As you can see from the chart below, the Invesco S&P Global Water Index, which tracks market-cap water utility companies, is already on a long uptrend over the last five years.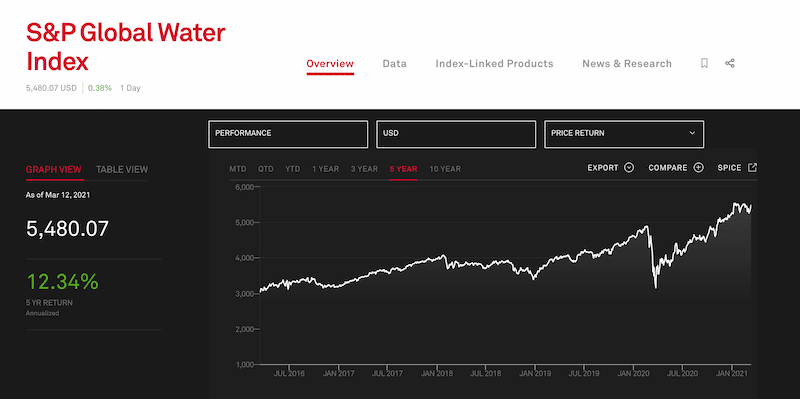 The problem of water scarcity is what makes water a valuable commodity. Countries like South Africa, India, Sweden, and Canada have experienced a serious shortage of water in the past decade. And, Even though solutions already exist on the market and new solutions may arise in the future (like seawater desalination), the limited supply of water simply makes this material one of the most popular safe-haven assets on the planet.
How to Make Money from Investing in Water
When you buy shares of a company, you are essentially buying a portion of the company's assets, revenues and profit. This could be done by buying shares of one water utility company or an ETF that tracks various popular stocks from the water industry. Nonetheless, there are several ways to make money from investment in water that include capital gains, dividend payments, and compound investing.
Capital gains – Simply put, a capital gain is an increase in the value of a certain asset. Obviously, when we are looking at water as a long-term investment, this would be the most efficient approach to make high returns on your investment.
Dividends – Another way to make money from investing in water is through dividend payments. In that regard, not all companies pay dividends to their investors so you'll have to find the most popular dividend water stocks in the market. Some of these include American Water Works Company Inc, Evoqua Water Technologies Corp, etc.
Compound investing – Another way to make high returns when investing in stocks is with a compound investing strategy. This strategy refers to the ability of a financial asset to generate earnings (by capital gains or fixed interest rate), which are then remain invested or reinvested in the same asset.
Step 3: How to Invest in Water with a Regulated Broker
As you might conclude from the above, water, by many opinions, is one of the most popular long-term investments one can make these days. But if you're still unsure how to get started, we are now going to show the full process of opening an account with eToro and place an order to invest in a water-related company.
Step 1: Open an Account
Opening an account is the first step you need to take. Fortunately, the account creation process with eToro is simple and straightforward. To start, visit eToro's website and click on the 'Join Now' button.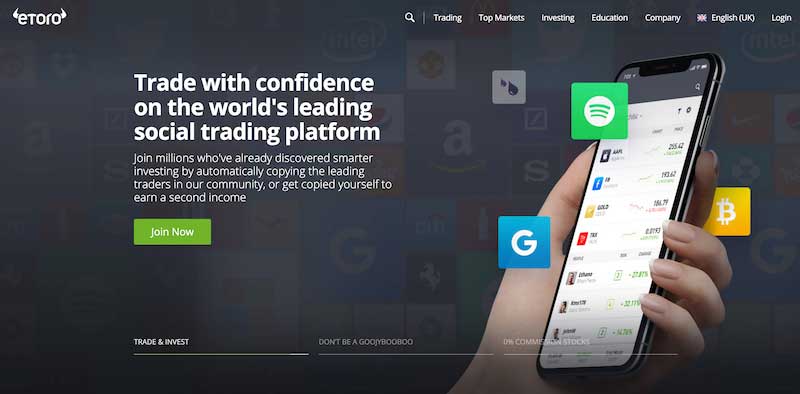 On the next page, you'll be asked to enter your full name and email address. In addition, you'll be required to create a username and password.
Your capital is at risk.
Step 2: Upload Documents & Verify Your Identity
As an FCA-regulated brokerage firm, eToro must verify the identity of its clients. This means you'll have to provide a copy of your passport or any other national ID like a driver's license and a bank account statement or utility bill issued within the last six months.
Step 3: Deposit Funds
Once eToro has confirmed your account, it's time to add funds to your balance. To do that, simply click on the Deposit button on the trading dashboard, choose the payment method, and deposit at least £140 (the minimum deposit requirement in the UK). eToro supports a variety of payment options that include credit and debit cards, PayPal, bank wire transfer, Skrill, and Neteller.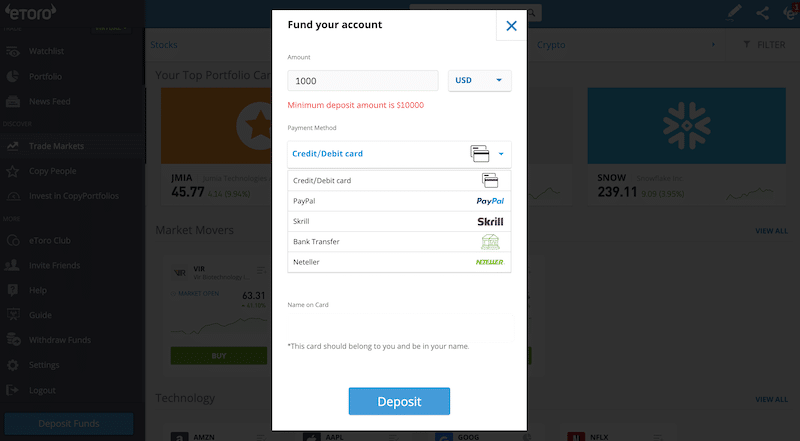 Step 4: Invest in Water
At this point, you can place an order on eToro's platform to buy a water-related asset. To find the asset you want to buy, enter the symbol at the search bar and then click on the Trade button. For this demonstration, we are going to show you the buying process when buying American Water Works Corporation, which is one of the largest water utility firms in the world.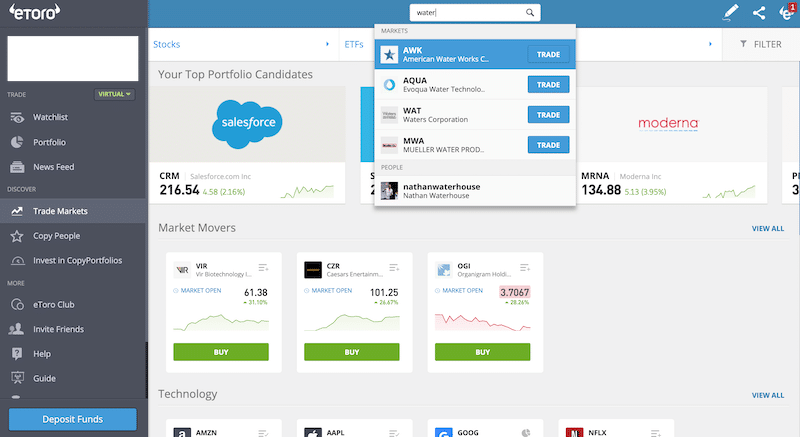 Your capital is at risk.
eToro will then transfer you to an order form where you need to insert the details of your transaction. This includes the amount of investment (you can switch between the number of shares/contract or the amount of investment) and the order type (market or limit). Then, when you are ready to send the order, click on the 'Place Order button.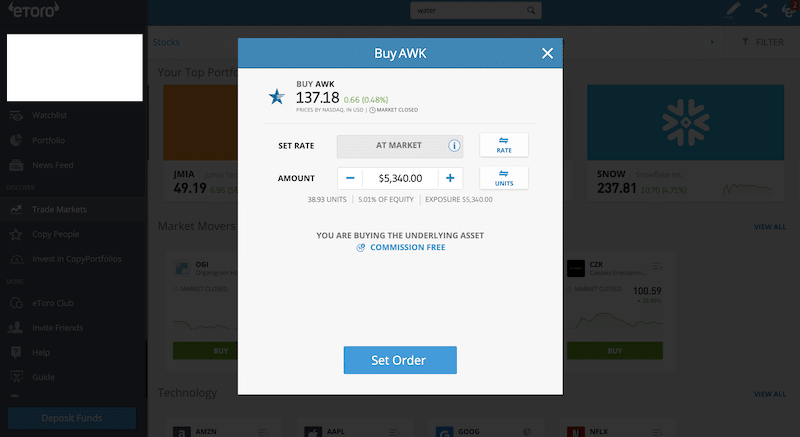 How to Invest in Water for Beginners – Conclusion
To sum up, there's no doubt that water is one of the most popular long-term investment opportunities out there. Many analysts and scientists rightfully believe that water is poised to be the commodity of the 21st century due to the lack of water and the climate change that could lead to severe drought and a limited supply of water.
As severally mentioned in our guide, investing in water is not as easy as investing in other commodities like silver, gold funds, and crude oil. And though water future contracts were recently launched at the Chicago Mercantile Exchange (CME), it is not yet a very liquid market and the entry barrier is fairly high. As such, a popular way to invest in water is through stocks and ETFs. To get access to these assets, you'll have to find an investing platform like eToro that enables you to buy water utility stocks with no commission charges.
eToro – Invest in Water with 0% Commission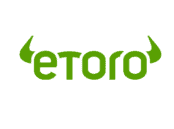 Your capital is at risk.
FAQs
Can I invest in water as a commodity?
What's the most popular way to invest in water?
Is water a popular investment?
How to invest in water with little money?
What are popular water indices to follow?