Best Value Stocks in the UK to Watch
Fact Checked
Everything you read on our site is provided by expert writers who have many years of experience in the financial markets and have written for other top financial publications. Every piece of information here is fact-checked.
Disclosure
Please note that we are not authorised to provide any investment advice. The information on this page should be construed for information purposes only. We may earn commissions from the products mentioned on this site.
Value stocks are investable shares that carry a price deemed lower than their intrinsic value. To put it in simple terms, if a stock is priced at £2 per share but its 'true' value is £3 per share, then this is a value stock.
In this guide, we discuss some value stocks UK in the market right now.
List of 10 Popular Value Stocks in 2023
Below you will find a list of popular shares. You can read a full review of each value stock by scrolling down!
Cineworld
Entain
Paypoint
Capita PLC
Vodafone Group
Biffa PLC
EasyJet
Lloyds Banking Group
Marriot International
Lockheed Martin
Popular Value Stocks in the UK Reviewed
Value stocks UK are not always easy to find. After all, if it is blatantly obvious that the stock is undervalued, everyone would be buying it. As such, it's important to remember that the process of assessing whether or not a company is a value stock is somewhat subjective.
1. Cineworld 
Cineworld is the UK's largest cinema chain. Naturally, its domestic cinemas have been closed for some time now – as per extended lockdown restrictions. In turn, Cineworld stocks have taken a major beating since the pandemic began. To illustrate this point, Cineworld shares were worth 189p before the pandemic.
In March 2020, Cineworld shares hit lows of 15p – a drop of more than 90%. There has, however, been a promising recovery over the past few months. At the time of writing, you'll pay just over 90p per stock.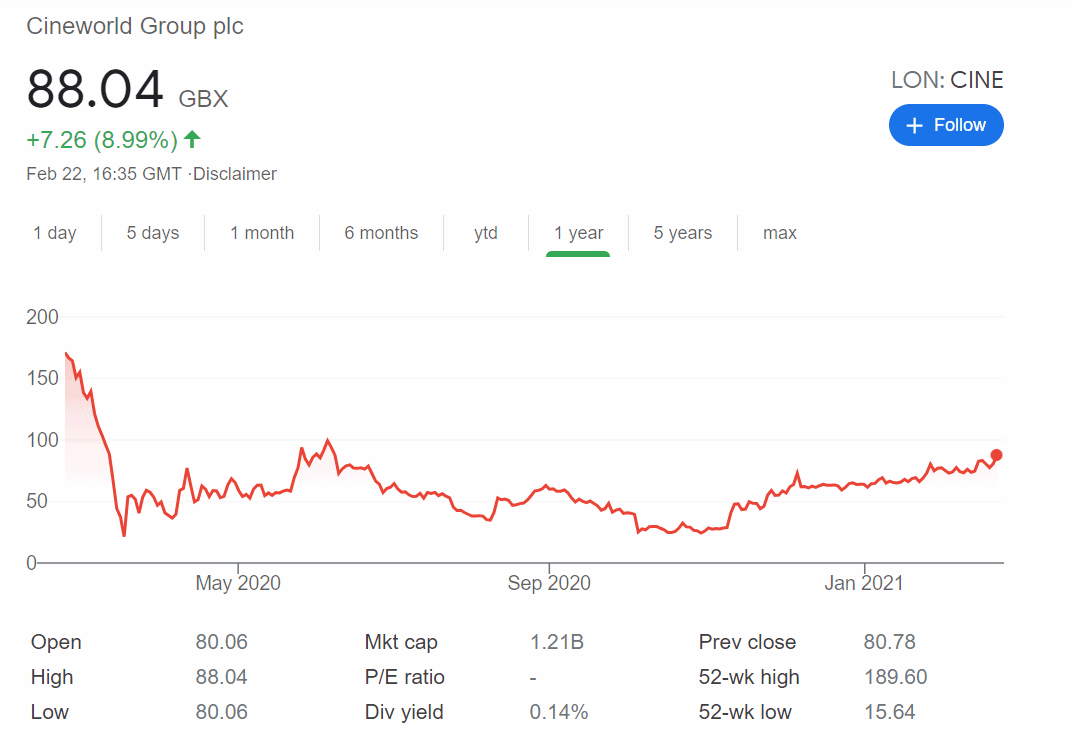 Firstly, with more than 1/3 of adults in the UK having received their first vaccine dose, things are moving at a rapid pace. Boris Johnson has set a series of ambitious – but highly achieved, roadmap targets over the coming months. This includes the reopening of cinemas across the country.
Sponsored ad. Your capital is at risk.
2. Entain
Formally known as GCV Holdings, Entain PLC is behind a suite of online gambling websites. This covers a broad spectrum of sectors – including sports betting, casinos stocks, poker sites, and online bingo rooms. Some of the most recognized gaming brands under the Entain umbrella include Sportingbet, Ladbrokes, Coral, PartyPoker, and Bwin.
Although you might not have heard of this UK value stock – it is actually a constituent of the FTSE 100.
Firstly, unlike the vast bulk of the FTSE 100, Entain has performed exceptionally well since the pandemic came to fruition. For example, back in March 2020 – where the stocks took a temporary dip, Entain shares were priced at just 292p each. Fast forward to late February 2021 and the same stocks are worth 1,411p.
In real terms, that's an 11-month increase of over 380%.
Sponsored ad. Your capital is at risk.
3. Paypoint 
Paypoint provides payment service terminals for thousands of retail locations across the UK. The technology is largely used for consumers to top up their electricity and gas meters via cash payment. You will see Paypoint terminals in convenience stores, supermarkets, petrol stations, and other consumer-facing locations.
Like other stocks involved in the high street retail scene, Paypoint revenues have taken a major hit over the past 12 months. After all, many of its locations still remain shut for business. But, before the pandemic, this was one of the hottest up-and-coming stocks on the London Stock Exchange.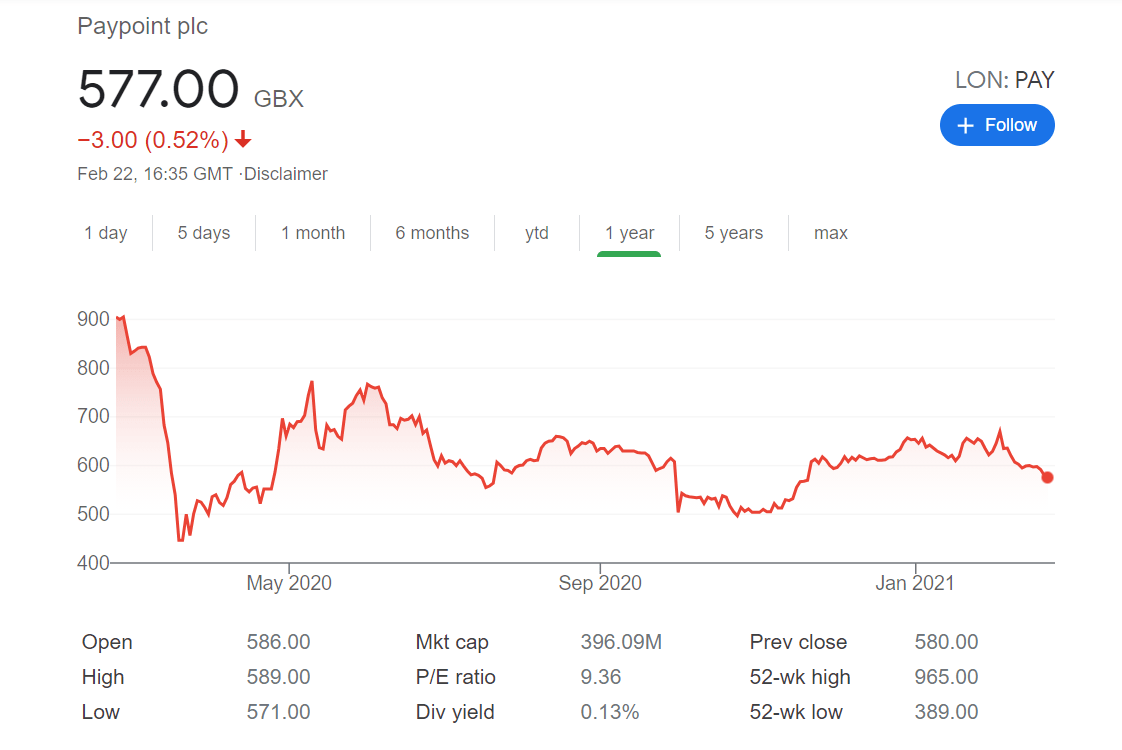 In fact, with an early 2021 stock market capitalisation of just over £400 million. Crucially, operating margins sat just below 50% last year – which is even more impressive when you factor in net debt levels of just £12 million. We should also note that Paypoint doesn't just offer terminals for gas and electricity payments.
It also has a network of over just 3,600 ATMs, as well as the technology for contactless debit/credit card transactions. In terms of its recent share price action, Paypoint shares were worth more than 965p in early 2020.
Sponsored ad. Your capital is at risk.
4. Capita PLC 
Some investors will focus on the FTSE 250 in their search for value stocks UK. After all, this is where you will find smaller companies that are not quite large enough to hit the primary FTSE 100 Index. In our view, Capita PLC is one of the FTSE 250 stocks if you're seeking market value.
For those unaware, the firm is involved in professional consultancy and business services. Founded in 1984, Capita stocks have suffered greatly since the pandemic, albeit, many would argue that the sheer size of the downfall is somewhat unwarranted. The shares were actually priced at just under 150p in February 2020 – dropping down to 19p just a month later.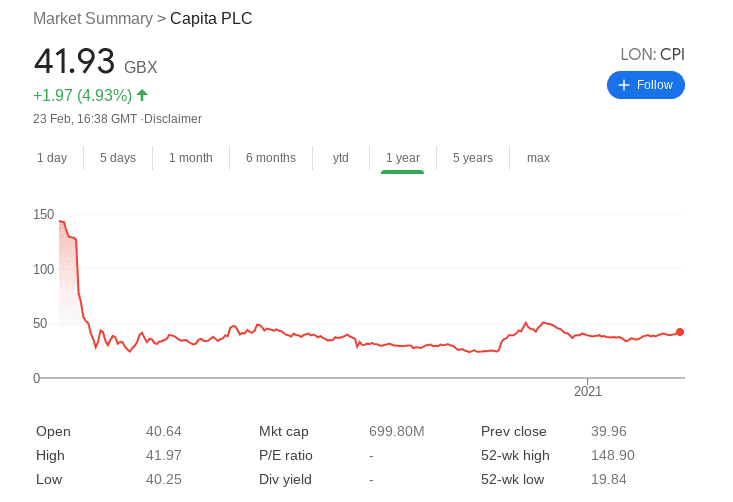 Sponsored ad. Your capital is at risk.
5.  Vodafone Group 
Vodafone is part of the FTSE 100 which offers dividend yields in the UK market. Based on current pricing,this stands at a trailing yield of about 6%. At present, Vodafone's reach covers the UK and several European countries.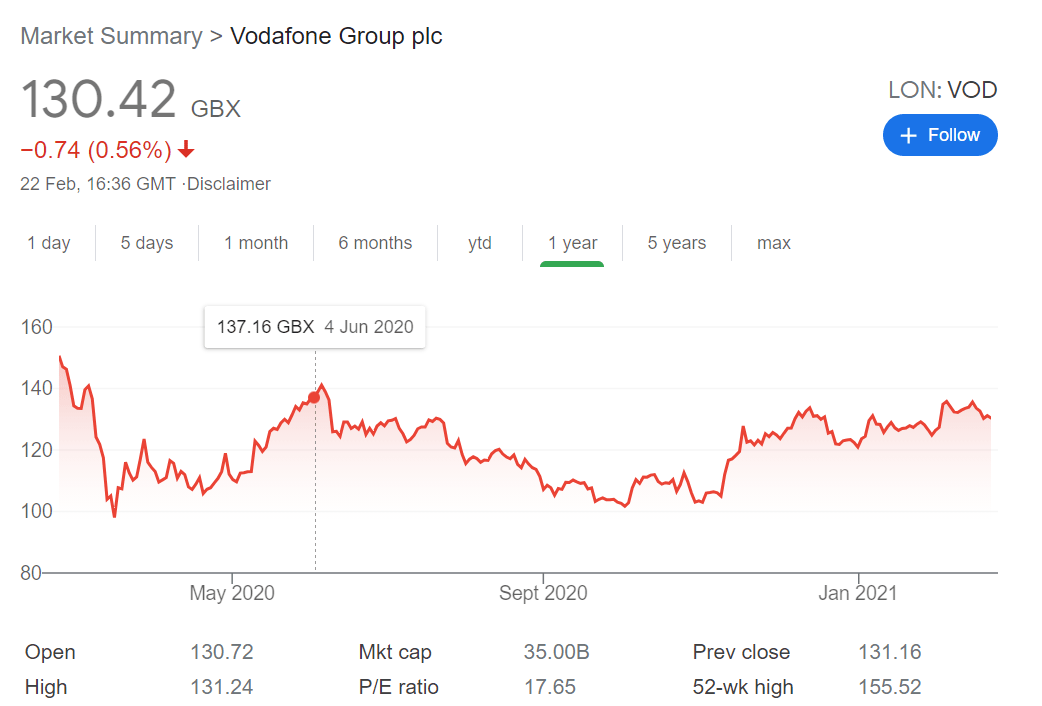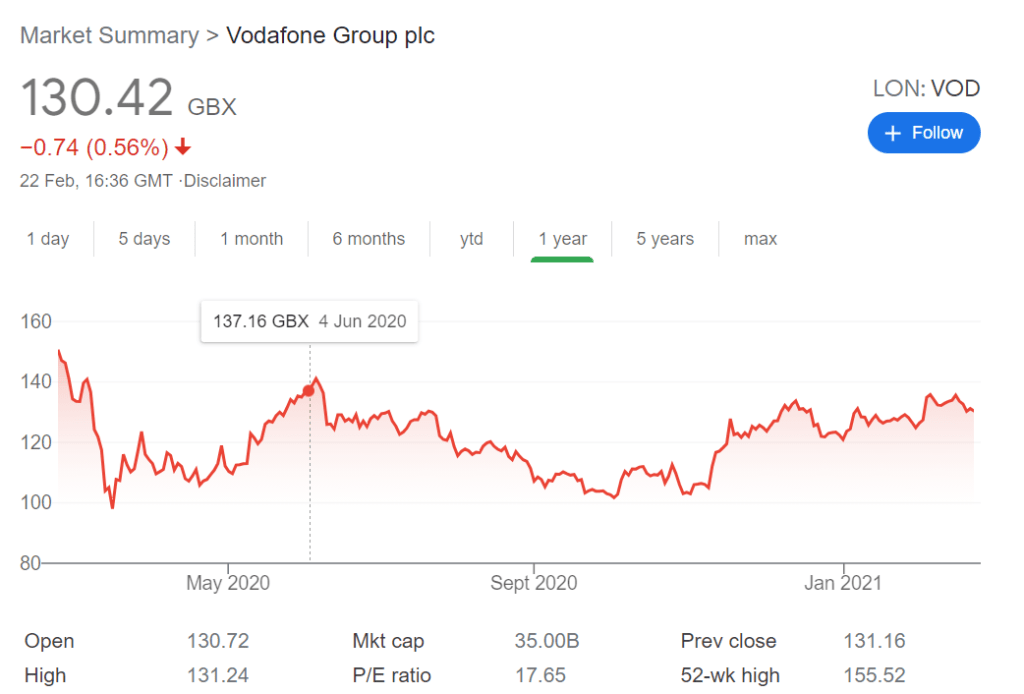 Plus, when a risk-management perspective, it is also notable how Vodafone stocks have responded to the wider pandemic. For example, the shares were priced at 123p in February 2020. 12 months later, the same stocks are worth 130p. This means that Vodafone shares have grown 5.6% over the past year – while many of its competitors have made a loss.
Sponsored ad. Your capital is at risk.
6.  Biffa PLC 
The world is slowly but surely becoming a greener and more sustainable place. In turn, there are many ways you can invest in so-called sustainable companies – many of which have taken a major stock price beating since the pandemic began. At the forefront of this is Biffa – a UK-based waste management company.
In particular, Biffa has invested heavily in recent years in creating a green framework for its waste collection services, which includes a plastic recycling plant based in County Durham. The firm has also secured a partnership with Nestlé Waters UK. This will see Biffa provide the conglomerate with recycled bottles.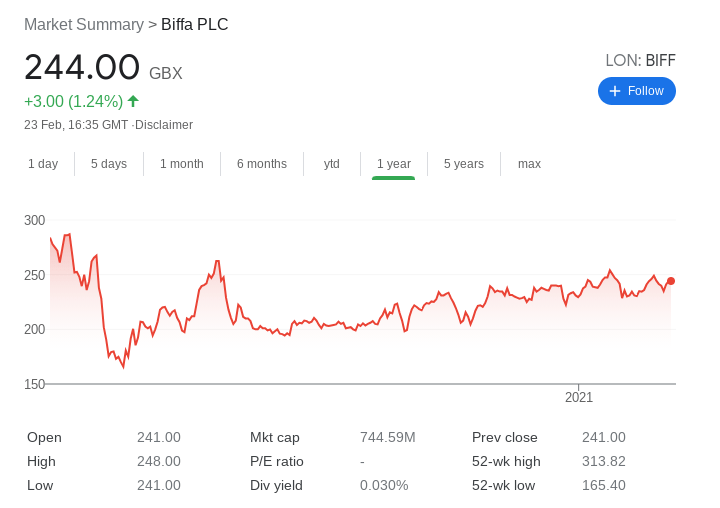 Taking all of this into account, the company has a current market capitalisation of just £744 million. Its 52-week stock price high stands at 313p.
Sponsored ad. Your capital is at risk.
7. EasyJet 
As per Boris Johnson's recent lockdown roadmap targets – the very earliest that Brits will be able to travel abroad on holiday is May 17th. Although there is no guarantee that this target will come to fruition, Johnson's announcement resulted in Easyjet seeing a 300% surge in flight bookings from the UK. Packaged holiday bookings through the Easyjet website were 600% higher than the week prior.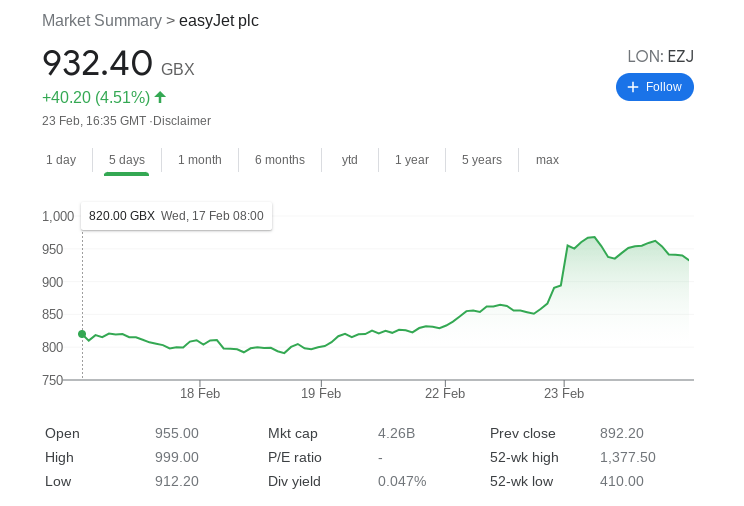 Sponsored ad. Your capital is at risk.
8. Lloyds Banking Group
Make no mistake about it – UK banking stocks are worth just a fraction of their prior glory. There is no clearer example of this than Lloyds Banking Group – a stock that was worth more than 520p in 1998. And today? The very same stocks are worth just 39p – a decline of over 92%.
Lloyds is one of the cheapest UK value stocks in the market right now.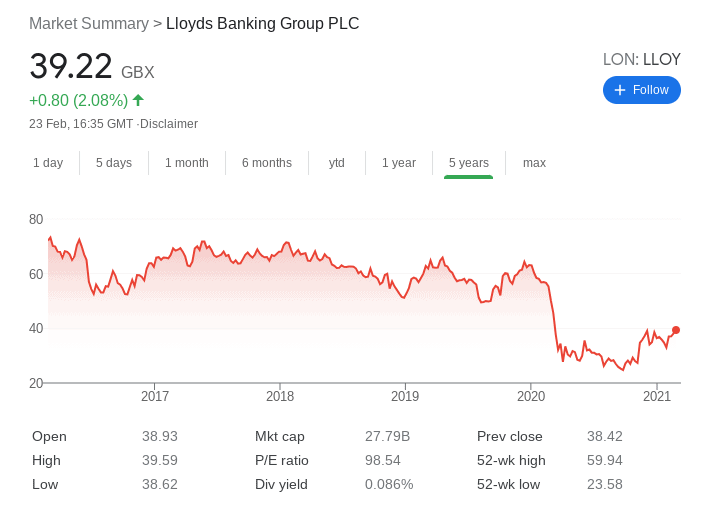 Sponsored ad. Your capital is at risk.
9. Marriot International
This NASDAQ-listed stock is one of the largest hotel groups globally.
Some of its most recognized hotel brands include the Sheraton, Westin, Ritz-Calton, Luxury Collection, and JW Marriot. In the 12 months prior to writing this article, Marriot hit 2020 highs of just below $135 per stock. Naturally, with more and more governments around the world placing restrictions on tourists, Marriot stocks dropped down to just $46.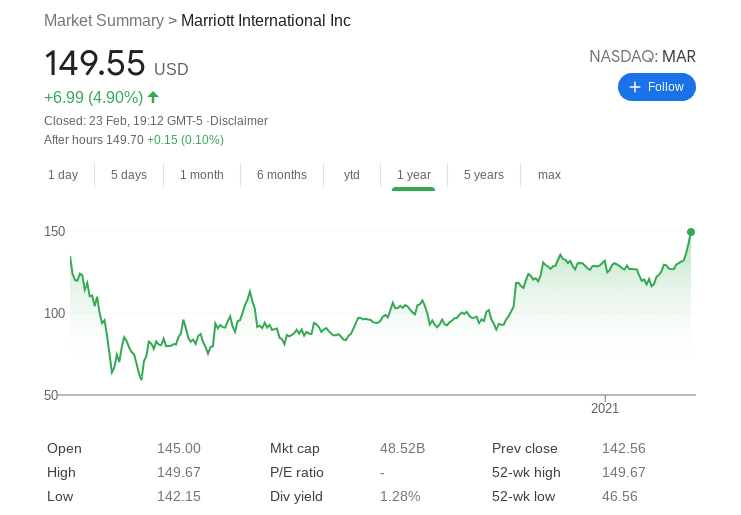 But, the recovery has since been very notable – with the stocks now worth $149 each. This means that over the course of the past year, Marriot shares are up over 10%. Not bad for an industry that is still struggling greatly. What is even more impressive is that Marriot did not let the pandemic phase its expansion plans.
The group is in the process of opening dozens of new hotels this year – especially in the Asian markets.
Sponsored ad. Your capital is at risk.
10. Lockheed Martin 
Lockheed Martin is a US-based company that sells security, arms, and defense technologies.
In terms of its dividends, this stock has increased the size of its yearly payment for two decades straight. At the time of writing, you'll be able to get a dividend yield in the region of 3.7%.
But, when we look at the firm's current stock price of $340, things get even more interesting. This is because, before the pandemic, the same shares were priced at just over $424.
Sponsored ad. Your capital is at risk.
Important Features of UK Value Stocks
If you buy a share that sits within the remit of a 'value stock' – then essentially, you are investing at a discount.
A simple way to look at it is this – you buy a stock at £1.50 per share, but based on your fundamental research, the intrinsic value of the said share is £2.50. If your analysis comes to fruition, this means that you are investing at a discount of 40%.
The key point is here that you are looking for value. This means that rather than investing in overpriced stocks like Amazon and Tesla, you'll be focusing on shares that are undervalued.
How do you Find Value Stocks in the UK?
As we briefly covered earlier, whether or not an investment represents a 'value stock' is subjective. After all, you are attempting to assess whether the stock is trading at a lower price than its true value. In other words, the true value of a stock to one person will likely differ from the next.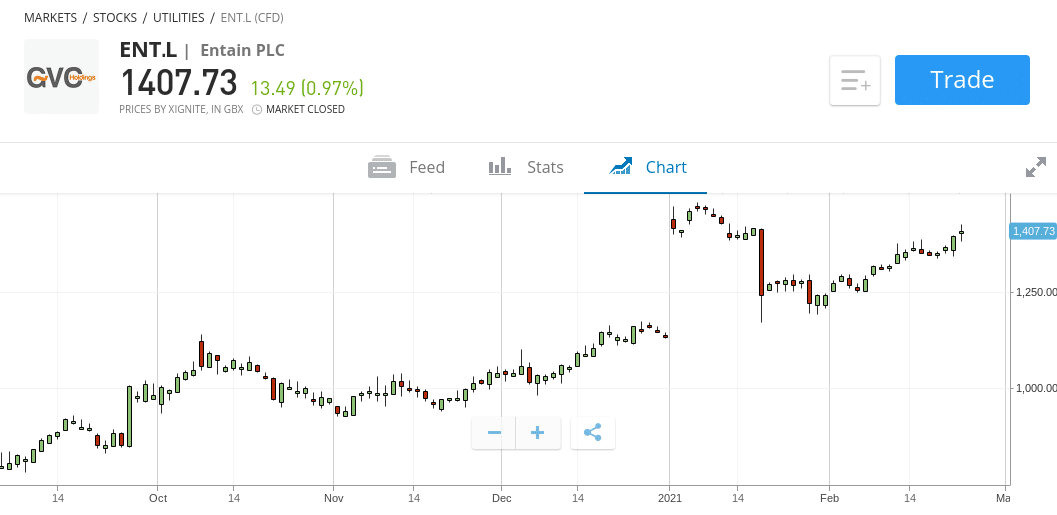 The good news is that there are several ways in which you can find value stocks UK – such as:
Trailing Dividend Yield
A good starting point in your search for UK value stocks is to look at the trailing dividend yield. This looks at the firm's dividend payments over the past 12 months – and how this relates to the current stock price.
In performing a quick calculation, you will be left with a trailing dividend yield in percentage terms. Crucially, if the company you are looking at carries a trailing dividend yield of over 5% – this could illustrate that it is a good value stock to consider.
P/E Ratio
The price-to-earnings (P/E) ratio is a favorite of value investors. In a nutshell, it looks at whether the stock is potentially undervalued by looking at its current stock price, against that of its earnings per share (EPS). By dividing the former into the latter, you will be left with a P/E ratio.
For example:
Let's say that an airline company has a current stock price of $40 per share and its EPS is $4 – that's a P/E ratio of 10.
Once we know what the P/E is, we then need to compare it to the sector average that the stock operates in.
For example, we'll say that the average P/E ratio of airline stocks is 17
As our ratio of 10 is less than the average of 17 – this could mean that this represents a value stock
If, however, the P/E ratio was higher than the sector average, the stock is likely to be overvalued
There is no need to perform a P/E calculation yourself anymore, as this information is readily available from various financial news platforms.
Free Cash Flow
According to Warren Buffett, chairman of Berkshire Hathaway, exploring a firm's free cash flow levels is crucial in finding value stocks. For those unaware, free cash flow simply refers to the amount of cash a company generates from its core operations, less operating expenses.
The figure that you are left with is essentially the amount of cash the company has to meet its business objectives – such as servicing debt and facilitating growth.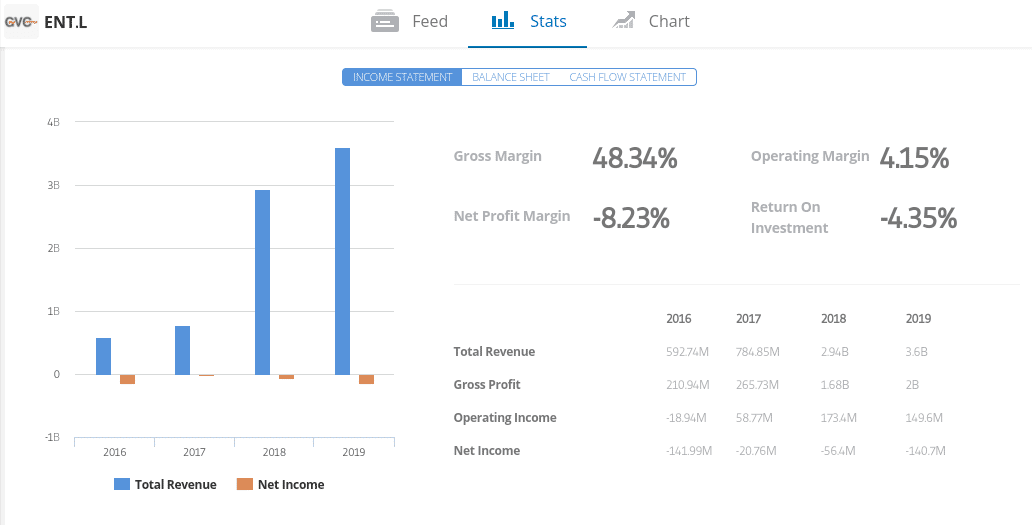 Crucially, if free cash flow levels are on the rise, this could mean that you are looking at a value stock. After all, when a company is able to generate surplus cash inflows, this allows it to grow the business much faster.
This might be through acquisitions and bringing new products to the market. Additionally, an increase in free cash flows also allows the stock to increase the size of its dividend, which again, is something that value investors look for.
Stock Brokers in the UK Offering Access to Value Stocks
Once you have identified the value stocks UK for your long-term portfolio – it's then time to find a good broker. Most stock brokers in the UK are regulated by the FCA, offer thousands of shares, and allow you to invest in a cost-effective way.
To save you countless hours of research, below we review a couple of brokers that give you access to value shares in the UK.
1. eToro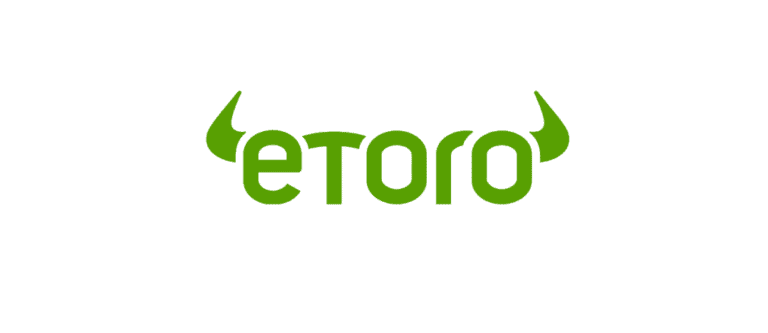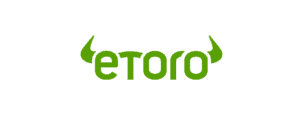 All of the UK value stocks discussed on this page can be found on this platform – with the provider offering over 2,400 shares across 17 UK and international markets. Most of all, you will be able to buy your chosen value stock without paying any commission.
This means that there is no longer a requirement to overpay for your stock investments – with the likes of Hargreaves Lansdown charging £11.95 per trade. The commission-free offering on eToro is not only applicable to UK stocks but all 16 international markets, too.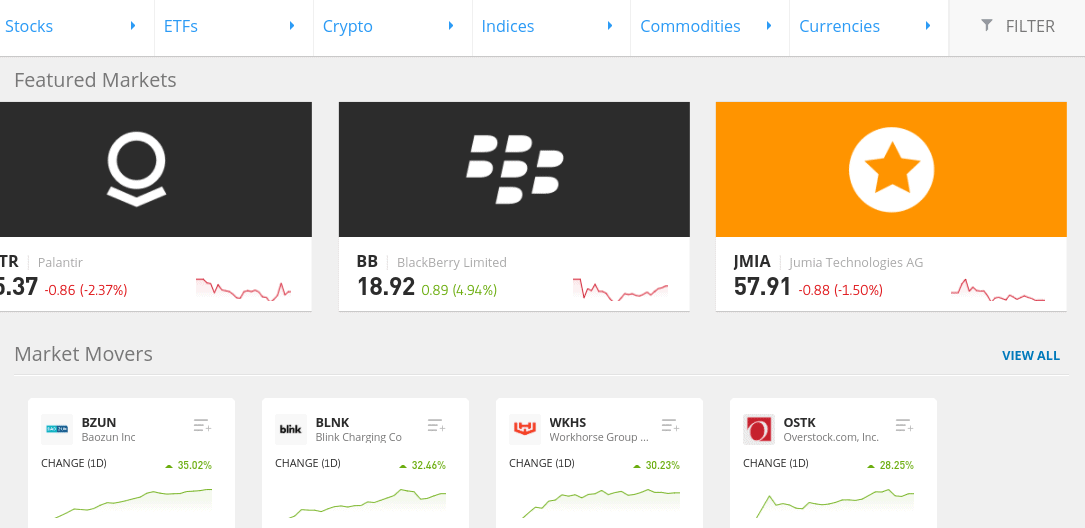 If that wasn't enough, eToro will even waiver the 0.5% stamp duty tax that you need to pay when buying listed on the London Stock Exchange. You might also be pleased to know that eToro supports fractional shares. This means that you can buy any amount of your choosing, as long as you meet a $10 minimum.
This is particularly useful if you are looking to invest in some value stocks listed in the US. This is because American shares often cost several hundred dollars each. If you want to invest in value stocks via a diversification strategy, eToro also offers in excess of 250 ETFs. Once again, these are all commission-free. Another popular feature found on this platform is the Copy Trading tool.
Sponsored ad. 68% of retail investors lose money trading CFDs at this site.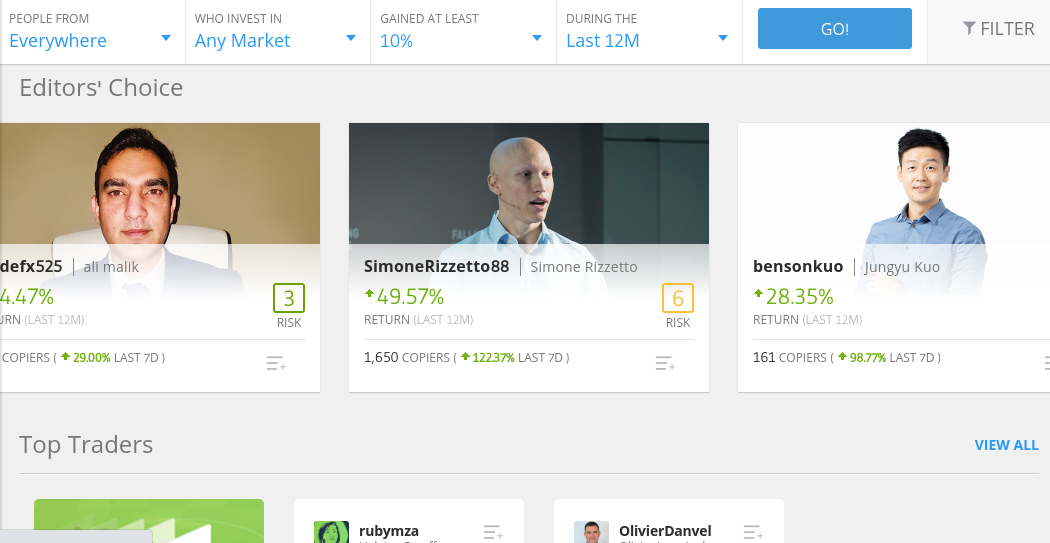 This allows you to copy an eToro trader like-for-like – paving the way for a passive investment journey. You can open an account at eToro in minutes and instantly deposit funds with your debit/credit card. Bank wires and e-wallets are also supported. Finally, your investments are safe at eToro, with the broker holding a license with the FCA, ASIC, and CySEC.
| | | | | |
| --- | --- | --- | --- | --- |
| Stock Broker | Minimum Deposit | Fractional Shares? | Pricing System | Fees & Charges |
| eToro | $10 | Yes – $10 minimum | 0% commission on ALL real stocks, spreads for CFDs | No Deposit fees, $5 withdrawal fee, $10 inactivity fee, no account management fees. |
Sponsored ad. 68% of retail investors lose money trading CFDs at this site.
Conclusion
Value stocks UK allow users to buy shares that are potentially at a lower price than their intrinsic value. This means that they can enter the market at a favorable discount.
In order to find value stocks UK, you need to perform some research of your own. This includes metrics such as the P/E ratio, trailing dividend yield, and free cash flow levels.
And of course, you need to find a suitable broker to buy your chosen value stocks from.
FAQs
What is considered a value stock?
What is a value stock vs growth stock?
Are value stocks a good investment?
What is a popular broker to buy UK value stocks?