Since the bitcoin craze started, lots of cryptocurrency exchanges and online trading platforms have emerged. One of these crypto exchanges is Bithumb, a South Korean digital asset marketplace with over 8 million active users. The company offers trading in a range of cryptocurrencies, including Bitcoin and Ethereum. It is one of the largest cryptocurrency exchanges in the world. Bithumb has offices in Seoul, Beijing, Tokyo and Ho Chi Minh City. In this guide, we will review everything you need to know about Bithumb.
Bithumb Review Summary
Bithumb is a relatively large and popular cryptocurrency exchange
It offers a great range of cryptocurrency, exotic digital coins and fiat coins at low fees
However, our top recommended crypto exchange is eToro
What is Bithumb?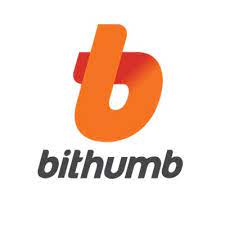 Bithumb is a South Korean digital asset exchange that was founded by Kim Dae-Shik and Javier Sim in 2014, and since then has become one of the largest crypto exchanges in the world in terms of the number of users and daily trading volume. As a matter of fact, Bithumb ranks third in the world and first in South Korea based on the daily trading volume.
Consequently, Bithumb – along with Binance, Coinbase, Huobi Global, and Kraken, is one of the five largest bitcoin and cryptocurrency exchanges in the world. The Seoul-based exchange, which offers a wide range of digital assets compared to most exchanges in the market, has an average daily volume of around $2 billion.
Supported Coins
At present, Bithumb offers 103 digital currencies on its platform including some of the most popular coins like Bitcoin, Ethereum, and IOTA but also has a huge list of exotic digital assets that are listed and trade on Bithumb only.
Bithumb also supports a huge list of 35 fiat currencies including USD, GBP, EUR, TRY, RUB, KRW, SEK, and many more. This makes Bithumb one of the most diversified cryptocurrency exchanges in terms of the selection of fiat coins.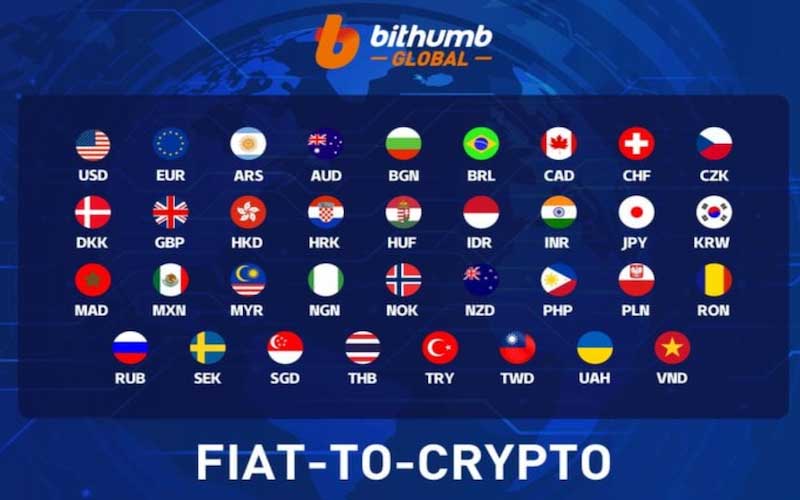 Bithumb Fees
Bithumb is certainly competitive in the fees and commission it charges when we compare it to other digital asset exchanges such as EXMO and Poloniex. But, like most other crypto exchanges in the market that often have very unclear pricing models, you must know all the fees you are about to pay before you sign up for an account. With that in mind, let's take a closer look at the fees you'll need to pay on this platform.
Payment fees
When it comes to funding your account, all deposits are free on Bithumb. This includes credit and debit cards, all fiat currency deposit solutions, and cryptocurrencies.
As for withdrawals, Bithumb fees vary depending on the crypto coin you choose. For example, when you decide to withdraw funds with Bitcoin, you'll have to pay a fee of just 0.001 BTC.
Trading fees
Clearly, Bithumb's main attraction is that it offers some of the lowest trading fees in the industry. This exchange essentially offers a maker and taker fee of 0.10% for all listed cryptocurrencies, which is below the average in the industry of 0.20%-0.50%. This means that if you are buying $1000 worth of Bitcoin at Bithumb, you will pay just 0.10% or $1.00.
Another key point at Bithumb is that you don't pay any fees to the exchange when you buy cryptos with a credit and debit card. This is not disclosed on the exchange's website, however, we have received this information from the exchange support team.
Bithumb Buying Limits
When it comes to buying limits, this will depend on the coin you decide to buy. For example, if you decide to buy bitcoin on the spot/margin market, you'll have to meet a minimum amount of 0.001 BTC. For Ethereum, you'll have to buy at least 0.003 ETH.
There's also a minimum amount you need to meet when you buy cryptos with your local fiat currency. In this case, the minimum investment you can purchase depends on the payment method you choose. For example, if you want to buy a certain crypto coin with a credit and debit card, Bithumb displays the best payment solutions that are available and thus, the minimum amount you need to deposit.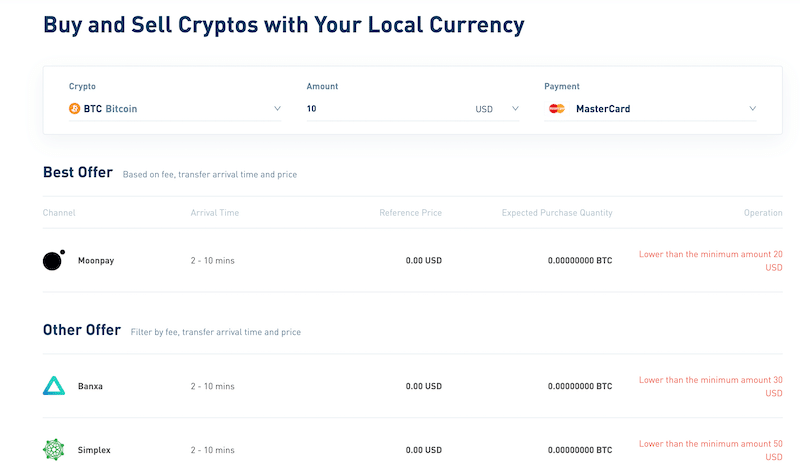 Bithumb Wallet
Basically, Bithumb offers users a multi-signature cold wallet to store their coins. Essentially, the Bithumb digital wallet works the same as on most other cryptocurrency exchanges where the user can store the coins on the exchange corporate wallet. You will, therefore, be exposed to hacking by a third party.
Taking the above into consideration, we suggest you store your coins on a private hardware wallet in order to get maximum security with this exchange. There's a huge selection of crypto and Bitcoin wallet applications including some of the most popular wallets in the market – Trezor Model T, Trezor One, Ledger Nano S, and Billfold Steel Bitcoin Wallet.
Bithumb Mobile App
Like any reputable cryptocurrency exchange, Bithumb Global also has its own mobile application that is available on Android (Google Play), and iOS (Apple Store). In general, the Bithumb Mobile app offers trading on the go and allows users to use the exchange wallet in order to store, receive and transfer funds. That said, the Bithumb mobile app has a low score on Google Store (2.8 from 2224 reviews) as well as on the App Store.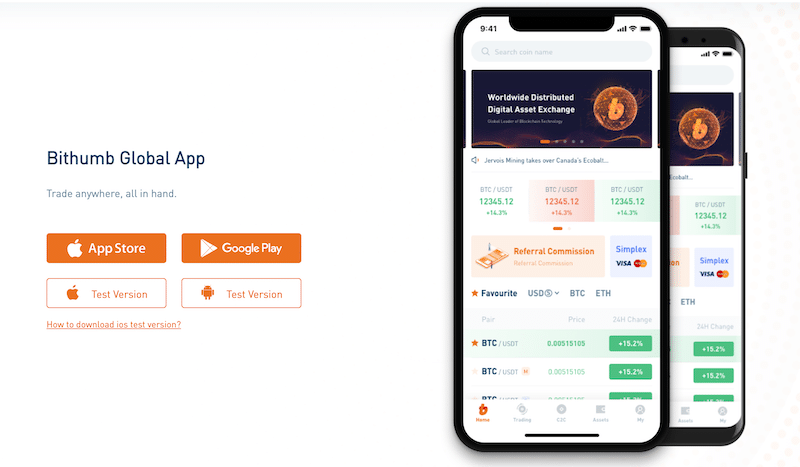 Bithumb Minimum Deposit
From our research, it appears that Bithumb does not maintain any minimum deposit requirement for new users. Instead, users can simply open an account and meet the minimum buying limits requirements when making a purchase. These vary between $10 – $25 depending on the coin you decide to buy and the payment method you will pay for the purchase.
Bithumb User Experience
As mentioned severally in our Bithumb Review UK, one of the main strengths of this platform is that it is fairly easy to use for all levels of traders, compared to some competitors like Coinone where is better suited to skilled traders. In our view, Bithumb is somewhere between Binance and Coinbase in the sense that it offers a trading environment for beginners and experienced investors.
For example, if you want to use Bithumb for making a simple digital asset purchase, you can choose to swap crypto coins via the Spot Basic page, or buy cryptos with fiat currencies via the 'Fiat Buy and Sell Cryptos'.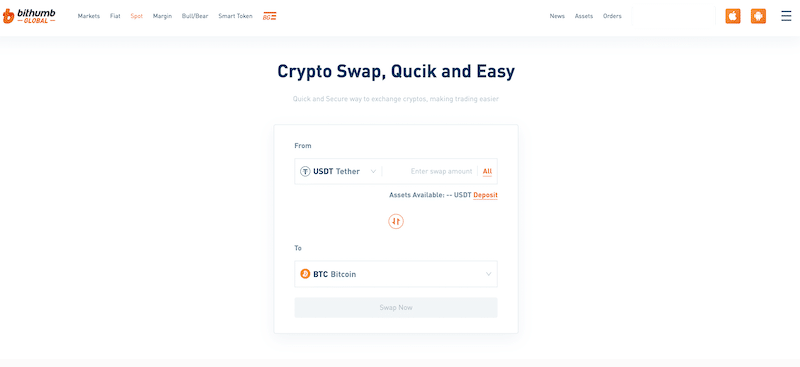 On the other hand, if you are looking to trade cryptocurrencies on an advanced web-based platform, you'll have to navigate to Spot Advanced (or Margin Advanced) dashboard. From there, you can get access to the level 2 order book and a solid charting package.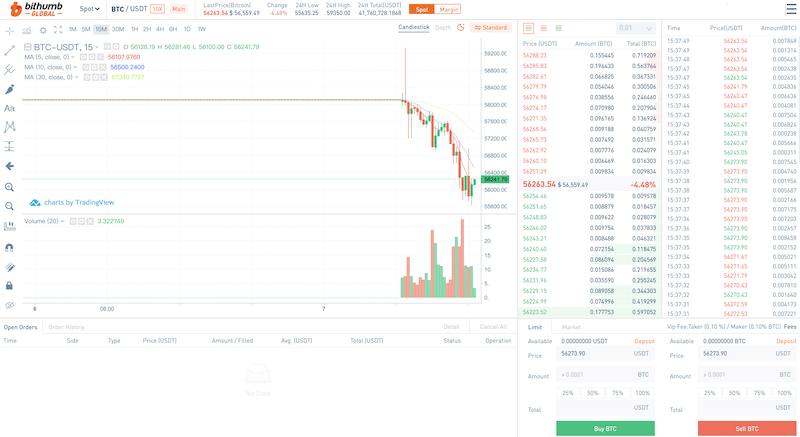 All things considered, the Bithumb user experience is well suited for beginners and those who are looking for a one-time purchase, however, anyone looking for a more professional cryptocurrency trading platform will probably be disappointed.
Bithumb Tools and Features
Overall, Bithumb's platform comes with lots of features and trading tools that make it special when compared to other crypto exchanges. Some of the notable features available include:
Margin Trading
One of the best features you can get on Bithumb is the ability to trade with a margin of 10x. For those unaware, margin trading is simply the ability of the investor to enter positions whose value is higher than the funds in the investor's account. To do that with Bithumb, you'll have to register for a margin trading transfer funds into your margin trading account.
Bithumb Global Callable Bull/Bear Contract
Bithumb has a very unique feature called the Bull/Bear contract. This is simply a derivative leveraged investment product using a natural maturity settlement and a strike price on various timeframes – 30 minutes and 4 hours. For example, assuming a user is long on BTC and selects the BTC4H bullish contract with a strike price of 60,000 USD, then, in order to win the contract bet, the average price of BTC in the last 30 minutes of the expiration of 4 hours must be higher than 60,000 USDT.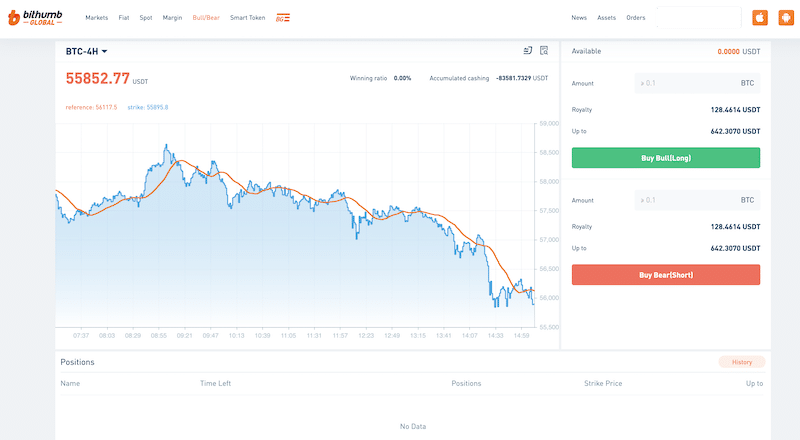 Staking/Mining
Bithumb is a popular cryptocurrency exchange not only because it gives users access to buying and selling cryptos but also as it offers users the option to use staking and mining digital assets. As such, you'll be able to make an additional income by using your devices for crypto mining or locking your coins in another account and earn rewards (a process known as staking).
Bithumb Global Community
Obviously, networking is an important activity for every crypto investor that wants to get trading ideas. The crypto market is affected by many factors but is particularly sensitive to rumors and inside information. In that regard, Bithumb has a very strong community of users from all over the world on various social platforms like Telegram (nearly 27K members).

Bithumb Payments
When it comes to payment methods, there are a plethora of options at Bithumb. The exchange allows users to deposit funds with fiat currencies as well as with all the crypto coins that are available on its platform. In terms of making a deposit with fiat currencies, the exchange supports a variety of 35 different options including the USD, EUR, AUD, CAD, GBP, INR, JPY, KRW, RUB, and TRY.
The supported payment methods at Bithumb include:
Credit and debit cards (Visa and MasterCard)
Bank Trasnfer
PayPal
SEPA
Apple Pay
UPI
InstaPay
DultNow
m-Pesa
PromptPay
FPS
PayNow
GooglePay
Skrill
Payeer
Western Union
Bpay
Flexepin
BlueShift
Gojek
Poli
MercadoPago

Bithumb Regulation & Licensing
Overall, The regulatory framework of Bithumb is not very clear. On one hand, Bithumb is not regulated by any regulatory agency and is not strictly supervised by any financial institution.
On the other hand, cryptocurrency use in South Korea is rapidly growing, and thus, Bithumb follows the rules and regulations of South Korean financial agencies. This means that anonymous trading is not possible on Bithumb and investors must submit ID documentation if they wish to withdraw more than 5 BTC in one business day.
Bithumb Contact and Customer Service
There's no doubt that Bithumb has excellent customer support service. First, When we contacted the chat support in regards to receiving information about account verification and depositing – we received an answer from a live chat agent (not a bot) immediately.

Besides the live chat, Bithumb also offers 1:1 support via submitting a ticket form and a phone number for UK customers at +44-808-189-4462. Plus, Bithumb has an informative FAQ that answers a wide variety of questions for potential and existing users.
How to Use Bithumb
If you want to get started with Bithumb, you should follow the next steps in order to create a Bithumb account and place an order on its exchange. Bear in mind that the process may vary depending on what type of investment you want to make, and the investment strategy you will apply. Nonetheless, here's what you need to do to get started.
Step 1: Open an Account with Bithumb
The first you need to do is to visit Bithumb's homepage and click on the Register button. It is important that you visit Bithumb Global if you are from the UK, and not Bithump South Korea. Once you click on the Register button, you'll then be transferred to a registration form. In the form, you are required to submit your email address and the verification code sent to your email, and then create a password.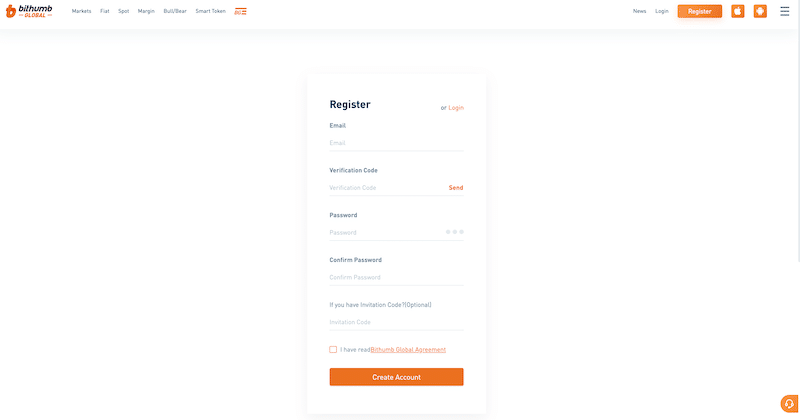 Step 2: Enable the Two Factor Authentication
Next, you'll be asked to add the 2-step verification for security reasons. Bithumb enables you to choose using the Google Authenticator app or using SMS verification. For those unaware, the 2FA is a feature that adds an extra layer of security in order to ensure that only the user who knows the security code can get access to the account.

Step 3: Verify Your Identity 
Unlike most crypto exchanges out there, Bithumb does not require you to verify your identity unless you decide to withdraw more than 5 BTC in a day. This means that you do not need to do any KYC procedure if you trade low volumes and if you are not planning to withdraw more than 5 bitcoin in one business day. However, if you decide to withdraw more than 5 BTC per day, you'll have to verify your identity by submitting additional personal information and uploading an ID card.
Step 4: Trade Cryptocurrencies
Bithumb offers many options to start trading digital assets on its platform. You can trade via the spot market, margin trading, or choose the easiest way to make a purchase on the Bithumb network – which is the buy and sell cryptos with your local fiat currency.
To do that, you'll have to navigate to the Fiat tab on the top menu bar and choose the 'Buy & Sell Crypto' from the drop-down menu. On the next page, you see a simple order form where you need to choose the coin you wish to buy, the amount, the fiat currency, and the payment methods.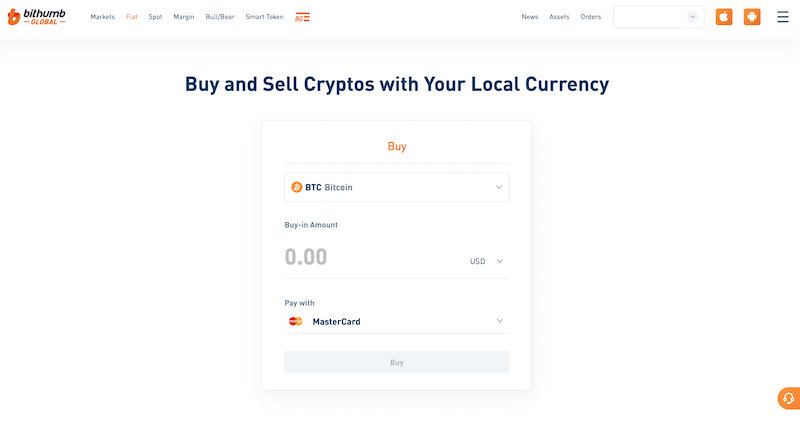 Take note that when choosing this method, you'll be able to buy and sell just 16 crypto coins. Otherwise, if you want to buy one of the other altcoins that are listed on Bithumb, the best way is to search for the coin you wish to buy on the Markets page and then click on it in order to be transferred to the instrument page.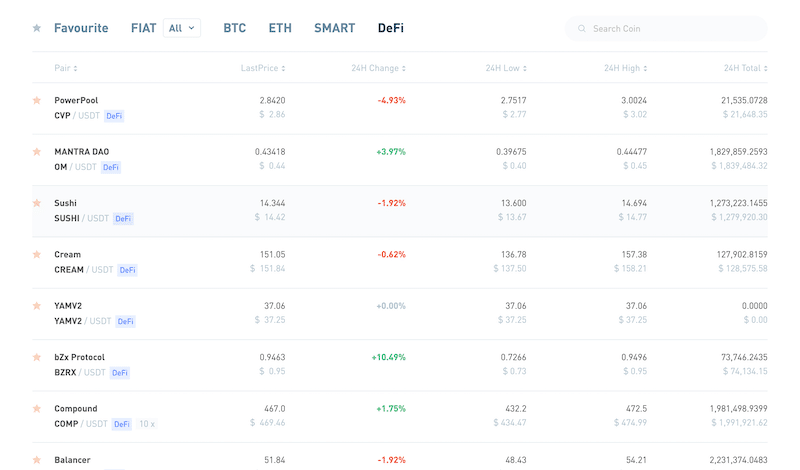 From there, you can analyze the coin and place an order in the order box below the chart. In this order form, you simply need to decide if you wish to get an instant execution by choosing the market order type or use the limit order. Then insert the amount you want to invest and click on the 'Buy X' button.
Step 5: Transfer Your Coins to Hardware Digital Wallet
As we mentioned previously, Bithumb offers you to store your coins on a multi-signature cold wallet that is available on the exchange's web browser and mobile application. Once you have completed your purchase, the coins will be automatically added to your wallet on the Asset tab on the top menu bar. However, due to the high risk of storing your coins on a cryptocurrency exchange, it is highly recommended to send your coins from the exchange wallet to a hardware wallet where you will be able to hold and control the private keys and safely store your crypto coins.
Bithumb vs eToro
Obviously, there are many reasons to trading with Bithumb. This popular cryptocurrency and bitcoin exchange offers a large range of digital assets and the high liquidity makes it an ideal platform for day and swing traders. Bithumb also takes security very seriously, largely due to the fact that it was hacked three times in two years between 2017-2019.
But the biggest problem with Bithumb is that it falls between being a platform that is not perfectly suited for beginners nor expert traders. If you are looking for a simple platform to buy bitcoin and cryptocurrencies, you might find Bithumb a bit complicated. At the same time, if you are in the search for a platform that is best for active day traders, then there are better choices in the market.
With that said, it's important to check if there's a better option before you start trading with Bithumb. To help you find another solution, we have decided to make a comparison between Bithumb and an FCA-regulated broker like eToro.
Unlike Bithumb, eToro is not a cryptocurrency exchange but an online CFD platform that allows investors to speculate on price movements of crypto assets without having to own and store the coins. In addition, eToro offers users to buy shares, indices, commodities, ETFs, and Forex currency pairs. As a CFD platform, eToro offers a zero commission pricing structure for all assets including cryptocurrency pairs. This means that you do not have to pay any maker or taker fee nor any account management fees. The only trading fees that you have to pay to eToro are the buy and sell spread and an overnight interest rate.
Below is a breakdown of the fee structure for Bithumb versus eToro:
Crypto Dealing Fee
Deposit and Withdrawal fees
Inactivity Fee
Margin Fee
Stamp Duty Tax on UK Shares
eToro
Commission Free
Deposit Fees – Free of charge

Withdrawals – withdrawal requests are subject to a $5 fee

$10 per month after 1 year
None
None
Bithumb
A fee of 0.10% for all coins
All deposits are free including credit and debit cards. Withdrawal fees vary depending on the coin and the payment method
None
A daily fee of 0.98%
N/A
Besides the fee structure, eToro is a social trading platform and not a DIY cryptocurrency exchange like Bithumb, Bithfinex, Binance, and Coinbase. This means you can actually interact with more than 17 million members on its network, share trading ideas, and use a tool called CopyTrade that enables you to choose an investor and automatically copy the trading activity of the chose investor. You have hundreds of investors to choose from and you can filter your search based on the market, risk, and the investors' return.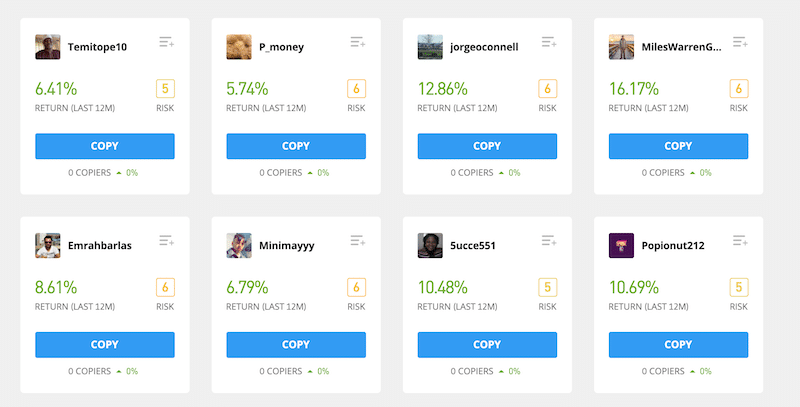 67% of retail investor accounts lose money when trading CFDs with this provider.
eToro offers only 16 cryptocurrencies on its platform, which is significantly lower than the range of crypto assets that is available on Bithumb. Nonetheless, if your goal is to focus on one crypto market at a time, then eToro might be the better option. The broker offers users to trade on a zero commission basis on the following coins –  Bitcoin, Ethereum, Bitcoin Cash (BCH), Ripple, DASH, Litecoin, Ethereum Classic, you can buy Cardano, IOTA, Stellar, EOS, NEO, Tron, Zcash, Binance Coin, and Tezos.
Finally, another crucial factor that makes eToro the better platform is the safety of funds. While Bithumb is not licensed and regulated and in the UK and does not offer any protection measures for investors, eToro is not only regulated by the FCA in the UK but also offers coverage of up to 85,000 GBP in the case it fails to meet its financial obligations.

The Verdict – eToro – Best Broker to Buy Cryptocurrency in the UK
To sum up, there are many reasons why Bithumb is one of the most popular cryptocurrency exchanges in the world. First, you do not have to go through a long verification process if you withdraw less than 5 BTC in one day. Then, you get access to 10x leveraged crypto products and ongoing mining and staking projects offered by the exchange.
At the same time, our Bithumb review UK has found that Bithumb is not fully transparent like other crypto exchanges and online trading platforms – It is not clear if the exchange is regulated or not, and the fee structure (like withdrawal and margin fees) is not displayed on the exchange's website. Also, the navigation is a bit complicated and there's a lot of missing information that users are expected to get.
As such, if you are based in the UK, it's worth considering another platform like eToro. This brokerage firm is FCA regulated and offers commission-free trading on thousands of assets across various markets including cryptocurrencies. Additionally, eToro's platform is user-friendly and allows you to get access to its copy trading tools and built-in managed copy portfolios.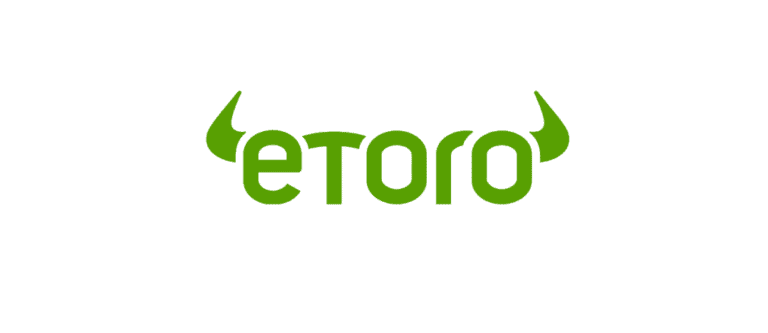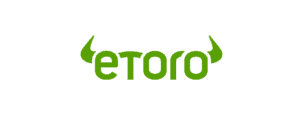 67% of retail investor accounts lose money when trading CFDs with this provider.
FAQs
Where is Bithumb located?
Is Bithumb regulated in the UK?
What cryptocurrencies can buy with a credit card at Bithumb?
Does Bithumb support PayPal?
What cryptocurrencies can I trade at Bithumb?
What is the difference between Bithumb and Bithumb Global?