If you're looking to trade CFDs online – maybe because you want to trade global markets or you're planning to expand your investment portfolio, you might want to consider Libertex.
This trading platform offers a range of CFD asset classes – including stock CFDs, index CFDs, ETFs CFDs, and commodities CFDs. One of the main attractions of Libertex is that you can trade with tight spreads.
But, is Libertex the right CFD trading platform for you? That's exactly what we intend on finding out in this Libertex review. We cover all fundamentals surrounding tradable assets, fees, payment methods, tools, features, and licensing.
What is Libertex?

Launched in 1997, Libertex is an online CFD trading platform with a solid reputation that now spans over two decades. The provider covers over 2.2 million clients along the way. This includes a good blend of everyday retail traders.
Unlike a lot of its industry counterparts, Libertex doesn't offer an overbearing service that comes jam-packed with thousands of financial instruments. Instead, the platform has decided to specialize in a few niche asset classes – by covering just 250 tradable assets. This includes a good selection of stock CFDs, ETF CFDs, forex CFDs, commodities CFDs, and more.
Each and every financial market at Libertex can be traded with leverage. This is capped at 1:30 if you're based in the UK and class as a retail trader.
In terms of the CFD share dealing account itself – LIbertex offers two options. For those of you more interested in a user-friendly trading experience without the bells and whistles of advanced tools, you might be more suited for the Libertex web trader. But, if you've got plenty of experience in the online trading scene and want to make use of technical indicators, drawing tools, customized screens, and even automated robots – you can trade via MT4.
First and foremost – it is important to remember that you will not be 'buying' shares at Libertex. On the contrary, you will be trading stock CFDs. This means that you will be attempting to predict whether the price of the stock will go up or down in the short-term.
Crucially, the CFD instrument that you trade at Libertex is not backed by the actual stock itself, so you don't have a legal right to the shares. But – and as we cover in more detail shortly, this comes with the added benefit of tight spreads, the ability to go long and short, and access to leverage facilities.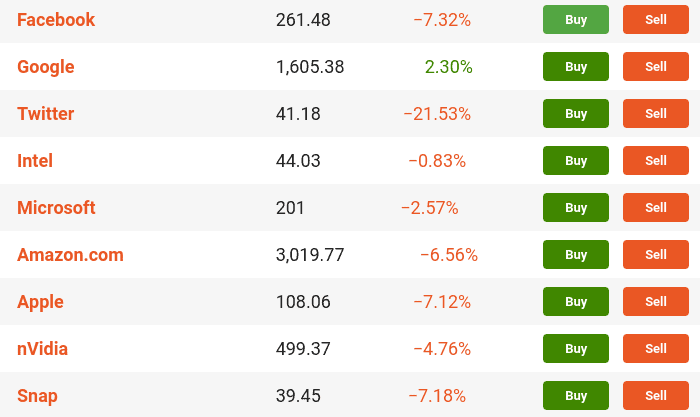 In total, Libertex offer 50 share CFD markets. This main centres on the major blue-chip stocks listed on the New York Stock Exchange and NASDAQ. For example, you can trade share CFDs such as Tesla, Facebook, Amazon, and Apple. There are also several. stocks from the UK, European, and Latin American markets.
In terms of the specific sectors CFDs supported by the Libertex stock CFD department, this includes everything from cannabis stocks and tech, to pharmaceutical stocks and retail.
Forex Trading on CFDs
Libertex is well known in the online forex trading space. The platform offers most major and minor pairs – covering the likes of EUR/USD, GBP/USD, USD/JPY, and USD/CAD. Although it is industry-standard for an online forex broker to offer the most popular trading pairs in the arena, what we like about Libertex is that you can also trade a variety of exotics.
These are simply forex pairs that contain at least one emerging currency. This includes the Mexican peso, Singapore dollar, Turkish lira, South African rand, and more. These exotic currencies can be traded against major currencies like the USD, EUR, or GBP.
Commodity Trading on CFDs
On top of forex, you can also engage in commodity trading at Libertex. This covers the main three categories of energies, hard metals, and agricultural products.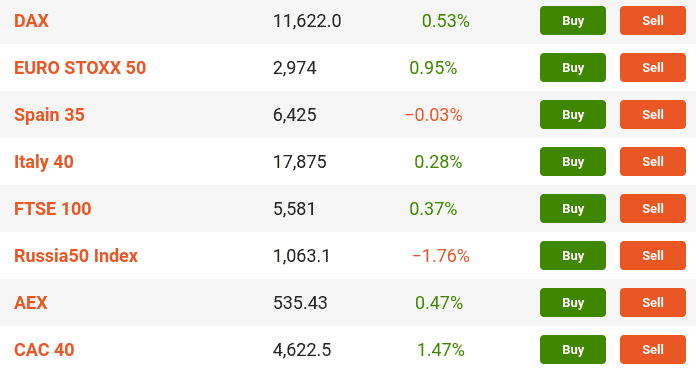 Here are the specific commodities that you can trade at Libertex.
CFDs on Metals: Gold, silver, copper, platinum including platinum ETFs, palladium
CFDs on Energies: Brent crude oil, WTI crude oil, Henry hub natural gas, heating oil, light sweet crude oil
CFDs on Agricultural: Coffee, cocoa, soybean, wheat, corn, sugar
While most commodity brokers in the UK retail space focus on just the major oil, gas, and gold markets – as you can see from the above Libertex goes one step further.
Indices Trading on CFDs
If you're also interested in the indices CFD trading scene, you'll be pleased to know that Libertex offers heaps of markets.
Major indices markets include:
NASDAQ 100
DOW JONES 30
SP 500
RUSSELL 2000
FTSE 100
CHINA 50
HANG SEN
NIKKEI 225
You will also be able to trade to a good number of less liquid stock market indices CFDs, such as:
SPAIN 35
ITALY 40
RUSSIA 50
ISRAEL 35
CHILE INDEX
ETF Trading on CFDs
Libertex lets you trde 10 CFD ETF trading markets. In comparison to other CFD brokers in the space, this is a bit thin on the ground. Most of the ETFs are backed by iShares, while there is also a market offered by Vanguard band SPDR.
Libertex Fees & Commissions
We explored the ins and outs of what fees you should expect to pay when using the Libertex platform to trade. As such, be sure to review the following sections to make sure that you have a firm grasp of what you will be charged when using Libertex.
Tight Spreads
The stand-out selling point in the fee department is that of its tight spreads offering. This is something that we have not come across before in the CFD trading scene, as spreads are something charged by platforms of all shapes and sizes. For those unaware, the spread charged by brokers is simply the gap in pricing between the buy and sell price.
For example, if the difference amounts to 0.4%, then this means that you need to make at least 0.4% in gains just to break even. In other words, when you trade online, the spread ensures that you always start the trade at a slight loss. As such, the fact that Libertex allows you to trade in a tight spread environment is good news for your potential trading profits.
CFD Trading Commissions
One of the main gripes that we have about Libertex is that it is not overly transparent on what commissions it charges. By this, we mean that we had to do some serious digging to find the required information. We don't like this, as the best online trading sites typically make it crystal clear as to what commissions you will pay.
Although there are now several commission-free CFD brokers serving UK traders, it is important to remember that you will always need to pay a spread. While in the case of Libertex, there are tight spreads to pay, and commissions are present. As such, you need to consider both of these trading costs to get a clear picture as to whether or not your choice of platform is competitive.
Other Fees to Consider
While spreads and commissions will have the biggest impact on your trading wallet, there are several other costs to consider before you join Libertex.
This includes:
Overnight Finance: Like any trading site available to UK clients, all CFD markets attract overnight finance. Otherwise referred to as 'swap fees', this is a fee that you will pay for each day that you keep your position open. This is because CFDs are leveraged financial products and thus – attract interest.
Inactivity Fee: If the client's account is inactive for 180 calendar days (i.e. there is no trading, no open positions, no withdrawals or deposits), Libertex reserves the right to charge an account maintenance fee of 10 EUR per month. It applies to clients with a total account balance of less than 5000 EUR.
The good news is that Libertex allows you to deposit funds without paying any fees.
Libertex Platform and Trading Tools
As we briefly covered earlier, Libertex offers three trading platforms – MT4 (it's our best MT4 brokers pick), MT5, and its own proprietary web trader.
MetaTrader 4 (MT4)
If you're an experienced trader then you will be well versed in what MT4 is and the many features and tools that it offers. For those unaware, this is a third-party trading platform that sits between you and Libertex. You'll can use plenty of technical indicators and chart drawing tools.

You can fully customize your trading screen and best of all – install an automated forex robot. MT4 can be accessed directly from the Libertex website and you can download MT4 for Mac. But, to get the most out of the platform you should consider downloading the software to your desktop device.
Libertex Web Trader
MT4 can be somewhat overbearing if you are new to the online trading scene. This is because for a beginner – you might find the sheer size and depth of its features and tools intimidating. If this is the case, then we would suggest using the Libertex web trader. This is the online platform designed and maintained by Libertex itself.
There is no requirement to install any software as everything can be accessed via your standard web browser. The Libertex web trading platform offers an all-round smooth and seamless experience that is perfect for those of you with little experience. You can easily find your chosen market by using the filter facility or simply by searching for it.
Libertex App
Like most top-rated CFD brokers active in the space, Libertex offers a fully-fledged mobile stock trading app. The app is available on both Android and iOS devices – subsequently ensuring that you can trade CFDs on your mobile.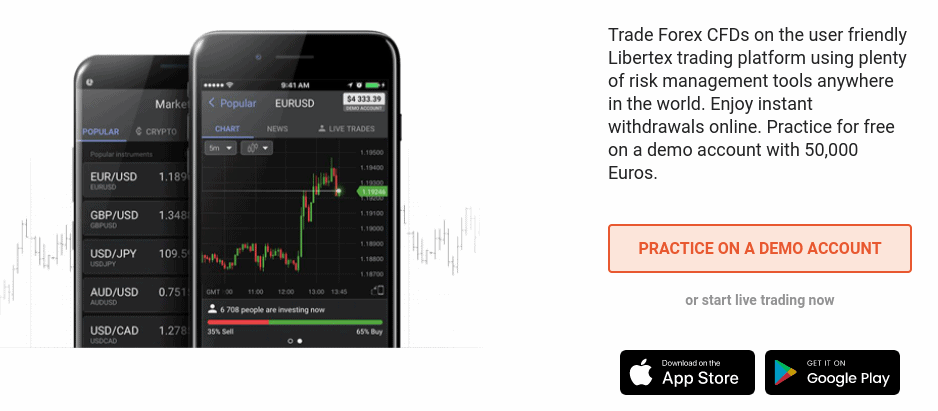 You can access the Libertex app via its website. You will then be redirected to the respective Google Play or Apple Store to complete the download. We should also note that you can access your Libertex account on the move via the MT4 app. All you need to do is install the MT4 application and log in with your Libertex credentials.
Libertex Demo Account
One of the best features available at Libertex is that you will have access to a demo account facility whenever you see fit. At one end of the spectrum, this is great if you are completely new to online trading. After all, the demo account – which comes pre-loaded with a paper trading balance of €50,000, allows you to trade in a 100% risk-free environment.
Best of all ─ the demo account facility mirrors real-world trading conditions. As such, you can get a feel for how the financial markets work before taking the plunge with a real money deposit.
At the other end of the spectrum, the Libertex demo account is also useful for seasoned traders. This is because you have the chance to test out new trading strategies and systems. In particular, this also allows you to try and a new forex or CFD robot via MT4 without risking any of your trading capital.
Research and Analysis at Libertex
If you're looking for an online trading platform that offers heaps of in-house research materials, then Libertex won't be for use. For example, although there is a fundamental news section on the site, articles and insights are published once in a blue moon.
There is also a lack of financial commentary on the site. An economic calendar is offered, but other than that, little else.
In terms of technical analysis, Libertex provides all of the required tools that you need. This includes a huge number of technical indicators – which are available on the Libertex web trading platform and MT4.
Payments at Libertex
When it comes to deposits and withdrawals, you will have access to a full range of supported payment methods.
This includes:
Debit cards
Credit cards
Skrill
Neteller
SOFORT
Giro Pay
Trustly
Bank Transfer
Neosurf
Tele Ingreso
And more
Take note, there are no fees to deposit funds at Libertex – irrespective of the payment method. Apart from a traditional bank transfer, all of the payment methods listed above are processed instantly. This ensures that you can start trading straight away and without delay.
When it comes to withdrawals at Libertex, processing times depend on the specific payment methods. For example, e-wallets like Skrill and Neteller and the fastest, as Libertex usually processes this in less than 24 hours. As soon as they do, the funds will be credited to your respective e-wallet within a few seconds.
All e-wallet withdrawals are free, too. If opting for a debit/credit card withdrawal, processing times can take anywhere from 1 to 5 days. A small fee of €1 will apply. Bank transfers take 3-5 days to process and come with a fee of 0.5% (min €2, max €10).
Customer Service at Libertex
Libertex offers a variety of support channels. The easiest way to speak with an advisor in real-time is via the live chat function. There is also a Whatsapp number and Facebook Messenger link that you can make use of.
If you want to speak with a member of the Libertex team over the telephone, you can call them on +357 22 025 100 (Cyprus number).
The help and support section also offers a reasonably comprehensive FAQ section where you may find the answer to your query without needing to contact Libertex.
Libertex Licensing
Firstly, Libertex has been active in the online trading scene since 1997. This means that it has over two decades worth of experience to boast of. Put simply, if the broker was engaged in unsavoury practices then it would still be here 23 years later.
Libertex is fully licensed with the CySEC (Cyprus Securities and Exchange Commission) in Cyprus, with the CIF license number 164/12 for Indication Investments Ltd.
Additionally, CySEC brokers must keep client funds in separate bank accounts from their own. You will also benefit from an investor protection scheme when using Libertex. As per CySEC – this stands at €20,000 or 90% of the claim amount in case of bankruptcy – whichever is lower.
How to Get Started on Libertex
If you're looking to start trading with Libertex right away, the five short steps below will show you how to do so in under ten minutes.
Step 1: Open a Libertex Account
Head over to the Libertex website and click 'Start Now'. You'll then be asked to provide a valid email address and password to create an account.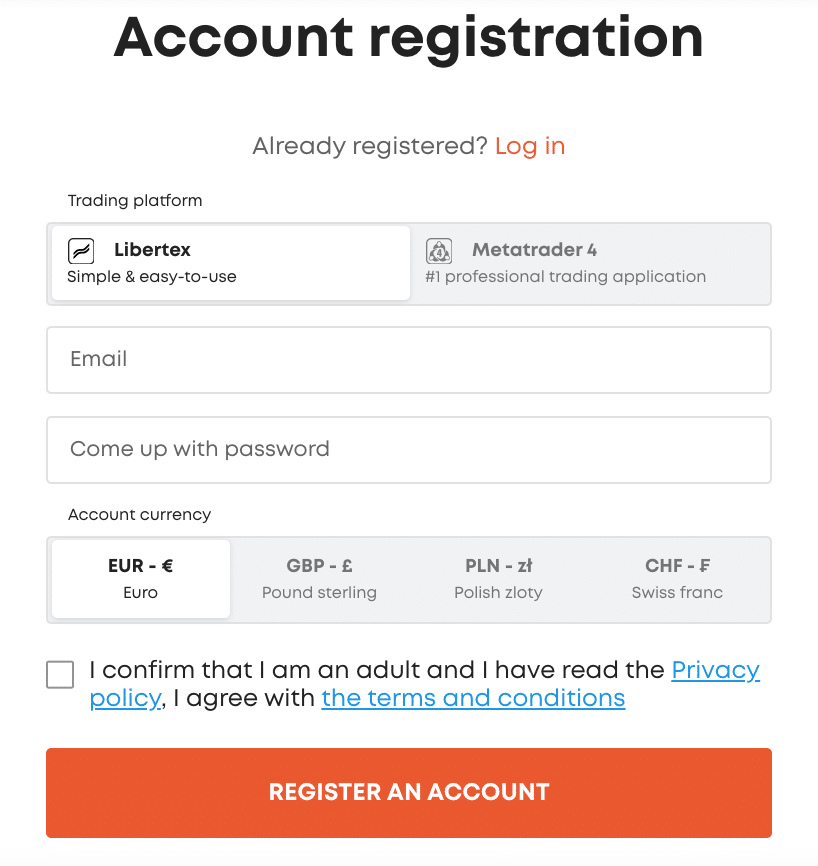 Step 2: Verify your Account
Due to the strict regulation that Libertex operates under, new users must verify themselves before being able to trade. To do so, simply upload proof of ID (a copy of your passport or National ID card) and proof of address (a copy of a bank statement or utility bill). Once uploaded, Libertex will then verify these documents, which can take up to three working days.
Step 3: Make a Deposit
New users must deposit a minimum of EUR 100 to begin trading, although this drops to only EUR 10 for subsequent deposits. In terms of deposit methods, Libertex accepts the following:
Credit card
Debit card
Bank transfer
PayPal
Skrill
Neteller
iDeal
Giropay
Step 4: Search for Chosen Asset
Type the name of the asset you'd like to trade into the search bar on the Libertex platform – for the purposes of this example, we'll be looking to trade the FTSE 100. Click 'Open Trade' next to the appropriate asset.

An order box will now appear, in which you can enter your position size and choose a take profit or stop loss level. Once you are happy with everything, click 'Buy'.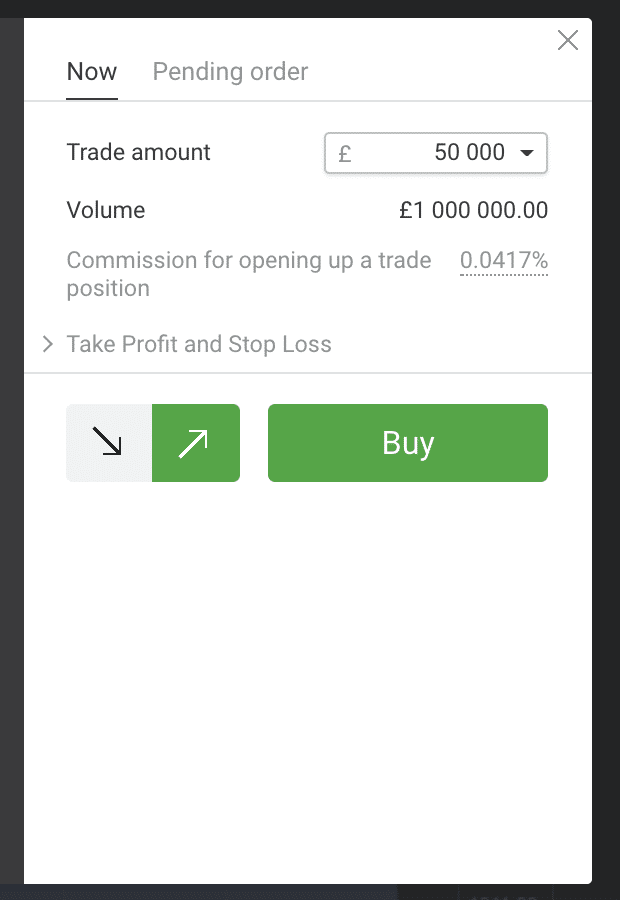 And that's it! You've officially made your first trade with Libertex!
Libertex Pros and Cons
Pros
Trade CFDs with tight spreads
MT4, MT5, and Libertex-own platform supported
No deposit fees
E-wallet withdrawals processed within 24 hours
CySEC regulated
First launched in 1997
Cons
A small number of markets offered
The Verdict
Launched way back in 1997, Libertex has been in the CFD game for some time now. It offers a reasonably small number of tradable assets at just 250, albeit, the most traded asset classes are supported.
You can instantly deposit funds into the broker fee-free, and you will benefit from tight spreads on all markets. We like that you have the choice of MT4, MT5, or the Libertex web trader platform, and you can also use your account via a native mobile app.
All in all, Libertex ticks most boxes in the online CFD trading space.
FAQs
Is Libertex a regulated broker?
Does Libertex offer leverage?
What is the Libertex minimum deposit?
Does Libertex support MT4?
How much does Libertex charge?