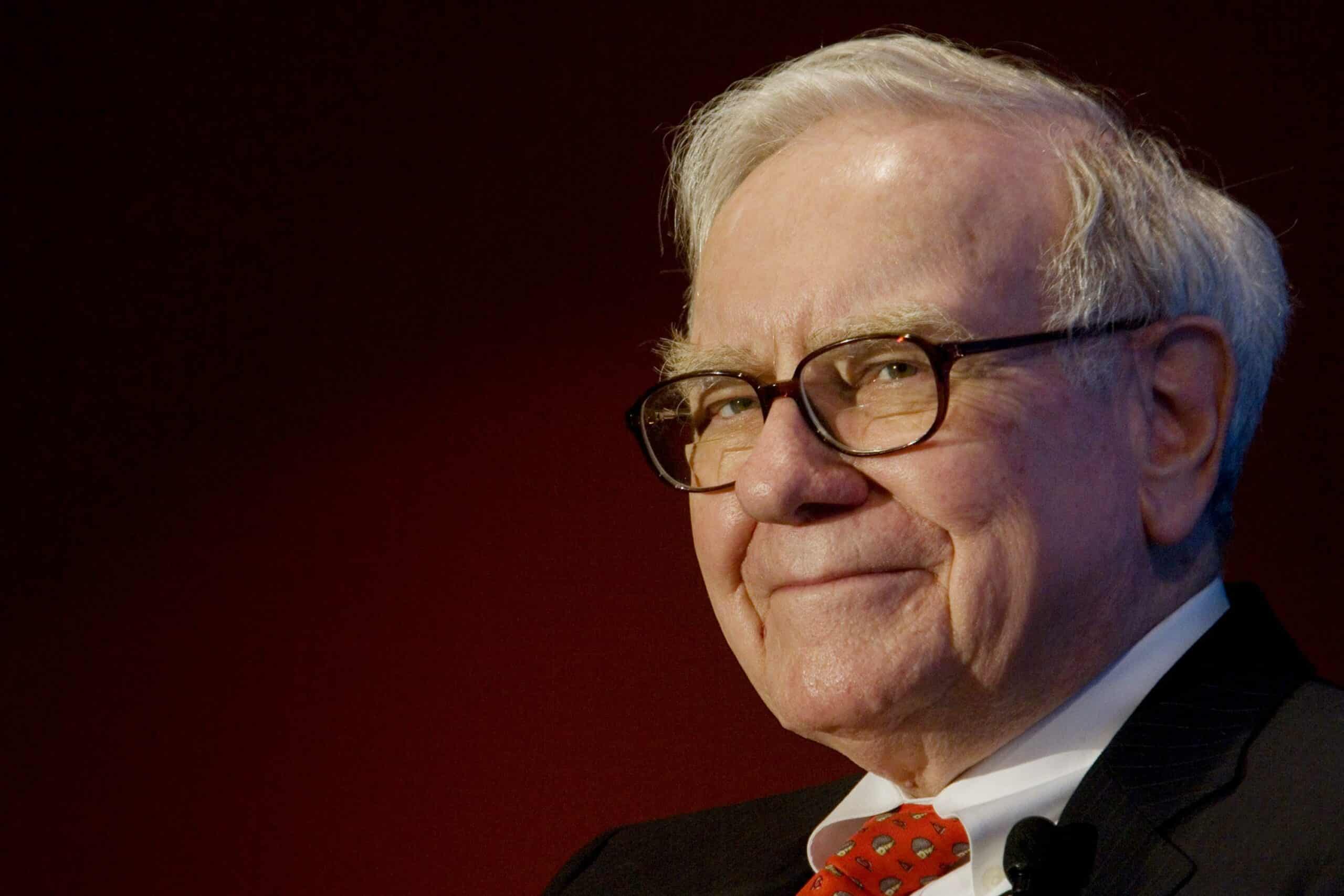 Over the weekend, Berkshire Hathaway (NYSE: BRK.B) released its earnings for the second quarter of 2023. The conglomerate, which is led by legendary value investor Warren Buffett reported a sharp increase in its net income while its cash pile soared to $147 billion which is the second highest on record.
Berkshire Hathaway reported a net income of $35.91 billion in the quarter as compared to a net loss of $43.62 billion in the second quarter of 2022. That said, the metric can often provide an incorrect picture thanks to an accounting rule which mandates the company to also report mark-to-market changes in its gigantic portfolio of marketable securities.
Berkshire Hathaway's earnings spike as Apple shares soar
The conglomerate's portfolio of marketable securities is above $360 billion with Apple alone accounting for over $165 billion. The massive rise in Apple shares in the first quarter added roughly $26 billion to Berkshire's net income in the form of unrealized gains. The iPhone maker's market cap surpassed $3 trillion this year amid the frenzied tech rally.
Meanwhile, the other four top holdings for Berkshire – which along with Apple account for over 75% of the conglomerate's portfolio underperformed the markets in the first half of the year.
These include American Express and Coca-Cola which while in the green in the first half underperformed the S&P 500. The other two – Chevron and Bank of America – were in the red amid the broad-based fall in energy and banking shares respectively.
That said, Berkshire's operating income – which is a much better metric of its earnings – rose almost 7% to $10.043 billion. Earlier this year, Buffett warned that earnings at its businesses would fall this year amid the macro challenges.
Berkshire holds multiple businesses
Apart from its mammoth portfolio of marketable securities, Berkshire holds multiple other businesses ranging from energy, railroads, retail, insurance, utilities, and aviation.
During the second quarter, Berkshire's insurance underwriting earnings rose 74% to $1.25 billion. The profits of its railroad unit BNSF however fell 24%.
Buffett was a net seller of shares
In the second quarter, Berkshire sold almost $13 billion worth of shares and bought only about $5 billion and was a net seller to the tune of almost $8 billion. It is the second consecutive quarter when the company net sold shares.
Furthermore, during the quarter, Berkshire repurchased only about $1.4 billion of its shares as compared to $4.4 billion in the first quarter. The company had repurchased $1 billion worth of shares in the second quarter of 2022 but UBS analyst Brian Meredith expected the conglomerate to repurchase $2.2 billion worth of shares in the quarter.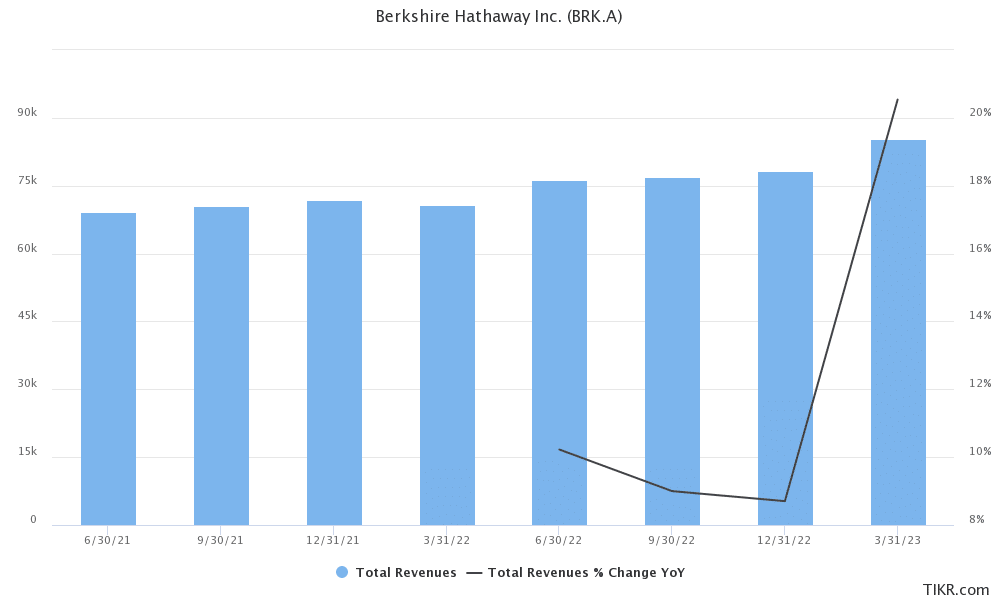 Buffett goes slow on buybacks
Previously, Berkshire followed a set policy and repurchased shares only as long as they were upto 120% of the book value. The company changed the policy in 2018 and make it discretionary which basically gave Buffett more leeway in pursuing buybacks.
Between 2020 and 2021 the company repurchased almost $50 billion worth of shares as Buffett wasn't able to find other attractive opportunities. The "Oracle of Omaha" did go on a shopping spree last year and along with adding to the portfolio of marketable securities also acquired Alleghany.
Meanwhile, thanks to the organic cash flows and sales of shares, Berkshire's cash pile soared to $147.2 billion in Q2 which is the second highest on record.
Berkshire continues to add more Treasury securities
Most of the cash that Berkshire Hathaway holds is invested in short-term Treasuries. The prices of US Treasuries nosedived last week after Fitch lowered its long-term US sovereign credit rating by one notch to AA+.
Buffett wasn't too perturbed about the downgrade though and speaking with CNBC he said, "Berkshire bought $10 billion in U.S. Treasurys last Monday. We bought $10 billion in Treasurys this Monday. And the only question for next Monday is whether we will buy $10 billion in 3-month or 6-month."
He added "There are some things people shouldn't worry about" but Fitch's downgrade is not one of them.
While the legendary investor acknowledged that some of the concerns are valid, he added, "The dollar is the reserve currency of the world, and everybody knows it."
In the past also, he has cautioned against the soaring US debt pile.
Buffett and Charlie Munger on US deficit
During Berkshire's annual meeting in 2021, Buffett and vice chairman Charlie Munger shared their insights on rising inflation and the burgeoning US fiscal deficit.
Munger raised an alarm over the rising fiscal deficit. "The Modern Monetary Theorists are more confident than they ought to be, too. I don't think any of us know what's going to happen with this stuff," said Munger. Proponents of Modern Monetary theory advocate that governments can raise as much money as they can in the domestic currency.
Munger added, "I do think there's a good chance that this extreme conduct is more feasible than everybody thought. But I do know that if you just keep doing it without any limit it will end in disaster."
Munger believes there is a hype about AI
During this year's annual meeting, both Buffett and Munger talked about AI.
While admitting to the uses of AI – like BYD using robotics in manufacturing – Munger cautioned "I'm personally skeptical of some of the hype in AI. I think old fashioned intelligence works pretty well."
Buffett compared AI to an "atom bomb" while adding that while AI might "change everything in the world" it might not outsmart human intelligence.
Berkshire shares are trading near their all-time highs even as they have underperformed the S&P 500 this year. Value shares in general have underperformed in 2023 as growth shares, especially in the tech space soared due to optimism over AI.
Meanwhile, commenting on Berkshire's soaring cash pile Cathy Seifert, an analyst with CFRA Research said, that a value investor like Buffett "will tend to get a little frustrated with where valuations are."
She added, "There's an interesting inflection point here in terms of asset allocation within the investment portfolio, and I think people are going to be watching."