Best Warren Buffett Stocks to Buy UK – Invest with 0% Commission
Fact Checked
Everything you read on our site is provided by expert writers who have many years of experience in the financial markets and have written for other top financial publications. Every piece of information here is fact-checked.
Disclosure
Please note that we are not authorised to provide any investment advice. The information on this page should be construed for information purposes only. We may earn commissions from the products mentioned on this site.
Everyone knows that Warren Buffett has an unrivalled stock-picking ability. Worth over $85.6 billion, the Berkshire Hathaway CEO is widely regarded as the world's best investor. But how does he do it?
One of the key strategies that Warren Buffett uses when choosing which assets to utilise in his portfolio is value investing. This strategy involves looking at the intrinsic value of a stock rather than buying into the media's hype. Company performance is deemed more important than technical analysis for Warren Buffett.
In this guide, we will take you through the best Warren Buffett stocks to buy UK.
Top Best Warren Buffett Stocks 2021
Here's a quick look at the best Warren Buffett stocks that you should consider adding to your portfolio in 2021. A more in-depth analysis of each stock is found in the next section!
Berkshire Hathaway – Warren Buffett's company – Invest now
Apple – The company worth $2trillion – Invest now
American Express – One of Warren Buffett's top 5 stocks – Invest now
Coca-Cola – One of Warren Buffett's favourite companies
Bank of America – Stock that offers great profit potential
Wells Fargo – Warren Buffett Stock With Great Risk/Reward Potential
General Motors – Stock that made Warren Buffett $1.5 billion in under four months
Amazon – Tech giant that Warren Buffett is a big fan of
Visa – Solid growth and dividend stock
Chevron – The stock that Warren Buffett keeps buying
Best Warren Buffett Stocks UK Reviewed
The stocks owned by Warren Buffett tend to be companies with fantastic long term potential and that are robust in the face of external factors such as the Coronavirus pandemic. As a value investor, Warren Buffett looks to determine the firm's intrinsic value, which gives him an insight into whether investing in the company is a wise move or not.
Also, Buffett's portfolio doesn't just focus on a single sector. The Berkshire Hathaway CEO makes sure to diversify his holdings across many industries, ensuring he has an appropriate risk-to-reward ratio when it comes to his investments.
In the section below, we dive into some of the best Warren Buffett stocks to buy UK.
Berkshire Hathaway – Warren Buffett's Company
Berkshire Hathaway (NYSE: BRK.A) is best known as the vehicle through which Warren Buffett makes his investments. Last year, Berkshire Hathaway didn't have the best return, only being up just 2.5% across the whole year. The Coronavirus pandemic undoubtedly played its part in this, but the firm still lagged behind benchmark indices such as the S&P 500.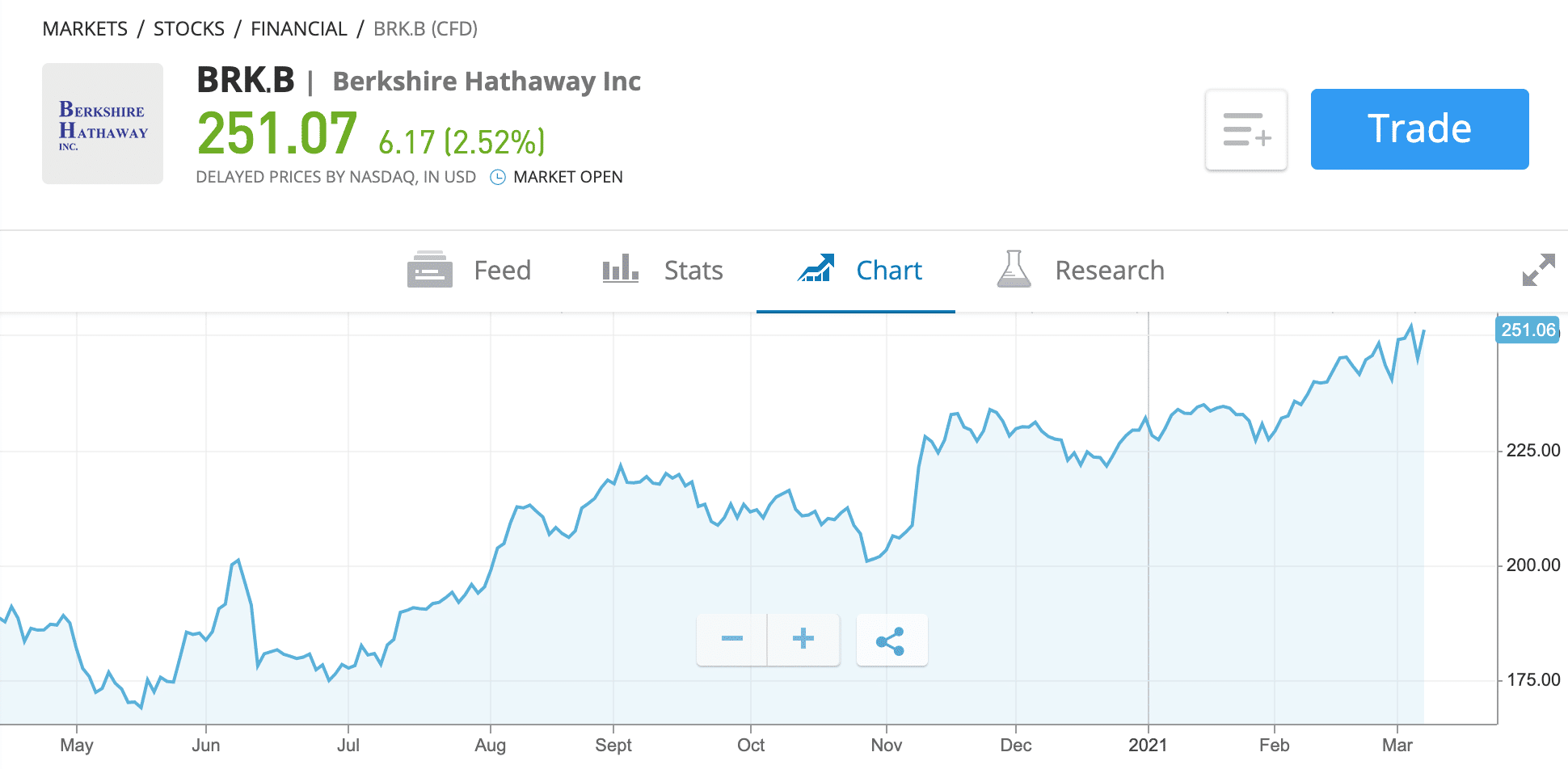 Going forward, Berkshire Hathaway is still an excellent investment – it has outperformed the market in 7 of the last 11 years. The company itself is stable financially, holding cash or cash equivalent reserves of over $138bn. Finally, with Warren Buffett at the helm, Berkshire Hathaway has the Omaha-based billionaire's experience and guidance to rely on.
To learn more, read our Berkshire Hathaway share price forecast.
Your capital is at risk.
Apple – The Company Worth $2trillion
Everyone has heard of Apple (NASDAQ: AAPL). The creators of the iPhone, Apple stock has gained over 460% in the past five years, becoming the world's most valuable company in the process. Currently sitting at $121.42, Apple stock has performed well in the face of the pandemic in 2020.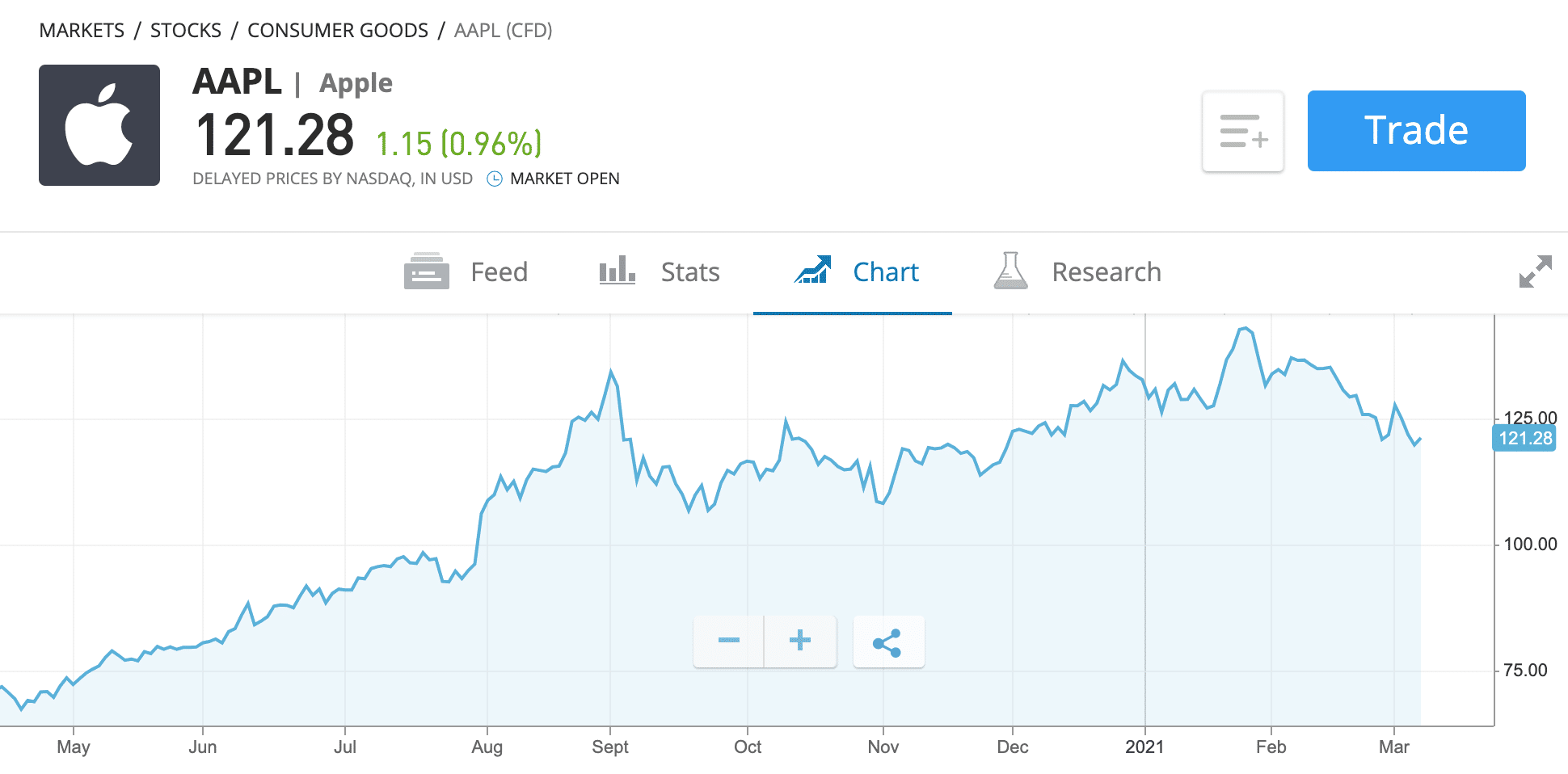 In 2021, Apple revenue is expected to increase (again), thanks in part to strong sales of the iPhone 12 and the rollout of 5G coverage. Also, the prevalence of other Apple products such as Apple TV+ has provided another boost to income. With a P/E ratio of 32.89, Apple looks set to remain one of the top Warren Buffett stocks to buy in 2021.
Your capital is at risk.
American Express – One of Warren Buffett's Top 5 Stocks
American Express (NYSE: AXP) has boosted Warren Buffett's portfolio in recent times – Berkshire Hathaway's 18.8% ownership of American Express netted them a profit of $2.69 billion in the last few months of 2020.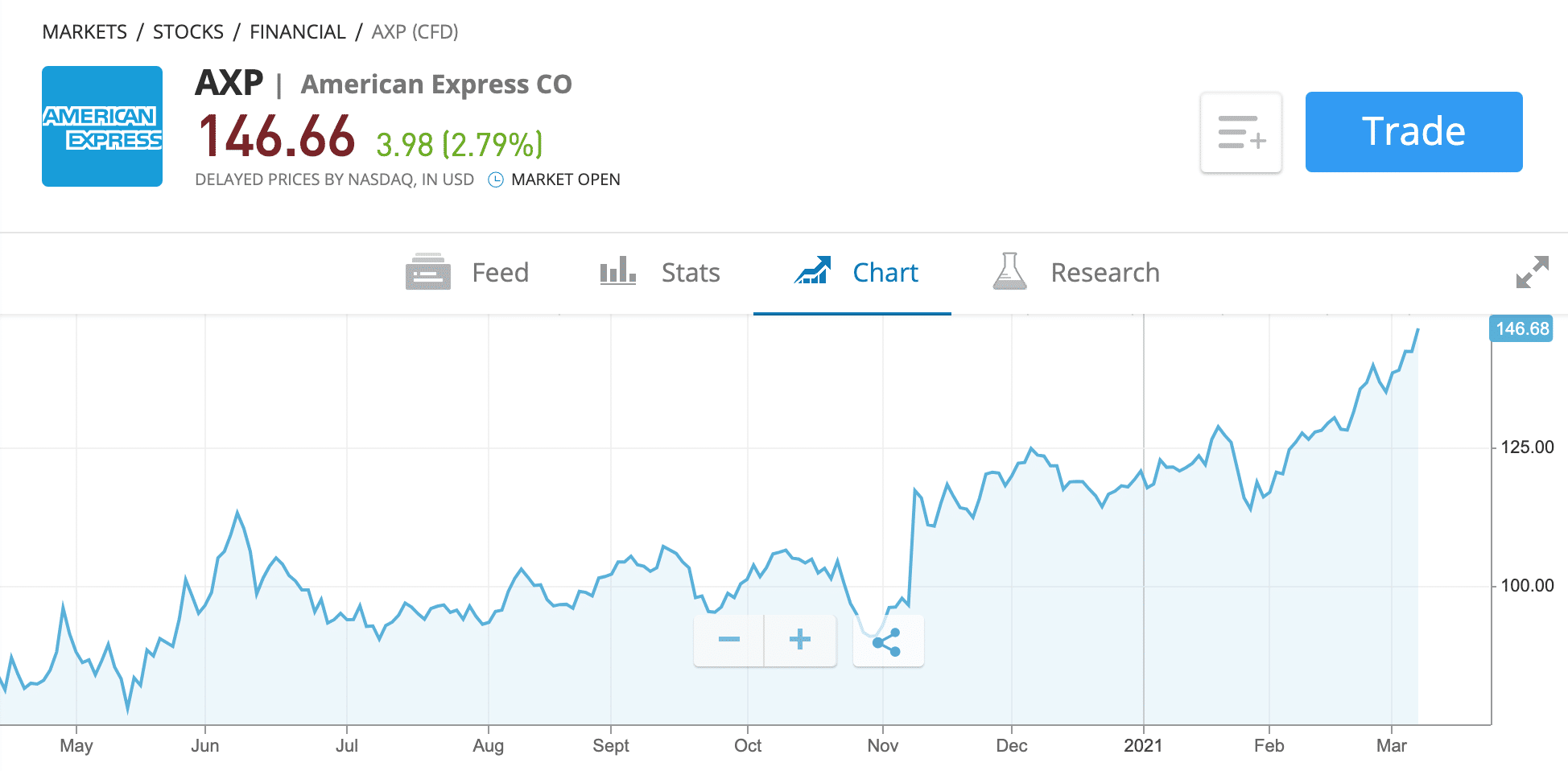 Although American Express revenue dropped significantly during the pandemic, its stock only finished the year down 1.1%. Going forward, consumers' pent-up demand fuelled by the Coronavirus lockdown could be a driving force for American Express' upturn in fortunes.
Your capital is at risk.
Coca-Cola – One of Warren Buffett's favourite companies
Coca-Cola (NYSE: KO) has long been one of Warren Buffett's favourite stocks – he famously drinks five cans per day! The company faced quite a hit in 2020 due to the lockdown, as less soft drinks were consumed because people could not attend cinemas, bars, and sports venues. This led to a significant decline in revenue for the soft-drinks giant.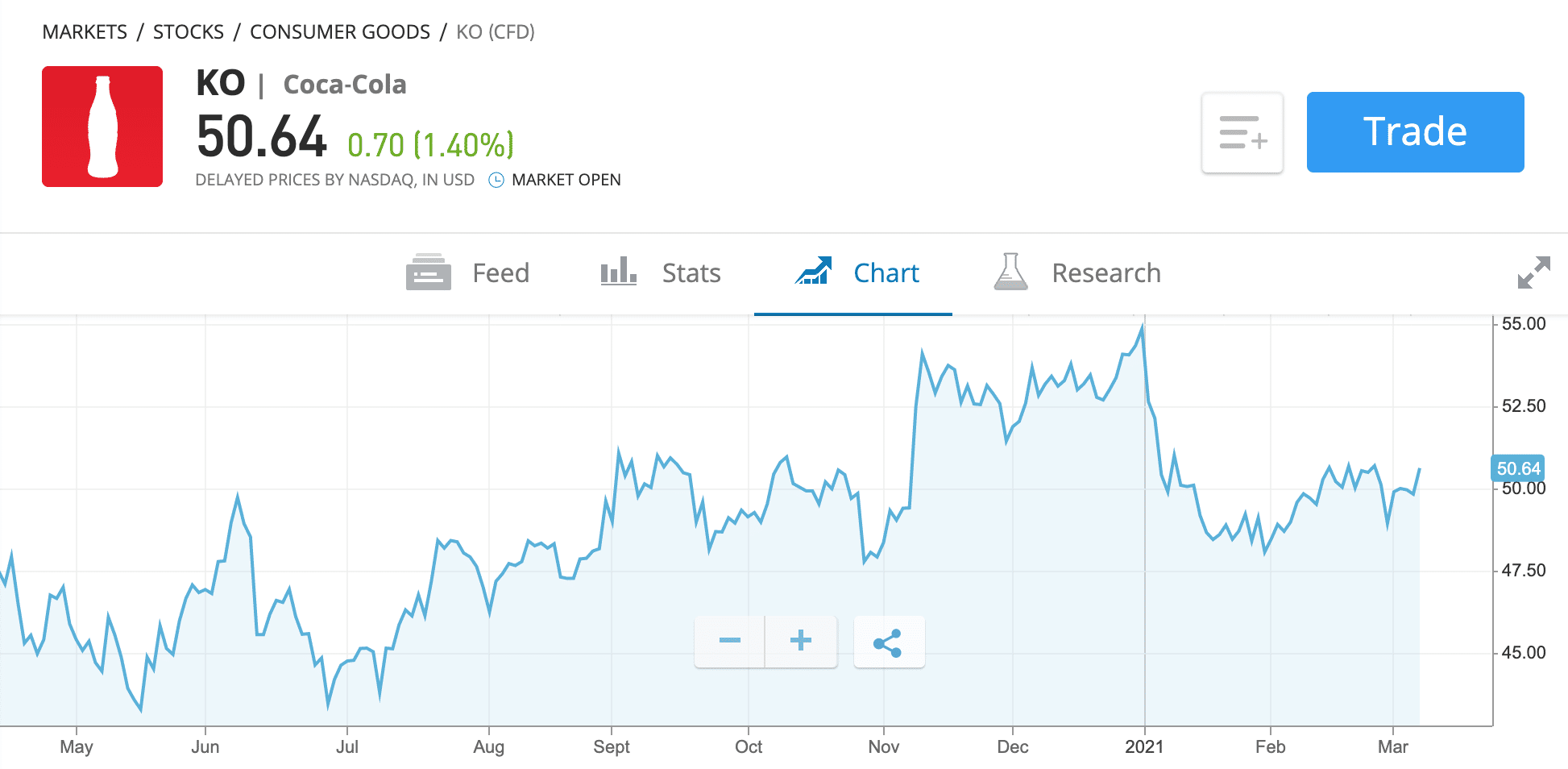 Coca-Cola stock is currently trading at $50.79, down 7.39% in the year-to-date. However, analysts predict earnings to rise over the next three years due to innovations in the firm's product offering. In addition, the emergence from lockdown in 2021 is expected to aid Coca-Cola's revenue in the latter half of the year, helping the company rebound from 2020.
Your capital is at risk.
Bank of America – Stock That Offers Great Profit Potential
Bank of America (NYSE: BAC) is currently trading at $36.93, up 21.84% in the year-to-date. The stock did suffer in 2020 however, ending the year down approximately 15%. This, again, was down to the Coronavirus pandemic affecting their revenues – the banking industry was hit particularly hard by the level of uncertainty surrounding the economy.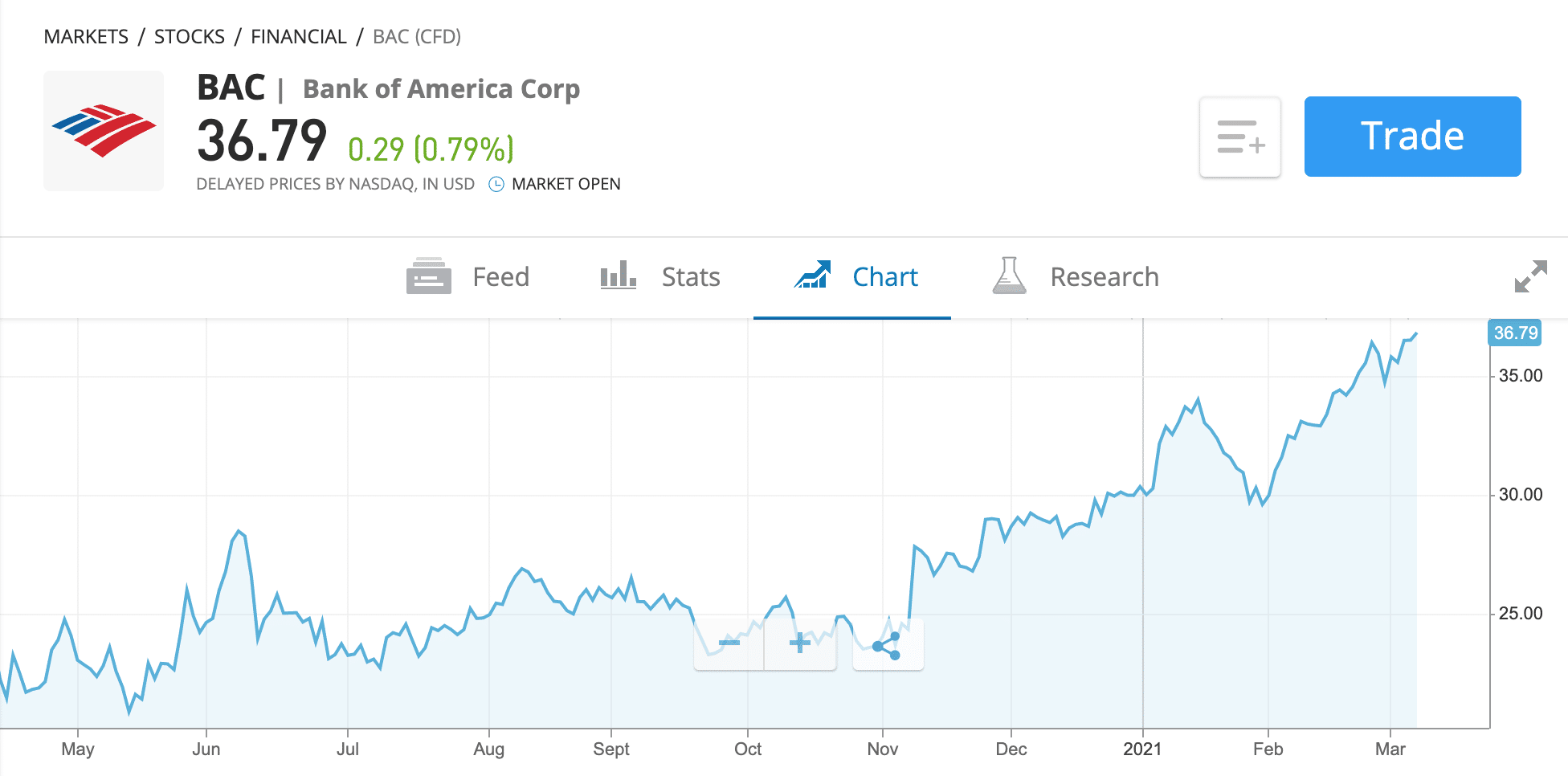 As we start to recover in 2021, Bank of America has made some smart business choices, changing its model slightly to act as a sort of 'investment bank'. Through this slight change in their business model, the company has begun to see large revenue increases through transaction fees. If this continues through 2021, we could see further increases in their stock price.
Your capital is at risk.
Wells Fargo – Best Warren Buffett Stock With Great Risk/Reward Potential
Wells Fargo (NYSE: WFC) suffered pretty badly in 2020, with the stock price decreasing 44% throughout the year. Prices hit 11-year lows in early June, and many analysts could not see an end-point for the decline.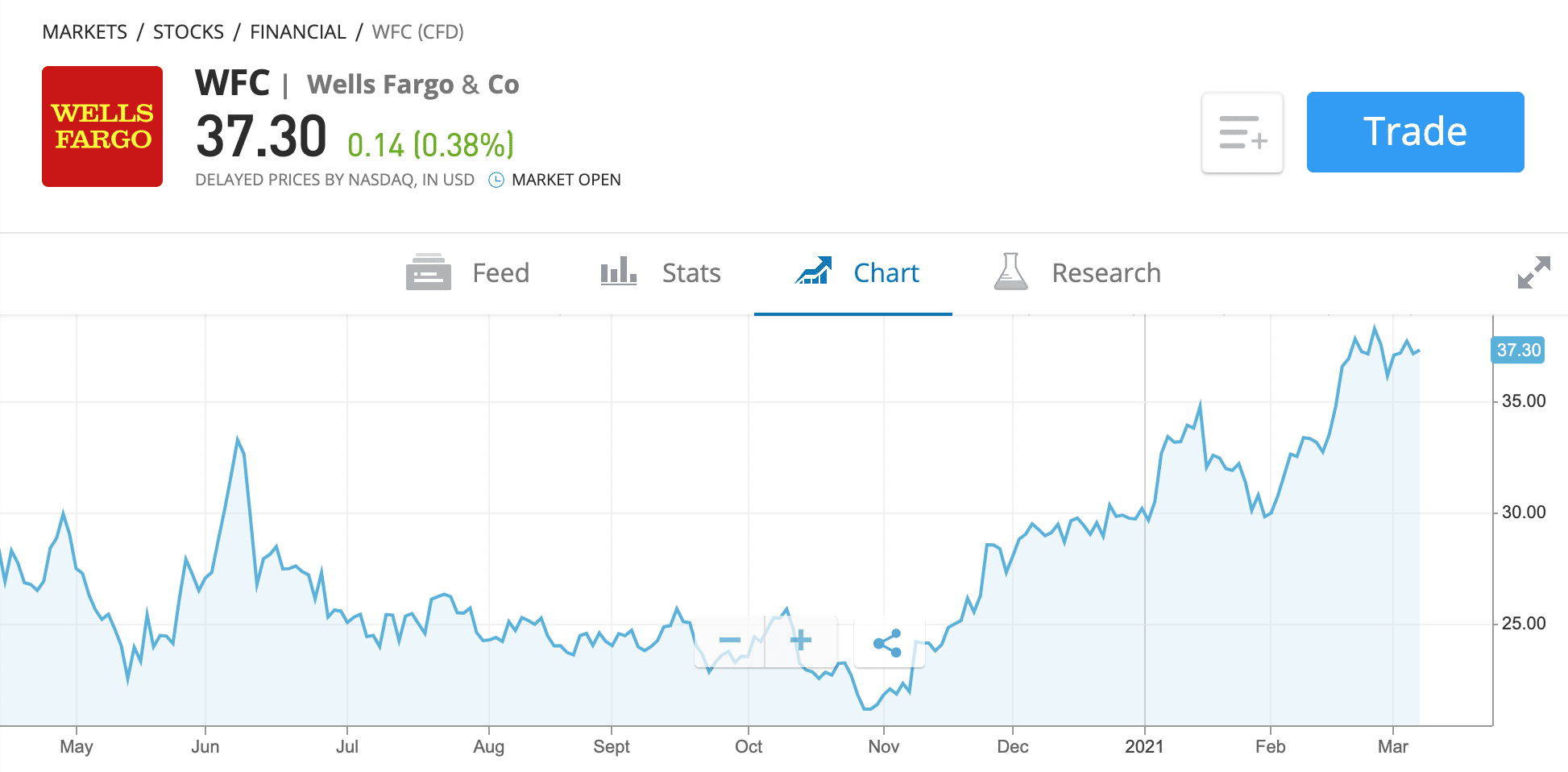 However, Wells Fargo has been one of the best performers in terms of banking stocks so far in 2021, with shares up approximately 25% since the turn of the year. As a consumer bank, Wells Fargo relies on customers being able to utilise their services, such as the provision of loans in return for interest payments. With the lockdown easing, and more people eager to get rid of pent-up demand, Wells Fargo may see an increase in their service volume, which could help them have a profitable 2021.
Your capital is at risk.
General Motors – Stock that made Warren Buffett $1.7 billion in under four months
General Motors (NYSE: GM) have made significant shifts in their business model over the past year, changing their focus to electronic vehicles instead of petroleum-based vehicles. The company performed pretty well in the latter half of 2020, posting third-quarter operating cash flow figures of $10 billion. Their stock price has continued to rise since September 2020, netting Warren Buffett approximately $1.7 billion in profit in January 2021.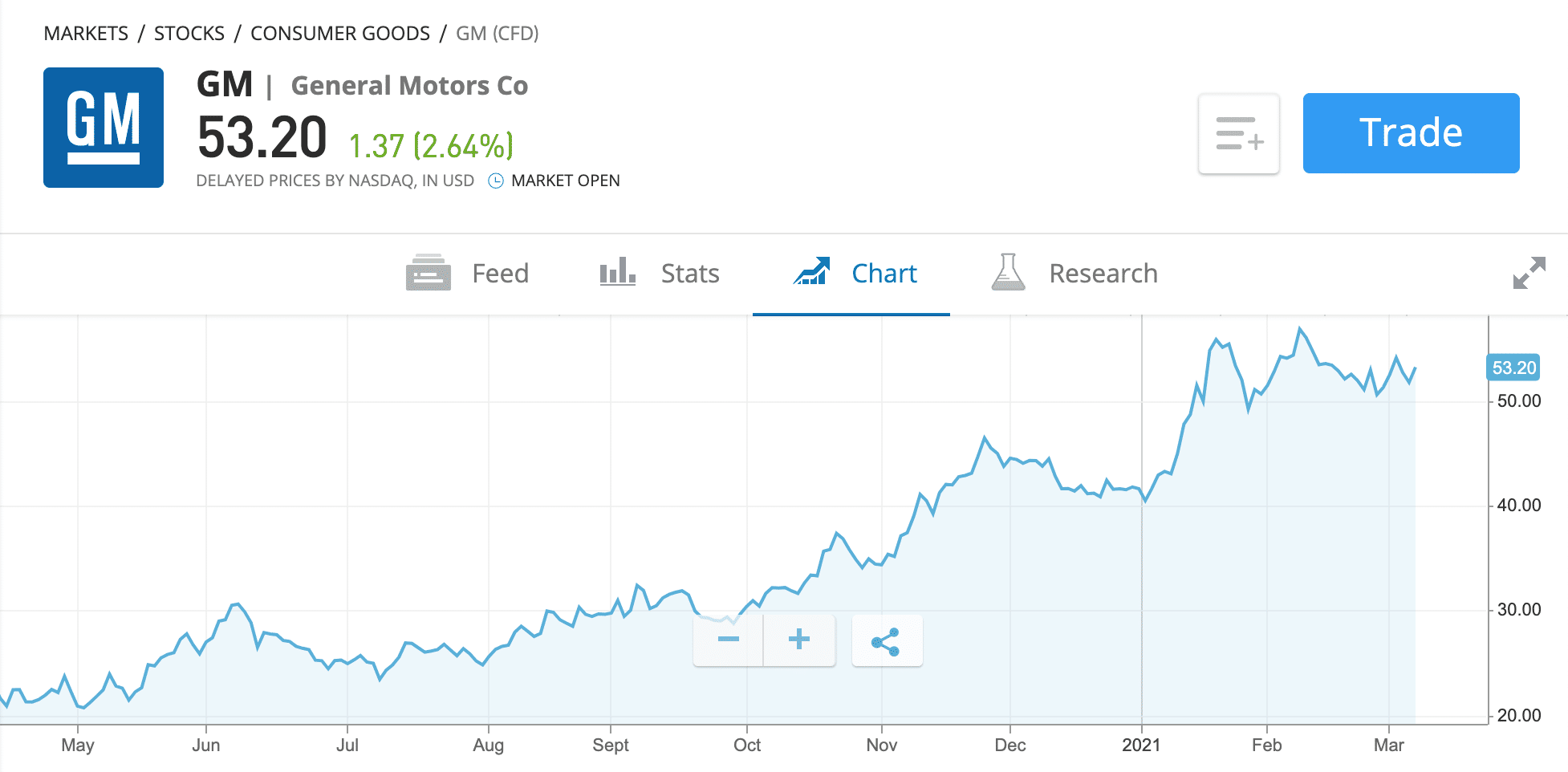 Going forward, GM's focus on electric cars will aid them in their battle against rival manufacturer Tesla. The company has pledged to invest $27 billion over the next four years to boost its electric vehicle business, leading to further growth in the stock over the longer term.
Your capital is at risk.
Amazon – Tech giant that Warren Buffett is a big fan of
Amazon (NASDAQ: AMZN) reported growth of 38% in net sales throughout 2020, which is incredible considering the scale of the Coronavirus pandemic. Furthermore, their profits skyrocketed, clocking in at an increase of 84% on the previous year. Finally, over the past year, it's shares are up over 58%, currently sitting at $3000.46.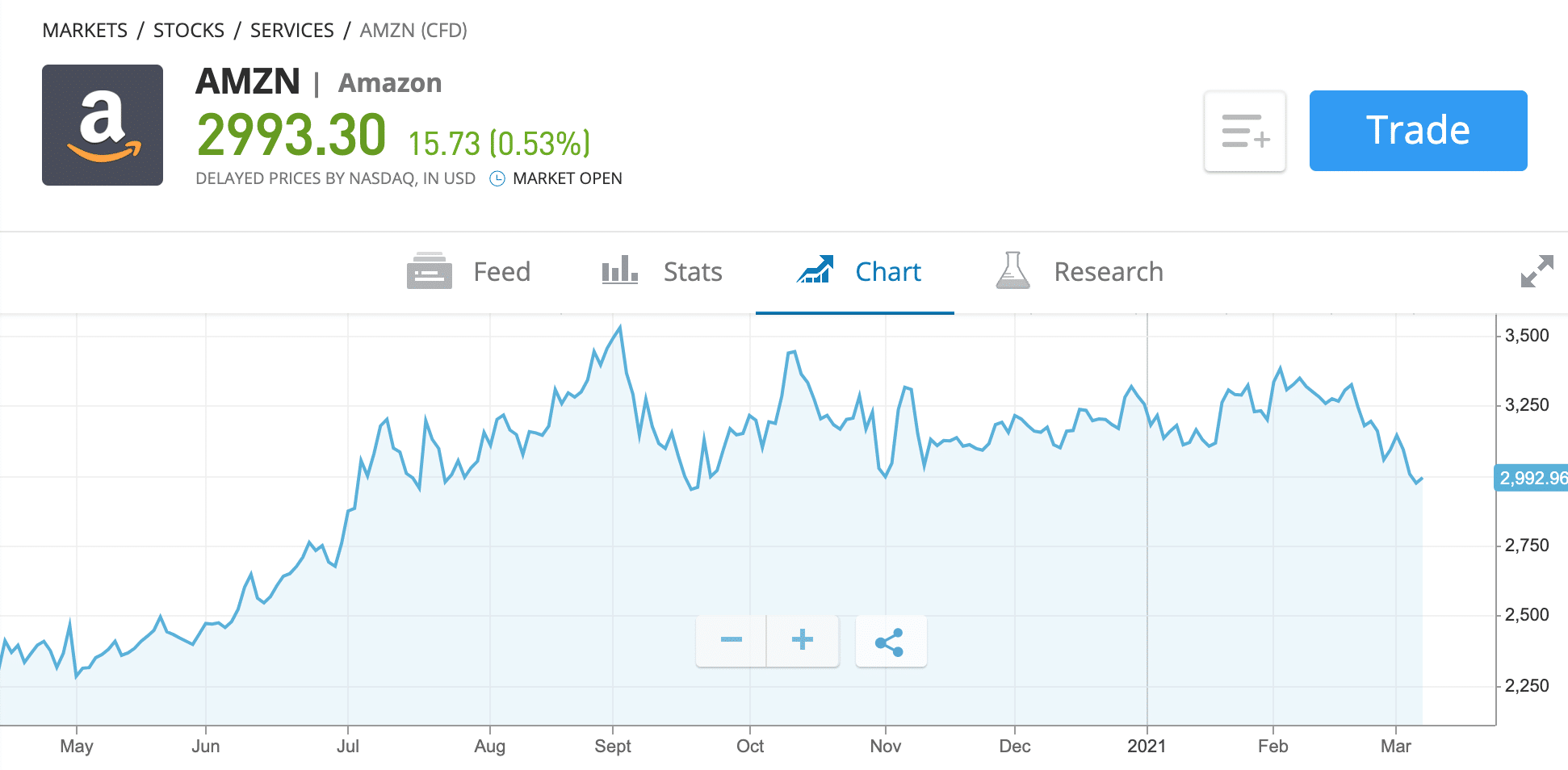 One of the reasons Warren Buffett is a big fan of this stock is because of their desire to keep providing value. By introducing other aspects of the business (such as Amazon Food and Amazon Web Services), the company has not sat on its laurels and has instead looked for further avenues to grow. With earnings expected to increase across 2021, Amazon is definitely a stock to check out if you are looking for value.
Your capital is at risk.
Visa – Solid growth and dividend stock
There's a reason why Visa (NYSE: V) has maintained its status as one of the largest companies in the world. Even with many digital payment providers coming onto the scene over the past decade, Visa has continued to strengthen its operations and tighten its grip on the sector.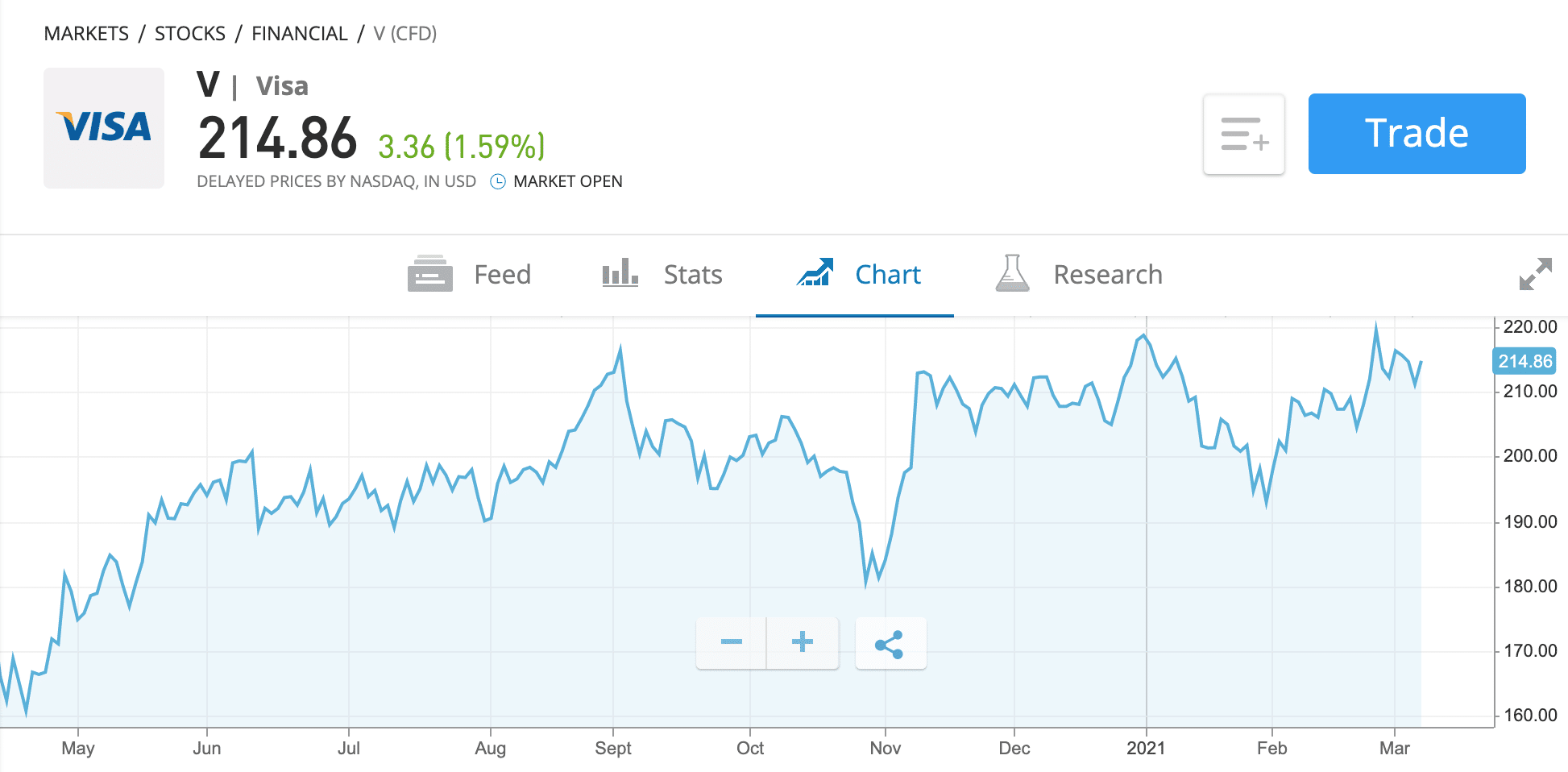 Visa have incredible profit margins, sitting at approximately 79.71%. Furthermore, profits have continued to rise, even across 2020 – the prevalence of eCommerce has caused more and more customers to use Visa's network. With stock prices currently hovering around $215, and a P/E ratio of 43.88, Visa remain a company with substantial potential for growth in 2021.
Your capital is at risk.
Chevron – The stock that Warren Buffett keeps buying
Chevron (NYSE: CVX) is one of Warren Buffett's stocks that the Omaha-based billionaire seems to love. Last year, Chevron suffered a loss due to a fall in oil and gas prices. However, it wasn't all doom and gloom; Chevron reduced capital spending by 35% in 2020 and sold some of its less-important assets, freeing up cash flow.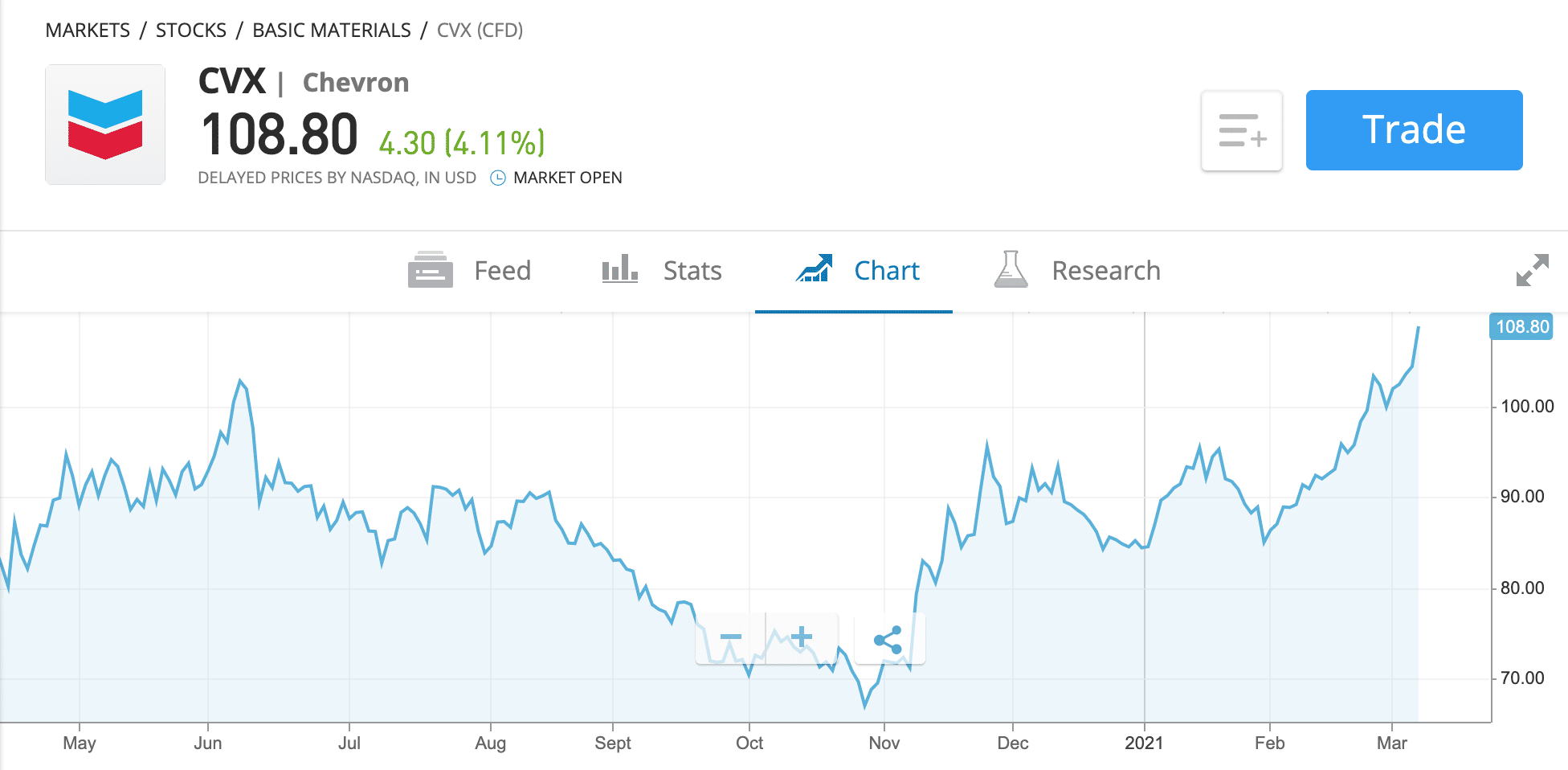 In 2021, Chevron has a great chance to rebound and grow. They have a solid balance sheet, possessing low debt-to-capital and debt-to-equity estimates relative to their competitors. Also, they have increased their production levels by 1% over the last year, adding an additional boost to revenue.
Your capital is at risk.
Are the Best Warren Buffett Stocks a Good Investment?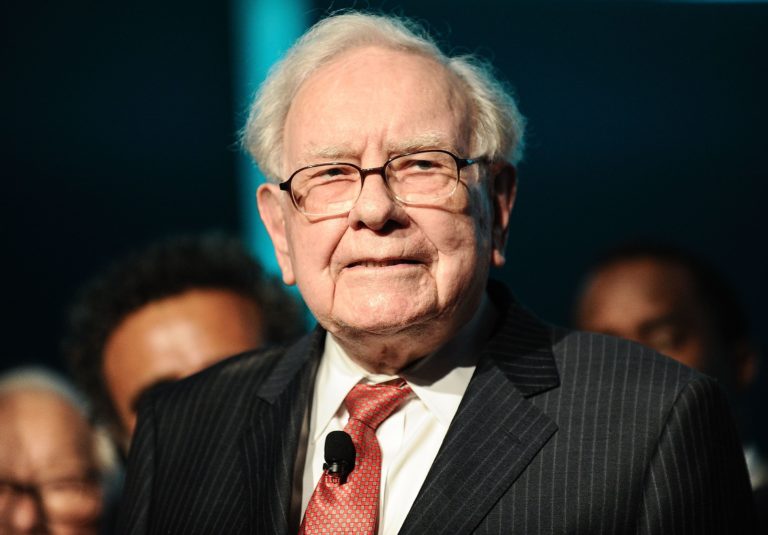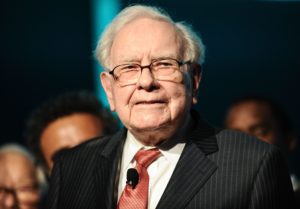 As Warren Buffett's holding company, Berkshire Hathaway has a proven track record of beating the market consistently. The securities held by the company have been chosen with the greatest of due diligence, ensuring their fundamentals are in line with how Warren Buffett likes to invest. However, are the best Warren Buffett stocks a good investment for you?
Importantly, you must determine the type of trader you are and what sort of growth you are looking for. As mentioned, Warren Buffett is a value investor – this means he is not interested in the hype around assets and instead focuses on whether the underlying company is a solid investment. Due to this strategy, Warren Buffett doesn't tend to invest in stocks that may come across as a 'gamble'.
Stocks such as this tend to be called 'growth stocks', and they refer to companies who have the potential to grow their earnings and become great firms in the future, but who perhaps aren't there just quite yet. Trading these types of stocks is a lot riskier than value-investing, as the companies underlying them are less well established and do not have the same market power as larger firms.
However, it all boils down to how YOU want to trade. Value investing is considered a more long-term approach, so if you are happy to invest some money and leave it for several years, investing in stocks Warren Buffett owns may be a promising avenue for you to explore. However, if you are more interested in making a profit in the shorter-term, you might be wise to consider looking into growth stocks instead.
Best Stock Brokers in the UK to Buy Warren Buffett Stocks
Deciding which Warren Buffett stocks to buy is just one part of the equation – you also need to think about which stock broker you wish to use.
When choosing which broker to sign up with when buying Warren Buffett stocks, there are many factors to consider. You want to make sure the broker offers an attractive fee structure so you can get the best bang for your buck. Also, your chosen broker must offer a share dealing account that allows fractional ownership of shares, allowing you to trade wisely and safely.
But don't worry, we've done all the hard work for you. Found below are two of the best UK trading platforms that allow you to buy stocks owned by Warren Buffett.
eToro – The Best Overall Broker To Buy Warren Buffett Stocks
eToro is one of the best online brokers you can use to buy Warren Buffett stocks. Founded in 2004, eToro currently operates in over 140 countries worldwide, boasting more than 13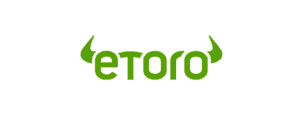 million users. Furthermore, eToro is regulated by the FCA, ensuring your money is secure through the FSCS scheme.
One of the best features of eToro is that they offer zero-commission stock trading – which means you do not have to pay a fee when you trade Warren Buffett stocks. Most other brokers charge a small commission when you make a trade on their platform, which can eat into your potential profits. With eToro, this fee is non-existent – meaning you get to keep more of the money you make.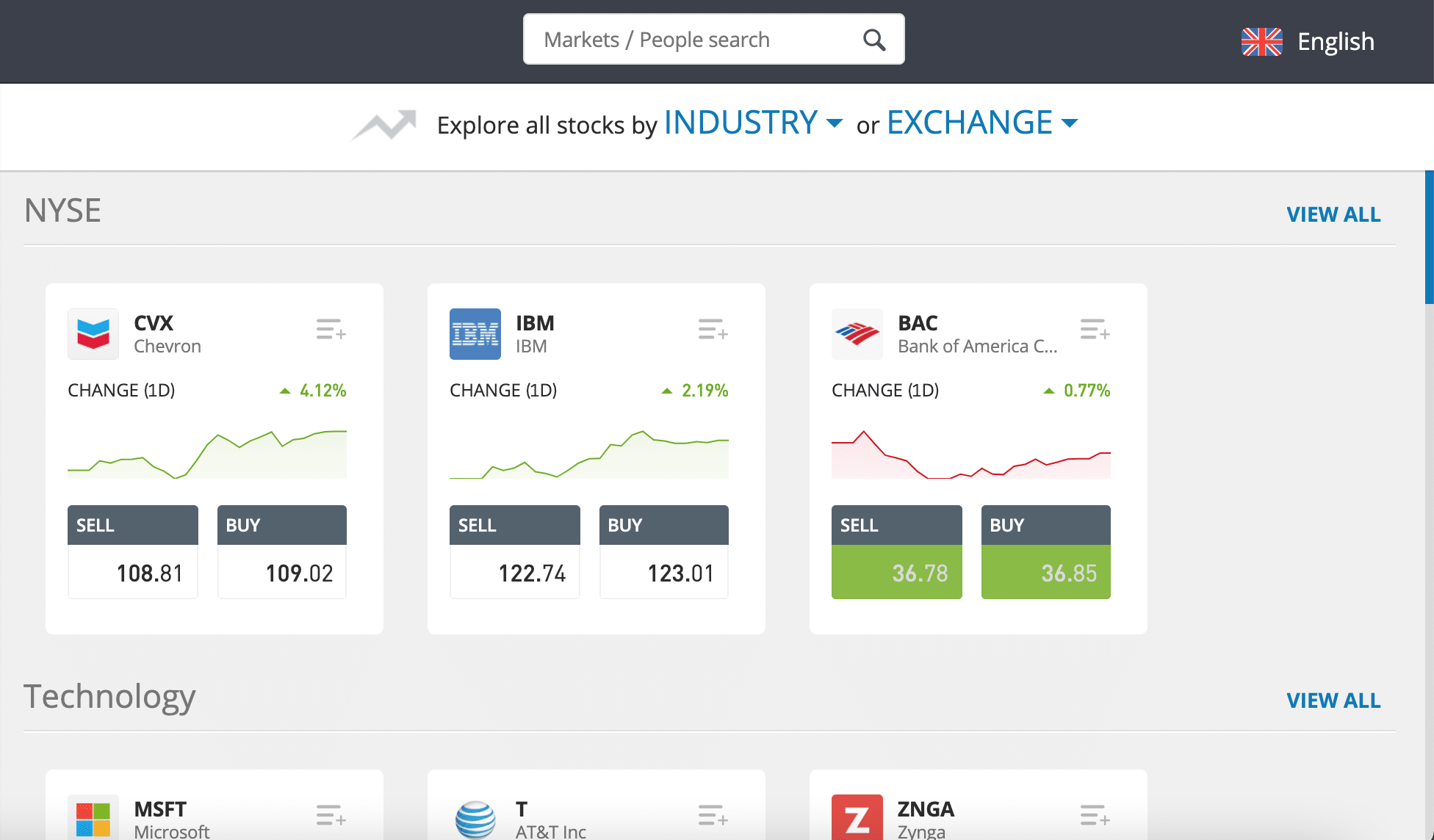 In terms of its product range, eToro offers a wide variety of securities to trade. They provide more than 17 stock markets to trade in, creating a pool of around 2400 stocks to choose from. Furthermore, they also offer a CopyTrader feature that allows users to copy other traders' portfolios who utilise eToro. CopyTrader is a great addition to the eToro platform, as many users will hold Warren Buffett stocks and it can provide an excellent avenue to explore potential investment options.
eToro also offers an incredible selection of Exchange Traded Funds (ETFs). Many of these funds contain various Warren Buffett stocks, allowing you to gain a passive exposure to the assets he holds. Furthermore, these ETFs are a fantastic way to diversify your portfolio, which can enhance your risk-to-reward ratio.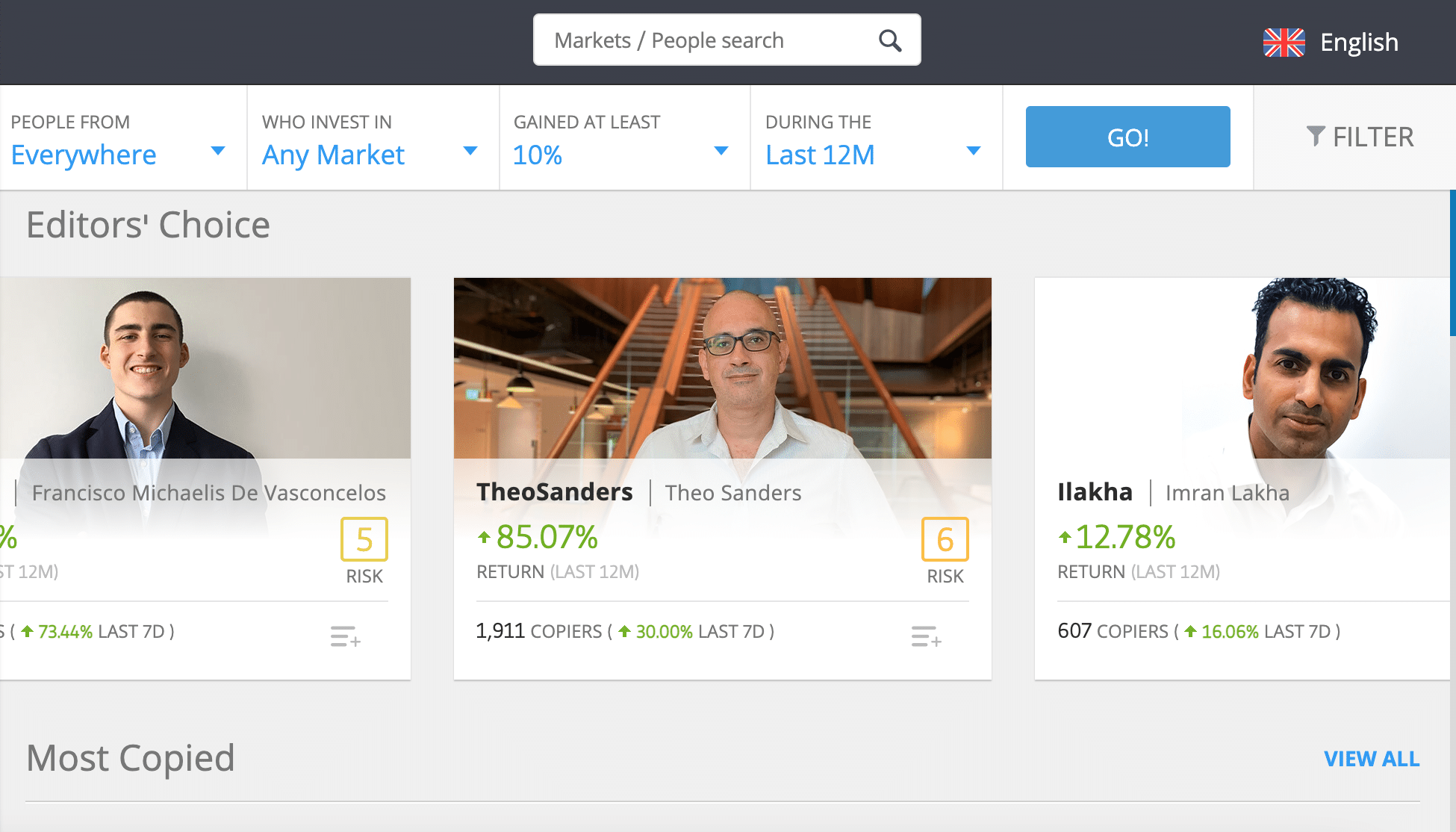 Their platform is very straightforward to use. You can conduct research using their charting feature and can also view fundamental data on specific stocks. In addition, eToro utilises a newsfeed feature that keeps you up-to-date on the latest financial news.
Opening an account with eToro is incredibly straightforward. You can complete the whole process online, and your account can be verified and opened in as little as one day. eToro requires a minimum deposit of $200 to open your account, and you can do this via bank transfer, credit/debit card, or even electronic wallets. Once the money is in your account, you are free to get involved in the market and trade Warren Buffett stocks.
Pros:
Super user-friendly online broker and trading platform
Buy over 2,400 stocks with tight spreads
100% commission-free
You can also trade indices, ETFs, cryptocurrencies, and more
Deposit funds with a debit/credit card, e-wallet, or bank account
Social and copy trading
Accepts PayPal
Regulated by the FCA, ASIC, and CySEC
Cons:
Not suitable for advanced traders that like to perform technical analysis
67% of retail investors lose money trading CFDs at this site
Libertex – Trade Warren Buffett Stock CFDs with ZERO Spread and Leverage
Although eToro is our top-rated platform for trading Warren Buffett stocks, Libertex is a great alternative that allows for a different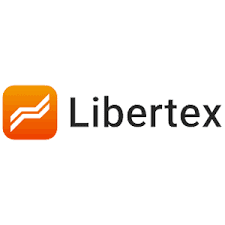 angle to your trading. Specifically, Libertex enables you to trade Contracts For Difference (CFD) on your chosen Warren Buffett stocks, meaning you can speculate on the stock's future price.
With CFDs, you do not own the stock – you instead trade a 'contract' based on the underlying stock. CFDs pay the difference between the settlement price of the opening and closing trades. If you bought a stock at $100 and then sold it at $200, you would receive the difference as profit, which in this case is $100.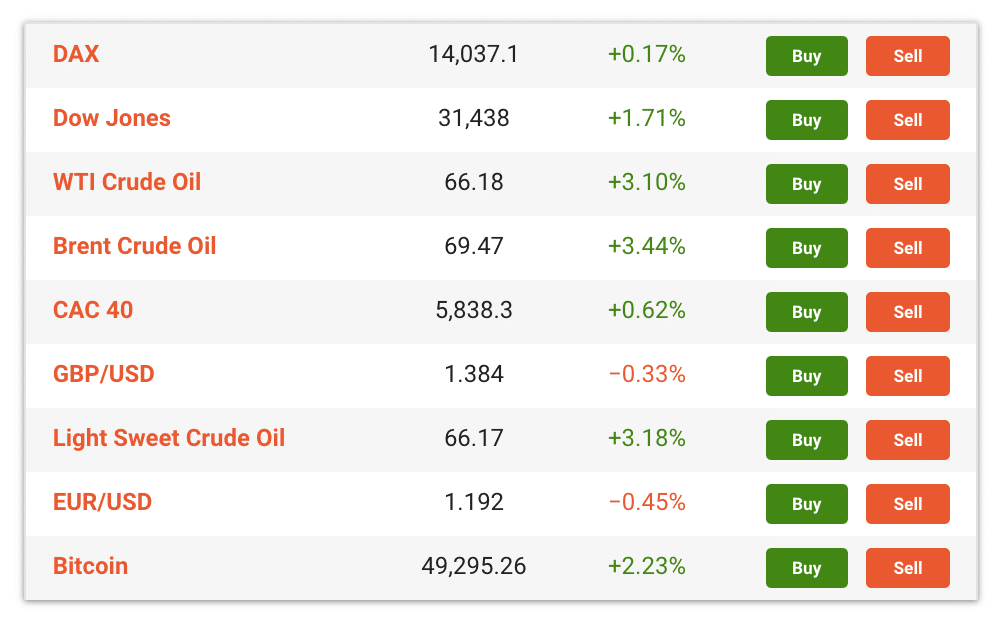 Libertex also allows you to short-sell specific securities, which is when you speculate that a stock's price will go down. This is great if you believe a company is overpriced and think its price will decrease. The difference between the price you shorted at and the price it falls to when you close out the trade is your profit.
Another great benefit of Libertex is its fee structure. Libertex charges zero spreads on their stock offerings. This means you get a more attractive price when you buy and sell assets using Libertex as your broker. Although you have to pay a small commission when you make trades, there is no monthly subscription fee or any annual charges when using their services.
Libertex requires a minimum deposit of $100 to open your account – once this is complete, you can dive right in and trade Warren Buffett stocks. Their platform is clean and straightforward and offers excellent functionality. Finally, Libertex is regulated by the CySEC and are authorised to allow UK traders to use their services.
Pros:
Zero spread CFD trading
Very competitive commissions
Good educational resources
Long established broker
Trade stocks and indices like the Dow Jones
Compatible with MT4
Great choice of markets
Cons:
83% of retail investors lose money trading CFDs at this site.
How to Invest in Warren Buffett Stocks in the UK
Now that we have taken a look at the two best brokers to use when purchasing stocks Warren Buffett owns, it's time to go through the exact steps you should follow to open an account and begin your trading journey.
This walkthrough takes you step-by-step through the process of trading stocks owned by Warren Buffett with FCA-regulated broker eToro.
Step 1: Begin the Account Opening Process
All regulated brokers within the UK require you to open an account before you can begin trading. Luckily, this whole process is extremely straightforward. First, navigate to the eToro homepage on your browser (computer or mobile) and click on the 'Join Now' button. If you prefer, you can even download the eToro app on your mobile or tablet and conduct trading that way.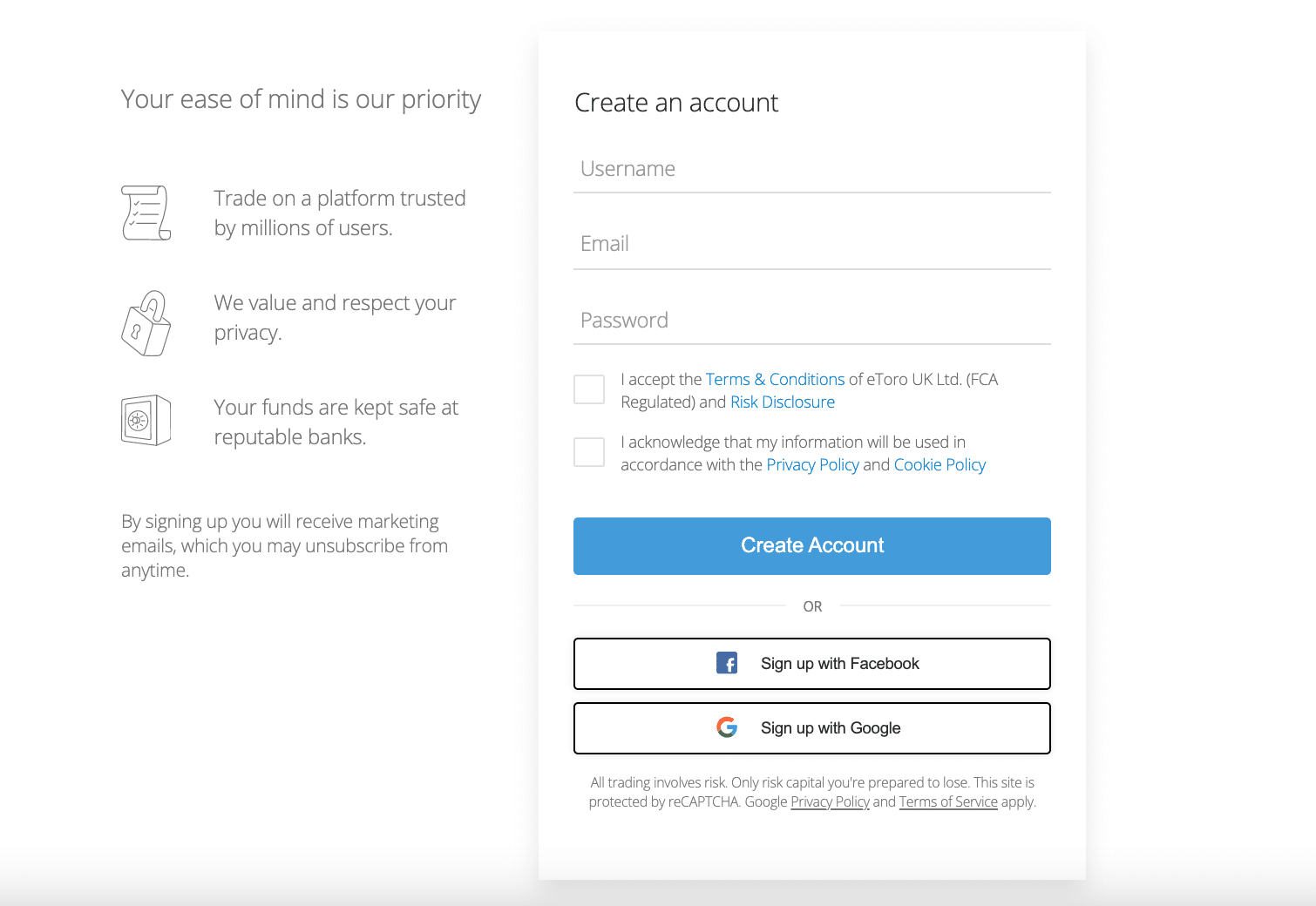 To open your account, eToro needs to collect certain pieces of information about you, such as:
First and Last Name
Home Address
Date of Birth
Mobile Number
Email Address
National Insurance Number
Username and Password
Finally, eToro will need to confirm your UK mobile number. They do this by sending you a text with a unique code on it, which you must enter to complete the registration process.
Step 2: Provide Proof of Identity & Proof of Address
eToro requires you to provide documents that prove your identity and address – this is to protect both you and the broker. You must do this before you can withdraw from the platform, but the process is very straightforward and can be done in minutes. Again, this can all be done online – the options you have to complete the process are as follows:
Proof of Identity: Valid passport or driver's license
Proof of Address: Utility bill or bank account statement (issued within the last three months)
The verification process is very quick; most of the time, eToro will verify your documents instantly, allowing you to trade right away.
Step 3: Make a Deposit
Before beginning your trading journey with eToro, you must first make a deposit into your account. eToro requires a minimum deposit of $200 for new users, equating to approximately £144.51. There are multiple ways that you can deposit funds into your new account in the UK:
Credit/Debit Cards (VISA, Mastercard, Diners, Visa Electron, Maestro)
PayPal
Neteller
Skrill
Bank transfer
Trustly
Once you have provided the minimum deposit amount, you are free to trade and invest in stocks owned by Warren Buffett.
Step 4: Search for stocks Warren Buffett owns
The next step involves searching for the specific stock that you are interested in on the eToro platform. The example below uses Berkshire Hathaway as an example. All you have to do is click on the search bar at the top of the screen and type in the name of the stock you wish to trade.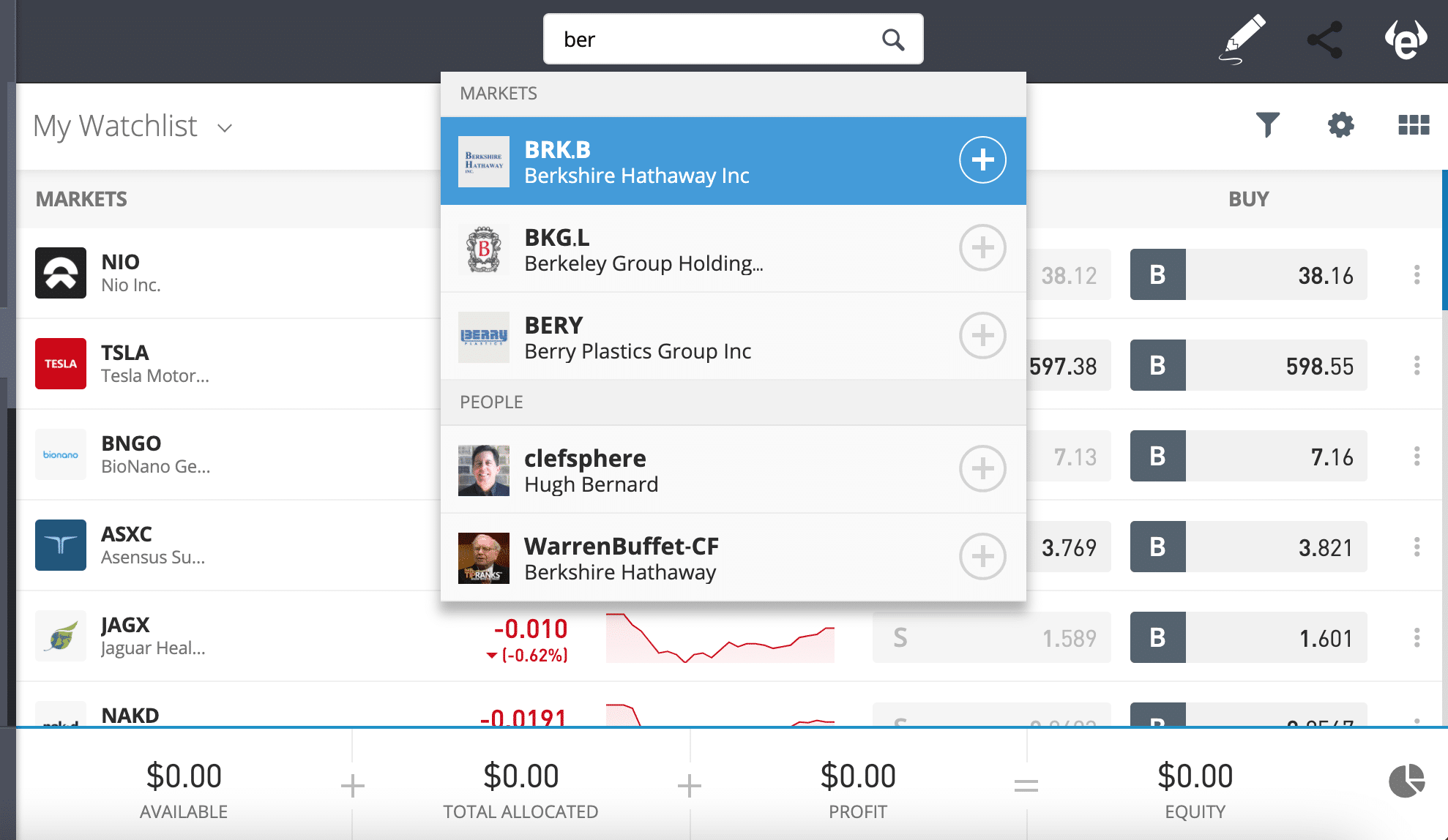 Step 5: Place your order
The last step is placing your order. eToro makes this process simple – all you have to do is click the 'Trade' button next to your chosen Warren Buffett stock, and the order screen will pop up (pictured below).
This screen is where you enter the amount of money you wish to trade the stock with – this will appear in dollars. The minimum trade value on eToro is $50. Once you are ready to confirm the trade, click on the 'Open Trade' button.
Note: If you are buying any stocks owned by Warren Buffett listed outside of the UK, your 'Open Trade' button might instead say 'Set Order'. This is because the exchange it is listed on is currently closed, but eToro will automatically complete your trade when it reopens.
Conclusion
The best Warren Buffett stocks to buy UK 2021 comprise of various sectors, providing a solid foundation for positive portfolio growth. The Berkshire Hathaway CEO places considerable emphasis on value-investing, meaning many of the stocks Warren Buffett owns have great potential to increase over the longer-term. Overall, a large number of traders can benefit from including stocks that Warren Buffett owns in their investment portfolio.
If you are interested in adding some Warren Buffett stocks to your portfolio, why not consider using eToro? As an FCA-regulated broker, they allow you to buy shares, with many deposit options available to fund your account. What's more, they do not charge any commissions on stock trades! All you have to do is click on the link below and get started today.
eToro – Best Broker to Buy Warren Buffett Stocks UK – 0% Commission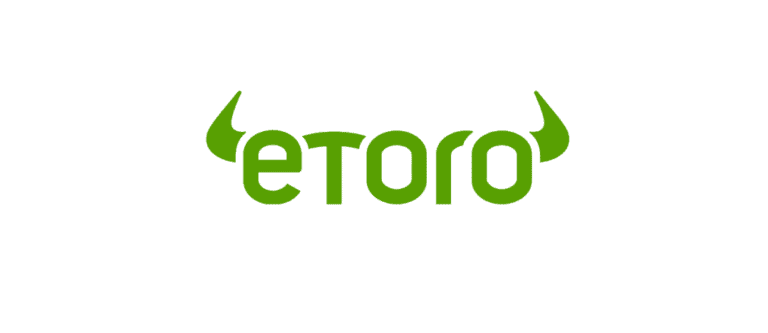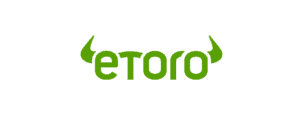 67% of retail investor accounts lose money when trading CFDs with this provider.
FAQs
Is it risky to trade the best Warren Buffett stocks?
It is risky to trade any stock, not just Warren Buffett stocks – so make sure you know the potential losses before placing a trade.
Can you short Warren Buffett stocks?
Yes – brokers such as eToro allow you to short sell various stocks, including the Warren Buffett stocks mentioned in this article.
Which of the stocks Warren Buffett owns has the largest market cap?
Apple has the largest market value of any Warren Buffett stock, clocking in at over $2trillion.
What is the best Warren Buffett stock to buy in 2021?
It is hard to say which stock is the 'best' to purchase, as most Warren Buffett stocks have their good points that may lead to growth in 2021. However, a lot of emphasis has been placed on Apple in 2021 due to their 5G-enabled iPhone 12. This could be a stock that continues to grow throughout the year.
What other stocks does Warren Buffett own?
Warren Buffett owns many stocks through his Berkshire Hathaway firm – other examples include Snowflake, Verizon, and Kraft Heinz.
Does Warren Buffett ever short sell?
No – as a value investor, he doesn't believe that short selling offers an appropriate risk-reward ratio.