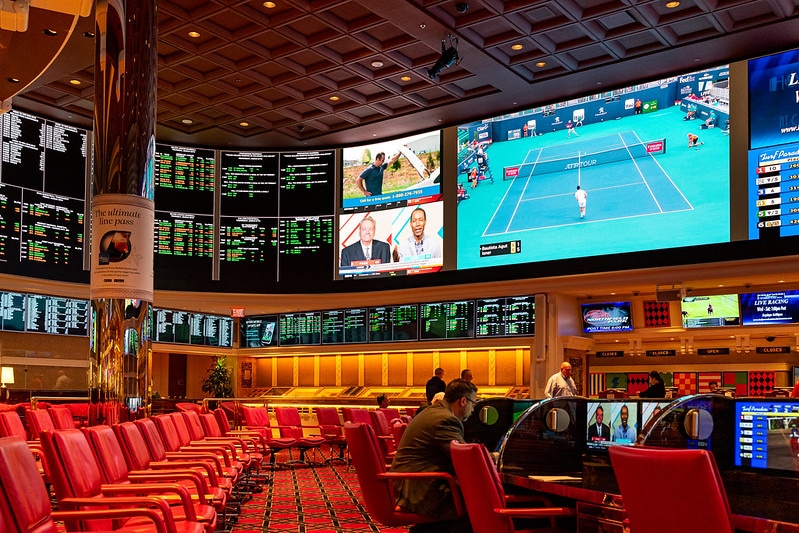 With the Delta variant once again forcing governments to reintroduce some of the restrictions that have favored online gaming and casino stocks, the latest wave of negative momentum seen by some companies in this space might be about to reverse and that opens up opportunities for traders.
Meanwhile, companies in the industry that operate physical casinos have been battered amid a strong spike in the number of virus cases and that could open a window of opportunity for investors to grab some shares at a lower price.
If you are into gaming and gambling stocks, the following article takes a look at five names in this space that you may want to consider.
Top 5 UK Gambling Stocks
Entain Holdings (ENT)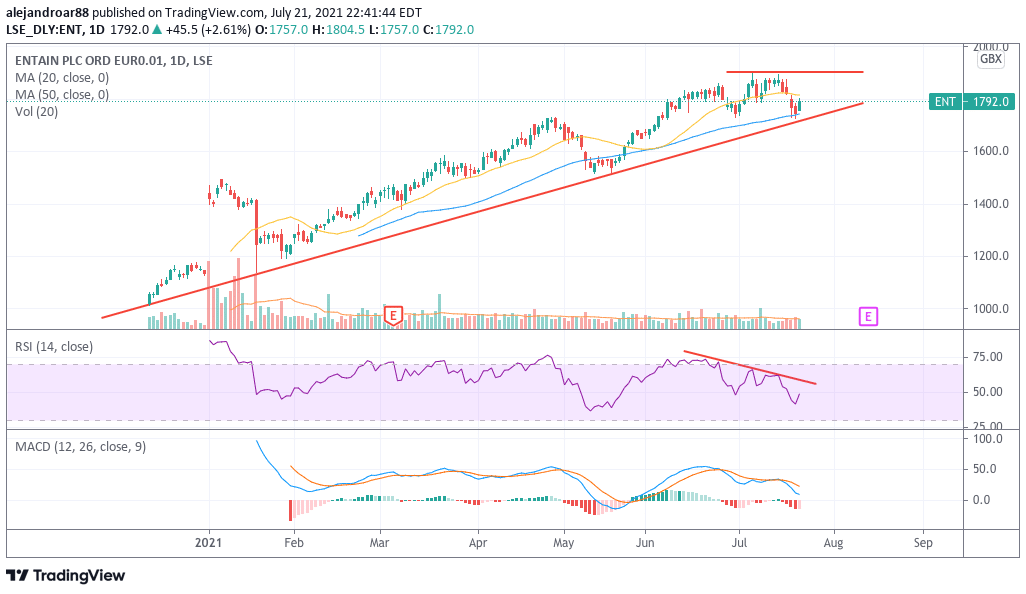 The price of Entain shares has been on a steady uptrend since the company went public earlier this year, with the stock moving from a closing price of 1,055p on its first day of trading to an all-time high of 1,900p per share earlier this month.
However, the latest price action suggests that the uptrend has reached a phase of exhaustion as indicated by a bearish divergence in the Relative Strength Index (RSI). Even though the price has bounced off its trend line support lately, this weakness remains and could eventually result in a sharp drawdown for the stock as momentum seems to be fading.
The company is expected to report its interim results on 12 August and it would be plausible to expect a retest of the 1,900p level before that. Meanwhile, if a move above that threshold is rejected, chances are that the stock could end up breaking its lower trend line as a result of this weaker momentum.
If that happens, that could be an opportunity for investors who have been waiting patiently to enter a long position in this promising sports-betting stock at a relatively cheaper valuation.
888 Holdings (888)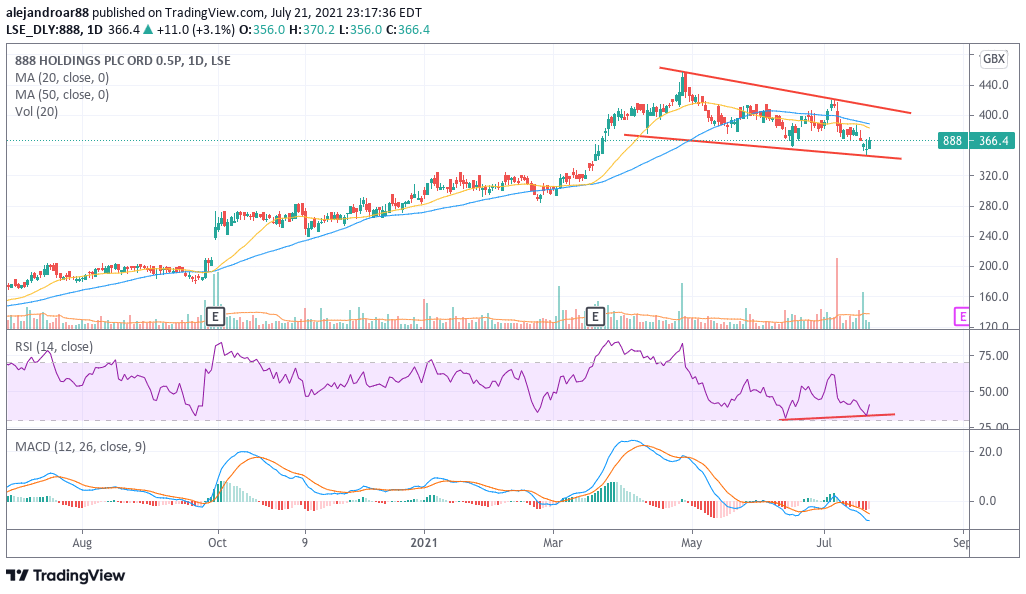 The price of 888 Holdings has been on a downtrend since the company released its trading update covering the second quarter of 2020, with the stock losing almost 20% of its value since it hit its 2021 peak at 457p per share while it recently bounced off its trend line support after posting a third consecutive lower low.
The firm informed investors during this latest business update that it was recently awarded a sports-betting license in Germany while it also negotiated a partnership with Sports Illustrated to launch a sportsbook. More details on the German license can be found on wette.de.
Despite this latest weakness in the stock price, momentum appears to be making a U-turn as shown by a bullish divergence in the RSI. This divergence indicates that 888 Holdings shares may have bottomed already and could soon retest the upper trend line shown in the chart at around 400p per share for a 9% upside potential.
Flutter Entertainment (FLTR)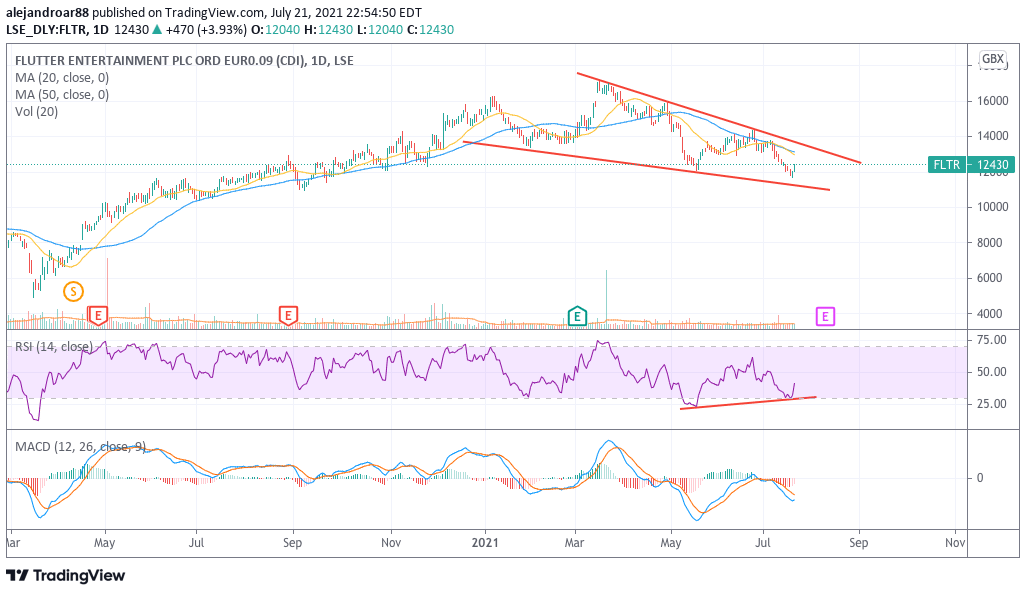 Despite reporting strong revenue growth during its latest quarterly update, the parent company of Betfair has seen its shares dive as investors have been expecting a deceleration in the strength of the tailwind provided by the pandemic to gambling stocks now that vaccines have been applied to a large portion of the United Kingdom's population.
However, similar to the setup seen by 888 Holdings shares, Flutter's stock is also displaying a bullish divergence in the RSI that could indicate a potentially upcoming trend reversal. Although that doesn't necessarily mean that the stock cannot move lower from where it is now, it does present the possibility that the downtrend might be nearing a bottom.
For now, the outlook for Flutter is neutral unless the price jumps above its previous high of 14,350p, at which point a full-blown reversal would be confirmed.
The Rank Group (RNK)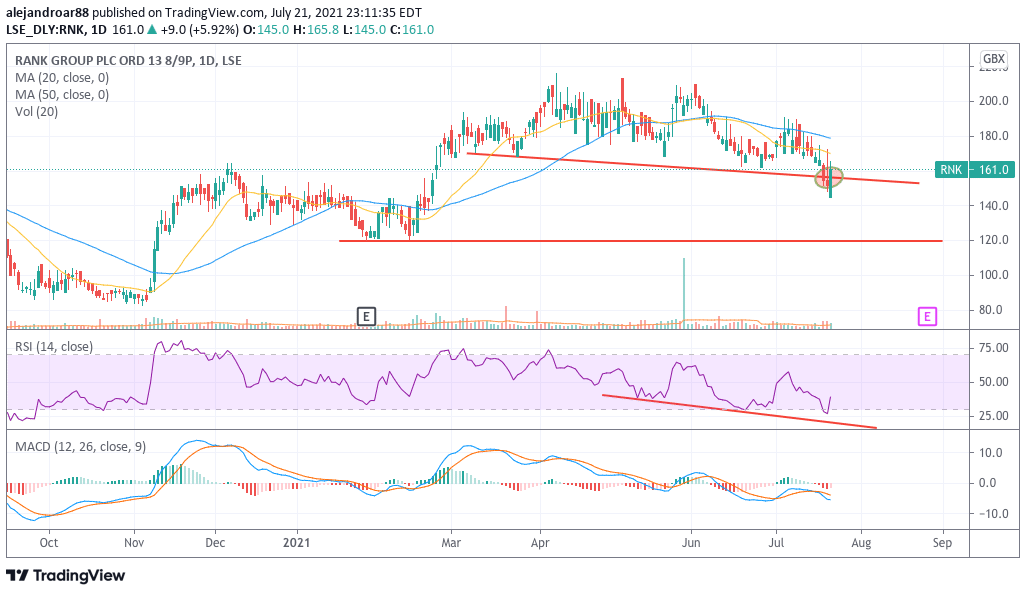 Stocks exposed to the travel and leisure sector in the UK have been battered once again amid concerns associated with the impact that the Delta variant could have on the country's reopening efforts.
For gambling stocks like The Rank Group, prolonged restrictions are bad news and the latest price action reflects that as the stock has broken below its lower trend line recently as a result of a surge in the number of virus cases in multiple corners of Europe.
That said, even though the short-term outlook for RNK is bearish, the company has continued to generate positive cash flows while its long-term debt remains manageable.
At a market capitalization of £712 million, Rank is being valued at less than 1 time its average sales of the past three years while the stock is trading at less than half its pre-pandemic peak. Given the company's strong portfolio of assets and intangibles, an acquisition from a larger entity seems fairly possible and that could open the door for some upside potential in the future if such a scenario unfolds.
For now, the price could be heading to retest the 120p support area highlighted in the chart if today's uptick results in a bull trap instead of a full-blown trend reversal. A plunge of that nature may provide a much more attractive entry price for those seeking to open a long position on the stock.
Gamesys Group (GYS)
With Bally shareholders already approving a takeover of Gamesys, the stock price has been hovering near the 1,850p offering price in the past 5 months as investors seem to be taking for granted that regulators will greenlight the deal by the end of the year.
Despite this seemingly certain outcome, any unexpected hiccup related to the approval of the takeover by regulators could result in a swift drop in the share price and that could open a short-lived window to acquire the stock below the offering price if odds continue to favor a positive outcome.