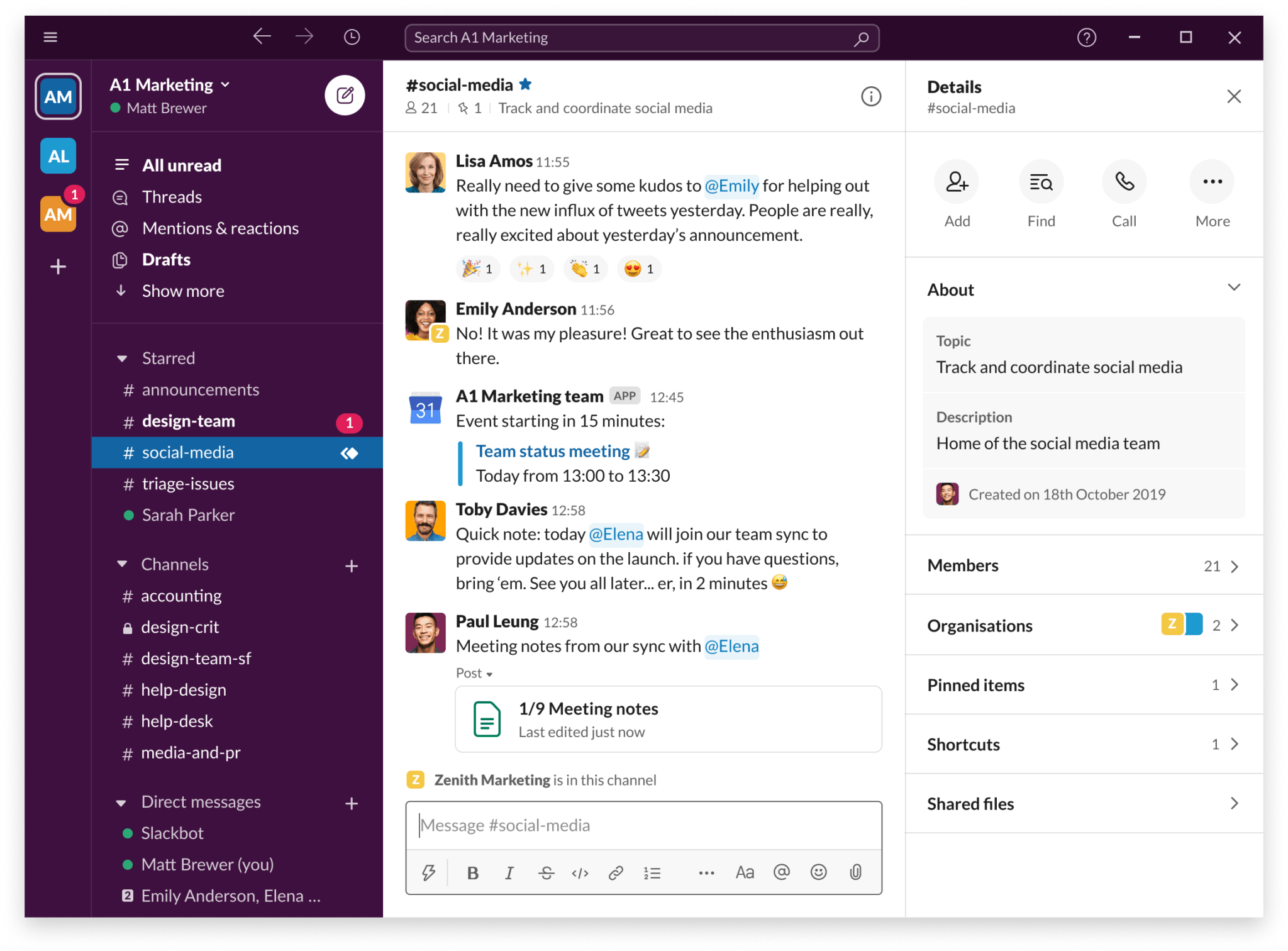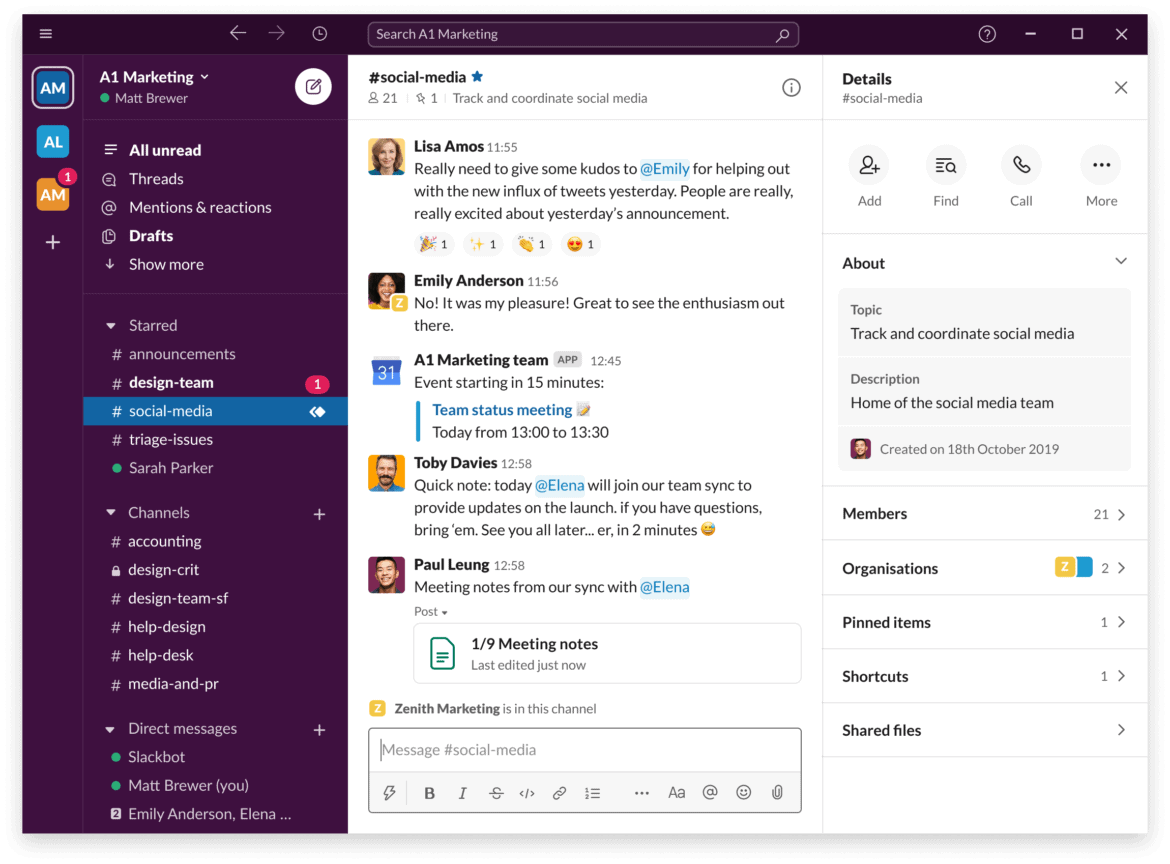 Slack (WORK) shares closed yesterday's session 37.6% higher at $40.7 per share. The spike follows news of a potential acquisition by CRM software provider Salesforce boosted the price to its highest levels since the firm's initial public offering (IPO).
A report from Reuters released yesterday revealed that the cloud-based software firm headed by Marc Benioff has been holding talks to acquire the workplace messaging application, although the specific details of the offering were not disclosed by the sources cited in the article.
The acquisition of Slack would enable Salesforce to integrate the messaging app with its sophisticated cloud-based customer relationship management (CRM) solution, a step that seems logical according to experts in the tech industry.
Sources cited by Reuters mentioned that if both parties manage to move forward with the negotiations, a deal could be announced before 9 December. Slack and Salesforce did not respond to requests for comments made by Reuters.
Slack has capitalised on the pandemic, as its messaging app has been in high demand since companies were forced to send workers home to protect them from contracting and spreading the virus.
Last quarter, the company managed to add 130,000 new paid customers to its platform, representing a 30% jump in its user base compared to a year ago.
Meanwhile, the firm headed by Stewart Butterfield saw its revenues land at $215.9 million by the end of the three-month period ended on 31 July, growing by 49% compared to the same period in 2019 on the back of pandemic tailwinds.
However, despite the company's positive top-line performance, Slack is struggling to remain competitive since Microsoft's Teams app has emerged as a strong rival.
Salesforce shares, on the other hand, reacted negatively to the news, as they traded 5.4% lower to settle at $246.82 per share by the end of yesterday's session. Markets are closed today in the United States in observance of Thanksgiving holiday.
Dan Ives from Wedbush Securities told CNBC yesterday that buying Slack would be a "game changer" for Salesforce, as this move could improve the CRM's collaboration engine, allowing companies to integrate useful remote-work-related solutions to strengthen their businesses internal operations.
Slack is scheduled to report its financial results covering the firm's third fiscal quarter on 9 December, which reinforces the view that a deal could be announced before then.
How have Slack shares performed this year?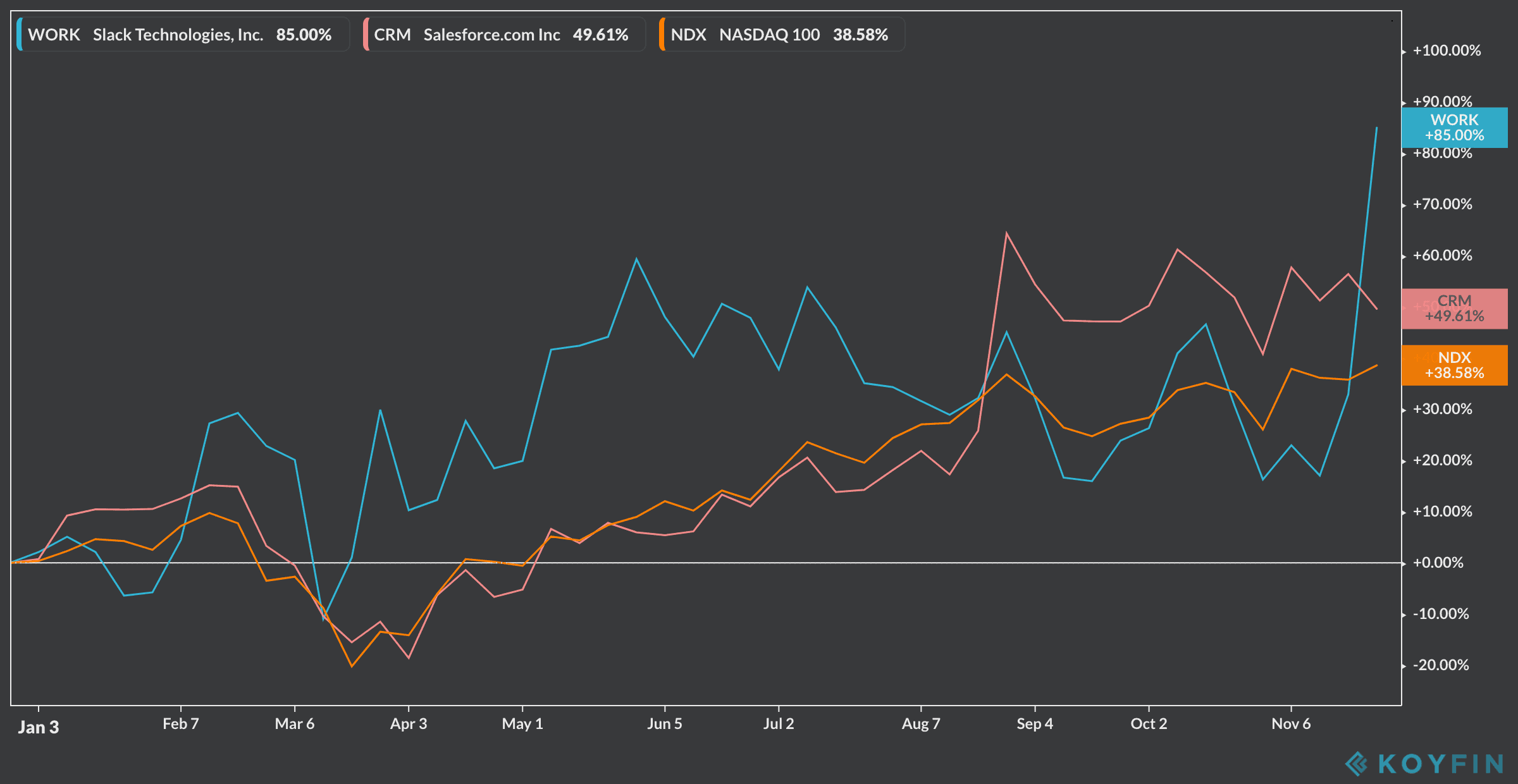 Prior to yesterday's uptick, Slack shares had delivered a solid 31.5% gain as the firm emerged as a pandemic winner since workers were forced to work from home to protect themselves. However, its shares have underperformed compared with other work-from-home tech winners.
Meanwhile, yesterday's session pushed Slack's year-to-date performance to an 81% gain, while the market capitalisation of the firm ended the day at $23.22 billion.
During the same period, Salesforce (CRM) shares have delivered a 48.5% gain while the Nasdaq 100 tech-heavy index rose 38%.
Notably, Salesforce shares were added to the Dow Jones Industrial Average stock index in late August, a move that boosted the firm's credibility and its share price.
What's next for Slack shares?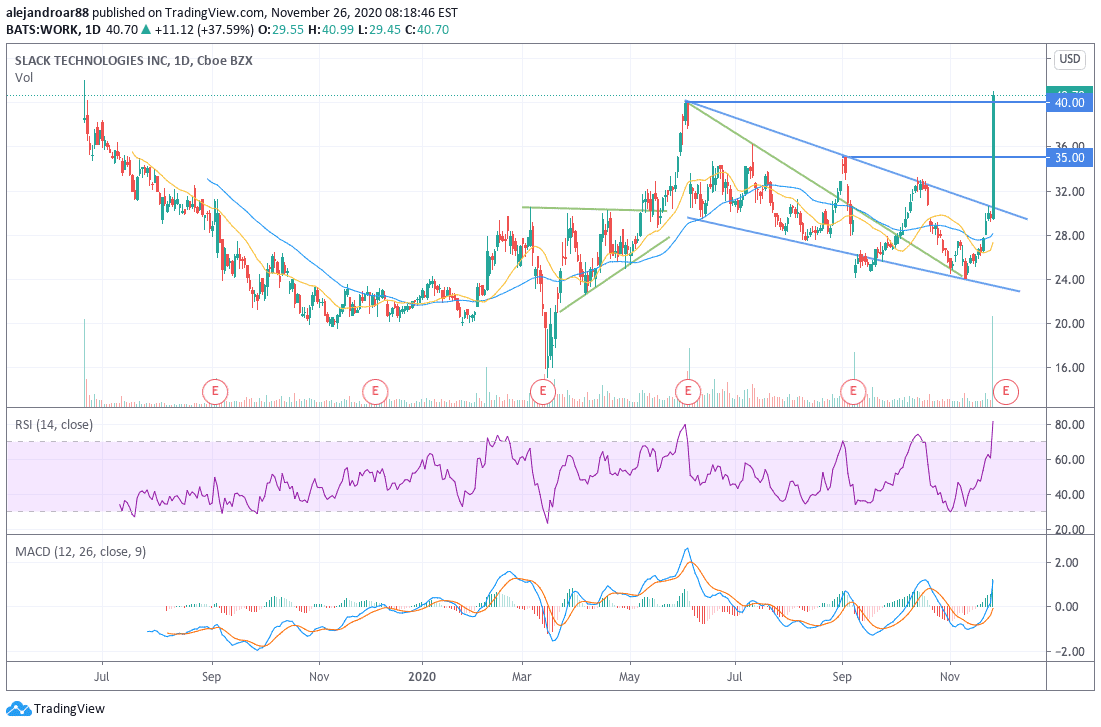 Since the specific details of a potential deal with Salesforce remain a question mark, it is still uncertain if yesterday's surge will end up being justified as the price per share that the CRM provider might be willing to pay for Slack is not known.
It is important to note that during the first sixth months of Slack's fiscal year, the company generated $150 million in losses, although the firm has managed to trim that number from a previous $400 million loss it posted during the same period in 2019.
Meanwhile, the stock's price-to-sales ratio, using Slack's last-twelve-months revenue, surged to 30, while the same indicator stood at 24 if one uses the firm's forecasted next-twelve-months sales.
These multiples are fairly high for tech firms, and for any other company for that matter, which means that there is a real risk that the market may have gotten a bit ahead of itself in determining how much Salesforce (CRM) might be willing to pay for the workplace messaging app.