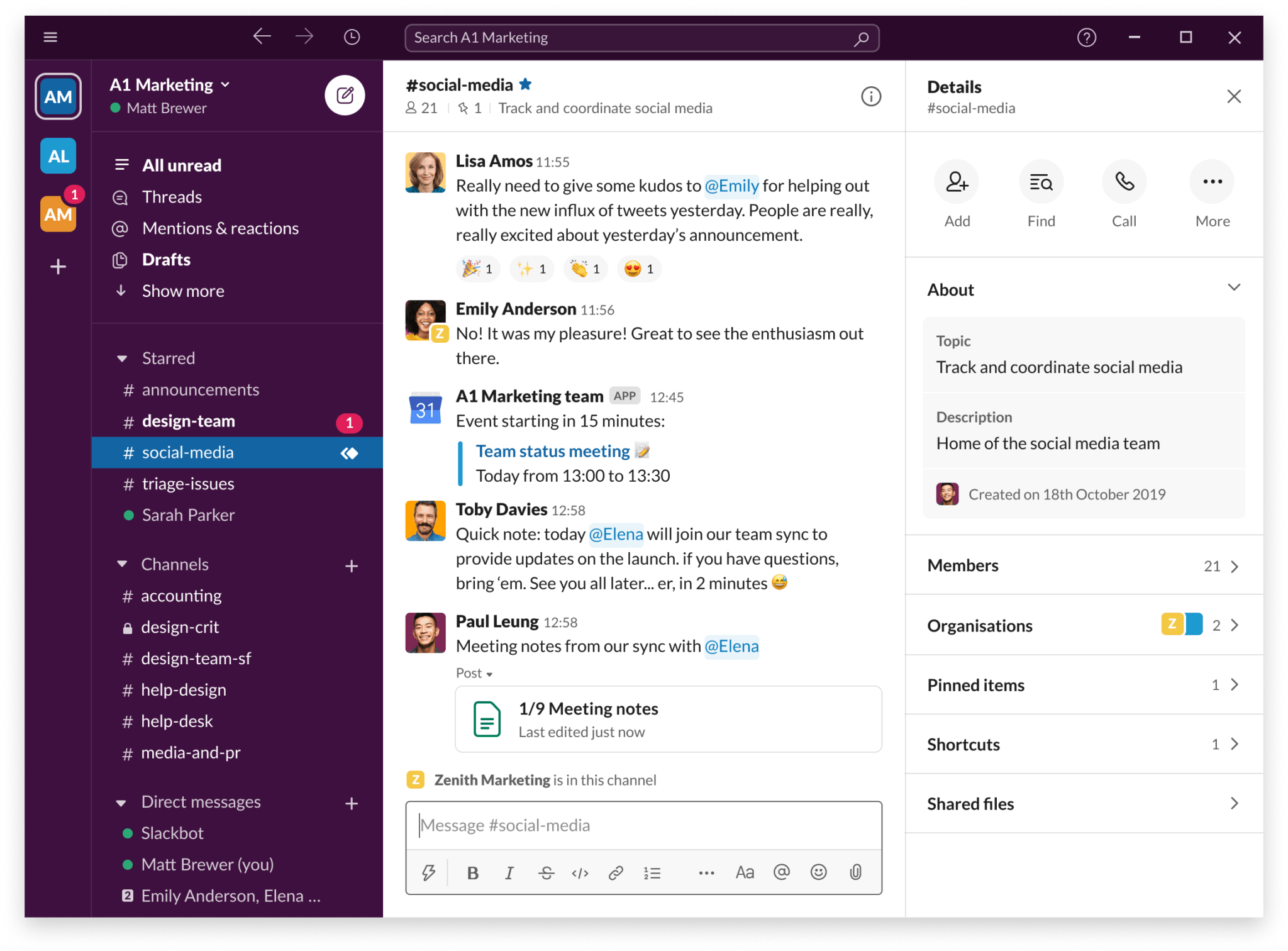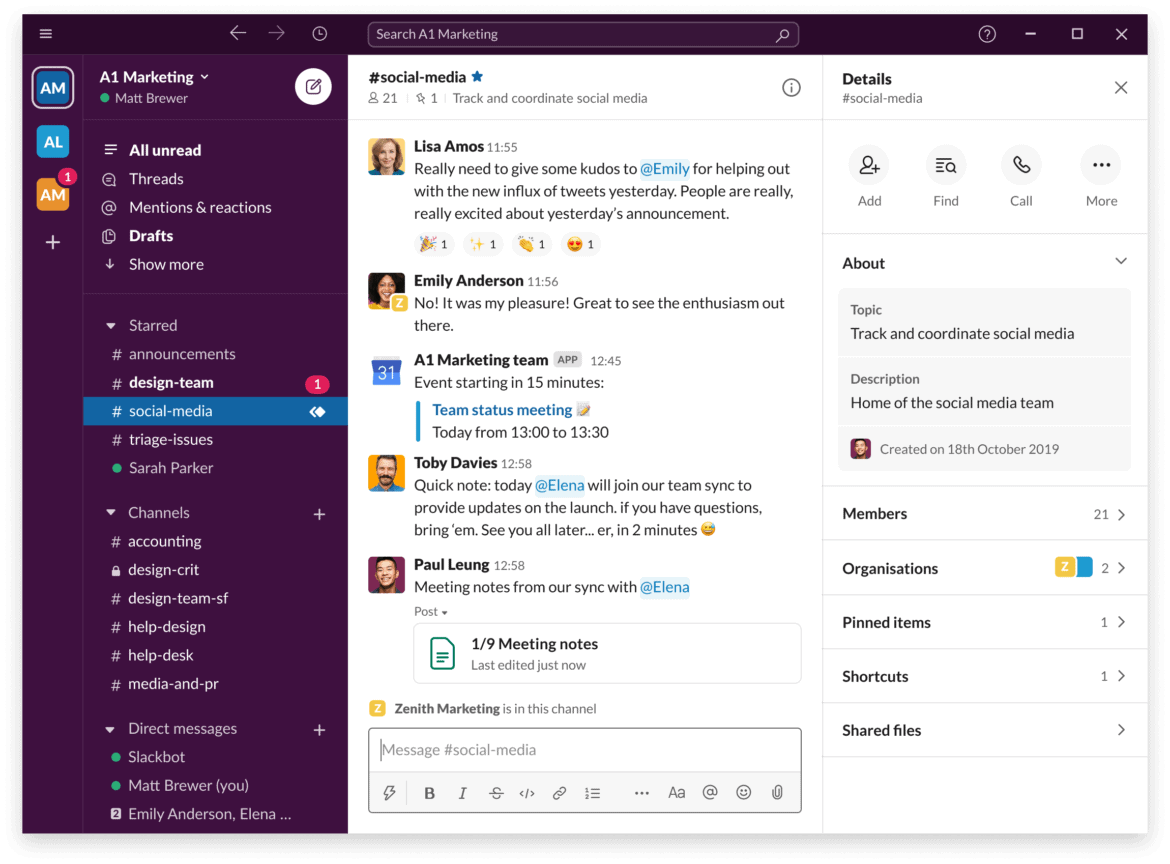 Slack shares are sliding almost 20% during this morning pre-market stock trading activity on Wall Street after the software company failed to surprise investors with its growth during its second fiscal quarter of 2021, which covered the peak of the pandemic.
Revenues for the San Francisco-based company grew almost 50% compared to a year ago at $216 million, beating the Street's estimate of $209 million for the quarter.
However, the firm's paid customer base grew only 30% compared to a year before, a number that disappointed investors as other work-from-home software makers such as Zoom Video Communications (ZM) showed a 355% jump in their  user base during the same period.
According to the report, Slack also managed to increase the number of paid customers producing annual recurring revenues higher than $100,000 by as much as 37%, providing the business with further long-term stability, while also increasing the number of customers with more than $1 million in annual recurring revenue to 87 – representing a 78% year-on-year growth.
GAAP operating losses per share landed at $0.13 which represents an improvement from the $0.98 per share the company lost a year before, while the company achieved break-even on their non-GAAP profitability metrics – which adjust for the impact of non-recurring expenses including stock-based compensation for employees.
This is perhaps the most important breakthrough for Slack, although it is still difficult to say if the company will be profitable from now on, as the reduction in net losses came from lower operating expenses – which the company managed to trim by 46% compared to the same quarter the year before.
The company expects to deliver an adjusted loss of $0.14 on revenue of around $870 million by the end of its 2021 fiscal year in line with analysts' expectations for the year.
What is driving Slack shares down today?
Slack shares are down as a result of disappointing user growth during the quarter, contrasting to the booming growth seen by other work-from-home providers such as Zoom Video Communications (ZM), which posted triple-digit growth during the same period.
A company like Slack, which provides a platform through which businesses can organize their workflow while employees are forced to work from home, should have benefitted tremendously from a shift from traditional platforms like CRMs and ERP systems which were not primarily conceived for remote work.
Failing to cash in from this environment could mean that Slack has struggled to emerge as the strongest alternative in a market where some other big players are also muscling in, including Microsoft and its Team app – which is integrated with the firm's popular Office 365 software.
Are Slack shares a buy if they drop this much?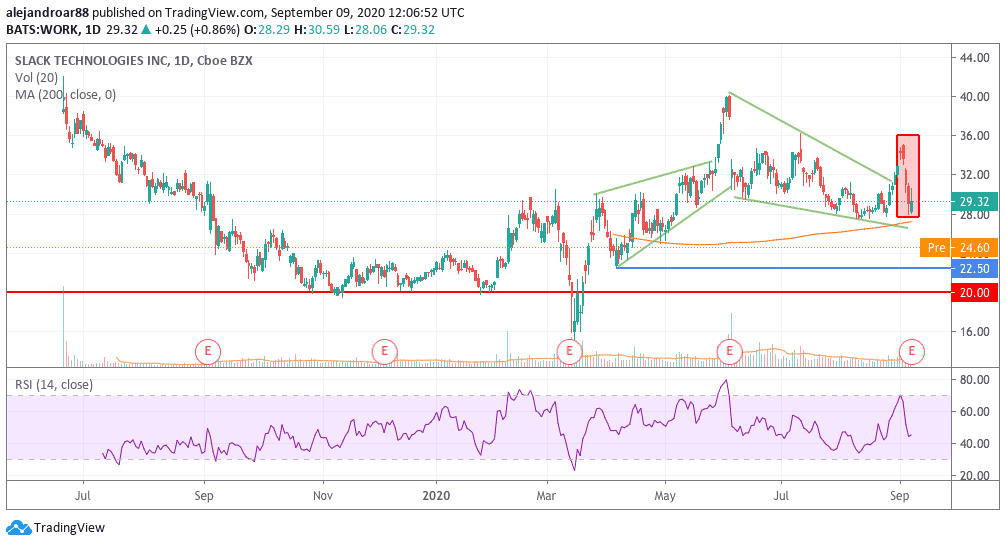 Slack shares dived from a $40 high after a similarly disappointing results for the first fiscal quarter of 2021.
Since then, Slack shares have been on a downtrend but they broke above a falling wedge recently – although now it seems this break will just be temporary as shares have plunged significantly below the lower trend line of that pattern.
At this point, Slack shares do pose an opportunity over the long-term, especially if the firm manages to capitalise on the growth it has seen lately and if it turns a profit in the subsequent quarters.
For that to happen, Slack will have to keep those operating expenses at a similar level to where they were this quarter. This is not something that the company's management team has established as a goal – or at least they didn't highlight it in the press release or in the presentation that accompanied the business' quarterly results.
Meanwhile, from a technical perspective, Slack shares have repeatedly found support at the $20 level in the past and it is safe to say that they will probably do the same this time as nothing has really changed in the fundamental picture of the business except for the fact that it has failed to produce the kind of upside surprise that the market was expecting.