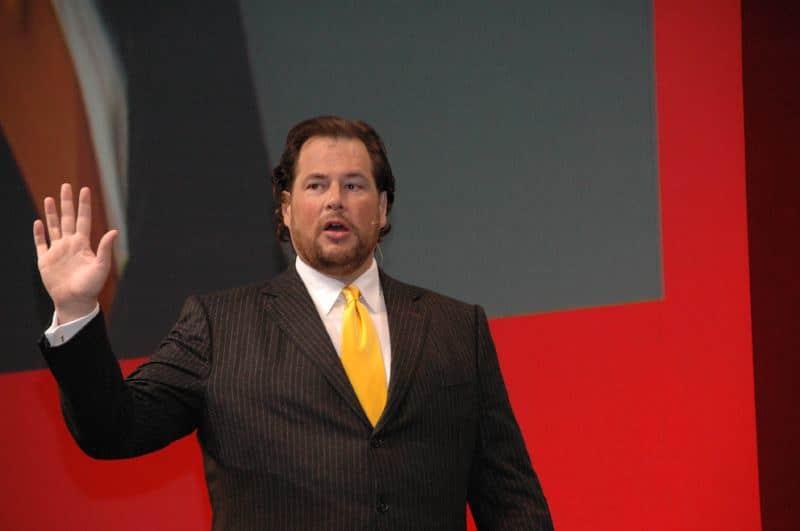 Salesforce shares are pointing to new all-time after closing yesterday's stock trading session 3.6% higher at $216 per share while surging 15% today after a series of good news including the stock's inception in the Dow Jones Industrial Average index.
Salesforce (CRM) recent run started on August 14 at $193 per share ahead of the company's quarterly earnings report, delivering a solid 12% gain in just 11 days including yesterday's jump after the company released record non-GAAP earnings per share of $1.44, roughly doubling the $0.77 consensus estimate for its second quarter of 2020.
Revenues landed at $5.1 billion, $200 million higher than Wall Street's estimate of $4.9 billion for the three-month period, although the most bullish element of this report was the firm's decision to raise its revenue and earnings guidance for the entire year to $20.8 billion and $3.74 per share respectively vs. $20 billion in revenues and $2.95 in earnings analysts had forecasted.
Salesforce shares are receiving an additional pump from their inception in the Dow Jones Industrial Average, with the firm replacing oil giant ExxonMobil effective next Monday.
Moreover, analysts from Canaccord Genuity, Morgan Stanley, and Jefferies upped the firm's price target after its record-smashing earnings report to $270, $275, and $285 respectively.
All of these elements seem to be giving Salesforce a boost towards levels unseen by the stock, although technical indicators are still not posting any red flag – at least until yesterday's session.
How are Salesforce shares lining up for today's session?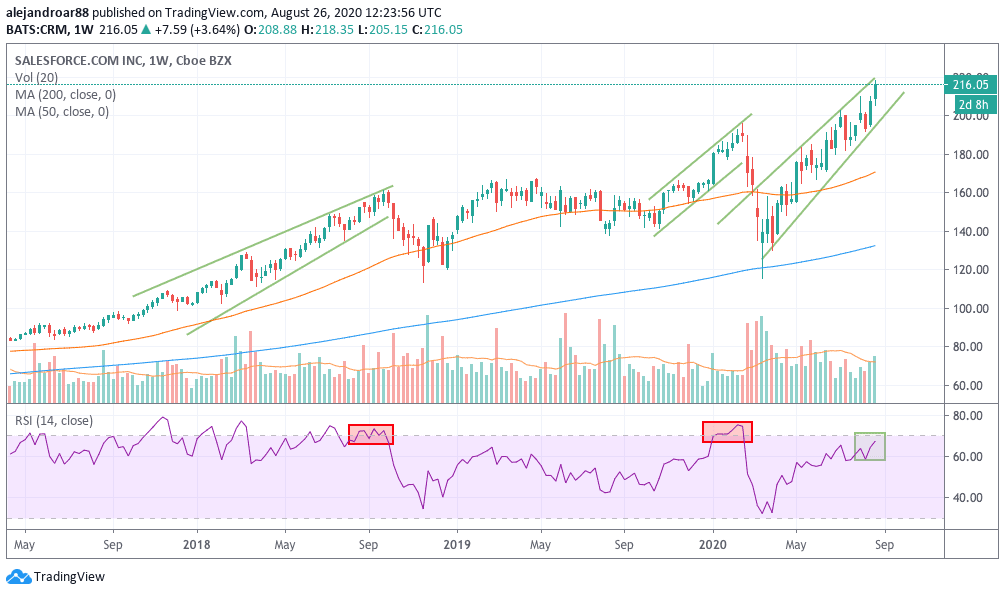 Salesforce shares have been on an uptrend since they rebounded from their March lows and have been rising steadily as a shift to work-from-home by many businesses amid the pandemic has driven significant demand to the CRM developer.
This recent surge in its shares – yesterday's gain and today's implied higher opening – could push the stock to fresh all-time highs and potentially above the upper trend line shown in the chart above, which would probably put Salesforce shares in overbought territory.
This overheated rally may not be good news for Salesforce in the short-run as its shares have reacted negatively to oversold levels in the past, as indicated by their weekly price action.
Meanwhile, Salesforce is currently valued at 215 times its last-twelve-months earnings and 71 times its next-twelve-months earnings, a high multiple but perhaps similar to those seen by many other tech firms lately.
These recent price target boosts seem to be driving most of the price action lately and although the shares may take a breather in the next few weeks at some point due to the technical elements mentioned earlier, they are likely to continue their move up as institutional investors will probably pile in Salesforce shares, chasing after these higher targets.
That said, some degree of cautiousness would be a good idea, as good news on the vaccine front and other positive developments in the virus situation could push down the price of the stock as investors are likely to lose their appetite for work-from-home plays once the pandemic starts to fade.