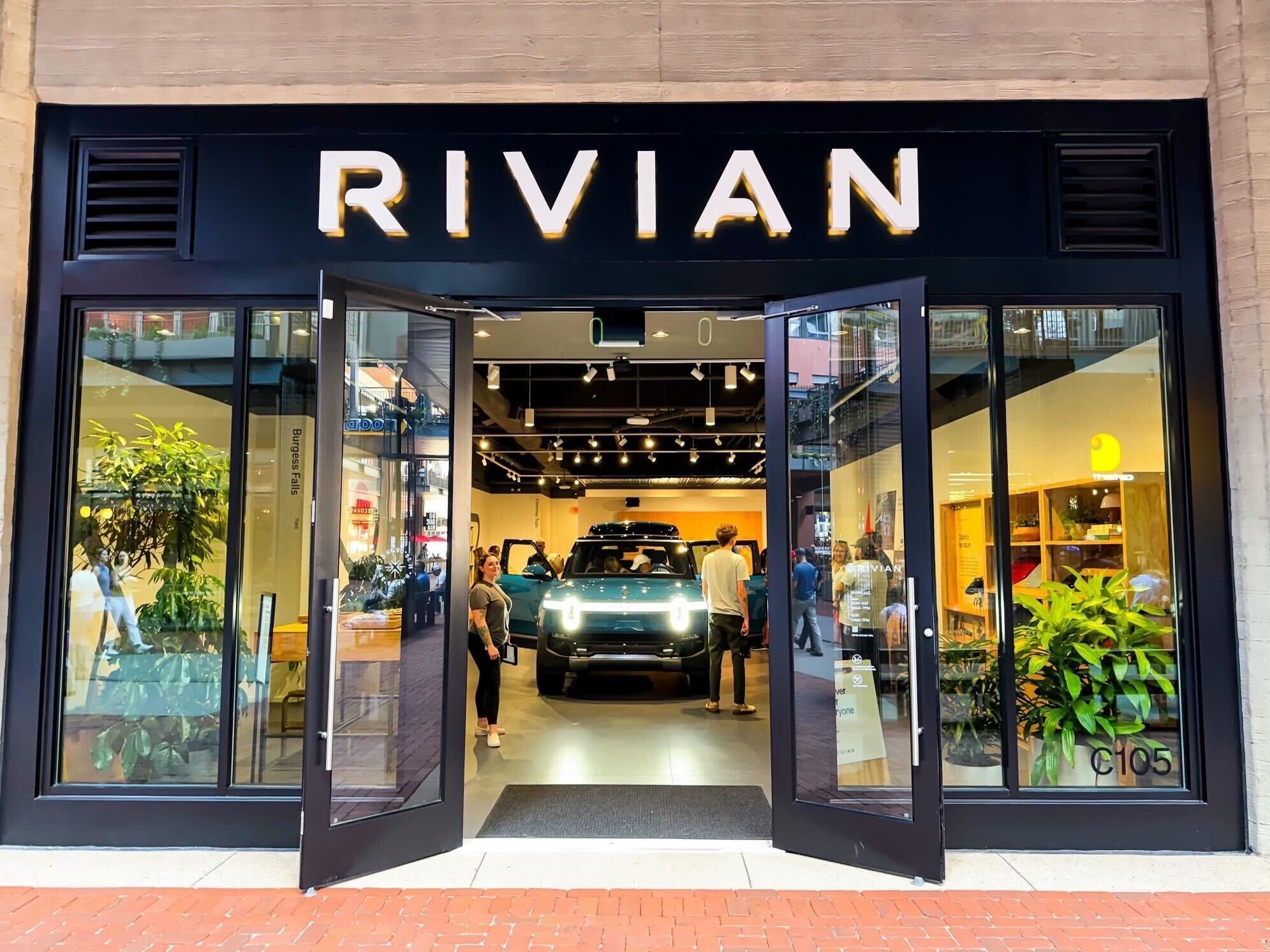 Rivian shares (NYSE: RIVN) shares are trading higher in US premarket price action today after the company reported an impressive set of numbers for the third quarter while raising its full-year delivery guidance. Here are the key takeaways from the report.
Rivian reported revenues of $1.34 billion which was ahead of the $1.32 billion that analysts expected. The company delivered 15,564 vehicles in the quarter which accounted for the bulk of the revenues and sales of regulatory credits were minimal during the quarter.
Rivian lowered 2023 loss guidance
The company lost $1.37 billion in the quarter which was narrower than the $1.72 billion loss that it reported in the corresponding quarter last year.
It now expects to post a negative EBITDA of $4 billion in 2023 which is narrower than the previous forecast. The company also cut its 2023 capex guidance to $1.1 billion and ended the quarter with $9.1 billion in cash and short-term investments. Notably, during the quarter the company raised money through a bond issue which helped it further bolster its balance sheet.
The company also announced that it has ended its exclusivity deal with Amazon, its largest shareholder, and would now be able to sell electric delivery vans (EDVs) to other customers.
The company has delivered over 10,000 EDVs to Amazon and said, "We're confident in the value our vans, software and services offerings can provide fleet customers and are in active discussions with a number of large potential fleet customers to launch pilot programs. It's important to appreciate that the sales cycle for commercial vans typically begins with lower volume pilot programs."
Rivian raised 2023 production guidance
Rivian raised its 2023 production guidance to 54,000 – its second guidance raise of the year. At the beginning of the year, the company had a guidance of 50,000 which it subsequently raised to 52,000, and has now yet again raised the guidance by 2,000.
While the new guidance might not sound all that impressive as it is less than 5% higher than the previous guidance, it should be seen in context as many companies are scaling down their electric vehicle production guidance amid slowing sales.
Most recently, Lucid Motors said that it expects to produce between 8,000-8,500 cars this year which is below the previous projection of producing more than 10,000 cars in the year as it seeks to balance supply with demand.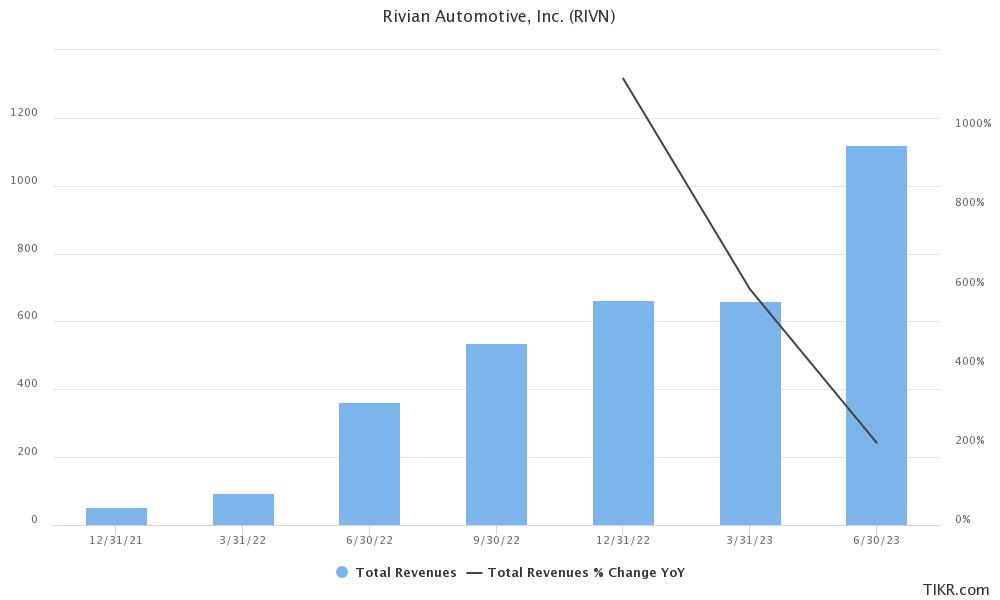 EV companies scale back their ambitious targets
Ford also scaled back its EV production targets and said that it now expects to hit an annual EV production capacity of 600,000 EVs only by 2024 versus the previous guidance of 2023.
As for the 2 million EV production guidance by 2026, the automaker said, "we maintain flexibility on where we reach when we reach two million total EV global capacity because we are balancing growth, profitability, and returns."
Ford blamed the EV price war and said, "While EV adoption is still growing, the paradigm has shifted. EV price premiums over internal combustion vehicles fell more than $3,000 in the second quarter and nearly $5,000 in first half. We expect the EV market to remain volatile until the winners and losers shake out."
During Ford's Q2 2023 earnings call, its CEO Jim Farley said, "The near-term pace of EV adoption will be a little slower than expected, which is going to benefit early movers like Ford."
The company would also delay its planned $12 billion investment into EVs. Rival General Motors has also gone slow on building new EV plants while also scrapping the joint venture with Honda Motors to produce small EVs.
Tesla's Mexico plant
Even Tesla which still expects to produce 1.8 million vehicles in 2023 is going slow about the factory in Mexico. During the Q3 earnings call, the company's CEO Elon Musk said "We're laying the groundwork to begin construction and doing all the long lead items, but I think we want to just get a sense for what the global economy is like before we go full tilt on the Mexico factory."
Notably, while US EV sales have risen multifold, they still account for a single-digit percentage of the total EV sales which is much lower than Europe as well as China. Incidentally, every third car sold in China is either a battery electric or plug-in hybrid and BYD has risen to become the biggest seller of new energy vehicles (NEVs) globally.
Rivian on EV demand environment
Meanwhile, Rivian's CEO RC Scaringe began the earnings call by talking about the overall EV industry. He said, "There's been a lot of noise and a lot of dialogue recently around EV adoption. And I want to emphatically state just how deeply convicted we are that the entire automotive industry will be transitioning to electric over the next 1 to 2 decades."
He however admitted to "the macroeconomic and geopolitical pressures impacting consumers and businesses, most notably the increase in interest rates" in the short term.
How did analysts react to Rivian's Q3 earnings?
Piper Sandler analyst Alexander Potter maintained his neutral rating on RIVN with a target price of $21.
He said, "Q3 was heartening, but we're still neutral ahead of a daunting ramp in 2024/25." Potter added, "We still think the valuation properly balances Rivian's recently strong execution against a challenging 2+ year execution plan. In our view, Rivian has one of the most appealing brands in the U.S. auto industry, but we struggle to model capex and cash flow."
Goldman Sachs analyst Mark Delaney also maintained his neutral rating on Rivian shares even as he called the Q3 report a "modest incremental positive." He however added, "But if we gain more conviction in the timing/path to profitability, we could be more positive on the stock."
Wells Fargo analyst Colin Langan raised Rivian's target price from $19 to $24 while maintaining the equal weight rating and said he sees a "murky line of sight" for the company. Langan added, "With scale tailwinds moderating, we expect breakeven in 2024 to be tough given the large needed cost savings."
Morgan Stanley is bullish on Rivian
Morgan Stanley analyst Adam Jonas meanwhile maintained his overweight rating on Rivian shares and said, "Rivian 3Q cash burn was approx. $600mm better than MSe driven by improvements in gross margin loss and far lower capex. At the 3Q burn rate, we estimate Rivian has sufficient liquidity through late 2025."
Meanwhile, Rivian shares are up almost 7% in the premarket today after the company's Q3 report pleased markets and portrayed a somewhat bullish picture of the EV industry in contrast to the rather depressing comments – at least on the short-term outlook – that we've heard in many other recent calls.