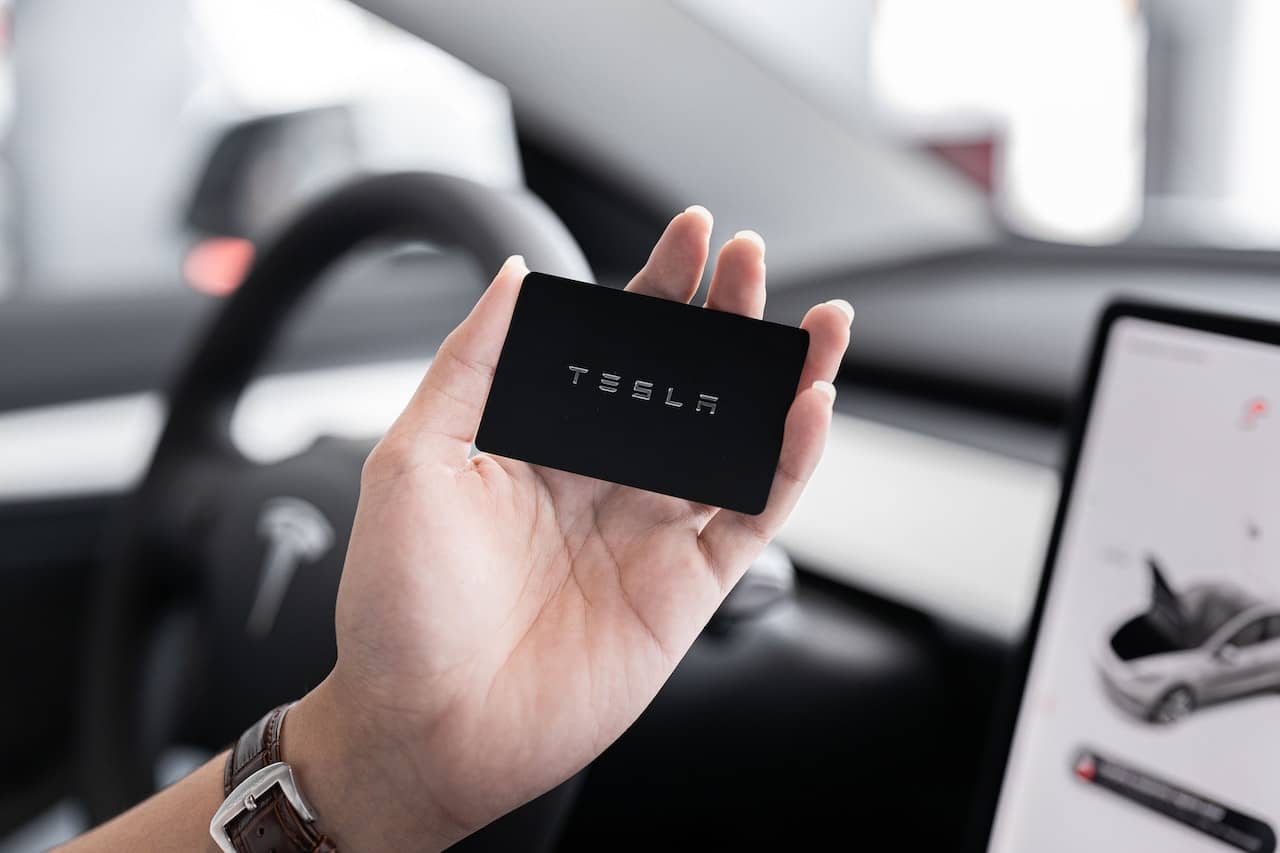 Tesla shares are higher in US price action this morning even as the Elon Musk-run company missed delivery and production estimates for the third quarter of 2023.
Tesla produced 430,488 cars in the quarter and delivered 435,059. For the last many quarters, the company's deliveries have trailed production. However, in Q3 its deliveries were ahead of the production. Nonetheless, the company's deliveries fell on a sequential basis for the first time since Q2 2022.
Tesla misses Q3 delivery estimates
Also, the deliveries fell short of the 459,949 vehicles that analysts polled by LSEG (formerly Refinitiv) expected. Incidentally, the deliveries were even less than the lowest estimate of 442,000 among the eight analysts polled by LSEG.
Commenting on the delivery report, Tesla said, "A sequential decline in volumes was caused by planned downtimes for factory upgrades, as discussed on the most recent earnings call. Our 2023 volume target of around 1.8 million vehicles remains unchanged."
Musk talked about the planned downtime during the Q2 earnings call
During Tesla's Q2 2023 earnings call Musk and CFO Zachary Kirkhorn talked about the planned downtime and stressed that the company's Q3 production would fall due to the outage.
Responding to an analyst question about the impact of the outage, Kirkhorn had said, "we don't know exactly the number of cars impacted because, you know, kind of the way that we go into downtime windows for upgrades is, you know, we set aside a period of time, but then the team is challenged to go as quickly as possible so that we can get the factories up and running again and minimize that. So, it's not — it's not profound reduction."
Key takeaways from TSLA's Q3 delivery report
Meanwhile, looking at Tesla's Q3 delivery report, the company delivered 15,985 Model S/X cars which were 3.6% of the total deliveries. The remaining deliveries were for the lower-priced Model 3/Y. Tesla does not provide a breakdown of individual models but the Model Y SUV was the best-selling model globally in the first quarter of 2023, after excluding pickups.
It was the first time when an all-electric model was the best-selling car, which is a testimony of how Tesla has catapulted itself into the rank of major automakers. Musk has big plans for Tesla and has predicted a long-term production CAGR of 50% and an annual production capacity of 20 million by 2030.
Meanwhile, after losing the crown of the largest seller of new energy vehicles (NEVs) to China-based BYD, Tesla is now at risk of losing the title of the largest EV seller. In Q3, BYD sold 824,001 vehicles of which 431,603 were battery-electric vehicles (BEVs).
In September, BYD sold 287,454 vehicles of which 151,193 were BEVs. The company which has set itself a target of delivering over 3 million cars in 2023 might race ahead of Tesla in terms of EV race as well.
During the Q4 2022 earnings call, Musk acknowledged that Chinese EV companies are tough competitors.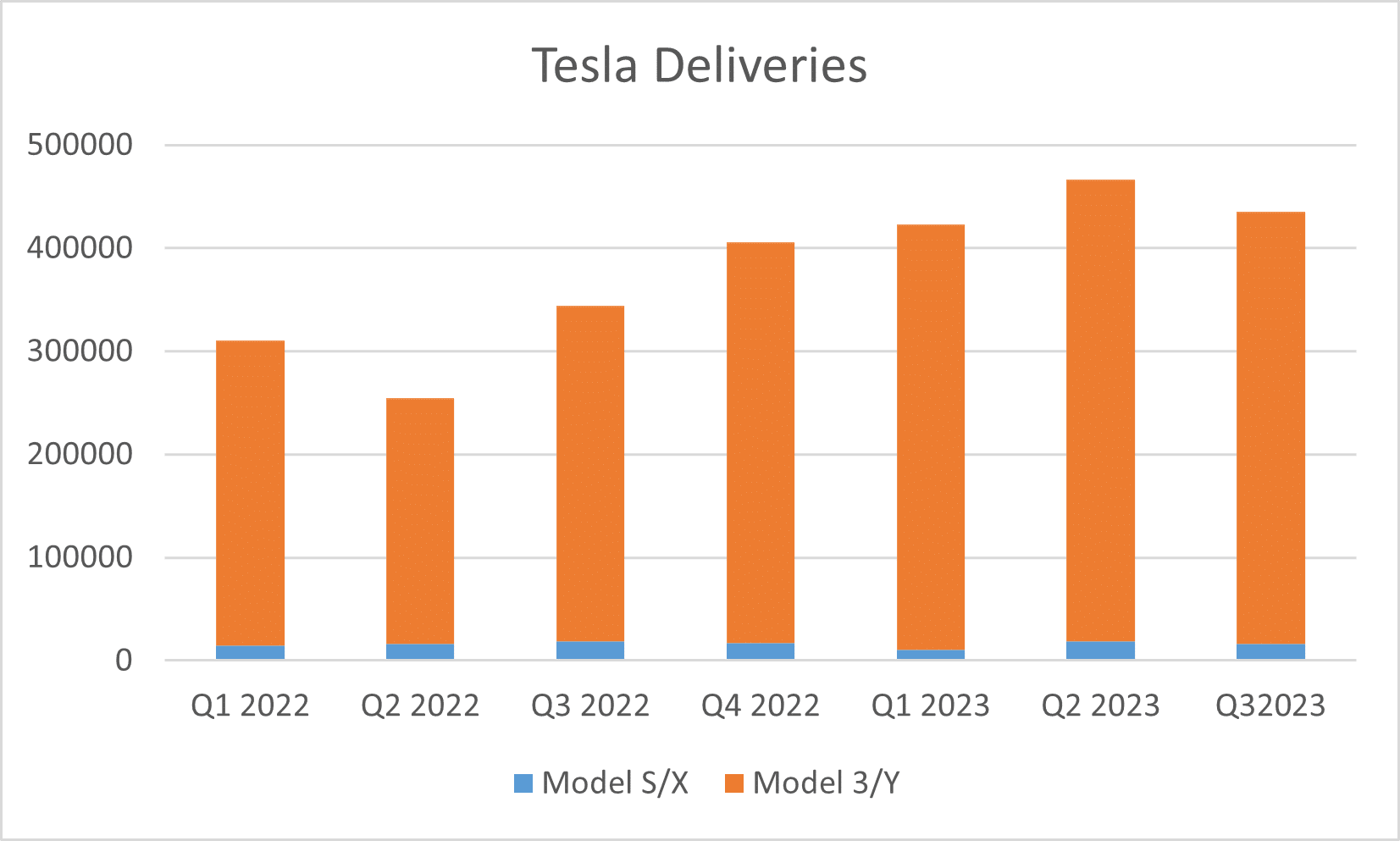 Tesla is the market leader in the US EV market
Meanwhile, Tesla still holds the pole position in the US EV market and leads the competition by a wide margin. That said, the company has had to lower vehicle prices to spur sales.
Tesla has started an EV price war and has lowered car prices multiple times. Due to the frequent price cuts, its operating margins fell to single digits in the second quarter of 2023. While its margins are still among the highest globally they are now less than half of what they were before the price war.
Tesla is also expected to announce a new low-cost vehicle platform later this year. The company's cars are still costlier as compared to some peers and a low-priced model would help it increase the target market.
Elon Musk has said that while the price cuts have dented margins, the company would prioritize shipment growth over margins in order to increase EV adoption.
Musk on autonomous driving
Musk believes that Tesla's valuation is dependent on its autonomous driving. Speaking at Paris' VivaTech innovation conference earlier this year, the Tesla CEO said that valuations are "strange" and stressed, "Sometimes I've said, 'Hey, I think the stock price is too high at Tesla,' and then the stock price goes up. I'm like, 'okay.'"
Interacting with Bernard Arnault's son Antoine Arnault Musk admitted "If you look at our total vehicle output, it's almost 2 million vehicles this year or something like that. But that's still only 2% of total vehicle production."
He however stressed, "The potential for autonomy is that the value of autonomy is so high, that even if you have a discount, a percentage probability of autonomy happening, that is so incredibly valuable."
Previously also Musk has said that the software business would drive earnings for Tesla. He believes that Tesla can even sell cars are zero profits currently and then make up by selling autonomous driving subscriptions in the future.
Musk eventually believes that Tesla's valuation can surpass the combined valuation of Apple and Saudi Aramco – the world's largest tech and energy companies respectively.
Meanwhile, the FSD remains controversial as the regulators find the name misleading because the technology is still not fully autonomous. However, for TSLA bulls, the FSD remains a key driver for the company's future earnings.
Tesla shares are meanwhile trading almost 1% higher in US price action despite the delivery beat. Rivian is also higher after it beat Q3 delivery estimates and earned an upgrade from Evercore ISI which believes it can become the next Tesla.
Looking at Chinese EV companies, NIO, Li Auto, and Xpeng Motors are trading lower even as their combined September deliveries were the second-highest on record.