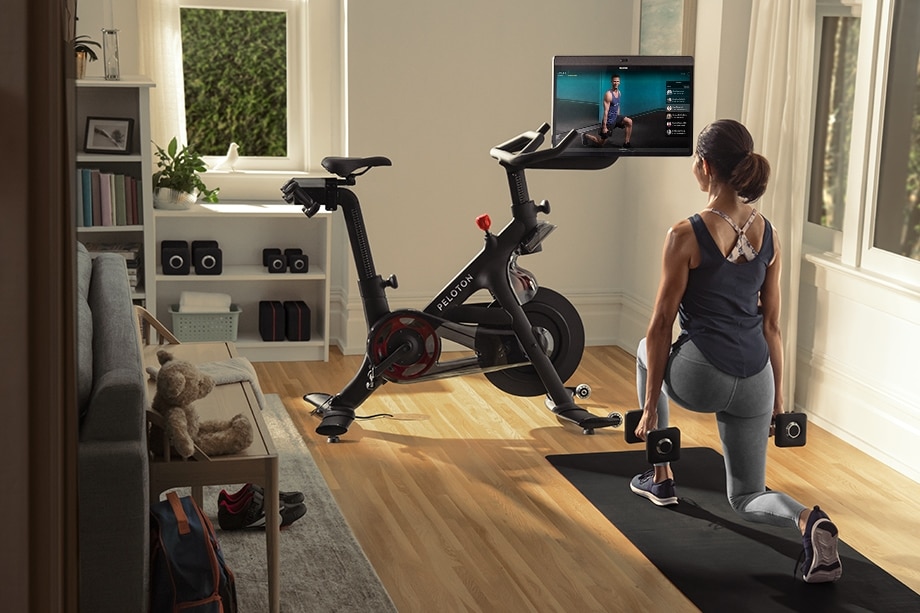 Shares of fitness equipment maker Peloton were trading sharply lower in pre markets today despite posting better-than-expected earnings. The company warned of supply constraints and that seems to be making markets apprehensive.
Peloton reported its fiscal first quarter 2021 earnings yesterday after the markets closed. Its revenues jumped 232% year on year to $757.9 million. The revenues were ahead of its guidance as well as analysts' estimate of $748.1 million.
Peloton's fiscal first quarter 2021 earnings
Looking at the breakdown of revenues, the Connected Fitness segment posted a 274% year over year rise in revenues. The segment's revenues were $601.4 million in the quarter accounting for 79% of its total revenues. The company attributed strong Connected Fitness revenues to order backlog from the previous quarter and strong demand for its Bikes.
Peloton's subscription revenues increased 133% year over year to $156.5 million in the fiscal first quarter. The company's Connected Fitness subscribers increased 137% year over year to 1.33 million at the end of the fiscal first quarter.
Peloton beats earnings estimates
Peloton posted a net income of $69.3 million in the quarter, compared to a net loss of $49.8 million in the corresponding quarter last year. Its earnings per share of 20 cents were almost double the 11 cents analysts were expecting. Peloton had posted massive earnings beat in the previous quarter and its shares had spiked after that earnings release.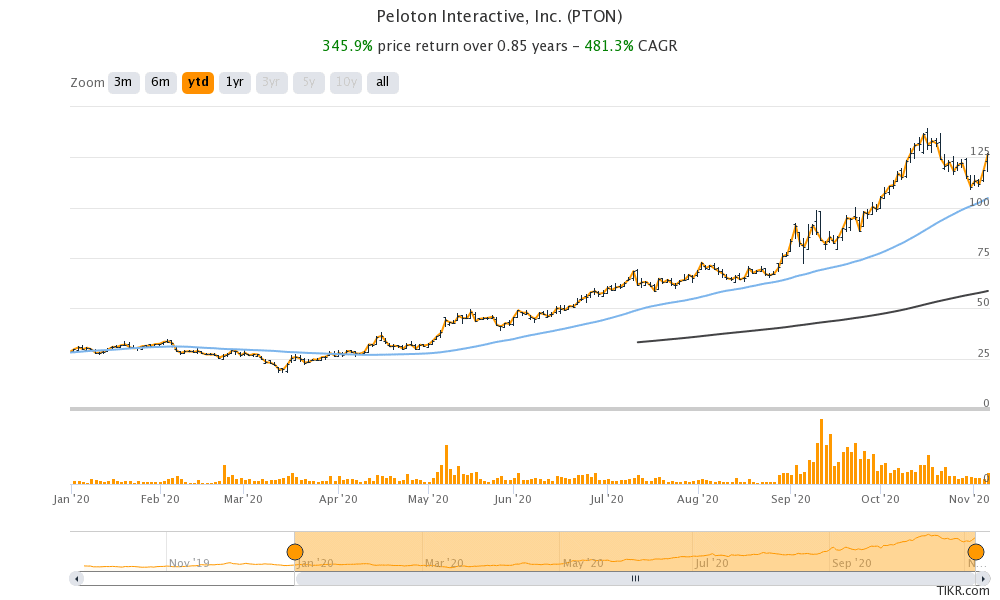 Shares fall despite earnings beat
However, this time, Peloton shares tumbled despite posting earnings beat. Furthermore, the company also raised its guidance. It expects to post revenues of $1 billion in the fiscal second quarter while analysts were expecting the metric at $939 million. It expects its Connected Fitness subscribers to rise to 1.63 million by the end of the quarter.
For the fiscal year 2021, Peloton expects to post revenues in excess of $3.9 billion and expects to close the year with more than 2.17 million Connected Fitness subscribers. It expects its gross profit margin to average 41% in the full year.
Peloton points to supply constraints
While the earnings beat and higher guidance were positive, Peloton's commentary on supply constraints in the "foreseeable future" dampened sentiments. "As we rapidly scale our organization to meet the extraordinary demand for our products, we realize that some of our members have faced extended delays associated with receiving our products or having support requests fulfilled," said Peloton's chief executive John Foley.
New products
In September, Peloton had launched the new Bike+ and expects its new Peloton Tread would be available for purchase in the UK before the end of this year. It expects the new Tread to be available in Canadian and US markets early next year while Germany would get the product by the end of 2021 only.
Peloton ended the fiscal first quarter with strong liquidity of $2.0 billion with another $250 million available in revolving credit facilities. The strong financial position would help Peloton scale up its operations.
The company is a supply-constrained company which means that it can only sell as many products as it can sell. Electric vehicle makers Tesla and NIO are also supply-constrained and are increasing their production capacities. Tesla expects to sell around half a million cars this year, a new milestone for the Elon Musk run company. NIO also delivered over 5,000 electric cars in October, a new record for the Chinese electric vehicle maker.
Peloton is a benefactor of the stay at home trade
The so-called "stay-at-home" trade has lifted the shares prices of companies like Amazon, Zoom Video Communications, and Netflix this year. As consumer preferences have changed some companies have benefited at the expense of others.
Peloton has also been a benefactor from the change in consumer behaviour as more people are preferring to work out at homes instead of a gym. The recent introduction of lockdowns in several European countries would also help lift sales for Peloton products.
The company also acknowledged the fact and its chief financial officer Jill Woodworth said during the earnings call that "The recent spikes in Covid cases and newly imposed lockdowns in some of our markets have had a significant positive impact on sales."
Peloton shares have zoomed this year
Peloton shares have zoomed 345% so far in 2020 making it amongst the biggest gainers this year. Investors have poured money into growth shares this year lifting their valuation. Peloton now trades at a next-12 months (NTM) enterprise value to revenues multiple of 9.4x. Snowflake, in whose IPO Warren Buffett's Berkshire Hathaway also invested, is among the most expensive shares based on the NTM price to revenue multiple.
Zoom Video Communications also has quite rich valuations. That said, in a market that is otherwise devoid of growth, shares like Peloton provide solid growth opportunity and a scalable and sustainable growth story.
Peloton shares gained 6.7% in regular trading yesterday and closed at $126.63. However, it was trading down 6.8% in pre markets today.