How to Buy Peloton Shares Online in the UK
Fact Checked
Everything you read on our site is provided by expert writers who have many years of experience in the financial markets and have written for other top financial publications. Every piece of information here is fact-checked.
Disclosure
Please note that we are not authorised to provide any investment advice. The information on this page should be construed for information purposes only. We may earn commissions from the products mentioned on this site.
Peloton has been on a tear this year. The cycling fitness company is estimating a 90% growth in revenue compared to 2019, and the share price has rocketed 220% since the start of the year. The company has also signaled that it expects even more growth going into 2021.
If you're interested in buying shares of this red-hot company, this article is for you. We'll explain how to buy Peloton shares online in the UK and take a closer look at why Peloton may be a good buy right now.
Step 1: Find a UK Stock Broker That Offers Peloton Shares
In order to trade Peloton shares in the UK, you need a stock broker that offers access to the US market. Peloton trades on the popular NASDAQ exchange, alongside top tech stocks like Amazon, Facebook, and Tesla.
There are a lot of brokers you can use to buy Peloton shares in the UK. It's important to take a close look at what fees a brokerage charges for trading and whether it offers an advanced equity trading platform. It's also worth considering whether a brokerage lets you buy shares outright or whether you can only trade Peloton stock through contracts for difference (CFDs).
With that in mind, let's take a closer look at two top UK brokers you can use to buy Peloton shares today:
1. eToro – Buy Peloton Shares or CFDs 100% Commission-free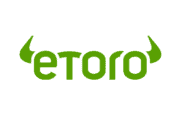 eToro is one of the top online stock brokers in the UK, offering more than 800 shares across dozens of markets around the world. The broker also offers ETF trading for over 450 funds, allowing you to get exposure to the entire US tech sector.
One of the reasons that eToro is so popular among UK traders is that it offers an active social trading network. You can discuss stock ideas with other traders, follow professional stock traders, and quickly gauge market sentiment around Peloton shares. eToro also supports copy portfolios, so you can automatically mimic the trades of professionals on the platform.
Another benefit to this broker is that it has its own proprietary charting and research platform, available online and through a mobile trading app. You get access to over 100 technical indicators and dozens of drawing tools to help you make trading decisions. Plus, eToro has a news feed and economic calendar to help you stay on top of the market.
Pros
800+ shares and 450+ ETFs
100% commission-free trading
Buy Peloton shares outright or trade CFDs
Includes a social trading network
Supports copy portfolios
Over 100 technical indicators available
Cons
Doesn't allow you to create custom indicators
78% of retail investor accounts lose money when trading CFDs with this provider.
Step 2: Research Peloton Shares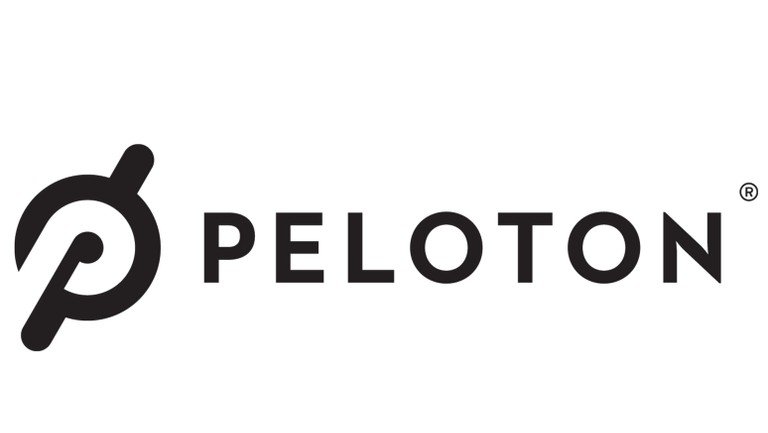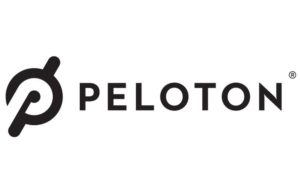 Peloton shares have been rising steadily over the past year. But before you jump into buying Peloton shares, it's important to understand what this company is and where it's going in the future. The more you know about a company like Peloton, the more information you'll have to make an informed trading decision.
So, what is Peloton?
New York-based Peloton is effectively a cross between a traditional at-home fitness company, a boutique fitness studio, and a streaming media company like Netflix. The company makes stationary bikes and treadmills for home use, and then separately sells an online subscription to professional workout classes.
Peloton has worked hard to market its exercise equipment, but individuals at home can sign up for the workout classes even if they want to use their own equipment. The workout classes are a cornerstone of the company's popularity – Peloton signed celebrity fitness instructors early on, and many of its instructors have taken on celebrity status themselves over the past several years.
Peloton Share Price History
Peloton went public in 2019 at a valuation of more than £6 billion. On the first day of trading, shares sold for $29 but dropped by more than 11% by the end of the day. Still, the IPO brought in over $1 billion for Peloton.
Peloton languished in the mid-$20 range for the remainder of 2019 and the first quarter of 2020. When the COVID-19 pandemic hit, though, the company was quick to take advantage of the new at-home normal. From a low of less than $20 per share in mid-March, Peloton shares have climbed steadily to $105 per share – a more than 220% increase.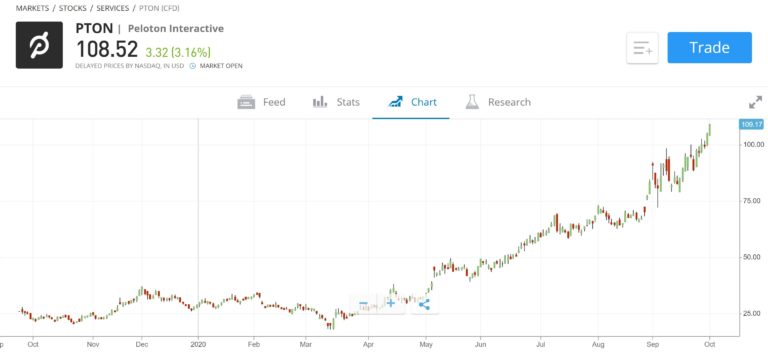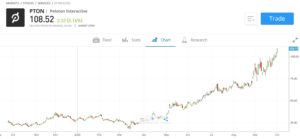 While there have been a few dips in Peloton's share price, this growth stock has continued to rise in value even as the rest of the US tech sector experienced full-blown pullbacks.
Peloton Shares Dividend Information
Peloton is still a relatively young company and it does not pay a dividend to investors. The company turned a quarterly profit for the first time in 2020, so it could be many years before Peloton becomes a dividend stock.
Should I Buy Peloton?
There are a number of reasons for UK investors to be excited about Peloton shares. Let's take a closer look at some of the reasons why Peloton's star could continue rising.
Untapped Market Potential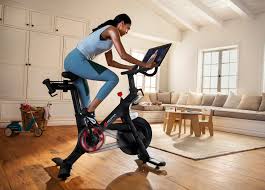 One of the main criticisms that Peloton has faced since its launch is that its products are too expensive. Its stationary bike was initially priced at over £1,740, and its treadmill cost £3,330. At those price points, only a small fraction of the population could possibly afford Peloton's exercise equipment.
However, Peloton is clearly aware of this fact and has begun pivoting to expand its addressable market. The company recently announced a new high-end stationary bike and dropped the price on its original bike by several hundred pounds. Peloton also announced a lower-end treadmill for under £2,000 that will be released in 2021.
Having more options should help Peloton reach a wider audience. Even if it brings in lower margins on its equipment going forward, the company's bottom line could improve as it brings in more customers for its subscription workout classes.
Subscription Revenue
One of the key business elements that differentiates Peloton from other fitness companies is that a significant portion of its revenue derives from content, not equipment. Peloton charges users a monthly fee to access their workout classes.
This is hugely important because it ensures that Peloton is bringing in money from customers even after they purchase an expensive piece of equipment. So, the company is generating recurring revenue that's not strictly tied to constantly selling more equipment.
In that sense, Peloton's business model is somewhat similar to Netflix. As long as it can grow and maintain its subscriber base, Peloton will keep making money.
Low Churn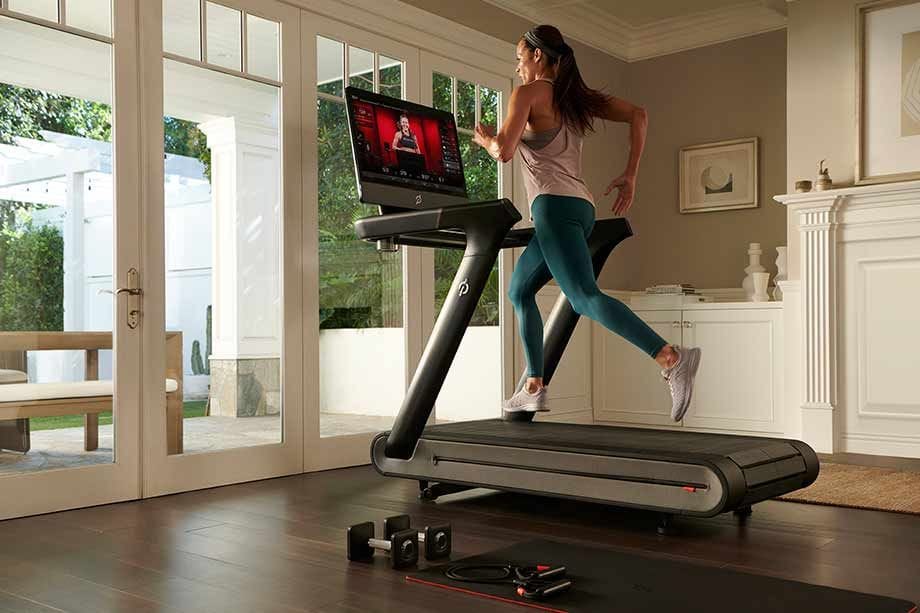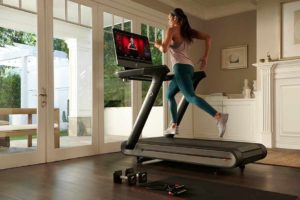 Critically, Peloton is keeping customer subscribed to its service once they join. This makes sense – if someone spends £1,700 on a stationary bike, they're likely to pay a few dozen pounds per month to get workout classes to go with it. In fact, Peloton reported a 0.75% customer turnover rate in 2020, and it expects to keep churn under 1% in 2021.
This matters because it means that as long as Peloton keeps its content arm going strong, subscription revenue will keep coming into the company. As Peloton brings in new customers with lower-priced equipment, the old customers will still be there and overall revenue will rise.
Insider Selling
There is one red flag to worry about with Peloton shares: insider selling. Even as the stock price has marching relentlessly upwards and Peloton has announced more optimistic revenue targets for next year, executives at the company have been selling their shares.
Peloton's president now holds less than 2,000 shares and the CFO doesn't have any stake in the company at all. This degree of selling is often a warning sign, although it's not clear what the warning is when Peloton seems to be doing so well. In any case, UK investors should keep an eye on what executives do with their remaining shares to get a sense of what the future might hold for Peloton.
Step 3: Open an Account and Deposit Funds
Want to buy Peloton shares? We'll walk you through how to open a position with eToro, our favourite commission-free broker for stock trading in the UK.
To get started, simply head to eToro's website and click 'Join Now.' You will be prompted to create a new username and password for your account, then to enter details like your name, email, and phone number.
After that, you must verify your identity. This is required by the UK government to prevent financial fraud. You can complete this step by uploading a copy of your passport or driver's license along with a copy of a recent financial statement or utility bill.
eToro makes it easy to deposit funds to your new account so you can start buying shares. The broker offers several popular payment methods, including debit or credit card, bank transfer, or e-wallet (Neteller, Skrill, and PayPal). Just keep in mind that eToro requires a minimum deposit of £140.
Step 4: Buy Peloton Shares
Now you're ready to buy Peloton shares on eToro. Head to the dashboard and search 'Peloton.' When the company appears in the drop-down menu, click on 'Trade' to open a new order form.
Enter how much money you want to invest in Peloton. You must invest at least £40, but you can commit any amount over that since eToro allows you to purchase fractional shares.
You can also enter additional parameters for your trade like a stop loss or take profit order. If you're trading CFDs for Peloton shares, you can apply leverage up to 5:1. However, remember that applying leverage adds additional risk and may incur some interest fees.
Once your trade is ready, click 'Open Position' to buy Peloton shares.
Peloton Shares: Buy or Sell?
While there is no guarantee that Peloton shares will continue rising like they have for most of 2020, there are plenty of reasons to be optimistic about the future of this company. Peloton announced its first profitable quarter this year and is in the process of rolling out a new lower-cost treadmill that could help it bring in more customers.
At the same time, Peloton's fundamental business model is a strong one. The company makes money both by selling physical equipment and by selling online subscriptions to its workout videos. This content is highly scalable and relatively low-cost to produce, so Peloton stands to boost its bottom line further as it adds more subscribers.
Of course, Peloton's valuation is extremely high right now. The company has a market capitalization of over £23 billion, which is quite lofty for a fitness company. Peloton is a strong buy as long as its momentum continues, but UK traders will want to be wary if the company's growth shows signs of slowing.
The Verdict
Peloton is a fast-growing company that has found a receptive global audience in the midst of the COVID-19 pandemic. The company has signed on hundreds of thousands of new subscribers to its workout service this year and is in the process of rolling out new exercise equipment at different price points.
There are plenty of reasons to be excited about Peloton's future and the price trajectory of its shares. Of course, you'll want to keep an eye on any changes at Peloton after you buy shares since the fitness industry can be fickle.
FAQs
What is Peloton's stock ticker symbol?
Peloton trades on the NASDAQ stock exchange in the US under the ticker symbol 'PTON.'
How many users does Peloton have?
Peloton reported 1.1 million users subscribed to its workout classes at the end of June, up from 886,000 at the end of March 2020.
What countries does Peloton operate in?
Peloton currently operates in the UK, US, Canada, and Germany.
Do users need a Peloton bike to sign up for a workout subscription?
No, users can purchase any stationary bike or treadmill for Peloton workouts. Notably, Peloton does not offer a discount or free subscription when users purchase exercise equipment from the company.
What does insider selling indicate about a stock?
Insider selling – that is, selling by a company's executives – is often a sign of looming trouble. Company executives may have information about a company's finances or news that hasn't yet been made public. However, insider selling isn't always a sign of trouble, and it's not clear what's driving selling at Peloton.