Meal-delivery company DoorDash, which is set to begin trading today, has priced its IPO at $102 per share, valuing the company at around $39 billion. This is the second time that the California-based company has bumped up its IPO price.
The firm was initially targeting an IPO price between $75-$85, which was increased to $90-$95 last week. To be sure, DoorDash is not alone in revising its IPO price. Airbnb, which is set to list tomorrow, also increased its IPO price range earlier this week. Snowflake, which came to market earlier this year with the largest software IPO ever, also increased its IPO price twice during the subscription period.
DoorDash increases IPO price
The IPO price hikes by DoorDash and other companies are a reflection of the strong investor appetite for IPOs. Even Berkshire Hathaway invested in Snowflake's IPO along with Salesforce. Berkshire Hathaway's chairman Warren Buffett is known for his distaste for new listings and has generally stayed away from tech shares. While Apple is Berkshire Hathaway's largest holding, the Oracle of Omaha, as Buffett is known as, sees it as a consumer goods company.
Coming back to DoorDash IPO, its IPO valuation is way ahead of its valuations in its private funding rounds. For instance, earlier this year DoorDash was valued at $15 billion – the new valuation is more than double that.
DoorDash valuation
Looking back a little further, DoorDash was valued at just $1.4 billion in 2018. The current valuation is more than 25 times that figure. We see a similarity with Snowflake in terms of the sharp increase in valuation. Snowflake was valued at only $12.4 billion in a private funding round in February. However, in the IPO it commanded a valuation almost thrice of that level. If that was not all, the shares more doubled on the listing day. Snowflake shares have continued to outperform the S&P 500 since the listing also and now have a market capitalisation of over $110 billion.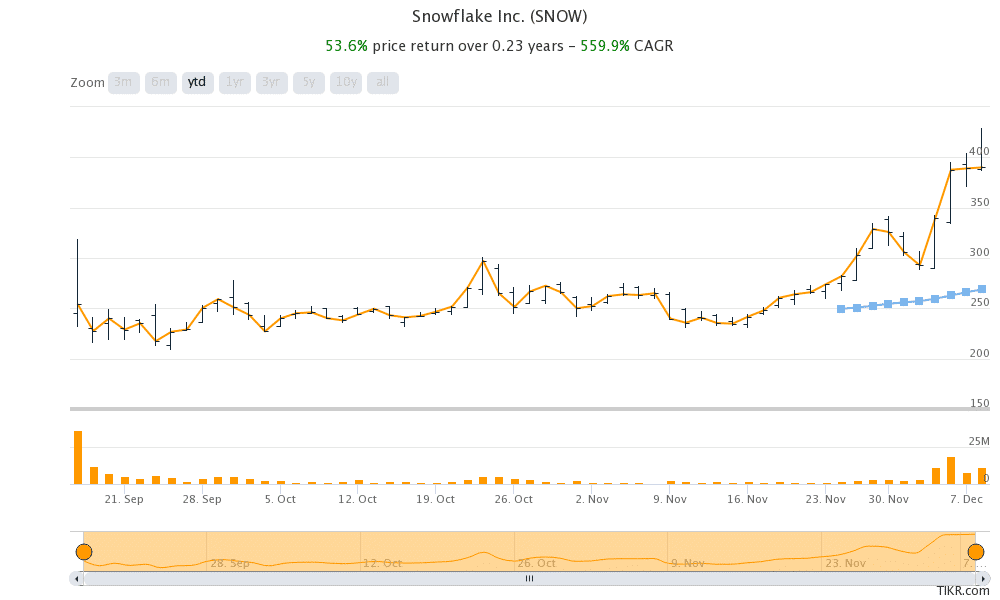 Snowflake IPO versus DoorDash
Meanwhile, while Snowflake stock has continued to surge even after the IPO, some believe that the DoorDash IPO is not worth the money. David Trainer, the CEO and founder of New Constructs has called DoorDash's valuation as an "overblown fervour of the work-from-home theme."
"We think this proposed public equity offering holds no value, $0, beyond bailing out private investors before unsuspecting public investors realise the business is not viable in its current form," added Trainer who sees DoorDash as "the most ridiculous IPO of 2020."
DoorDash's business has blossomed during the COVID-19 pandemic
DoorDash's revenues have grown sharply during the COVID-19 pandemic. For instance, in the third quarter of 2020, its revenues increased 268% year over year to $879 million. The company however posted a net loss in the quarter, like most other companies that have listed this year.
That said, in the second quarter of 2020, DoorDash had posted a net profit of $23 million on revenues of $675 million. Trainer sees the surprise profit as a blip and does not expects DoorDash to be profitable.
Food delivery business has been booming
The food-delivery sector has been booming this year, as more people are ordering food at home instead of going out to a restaurant. This has lifted demand for food delivery companies like DoorDash. The food delivery business has been a saviour for Uber also this year as its ride-hailing business has sagged. Earlier this year, Uber bought rival food delivery company Postmates. However, earlier this week it announced that it would be selling its self-driving business in what looks like a bid to curtail its perennial losses and cash burn.
US IPO market has been red hot
US IPO market has been red hot this year. After DoorDash, Airbnb is set to list tomorrow. Companies have raised over $140 billion so far from the US markets through IPOs. Despite concerns over delisting, many Chinese companies including Li Auto and XPeng have also listed on US markets this year.
There have been over 420 IPOs so far in 2020 which is almost double of what we had in 2019. This year is turning out to be the record year for US IPO market since 1999 which was the peak of the IPO market.
Tesla to issue more shares
The flurry of IPOs, along with the frequent price hikes, is another reminder of a possible bubble developing in US stock markets. That said, its not that only private companies want to cash in on the massive investor appetite for new listings. Some of the listed companies are also issuing shares to capitalise on the sharp rise in their stock prices.
Yesterday, both Tesla and GameStop announced new share issuance. For Tesla it is the third share issue of 2020 which comes after its CEO Elon Musk denied the need for capital raise earlier this year. NIO has also issued new shares twice this year through American Depository Receipts (ADR).
As for DoorDash, the IPO would sail through on the massive liquidity that we have in the markets. However, in the medium to long term it would need to justify its soaring valuations with commensurate earnings.