How to Buy Nio Shares in UK ➡️ Beginner's Guide
Fact Checked
Everything you read on our site is provided by expert writers who have many years of experience in the financial markets and have written for other top financial publications. Every piece of information here is fact-checked.
Disclosure
Please note that we are not authorised to provide any investment advice. The information on this page should be construed for information purposes only. We may earn commissions from the products mentioned on this site.
Nio is a Chinese electric vehicle (EV) producer, often dubbed as the "Tesla of China". This company is considered by many as the pioneer electric vehicle producer in China and Asia and one of the most promising electric vehicle companies in the industry.
As investors are eager to jump into self-driving investment opportunities, the Nio share price has been on a tear lately, reaching new highs in the past few months. The Chinese EV company has recently announced that it has delivered more vehicles than expected in the third quarter and as a result, its Year-To-Date stands on… +427.36%!
In this guide, we'll explain to you how to buy shares of Nio Inc in the UK. We'll also highlight top brokers that offer shares of Nio and find out the ins and outs of investing in Nio.
How to buy Nio Shares in UK – Quick Step Tutorial
✅ Step 1: Open an eToro account
Visit eToro's official website and tap on 'Join Now'. Enter your details and choose a username and password.
🔎 Step 2: Verify your account
As eToro is fully regulated in UK by top-tier financial authorities you'll need to verify your account by uploading proof of ID and proof of address.
💳 Step 3: Fund your account
Deposit a minimum of $10 (around £7)  into your trading account via credit/debit card, bank wire transfer, or e-wallets such as PayPal or Skrill.
🛒 Step 4: Buy Nio shares
Type "NIO"  into the search bar and click on 'Trade'. With a minimum investment of $10 you can buy fractional shares of Nio with 0% commission.
Step 1: Find a UK Stock Broker That Offers Nio Shares


Though Nio is a Chinese company, its shares trade on the New York Stock Exchange under the ticker symbol 'NIO'. This means you'll have to find a UK stockbroker that allows you to buy US shares.
But as Nio is currently a very popular stock, you may find many stockbrokers offering you to trade Nio shares. With this in mind, it's important to consider other factors such as the broker's pricing structure, leverage, platform, and regulatory framework.
To help you get started, below you'll find two recommended UK stockbrokers that offer you to buy and sell shares of Nio.
1. eToro – Buy Nio Shares with Zero Commission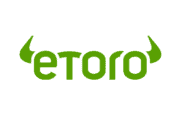 eToro is an online share dealing platform that offers spread betting and CFD products. It offers investors to trade on indices, commodities, FX currency pairs, cryptocurrencies, and more than 800 global shares, including top US stocks like Amazon, Tesla, and Facebook. eToro also offers a contract for difference (CFDs) on the Nio share price, with a leverage ratio of 5:1.
Share trading on eToro is commission-free, meaning you have to pay the buy and sell spread only. You will, however, be charged with a conversion rate of 0.5%, as the eToro platform is denominated in US dollars. Apart from that, there are no maintenance fees nor trading fees. The only fees you'll have to pay on this platform is a withdrawal fee of $5 and an inactivity fee of $10 per month after one-year inactivity.
Best of all, eToro is widely known as the largest and most effective social trading platform in the market. Users who sign up with eToro join 12 million registered members and can use several social trading features such as the CopyPortfolios and the CopyTrade tool. This means you can engage with other members to discuss trading ideas and strategies, and you can use the CopyTrader tool to copy the trading activity of other top traders.
To get started, you will need to meet a minimum deposit requirement of £150 and complete a short registration process. In terms of regulation, eToro is authorized regulated by the UK's Financial Conduct Authority and ensures all funds are secured by the Financial Services Compensation Scheme (FSCS).
Pros:
Buy shares with zero commission
More than 800 global shares, including NIO
Buy shares directly from US stock exchanges or trade CFDs
Allows you to invest in CopyPortfolios
Offers fractional trading
Social and copy trading tools
Accepts different payment methods, including PayPal
User friendly mobile trading app
Regulated by the FCA
Cons:
Limited technical analysis charting package for advanced traders
67% of retail investor accounts lose money when trading CFDs with this provider.
2. Plus500 – Cost-Effective Share Trading Platform the UK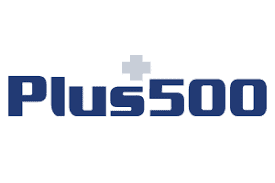 While eToro is best for social trading experience, Plus500 is more suited for active day traders looking for tight spreads on CFDs. Investors on this platform can trade shares of Nio with a spread of 0.02 pips or 0.09% and an overnight interest rate of -0.0279%, which is below the average in the industry. On the downside, Plus500 enables users to use a leverage of only 2:1 on Nio shares.
Although Plus500 does not offer a social trading platform like eToro, investors will benefit from a much more advanced trading platform that includes an effective charting package, market sentiment tool, and a wide array of risk management tools. It also offers price alerts service that enables you to set three types of alerts on any financial instrument based on change in price, daily and hourly percentage change, and traders' sentiment.
Finally, Plus500 is also considered as a safe trading platform as it is authorized and regulated by the Financial Conduct Authority in the United Kingdom under the registration number 509909.
Pros:
Wide variety of CFD shares and other financial products
Risk management tools & price alerts service
Top notch mobile trading app
Extremely tight spreads
Supports options trading
Regulated by the FCA
Cons:
Does not offer social trading
Limited leverage
72% of retail investor accounts lose money when trading CFDs with this provider.
Step 2: Research Nop Shares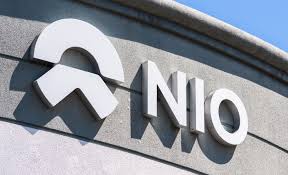 NIO, known as Wèilái in China, is one of the main competitors of Tesla Motors along with Li Auto (LI) and Nikola Corporation (NKLA). The Shanghai-based company, which was founded in 2014 by William Li, has seen exponential growth in sales and revenues since the beginning of the year. As such, Nio share has been on a fire since the end of May 2020.
With that in mind, Nio shares may still be a risky investment as the company is not yet profitable and it has yet to prove its ability to maintain this kind of growth over the long term.
Before you decide to invest in Nio shares, it is crucial that you find out more about the company's strengths and the share price historical performance.
How Much Are Nio Shares Worth? Nio Share Price History
Though Nio is sort of a new player in China's and the global EV market, it is the leader of the pack in the Chinese fab four EV producers (NIO, Xpeng, WM Motor, Li Auto), according to Deutsche Bank analyst Edison Yu. Since the company went public in 2018, it was trading in a downward sloping channel, reaching the bottom of $1.51 in October 2019.
Going forward to October 2020, Nio trades near record territory at $21.18 per share at the time of writing. This can be attributed to several factors including the $1B funding from a group of Chinese investors in late April, the record-high monthly and quarterly electric vehicle deliveries, and the launch of a new Battery as a Service (BaaS) in August. Since August, Nio share repeatedly broke new all-time highs in reaction to several Wall Street price upgrades.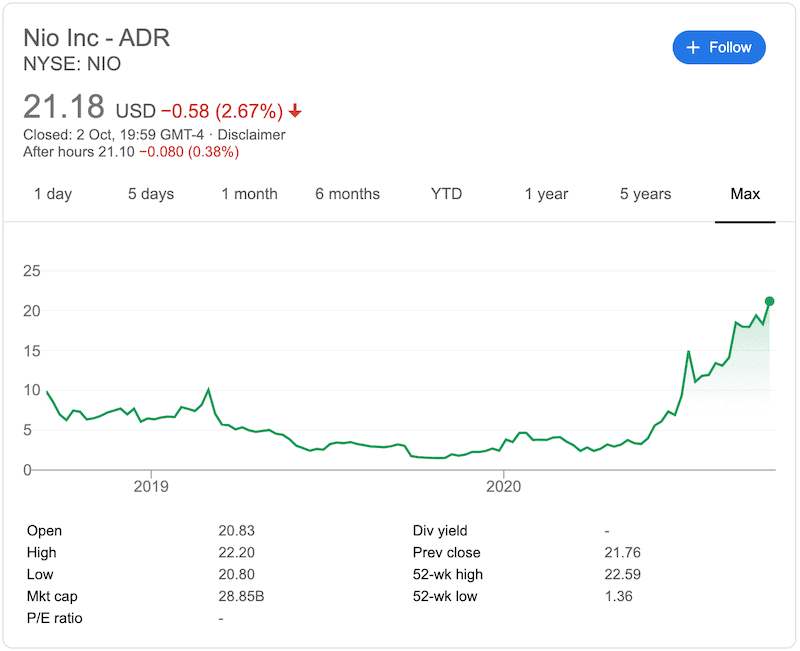 In terms of the Company's operating results, the Chinese EV producer doesn't stop – It delivered 4,708 vehicles in September, an increase of 133.2% from the previous year, and a total number of 12,206 vehicles in the third quarter of 2020, +154.3% year-over-year. In the past few days, the Nio share surge has continued following another positive report from Deutsche Bank.
Nio Shares Dividend Information
Nio Inc does not currently pay a dividend to shareholders and is not expected to distribute revenues in the near future. As Nio is not yet a profitable company, it likely prefers to reinvest earnings to fund other projects.
Should I Buy Nio Shares?
Nio share has surged by 427.36% year-to-date and 1,207.41% year over year after the $1 billion in funding from a group of Chinese investors and the release of its positive earning results. The only question to be asked is whether Nio has more room to grow? Given all the factors involved, Nio can continue to increase deliveries and sales during the fourth quarter of 2020 and towards 2021.
Overall, there are two main factors affecting the company's potential future growth. The first is Nio's record sales and its exponential growth in 2020 and the second is Chinese Government's policy towards boosting Electric Vehicles (EV) sales. While Nio will not only benefit from China's EV push, it will most likely be favored when the Chinese government must choose between Tesla and Nio. But unlike Tesla that is enti-establishment company, there's no doubt that the Chinese EV startup is highly dependent on the Chinese government. As part of the $1B deal, Nio had to commit to its "core businesses and assets in China, including vehicle research and development, supply chain, sales and services, and Nio Power".
Another factor to take into consideration is Nio's SUV model – The NIO ES8. This electric SUV is much cheaper than a Tesla Model X and is expected to face limited competition within China. Additionally, Nio battery swap stations are located in 63 cities across the country and can provide Nio a strong competitive advantage in order to overcome competitors in the Chinese automotive market.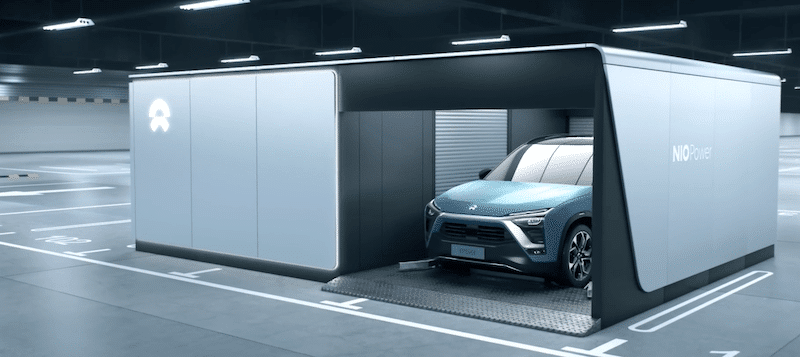 So, should you buy Nio shares? Well, electric-vehicle companies are in a clear bull market. Moreover, the fundamentals support the current price rise and as such, any weakness in Nio share might be a buying opportunity. According to CNN Money, 16 analysts offering 1-year price forecasts for Nio share with a median target of $121.32, a high estimate of $170.26, and a low estimate of $44.12.
Step 3: Open an Account and Deposit Funds
If you are ready to make an investment, we'll show you how to open an online share trading account with eToro and buy Nio shares in a few simple steps. We remind you that eToro does not charge any trading commissions and offers you a social trading network where you can facilitate the trading of shares.
To open a trading account at eToro, visit the broker's homepage and click on the 'Join Now' button. You will then be asked to create a username, pick a password, and enter your email address.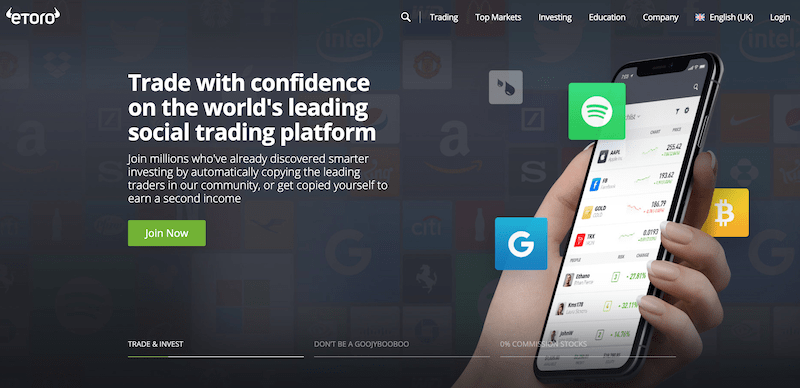 Next, eToro requires you to verify your identity as the broker is regulated by the FCA. This means you need to upload a copy of your driver's license or passport as well as a copy of a recent utility bill or bank statement.
After that, you will then be able to deposit funds into your trading account. eToro maintains a minimum deposit requirement of $200 (around £150), which you can do with one of the following payment methods:
Debit Card
Credit Card
Paypal
Skrill
Neteller
UK Bank Transfer
Step 4: Buy Nio Shares
Now that your account is funded, you can buy Nio shares on eToro's platform. To do that, you'll have to log in to the trading dashboard and enter Nio at the search bar as you can see in the image below.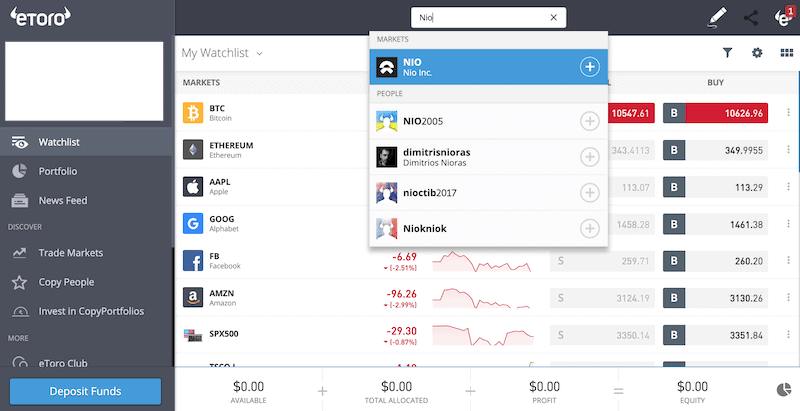 Once you click on the first result that pops up, you will be channeled to the Nio share page where you can insert a buying order by clicking on the 'Trade' button.

Then, you will need to set a buying order. As you can see from the image below, you have to enter how much money you want to invest in Nio and the type of order you wish to apply – market order or limit order. For those unaware, a market order allows you to buy the share immediately at the best price available in the market while limit market order is a type of order to buy the asset at a specified price.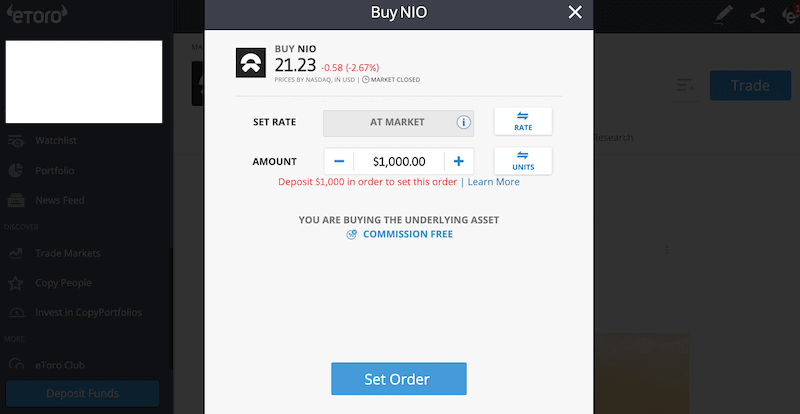 Keep in mind that you can also set a stop-loss order to protect your account from unexpected loss. To do that, go to your portfolio, find your Nio position, and enter the stop-loss rate.
Nio Shares Buy or Sell?
So far, 2020 has been a good year for Nio's investors. The Chinese EV company significantly improved its future prospects, and more importantly, it has lowered the risk of default. Thanks to the $1 billion funding deal from a group of Chinese investors, and the company's ability to raise $428 million in offering in June – Nio is now a low-risk company. As a reminder, there was a discussion at the beginning of the year that Nio is not going to survive amid the Covid-19 pandemic.
But things turned out well for Nio over the past 4 months. And even though Nio has never been profitable, it seems that there's plenty of room left in this rally.
Over the short term, Nio's share price could be going up and down and it is likely to see a correction soon. The next resistance and target zone can be seen at $24 and then $26.79 with a strong support level at $19.81 and around $17.02-17.20.
How to Sell Nio Shares
If you believe that Nio share is currently overvalued, you are also able to short sell it. When you short sell an asset, you are essentially predicting the price will decrease in value. As Nio share price has been very volatile over the past 5 months, you can use this tool to make intraday trades in both directions.
As short sell stocks is basically selling something you do not own, many brokerage firms require you to open a margin account. This way you ensure that you have securities to back up your short position. However, CFD instruments can be shorted quite easily without any restriction because the investor doesn't actually own the underlying asset. As such, the best method to short sell Nio shares is via a CFD platform such as eToro or Plus500.
The Verdict
As Optimism toward self-driving autonomous cars keeps rising, EV vehicle manufacturers like Tesla, Nikola, and Nio have become an attractive investment opportunity. Though there's risk involved with anything that is new and unfamiliar, Nio is much more of a buy than it is a sell at this point and is one of the best shares to buy at the current market situation. If you are ready to buy shares of Nio Inc, simply click the link below to get started!
eToro – Buy NIO Shares UK With No Commission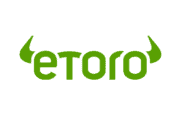 67% of retail investor accounts lose money when trading CFDs with this provider.
FAQs
What stock exchange is Nio listed on?
Nio Inc is primarily listed on the New York Stock Exchange (NYSE) under the symbol 'NIO'.
Does Nio pay dividends?
No, Nio does not currently pay a dividend to shareholders.
Is Nio profitable?
No, Nio is not yet a profitable company. But according to Lihong Qin, NIO's president,, the company could achieve profitability in the next one or two years.
How much were Nio shares when the firm first went public?
Nio Inc went public on September 12, 2018, on the New York Stock Exchange (NYSE) at a price of $6.26 per share.