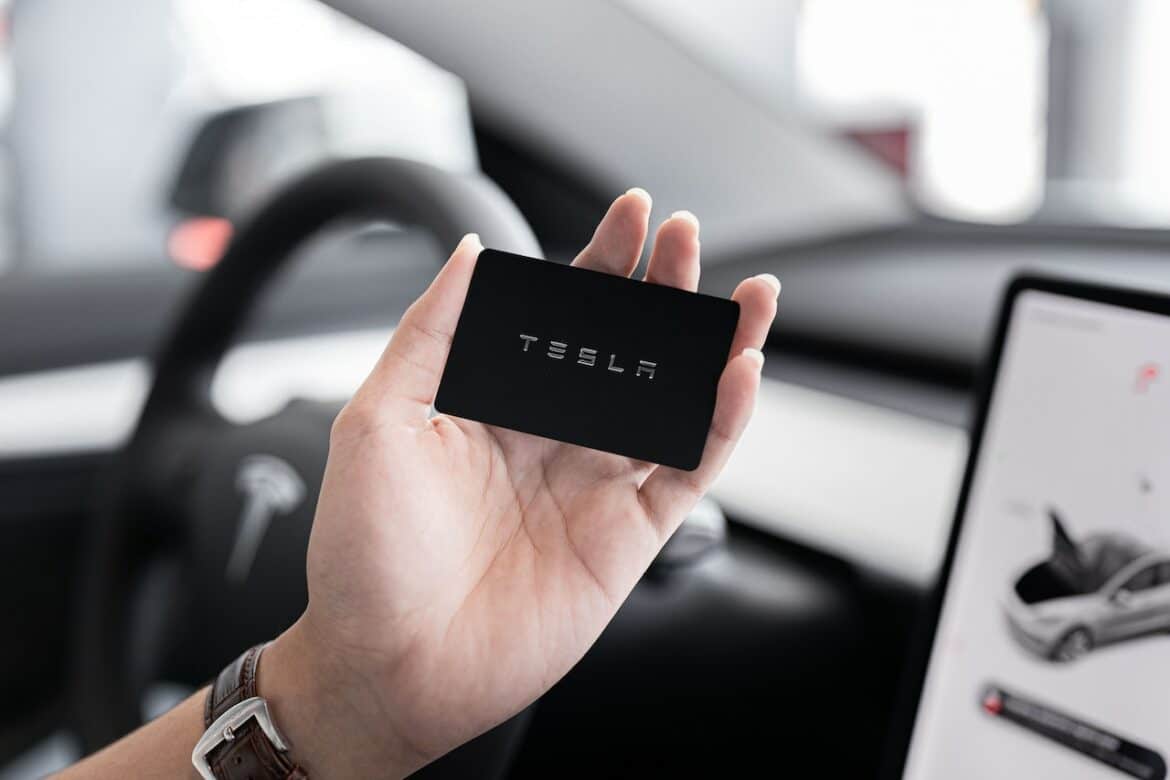 With a loss of 65% last year, Tesla (NYSE: TSLA) was the fifth worst-performing S&P 500 share. Cathie Wood of ARK Invest meanwhile predicts a massive rally in Tesla shares from these levels.
Wood predicts that over the next five years, TSLA shares would rise to $1500 which is almost 15 times of the current price. Wood made her comments shortly before Tesla released its delivery report for the fourth quarter of 2022.
Tesla delivered 405,278 vehicles in the fourth quarter of 2022. While deliveries surged 31.3% in the quarter and reached a record high, they trailed analysts' estimates. The company's production surpassed deliveries in the quarter. While TSLA attributed it to the higher number of cars in transit, markets saw it as a sign of slowing demand.
Tesla missed the 2022 delivery forecast
In 2022, Tesla's deliveries rose to a record high of 1.31 million, a YoY rise of 40%. The growth fell short of the company's initial guidance of a 50% rise in deliveries. TSLA CEO Elon Musk had predicted deliveries surpassing 1.5 million in 2022.
Notably, Tesla's popularity especially among liberals has nosedived after Musk acquired Twitter. Multiple surveys have shown that Tesla brand's perception has nosedived after Musk acquired Twitter. Musk has laid off many Twitter employees, triggering a backlash. His political overtures towards conservatives and restoration of Donald Trump's Twitter account haven't gone down well either with many liberals.
Wood is still bullish on TSLA shares
Wood also acknowledged the fallout from Musk's Twitter acquisition and said "I think there are people who won't buy his cars now." She however added, "But if he does what we think he's going to do on the cost side, there are a lot of people who will use economics as their guide. Better car, better economics. And I think there are a lot more of those people than there are of the naysayers around Twitter."
Wood believes that with lower batter costs and cost efficiencies, Tesla would be able to lower Model 3 prices to around $25,000, from the current price of $45,000. Notably, TSLA achieved scale with the Model 3 sedan and Model Y SUV. While there are lower-priced models as compared to Model S/X, they are still pricier than competing EV models from other automakers.
Wood expects Tesla to roll out autonomous taxi service in 2024
While Tesla has missed several deadlines for robotaxis, Wood expects the company to roll out autonomous taxis across the US in 2024 and predicted an 80% margin in the business. She added, "Combine that with their electric vehicle margins, which are 25-30%, we've got a 60%-plus gross margin company. No one's got that in their models. We do."
On multiple occasions, Musk has also highlighted the company's software abilities to justify the valuation. Tesla's market cap surpassed $1.2 trillion in 2022 and it became the first automaker to reach that milestone. No other automaker has come remotely close. At its peak, TSLA's market cap was higher than the combined market cap of all leading automakers.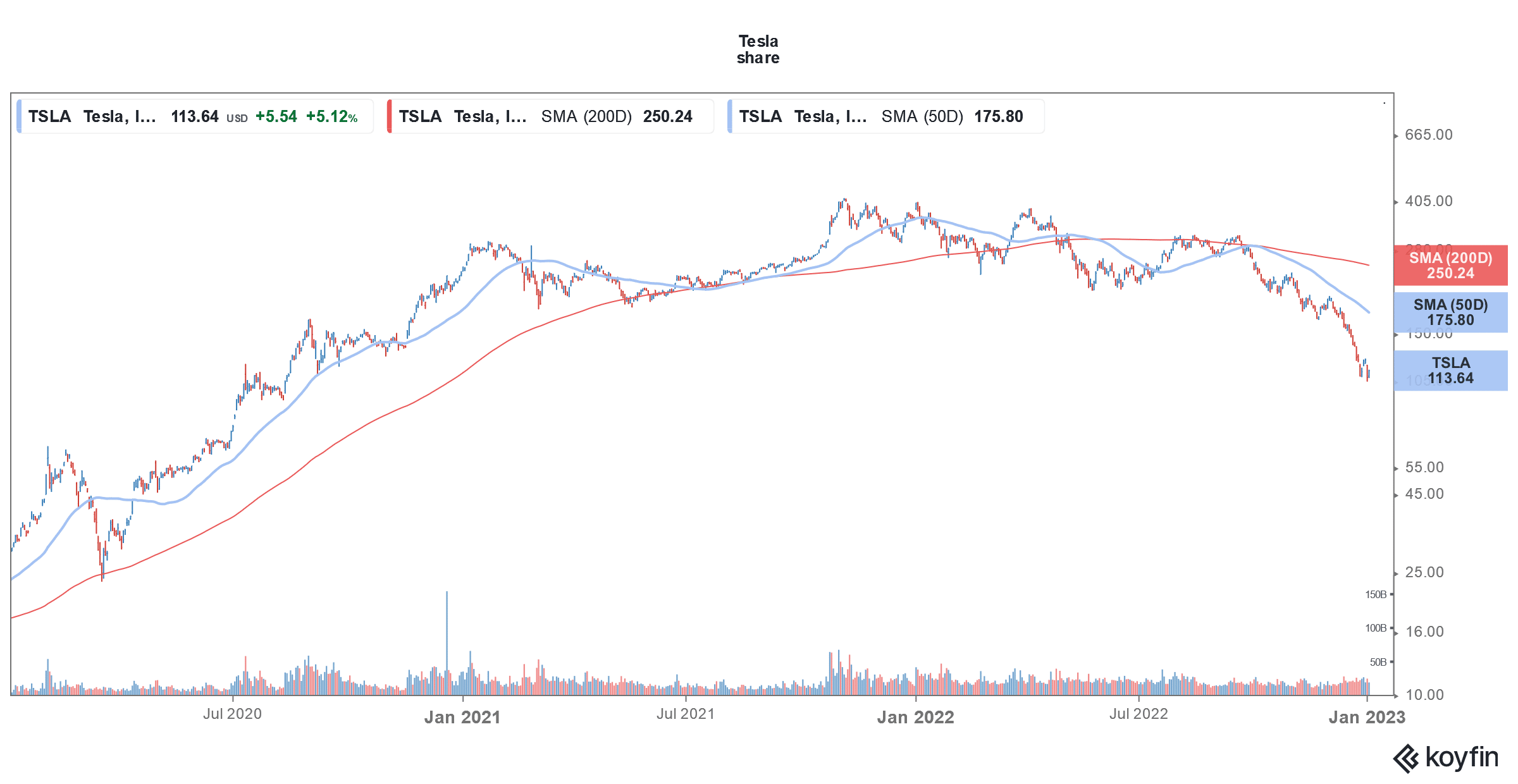 Tesla shares plummeted in 2022
While Tesla's market cap has slumped to just around $350 billion, it is still higher than Toyota Motors' $220 billion market cap. Many TSLA bulls justify the company's premium valuations by citing the software side of the business which has a higher margin.
Tesla shares were on a joyride since Q3 2019 when the company posted a surprise profit. It rallied 740% in 2020 and another 50% in 2021. However, 2022 was a terrible year not only for TSLA but also for other EV names.
Short sellers, who burned finger betting against Tesla shares in 2020 and 2021 were back with vengeance last year and raked in billions of dollars of profits shorting the share.
Short sellers raked in billions by shorting Tesla
Shorting Tesla was the most profitable trade of 2022. The second on the list was the short Amazon trade. Amazon was the third worst-performing FAANG share of 2022 and has lost around 50% in the year. Like Tesla, it has also lost its status as a trillion-dollar company. In absolute terms, Amazon has lost over $1 trillion in market cap this year and became the first company ever to achieve the dubious feat. Apple too joined the rank after its market cap fell below $2 trillion on the first trading day of 2023.
Ironically, its market cap hit the milestone of $3 trillion market cap on the first trading day of 2022.
Musk lost his position as the world's richest person
Musk, who became the richest person ever with a net worth in excess of $300 billion, last year lost the position to Bernard Arnault. Musk lost $200 billion in his net worth, becoming the first person in modern history to do so.
The crash in Tesla shares has made a dent in Musk's net worth. Recently, Musk blamed rising interest rates for the crash in TSLA shares. He has been warning of a recession and believes that the Fed is only amplifying a recession with its rate hikes.
While rising interest rates are certainly to blame for the fall in growth shares like Tesla, other factors are also at play.
From Tesla to Lucid Motors, many EV companies seem to be facing a demand slowdown. Last year, Tesla lowered car prices in China and suspended production for a few days. Even in the US, the company offered a $3,750 credit to buyers who take a Model 3 or Model Y delivery in December. It later increased the credit to $7,500. To buyers in Canada, it is offered a $5,000 credit.
Tesla cars to get EV tax credit from 2023
Meanwhile, analysts see a ray of hope for Tesla shares in 2023. Beginning this year, Tesla cars would also be eligible for the EV tax credit. President Joe Biden has signed the Inflation Reduction Act of 2022 which does away with the sales threshold. As a result, Tesla cars would also be eligible for the $7,500 EV tax credit. Toyota and General Motors cars would also qualify for the tax credit.
Tesla shares hit their lowest level in two years on the first trading day of 2023. While the shares rebounded yesterday, they are lower in US premarket price action today as markets digest the Fed's December minutes which sound somewhat hawkish.