Square is set to release its third-quarter earnings on Thursday after the US markets close. What are analysts expecting from the earnings of the fintech giant and what's the forecast for the shares in the fourth quarter of 2021?
Last week was quite busy in terms of earnings and mega-cap companies like Facebook, Apple, Amazon, Alphabet, and Microsoft released their earnings in the week. Overall, almost a third of S&P 500 and Dow Jones companies released their earnings in the week which made it the busiest week of the earnings season.
Third-quarter earnings season
While this week's earnings calendar is lighter than the last week, we still have some important earnings lined up for this week. Apart from Square, Berkshire Hathaway, Alibaba, and Roku are also scheduled to release their earnings this week. Reddit favourite AMC Entertainment would also release its earnings this week. AMC shares tend to be quite volatile after the earnings release. Even Square shares see wild price swings after the earnings report.
Square third-quarter earnings estimates
Square would release its earnings on 4 November aftermarkets. Analysts expect the company's revenues to rise 48% to $4.49 billion in the quarter. The company's adjusted EPS is expected to rise 8.4% to $0.35 in the quarter. During the second-quarter earnings release, Square had also announced the acquisition of the Australian BNPL (buy now pay later) company Afterpay. The shares had fallen after the earnings release. However, it had risen after the first-quarter earnings release as the earnings smashed estimates.
Square has been diversifying its business
Square has been diversifying its business and increasing cryptocurrencies are becoming a major driver. Amrita Ahuja, the company's CFO believes that there is a $100 billion TAM (total addressable market) for the Seller App and a $60 billion TAM for the Cash App. The company only has a 2-3% share of these markets even as the market share has been expanding.
The company plans to increase its market share through a mix of increasing penetration among existing customers, reaching new customers, and increasing its product portfolio. Notably, the new customer acquisition costs for Square are much lower than legacy financial institutions. While most of the company's customers are millennials, it has also been expanding its reach among older demographics.
Bitcoin
Square and its CEO Jack Dorsey are among the biggest backers of cryptocurrencies. Square also holds bitcoins on its balance sheet. Recently Dorsey tweeted that the company is looking to develop its own bitcoin mining system. The company is looking to ease the process of bitcoin mining.
"We will incubate the bitcoin mining system project inside Square's hardware team, starting with architecture, design, and prototyping of more efficient silicon, hashing algorithms, and power architectures," said Jesse Dorogusker, who is the hardware lead at Square.
Square share price forecast
According to the forecast estimates compiled by CNN Business, Square has a median price target of $312, which is a premium of 22.6% over current prices. Its highest price target of $380 is a premium of 49% over current prices, while its lowest price target of $210 is a 17% discount to the current share price.
Of the 36 analysts covering Square, 25 have rated the shares as a buy or some equivalent while eight analysts have a hold rating. The remaining three analysts have a sell rating on the shares.
SQ target price
Wall Street analysts are bullish on Square shares and last month Jefferies termed the shares as a "must own" and assigned a target price of $300. Mizuho analyst Dan Dolev believes that investing in Square is like investing in JPMorgan Chase in 1871.
Needham analyst Mayank Tandon is also bullish on Square shares and had raised his target price to $350 after the company's second-quarter earnings. He believes that the Afterpay acquisition "make a big splash in the buy now/pay later space while also bolstering its international growth plans." Tandon added, "we believe that the Afterpay deal will provide additional opportunities to enhance long-term growth and profitability."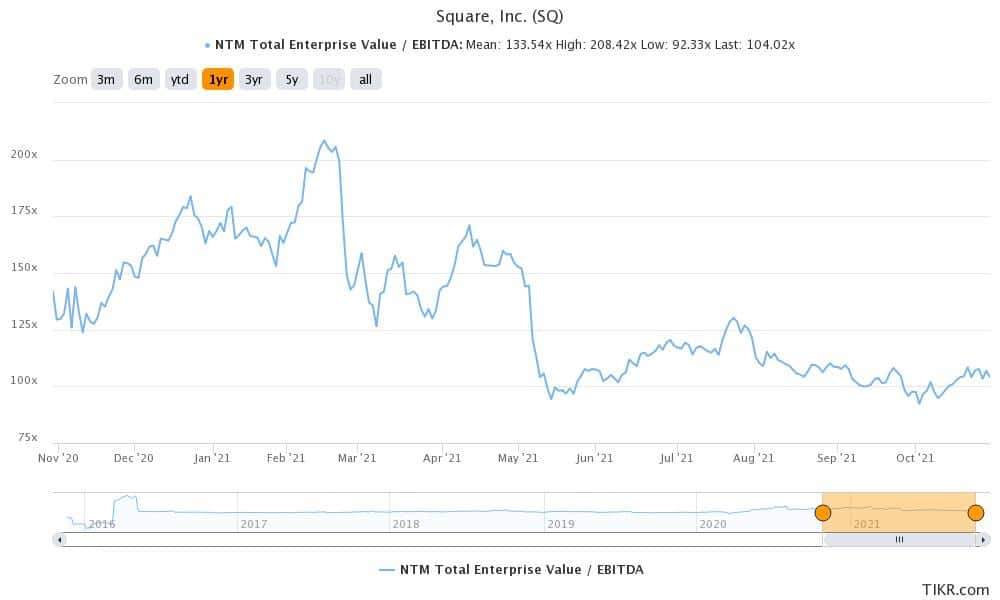 Square shares look a good long-term investment
Fintech companies are giving traditional banks a run for their money and have been gradually snatching away market share from them. To gauge the popularity of fintech companies, consider the fact that Ant Financial IPO had attracted bids worth $3 trillion and was set to have a market cap in excess of JPMorgan Chase. However, the IPO was blocked by the Chinese government.
The digital payments industry is witnessing strong secular growth, both in the US as well as internationally. Square is in a pole position in the transformation. The company also has a strong management team and is led by the charismatic Dorsey.
Recently, Dorsey was in the news after he forecasted that the US economy was headed towards hyperinflation. However, many others, including Cathie Wood of ARK Invest, who was among the early investors in Square, did not agree. While US inflation is running at a multi-decade high, hyperinflation fears look unfounded at this point in time.
Should you buy Square shares?
Square is among the best fintech names to own. The shares are up only about 15% in 2021 and are underperforming the markets. Square trade at an NTM (next-12 months) EV-to-EBITDA multiple of 104x. While the valuations might appear stretched on a standalone basis, they look reasonable looking at the valuations of other fintech companies.
Square shares were trading in premarket today and have a 52-week trading range of $151.10-$289.23.