Square shares are jumping in pre-market stock trading action after the company smashed analysts' estimates for virtually all relevant variables including a 16% beyond-expected leap in total revenues.
The digital payments company saw its total revenues land at $5.057 billion for the quarter, although that figure includes the raw amount of bitcoin revenue received, which contributes to inflating the firm's top-line.
After excluding Bitcoin dealings, Square (SQ) revenues landed at $1.546 billion, which results in a 43.8% jump compared to a year ago, partially resulting from a lower comparative baseline since the first quarter of 2020 was one of the worst for the firm amid the pandemic.
Meanwhile, revenues from Square's Cash App, excluding Bitcoin (BTC) dealings, jumped 27% compared to the previous quarter while more than doubling compared to a year ago. This feature was launched during the second quarter of 2019 and, since then, it has moved from producing 13% of the firm's total revenue to 34% as of this quarter.
The company also reported its third consecutive quarter of post-pandemic growth in gross processing volumes (GPV) after Square reported a drop in GPVs as a result of lockdowns back in the second quarter of last year. By the end of this first quarter, GPVs advanced 29% compared to the previous three-month period.
Meanwhile, Square revenues reported a 10.2% quarter-on-quarter leap while the company's gross margin advanced 500 basis points (ex. BTC revenues) moving from 57.3% the previous quarter to 62.3% by the end of the first three months of 2021.
Total gross profits ended the quarter at $963.5 million, up 79% compared to a year ago while 20% higher than the past quarter. Moreover, the firm's operating results swung to positive territory, moving from a $90 million operating loss last year to a $67.7 million profit by the end of 31 March 2021.
Square reported a net income of $39 million compared to a $105.9 million loss reported a year ago while 15% higher than the $34 million profit reported by the firm last month after excluding a non-recurring profit from the company's equity investment in DoorDash.
In regards to the future, Square expects that GPV and gross profits should continue to surge as a result of a lower comparative baseline and an improvement in in-person activity due to regional reopenings and other positive developments in the virus front on the back of en-masse vaccinations.
Meanwhile, the firm expects to increase its non-GAAP expenditures by around $1 and $1.1 billion by the end of its 2021 fiscal year.
What's next for Square shares?
After surging around 248% last year, Square shares are reporting a meager 3% gain so far this year as a result of an ongoing sector rotation, with investors favoring virus-battered sectors while shunning some of the biggest winners of the pandemic – i.e. tech stocks.
At the moment, Square shares are being valued at almost 20 times its last twelve-month sales, which reflects the significant optimism that the market still has about the firm's future growth.
Before the pandemic started, Square ex. Bitcoin (BTC) revenues were growing at an average annual rate of 35%. Although the pandemic temporarily slowed down that growth, this last quarter shows that growth is picking up its pace again as trailing twelve-month revenues jumped 23.3%.
If Square manages to resume its growth rate of 35% per year in the following quarters, which seems highly likely, three years from now the firm could see its revenues surge to around $10 billion, which results in a forward P/S ratio of 10.
Comparatively, the same forward P/S ratio of three of Square's major rivals – Mastercard (MA), Visa (V), and PayPal (PYPL) – is currently sitting between 8 and 14, which means that Square's valuation is within the boundaries of the multiples assigned by the market for its industry.
However, a multiple contraction across the board as a result of deleveraging or other external forces could plunge the firm's share price on short notice as a lot of expected growth and historically low interest rates are responsible for a big portion of the company's market capitalisation.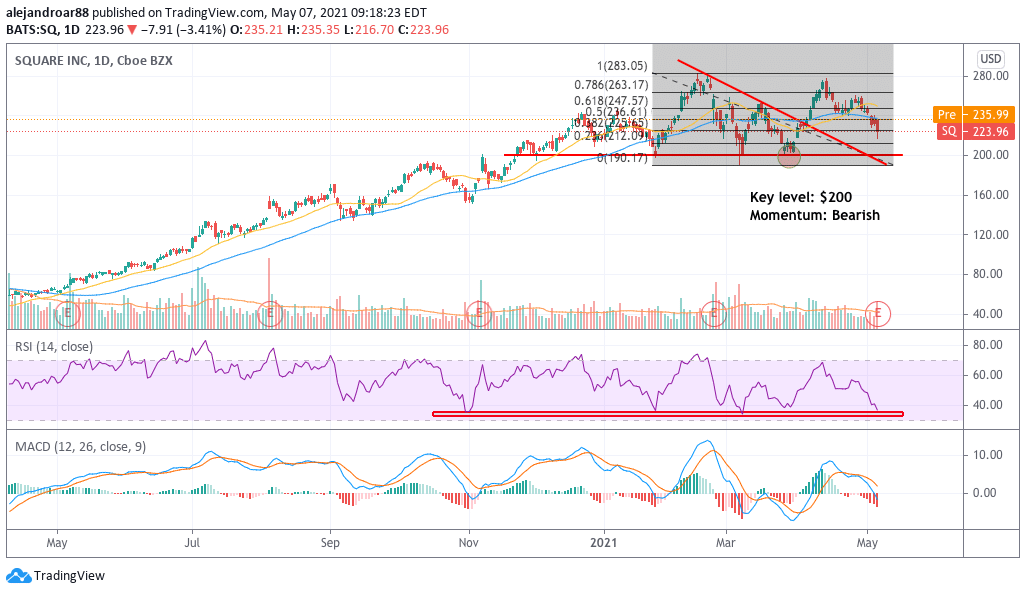 For now, from a technical standpoint, the outlook for Square remains a bit uncertain. The key level to watch at this point is $200 per share as this price has served as support multiple times in the past.
The price action in the following weeks will possibly provide clearer indications of where the stock might be heading as a break below this threshold could result in the beginning of a bear market for the company.