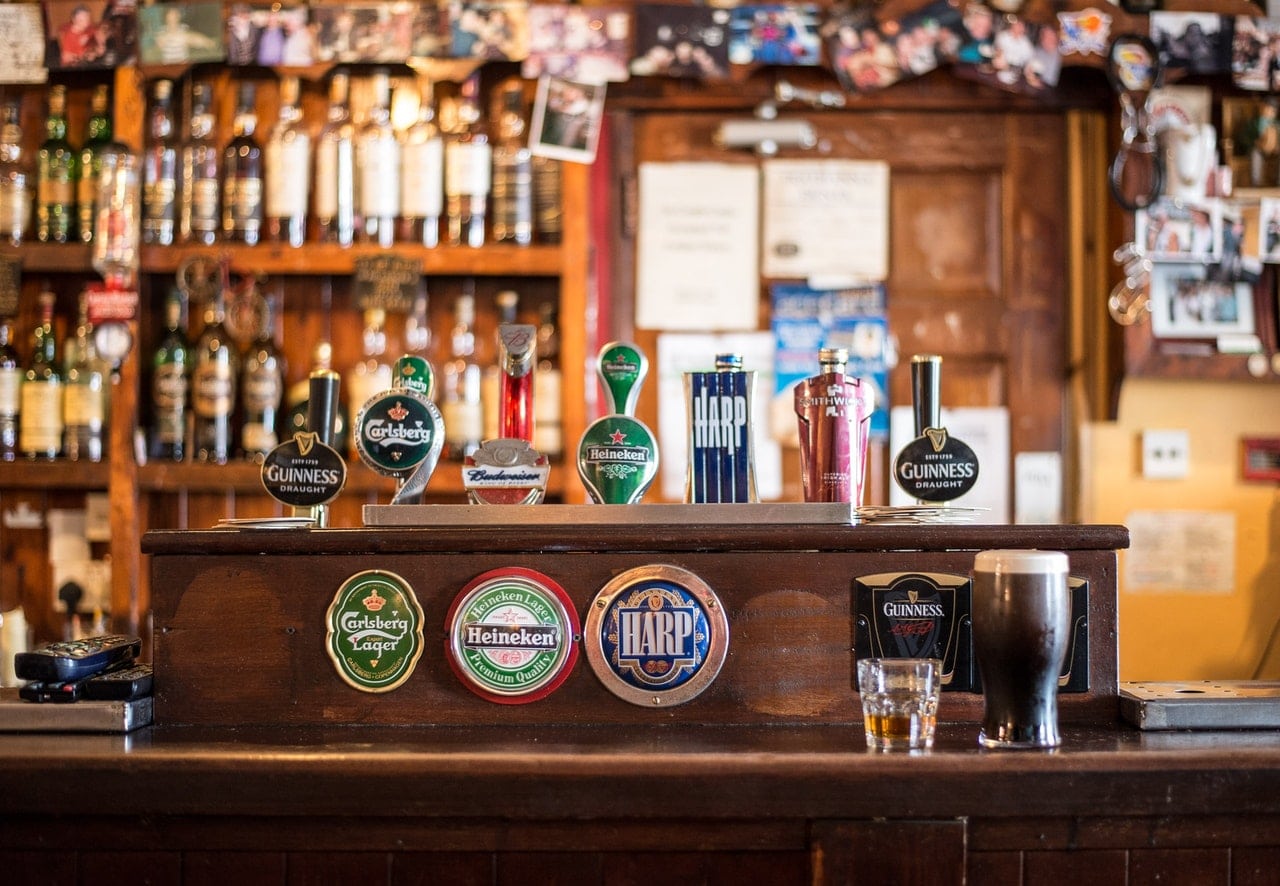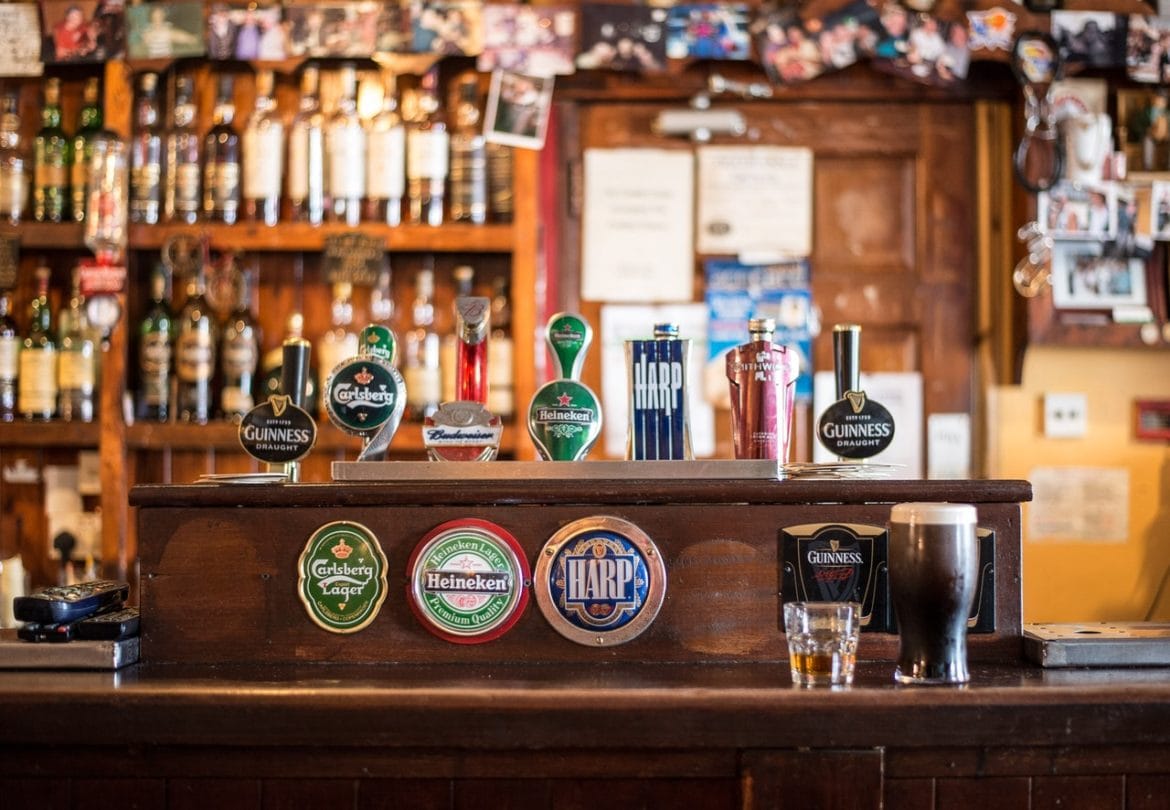 Shares of UK-based pub chain J D Wetherspoon (JDW) fell over 13% in early trade after the company posted the first loss since 1984. It blamed the lockdowns for its woes.
Wetherspoon reported its preliminary fiscal year 2020 earnings today. In the 52-weeks ended 26 July 2020 it posted revenues of £1.26 billion, down 30.6% over the corresponding period in 2019. The company's like-for-like sales, a better metric for the industry also fell 29.5% over the period.
Wetherspoon posts first loss since 1984
It posted a net loss before exceptional items of £34.1 million as compared to a net profit of £102.5 in the last financial year. Wetherspoon reported a negative free cash flow of 54.2p per share as compared to positive free cash flow of 92p per share in the fiscal year 2019.
To be sure, the loss wasn't totally unexpected and in August only Wetherspoon had warned that it expects to post a loss in the year. However, in its earnings release, Wetherspoon came down heavily for the lockdowns.
"The lockdown was far longer than was necessary to achieve its stated objective of 'flattening the curve' so as to assist the health service," said Tim Martin, Weatherspoon's Chairman.
While he said that the hospitality industry was adapting to the new regulations for the initial two months after pubs reopened in England on 4 July, he expressed its exasperation over the frequent changes in rules.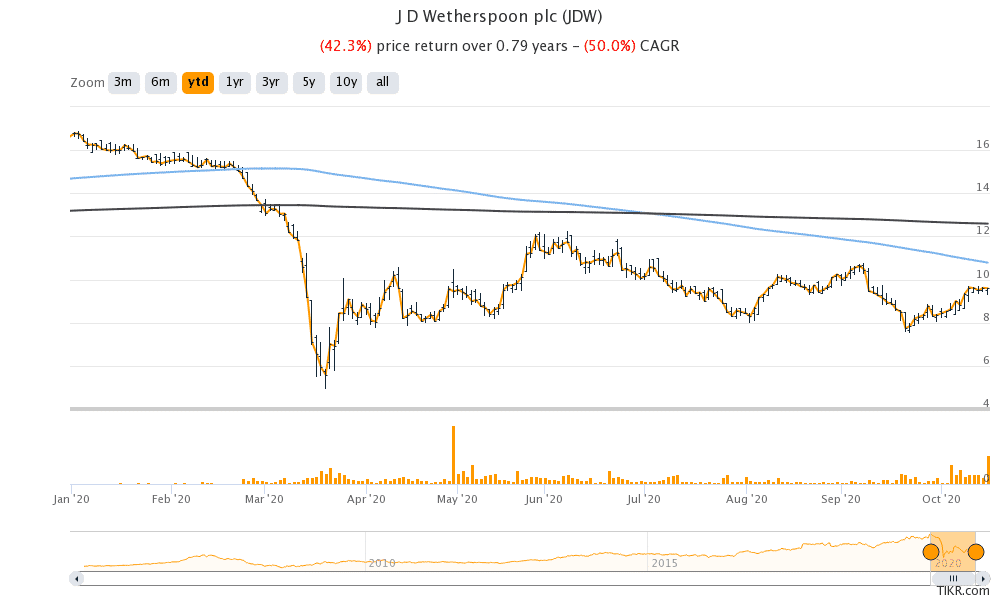 Wetherspoon blames lockdowns
"It appears that the government and its advisers were clearly uncomfortable as the country emerged from lockdown. They have introduced, without consultation, under emergency powers, an ever-changing raft of ill-thought-out regulations – these are extraordinarily difficult for the public and publicans to understand and to implement. None of the new regulations appears to have any obvious basis in science," said Martin.
Providing statistics, Wetherspoon said that since the pubs reopened on 4 July, around 1% of its employees have tested positive for COVID-19 which is in line with the national average of 1% positivity rate. It also gave Amazon's example whose 1.5% of US employees have tested positive for the virus.
Pubs are not "centres of transmission"
It said that "If pubs were, indeed, 'centres of transmission', it might be expected that infection rates would be higher among employees than those of either the general population or companies like Amazon."
Meanwhile, while Wetherspoon stock has tumbled this year, Amazon surged to an all-time high and is among the top 10 gainers in the S&P 500 this year. eCommerce sales for Amazon as well as retailers like Walmart and Tesco have surged this year as consumers have preferred to shop online instead of visiting stores. Online retailer Asos also reported stellar results earlier this week.
That said, while eCommerce companies have benefited from the change in consumer behaviour, the hospitality sector is on the other side of the spectrum with many consumers shunning them due to the pandemic.. According to Weatherspoon, the recent requirements imposed by the government are further compounding its woes.
New regulations are crippling Wetherspoon
Weatherspoon pointed to the requirement for table service that Martin said is "expensive to implement and undermines the essential nature of pubs for many people." He termed the requirement to cover the face while visiting the bathroom "another capricious regulation."
According to Martin, "The most damaging regulation relates to the 10pm curfew, which has few supporters outside of the narrow cloisters of Downing Street and SAGE meetings." He added, "This has meant that many thousands of hospitality industry employees, striving to maintain hygiene and social-distancing standards, go off duty at 10pm, leaving people to socialise in homes and at private events which are, in reality, impossible to regulate."
Martin calls the UK government's response "erratic"
Comparing the UK government's approach that it called "erratic" with Sweden, Martin said that the "UK government is jumping from pillar to post and is both tightening and tinkering with regulations, so we are now in quasi-lockdown which is producing visibly worse outcomes than those in Sweden, in respect of both health and the economy."
Wetherspoon's outlook
Weatherspoon said that its like-for-like sales in the first 11 weeks of the fiscal year 2021 have been 15% below last year. It said that while sales picked up after pubs were reopened, they have since been tepid due to the new regulations.
"As a result of recent changes in regulations, the outlook for pubs over the remainder of the current financial year is even more unpredictable than hitherto," said Martin.
Analysts on Wetherspoon
Analysts, however, see better days ahead for Wetherspoon. "The path of recovery rarely runs in a perfectly straight line, and new government restrictions will continue to buffet JD Wetherspoon," said Investec's Alastair Reid. He added, "However, the company is well placed to ride out the storm and the results demonstrate it is well positioned to capture a growing share of demand as and when it returns. We expect the company to emerge even more robustly from the crisis."
Wetherspoon shares in 2020
Weatherspoon shares are down over 45% so far in 2020 and have underperformed the FTSE-100 by a wide margin. Shares were trading 13.1% down at 834.5p at 10:30 AM London time today.