Online gaming platform Roblox and fintech startup Affirm have both delayed their IPOs to the next year. The companies might want to increase the IPO pricing range given the stellar response from investors to recent IPOs.
2020 has been an impressive year for the US IPO market. A record number of companies have listed this year despite the effective freeze in the primary listing market between March and April. The amount raised by companies on US markets has exceeded the previous record set in 1999 at the height of the dotcom bubble. The number would have been even higher if Affirm and Roblox had not delayed their IPOs until 2021.
IPOs
While concerns have been rasied about how companies are pricing their IPOs, despite being unprofitable and in most cases with no roadmap for acheving profitability in the near term, investors remain unperturbed. Last week was a particularly good one for  IPO investors. DoorDash surged over 92% on the first day of the listing, while Airbnb stock rose over 142%. C3.ai also surged after its listing last week.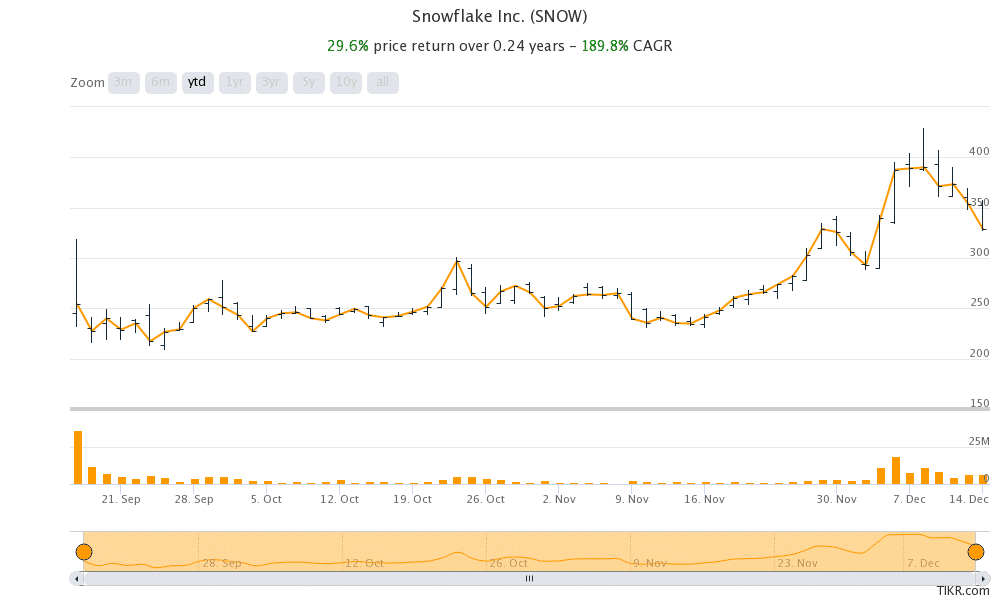 Prior to these listings, the Snowflake IPO, in which Berkshire Hathaway and Salesforce co-invested, more than doubled in value on the listing day. Snowflake has continued to outperform the S&P 500 since then. The IPO of fintech startup Lemonade also produced huge gains on its listing day.
Is Roblox seeking better prices?
The sharp rise in IPOs suggests that companies are leaving too much on the table for investors. "We've seen companies take innovative approaches to creating a more market-based relationship between investors and companies," said Roblox CEO David Baszucki after the company decided to delay the IPO. He added, "We've decided to take this opportunity to work with our advisers to see how we can make such improvements."
Roblox may consider the direct listing route that data analytics company Palantir took earlier this year. In a direct listing, the companies sell their shares direct to the market, leaving out the investment banker middlemen, in contrast to a traditional IPO. In a memo to employees, Baszucki said: "Based on everything we have learned to date, we feel there is an opportunity to improve our specific process for employees, shareholders and future investors both big and small."
Are companies getting greedy?
Meanwhile, Roblox is not the only company that's delaying its IPO. Affirm, which was set to IPO this month, has also delayed its listing. While most of the IPOs this year managed to command a hefty valuation premium, it seems that companies might be getting greedier as the delayed IPO by Roblox and Affirm show.
Roblox and the gaming market
Roblox offers a free child-focused platform that lets users play games across gaming consoles and mobile devices. In July it said that it had 150 million active monthly users. The gaming market has been strong this year due to the lockdown measures. Unity Software, a company engaged in developing software for video games also listed this year and the IPO did well. There has been some consolidation in the gaming market and this week, Electronic Arts agreed to acquire Codemasters for $1.2 billion, outbidding rival Take-Two Interactive.
Roblox seeking a higher valuation
In its IPO, Roblox was seeking a valuation of almost $8 billion, which was twice what it was valued at in February. If  valuations doubling in less than a year seem eye-popping, Snowflake and DoorDash IPO managed to sail through even after asking for a massive premium over their private market valuations.
Snowflake asked for three times the value that it commanded in February. It not only managed to convince investors about the valuation but now it is worth  almost eight times what it was valued in the private market in February.
Roblox is also making losses
Meanwhile, in their massive appetite for IPOs, markets are ignoring the fact that some of the new companies may find it hard to become profitable. Like most other tech companies that have listed this year, Roblox is posting losses. In the nine months ending September, it posted a net loss of $203 million, which was almost 35% of its revenues over the period. Slack and Uber are examples of two companies that did not deliver good returns post their IPOs, as markets saw no roadmap for profitability.