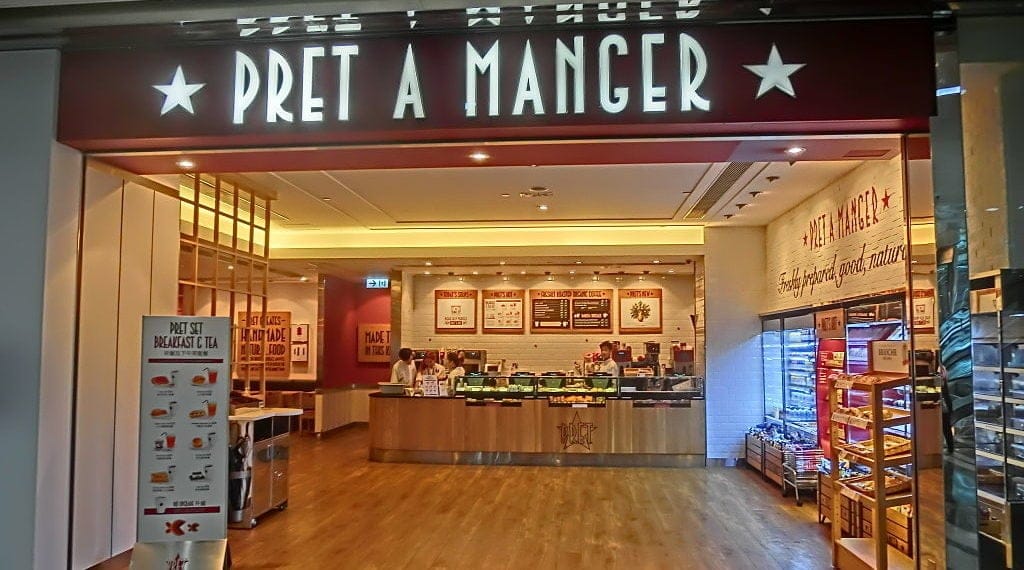 UK-based sandwich chain Pret A Manger has announced that it will cut 2,800 jobs, or about a third of its workforce, as the pandemic takes a toll on its revenues.
Pret, which was founded 34 years ago was sold to Luxembourg-based Jab Holdings in 2018. Jab Holdings is owned by Germany's billionaire Reimann family.
Last month, Pret opened 367 out of its 410 shops in the UK. It has closed some branches overseas and now announced the permanent closure of 30 branches in the UK. Previously, the company had said that it would have to shed 1,000 jobs as part of the changes. However, the restructuring has had a larger than expected impact on Pret's workforce.

Pret sheds a third of its workforce
"I'm gutted that we've had to lose so many colleagues. Although we're now starting to see a steady but slow recovery, the pandemic has taken away almost a decade of growth at Pret," said Pret's chief executive, Pano Christou.
He, however, added: "We've managed to protect many jobs by making changes to the way we run our shops and the hours we ask team members to work. I'm hopeful we'll be able to review all these changes now that trade is improving again."
According to Pret, its weekly sales have fallen to around £5.2 million in August. That's the number of sales the company made a decade back but with a much smaller footprint. However, the company sees some recovery and sales have risen 7% each week since July.
Pret's closures and layoffs are a reflection on how a weak demand environment is hurting companies even as the lockdowns have been lifted. In the US, American Airlines and Bed Bath & Beyond have announced layoffs this week as companies are reassessing their workforce requirements in light of the tepid demand environment.
The hospitality sector has been hard hit due to the pandemic
The pandemic has taken a massive toll on restaurants, pubs, and the overall hotel and hospitality sector. On Monday, shares of UK-based pub chain J D Wetherspoons fell after it announced that it expects to post a net loss in the financial year ended 26 July 2020.
According to industry body UK Hospitality, only about two-thirds of restaurants and pubs have opened in the UK even as lockdowns have been lifted. Government data showed that 1.4 million people were furloughed in the hospitality sector, which is the highest among all sectors.
Pret is not the only hospitality company to resort to mass layoffs. SSP Group, the owner of Upper Crust has said that it would cut 5,000 jobs. Pizza Express, the Restaurant Group, Byron Burger and Franky owner, have also announced layoffs.
Restaurant demand down as people are working from home
According to research by the Centre for Cities, only about 17% of the staff was back to offices by early August. Lucy Powell, the shadow minister for business and consumers, talked about the problems faced by the hospitality sector.
"The bigger city centres are very, very hard hit," said Powell. She added, "It's a double whammy. It's not just the office workers, which is a big part of what makes up retail and hospitality, but also for somewhere like Manchester, all that is added to by the footfall from football matches, massive concerts, weddings, hen nights and conferences."
Carolyn Fairbairn, the director-general of Confederation of British Industry, called upon Boris Johnson to take steps to get office workers back to their desks.
However, delivery companies have benefited as an increasing number of people are ordering food instead of dining in. Companies like Just Eat Takeaway.com have seen an increase in orders.
The FTSE 100 was trading flat in early trading today as markets digest the news of the surprise resignation of Japanese Prime Minister Shinzo Abe.