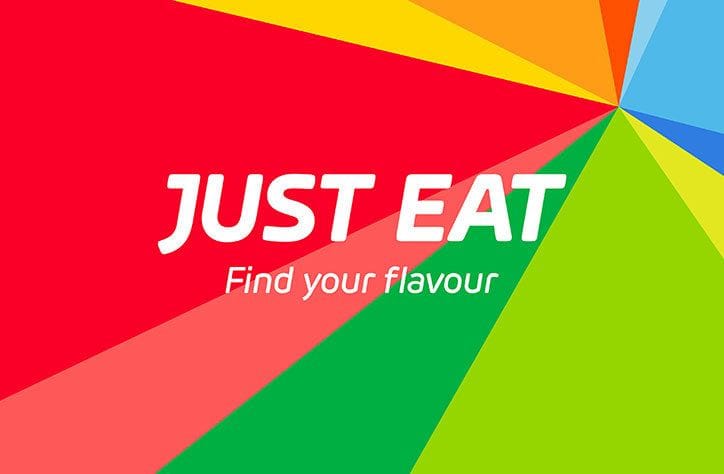 Just Eat Takeaway.com (JET) shares are up 5% at 9167p on strong sales growth from the acquisitive global food deliveries group.
Worries emanating from some quarters about the ability of such firms to turn a profit should be put to rest, at least as far as Just Eat is concerned. Judging by today's results, its operational and sales performance through the pandemic has helped the bulls' case.
Processed orders came out at 257 million – a 32% increase on the first half of 2019, as the shift to more eating at home takes root. Exactly how long or firmly entrenched these new dining trends will be depends on how long it takes to bring the pandemic under control and for a virus to eradicate the public health threat.
Those considerations are the main way of gauging Just Eat's near to medium-term profit on future earnings. In addition, how the execution of the US expansion goes and whether an assault on the all-important Asia market  emerges, should also be kept under observation.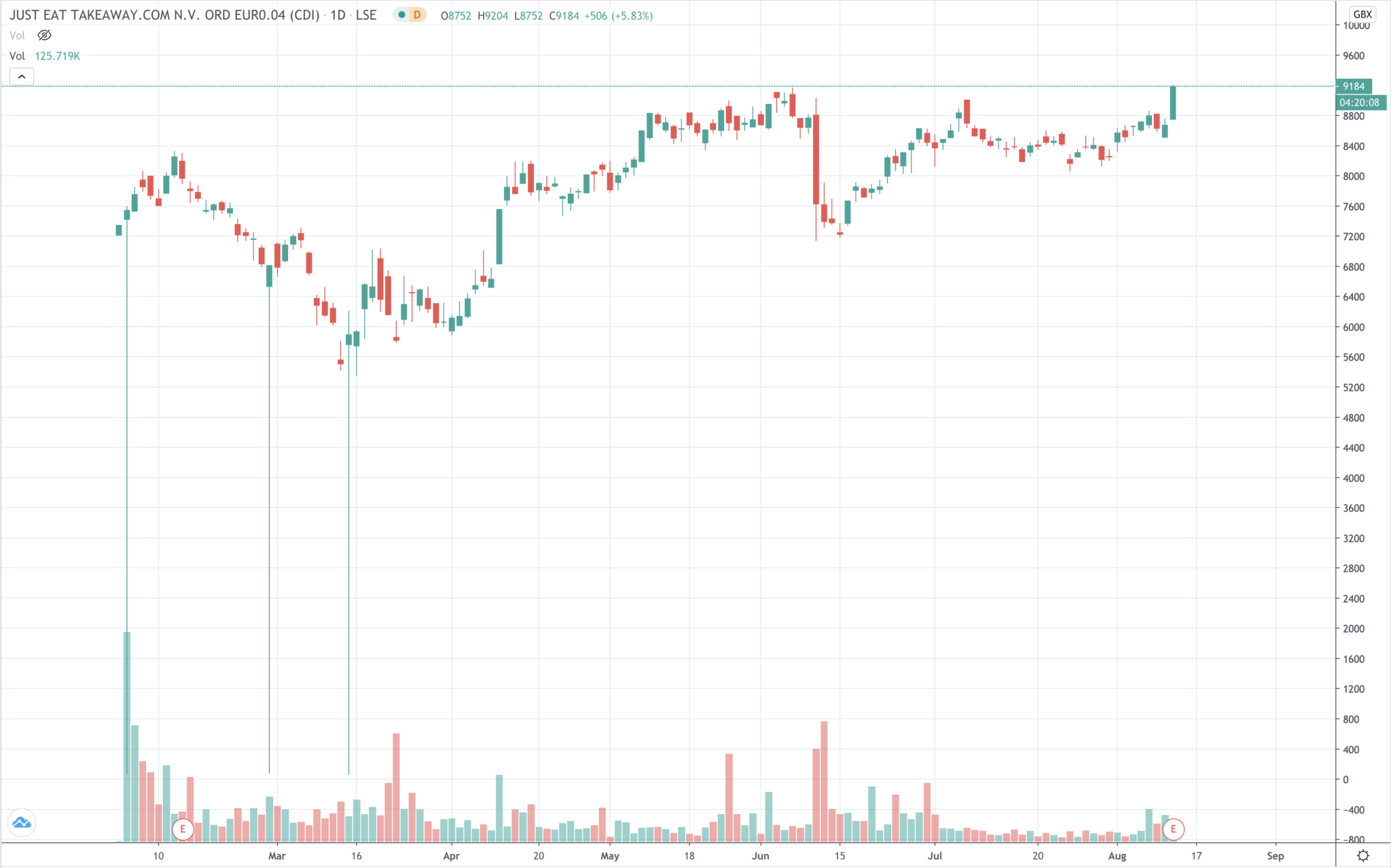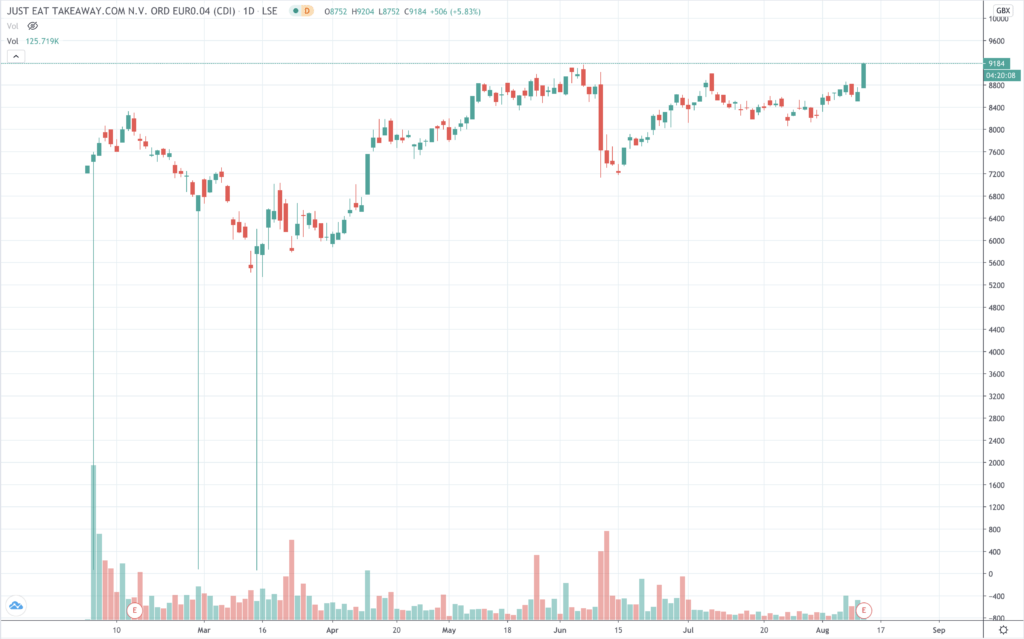 €1 billion first half revenue success
The company rang up €1 billion of revenue. That was 44% higher than 2019 first half (€715 million). That was ahead of analysts' forecast, with ING, for instance, expecting 39%.
Adjusted EBITDA earnings for Just Eat Takeaway.com increased by 133% to €177 million in the first six months of 2020, compared with €76 million in the first half of 2019.
However, the firm still suffered a €158 million loss in the period, compared with €27 million in the first half of 2019.
The costs associated with Just Eat's acquisition spree, that has seen it gobble up Takeaway.com (to be accurate, Takeaway acquired Just Eat) and more recently US-based Grubhub, was cited as responsible for the widening losses.
Investors are willing to look past the dent in the balance sheet as long as the expenses are for funding profitable growth, excluding exceptional items such as acquisition costs.
Grubhub acquisition to complete in first half 2021
The markets performing best for the group were identified as: UK, Germany, Canada, the Netherlands, Australia and Brazil. The Grubhub acquisition hasn't been completed yet but is expected to do so by first half of 2021. That deal is valued at $7.3 billion. An extraordinary shareholders meeting will likely be called for October to approval the acquisition.
Just Eat Takeaway has also embarked on an aggressive investment programme. There will be stepped-up investment in the UK, Canada, Australia Italy, Spain and France "and several other markets", the results statement says.
Cost of sales increased 64% on the first half of 2019 and was related to rising delivery expenses, but efficiencies meant that delivery expenses per order actually fell. Excluding cost of delivery, cost of sales increased by 40%, with a gross margin of 61% compared with 66% in 2019 first half.
Active consumers 21% higher
The keenly watched active consumers metric jumped 21% from 44 million to 54 million, while new restaurant openings were up 32% and returning active consumers 3% the better.
According to the trading statement: "The Enlarged Group will be one of the few profitable players in the industry and processed approximately 593 million orders in 2019 with more than 70 million combined active consumers globally."
Other delivery players are not performing as well as Just Eat. Uber Eat delivery revenues grew 103% in the first half, according to results released nearly a week ago. But that wasn't enough to soften the blow. Revenue declined $2 billion to 29% year on year. Uber's total net loss was $1.8 billion.
If you're interested in venture-backed Deliveroo shares, they are thought to have been trading profitably since 2016
Order growth should support high stock price
Jitse Groen, chief executive of Just Eat Takeaway.com, commenting on the results, said: "Just Eat Takeaway.com is in the fortunate position to benefit from continuing tailwinds. The United Kingdom, Germany, Canada, the Netherlands, Australia, and Brazil are performing particularly strongly. Our businesses have healthy gross margins, and all our segments are adjusted EBITDA positive."
Just Eat is one of the stay at home stock winners, and today's blow out figures are a testament to that.
"On the back of the current momentum, we started an aggressive investment programme, which we believe will further strengthen our market positions. We are convinced that our order growth will remain strong for the remainder of the year," said Groen. "It's about investing in countries and cities where we're already strong and in most cases quite Ebitda positive."
The company's shares are up 17% year to date, so some of the good news is already in the price. But there is room for more here, with a growth strategy that is working. All in all then, fundamentals suggest there may be more clear road ahead for the stock price.
Execution of the Takeaway.com integration is reported to be going smoothly which bodes well for the Grubhub, and the added complexities of the US market.
Of the nine analysts surveyed by research and data provider Refinitiv, five have a hold rating on the shares and one a bull, two hold and one underperform.