Halfords, the UK's largest retailer of cycling and motoring products and services, released its fiscal first-half earnings today. While the shares opened in the green, they soon pared gains and were trading down by midday.
In its fiscal first half for the 26 weeks ended 2 October, Halfords reported revenues of £638.9 million, a year-on-year rise of 9.6%. The company's like-for-like revenues increased 6.7% over the period.
Halfords' fiscal first half earnings report
Looking at the revenue breakup, Halfords' Retail segment's revenues increased 4.8% year-over-year to £524.2 million while its Autocentres segment reported a sharp 38.7% spike in revenues, surging to £114.7 million. The sharp rise in Autocentres revenues is primarily due to the acquisition of McConechy's and Tyres on the Drive. The Autocentres segment reported a 2% decline in like-for-like revenues in the fiscal first half.
Cycling sales soar
In the fiscal first half, Halfords' cycling sales increased 44.6% year-on-year. While all cycling product categories reported strong sales, e-mobility stands out with a 184% growth rate. Higher cycling sales lifted the performance of Halfords' Retail segment's revenues, but they were dragged down by a 23.7% like-for-like sales decline in its Motoring sales.
While Halfords' gross profit margin contracted by 63 basis points year on year to 49.4% in the fiscal first half, its profit before tax more than doubled over the period to £55.4 million.
Halfords' online sales soar
Halford's Group web platform has helped buoy its sales amid the lockdowns. At the beginning of the fiscal year, its online sales soared due to the lockdowns. The online sales increased 200% year over year in the fiscal first quarter and 148% in the fiscal first half.
"Although the levels seen in Q1 have since moderated somewhat, Online continues to form a much larger part of Group sales and is of increasing importance as a touch point with customers," said the company in its earnings release.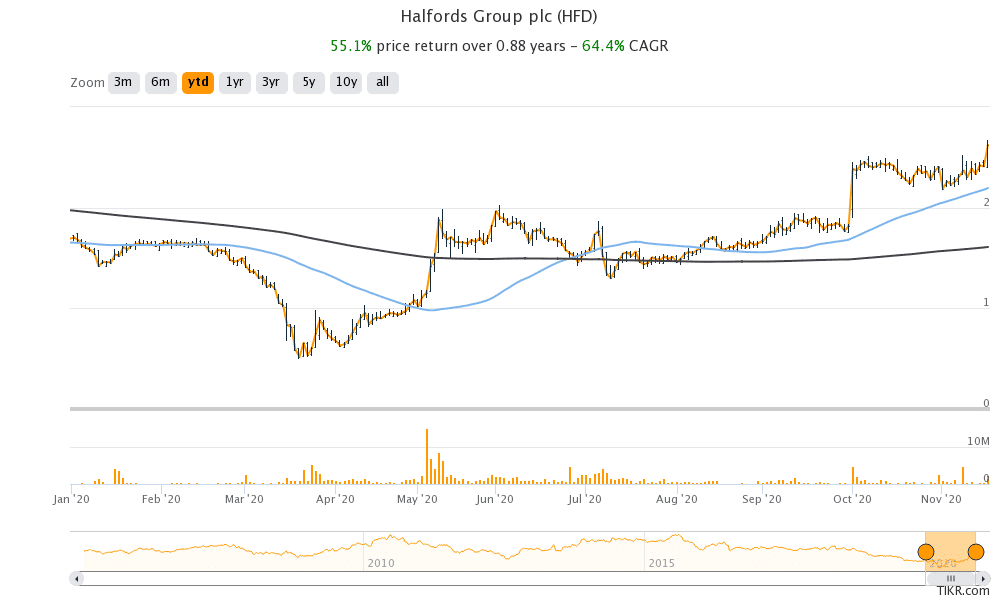 Online sales have been a saviour for retail companies
Online sales have helped retail companies like Tesco to offset lower sales at retail outlets. However, Primark has made it clear that would not focus on online sales but on its stores. During the early days of the lockdown, Primark's sales fell to almost zero and it only sold a few gift cards as it does not have eCommerce operations.
Halfords turns cash positive
In the fiscal first half, Halfords' adjusted operating cash flows increased to £186 million as compared to £74.7 million in the corresponding period last year. Its free cash flows almost quadrupled over the period to £169.2 million. Thanks to the strong cash flows, its net debt fell from £62.6 million in fiscal first half 2020 to a negative net debt of £97.8 million. This basically means that the cash and cash equivalents on Halfords' balance sheet are more than its borrowings, a sign of a strong balance sheet.
Meanwhile, despite the strong balance sheet, Halford's did not announce an interim dividend for the fiscal first half of 2021. The company did not announce a final dividend for the fiscal year 2020 as well amid the COVID-19 pandemic.
"We are very pleased to have achieved such a strong first half performance against the backdrop of one of the most challenging trading environments in recent history," said Halfords' CEO Graham Stapleton.
Halfords provides outlook
Halfords said that all its UK stores are open despite the ongoing lockdown but it has imposed limits on customer density in the stores. Providing a trading update for the fiscal second half 2021, Halfords said that for the first five weeks to 5 November, its sales were strong. However, the lockdown has had some impact on sales. It, however, said that unlike the first lockdown, it is better equipped to handle the lockdown this time.
Halfords is hiring
Halfords however did not provide any quantitative guidance for the fiscal second half due to the lockdowns and Brexit uncertainty. However, the company is optimistic on its medium to long-term outlook and is adding more employees while also investing in training its existing employees. It intends to have at least one electric car technician in every garage and one electric bike and scooter servicer in each store. This would mean an addition of almost 1,500 people to its workforce by April.
Halfords share was trading 1% lower at 254p at 11:30 AM London time today. The shares have gained almost 55% year to date and are outperforming the FTSE 100, which is still in the red for the year.